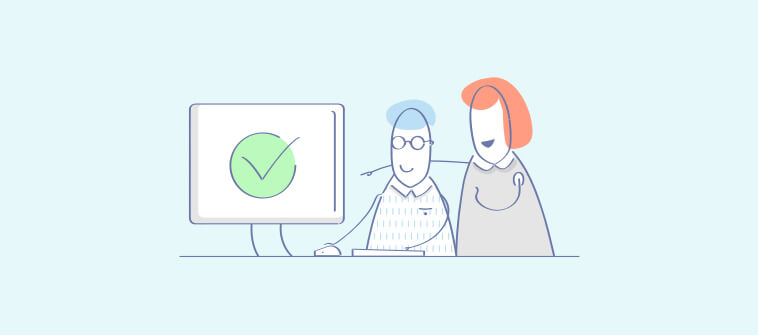 The global eLearning market is projected to reach
$336.98
billion by 2026.
According to Brandon Hall Group, online learning demands 40% – 60% less employee time than learning in a traditional classroom setting.
eLearning increases knowledge retention rates by 25% to 60%.
Almost everybody knows that web-based learning, more commonly known as online learning or eLearning, is a game-changing technology in education and training. But how many of us genuinely know:
How many types of web-based training are there?
How to develop a sustainable web-based training program
How to choose an online training software
What are some of the best practices?
To answer these questions, in this post, I'll be discussing all of these relevant topics and more so that you can go for a web-based training solution confidently.
Let's get going!
Watch: What is eLearning and How Can It Help You?

What Is Web-Based Training?
In layman's terms, web-based training or computer-based training takes place online or over the internet. Also referred to as eLearning, this type of training is gaining widespread popularity in recent years due to the rapid advancement in information and communications technology.
Since the training materials are stored online, web-based training offers learners the flexibility and convenience to access course content independent of time and place. Plus, such modern training systems work on any browser, device, and operating system.
All of this makes this type of training the most cost-effective solution for businesses worldwide.
Types of Web-Based Training
Web-based training falls under three main categories based on how learning takes place in each type. Let's have a look at them in detail:
Synchronous Web-Based Training
This type of training is instructor-led and involves in-person, real-time interactions with learners. Both instructors and learners come online synchronously or at the same time. Examples include webinars, online meetings, teleconferencing, and online tutoring.
Asynchronous Web-Based Training
Asynchronous training is the exact opposite of synchronous training. It takes place without real-time instructions. The training content is available online and learners can access them at their convenience, anytime. Pre-recorded webinars, online courses, and video tutorials are examples of asynchronous training.
Blended Web-Based Training
In blended training, you combine the elements of both synchronous and asynchronous. It involves real-time interactions between an instructor and learners, either in-person or online. Also, some part of the training is made up of self-paced learning according to one's schedules.
Benefits of Web-Based Training to Businesses
Technological innovations such as the learning management system (LMS), which deliver user-friendly and learner-centric learning & development solutions, have redefined online employee training.
Computerization or digitization of learning has liberated learning from the confines of traditional classroom walls and brings a number of benefits in its trail.
In fact, the global eLearning market is expected to hit $200 billion by 2024.
In this context, it is important to understand the real benefits of web-based training so that you can leverage them fully.
Here are five major benefits of web-based employee training:
Web-Based Training Saves Both Time and Money
Web-based training translates into significant savings of both time and money.
According to Brandon Hall, online learners enjoy an efficiency advantage in covering the same material in approximately half the time of a traditional, instructor-led class.
What's more, learners tend to retain information better in web-based learning, thereby removing the need for retraining in the future.
The course resources can also be reused easily, so running more sessions of a course is simple.
In addition, while instructor-led training courses are usually capped at 20 or 25 people, web-based courses can be much larger than that. In the case of massive open online courses (MOOCs), the number of learners is potentially infinite.
But there's even more to it. Traditional training courses take employees away from their jobs for significant amounts of time. The real cost of traditional training is, thus, much more than most people realize.
In addition to paying the instructor, there is also a significant cost associated with employees not engaging in revenue-producing work.
For example, if your sales team is required to undergo one week of training per year, the real cost of that training also includes the sales they would have made during that week.
Web-based training integrates learning into employees' daily activities, rather than taking employees away from those activities.
Learners Can Participate Anytime, From Anywhere
If you think like a learner for a second, you'd readily agree to the fact that anytime, anywhere learning facilitated by virtual training software is an important element in modern workplace training.
Web-based training is independent of time and location. In other words, it provides the ultimate in flexibility – learners can log in to virtual classroom software and take a course or test anytime, anywhere. This means that employees can decide when they can focus on their learning rather than interrupt other important activities.
It also means that employees can get the training they need, exactly when they need it, and using the device they prefer, instead of learning something they may not need for another 6 or 12 months down the road.
Web-Based Training Gives Learners the Opportunity to Network
In most cases, traditional methods of training are not only unidirectional and passive in nature, but they remain an isolated activity. They don't provide much opportunity for learners to interact. Often there is so much material to get through that there is no class time left for questions and even less time for discussions.
But web-based training is excellent for networking. Since the learning takes place online, employees from different departments and across geographical locations can all participate at the same time.
Enabling tools such as ProProfs Discuss and Collaborate provide employees the opportunity to interact not only with their peers but also with experts within, and sometimes outside of, the company.
Using these web-based training software, they can put their heads together and come up with ideas on how to solve different learning challenges.
This knowledge-sharing aspect of web-based training is one of the features that makes it truly unique.
4. Web-Based Training Uses Real-World Problems and Examples
During online training, it is generally considered ideal to place the learner in realistic scenarios where they can make decisions, either good or bad. They like relevant stories and analogies that they can relate to easily.
Whereas instructor-led training often involves learning from lectures, web-based training usually focuses on practical applications. Rather than listening passively to someone talk about a topic, learners have a chance to apply their new knowledge and practice their new skills by working through case studies and other real-world problems and examples.
This facilitates faster and more effective learning, regardless of the type of training you're deploying. Such an experience proves invaluable when employees encounter similar problems in the course of their work.
If you want to make effective use of real-life scenarios in your online web-based learning programs, check out these tips.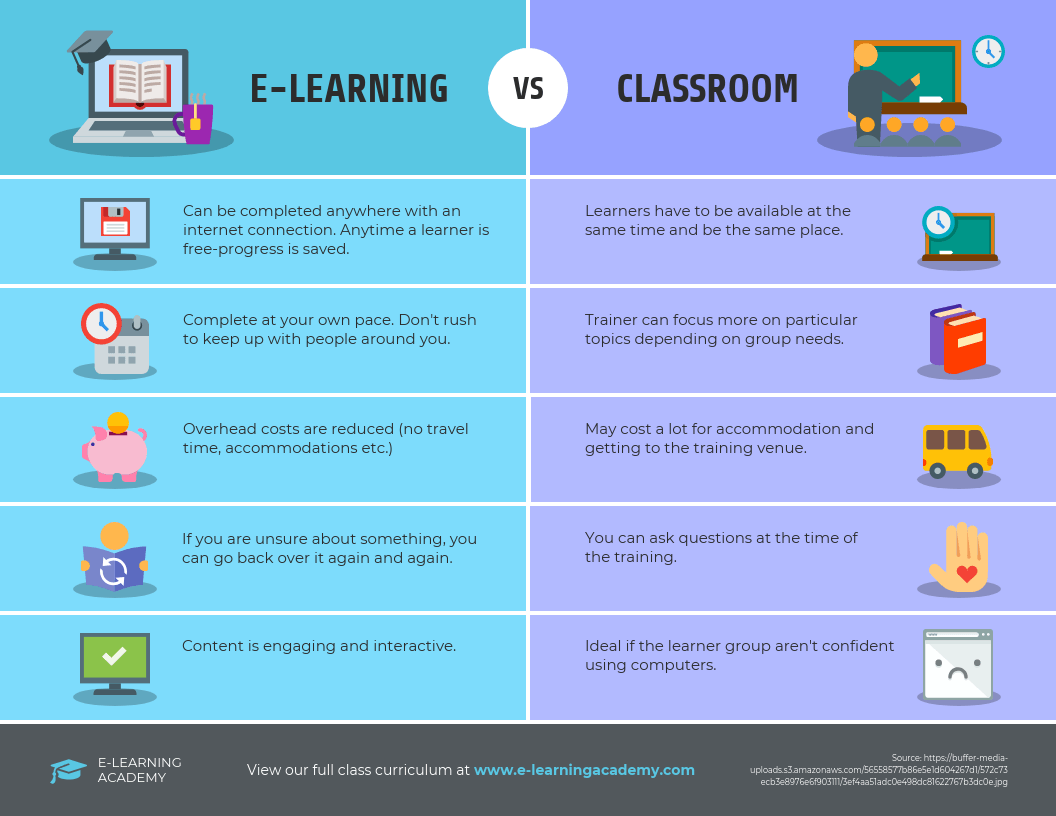 (Source:Venngage.com)
5. Web-Based Training Provides Consistency in Training
One of the major challenges most training and development departments face is how to provide consistent training across the organization.
Every trainer presents learning material a little differently, and even the same trainer doesn't do it the same way every time. For some training courses, this may not matter, but for others, like compliance training, it matters a great deal.
In web-based training programs, all of the materials are online, allowing trainers to deliver a course the same way every time. When you communicate a consistent message that is core to your business, it results in success. This is where the value of consistent training comes in.
Steps to Develop Web-Based Training
Developing a full-fledged web-based training program may seem daunting at first, but with the right planning and steps, everything will fall into place.
These essential steps will make your web-based training engaging and effective in the long run.
Step 1: Identify Your Audience's Learning Needs
Do your learners need to develop leadership skills, interpersonal skills, or job-specific technical skills?
Whatever areas they need the training, it is incumbent on you to first identify those learning needs.
This will make it easy for you to tailor relevant training that meets those needs while motivating your learners to learn and close any gaps in their knowledge and skills.
Step 2: Set Learning Goals
Apart from the mission to train your employees successfully, web-based training should be tied to some larger business goals. This will give you direction and focus on what you need to do and why.
The best thing you can do here is set SMART goals, which means your learning goals should be specific, measurable, achievable, relevant, and time-bound. This will boost
Step 3: Adopt the Best Training Software
Web-based training software tools get the ball rolling in any online employee training program. It is where most of the activities play out. That's why it is important to choose the best tool that can fulfill your training needs.
Make it a point to visit software review sites to find and compare the top software on the market. Before making up your mind, go for a free trial that most of these tools offer to gain a fair idea of which one is cut out to meet the requirements of your type.
Step 4: Use the Right Course
Online courses lie at the heart of web-based training. It is through these web-based training courses that you transfer job-related knowledge to your employees to enable them to perform better, faster, and smarter.
Make sure the course you choose for the training is designed by professionals, covers broad topics, includes real-life examples and scenarios, and is of the right length.
Some of the top LMS providers offer customizable and ready-to-use courses, so getting started is easy.
Step 5: Implement the Training
Once you're sure about your training goals and have the tool and course ready, it's time to implement the training program.
With a cloud LMS like ProProfs, deploying web-based training is easy. You can share a course link with your learners via email or embed it on your website. Similarly, you can share a course on social media.
That's not all. You can assign learning paths, launch quizzes for assessment, facilitate collaborative learning, track learners' progress, and view detailed reports and stats.
Step 6: Gather Feedback From Learners
Feedback provides you with constructive ideas you may have never thought of earlier. Use beautifully designed surveys to gather course feedback. This will help you identify rooms for improvement, if any, in your course and deliver a better learning experience.
A versatile survey-making tool such as Survey Maker lets you ask any question, any way you want. It also offers professional templates and a large variety of question types.
Related Read: How to Develop Your First Employee Training Program
What to Look for in Web-Based Training Development Software
There are a couple of must-have attributes in web-based training software that you need to insist on at the time of purchasing.
Watch: How to Choose the Best Corporate Training Platform
Course Authoring
The eLearning authoring tool in web-based training software lets you author courses, lessons, and tests rapidly. Make sure such built-in tools are simple, easy, and quick to use.
Ideally, it should allow users to create content from scratch or simply use the ready-made courses and templates.
You should be able to add a variety of media such as images, audio files, docs, videos, and presentations to deliver an engaging learning experience.
Customization Support
The software you choose for online training should be easily configurable to meet the distinctive needs of your organization. From custom courses to custom certificates and everything in between, a typical online training software should allow you to custom design your training programs the way you want.
That's because no tool can be a one-size-fits-all system as different companies operating in different industries need different learning modalities.
Make sure the tool you choose supports useful settings and configurations for privacy, security, notifications, course and chapter scheduling, number of attempts allowed, and so on.
Brand Integration
Another helpful feature you should find in eLearning software relates to branding. This functionality lets you promote your courses under your own brand instead of some generic name.
Also, branding helps your course participants easily recognize you.
White-labeling lets you add a logo, theme, colors, fonts, and other custom designs by removing any references to the software provider.
Tracking & Reporting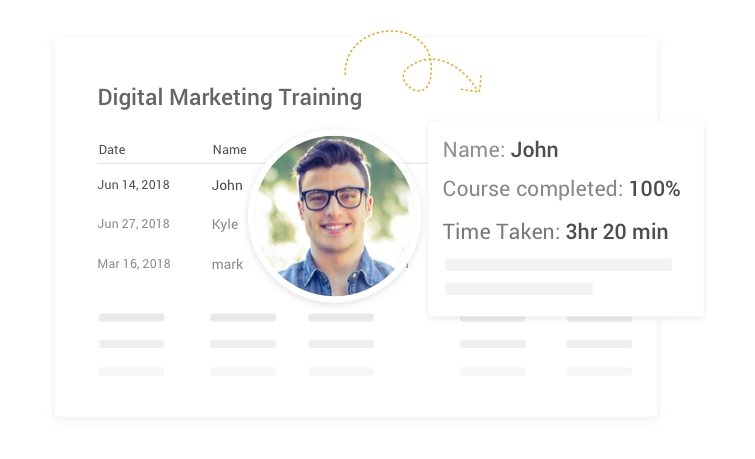 The ability to track learners' progress and performance in real-time and make training decisions based on insightful reports & analytics is something indispensable.
Generally, a superior LMS with this reporting feature gives an overview of course participation rate, pending & completed courses, engagement level, and final scores.
You can use this valuable data to fine-tune, if necessary, how your employees learn until you get the desired results.
Best Tools to Create Web-Based Training
According to a report by Statista, there were 4.66 billion active internet users worldwide as of January 2021. This is 59.5% of the global population. 92.6% or 4.32 billion of this are found to access the internet via mobile devices.
With a significant portion of the human population using the internet and internet-based technologies, web-based training should not be a problem at all.
Instead, you should be looking for the best web-based training tools that can assist you in online training. To help you find the top ones, here's a quick list.
1. ProProfs Web-Based Training Software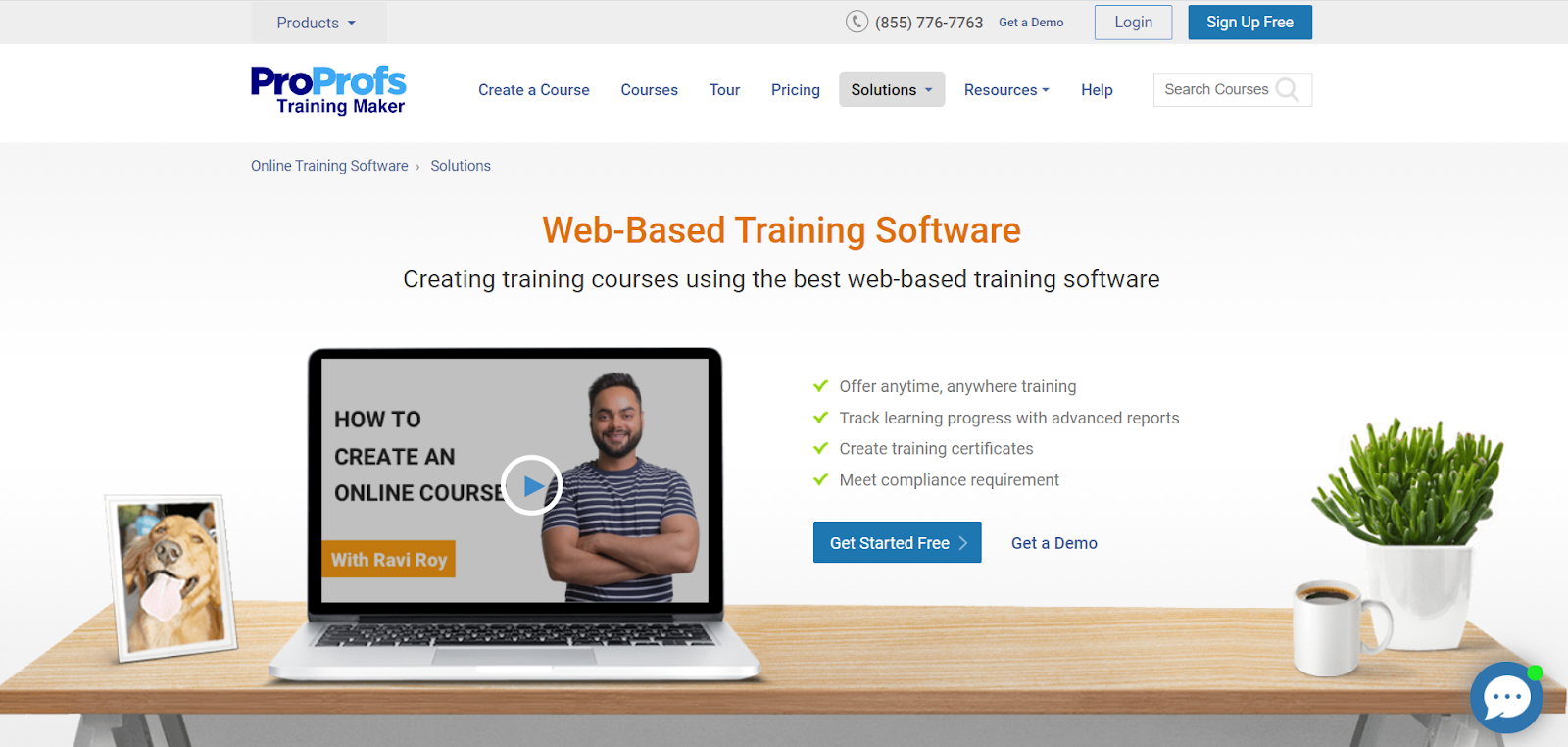 ProProfs is the world's simplest online employee training software hosted in the cloud. With a built-in authoring tool, virtual classroom, collaboration tool, and other compelling features, it is one of the top choices for millions of users worldwide.
A premium library of 100+ professionally designed and ready-to-use courses enables users to get their workforce training up and running in minutes. If you want, you can also create courses and tests from scratch.
You can train your employees on any corporate training topics using its content library.
Since the platform is cloud-based, you can train anyone, anytime, anywhere, and on any device.
2. EasyGenerator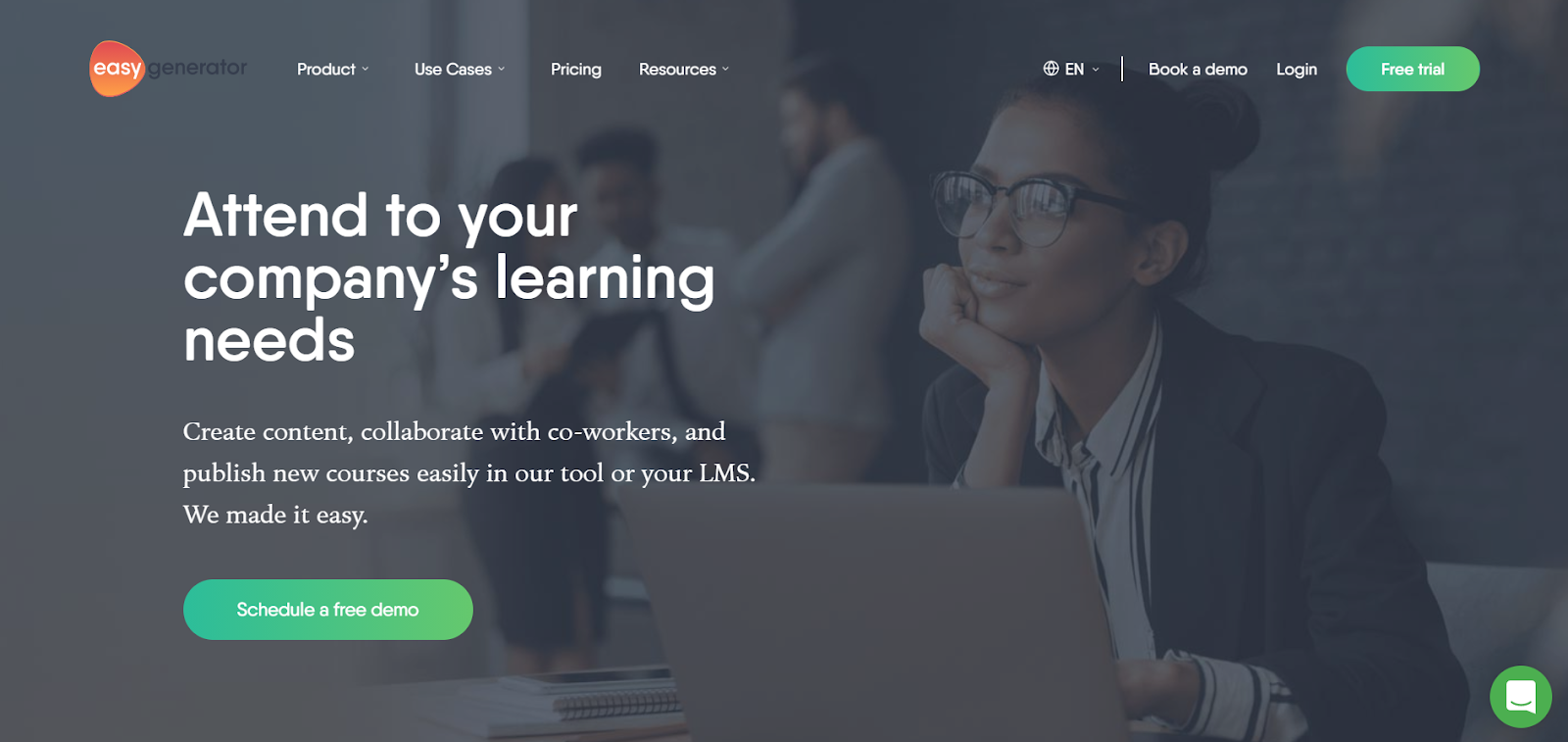 EasyGenerator is another cloud-based eLearning authoring tool and online learning platform. Using the tool, you can simplify and accelerate course creation. You don't need any technical skills to become an EasyGenerator user as it is a zero learning-curve tool.
In situations where you need to train employees but don't want to spend hours developing a course, you can use the free templates from EasyGenerator. All you need to do is customize and share it with your learners.
EasyGenerator is a one-stop solution for digital learning, a tool to get a head start in the online learning space.
3. Elucidat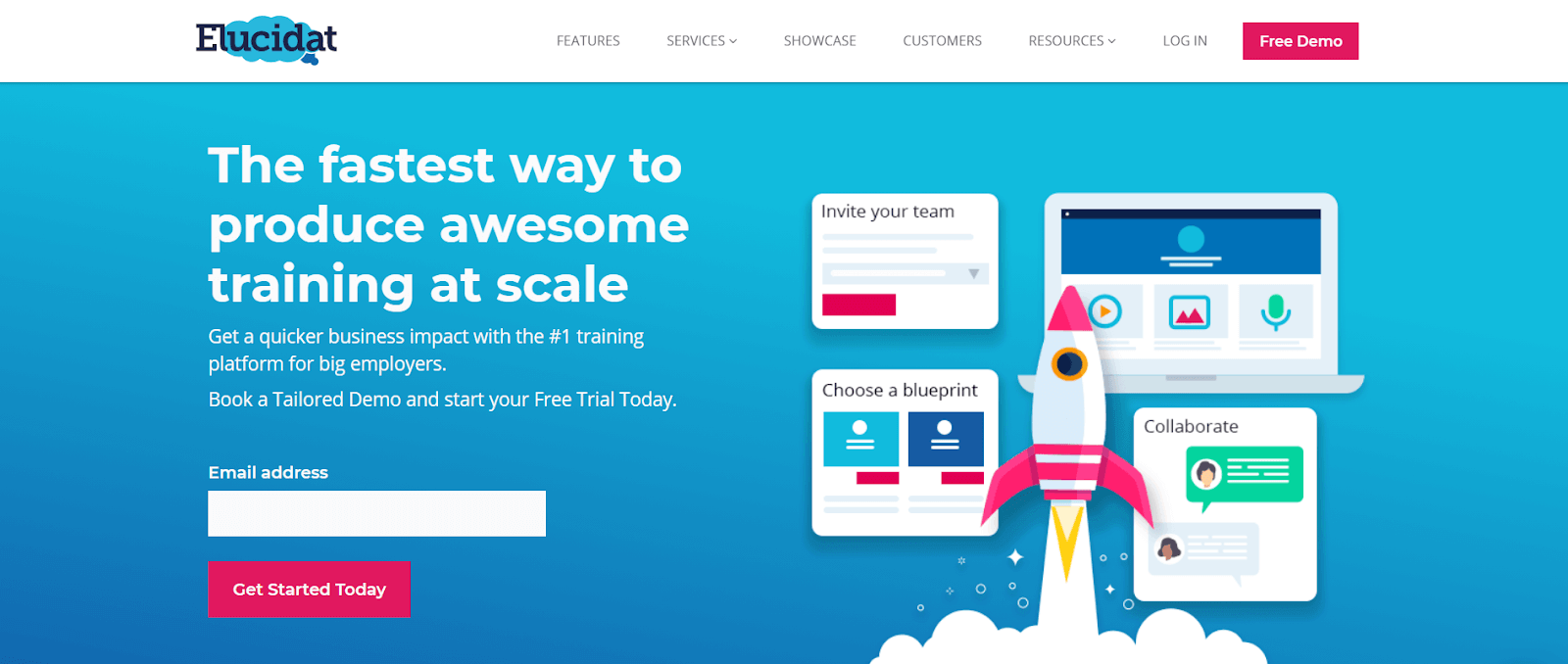 Elucidat is an intuitive online training platform that you can use to deliver successful eLearning at scale. You can create mobile-friendly eLearning programs from scratch or use ready-made blueprints.
The platform makes it easy, fast, and cost-effective to develop business-critical training programs.
With Elucidat, it is easy to work as a team. You can collaborate in authoring and reviewing projects, cut back meeting time, and get online courses up and running quicker.
The platform is used by 3,000 eLearning authors and 20+ million learners.
4. TalentLMS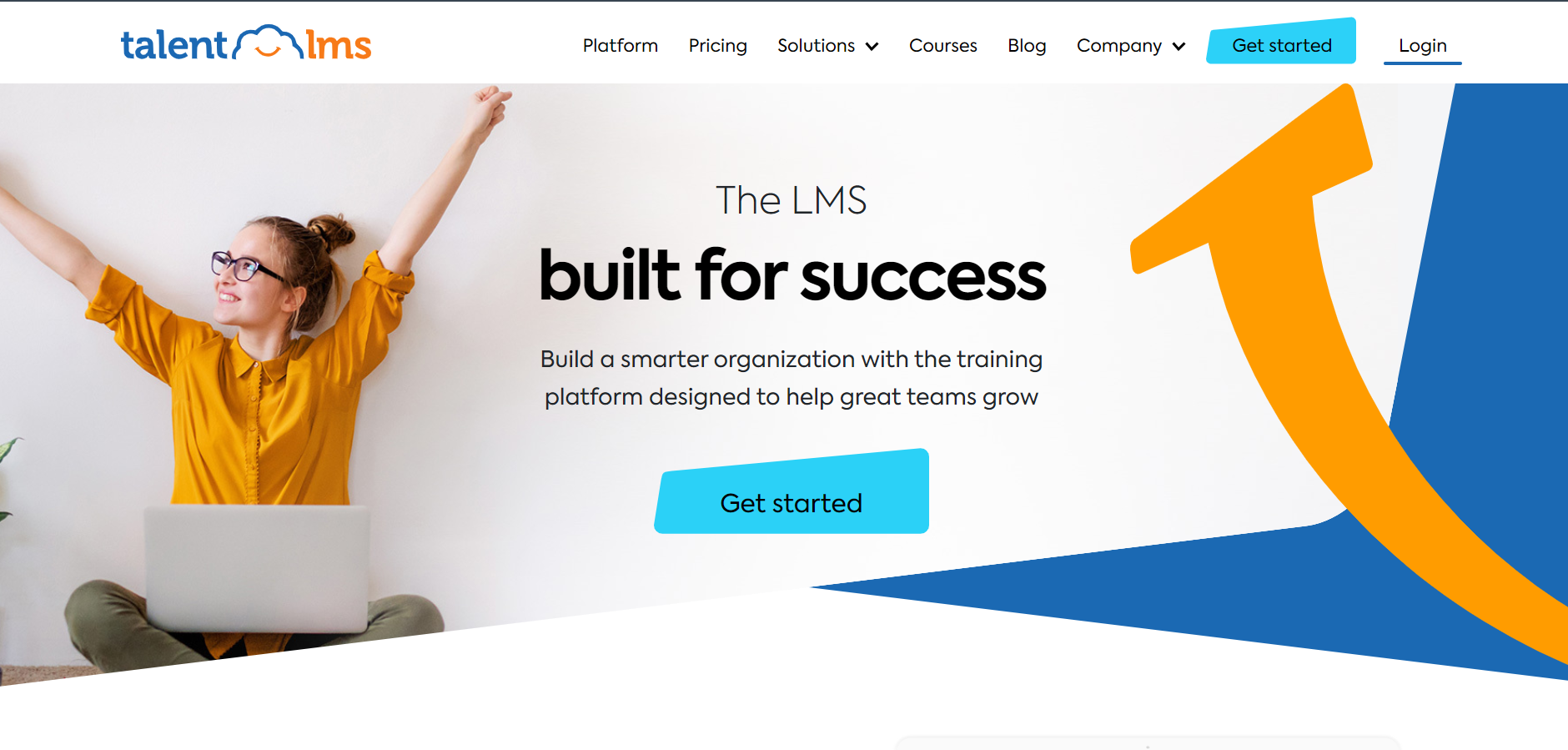 TalentLMS makes it easy to build, organize, customize, and deliver web-based training. You can use all kinds of media in your online training courses through drag-and-drop. With on-demand training, you minimize the time away from work for your employees.
Intuitive course builder, gamification, software integrations, custom certificates, and discussion forums are some of the highlights of the tool.
Users have created 3+ million courses so far with the help of the tool. Currently, TalentLMS has over 8,000 customers.
5. Lectora Inspire

If you're looking to create professional-looking courses, you can easily do so with Lectora Inspire. The tool supports branching scenarios, animations, and dynamic quizzes and is SCORM/AICC/xAPI compliant.
Its eLearning Brothers AssetLibrary contains over 120 million engaging and interactive templates and other eLearning assets.
Some of the major features of this online learning tool are an easy user interface, automated enrollment, self-paced learning, and custom reports.
6. Raptivity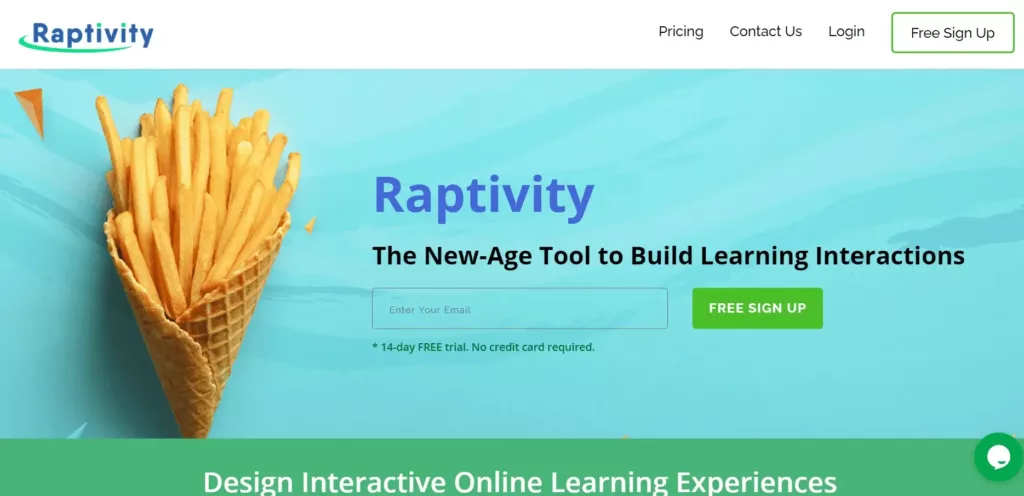 Raptivity is an award-winning online learning tool designed to cater to the new generation of learners. It helps users build visually stimulating and interactive learning experiences.
The eLearning solution offers a growing library of interaction templates suitable for microlearning.
It is SCORM and xAPI-compliant and supports rapid customization.
As a new-age eLearning solution, Raptivity brings never-seen-before interactive learning to your fingertips.
Web-Based Training Best Practices
There are a few online training best practices that ensure the best learning experience for learners and fetch the best results you want.
1. Deliver It on Multiple Formats & Devices
Present information in different formats such as images, short videos, and infographics. This not only ensures an enriching learning experience but also caters to different learning styles and preferences.
Similarly, make the courses and tests accessible and discoverable via any electronic devices, including smartphones, PCs, laptops, and tablets.
This will empower your employees to learn on the go without having to confine themselves to one place and device.
2. Offer Microlearning
Microlearning makes the transfer of learning from classroom to workplace 17% more efficient.
Learning in short bursts at one's own pace brings better results than overloading the learners in one go.
Learners should learn at an average of 10 minutes at a time, during which they should focus on just one to two topics.
Instructors also find it easier to create and update microlearning lessons than a course lasting 1-2 hours.
3. Use Engaging Visuals
Using text-only training format is considered old-fashioned; it is unappealing and doesn't cut it.
Today most online courses are filled with engaging graphics, charts, and immersive videos. They play a major role in breaking down complex ideas and concepts for ease of understanding.
Visuals also aid in memory retention, which is the main objective of any learning & development program. Make sure you add them in your courses and lessons to inject variety to learning and break the monotony.
4. Train on Real-World Situations
While mastering a topic, learners find it much easier to relate to real-world examples than some vague references. Learning based on real scenarios also makes it easy for learners to apply the knowledge they've acquired in the course of training.
Real examples and case studies enable learners to grasp concepts much more easily and make them more practical in their approach to different work situations.
5. Provide Online Support
Ongoing support during training is a critical element. While it is a good idea to teach employees to handle and resolve problems on their own as much as possible, at times they need to seek outside help.
Support is not limited to help that comes from instructors. It should include peers. For this, you can provide discussion and collaboration forums to enable your learners to put their minds together while working on joint assignments.
This will boost their confidence and make them more independent, removing the need for you to intervene every now and then.
Why Choose ProProfs?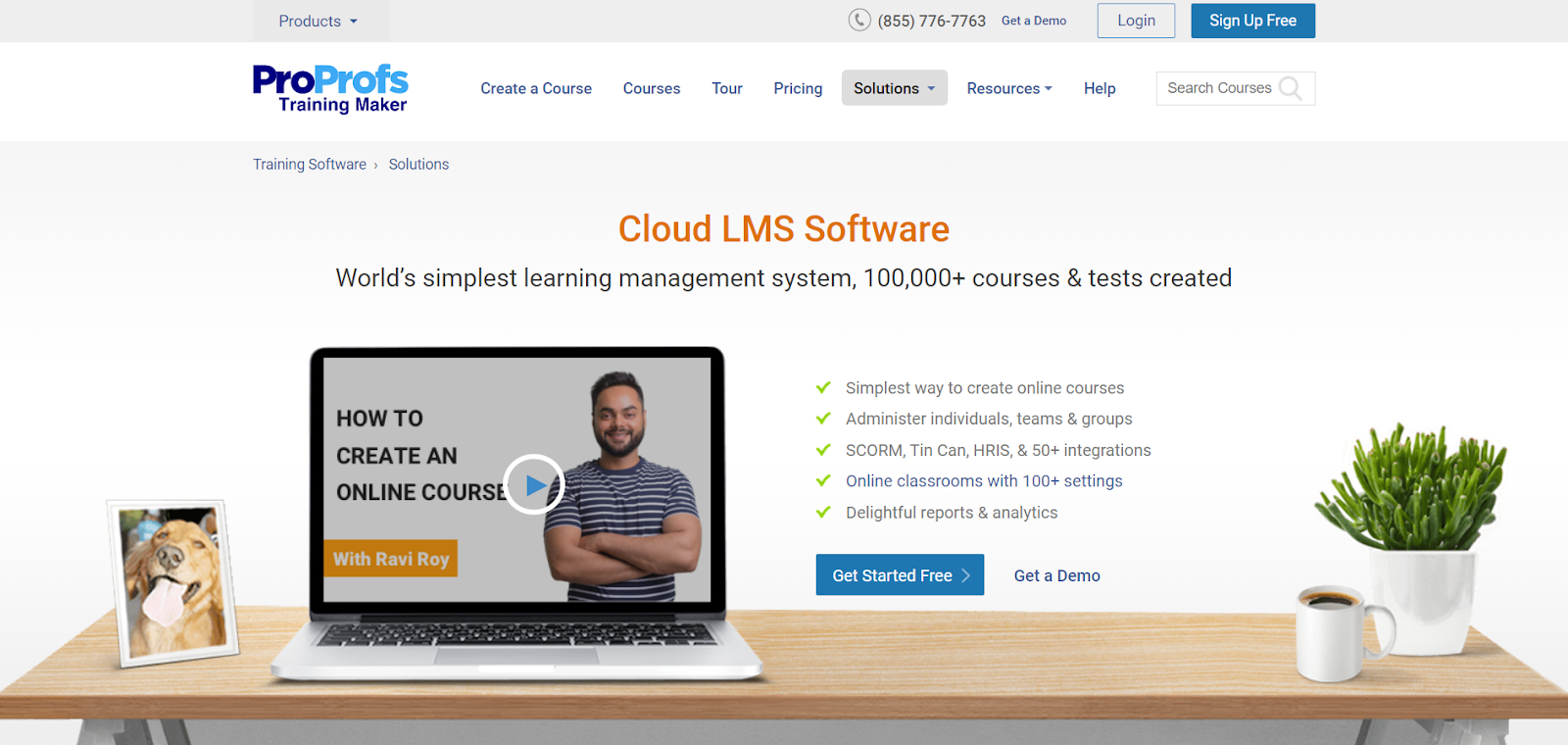 There are many valid reasons to make ProProfs your staple web-based employee training management software.
Easy to Use
ProProfs is undisputedly the world's easiest cloud LMS. Users of all skill levels can use it without any problem. No coding knowledge required.
Trusted By Millions
The LMS software is used by over 15 million users in 150+ countries.
Ease of Customization
With 100+ customization options, including course privacy, notifications, and branding, delivery training just the way you want cannot be easier.
Premium Library
Cut down course development time with a premium content library of 100+ expert-designed, customizable, and ready-to-use courses.
70+ Languages Supported
ProProfs supports English, Spanish, and over 70 interface languages, which means you can deploy training in a language localized to a specific region.
AI-Powered Reporting
Make data-driven learning decisions based on delightful auto-generated reports & analytics.
Never base your decisions on a hunch.
Not a ProProfs User Yet?
Don't worry. We're here to help you in every step of your training journey.
Many companies are nervous about moving to a web-based training format because they are still unfamiliar with it. But the internet is just as powerful a tool for learning as it is for business.
If your company isn't using online software yet for training, it's never too late to start leveraging all the opportunities it offers. Save time and money on employee training and provide easier, faster, and smarter learning experiences.
ProProfs Training Maker is the best web-based training software out there. You can use it to create online courses and share them with learners. Faster implementation (cloud-based), minimal learning curve, and awesome support make the tool delightful to use.
Do you want a free Training Software?
We have the #1 Online Training Software for employee training & assessment