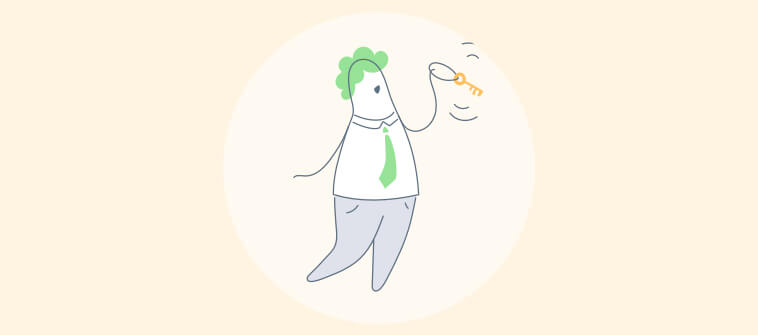 4 out of 5 or 77% of learning & development (L&D) professionals see a close link between personalized learning and employee engagement.
A personalized approach to learning gives learners the freedom of choice over what, where, and how they learn. This choice, in turn, leads to better learning and retention.
Ask any eLearning expert about the ingredients of achieving success with online learning and their answer is likely to include a choice of platform, customizable features, learner engagement, and trainer's knowledge.
But there is another important ingredient that many overlook – personalization.
In learning, the 'one-size-fits-all' solution has never worked.
It still doesn't.
Since consumers nowadays demand 'personalization', businesses are readily following this approach to make a product or service more endearing to the target audience. This holds true for eLearning as well.
Luckily, most trainers and learners today favor customized learning because knowledge retention is higher when learning is more specific to an individual's needs and goals.
Continuing with the discussion, let's look at personalized learning in depth, including the examples, benefits, and strategies.
Watch: What Is Employee Training?

What Is Personalized Learning?
It is a form of delivering learning that offers learners complete freedom to set their own targets, progress at their desired pace, and even communicate with instructors in a way that traditional learning doesn't support.
In other words, personalized learning allows learners to manage their own learning.
Let's look at an example.
From email and messaging apps that you use to stay connected, to the digital boxes preferred for watching TV, all (yes, all of them) offer customization options for the users.
In the learning space, personalization focuses on:
The environment (how the content appears in front of the learner – font sizes, colors, backgrounds, themes, etc.)

The content (audio, videos, text, graphics, etc.)

The interaction between the trainer, learner, and the learning content (gamification, blended learning,

quizzes

, tutorials, adaptive learning, etc.)

The sequence of delivering the content

How the learners are assessed

The feedback you provide to learners
And much more.
While conventional eLearning acted as a mere extension to symmetric learning approaches, the personalized approach has shifted the focus from instructor-led to 'learner-centric' learning.
What made personalized learning stand out from its conventional counterpart is its ability to recognize learners as a heterogeneous mix of individuals.
---
Read More: 9 Experts Explain Why eLearning Success Depends on Microlearning
---
How Personalized Learning Works
There are primarily four ways you can deploy personalized learning. You can use each personalized learning model separately or in combination. Either way, you can benefit from both approaches.
Personalized Learning Paths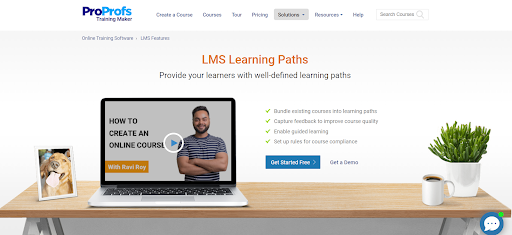 Customized learning paths let learners take a predetermined path of learning according to their individual needs. They get ownership of learning and the liberty to choose what they learn and in which order.
Generally, you can use course bundles to build a learning path where learners can learn at their own pace and schedule. But they are not allowed to fall behind others in learning. For this, you can set up rules for course compliance and offer guided learning.
A learner profile is like an account for each learner. It gives an overview of a learner's interest areas, strengths, weaknesses, learning goals, progress, and support. Such detailed information enables instructors to develop personalized learning plans that serve a profile best.
Similarly, a learner profile gives learners a platform to voice their aspirations, desires and dreams about learning. Instructors or trainers can take them into account to deliver personalized learning.
Competency-Based Learning
This system of personalized learning is based on each learner's competencies and their ability to demonstrate acquired knowledge and skills. Here, learning goes beyond just reaching a passing grade.
In this sense, each learner is encouraged to master a topic or concept to effectively apply these to real-life situations. Competency-based learning is outcome-based and progressive.
Flexible Learning Environments
In a flexible learning environment, learners get the freedom to decide what, where, and when they learn. A learning management system (LMS) with virtual classroom software is an example of where such learning takes place.
A flexible learning system acts as the medium for successful personalized learning by promoting a learner-centric and learner-friendly learning environment.
---
Read: What is eLearning Courseware
---
Watch: What is an eLearning Course Authoring Tool?

Benefits of a Personalized Learning Program
Ever wondered what makes personalized education important for businesses?
Regardless of how many people work for you or your training requirements, you can derive a series of benefits from personalized learning.
One of the key advantages of personalized learning is the significant jump in employee performance. Personalization gives an edge that a one-size-fits-all program fails to deliver.
In other words, personalization should be at the heart of every eLearning endeavor. That's one reason why many enterprises are now creating their online courses from the ground up.
Here are some of the other benefits of creating tailored online learning programs:
Focus on the subject matter and key skill sets
Instead of using a pre-built online course that encompasses a wide range of topics, a tailored approach will let you focus on the particular requirements of your corporate learners.
For instance, if your client servicing team needs to improve their knowledge on how to carry out point of sale (POS) transactions, then the eLearning course should include scenarios related to the checkout system specific to your business.
Anytime, anywhere access to information
A personalized approach ensures that training isn't restricted to a specific place or time. It can happen even when learners are commuting, standing in a queue, or while at home.
For instance, if you want to train your sales team about the company policies, making your training content compatible with different devices and operating systems will ensure easy information access from a location and device of their choice to help them learn on the go while juggling their busy schedules.
Better course completion rates
Learning on the go is also enabled with personalized learning as it offers micro-learning opportunities wherein busy professionals can pick and choose bite-sized learning modules. This way they are less likely to abandon a course midway as they can take it up the way they want it.
A customized online training program teaches learners how to apply the knowledge on the job, which improves productivity.
The tailored approach allows the inclusion of interesting stories and real-world examples that makes it easy for learners to learn faster and more effectively.
Improved knowledge retention
Custom learning experiences lead to better knowledge retention, which positively impacts job performance. In fact, businesses can make learning more memorable by developing custom courses for specific job skills or departments. For this, personalized learning software with authoring tools can be helpful.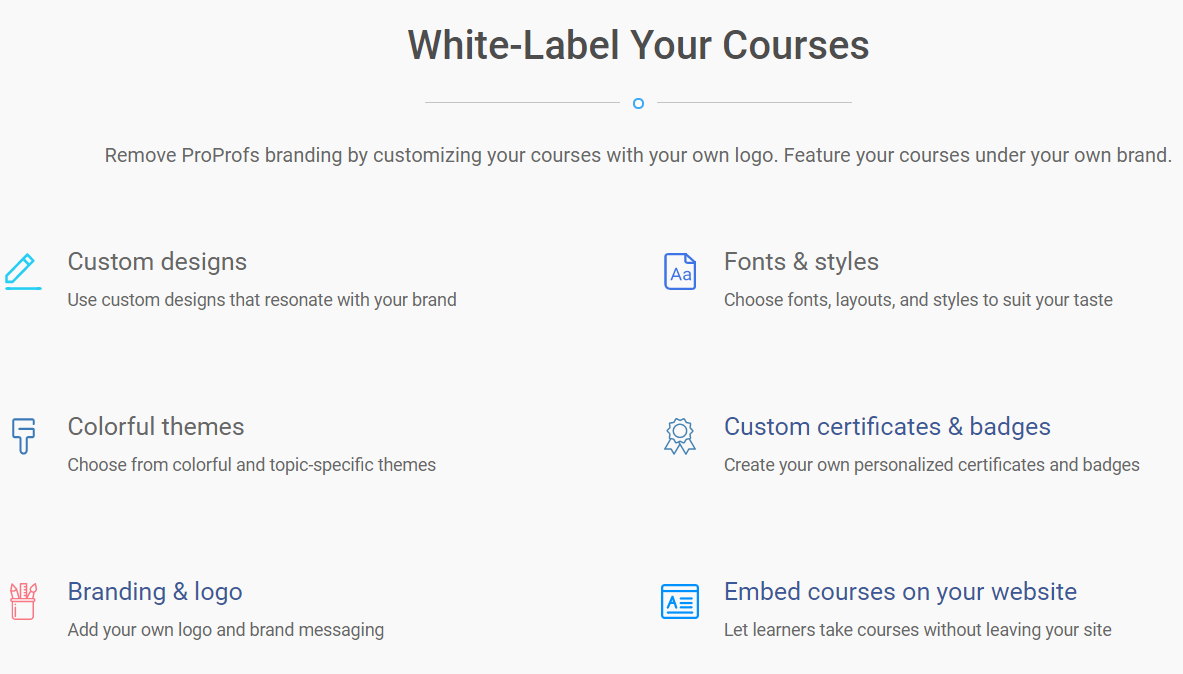 Tailored eLearning can be customized to include branding and establish a deeper connection with your learners. It helps highlight your company's values and goals.
Since employees are the face of a company, offering them customized training can align their work behaviors with the business expectations.
For instance, if you talk about the relevance of client servicing skills throughout your customized eLearning program, your employees will be aware that excellent customer care is one of the priority areas.
Improved chances to coach learners effectively
In a traditional classroom setup, it is tough for an instructor to pay attention to and remember how each learner is performing. With personalized learning in the classroom, the instructors are aware of the problem areas of the learners (thanks to advanced tracking and reporting), which helps them train learners better.

Personalized Learning Strategies and Examples
You may have heard of personalized learning so many times, but the question is how you can actually personalize the eLearning experience of the learners.
Apart from identifying ways to personalize existing courses, you can take multiple other steps to inject personalization into online learning.
Here are some of them:
Personalized Learning Environment
Your classroom environment speaks to your students before you utter a single word. What is your classroom saying?
– Megan Dredge

The 'look and feel' of your learning environment can make a huge difference in how learners learn. You can create a personalized learning environment by leveraging some of the modern eLearning tools.
For example, you can upload your company logo to a course or test and make it prominent. This way, your learners will feel that the tool they use isn't an external tool.
Similarly, you can share quizzes and other links on social media sites that learners can find easily and attempt quickly. Today almost all learners use social media as a vehicle for learning and to stay connected with their peers. When you take learning to social media, you make learning more learner-centric.
Still, one good way to personalize your learning environment is to let learners choose their avatars to represent themselves. You can also allow your learners to pick a male or female voice for audio content.
For every individual learner, you should personalize the course. It is important to display the learners' name, such as 'Joe Adams', instead of just using a generic "Student A." This name should be used throughout a course, e.g., "Well done, Joe Adams, you've completed the course!" It will make your learners feel special.
Allow your learners to skip a few sections of a course and access different modules. By letting your learners explore the different parts of the content (even if they aren't actively learning it), you're allowing eager learners to explore what they find enticing during learning. This approach is something similar they would do when reading a book.
No two learners learn the same way and at the same pace. While some do it in a few hours, many take days to master a concept. Similarly, while some learn faster by watching a video, others prefer a PDF file or a PPT. Hence, the importance of personalizing educational media.
Giving multiple options and adding videos, images, infographics, and other media to training content is a great way to support every learner's individual learning styles.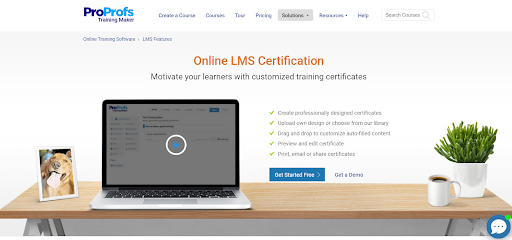 In the past, companies used to conduct workshops for employees and give them incentives after successfully achieving learning/training targets. Nowadays, cloud-based LMS platforms allow instructors to keep a close watch on learning activities and award learners customized certificates at the end of a course. This keeps learners motivated and excited about learning.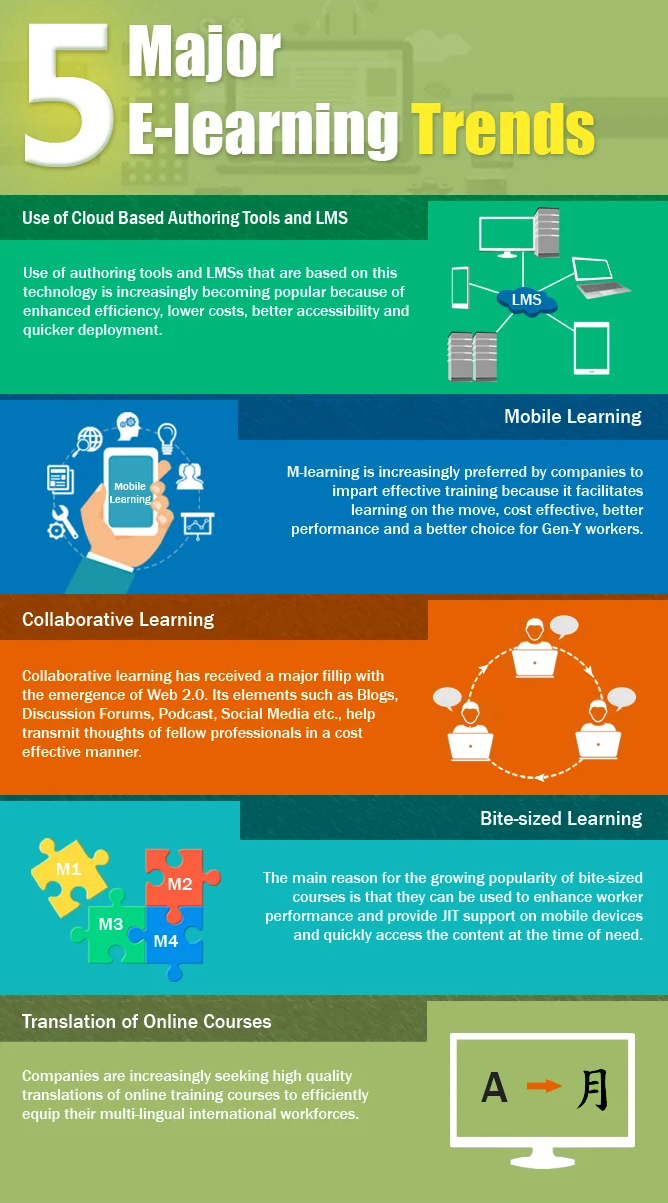 Does Personalized Learning Work?

Absolutely. Some of the most common questions with personalized learning are:
Do personalized learning strategies work?
How does one know whether these strategies really work for them?
Recent reports on the effects of personalized learning on schools show positive results. These reports documented the cumulative impact of personalized learning over time.
Personalized learning works because it

considers the varying learning needs of each learner

and delivers learning that fulfills those needs. By leveraging modern technology, personalized learning achieves

greater efficiency at scale

and

empowers learners to learn just the way they prefer.
Personalized learning works because it

leads to more engagement

. It allows learners to learn at their chosen pace and using a preferred method instead of following a rigid method that doesn't work for them.
Personalized learning works because it leads to a

decreased learning time.

It focuses solely on areas that a learner needs to acquire knowledge and skills and not make them sit through classes they already know or don't need.
How to Build a Culture of Personalized Learning
The increasing importance of personalized learning has persuaded many schools and businesses around the world to create a better learning environment for learners.
With the rise of technology in classrooms (blended learning models, online classrooms, etc.), learners enjoy easy access to a mountain of information compared with the previous generations.
Personalized learning marks a major shift from the "one-size-fits-all" approach to education and training and capitalizes on the instinctive ability of a learner to utilize technology.
We hear a few instructors saying they cannot use personalized learning for their learners as they don't have the technology needed to implement it. With a few strategies in mind, educators and trainers can implement personalized learning efficiently.
Let's see how it's done.
Create a Safe and Joyful Learning Environment
If you are a teacher or a training manager, you are responsible for ensuring that you meet the learners' basic physiological needs. No matter what authoring tool or LMS software you use to create courses, learning will become a daunting task when such basic needs are left unmet.
For example, greeting learners every day creates a welcoming environment where they feel safe to enter the classroom.
You should let your learners share their feelings and engage them in an open dialogue about the things going on in their daily lives.
You can integrate things related to academics into these morning meetings. For example, you can play math games like dots and boxes and secret detective. You can also share stories, nurture friendships, and build a joyful, engaging, and safe learning environment.
Flexible seating is an important aspect of personalized learning, especially if you're using the traditional classroom or blended learning system. It changes the way learners learn.
Flexible seating improves posture, increases engagement, motivates learning, improves metabolism, and channels excess energy. To ensure flexible seating, you may replace the traditional hard chairs and desks with tables of various heights, standing desks, soft mats, camp chairs, soft rockers, back patter seats, and so on.
With flexible seating, learners can choose the way they sit that best suits their learning style. In this way, they will have all the control and can concentrate more on their work. They can move around the room, share ideas, and work with others.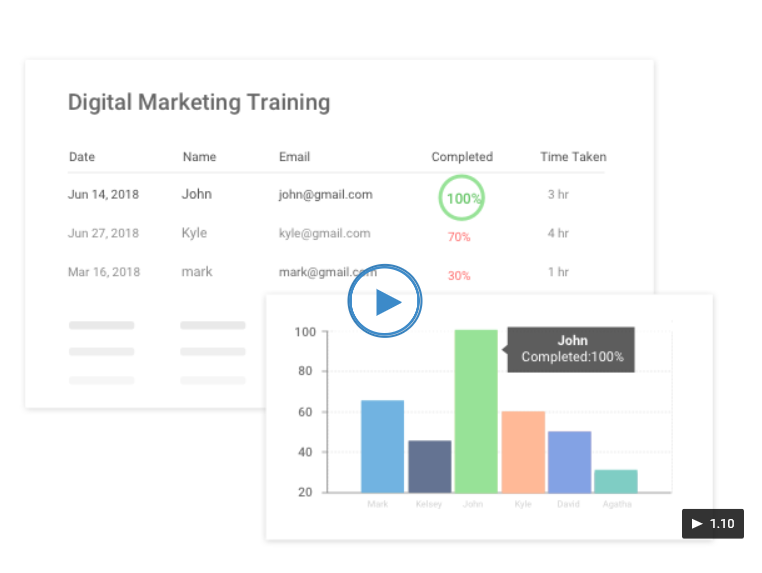 Data is highly critical in personalized learning. Data provides a robust, timely picture of where your learners are, their progress over time, where they need to grow, and their strengths. With the help of this shared understanding, teachers and trainers can provide learners the unique opportunities and support they need to succeed.
Timely access to data helps you understand the unique needs of each learner.
Data also helps instructors set learning goals for their learners and see how they are progressing towards those goals.
---
Read More:- How to Create Innovation With Learning & Development Programs
---
Are You Ready For a Personalized Learning Program?
You have seen a few tech-free ways to personalize learning and add more engagement and ownership to your classroom. They will set the learners on a learning path that truly meets their desires and needs.
Personalized eLearning is here to stay because it empowers learners to control their learning graph and achieve targets.
Does your eLearning tool support personalization? Do share your thoughts with us in the comments below.
Do you want a free Training Software?
We have the #1 Online Training Software for employee training & assessment