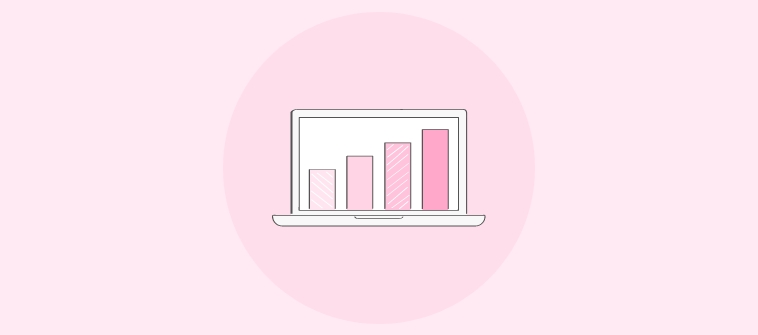 The lack of a proper workplace safety program can result in disastrous consequences.
Take this incident, for example.
On February 14, 2000, in a glaring case of negligence and failure to follow safety practices in the workplace, a 15-year-old part-time worker suffered a right arm amputation in a meat grinder. The victim was working in the butcher department of a retail grocery store in Utah, and the incident occurred while he was reassembling the part of the meat grinder.
The victim failed to lock out the machine's power supply before the reassembly. When he touched the unprotected on/off lever switch, his right arm was pulled into the machine and got amputated just below the elbow.
On investigation, it was revealed that:
The safety switch had not worked for more than 16 years
The employees were clueless that it even existed

This was among the case studies compiled by OSHA for educational purposes.
Such unfortunate incidents could have been easily prevented if there had been some form of a workplace safety program, especially machine operator training.
You should systematically train your staff working in any high-risk industry, such as construction, manufacturing, healthcare, and retail. It's a question of their safety and well-being, not to mention legal liabilities and business reputation.
Considering the importance of such training, in this post, we look at workplace safety training – what it is, why it's important, and how to create an effective safety program at work. Read on to find out more.
Watch: What is OSHA Compliance Training
What Is Workplace Safety Training?
Workplace safety training is a legally mandated compliance training program for employees and supervisors. The training aims to encourage safety practices in the workplace and remove instances of laxity, negligence, and oversights that threaten workers with injuries and even fatalities.
A safety training program includes fall protection, forklift safety, back injury prevention, data security, and hazardous materials.
The training covers three primary areas:
How to assess and identify potential workplace hazards
How to report safety issues to the right authority
How to manage safety matters to prevent their recurrence
Importance of Workplace Safety Programs
If you want safety in the workplace, then your employees need workplace safety training. Such programs are important to organizations in any industry for numerous reasons.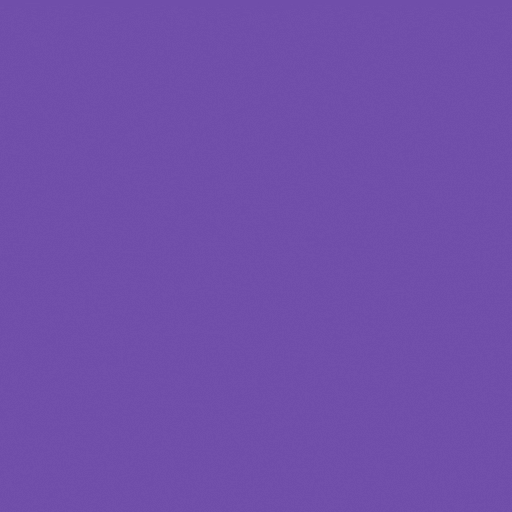 Some of the top ones are:
It's a Legal Requirement
First and foremost, you need safety training because the law requires it. For example, OSHA requires employers to provide training to their employees who face hazards on the job.
Towards this end, it provides training resources, gives grants to nonprofit organizations, and conducts training through authorized centers.
Reduced Risks
Every workplace has its share of risk factors regardless of the nature of work. It can be a slip and fall, fire outbreak, ergonomic issue, and so on. While each company may have its own processes and policies in place to deal with these risks, only formal training can create awareness about how to minimize them.
Improved Health & Safety
Safety training programs lead to a reduction in the number of employee injuries, illnesses, and deaths. This, in turn, ensures better health and safety for workers. Trained employees understand their work environment better. They are also more likely to follow safety procedures to avoid unwanted accidents.
It Saves Costs
According to the National Safety Council, the average workers' compensation claim is above $40,000.
Whenever there's a workplace injury or fatality, generally, it costs companies a fortune in compensations and other associated liability costs. Such an occurrence consists of both direct and indirect costs.
The best way to avoid this is to play it safe. Training is an effective way to prevent injury and fatality in the workplace.
Happy & Productive Employees
Employees who feel protected are more satisfied and happy with their job. And happy employees are more efficient and productive, according to research by the University of Warwick.
That's because these employees report higher morale and less absenteeism. Engaging safety training can bring your employees to that level.
Safeguards Business Reputation
We all know that when there are fewer safety-related incidents in the workplace, everybody feels safe and content. It means getting less bad press. Ultimately, it improves your brand image and reputation.
Safety Culture
Workplace safety training programs also promote a culture of safety. Trained workers are more likely to follow a company's safety policies and adhere to state and federal guidelines. They are better at communicating workplace hazards. They strictly follow safety signs & labels and use the machines & equipment correctly.
In short, safety becomes second nature.
How to Create an Impactful Workplace Safety Program
Now that you know the basics of safety training let's turn our attention to the next key discussion point – how to develop a workplace safety program.
No matter your organization's size, this workplace safety plan will help you build a viable system for designing and implementing the program.
Assess Workplace Safety Risks
Before running an employee safety training, it's important to first understand the existing health and safety hazards, if any, in your organization.
For this, you should thoroughly assess the safety risks your workers encounter every day.
A worksite safety analysis like this should consider your employees' risk concerns.
You may apply the following methods to assess risks:
Task analysis through direct observations
Interviews with employees
Checklists to identify any deviations from safety protocols
Reference to previous safety analysis data
Employee surveys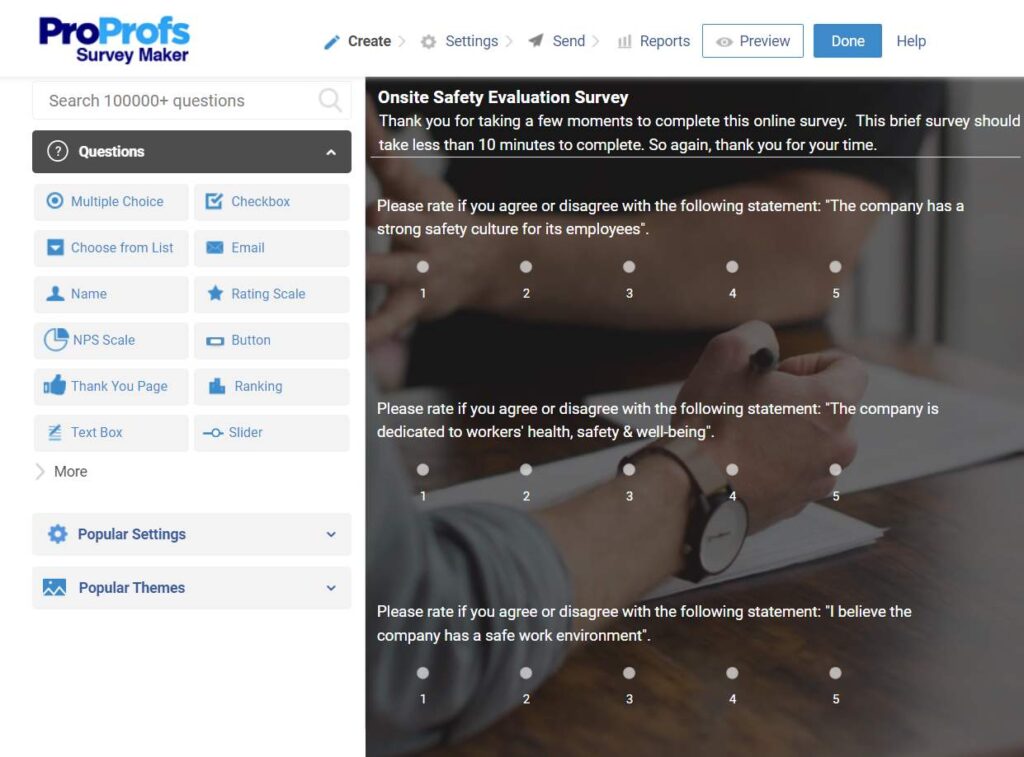 Clearly Communicate Your Safety Policies
Once you've assessed your workplace hazards, the next step is communicating and reinforcing your internal safety policies with your employees. Spell out the safety rules, objectives, and goals in clear and categorical terms to avoid ambiguity or misinterpretation.
The safety measures and accountability expected of your employees can be role-based.
A safety communication plan should address the following:
Target audience
The tool they use
Expectations from each employee
How the safety plan positively impacts the workplace
Ensure Management's Commitment
The active support of senior management is necessary for the success of a workplace safety program for companies. They need to approve your training plan and allocate the required resources. This will demonstrate their commitment to employee safety and motivate everyone to foster a safe work environment.
Management can do the following to show they are serious about workplace safety:
Implement safety practices in business processes
Ensure accountability in all employees for their and others' safety
Involve employees actively in the company's safety and health-related activities
Regularly communicate policies, procedures, and implementation plans with employees in writing
Make workplace safety a company-wide initiative
Develop Safety Training
After you finish with the three action items above, it's now time to develop a workplace & employee safety program.
To make your managers and employee training easier, you can consider using the best purpose-built online courses and a learning management system (LMS) platform to deliver, manage, and track learning.
Many online training software provide a catalog of ready-to-use safety training courses. Most of these resources are designed by industry experts and fully customizable with your policies and branding.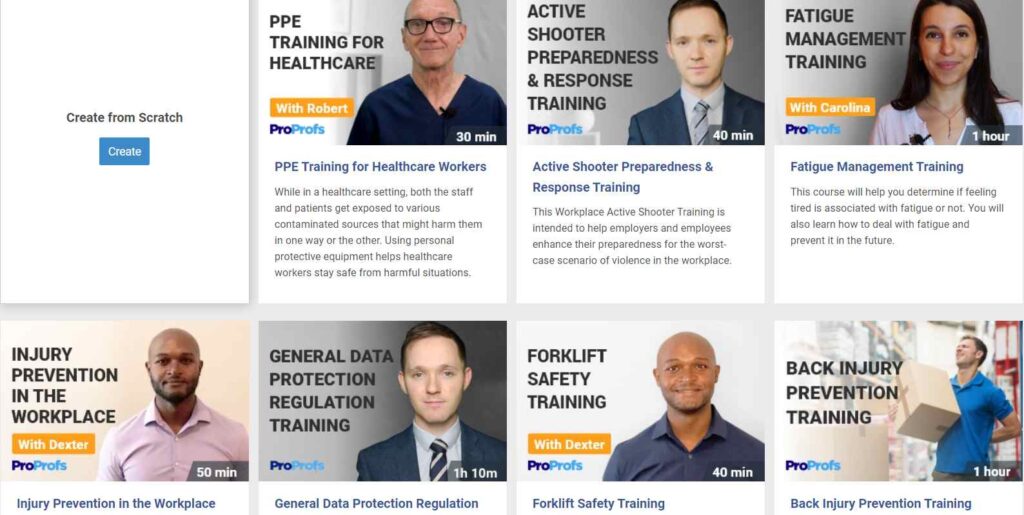 You can also upload training materials you already have.
Both of these approaches save time and cost you'd otherwise spend developing workplace safety courses from scratch.
You'll learn more about such courses and tools below.
Make sure you make the training engaging and interactive. Create a course and add elements, such as quizzes, surveys, flashcards, games, and social learning.
Watch: How to Create Employee Training Courses Online
Evaluate Results
After all your learners finish the courses and assessments, you can start evaluating the outcomes to see whether you've achieved your learning objectives for the workplace safety program. For this, you should ideally use some metrics or measurable criteria. They include:
Number of employees who complete the training
Pass and fail rates
Observable behavioral changes following the training
Return on investment (ROI)
Determine your key performance indicators (KPIs) and benchmarks before you initiate your safety training. It will help you know whether your training turns out as you expected.
Gather Feedback
Equally important in evaluating training effectiveness is the voice of your training participants. Knowing what they think about your workplace safety training program means a lot, including the courses, instructors, and delivery methods.
Such feedback will throw light on their challenges, what works and what doesn't, and the improvement areas.
Online surveys are the best way to seek feedback from employees easily and quickly. The top survey-making tools on the market come with beautiful pre-made templates and questionnaires that you can use right away, with or without modifications.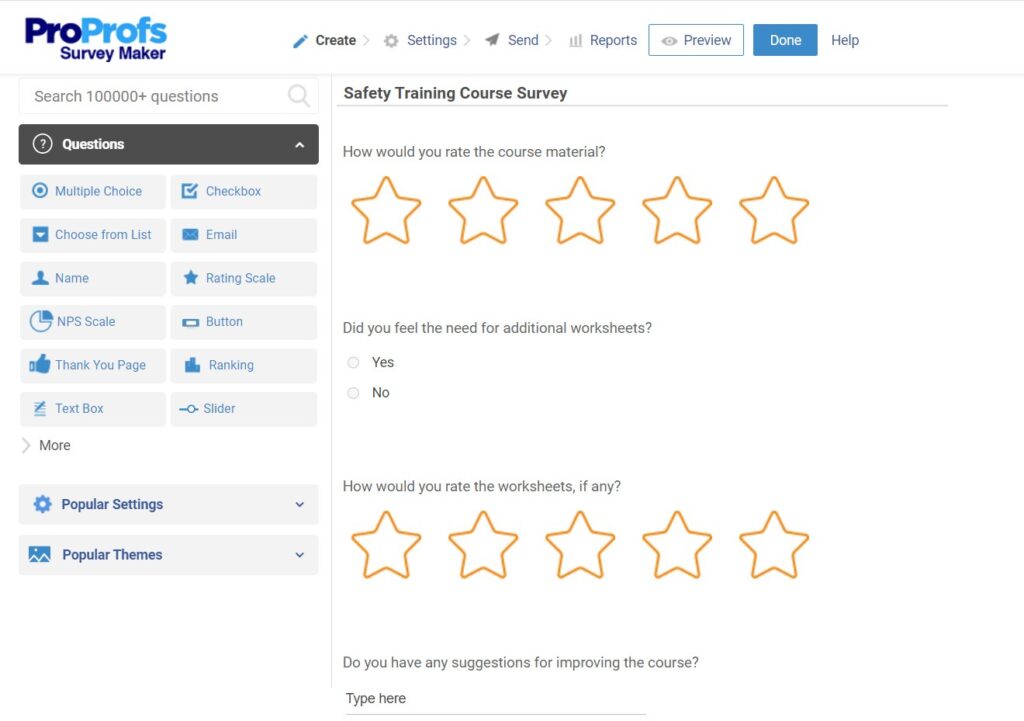 If you follow each of these steps, you can expect to see a well-crafted safety training program.
Popular Workplace Safety Training Courses You Can Use
The quality of courses you use in your workplace training programs determines the effectiveness of your learning & development initiatives. Safety training is no exception.
Courses with the right information that is delivered the right way can improve comprehension, retention, and application to work.
With that in mind, let's check out some of the popular safety training courses you can use in your training.
Fall Protection
The risk of falling from a height, such as a ladder or a scaffold, is always there, especially among construction workers. This course can help protect your workers from these hazards. It's developed using OSHA-approved content.
Watch: How to Protect Workers From Fall Hazards | Training Course Introduction
Forklift Safety
Forklifts are common in warehouses, courier services, and construction sites. They primarily use these powered industrial trucks (PITs) for loading, unloading, transporting, and stacking materials. But careless or improper operations can lead to severe injuries and even death.
This course will help your employees understand how to operate a forklift safely and efficiently.
Watch: Forklift Safety Training Course
Fire Extinguisher Safety
Fire departments in the U.S. respond to a fire somewhere every 23 seconds.
Fire can cause incalculable damage to human lives and properties. In such situations, fire extinguishers can be your first and the easiest means to contain fire outbreaks.
Yet not everyone knows how to operate one if they aren't trained.
This course walks you through the basics of fire, the types of fire extinguishers, when to fight a fire and when to evacuate, and how to operate a fire extinguisher properly.
Watch: Fire Extinguisher Safety Training
GDPR Training
The protection of personal data is crucial these days due to increasing incidents of data theft and other cybercrimes.
A course on the General Data Protection Regulation like this can help you secure personal information, whether it's the data a website visitor shares on sign-up or personal details a customer shares at a retail point of sale.
Watch: General Data Protection Regulation (GDPR) Training Course
Back Injury Prevention
A work-related back injury can become chronic and debilitating if left untreated. Employees whose jobs involve repetitive movements, heavy lifting, and sitting for hours on end are usually at risk.
This course identifies the common causes of back pain, risk factors, and preventive measures.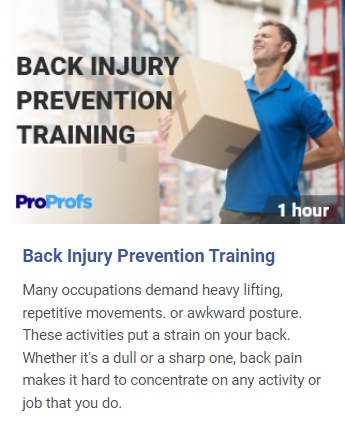 Hazmat General Awareness Training
Create awareness about hazardous materials (hazmat), including how exposure can cause several health issues. Know the types of hazards employees often encounter in their workplaces and how to control them.
Watch: How to Prevent Health Hazards in the Workplace | Training Course Introduction
How to Protect Yourself & Others from Coronavirus
Coronavirus may be relatively new compared to other viruses, but according to reports, it's here to stay, and we have to learn to live with it.
So, while it's here, you need to stay safe by taking all the precautions available. Teach employees how to protect themselves and their loved ones from this infectious disease by taking appropriate precautions at the workplace and elsewhere.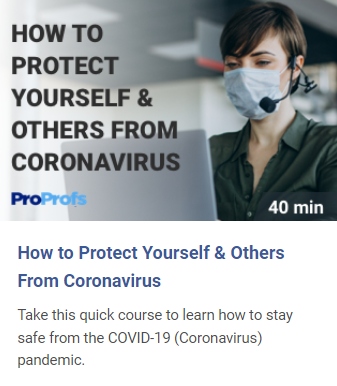 Training Resources From OSHA
Along with these courses, there are many training resources and references compiled by the OSHA Directorate of Training and Education that you can use.
DTE is responsible for developing, directing, overseeing, managing, and ensuring the implementation of OSHA's national training and education policies and procedures.
Bookmark this library containing training materials, additional resources, and links to related sites.
This will make compliance with the governing body's regulations easier.
How an LMS Can Help You Deliver Safety Training
LMS software systems are the most popular platforms for delivering corporate training programs, including safety and compliance. The primary advantage of these solutions is that they enable users to make teaching & learning more organized, manageable, faster, and measurable.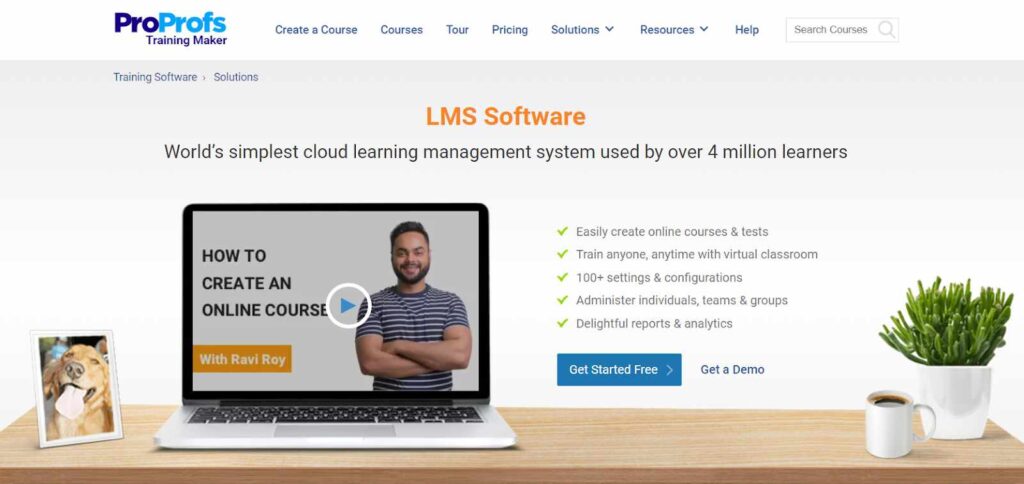 Here's how an LMS can be helpful to you:
It provides a controlled environment for you to create, design, share, and track web-based training
Unlike a traditional learning environment, an LMS supports multimedia for multimodal learning
Since most of them are cloud-based, learners can attend training from anywhere and at any time using their own devices
Ensuring course compliance becomes easy with automatic reminders about course due dates and certificate expiry
You can even pull out individual & group reports showing participation rate, completion rate, total time taken, scores, engagement level, etc.
Collaborative learning, social media sharing, multilingual support, and quizzes are built-in to most of the systems
Whichever LMS software you finally adopt, make sure it is user-friendly, flexible, scalable, and mobile-ready.
Safety Training Case Study: Tupperware
Before we wrap up, here's a case study of one of the world's leading kitchenware and household products brands, Tupperware. The company used ProProfs Training Maker to conduct safety training, assessments, and ISO certification in its European plants.
Watch: How Tupperware Used ProProfs for Training & Assessment
Read the full case study here.
Prioritize Workplace Safety Training in Your Organization
Health and safety programs in the workplace are not an option but a moral and legal obligation. They are tied to employee well-being, safe work environments, and uninterrupted productivity. So, they are a must for both new hires and old employees.
Adopt these safety program ideas, courses, and tools and build a solid safety training program. Without a safety culture, your employees will remain vulnerable to illnesses, injuries, and fatal accidents, which will only add to the statistics.
Make the training informative and engaging to ensure higher retention and reduce dropouts. Customize it to resonate with your business requirements and build a safer, more secure workforce.
Remember, it's better to be safe than sorry.
Do you want a free Training Software?
We have the #1 Online Training Software for employee training & assessment