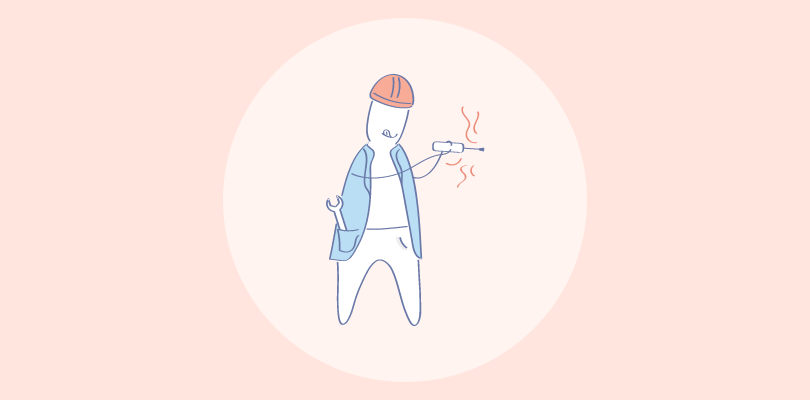 Would you be shocked if I told you the construction industry has the second most workplace fatalities?
Probably not. I wasn't.
Which brings us to the question – How to avoid being a part of this statistic?
Simple – educate your existing workers and onboard the new ones with elaborate training on safety, compliance, skills, and policies & procedures.
Construction companies have a lot of employees facing daily dangers and high safety & compliance requirements such as fall prevention, forklift safety, OSHA, and managing fatigue.
They also have high employee turnover, so they need to train the workforce frequently.
For this, you'll require a robust construction learning management system (LMS). This solution simplifies training and makes record-keeping easy.
I've curated a list of the 12 best LMS for the construction industry so that you can choose the best platform to train your construction workers.
Here's a quick sneak peek at each tool:
| Tool | Best For | Pricing |
| --- | --- | --- |
| ProProfs Training Maker | Safety & compliance training | Forever free for up to 10 learners. Paid plan starts at $1.97/learner/month for large teams. Billed annually. |
| Moodle | Scalable training | Paid plan starts from $120/50 users |
| Absorb LMS | AI capabilities | Starts at $14,500/year |
| Docebo | Large enterprises | Starts from $25,000/year |
| TalentLMS | Live training sessions | Starts from $69/month |
| iSpring Learn | Training management | Starts from $2.29/user/month |
| 360 Learning | Collaborative learning | Starts from $8/user/month |
| SAP Litmos | Blended learning | Starts at $6/user |
| Learnupon | Conducting webinars | Starts at $599/month |
| Axis LMS | Robust reporting | Starts at $149-$300 |
| Vector LMS | Automated training course management | Starts from Starting from $5/month |
| Bridge LMS | Simplified learning | Starts at $4/user/month |
Top 12 LMS For Construction Industry in 2023
Here's something you need to know: I considered specific parameters while putting the list together, like customer reviews and ratings, recommendations from my peers, recommendations on Quora, reviews on software comparison sites, must-have features, and value for money.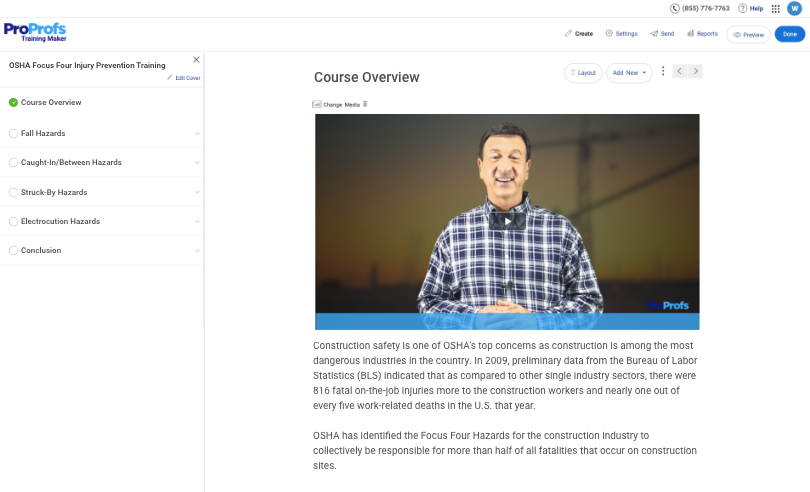 I've been using ProProfs Training Maker for a while now and see myself using it in the future.
Why? Because it comes with an impressive library of ready-to-use online courses designed by industry experts. You can use them as is or customize them by importing existing materials with its drag-and-drop editor.
Another plus with this construction LMS is that you can maintain compliance records for audit purposes. You would also appreciate that it lets you organize the learners by role, department, location, etc.
Some relevant courses I have used recently are Forklift Safety, Fall Hazards Prevention, Ladder Safety, Fire Extinguisher Safety, and Safety Orientation for Construction Workers.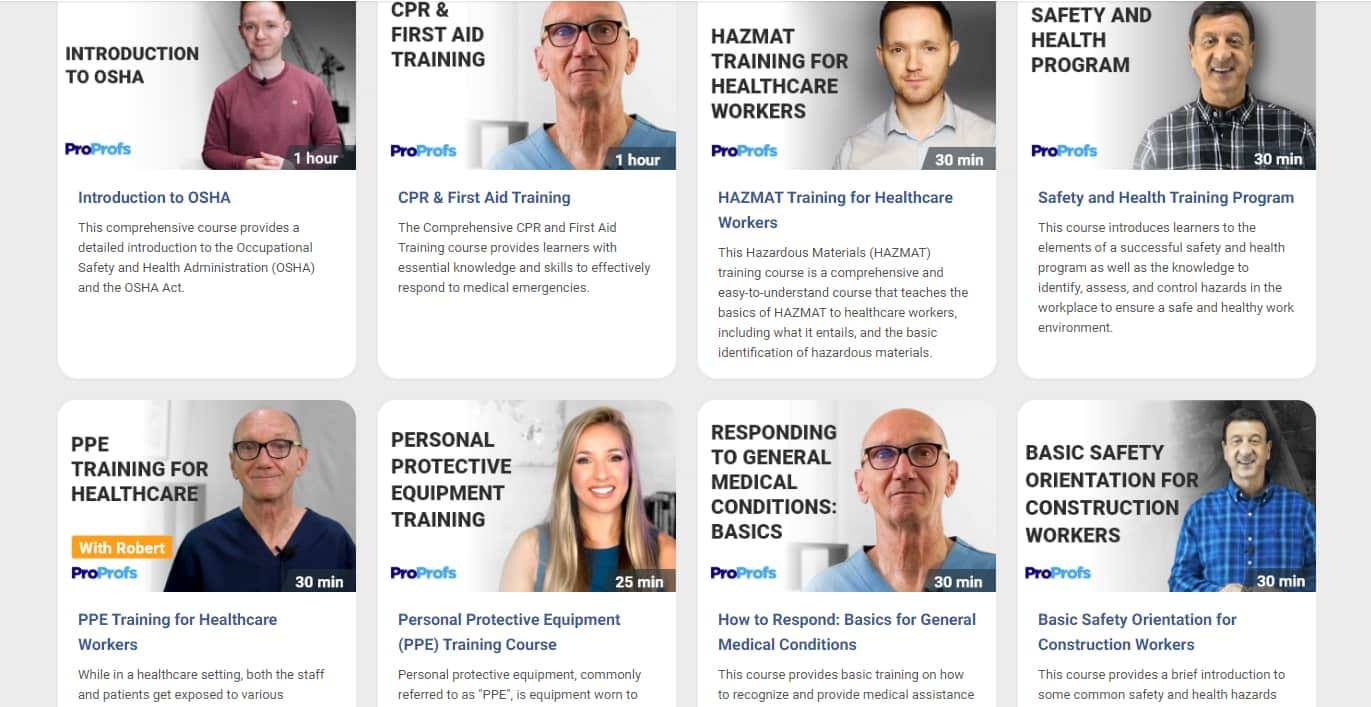 What you'll like:
Multiple group admins to seamlessly manage online training.

GDPR and CCPA compliance

training for employees.

Built-in authoring tool

to aid your course creation with different elements like assessments and quizzes.

Automated reporting for detailed, real-time tracking of participants' learning journey.

Add voice-overs in your training courses for maximum personalization.

Disable module skipping to ensure compliance among workers.

Ease of navigation for uncomplicated UI experiences.

Customizable certification upon training completion

Support for 70+ languages besides English and Spanish.

Integrates with many tools like

MailChimp

,

Infusionsoft

, and

Oracle

.
What you won't like:
Bigger teams with more than 10 users will have to opt for a paid subscription.

Updates are few and far between.
Pricing:
Forever FREE plan for up to 10 learners. Paid plan starts from $1.97/learner/month with a 15-day money-back guarantee. No hidden charges.
Watch: How to Choose the Best LMS for Construction Training Programs
2. Moodle – Best for Scalable Training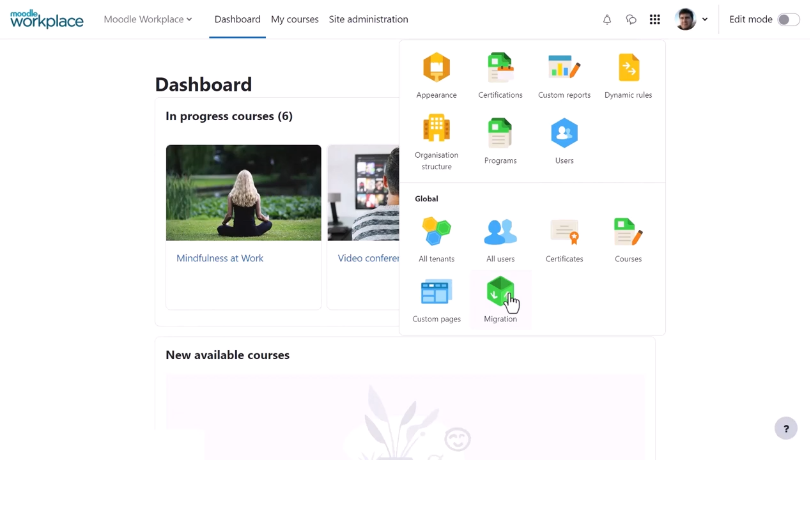 As someone who has spent years in the corporate training industry, it's impossible not to come across Moodle Workspace LMS.
The Moodle Workspace is highly scalable and customizable. It is a potential asset for businesses looking to implement efficient training and development programs.
Coming to its features, the LMS offers hundreds of plugins and integrations with third-party platforms and content repositories. Only a few tools provide this kind of integration and connectivity.
You can also automate many manual tasks and create learning journeys specific to different teams.
What you'll like:
Walkthroughs of complex construction scenarios that boost problem-solving skills

Gradebook to monitor each worker's growth and identify areas that need improvement.

Seamlessly integrates with other educational applications through the LTI (Learning Tools Interoperability) standard.

Automated recertification ensures compliance training is always current.

Personalized certificates keep track of completed training.

Employee achievements are acknowledged through automatic badges and diplomas.
What you won't like:
Needs to work on schedule management functionality.

Lacks advanced reporting and analytics capabilities in its free version.
Pricing:
Open source. Paid plan starts from $120/50 users (billed annually)
3. Absorb LMS – Best for AI Capabilities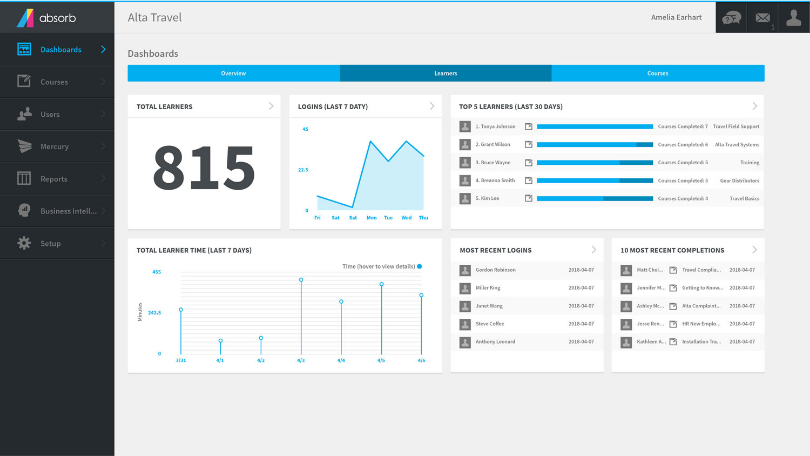 With its Intelligent Assist feature powered by AI, Absorb LMS revolutionized how I used to manage daily admin tasks. It's like having a personal assistant handling everything, freeing me to focus on what truly matters.
Its AI capabilities also helped me create learning paths with content recommendations that align with learners' preferences and learning journeys. The Intelligent Ranking feature also personalizes the search results for courses and reshapes the learning approach for each individual.
This construction LMS allows admins to access performance data, enabling data-driven decisions and effortless progress tracking. They can also create customized dashboards and reports for detailed analytics.
What you'll like:
Learner engagement using social profiles where learners can rate courses and interact and share accomplishments.

Downloadable certificates and badges to award learners their achievements.

Absorb Engage to create custom courses for various learner groups.

Engaging courses with elements like videos, leaderboards, polls, and quizzes.

Mobile app for easy access to tests and courses.

Multiple reports format to track learner progress.
What you won't like:
The course management feature lacks functionality.

Pricing plans are not suitable for small or midsize organizations.
Pricing:
Starts at $14,500/year
4. Docebo – Best for Large Enterprises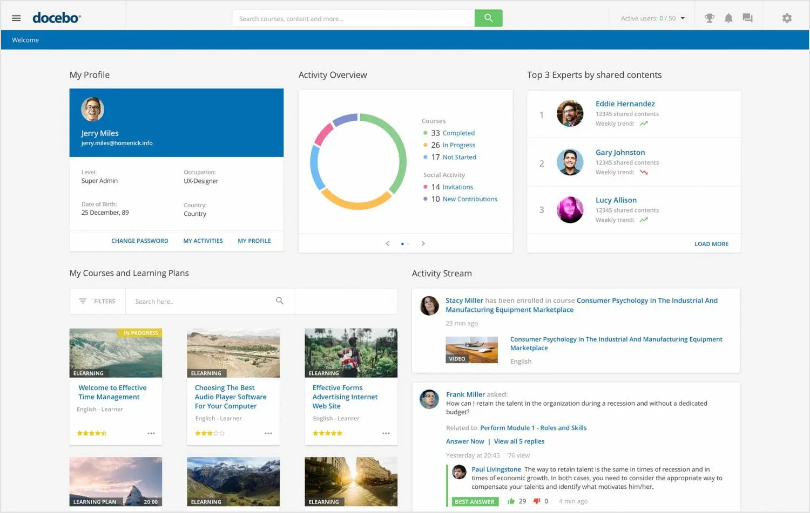 Here comes a strong recommendation from one of my peers for construction LMS: Docebo. Imagine a digital construction site where knowledge is the blueprint and innovation is the cement.
The construction LMS tailors learning for every learner, involving safety protocols, advanced engineering techniques, and more.
The real game-changer? Its scalability and ability to help you seamlessly train and manage multiple teams simultaneously.
It also seamlessly integrates with construction tools like Bluebeam and Procore, elevating training to a new level. Its analytics functionality also helped me fine-tune training plans based on real data.
What you'll like:
Personalized learning experiences powered by AI.

Modern and user-friendly interface for seamless course creation, management, and delivery.

Versatile support for various learning styles: social learning, coaching, and gamification.

Integration with numerous tools like Adobe Connect, Salesforce, Zoom, and more.

Comprehensive analytics for data-driven employee training strategies.
What you won't like:
Training videos have a size limit.

Inflexibility in pricing plans for small and medium-sized enterprises.
Pricing:
Starts from $25,000/year
5. TalentLMS – Best for live Training Sessions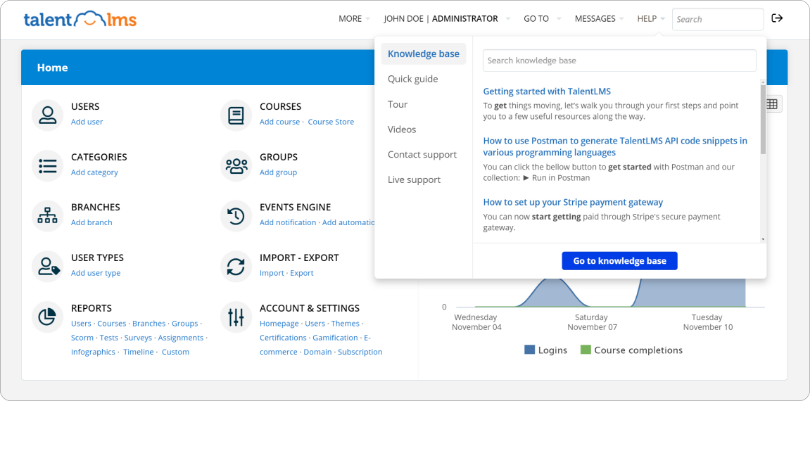 TalentLMS had been my go-to learning management system at one point, seamlessly transforming training into an accessible and secure experience.
Shifting from pricey in-person seminars to efficient online and live learning helped my company slash costs and offer flexible learning.
One thing that I'd specifically like to emphasize is its live sessions and webinar functionality. I was able to train my team with professionals by conducting webinars, which was a game-changer for sure
I feel that the user-friendly interface, customizable course creation, and secure material uploads enhance the learning journey.
What you'll like:
Out-of-the-box compliance training to educate workers on industry best practices.

Exclusive TalentLibrary™ offers a wealth of ready-to-use courses.

On-demand reporting to give you insights into learner journeys.

SSO functionality and SSL encryption to ensure security.

Gamification elements like badges, points, and leaderboards enhance engagement.

Multilingual support meets the diverse language needs of global enterprises.
What you won't like:
Dated discussion forum that needs improvement.

Learning path limitations for intricate learning journeys.
Pricing:
Starts from $69/month
6. iSpring Learn – Best for Training Management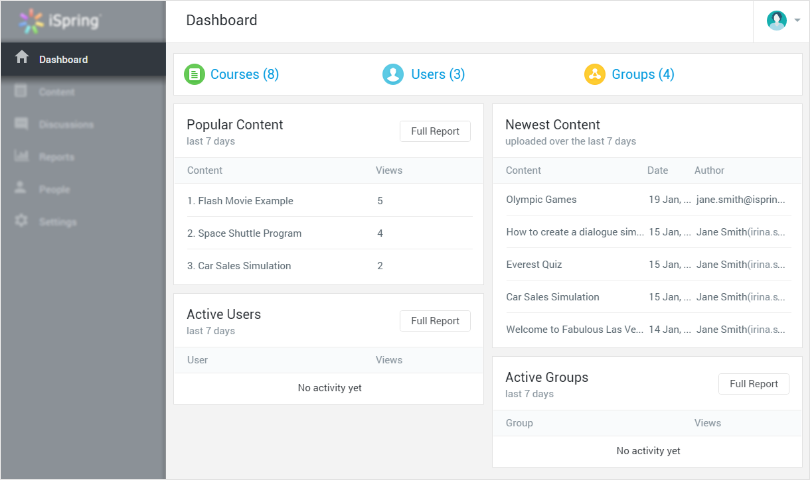 I have used iSpring Learn for a brief time, and I would like to share why I included it as one of the top construction LMS.
For starters, I love how it makes training management simple by automating specific tasks. It will especially come in handy when training workers daily.
Secondly, you can upload different media elements and formats, such as documents, presentations, and video tutorials, for a dynamic learning experience. Here are some more features of this tool:
What you'll like:
Collaboration between content creators and subject matter experts.

Certification and recertification for learners upon completion of courses.

Effortless conversion from PPT to HTML5 for engaging training content.

Version control ensures material updates and tracks previous versions.
What you won't like:
Lack of built-in course marketplace or content library.

Occasional glitches in online video screen recording.

Reporting functionality is limited and requires enhancement.
Pricing:
Starts from $2.29/user/month
7. 360Learning – Best for Collaborative Learning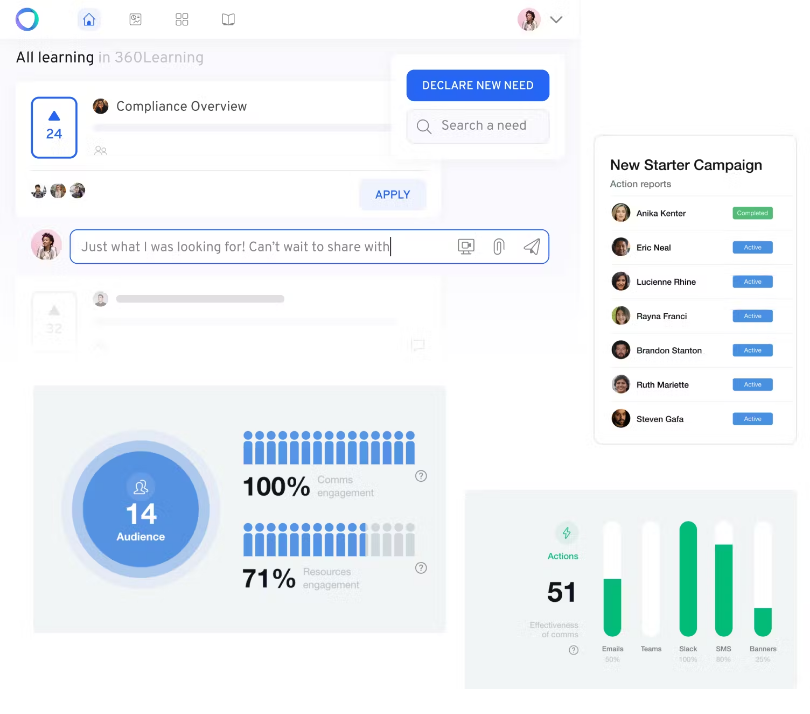 Another recommendation from my peer is 360Learning – an LMS known for its collaborative functionalities.
Its collaborative foundation empowers experts to share insights, seamlessly laying a solid knowledge base. The certification system ensures everyone is up to industry standards. What truly shines is the dynamic feedback loop, like an ongoing skill performance review.
Course creation becomes effortless with a user-friendly interface that aligns with construction timelines. 360Learning's unique collaborative learning approach is the cornerstone for shaping construction professionals who don't just follow trends but set them.
What you'll like:
Learner feedback drives continuous improvement.

Social features foster interactive learning through likes, comments, and content sharing.

Gamification includes badges, leaderboards, points, and more.

Peer learning thrives through discussion forums and collaborative tasks.
What you won't like:
Needs more gamification choices.

Limited support for offline learning.
Pricing:
Starts from $8/user/month
8. SAP Litmos – Best for Blended Learning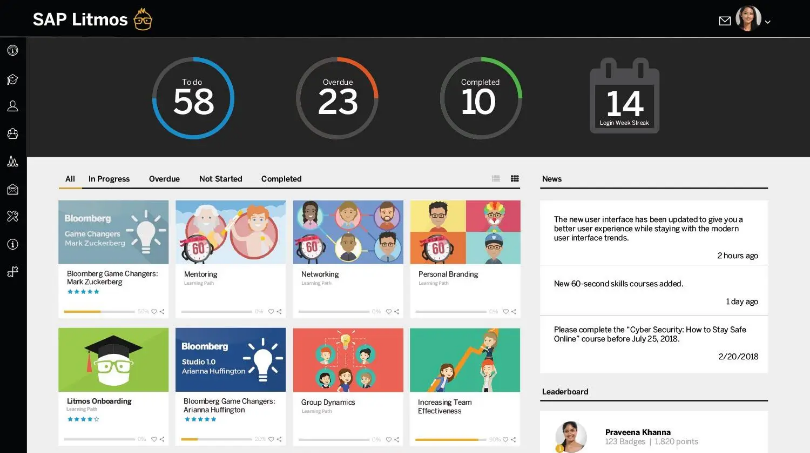 I've found Litmos to be a versatile, scalable, and user-friendly construction LMS. Its seamless integration with virtual classrooms sets it apart, making blended learning a part of the holistic experience.
Litmos seamlessly merges online, offline, and live training sessions. It even spices things up with gamification, video assessments, and personalized learning paths.
It also offers a mobile app for offline learning, boasts analytics to boost training impact, and helps you keep in line with key industry compliance training requirements, like OSHA, CGMP, etc. Litmos can be your architect of skilled teams if used to its full potential.
What you'll like:
Personalized dashboard for tracking progress tailored to employee training needs.

Engaging gamification elements like leaderboards for an enriched learner experience.

Shorter and graphically driven training to engage people with courses.

Training content in the library covering compliance and skill training.

Built-in reports to track training activities and learning progress.

Quizzes to make learning more effective and engaging.
What you won't like:
The learning path reporting system can be more intuitive.

Lack of option to make courses optional for learners.

First-time users might encounter a learning curve when using the LMS.
Pricing:
Starts at $6/user (for 150 to 500 active learners)
9. LearnUpon – Best for Webinars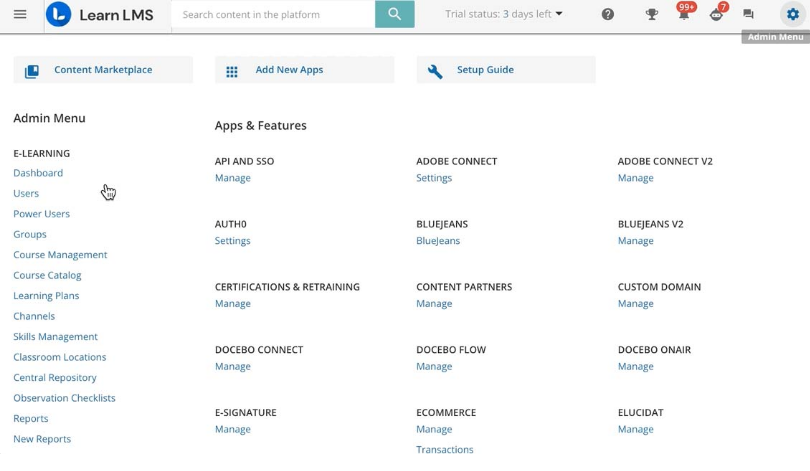 Modern training on construction-related safety and protocols calls for more than memos with information gathered from the internet. Training needs to be engaging and interactive, and that's where Learnupon shines.
I used this construction LMS to host webinars with professionals to train a team of workers. The process was smooth and streamlined. It also has a white-labeling feature if you want to create courses with your branding.
With its seamless interface, LearnUpon is a one-stop solution – spanning course creation, user management, engagement tools, reporting, and integrations.
What you'll like:
Generative AI tools to create courses, exams, scripts, images, videos, and translate text.

Robust e-commerce feature for hassle-free course selling.

Different portals for different teams and learning paths.

On-demand training with learners' feedback.

Versatility in content types, from documents to SCORM-based courses.

Integration with third-party tools like Zoom, Salesforce, Mailchimp, and Google Analytics.
What you won't like:
Quizzing options lack variety and customization.

Module-based course creation requires multiple inputs and tabbing through screens.
Pricing:
Paid plans start at $599/month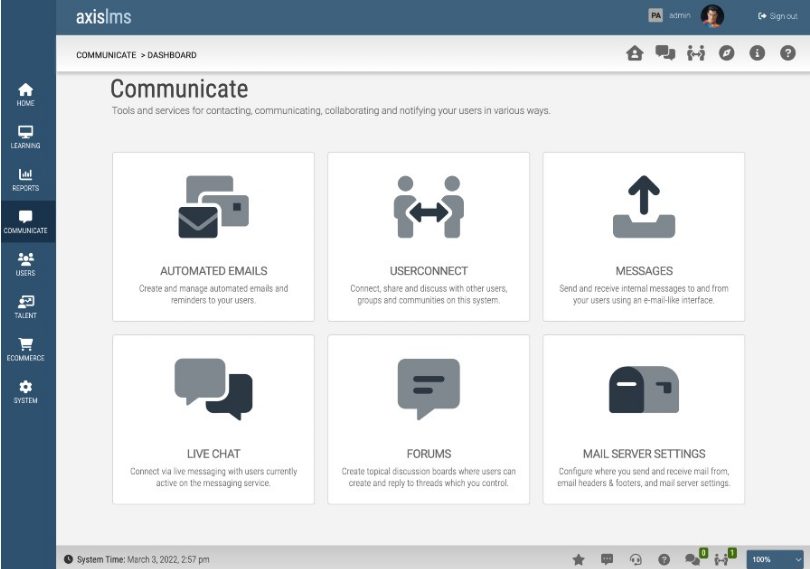 With Axis LMS, I've experienced a construction-focused platform. It's like having a master foreman for skill development.
Some of its features that I enjoyed are its intuitive drag-and-drop course creation, dynamic learning activities using documents, videos, and more.
The robust reporting engine ensures compliance and boosts productivity. It generates reports, both on-demand and automated, on learner progress, engagement, and other metrics. You can customize these reports to meet the specific needs of your organization.
Plus, its communication tools keep users engaged through automation, real-time updates, and collaboration.
What you'll like:
Seamless course creation, aligning perfectly with tight construction schedules.

Comprehensive resource library for safety, project management, and equipment training.

Real-time progress tracking for each worker, making skill development tangible.

Interactive simulations offer hands-on experience without stepping on the site.

Generate on-demand and scheduled reports with multiple data filtering options.
What you won't like:
Advanced customization might need more flexibility.

The user interface of the tool lacks customizability.

International users will find localization limited without additional modification.
Pricing:
Starts at $149-$300
11. Vector LMS – Best for Automated Training Course Management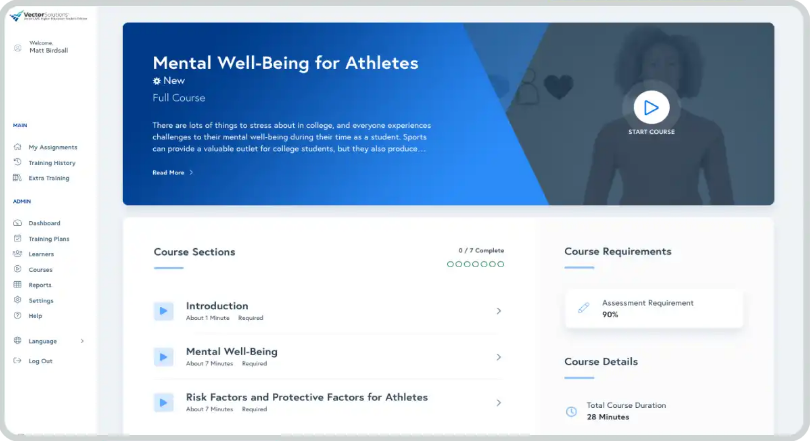 This remarkable safety training and compliance management software offers a unified platform suitable for medium-sized and large enterprises with multiple sites.
From my personal experience, Vector LMS guarantees a streamlined process, whether it involves importing content using the import wizard or generating customized content through the built-in tools.
The automation of training course management, scheduling, and assignments becomes effortless, thanks to its scheduling engine, which includes features like email reminders and notifications.
What you'll like:
Extensive library of safety training materials.

Employee and learner portals for streamlined learning management.

Support for multiple languages, facilitating training for a global audience.

Single-sign-on compatibility with SCORM standards.

Smooth integration with HRIS and eCommerce platforms.

A centralized management hub that enables monitoring of training progress, completions, and results.
What you won't like:
Limited reporting capabilities, including a lack of real-time insights.

The design process for creating new content and designing overlays isn't optimized.
Pricing:
Starts from Starting from $5/month
12. Bridge LMS – Best for Simplified Learning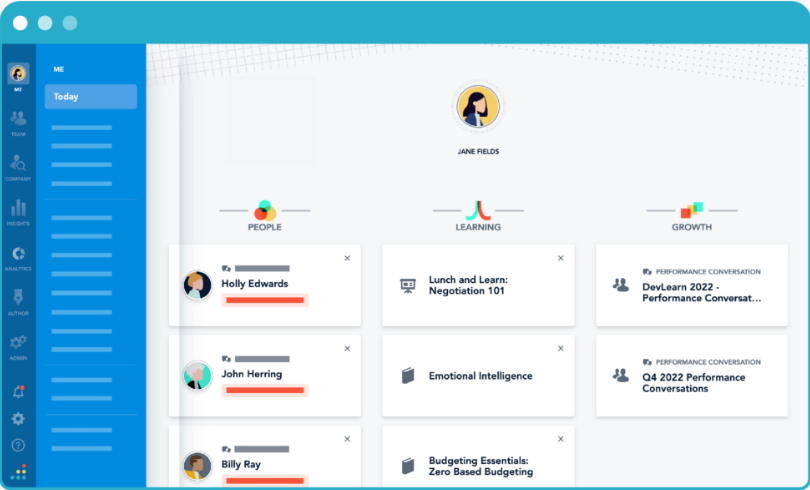 I tried this construction LMS for a while, and here is my take with it.
The combination of the LMS and performance management creates synergy, integrating learning programs into skill development strategies and gauging the impact of learning on performance.
It simplifies content creation, delivery, and reporting, resulting in a highly efficient learning process. Additionally, Bridge facilitates journeys for skill enhancement, furnishes analytics for performance tracking, and supports adaptable pathways for learning.
What you'll like:
Skill gap analysis with automated reminders.

Effortless integration with diverse HRIS, SSO platforms, and content providers guarantees a seamless user experience.

AI-Powered Skills feature enhances employee upskilling significantly, pinpointing skill deficiencies and suggesting pertinent courses.

Robust tool for nurturing, acknowledging, and retaining employees.
What you won't like:
Text editor lacks features that could enhance content generation and formatting capabilities.

There's no provision to establish a media library within Bridge, making the efficient management and access of media resources challenging.
Pricing:
Starts at $4/user/month
Which Is the Best LMS for the Construction Industry?
Some people may think that training courses are meant for employees who do desk jobs, but it couldn't be further from the truth. An industry like construction has workers out on sites and they equally require constant training on safety protocols and compliance to ensure a safe work environment.
I hope this list of top construction LMS helps you choose the best pick for your needs. I also understand that as much as you like multiple options to choose from, you'd appreciate more narrowed-down options. Here are the top three that I think are worth considering:
Option A: ProProfs Training Maker
I appreciate the purpose-built courses it offers specific to safety and compliance training for construction workers. Also, ProprofsTraining Maker's AI-powered reporting and analytics, automatic reminders, and certification are a game-changer and time saver for tracking workers' learning progress.
Option B: LearnUpon
If you are big on webinars and live-sessions-based training, you can definitely consider LearnUpon. It can increase your ability to enjoy more facetime with your audience. It also harnesses the power of generative AI to expedite your course creation.
Option C: Docebo
If you deal with large teams, Docebo is the construction LMS for you. It's very flexible and has robust management functionality to manage the learning journeys of large teams.
Do you want me to drill down even more and pick just one tool? Alright, then.
In that case, I'd say go with ProProfs Training Maker for Construction LMS. You won't have to create courses from scratch and can get started with the training right away.
You can also use courses in different languages if you have a diverse workforce. Additionally, it offers a free plan, so if your team consists of 10 or fewer members, you won't even have to buy a subscription. I hope this helps. Au revoir!
Learn More About Construction LMS
What is a construction LMS?
A construction LMS is a specialized learning management system designed for the construction industry. It streamlines new hire onboarding, skill development, and safety and compliance training for construction employees.
What are the key features to look for in a construction LMS?
Key features in a construction LMS include industry-specific training modules, compatibility with various content types (videos, quizzes, presentations, simulations, etc.), seamless integration, specialized courses on safety & compliance matters, and robust analytics for progress tracking.
How to choose the right LMS for the construction industry?
To choose the right LMS, consider industry-focused content, smooth integration with existing systems, mobile accessibility, user-friendly interface, and comprehensive analytics to measure training effectiveness. Also, consider the quality of customer service.
How can a construction LMS help in improving the skills and knowledge of my construction workforce?
A construction LMS enhances skills by providing specialized training tailored to the industry. It improves safety compliance, optimizes equipment operation, refines project management expertise, and ensures a well-trained construction workforce.
Does the LMS offer specific training modules tailored to the construction industry, such as safety training, equipment operation, and project management?
Yes, a construction LMS typically offers specialized training modules covering crucial aspects of the construction industry, including safety protocols, equipment operations, company policies, and project management skills.
Can the construction LMS accommodate various types of training content, such as videos, simulations, and interactive modules?
Certainly, it is designed to cater to different learning styles and formats. It can easily accommodate diverse training content types, including videos, simulations, quizzes, games, and interactive modules.
Can the LMS integrate with my existing construction management systems and HR platforms?
Many construction LMS platforms support integration with existing construction management systems and HR platforms. It ensures seamless data exchange, centralized training management, and a unified learning experience for your workforce.
Do you want a free Training Software?
We have the #1 Online Training Software for employee training & assessment