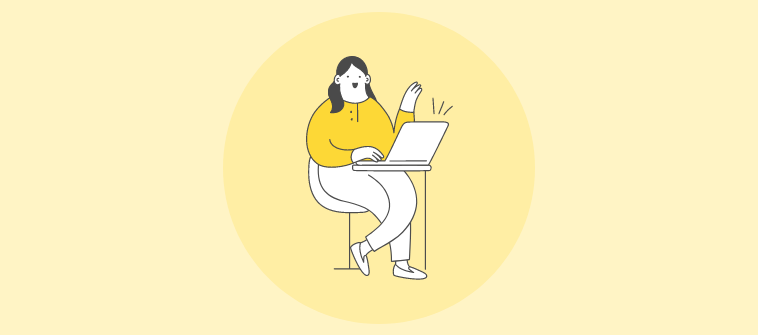 Searching for the best types of LMS for your business?
You're in the right place.
Learning Management Systems (LMSs) have revolutionized how enterprises conduct online training. With the growing importance of corporate training, more and more businesses are turning to LMS solutions to fulfill their learning goals.
However, with so many types of learning management systems available on the market, finding the right solution can be challenging. To select the best one, you have to consider your budget, team size, learning styles, and the supporting features in such tools.
By the time you're through this post, you'll learn about the various types of LMS platforms, their core features, benefits, and examples.
But before that, let's quickly understand the concept of an LMS.
What Is an LMS?
An LMS is a software application that enables users to create, manage, share, track, and analyze online training programs. It empowers L&D departments to continuously provide high-quality training for the company's growth and success and to ensure compliance with organizational, state, and federal policies. For more on the topic, read What is an LMS?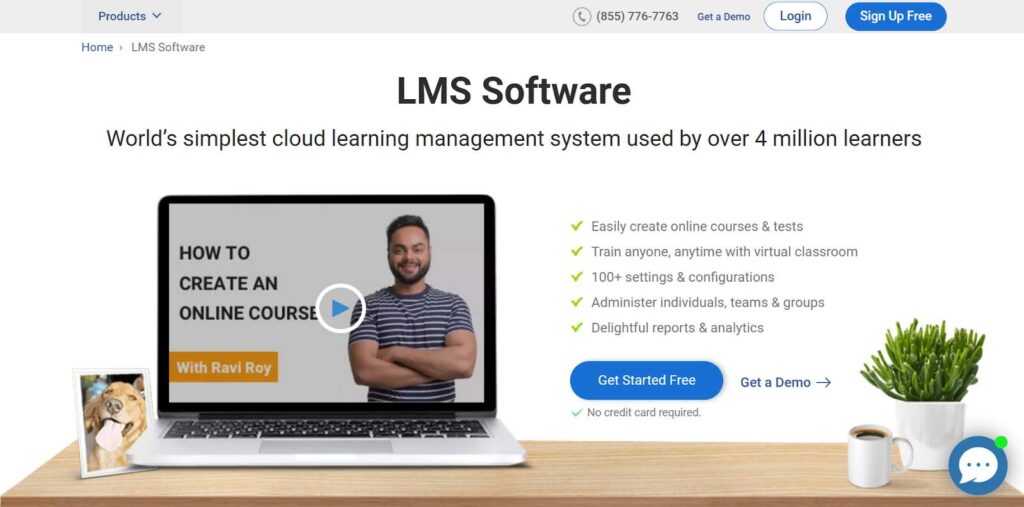 As a modern solution, this digital framework takes care of all the aspects of online training. You can use it to deploy social learning, blended learning, experiential learning, mobile learning, and more. An LMS is both instructor and learner-friendly and comes with features like a course builder, premade courses , quizzes, surveys, collaboration tools, learning paths
, and gamification, to name a few.
Learning management systems let you take charge of your learning programs, reduce training development time, and ensure accountability and transparency.
Each type of LMS has different features, so you must understand your requirements before picking the right one. Let's now focus on the different types of LMSs available with their pros and cons.
Watch: How to Choose the Best LMS Software for Employee Training
Types of Learning Management Systems (LMS) to Consider in 2023 and Beyond
Different types of learning management systems are available on the market with interesting similar as well as varied features. This makes it difficult to pick the right one. Therefore, we have researched on your behalf to find the best types of LMSs available. This will streamline the process of finding the right LMS for your business.
1. SaaS LMS (Cloud-Based)
A SaaS LMS, also known as cloud-based or web-based LMS, is hosted in the cloud. It allows learners to access training 24/7 from anywhere. Whether they prefer mobile, desktop, or tablet, a cloud-based LMS enables learners to learn on the go. All the user information is cloud hosted and made available as a service.
Most SaaS LMS vendors provide customization options to suit your training needs and a range of software integration features to connect with your favorite tools and deliver the best learning experience.
A cloud-based LMS is cost-effective compared to the other types of LMS because it is based on usage metrics – which means you pay for the actual usage of the LMS. In the long run, you'll have to pay for the maintenance and support services, which are not too expensive. Most cloud-based LMS providers offer trial periods – so you can test the system and check all the functionalities before investing.
Benefits
Easy Course Creation

– Course creators can easily build courses from scratch or import existing materials such as docs, videos, images, and recorded webinars.

Centralized Learning

– Take charge of your online learning programs with

virtual classrooms

. This centralized place lets you create learner groups, add group admins, assign courses and assessments, and view real-time reports to track learner progress. Manage all your learning activities under a single roof.

Measure Knowledge

– Assess learner knowledge through engaging quizzes in different formats and question types. Understand how well they have grasped the information.

High Customization

– Use white labeling to customize your LMS platform and make it feel like your own. Add your brand logo, colors, themes, fonts, and layouts.

Certification

– Most SaaS LMS software support custom certification to validate the completion of a course. Download and share certificates through email or social media.
Pros
+ Training can be accessed anytime, anywhere
+ Easy course update
+ Faster implementation
+ Fully customizable
+ Cloud security and data privacy
+ Real-time tracking
+ Highly scalable
Watch: What is a Cloud-Based Learning Management System?
2. Installed LMS (On-Premise)
As the name suggests, installed LMS is locally hosted on your premises and server. This kind of LMS provides high flexibility in terms of customization and lets you store your database locally, thus eliminating the chances of data breaches and other security risks.
In this type of LMS, you need to download the solution from the supplier's site or install it on your computer. In most cases, you need to purchase the subscription/license to continue using the service. Your team will be responsible for setting up and maintaining the system.
Though it may look time-consuming, you'll have some significant advantages. If security is your top concern, this can be the ideal choice since you can store all the data locally. Secondly, installed LMS solutions are more compatible with third-party apps.
Benefits
Complete Control Over Data

– Maintain high-security protocols with a hosted or on-premise LMS that gives you complete control over data because all the user information is stored locally.

Flexibility in Terms of Customization –

Add branding elements to make the platform your own and maintain the LMS within your own servers.

Low Ownership Cost

– Unlike other LMSs, an on-premise LMS does not entail any recurring cost, and this makes them comparatively cheaper in terms of ownership cost.

Powerful Integrations

– An on-premise LMS lets you integrate your system with other enterprise applications, such as CRM, HRMS, EPR, etc., more easily than other types. This will help you combine data from third-party tools and ensure a streamlined training experience.
Pros
+ Best for large IT staff
+ Large customization options
+ High data security standards
3. Open-Source LMS
Another popular type of LMS is open-source LMS, which has open-source code. Anyone with strong technical knowledge can operate this kind of LMS, and they can add, delete, or modify any source code and customize them to match the team's learning needs.
Organizations are free to customize every feature to its smallest details and add new functionalities that suit their training requirements. It's a good choice for organizations with an in-house team of technical experts.
Open-source LMS is a cost-effective option as it doesn't come with any licensing fee. But organizations need to have the right support and tools to manage everything on their own. Here, you can look for the best-managed hosting solutions, where vendors provide an open-source LMS along with basic support at a minimal cost.
Benefits
Highly Customizable

– With an open-source LMS, there's a huge flexibility to customize the platform based on your unique training requirements. This comes in handy when you have to meet specific training or compliance needs.

Flexible Integrations

– An open-source LMS enables you to integrate your most-used tools, facilitating data exchange across multiple platforms like ERPs, LMSs, and CRMs.

Branding Opportunities

– In an open-source LMS, you can modify the interface to display your brand designs. This will enable learners to connect and engage with your training programs in a better way.

High Security and Data Control

– Open-source LMS lets you take full control of your user data through complete ownership, preventing any security breaches.
Pros
+ Fully customizable
+ Cost-effective
+ High data security
4. Closed-Source LMS
Closed-source LMS, as opposed to open-source, doesn't provide access to the source code. This can be the right choice if you're looking for an LMS for elearning authoring where you don't need much technical expertise. You have to pay a licensing fee to use this platform, which is why traditional instructors do not prefer this type of LMS.
However, on the brighter side, it relieves you from technical complexities as all things like new upgrades and fixing bugs will be taken care of by the LMS vendor.
In short, a closed-source LMS is a proprietary software where users will need licenses to access the platform. Since you are relieved of the IT headache, you can devote more time to your training quality and content management.
Benefits
Provides High Security – With a closed-source LMS, you don't have to worry about unauthorized access to your user data, and it eliminates the risk of malware.
Dedicated Support

– In case of any issues with your LMS system, you get access to dedicated services and support, which is one of the main USPs of this LMS type. It's especially advantageous for organizations that don't have an in-house IT team.

Ensures Compliance

– In the case of an open-source LMS, you need to understand the intricacies of the General Public Licenses to stay compliant with the platform requirements. But this is not the case with closed-source LMSs because the vendor provides you with the license agreement, which you read and accept before using the system.

Provides More Usability – Closed source LMS has higher usability than other LMS systems because they are developed for a targeted audience. Buyers can access reference manuals, training materials, and other support services.
Pros
+ Technical support
+ Offers high security
+ User-friendly
5. LMS With Authoring Tools
Another type of LMS popular across industries is the LMSs with authoring tools. This type allows you to create your online courses and learning experiences without advanced technical expertise. This LMS type also gives you the flexibility to build high-quality content from scratch using your existing materials, such as docs, videos, images, manuals, company policies, and recorded webinars.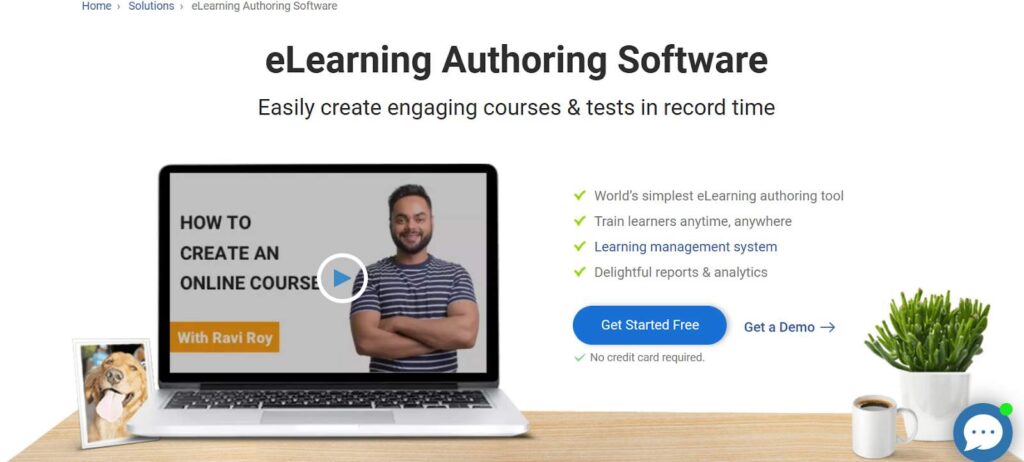 Creating a course in an LMS with authoring tools is as simple as creating PowerPoint presentations. Some LMS vendors, such as ProProfs, provide a huge library of professional courses that can reduce your training development time. You can use the courses as-is or edit them based on your training needs.
An LMS with authoring tools enables you to track learning progress and manage all the learning activities on the same platform. Creating, delivering, and tracking training programs has become easier than ever with these LMS systems.
Benefits
Reduces Training Development Time

– You can speed up online course creation with rapid authoring. It also reduces time spent on course design as you get access to readymade templates and themes.

No Technical Expertise Required

– LMSs with authoring tools enable you to create courses easily without coding or technical knowledge.

Better Knowledge Retention

– By adding engaging formats in your content through multimedia, you enable learners to retain knowledge in a better way.

T

rack Learner Progress

– The best LMSs let you view AI-generated reports for a holistic view of your training programs. You can view engagement levels, satisfaction rates, and test scores.
Pros
+ Create high-quality courses in minutes
+ Train anytime, anywhere
+ Saves time, effort, and money
Watch: What is an eLearning Course Authoring Tool?
6. Enterprise LMS
Enterprise LMS, popularly known as commercial LMS, is a type that is considered the best choice for large organizations. This LMS is an ideal pick if you have 500+ employees to train.
An enterprise LMS helps administer and deliver corporate training for onboarding, upskilling, and reskilling, maintains certifications, and ensures compliance with federal and state regulations. This LMS is also useful for educating non-employees, such as customers and partners.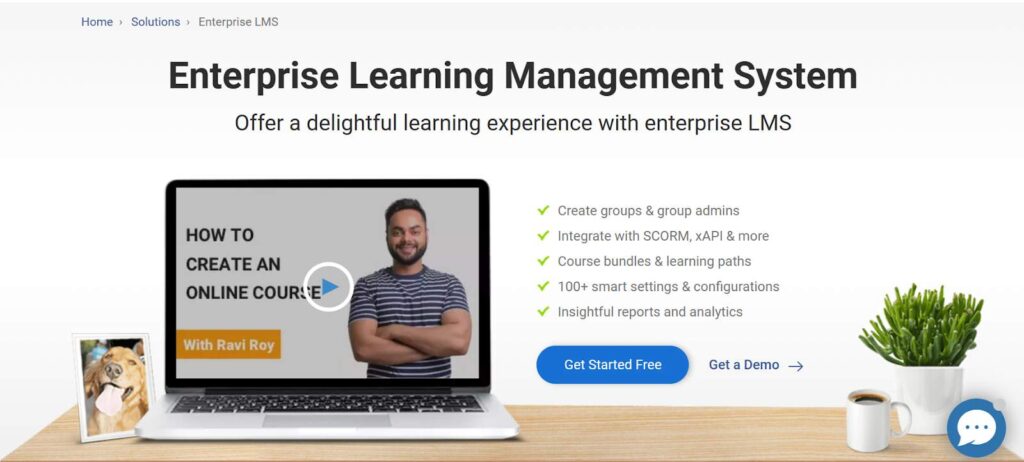 It has a range of premium features, such as the ability to create groups with multiple learners, learning paths, social learning, gamification, mobile learning, and more. It also integrates well with third-party tools like CRM, HRIS, LCMS, and other LMSs.
Benefits
Highly Scalable

– Enterprise LMSs enable you to train employees at scale. They also support more storage and computing capabilities than their counterparts

Real-Time Tracking – An enterprise LMS provides in-depth reporting on individuals and groups, with real-time tracking of performance, engagement, milestones, and challenges. They also automate scoring and grading. The AI-based LMSs in this category also automate scoring and grading.
Multilingual Support

– An enterprise LMS usually supports multiple languages, which enables you to train diverse team members in a language they understand.

Supports Collaborative Learning

– Features like social learning through collaborative tools let you involve all your team members in the training creation process. Plus, it enables everyone to exchange knowledge and solve problems in real-time.
Pros
+ Course authoring
+ Robust reporting
+ Powerful integrations
+ Facilitates social learning
Read More: What is an Enterprise LMS? Features & Benefits
7. Custom LMS
Another popular type of LMS is the custom LMS, developed to meet specific learning needs and business processes and solve unique business problems. For instance, if you want ownership of the Internet Protocol, then a custom LMS is ideal for you, as it will help you own and maintain the IP.
Compared to conventional LMSs, a custom LMS is considered more secure and safe. Such systems are interoperable and let you exchange information smoothly without any IT support. With a custom LMS, you have complete control over your desired features. This LMS type provides intuitive content editing tools, a high level of automation, advanced reporting and analytics, and more.
Benefits
Personalized Learning –

A custom LMS lets you create a custom dashboard for each learner to deliver a personalized experience. Such dashboards can also help the administrators to get a quick overview of learning progress and reporting.

Achieve Targeted Goals

– A custom LMS is the best bet in cases where you want to achieve targeted goals. You can easily create and deliver content on topics you want to train. On the other hand, you can use custom dashboards to communicate training schedules and announcements.

Deliver Gamified Learning Experience

– Gamification is an amazing technique to keep your employees motivated and encourage their competitive spirits. A custom-built LMS lets you add elements like badges, points, leaderboards, etc. Click

here

to know more about how to create gamified courses.

Complete Control Over Features

– No two learners learn the same way. Using a custom LMS enables you to choose multiple learning styles to cater to different learning needs. Plus, you can map each segment of the LMS functionality based on department, job role, or specific training needs.
Pros
+ Fully customizable
+ Brand integration
+ Control over updates and upgrades
8. Mobile LMS
Mobile LMS is one of the most popular LMSs that enable learners to access training on any device – smartphones, tablets, and desktops. This kind of LMS is gaining ground in today's L&D initiatives. Instructors and trainers use this system to create and deliver training anytime, anywhere.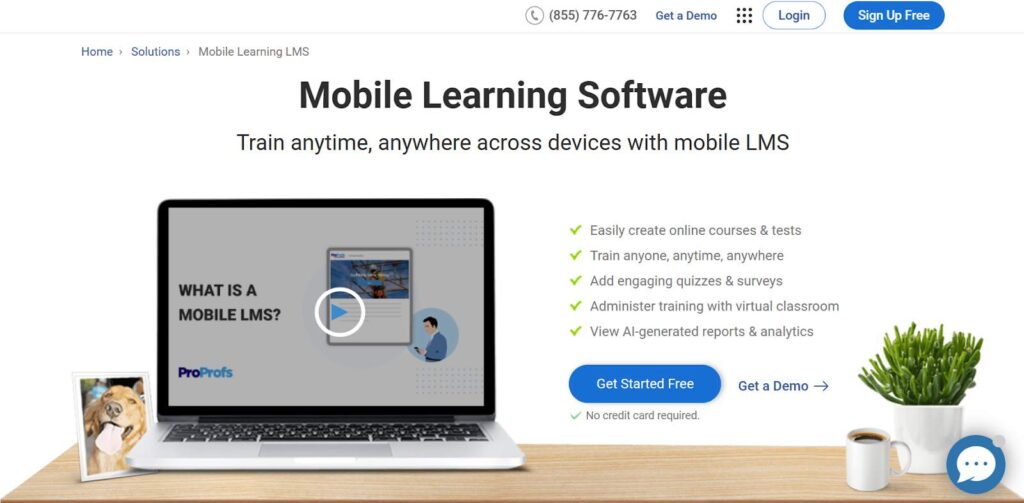 This eradicates the need for learners to become desk-bound. They can learn on the go based on their chosen pace and schedule. A mobile LMS lets you easily access and download training materials, which makes information available at your fingertips and enables better knowledge retention.
Benefits
Flexibility

– Mobile LMSs are known for flexibility and convenience that increase the amount of information a learner can absorb in a single day. Since there is no fixed place or time, learners can initiate a course while in the office and complete them while commuting or at home.

Boosts Engagement

– Learning becomes engaging and enjoyable when learners fully control how, where, and when they learn.

Learner-Centric

– The best thing about a mobile LMS is that it puts learners at the center of learning. It enables them to take charge of learning, while instructors can play the role of a facilitator.

Facilitates Continuous Learning

– Since people carry their tablets and smartphones wherever they go, it becomes easy to access learning materials 24/7. They can also download study materials and access them later offline or in poor connectivity.
Pros
+ Access to learning 24/7
+ Flexible learning
+ Effective collaboration
Watch: What Is a Mobile LMS & How Can It Help Train Anytime, Anywhere?
That was all about the top types of LMSs available on the market. Understand your learning requirements, consider all the pros of each LMS type, and choose the right one accordingly.
For instance, Global Linking Solutions (GLS), a Charlotte-based computer network and security services provider, had a staff turnover rate of 30%. They identified a lack of training and ineffective communication as the root cause. So, they went through different LMSs, and after extensive research, they deployed ProProfs cloud-based LMS because it had all the features to create, manage, deliver, and track impactful training. GLS particularly liked the reporting and customization features offered by this LMS. Today, the company is offering efficient, flexible, and sustainable learning opportunities online.
Case Study – How GLS Improved Employee Communication with Cohesive Training Using ProProfs
Frequently Asked Questions
1. What is the most commonly used LMS?
Businesses use different LMSs based on their learning needs, budgets, and audience type. However, as per the latest reports, some of the LMSs like ProProfs, Mindflash, Docebo, Edmodo, and Schoology are the most popular ones currently.
2. What are the different pricing models for LMSs?
Different vendors offer different price models. However, there are a few standard pricing models based on which the vendors set their prices. For example, perpetual license and maintenance fees, subscriptions based on the total number of users, and custom pricing.
3. How do I know which LMS is the right one for me?
To know which LMS is the right one, first understand the purpose for which you want to use this tool. It can be for employee onboarding, compliance training, and more. Based on your requirements, make a shortlist of the tools and compare the features and the prices. You should choose an LMS vendor that offers a free trial. That way, it becomes easy to make an informed decision before you finally invest. You can read this guide for more details or watch this video.
Watch: How to Choose the Best SaaS LMS Software
Which Type of LMS Are You Looking For?
Now that you have an idea about the top types of LMSs available, you should analyze your training needs and get down to choosing the one that is cut out for you. Understand how each of these LMSs works and what benefits they can bring to the table. Since you're making a financial investment, it is vital to consider the pros before making any software decision. The right choice will enable you to deliver the best training experience and lead to better engagement and high retention rates. In addition, such tools will help you streamline, standardize, and accelerate online training programs in more than one way.
Do you want a free Training Software?
We have the #1 Online Training Software for employee training & assessment