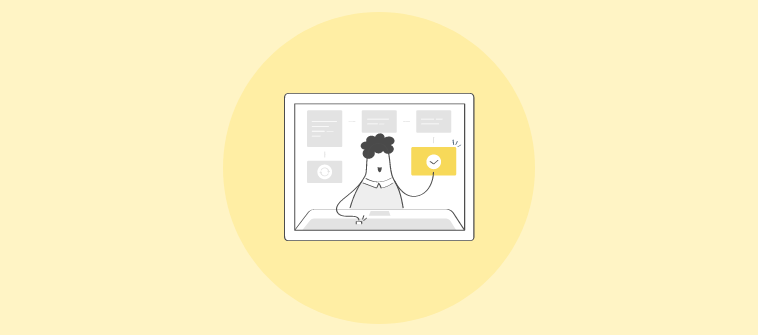 Of late, learning management systems, or LMS, have become the poster child for streamlined training in enterprises across industries. The same is true for schools, higher education, and private training institutions.
This is where an LMS for schools enters the scene.
These solutions:
simplify how teachers create courses, lessons, and exams

make online assessments easy

automate several routine tasks, such as due-date reminders

enable progress & completion tracking

encourage collaboration with parents

provide access to curriculum management solutions

keep grading and certification on auto-pilot
So, an LMS can help you at multiple levels.
If you're yet to capitalize on it, the sooner you do it, the better. Why should corporate learners have all the fun? You can equally benefit from deploying these solutions in educational settings.
But if choosing the right tool for your organization is a challenge, then this post is for you. It lists some of the best learning management systems for schools. Go through their features, pros & cons, and pricing plans to make an informed decision.
Watch: How to Choose the Best SaaS LMS Software
A Quick Feature & Price Comparison Table of the Best LMS for Schools
10 Best LMS for Schools
Why You Should Consider It
Pricing
ProProfs LMS
Easy to use

100+ ready courses & templates

Quizzes for assessment

Virtual classroom

Multiple admins & instructors

AI reporting

Starts at $1/learner/month
Blackboard Learn
Course design services

SafeAssign

Curriculum management

Assessment & accreditation

Get in touch with the company for a quote.
Moodle
Easy to use

Integrated solutions

Plugins

Community forums

Starts at $110
Google Classroom
Easy to use

Built for collaboration

Educator-approved apps

Originality reports

Free plan available. Get in touch with the company for paid plans.
TalentLMS
Easy course creation

Meet & connect

Quizzes & tests

In-depth reports

Starts at $0/month
Tovuti LMS
Content creation

Live learning

Video conferencing

Tracking & reporting

Starts at $775/month
Schoology Learning
K-12 LMS

Communication tools

Student service & support

Comprehensive assessment

Get in touch with the company for a quote.
Quizlet
Flashcards

Practice tests

Expert solutions

Smart grading

Get in touch with the company for a quote.
NEO LMS
User-friendly

Mobile first

Inclusive learning

Advanced analytics

Get in touch with the company for a quote.
Itslearning
Easy to use

Educational material

Partnership with tech experts

Assessment & reporting

Get in touch with the company for a quote.
Let's now look at each of these solutions in granular detail:
10 Best LMS for Schools
1. ProProfs LMS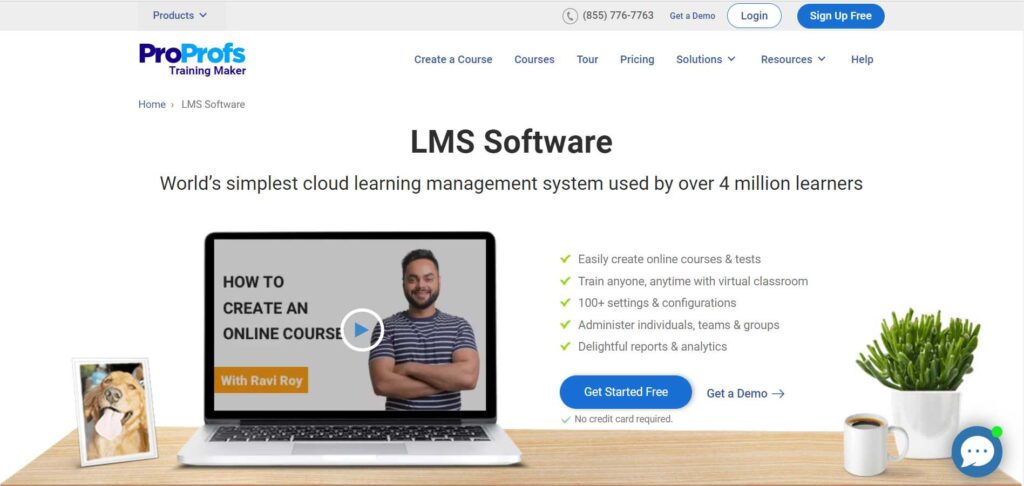 ProProfs LMS is a robust and the world's easiest-to-use cloud LMS. It comes with a well-stocked and regularly updated library of courses and templates. These resources are professionally designed, customizable, and ready to use.
100+ customization options, quizzes, support for English, Spanish, and 70+ other interface languages, virtual classroom, software integrations, SCORM and Tin Can-compliance, Q&A community, automatic grading, and AI reporting are some of the key features in this award-winning SaaS LMS.
You can use the LMS software to meet your online teaching and learning needs.
Besides teaching students, schools and higher educational institutions rely on this SaaS LMS to train their teachers and other staff on professional knowledge and skills specific to their field and policies & procedures.
Similarly, training institutes that offer certification courses and continuing education programs use the LMS software to prepare candidates for applying for a certification from a governing body.
Consulting companies also deploy ProProfs LMS to train their employees on business strategies, compliance matters, communication skills, managerial skills, and more.
Features
Ready Courses or Create Your Own
Implement your educational program in minutes with fully editable and ready-to-go courses and templates. You can also reuse materials you already have, such as docs, recorded webinars, videos, PPTs, PDFs, and podcasts.
Centralized Virtual Classroom
Centrally manage learner groups, assignments, group admins, and instructors in a secure environment. View custom reports and send announcements & reminders.
Administer engaging online quizzes in different formats and question types. Assess retention, challenges, milestones, and gaps. Enable video responses and prevent question skipping.
Anti-Cheating & Remote Proctoring
Prevent cheating in your quizzes and exams with security settings. Limit assessment availability time, randomize questions, and shuffle answers. Leverage remote proctoring via screen share and webcam feed recording.
Save your time & effort by automatically grading quizzes and making the results instantly available. Pre-assign grades and scores to the correct answers.
Access auto-generated performance reports. Know learners' progress, average time spent on a quiz, number of attempts, scores, and other stats. Compare performances from different points in time.
Pros & Cons

+ Easy to use
+ Rich quiz variety
+ Time & labor-saving automated grading
– More courses can be added to the library
Pricing: Starts at $1/learner/month. Billed annually.
Watch: How ProProfs Tools Helped Me Create Electronic Tests & Eased My Job
2. Blackboard Learn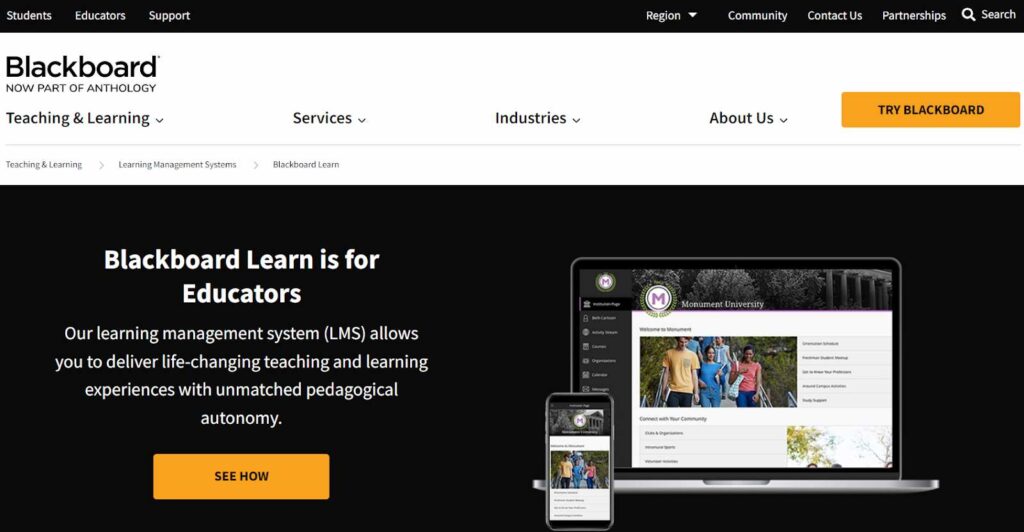 Blackboard Learn is designed to help users tackle some of the most critical educational challenges and drive learners' success. Towards this end, it provides the technology, tools, and support to boost learner engagement, make teaching effective, and offer educational insights.
As a leading partner in education, the LMS helps educators, students, institutions, and companies thrive in a fast-changing and complex learning environment. Its easy-to-use tools and workflows keep everyone organized, engaged, and on track, both inside and outside a classroom.
Get the most out of your education solutions through Blackboard Learn's consulting services. Online courses and live remote workshops are also among its offerings. An integrated and flexible EdTech platform, it drives learners' student and institutional performance.
Features
Course Design & Development Services
Apply the best practices in online course design to craft and deliver a personalized and industry-specific learning experience. Work with expert course developers, instructional designers, and educational consultants.
Identify overlaps in assignments submitted to ensure academic integrity and uphold originality. Learn how to attribute sources of papers properly.
Use relevant, engaging, employment-oriented, and future-focused curriculums. Leverage the services of a leading cloud-based curriculum management solution. Simplify how you maintain and update your curriculums.
Assessment & Accreditation
Easily meet your assessment and accreditation requirements. Make faster and better decisions on learning outcomes. Conduct primary assessments inside courses as well as juried assessments outside courses.
Pros & Cons

+ Easy from the perspective of students
+ Uploading assignments electronically
+ Accepts different file types
– The instructors' app is fairly basic
Pricing: Get in touch with the company for a quote.
3. Moodle

Moodle is one of the most popular LMS for schools with a contemporary look and feel. Educators find it easy to create and edit courses while learners can prioritize and complete their coursework.
Tabbed navigation ensures an intuitive and seamless experience. Moodle LMS 4 provides a one-click access to all learning content. Learners can expect less scrolling and more learning with reduced distractions from this solution.
Choose the best activity based on your learning objectives. View course structure at a glance, navigate to any content, and quickly spot pending tasks.
Similarly, custom reports provide access to data that matters most to your educational initiatives. You can schedule and share these reports with stakeholders in your organization.
Features
As an open-source LMS, Moodle is easily customizable as per any teaching requirements. You can download the entire software and put it to your specific use case. In other words, you can use it as you wish.
Moodle plugins enable users to extend the functionality of the school LMS system. This flexibility makes Moodle fully community-based and collaborative.
These forums let teachers and students exchange ideas by posting comments via thread. They can share images and media in forum posts. They can also sort discussions, subscribe to discussions from the toggle button, and bookmark discussions.
Keep your online learning spaces safe. Teach with confidence in data security. Moodle offers solutions with ''security by design' supported by its global security community.
Pros & Cons
+ Large customization options
+ A good connector between teachers and students
+ Room for interactions
– The interface needs a facelift
Pricing: Starts at $110
4. Google Classroom

If you're looking for an easy-to-use, secure, and all-in-one solution for schools and higher education, then Google Classroom is a great choice.
According to the CEO of Google, Sundar Pichai, "Technology alone will not improve education, but it can be a powerful part of the solution." With this in mind, the platform is committed to offering educators and learners of every age and skill level the tools they need to set themselves up for success and build the future they want.
Google Classroom is built for collaborative learning. A whole class can work simultaneously on the same document or connect face-to-face with Google Meet. Still better, learners can adjust the classroom's accessibility settings so they can learn in the way that works best for them.
Features
Provide individualized guidance to learners with encouragement, prompts, and automated hints. Let them access video tutorials and check their answers to know if they are on the right path.
Google firmly believes that when all learners can fully participate in the learning process in their own way, everyone benefits. That's why it creates its products with accessibility in mind to enable every learner to learn optimally and achieve their full potential.
Easily distribute, analyze, and grade student work with the Assignments app. Save time grading and let students turn in their best work.
Access audit logs in the classroom right from the admin console to track events and pinpoint performance or security issues.
Pros & Cons
+ Clean & simple UI
+ Integration with Google Meet is an excellent combination
+ It naturally connects with several other applications
– No feature for parental control
Pricing: Free plan available. Get in touch with the company for paid plans.
5. TalentLMS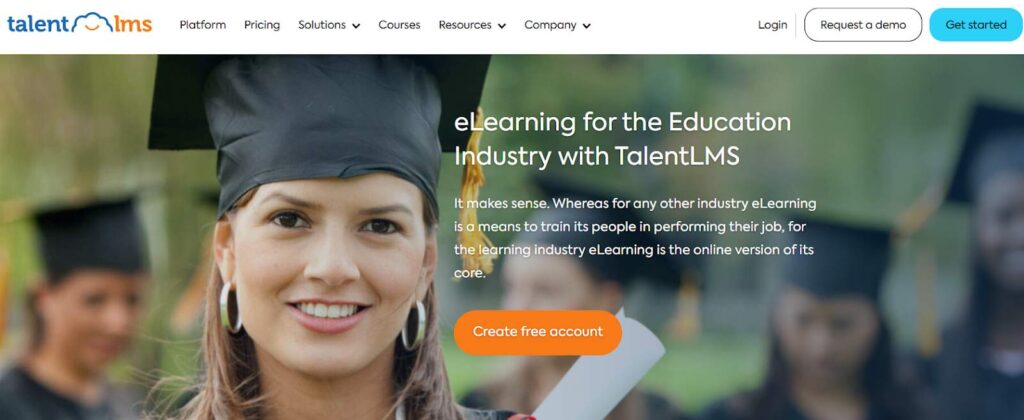 Whether you run a local school or a university, TalentLMS makes it easy for you to embrace eLearning and invest in a modern LMS. It's easy to use and suitable for teaching at scale.
From automatic test creation and grading to detailed progress reports and student statistics, the application is every teacher's dream come true.
TalentLMS' blended learning support enables you to manage your regular classes alongside online sessions.
If you cannot meet face-to-face with your learners, you can stay in touch with them with video conferences, feedback, discussions, messages, and more.
This reliable solution can change how you think and feel about online education.
Features
Build courses from scratch or reuse your existing content. Upload SCORM, xAPI, or cmi5 files. Add all types of media to your courses, such as videos, presentations, and docs, through drag-and-drop.
Set up detailed learning paths and completion rules to guide your learners through their personalized learning journeys. Group related courses so learners can easily find them as and when needed.
Create unlimited accounts and sub-accounts based on your organization's structure and centrally manage them from one place. Customize each sub-account to match different teams, departments, and audiences.
Track and analyze learning from all aspects with real-time, scheduled, and custom reports. View data on a dynamic dashboard showing infographics. Export reports in excel sheets.
Pros & Cons

+ User-friendly and feature-packed
+ Course and learning path setup is easy
+ Cost-effective solution
– Lacks gamification
Pricing: Starts at $0/month
6. Tovuti LMS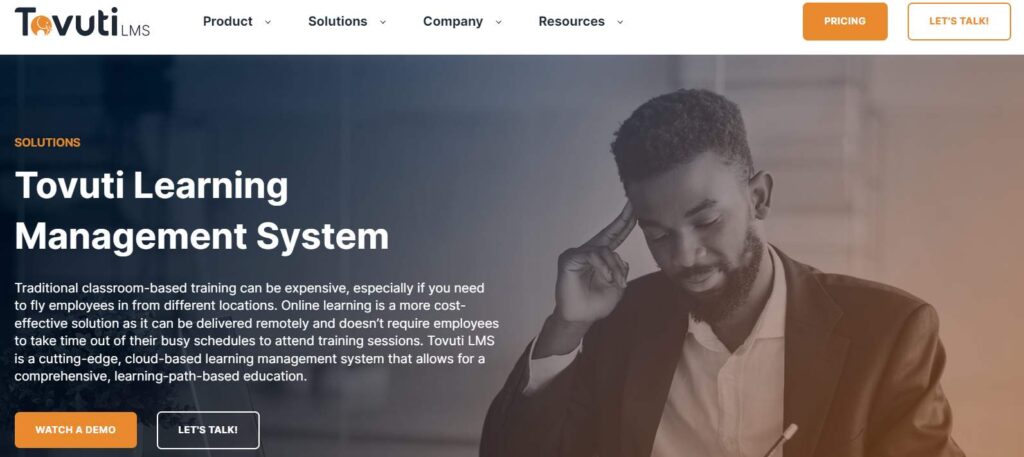 Tovuti LMS is a cloud-based LMS for delivering comprehensive and consistent education. A simple system for administration, interactive and collaborative learning experience, security, and reliability are among its hallmarks.
The award-winning LMS is designed to help you equip your learners with the knowledge and competencies they need to thrive in today's competitive and dynamic world. Unlock your learners' potential and provide tailored education.
As a flexible solution, it enables users to adapt to their changing learning needs and move forward.
Should you run into any hiccups at the initial stages, Tovuti LMS provides exceptional customer care, available 24/7, 365 days, through a cutting-edge live ticketing system.
Features
Access built-in cloud-based course authoring tools and interactive modules to create engaging courses in minutes. Easily import eLearning content such as SCORM and Tin Can packages, PPTs, and PDFs.
Deliver in-person instructor-led training (ILT), virtual instructor-led training (VILT), or hybrid training sessions. Ensure better communication, instant doubt resolution, and improved academic performance.
Tovuti LMS provides a built-in video conferencing solution through leading platforms such as Zoom, GoToMeeting, WebEx, Join.me and more.
Use an easy and single system to track and analyze training. Check data such as the total number of users, completed courses, and certificates awarded on an activity dashboard. Deepen your understanding of learner data and business outcomes.
Pros & Cons
+ Ease of use and automation
+ Thorough reporting
+ Managing different content types is straightforward
– Admin tools can improve as they are somewhat cumbersome
Pricing: Starts at $775/month
7. Schoology Learning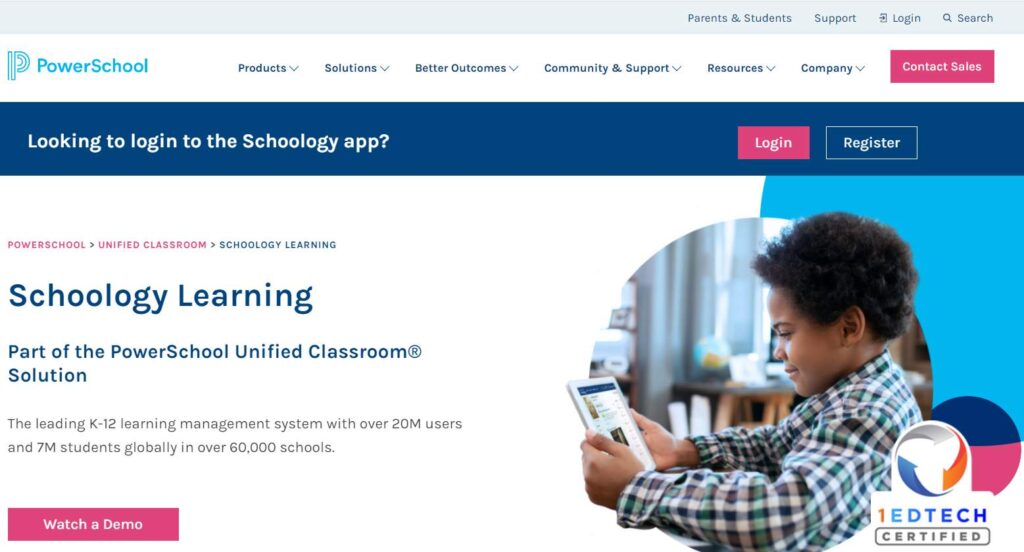 Schoology Learning is a leading LMS (learning management system) for elementary schools and K-12 with more than 20 million users and 7 million students in over 60,000 schools worldwide. You can use it to deliver personalized and data-driven teaching and learning.
As the most comprehensive K-12 solution, Schoology Learning enables users to plan their learners for the digital future. It's also a flexible solution that easily adapts to changes and challenges in teaching and learning.
Collaborate with stakeholders at the district level on instructional strategies, quality content, and educational development. Similarly, leverage built-in communication tools to improve engagement with parents and increase their involvement in their child's education.
Features
Schoology Learning brings a complete set of online teaching and assessment tools in one integrated LMS platform to power today's learning environments.
This school LMS software's communication tools have been designed to improve student attendance, increase teachers' support to meet students' needs, and promote engagement with family.
Student Service & Support
Increase student support, accelerate learning, and promote a whole-child approach to teaching. Meet today's educational challenges head-on with the support tools you need.
Evaluate your students' preparedness for a class and assess their grasp of your teaching materials. Automatically grade each assessment and get instant feedback to guide your upcoming lesson plans.
Pros & Cons

+ Simple & easy interface
+ Interactive assessments with a variety of grading options
+ The ability of parents to monitor their children's learning
– Limited integrations with third-party tools
Pricing: Get in touch with the company for a quote.
8. Quizlet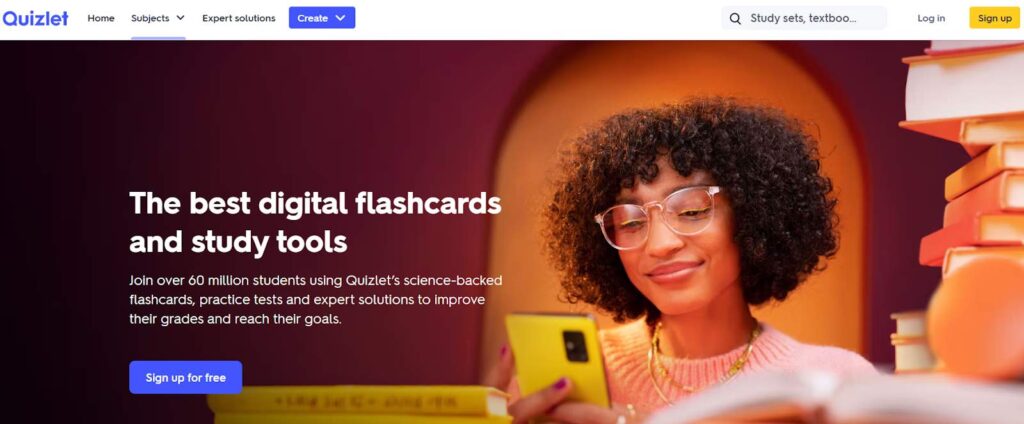 Quizlet believes that anyone can learn anything with the right guidance and tools. It acknowledges that students are under more pressure than ever and it takes upon itself the duty to give them the tools and confidence needed to succeed.
The tool is backed by the principles of learning science in making learning fun and effective. Digital flashcards, games, live quizzes, electronic assessments, and expert-written solutions are the highlights of this tool.
Students can learn anywhere, anytime, even offline, with Quizlet's Android and iOS apps. Their progress syncs across phones and computers.
Quizlet has been certified by Digital Promise in the Research-Based Design product category. It serves as proof for school administrators, educators, and families that are looking for research-based educational technologies.
Features
Enable your students to learn more easily and memorize better with digital flashcards. Create flashcards on any subject. Quizlet saves learners' progress across devices.
Turn your online flashcards into custom practice tests. Add challenging question types that go beyond memorization. Give instant feedback while practicing with true or false, multiple choice, written questions and more.
Access millions of expert solutions in 64 subjects. Go through step-by-step processes to solve tough problems. Each solution is written and double-checked by a team of experts.
With smart grading, learners can focus on learning concepts without the pressure of memorization. This grading system also ensures learners aren't erroneously marked incorrect. Evaluate responses to check understanding, not mere repetition.
Pros & Cons

+ Helpful with student memorization
+ A variety of learning modes
+ Mobile-friendly and doesn't require software installation
– User-created flashcards may contain wrong or misleading information
Pricing: Get in touch with the company for a quote.
9. NEO LMS

NEO LMS is an award-winning intelligent learning platform (ILP) used by schools and universities worldwide. It serves as a complete solution for school admins, teachers, and students for building engaging content and managing all learning activities.
The platform is user-friendly and supports inclusive learning. It offers the best solutions for both K-12 and higher education. Teaching is a breeze while students can learn together and have fun.
A content authoring tool, personalized competency-based learning, automated goal-setting, and various assignments are some of the key features of NEO LMS.
School management can get a bird's-eye view of the whole campus and the teaching staff's performance.
You can get started with the LMS in no time through faster implementation.
Features
Use NEO LMS' mobile apps to deliver a great learning experience, anytime, anywhere. Access the full feature set of the platform, create classes and assignments, connect with students, collaborate, track progress, and share resources.
The accessibility features in the LMS ensure there's no limitation to online learning. It continually works to enhance its accessibility to students with disabilities. Hidden content to improve the use of a screen reader, a 'skip to content' shortcut, and an underlined links setting are among the notable features.
Save your time by choosing learning paths for students based on their goals. These paths are classes with goals as sections. Each goal represents a class or a certificate, and students get rewarded with points and badges as they achieve their goals.
Access a comprehensive set of analytics and reporting tools to retrieve valuable data on multiple areas of education. Monitor activities and pinpoint problems.
Pros & Cons

+ Personalized learning, as opposed to generic content, is a great option
+ The ability to select home screen widgets
+ Easy communication with students
– Requires more features for peer bonding
Pricing: Get in touch with the company for a quote.
10. Itslearning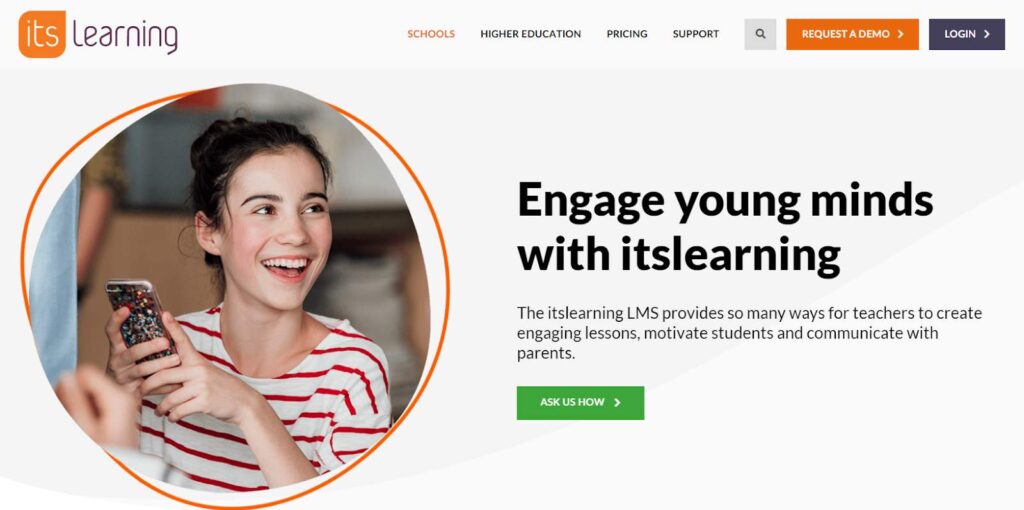 Itslearning is an easy-to-use, time-saving, and flexible LMS designed to help elevate learning. The LMS enables teachers to create engaging lessons, motivate students, and communicate with parents. Being cloud-based, it registers the highest uptime possible and it's accessible on any device.
The LMS provides a hub for all your teaching and learning needs. It's secure and characterized by regular product releases. Learning analytics enable you to continuously improve your curriculum, content management, and educational decision-making.
You can easily connect the LMS to third-party tools, including Google apps and MS Teams.
Combine face-to-face learning with online learning by using blended learning best practices.
The LMS (Learning Management System) also provides free webinars for students, teachers, administrators, and educational leaders.
Features
Leverage a cloud-born mobile LMS app for anywhere, anytime, any device learning. Teach or learn on the go and access handy resources. Stay in touch via chat, messages, Q&A, and feedback.
View all important information at a glance with a visually appealing planner. Easily add and find plans. Categorize them into current, past, plans without date, and topics.
Promote group work among your teams and share strategies. Free templates and course resources simplify the task. Invite participants to study groups.
Assess assignments and offline tasks with self-marking quizzes and tests. Enable self and peer assessments. Record all assessments in an online grade book. Export to Excel or import to student information systems.
Pros & Cons

+ Instant messaging for seamless communication with students
+ Great layout and centralized view
+ Practice tests and assessment tools
– Uploading assignments can be problematic at times
Pricing: Get in touch with the company for a quote.
FAQs
What is an LMS for schools?
An LMS for schools is a learning management system for creating, managing, sharing, and tracking online courses, tests, lessons, exams, and other materials. A cloud LMS is an example and you can use it to achieve better online teaching and learning experiences.
An integrated platform for assignments, evaluations, collaborations, and other activities is the hallmark of an LMS.
Why should I use an LMS platform for schools?
Online education was already a trend in many educational institutions. But the recent pandemic has raised its value by double. A centralized system for teaching and learning, better student engagement, easy assessments, and better collaboration between teachers, students, and parents are among the compelling reasons to adopt an LMS for schools.
How to choose the best LMS for schools?
All top LMS for school are characterized by some prominent features. So, keep them in mind while choosing the best educational platform. They include an intuitive UI, video conferencing, community forums, communication tools, a variety of assessments, secure exams, automatic grading, and advanced reports & analytics.
What is the most popular learning management system?
Some of the most popular LMS software include ProProfs LMS, TalentLMS, Trakstar Learn, Docebo, SkyPrep, and SAP Litmos. These are user-friendly and fully integrated solutions designed for exceptional training experiences. Course & group management, task automation, assessments, and reporting/analytics are other highlights of these platforms.
What are the benefits of a learning management system?
An LMS brings several benefits to end users. They include easy course creation, group management, role assignment, centralized learning environment, process automation, instant feedback, engaging assessments, and actionable reports. Additionally, these solutions support anytime, anywhere learning across devices and they are SCORM and xAPI-compliant.
Take Your Pick of the Best LMS for Schools!
Whether you want to engage in remote teaching, improve collaborative learning, or simply switch to online learning, school LMS software can be an ideal solution.
Go fully online or deploy a blended learning program. A SaaS LMS can serve you equally well. It can help you in the following ways:
Course and test creation
Centralized virtual classrooms
Automation of routine admin tasks
Tracking progress in real-time
Access to different assessment types
Student self-enrolment
Insightful reports & analytics and more
The list of learning management systems for schools we discussed in this post support most of these features. Run a quick feature and price comparison and consider the pros and cons of each tool before you make up your mind.
Also, make sure you go for a test drive with as many of them as possible to find the right fit.
Do you want a free Training Software?
We have the #1 Online Training Software for employee training & assessment