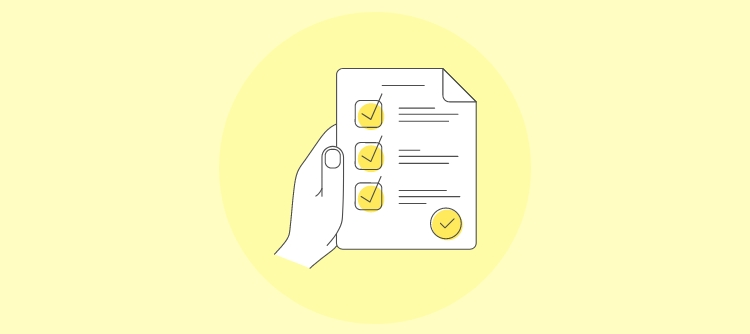 Came here looking for the best new hire onboarding checklist to take your onboarding initiatives to the next level?
You're at the right place.
A sound onboarding strategy is more than just completing paperwork and IT setup. It can be an overwhelming process for new hires if done incorrectly.
Lack of trust, lower employee engagement, and lower confidence are some negative consequences of poor onboarding.
That's why, an employee onboarding checklist is essential mainly because of the following:
It serves as a guide or reference point for trainers to ensure they cover all the vital onboarding steps and everything is on track

It lets new hires know the company's expectations of them by making the process as thorough as possible
Following the pandemic, the onboarding process has further evolved, which pushed many companies to revamp their employee onboarding checklists. With HR professionals, managers, and employees working from home during this time, onboarding has gone fully virtual and remote.
That's why, in this post, we'll look at one such standardized new employee onboarding checklist to make onboarding efficient and effective. This will fetch the much-needed ROI while providing an engaging experience to new hires.
But before we get to the checklist and why you need one, let's understand what employee onboarding is.
What Is New Employee Onboarding?
Employee onboarding is a process of welcoming and introducing new hires to an organization and its culture, policies, company structure, team members, custom software, missions, etc. A formal onboarding lasts anywhere from weeks to months.
The idea is to successfully integrate new employees into the organization and prepare them for future job roles.
You can implement an employee onboarding program in a traditional physical classroom environment, use employee onboarding software, or combine both for a blended learning experience.
Watch: What Is Employee Training?
What Is a New Employee Onboarding Checklist?
A new employee onboarding checklist is a guide to the best practices in deploying an onboarding program. You can spread out the items in such a to-do list into local or remote employee onboarding checklists across different onboarding phases.
The best checklist makes useful reference points for successful onboarding and ensures that everything proceeds and pans out smoothly.
A checklist ensures that you make all the necessary preparations to efficiently guide your new employees through their first days as a part of the new team.
Why Do Companies Need a New Employee Hiring Checklist?
According to Marc Solow, the managing director of Deloitte Consulting LLP's Human Capital Practice, leaving new hires in a "dead zone" and not making things clear to them when they sign the offer letter can lead to disengagement before they even begin.
Fact: A well-designed onboarding plan is important, considering that an average U.S. employer spends around

$4,000

and more than three weeks on hiring a new employee.

That's why, an effective employee onboarding plan, such as a checklist, can be the best way to deal with this.
It offers several significant benefits to different stakeholders in a company – instructors, HR executives, managers, and training participants in the following ways:
Plan an onboarding program methodically

Give you a sense of direction and purpose

Build trust with team members

Make knowledge and skill development measurable

Shorten the learning curve

Promote open communication

Minimize mistakes and wastage of resources

Maintain consistency in onboarding at different times

Ensure compliance with rules and regulations

Boost performance and productivity

Improve job satisfaction and retention
These are some benefits of using a new employee training checklist.
But what should you include in your checklist?
Jump to the next section to find out more about it.
Top 4 New Employee Onboarding Checklist
Different organizations may develop different onboarding checklists based on their industry, job requirements, skill levels, new hires' training resources, and methods.
That said, there are some standardized new hire onboarding checklists that most companies follow. They are comprehensive and tailored to offer the best onboarding experience.
Let's look at one such checklist.
#1 Pre-Onboarding
It covers the phase between the day your new hires get an offer letter and the day they join the company. Your employee engagement starts right around this time. Your pre-onboarding checklist should include the following:
Greet With a Welcome Email
A welcome email is a message you send to your new hires to officially greet them on their first day. The goal is to make them feel valued and accepted as part of the team.
A new hire email is an impactful element of onboarding because it's an opportunity to create a good impression about your company. That's why, you must craft a powerful message to engage your new hires from day one.
When writing a welcome email, mention the joining date, office location, designation, working hours, etc. Share the day, time, and location of the onboarding and remind them of the documents they need to bring.
Pro Tip: A good welcome email should be customized. Use the right tone, make it exciting, consider formatting, and ask them if they have any questions about their first day.

Example of a Pre-Onboarding Email:
Hi [new hire name],
Congratulations and welcome to the team!
We are excited to have you on board.
We believe that you're going to be a valuable asset to our organization, and we're looking forward to working closely with you.
Here's what you'll need to bring into the office to complete the joining formalities:
Also, visit this link to submit the required details to set up your digital presence here.
Watch: How to Create Powerful Messages | Training Course Introduction
Send a Mail to Your Existing Employees
By emailing your existing employees, you inform them about the new hire. Share exciting information about the new employees, such as their favorite foods, job-related hobbies, and professional background. Also, mention which department and role you have hired them for.
It's better to embed their photograph in the email as it will help others easily identify the new hires. Such welcome emails build a positive image and help build a good rapport with the new hires.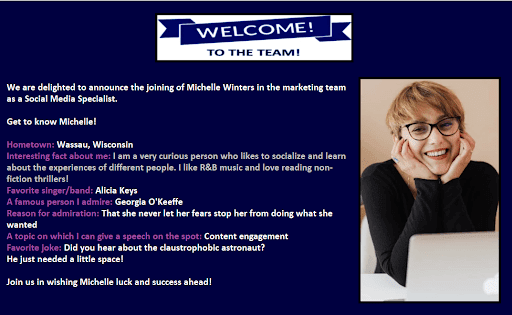 Give an Overview of Company Policies
Train your new employees on important company policies such as code of conduct (anti-discrimination and anti-harassment policy), office environment (dress code, working hours & breaks policy), and communication policy (email and social media).
Employees should know the etiquette and discipline they must follow within the workplace. They should have an understanding of right and wrong behaviors. By clearly communicating all the policies, you can ensure that they get off to a smooth start.
Pro tip: Provide an employee handbook to communicate proper guidelines and standard operating procedures. You can create engaging courses on company policies using a professionally designed onboarding template for new hires and provide role-based training to them quickly.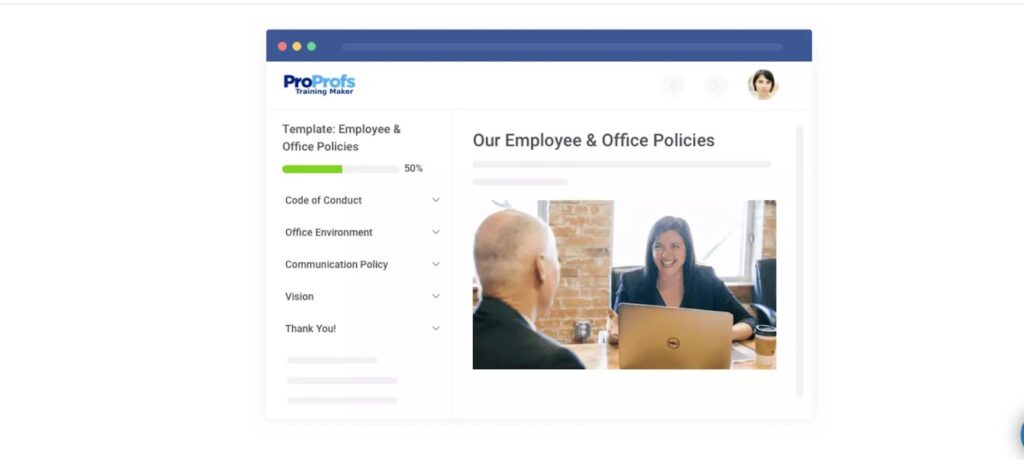 Watch: How to Create an Employee Handbook
#2. First Day
This is the next time you'll see the new hires again after their interviews. So, you can dedicate the day to finishing the onboarding tasks and activities you need to do in person.
Office Tour & Welcome Coffee
Give an office tour to your new employees and introduce them to other team members. Also, inform them about who they should communicate with in case of any problems.
Familiarize them with the office premises, including conference rooms, washrooms, departments, and parking lots.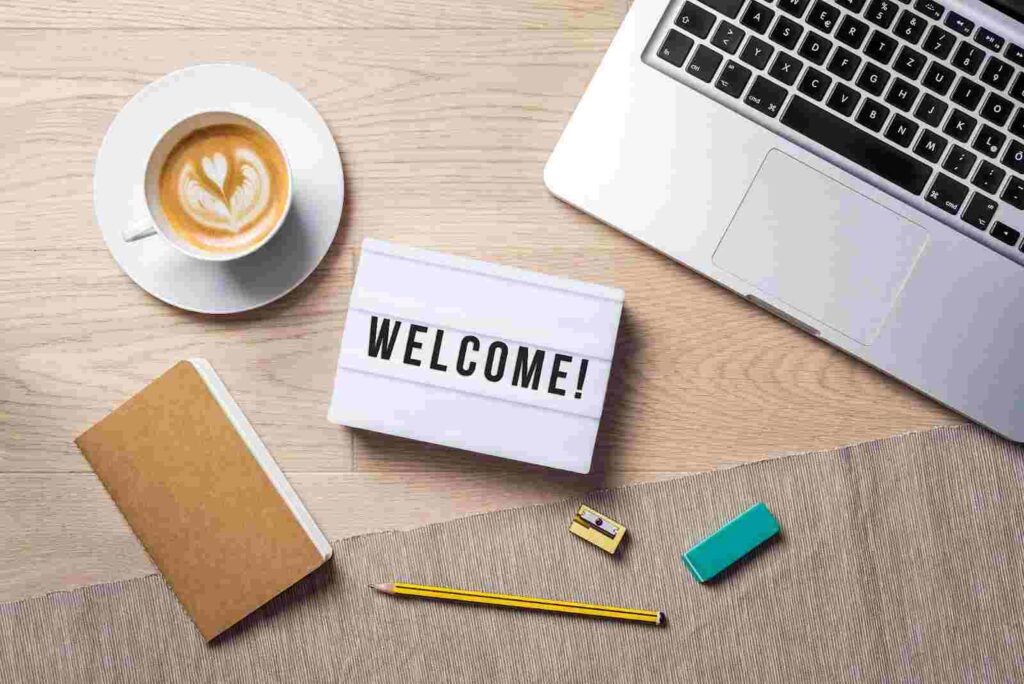 Keep in mind: Your new hires should feel energetic and happy to visit the office regularly. Make sure the office space is clean and organized.

Assuming your employees are not remote workers, you can also make their first day special by arranging a coffee session with the team members. Or, you may organize some entertaining activities like sports and office games to give them an exciting start.
Provide your new employees with all the office supplies they need to perform their responsibilities. Help them set up their IT equipment and train them on the custom tools they need to use daily. New employees will spend a considerable amount of work hours with the tools they use to perform their job.
So, conduct a training session on hardware and software so they know how to operate each tool and accomplish a task easily.
But what if your employees are working from home?
It's easy. You can courier essential office supplies such as laptops and notebooks. Regarding the training, you can use a learning management system or LMS software, as it has all the features you need to train your employees online.
Watch: What is a Cloud-Based Learning Management System?
This is an essential part of the new employee training checklist. Ask your new hires to complete all the paperwork, which includes their appointment letter, documentation for pay and benefits, non-disclosure agreements, income taxes, and more.
The best way is to eradicate the manual process and complete the paperwork electronically. That way, storing data and managing the records retention schedules become easier.
Introduce your new hires to a buddy from their department who will mentor them during the first few weeks or months on the job. Buddy systems are a great way to lend a helping hand to new hires as they get ready to assume their new roles.
A mentor/buddy will be available for the initial period to answer all the questions and may also train them on certain aspects of their role.
Having a mentor is extremely important because it can prevent new hires from feeling left out. It also guides them on their roles and responsibilities in an unfamiliar environment.
Organize a Meeting with the CEO/Senior Manager
After the new hires have completed their paperwork and set up their workstation, you need to introduce them to the CEO or their senior managers to whom they will report.
The best way is to arrange a meeting with managers and top-level executives where they can get to know each other and share a few encouraging words.
You should schedule these meetings in advance so the team leaders/managers can plan their work accordingly and allocate sufficient time to exchange productive conversations with the new hires.
Provide a Company Swag Pack
Swag packs are promotional items sent to new hires to generate brand loyalty. They set the tone for a positive workplace experience on the first day, reinforce the work culture, and increase brand awareness.
Branded t-shirts, notebooks, coffee mugs, and water bottles are items you can include in your company's swag pack. Offering swag packs is a great way to show how much you care for your new hires, and it leaves a long-lasting impression on their minds.
#3 First Week
Like the first day of onboarding, the first week is crucial as the training period starts here. By this time, most employees settle comfortably in their workplace. There will be several meetings, check-ins, and follow-ups.
Provide New Employee Training Sessions
New hires will require training to get started in their new job roles. The agenda is to schedule training sessions your employees will go through in the next few weeks. Provide access to your employee training software portal and share the login credentials.
Training programs contribute significantly to the organization. Besides providing role-based training, you should provide training on compliance, leadership & management, and essential employee skills. Include anti-harassment training as a part of your onboarding program to create a safe workplace and avoid legal liabilities.
For example, Coughlin Inc., a Vermont-based organization that runs ten McDonald's franchisees, was accused of creating a sexually hostile workplace against its employees, especially teenage workers.
In 2021, the U.S. Equal Employment Opportunity Commission (EEOC) sued the organization, and they were penalized to pay $1.6 million in damages.
Watch: What Is Sexual Harassment Training?
Assign Projects to Get Them Started
Give your new hires a project so they can start working on it. This will get them up to speed. Assign an easy project so they don't feel overwhelmed.
Start with something they can easily accomplish. This will provide a strong foundation and the confidence to take on more challenging projects in the future.
#4. First Month & Months Thereafter
This onboarding phase enables new hires to retain as much information as possible, master job responsibilities, and become productive quickly. At this phase, you must create a goal-driven plan, i.e., a 30-60-90 plan, which will help employees adapt to the new workplace seamlessly.
Explain Short-Term and Long-Term Goals
The 30-60-60 phase should inform the new hires about the short and long-term goals. It should be SMART – Specific, Measurable, Attainable, Realistic, and Time-Bound.
The first 30 days plan should include intensive training for the job role. New employees should grasp as much information as possible about the company policies, job responsibilities, and team structure.
Days 30-60 are for the new hires to put their learning into practice. The 60-day checkpoints include team collaboration, regular meetings with managers, participation in group activities, etc.
By the third month, new hires must fully understand the work culture and job responsibilities. They should work on more significant projects, take accountability for their work, and meet targets set by their managers.
Watch: How to Set SMART Goals | Training Course Introduction
Schedule Check-In Meetings
After 90 days, you must schedule check-in meetings with all the new employees. Though this meeting should be informal, it must have productive dialogues on the new hire's progress.
In short, this meeting should aim to cover the following checkpoints such as:
Asking employees about their three months of job experience
Discussing work challenges
Obtaining feedback on the onboarding buddy
Discussing career plans and employee development plans
Gathering feedback on new hire training

Performance review with the TL or manager
Pro Tip: Provide constructive feedback to your new hires on their performance. This will ensure that employees are on track and perform duties proactively to meet business goals.

Watch this introductory video to giving great feedback to employees:
Watch: How to Give Great Feedback | Training Course Introduction
Collect Onboarding Feedback
After the first few weeks, schedule a time to gather feedback from your new employees. You can send an evaluation or survey form to get input on how they perceived the onboarding program. Discuss with them what they liked about the program and what they didn't.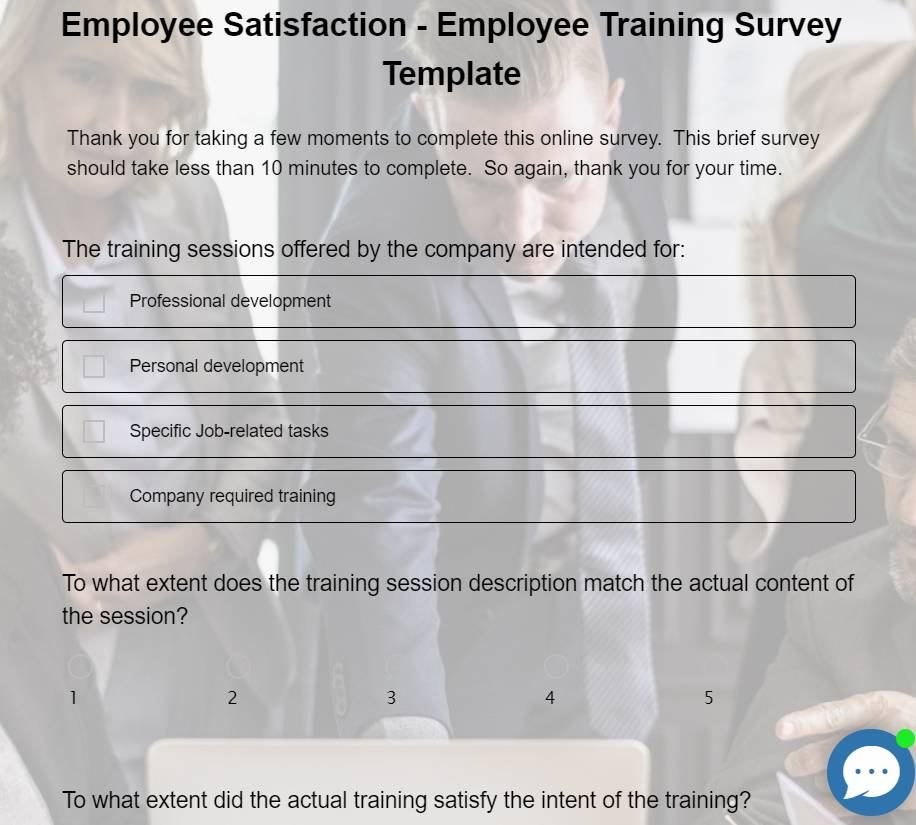 You can also obtain feedback on the improvement areas within your onboarding process. Work upon those recommendations and make necessary changes for a better experience. Notify your employees about the chances you've made while thanking them for sharing the feedback. This improves employee engagement and increases retention.
Fact: Organizations that invest in regular feedback have 14.9% lower turnover rates than companies that do not have proper feedback mechanisms.

Now that you have the employee onboarding checklist sample, you need a software solution to implement the action items successfully. Before we discuss the role of these solutions and tips for choosing them, let's quickly go through a few case studies.
Case Studies of Successful Employee Onboarding
These case studies show how big organizations like Google and Netflix adhered to their time-tested new hire onboarding checklists and increased productivity and retention.
Google
Problem: For a multinational search engine giant like Google, expectations always run high. The responsibilities of new hires to develop professional relationships with their colleagues and prove their worth quickly are overwhelming.
Solution: Fully aware of this predicament, the Google HR team implemented an interactive onboarding program to prepare incoming employees for their new roles easily and effectively.
It used what is known as "just-in-time nudges." Nudges are a set of reminders that inform the new hires of the next course(s) of action. These nudges are gentle, timely, relevant, and easy to execute. They also serve as check-ins to monitor employees' progress during onboarding.
Result: The nudges provided quick and relevant information to new employees and enabled them to execute tasks efficiently.
In the end, Google's employee onboarding experience improved and led to a 25% increase in productivity.
Netflix
Problem: Netflix was once named the most appealing place to work. This leading video streaming service provider had to work continuously to reach this status, especially in how it treated its 12,000+ employees.
It had a major responsibility to maximize employees' contributions and strike a delicate balance between freedom and responsibility.
Solution: It shared a deck of slides with its new hires in the first week of onboarding. These slides highlighted the seven aspects of Netflix culture. Additional slides explained the Netflix technology stack and what the new hires could expect at Netflix.
Result: By acclimatizing the new hires to its culture and the software it brings to people, Netflix made things simple and easy for the employees right from day one.
A side benefit to this was it removed chances for confusion and errors. A decreased turnover rate was testimony to the success of this onboarding program.
That was all about the case studies.
Now that you have prepared your checklist, what's next?
You need an onboarding software solution to help you get started quickly.
In the next section, we'll discuss the role of onboarding software in creating impactful onboarding programs.
Role of Employee Onboarding Software
Employee onboarding tools can make onboarding organized, efficient, and fast. In addition to enabling training administrators to keep the process paperless, these solutions help ensure accountability as they allow you to monitor learning progress. This means you can make the most of onboarding.

Generally, many employee training software solutions let you induct, train, and assess new hires based on a schedule.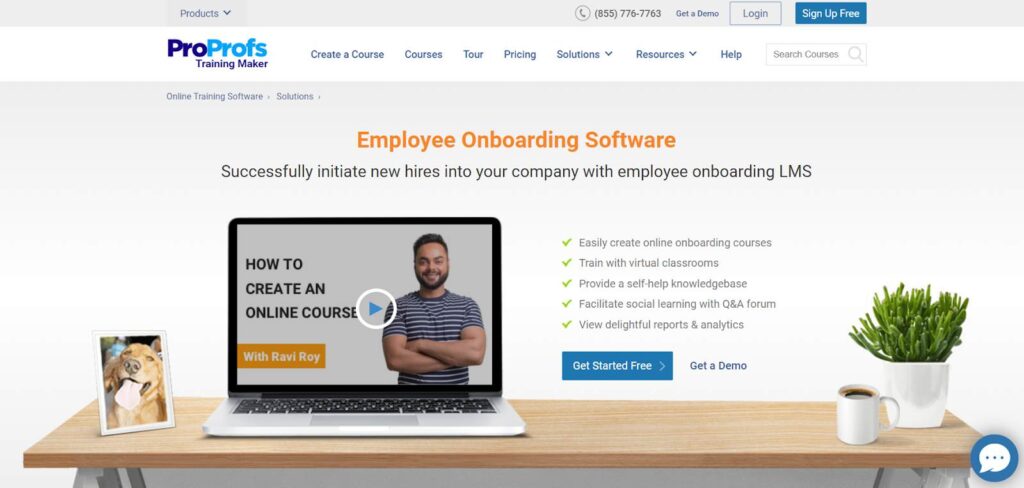 For example, some of the top cloud LMS software can help you do the following:
In this sense, you can take charge of employee onboarding programs from start to finish, like any other regular training. It's one way to have a good start to employee experience with your organization.
Since these online training software systems let you centrally administer learners, assignments, and tests from a single platform, they also save time and cost.
Ensuring transparency, productivity, and consistency becomes easy with such a platform.
Watch: How to Create an Employee Onboarding Training Program
From the above discussion, it's clear how onboarding training software can save you time, money, and effort while streamlining the process and providing learner-centric experiences.
But the problem is you're likely to become indecisive while buying such software.
Why so?
The market is full of onboarding software with varying features. Choosing the right one can be a daunting task, especially when each of them claims to be the best.
Don't worry!
We will help you select the best one for your business.
How to Choose the Best Employee Onboarding Software
Choosing the best employee onboarding software may be time-consuming but not impossible.
With countless similar-looking solutions on the market, it may look difficult initially.
Should that scare you? Absolutely not!
Here are some tips to navigate this phase smoothly.
First, define your onboarding requirements, such as class size, skill levels of new hires, instructors' competency, training materials, and learning goals.
Secondly, keep your new hire onboarding checklist handy.
Once done, consider the following characteristics of the tool you choose.
What use is a piece of software if it comes with some of the most attractive features but is utterly hard to understand and use? So, the first criterion should be that the tool is intuitive and usable by people of all skill levels.
A well-stocked and regularly updated library of employee onboarding courses can be a great time-saver in getting onboarding up and running in minutes. Make sure these resources are professionally designed, customizable, and up-to-date.
Some of the courses that will be useful for onboarding programs are:
Similarly, employee onboarding checklist templates can make course creation easier for you as they provide a general framework for onboarding. All you need to do is add your existing content, company policies, and other training materials.
Some of the onboarding templates you can use are:
A virtual classroom, as found in an LMS, can help you centrally administer learner enrollment, learner groups, group admins, course & test assignments, notifications, reminders, tracking, reporting, and certification. You can do all this and more from a single dashboard.
Since these classrooms are online, they are also useful as remote training tools.
Watch: How to Set up Your Virtual Classroom in 5 Minutes
You must look for a software solution that is easily configurable according to your training programs and audience type. This gives a personalized look to your onboarding programs.
For instance, ProProfs Training Maker lets you do the following settings:
You need to thoroughly assess your learners' understanding and mastery of different topics and concepts during and after onboarding. For this, you need assessment tools, such as quizzes and tests. Ensure the onboarding software you pick supports it so that the process becomes measurable.
Some of the assessments that you'll find helpful to test your employee's knowledge are: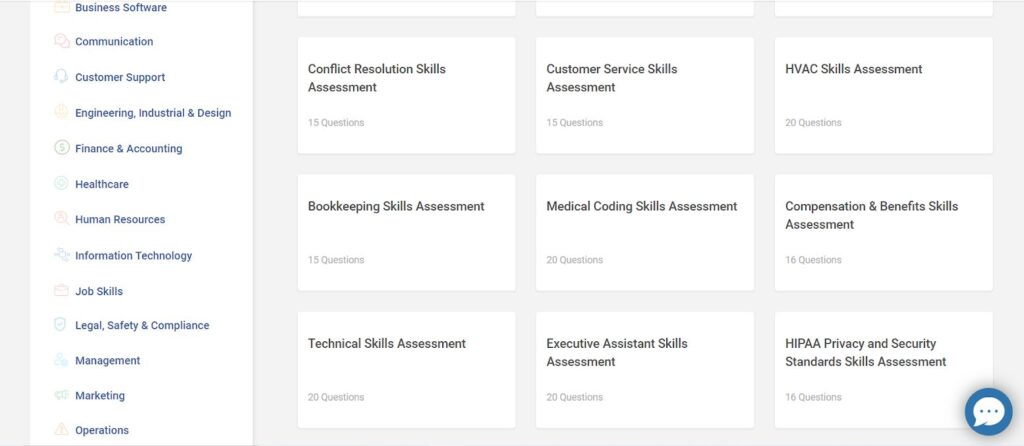 Social learning brings several benefits to learners and organizations. They include building a culture of knowledge-sharing, collaboration among employees, improved communication skills, and engagement.
This element can add a spark to your onboarding program and make it even more exciting. So, an interactive social platform like a Q&A forum should be a part of your search for the right tool.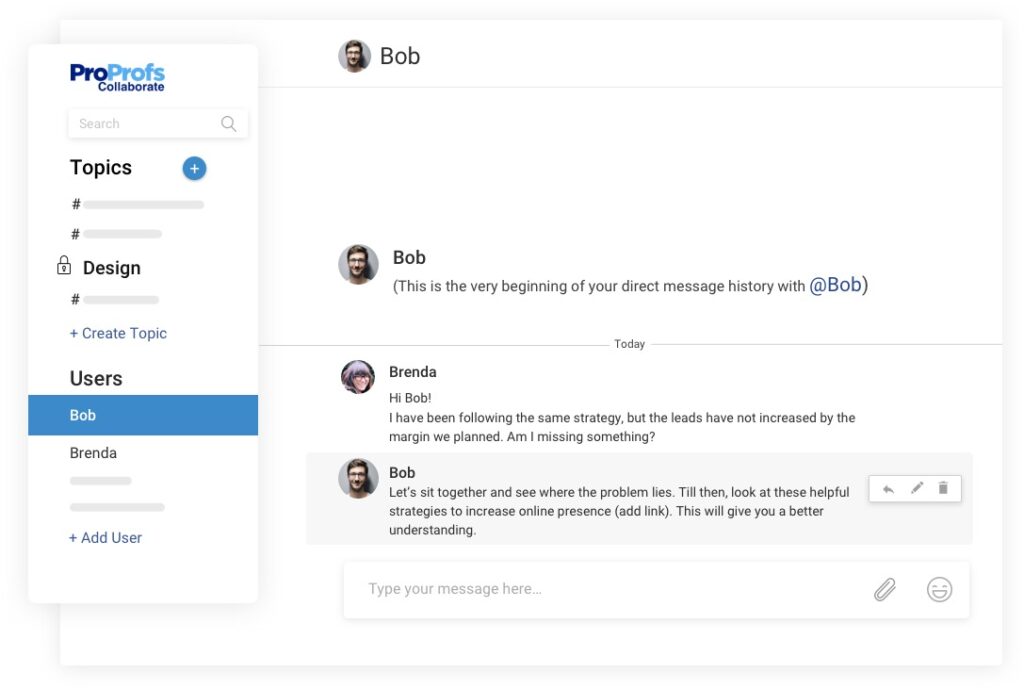 What makes the reporting feature a must in your software shopping checklist is that it keeps track of course compliance, pending and completed courses, training outputs, and engagement levels, besides helping you identify learning issues. Usually, you can auto-generate, download, and share these reports anytime, anywhere.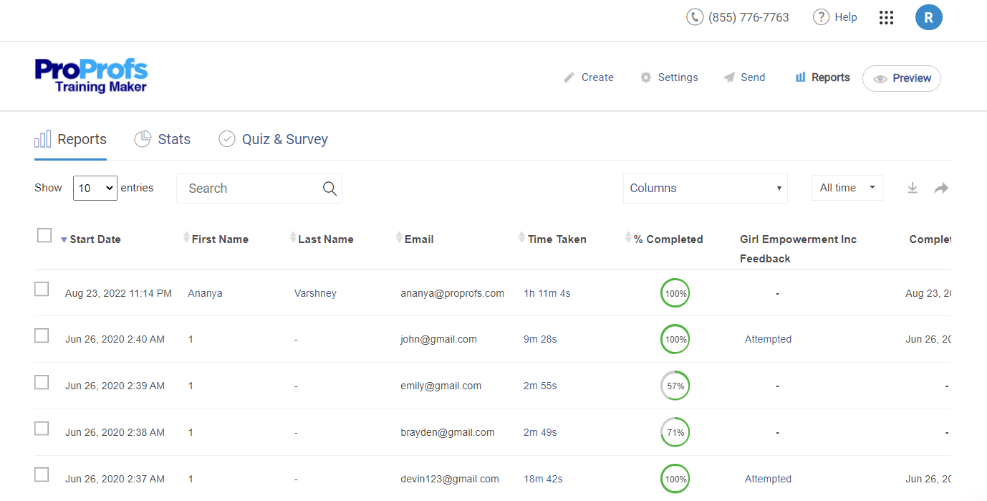 The quality of customer service can make or break your relationship with a provider. So your aim should be to consider software with a service rather than merely software as a service. This will make your experience more fulfilling and lead to success.
Frequently Asked Questions (FAQ)
How long should a new hire onboarding checklist be?
The onboarding checklist will vary based on the role you're hiring for and the onboarding process. However, whatever the checklist, ensure it covers everything from orientation to getting the new hires adjusted to their new job roles.
What should I include in an onboarding checklist?
An onboarding checklist should consist of the recruitment process, welcome kits, team introductions, goal setting, team lunch, introduction to company culture, workstation setup, employee training, regular check-ins, and collecting onboarding feedback.
Created a New Hire Onboarding Checklist Yet?
If not, you should start doing it right away.

The best new employee onboarding checklist can help streamline the process while ensuring that you don't miss any of the critical onboarding steps. Build a strategic onboarding plan covering all the necessary steps based on your new hires' jobs and your business needs.
In this effort, employee onboarding software can be your technological ally.
You can easily create, design, share, and track induction training programs using them. In other words, you can centrally manage onboarding from start to end without depending on multiple tools.

Choose a solution that can best meet your needs while insisting on ease of use, customizability, and awesome support.
Do you want a free Training Software?
We have the #1 Online Training Software for employee training & assessment