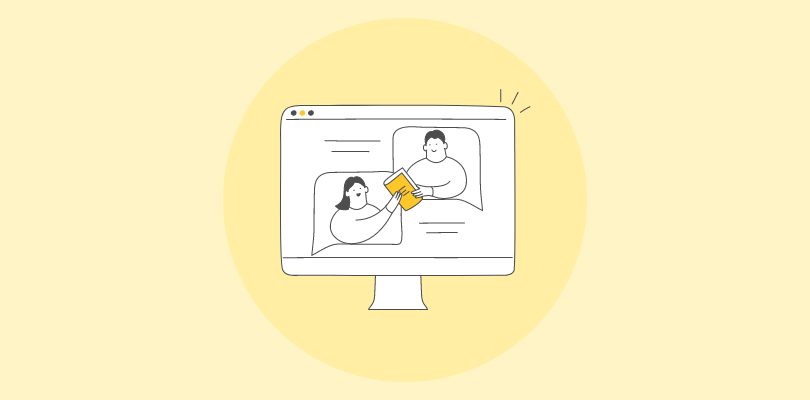 Business owners and team managers know how critical the quality of its workforce is for organizational success.
55% of employees say they need more development opportunities to improve the quality of their work.
But let's face it – creating quality training materials from scratch can be daunting.
Where do you even begin? How do you make sure your materials are engaging and effective? Not to mention that they equip your learners with everything they need to be successful in their roles.
Don't worry. We've got you covered.
In this blog post, we'll take you through the process of creating training materials for employees that will make a real difference in your organization. We will also highlight the meaning, examples, and importance of training materials.
So, let's get started!
What Are Employee Training Materials?
Employee training materials refer to resources used to educate and train employees on the skills and knowledge required for their job.
These materials can include online courses, videos, presentations, manuals, and hands-on activities.
Training materials provide employees with the information and resources that are necessary to perform their duties effectively and efficiently. Well-designed training materials can help increase productivity, reduce mistakes, and enhance employee job satisfaction.
Watch: How to Create Employee Training Courses Online
Types & Examples of Training Materials
Training materials come in different forms, so you may find it difficult to pick the right one.
That's why we have rounded up a few training materials examples for you.
Let's explore some popular options.
1. Online Courses
Online courses are a form of training materials that offer educational content through digital platforms. These courses provide a flexible alternative to traditional classroom-based training and can be taken remotely from anywhere with an internet connection.
They cover a wide range of topics and are often self-paced, allowing learners to study at their own convenience. Online courses can include various types of multimedia content, including video lectures, quizzes, interactive simulations, and online forums for discussions and collaborations.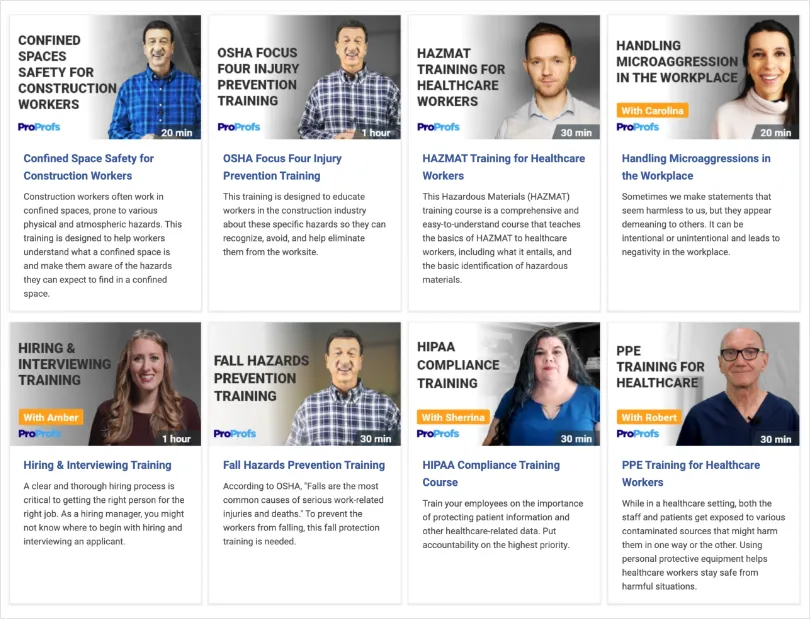 Read: How to Create an Online Course
2. E-Learning Modules
E-learning modules are interactive online training materials that help learners develop knowledge and skills in a self-paced manner. E-learning modules may be part of a larger online course, or they may be standalone resources that learners can access on demand.
They typically include multimedia elements like videos, quizzes, and simulations and can be accessed from anywhere with an internet connection. Modules are similar to textbook chapters, and they are usually divided into lessons and tests.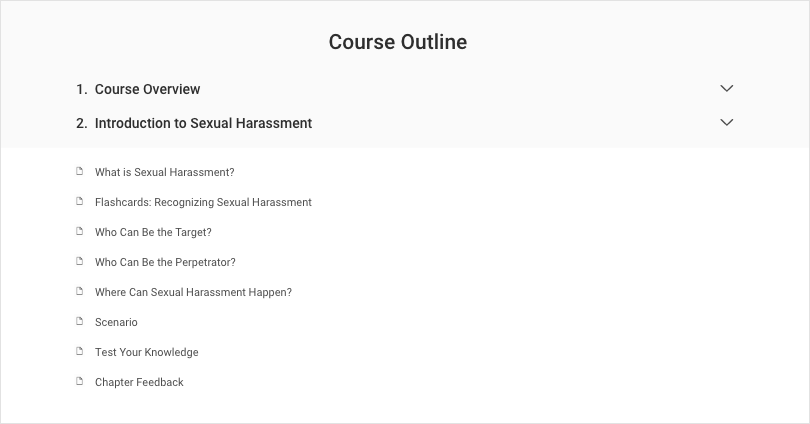 3. Instructor-Led Training Materials
Instructor-led training materials are resources used to support traditional classroom-style learning, where a teacher or facilitator guides the participants through the material. It is a popular training method for topics that are either complex or require hands-on practice.
These materials can include slide decks, handouts, case studies, quizzes, and other interactive tools to engage learners.
4. Job Aids
Another type of employee training material is job aids, which enable learners to remember key information or steps involved in a task. They can be cheat sheets, checklists, flash cards, or flowcharts, often used as a quick reference guide.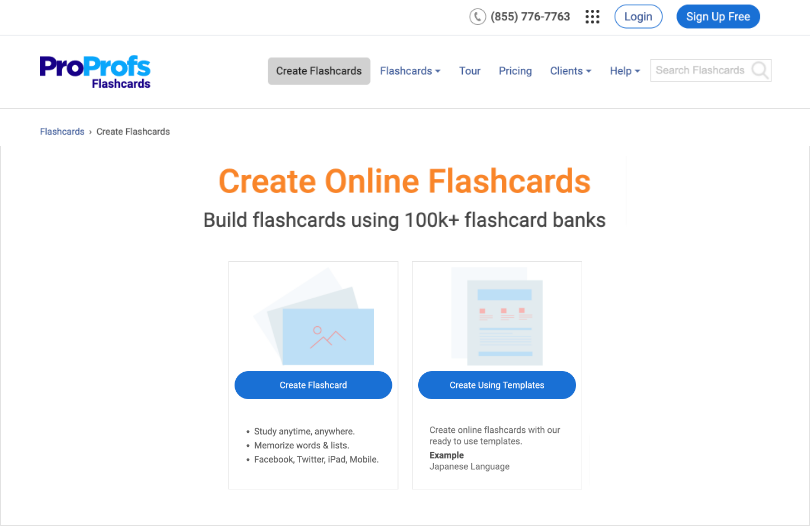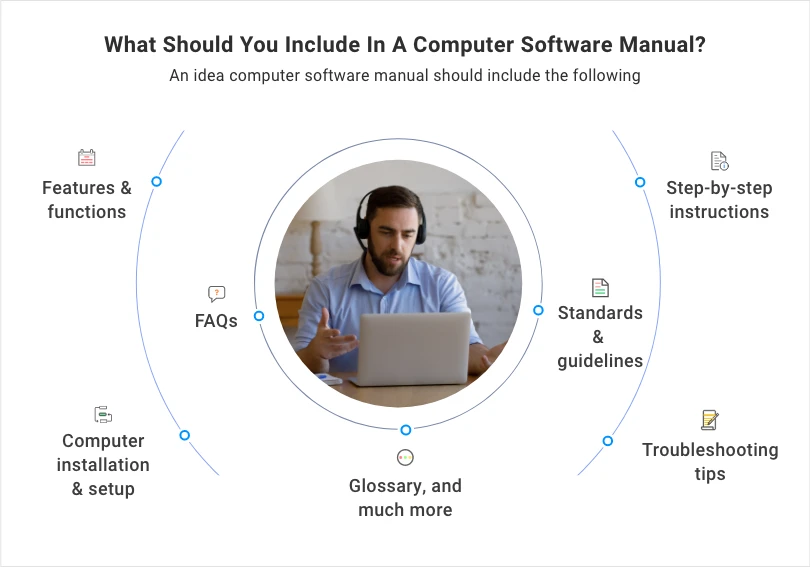 Training manuals introduce new concepts, provide step-by-step instructions, and offer practice exercises to help learners develop their skills or knowledge.
How to Create an Employee Handbook
6. Video Tutorials
Video tutorials are another type or example of training materials, which are short, focused videos demonstrating how to complete a particular task or use a specific software application. They are often used as a part of blended learning programs or as a standalone training resource.
In 2019, almost 60% of employees undertook self-directed skills training, indicating significant demand for knowledge enhancement. This trend was especially prominent among Gen Z, who preferred upskilling through video-based learning. Their consumption of learning materials in video format increased by 50% in 2020 compared to 2019.
If you want to train your customers on how your software application works, you can create a video tutorial like this:
Watch: What Is ProProfs Training Maker & How It Works
These are interactive training materials designed to help learners engage with content and develop their skills in a fun, engaging way. They can be board games, word games, sliding puzzles, brain teasers, or even a learning path or certification. They are filled with challenges and include scores and points.
Gamification in learning is often used to reinforce key concepts or test knowledge retention. It encourages healthy competition and ensures a higher course completion rate.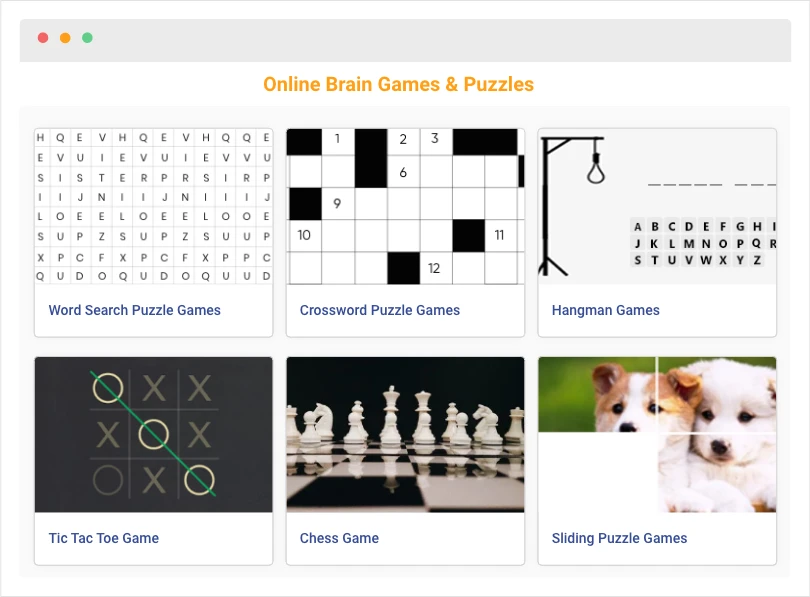 Also Read: How to Create Gamified Online Training Courses
8. Audios and Podcasts
Audio recordings and podcasts are training materials that provide learners with information, guidance, and examples on various topics.
The advantage of audio and podcast training materials is that learners can consume them while on the go or when reading or watching videos is not feasible.
They are the best method of learning for the visually challenged. Additionally, they can be easily accessed through multiple devices, making them a convenient option for learners.
With ProProfs Training Maker, you can upload an audio file to your course or record it in real-time.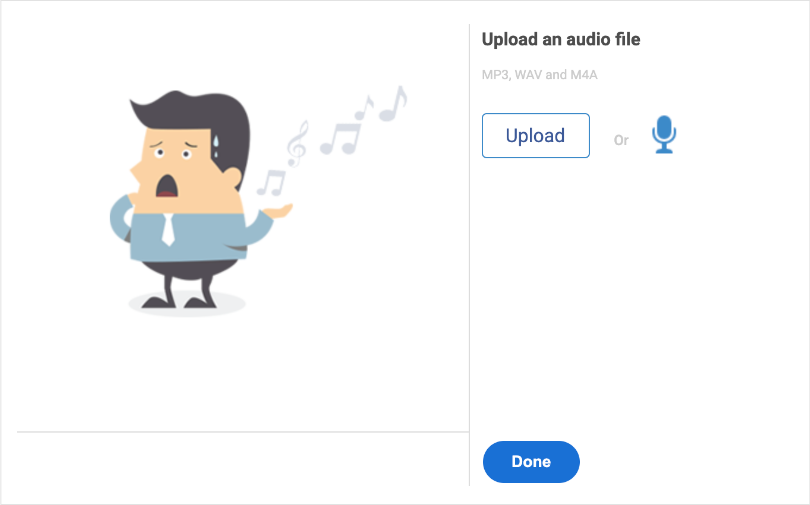 9. Quizzes
Quizzes are training materials for assessing learners' understanding and retention. You can use them to identify areas where learners need additional support, and reinforce learning by providing feedback and explanations for correct and incorrect answers.
Quizzes are quite effective as a part of an e-learning course or module. They can be integrated into the content and presented in different formats including fill-in-the-blank, multiple-choice, and short-answer questions.
Quizzes can also be used as standalone resources, such as flashcards or online quiz games, to help learners review and reinforce their knowledge.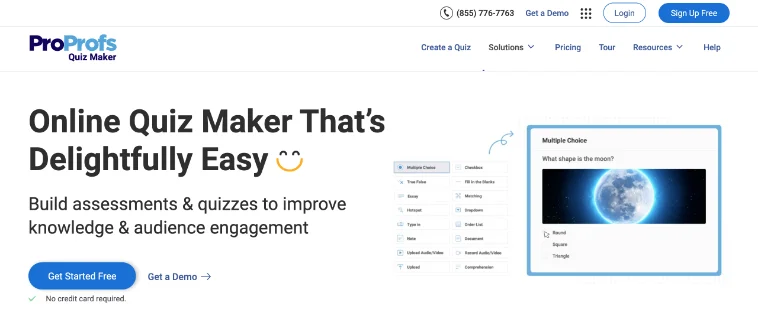 Watch: How to Create an Online Quiz in Under 5 Mins
So, training materials can take many forms, but the best type depends on your learner's needs and preferences. Your training materials should be engaging, relevant, and aligned with the learning objectives.
Importance of Creating Training Materials
In today's fast-paced world, organizations must continuously equip their workforce with the latest knowledge and skills to stay ahead of the competition.
Creating effective training materials is essential to this process, as it ensures that employees have access to relevant, engaging, and consistent learning experiences.
Whether it is online courses, videos, workshops, or simulations, well-designed training materials can help employees understand and retain information more effectively, leading to better learning outcomes and ultimately contributing to the organization's success.
The importance of creating training materials cannot be overstated in this context.
So, let's understand why you must create engaging and impactful training materials for your employees.
The main advantage of using training materials is that it reduces training expenses, particularly when training a large number of individuals across multiple locations or times.
For example, if you need to train 50 employees, creating training materials that are accessible anytime, anywhere would be a more cost-effective approach than organizing a conference or one-on-one in-person session with all of them.
New hires require training on the same topics/subjects, such as company policies, employee benefits, and code of conduct, that you used to train their predecessors. As a result, creating a new set of training materials every time someone joins the team can be tedious and expensive.
So, once you create your training materials, you can reuse them multiple times and if the need arises, you can simply edit them to align with the industry needs and your training goals.
Pro tip: Using training templates can be helpful in this regard. Templates save time, ensure consistency, and improve the overall quality of your training content.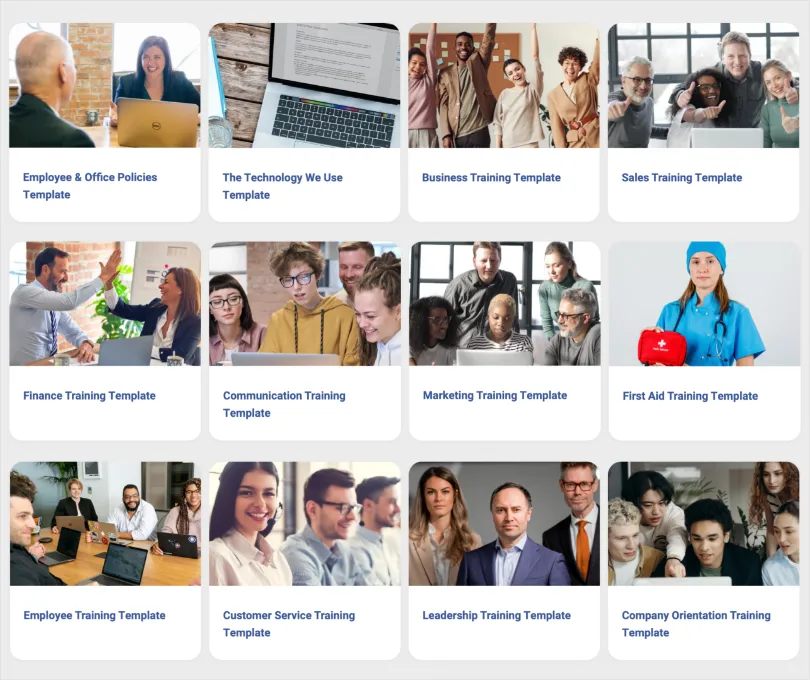 Using inconsistent training materials can cause confusion, knowledge gaps, and substandard performance, leading to errors, reduced productivity, and low employee morale.
To avoid this, organizations should consider developing training materials specific to job positions and roles. This will ensure consistent delivery of information specific to their duties.
When created correctly, training materials provide a standardized set of information and instructions that you can use across your organization. This way, your learners receive the same level of instruction and knowledge, leading to more consistent outcomes.
Training materials can make training more measurable by providing clear learning objectives, performance metrics, and assessment tools that enable trainers to track learners' progress and measure the training's effectiveness.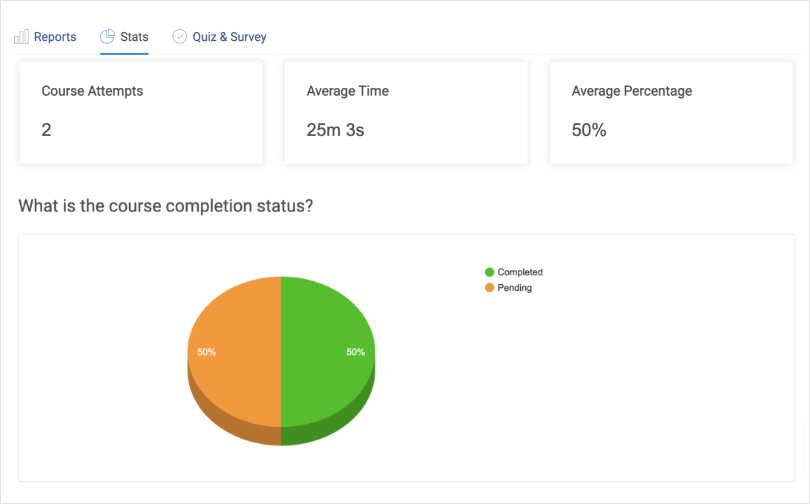 Unless you measure the training's effectiveness, you won't be able to improve your existing materials.
Remember: Well-designed training materials help you deliver a better learning experience and they also help enhance learners' engagement and retention.
Better Employee Performance
When you provide the appropriate training materials, you can equip your workforce with new skills and knowledge, ultimately boosting their performance and confidence.
High-quality training materials can instill a sense of confidence and empower employees to perform better and strive for excellence in their work.
As evident from the above discussion, well-formulated training materials come with a lot of advantages.
Have you created your training materials yet?
If not, then start now!
Don't know how to create training materials?
We are here to help you. But before that, let's quickly check out the key elements that your training materials should cover.
What Should You Include in Your Training Materials?
Here is a list of the elements that should figure in your training materials.
Learning Objectives

: What do you want your learners to achieve by the end of the training? Specify the objectives/goals of your training so that your learner's know what is expected of them.

Content Outline

: Mention the topics of the chapters in your course and also provide a summary or description of each so that learners know what they will learn. Here's an example: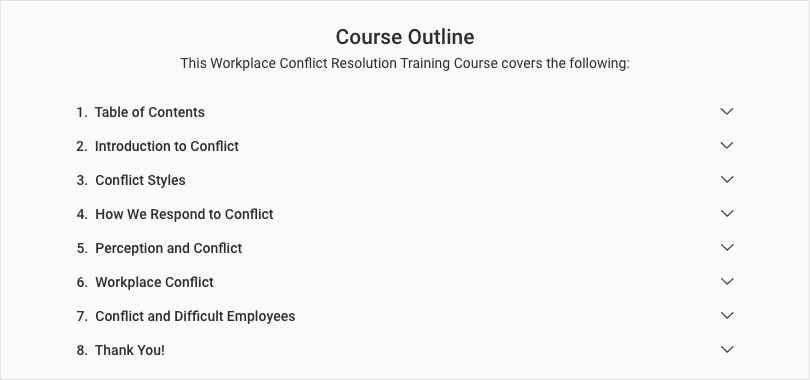 Real Examples

: Case studies and real-life examples play a psychological game with learners by presenting realistic scenarios that engage their critical thinking skills, emotional intelligence, and problem-solving abilities.

Detailed Instructions

: Provide step-by-step instructions to your learners. Always use simple language so that they are easy to follow.

Task Instructions

: If you add any activity or assessment to your training, clearly mention the guidelines and instructions for each task.

Practice Exercises

: These are extremely important as learners get the chance to put their knowledge into practice.

Social Learnin

g: You can include

social collaborative learning

in training materials by incorporating a community forum that encourages learners to interact, share knowledge, and learn from each other.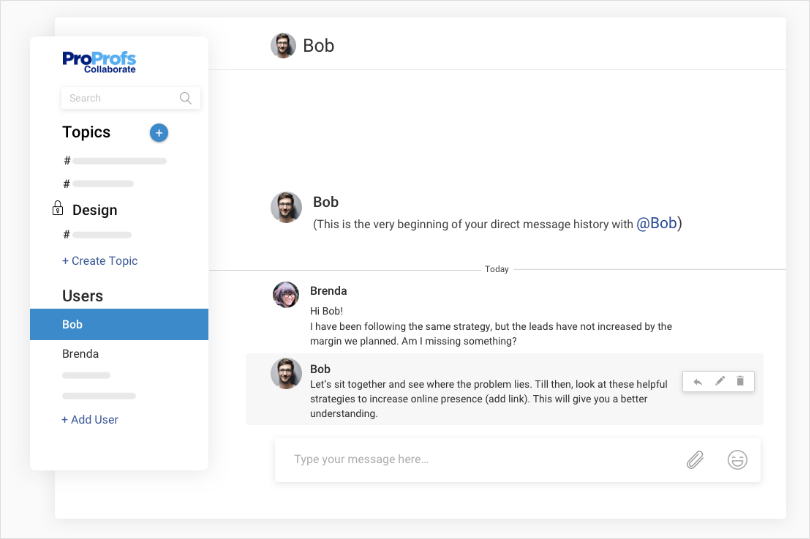 Assessments and Tests:

Add quizzes or assessments at the end of each chapter or training to check how well your learner's have grasped the training materials. This will also show them their progress and highlight their strengths and weaknesses.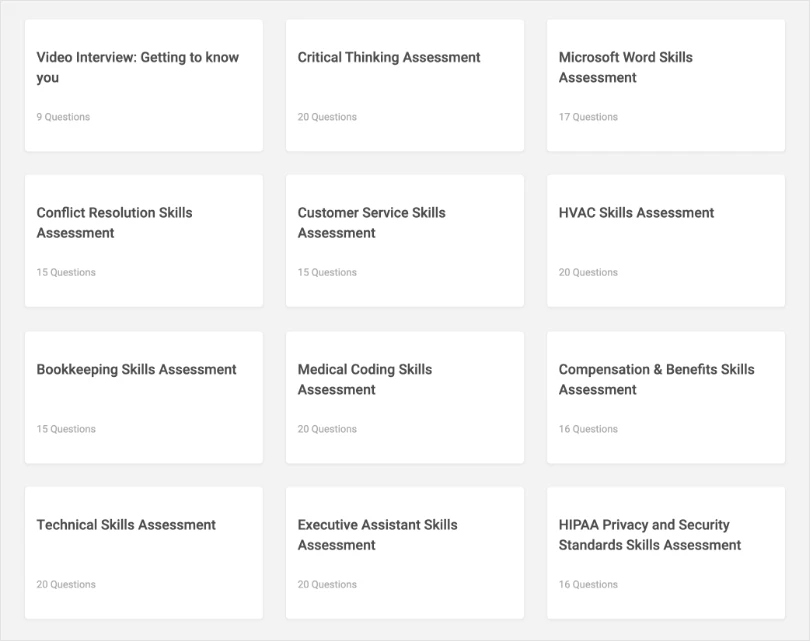 Feedback Surveys

: Embed surveys at the end of the training to know how satisfied your employees were with the training materials.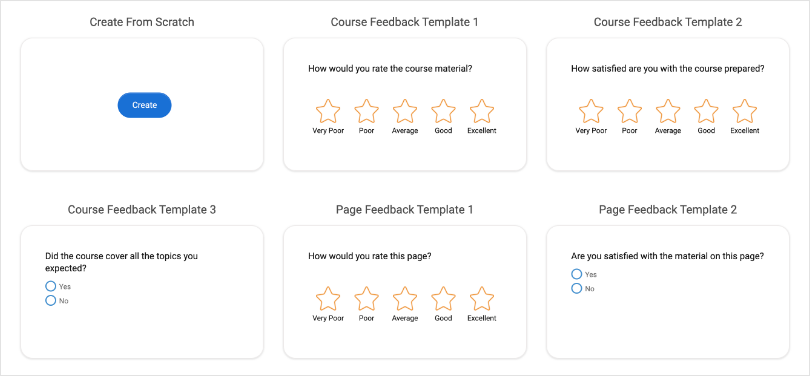 Training surveys help you measure the effectiveness of your training, identify improvement areas, assess the quality of your instructors, and enhance the overall learning experience for your learners.
9 Easy Steps to Create the Best Training Materials
Now that you have a better understanding of what to add to your training materials, let's move on to the heart of the discussion: how to develop training materials.
We have shared the top 9 steps for creating the best training materials. When strictly followed, you can develop impactful training materials for your employees.
Let's dive in.
Step 1: Know Your Audience
To create effective training, it is essential to first know your audience – their knowledge gaps, learning styles, and preferences. This will enable you to tailor your materials to meet their needs.
Let's say you are creating training materials for a group of healthcare professionals with varying levels of technology experience. To cater to their different needs, you might design courses tailored to each experience level.
For beginners, you might create interactive training materials and include step-by-step instructions with visual aids to help them understand the functionality. For intermediate users, you might provide more advanced concepts, including troubleshooting and problem-solving exercises. And for advanced users, you might include topics/activities that challenge them to apply the technology in real-life scenarios.
By designing training materials with your audience in mind, you can create a more effective and engaging learning experience that meets their specific needs and helps them succeed in their roles.
Step 2: Identify Training Goals and Objectives
Next, it's important to determine the training goals.
What is the purpose of creating the materials? What skills/knowledge should the employees have after completing the training?
No matter what you are trying to achieve, setting SMART goals can help you accomplish specific objectives faster and more easily.
How to Set SMART Goals | Training Course Introduction
Step 3: Prepare an Outline
At this point you might be tempted to prepare your content. But before jumping in, we recommend creating an outline first. This will help you organize the training materials effectively and streamline the process.
A recommended approach to creating an outline is analyzing the job or task for which you're training. This method helps ensure that the content is structured to enable employees to comprehend the information easily.
For example, if you want to train your workforce on the technology they'll be using regularly, then the outline might go like this:
The technology we use everyday

Hardware

Software

Support

Thank you
Check the template outline below: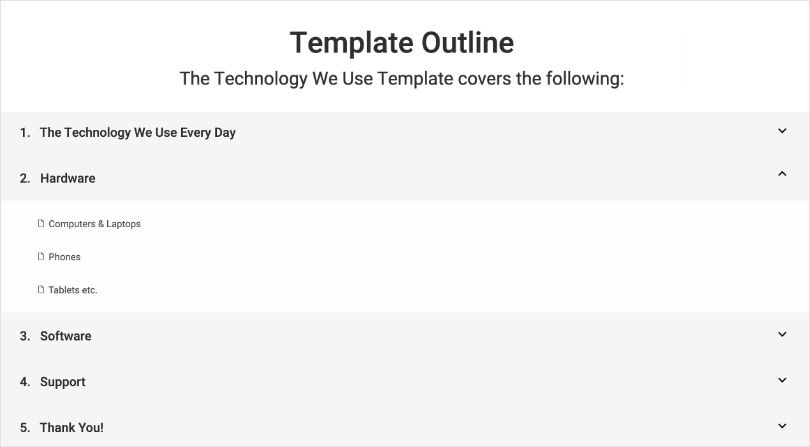 Step 4: Pick the Right Authoring Tool
To create the best training courses, you need an authoring tool. Whether you are a professional or a new instructional designer, finding the right tool is essential for success.
This is where e-learning authoring tools can help.
E-learning authoring tools help create, design, and publish e-learning content. This in turn enables instructors and educators to develop and deliver engaging and interactive online courses, quizzes, and assessments.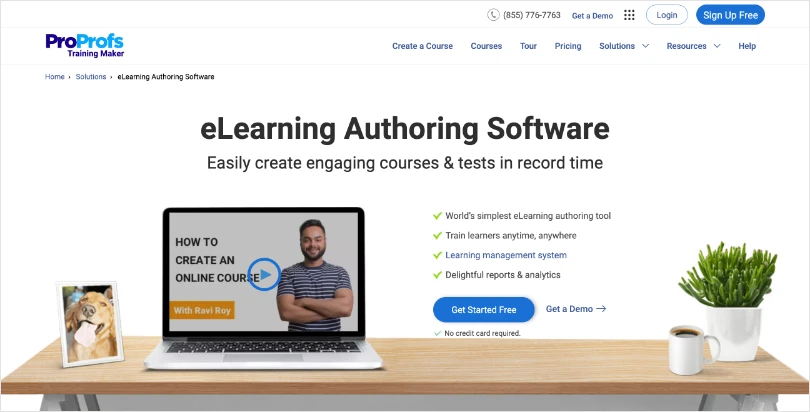 With such solutions, you can reduce the time and effort required for course creation and devote more time to achieving the learning outcomes.
Watch: What is an eLearning Course Authoring Tool?
Step 5: Choose the Right Topics
Choosing the right topic is essential when creating training materials. The topic should be relevant, engaging, and aligned with the learning objectives.
To choose the right topic, consider the needs and interests of the target audience and identify knowledge or skills gaps that need to be addressed.
Conducting a needs analysis can help in determining the appropriate topic.
So, how can you analyze learning needs?
This is where training assessments can help!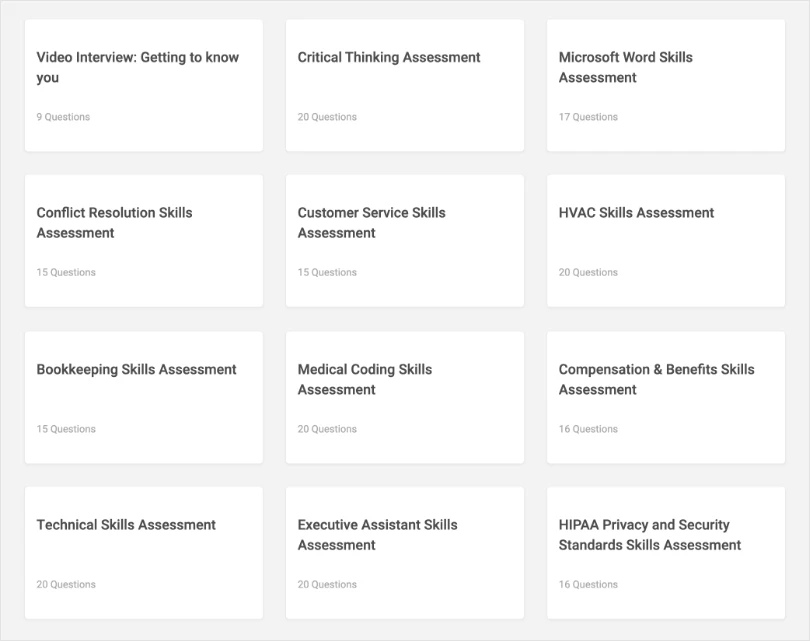 Once you've identified the training needs, pick the right topic. If you are still confused as to which topics to choose, you can use a learning management system (LMS) for this purpose. With some LMSs, you can find readymade courses on different topics like leadership & management, compliance, safety, HR, and employee skills.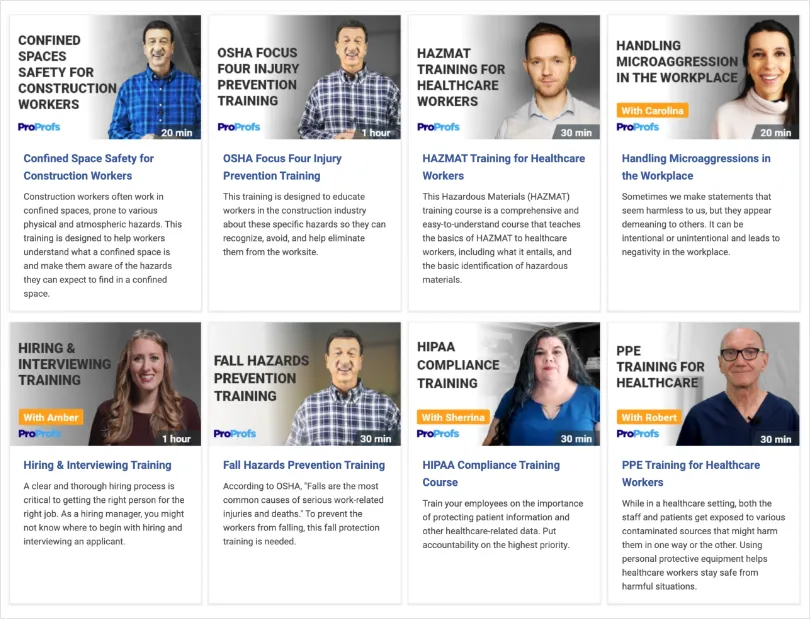 For example, if a workplace deals with hazardous chemicals, the training materials should cover topics such as proper handling, storage, and disposal of chemicals. Similarly, suitable topics for compliance training could include data protection and security awareness, OSHA training, HIPAA training, etc.
Step 6: Add Multimedia
Keeping learners engaged is one of the biggest challenges.
That's why you should make your training materials engaging and interactive by including audio-visuals.
Research suggests that visual aids can enhance learning by 400%.
Multimedia, such as videos, images, and audio clips, can illustrate key concepts better, provide real-world examples, and stimulate learners' interest.
Additionally, it can accommodate different learning styles, enabling learners to access information through various channels, such as visual, auditory, and kinesthetic. Read this guide to know more.
Overall, multimedia can increase learners' retention and understanding of the course material, making it a valuable addition to any training program.
Watch: How to Add Media to Your Online Courses
Pro tip 1: Enable collaboration and discussions in your course. It can further enhance engagement and encourage knowledge sharing among learners, which can improve motivation and retention.
Watch: How to Enable Collaboration & Discussions in Your Course
Pro tip 2: Add quizzes or assessments to your training materials. This will help you measure knowledge retention.
Watch: How to Choose the Best Quiz Software
Step 7: Conduct Pilot Testing
The next step is conducting pilot testing of the training materials you've prepared.
This can help identify and address any issues or problems before launching the training program. Pilot testing can be carried out with a small group of participants to determine the content's effectiveness.
This process helps ensure that the training program meets its objectives and that the materials are clear, concise, and engaging.
At this stage, you can take advantage of a review process in which stakeholders can examine your materials, evaluate the design elements, identify any problems, and make revisions as needed. This is crucial for ensuring quality.
Pilot testing can save time and resources by identifying and addressing potential issues early in development.
Step 8: Publish Your Training Materials
Once you've incorporated the changes, if any, to your training materials, the next step is to publish them and share them with your learners. You can publish the materials to your LMS, website, or other preferred platforms.
If you're using an LMS like ProProfs, you can also share your courses with your learners through social media sites, email, and by embedding your courses on your website.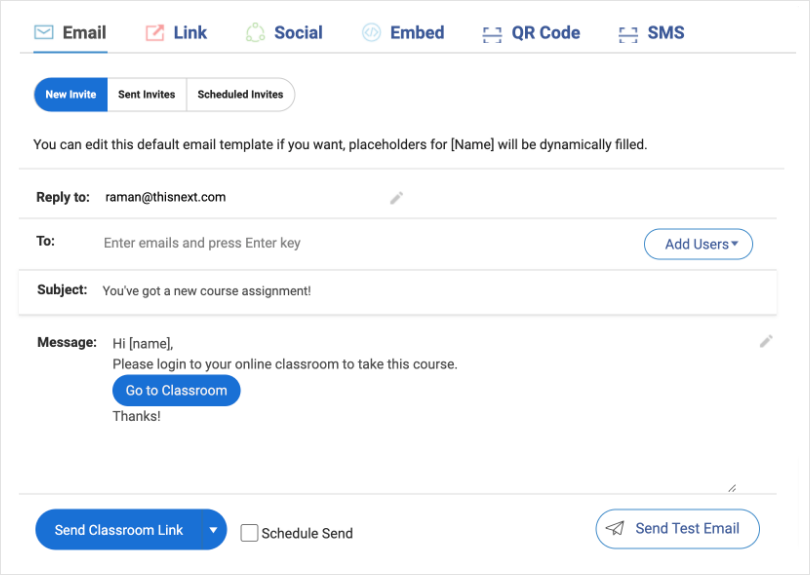 Publishing your training materials on LMS comes with lots of benefits. For instance, besides automating all admin tasks, you can get real-time reports on learner progress, participation, engagement, and satisfaction levels. These insights will help you make informed decisions about your training materials.
Watch: How to Share Quiz or Course Reports With Your Learners
Step 9: Gather Feedback
The last step is all about collecting feedback from your learners.
Gathering feedback during training is essential to improve performance, identify strengths and weaknesses, and make necessary adjustments to improve the learning experience for participants.
It also enables participants to voice their concerns, ask questions, and give their opinions about the training.
So, how can you gather feedback?
It's easy.
Embed surveys into your courses. It will enable you to collect quantitative data on participants' perceptions and experiences.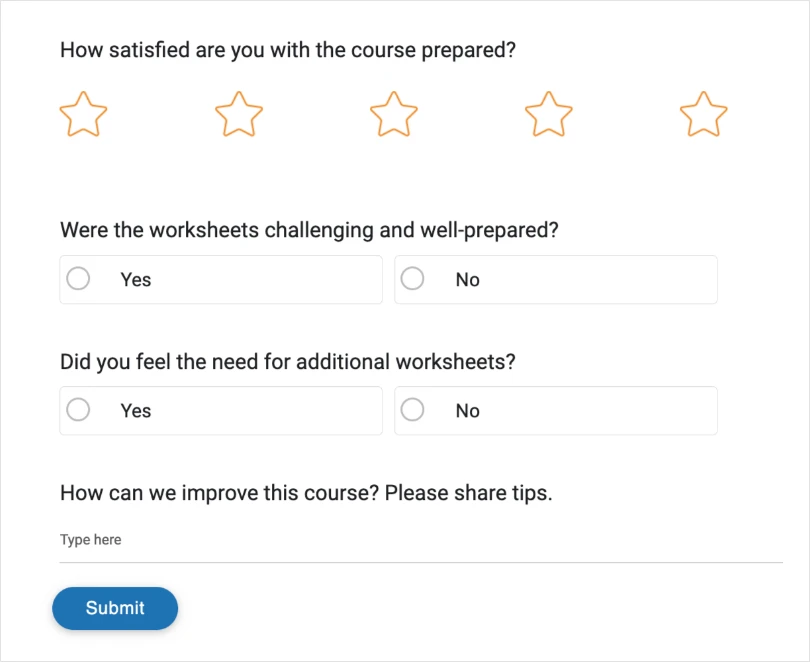 This data can be used to improve future training and ensure it meets the participant's needs.
Watch: How to Create a Survey Using ProProfs Survey Maker
Hopefully, you now have a better idea of "how to create training materials for employees."
All you need is careful planning, organization, and proper execution to build impactful training materials.
By following these steps and continually gathering feedback, you can create engaging and informative training materials that improve employee performance.
How ProProfs LMS Helps With Creating Training Materials
ProProfs LMS is a cloud LMS that can help you create, manage, deliver, and track training materials under one platform.
Here are some ways ProProfs LMS can assist you with creating training materials:
Course Authoring Tool
ProProfs LMS provides an intuitive course builder for rapid authoring.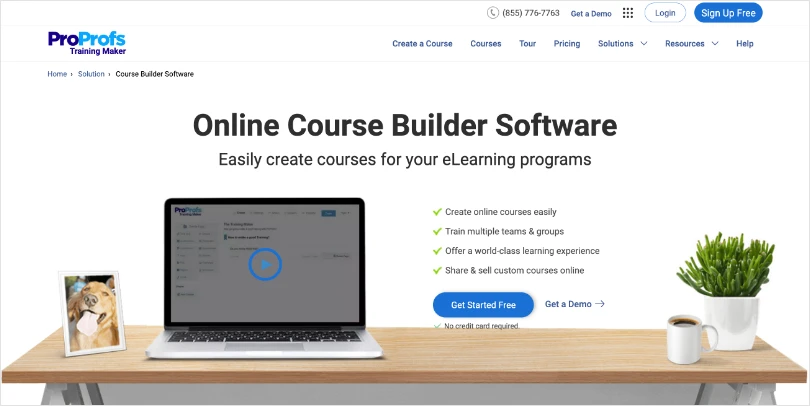 You can add various types of content, such as videos, images, documents, PowerPoint presentations, podcasts, recorded webinars, quizzes, brain games, and surveys, to make your courses engaging and interactive.
Also Read: How to Add Text, Images, Audio, Video, Docs & Presentations to a Course
Watch: How to Create Employee Training Courses Online
Professionally Designed Courses and Templates
This LMS provides access to a vast library of pre-built training materials, including courses and templates. You can use these resources as-is or customize them based on your learning requirements.
SCORM and Tin Can Compliant
ProProfs supports SCORM and Tin Can (also known as Experience API or xAPI) standards for e-learning content.
The tool supports SCORM 1.2 and SCORM 2004 standards, allowing you to import SCORM-compliant content from other platforms into your ProProfs LMS account.
Watch: What Is SCORM & How Does It Work?
Similarly, ProProfs LMS supports Tin Can API, allowing you to track and report on a broader range of learning experiences beyond traditional e-learning courses.
Watch: What Is xAPI (Experience API) aka Tin Can API – Features and Benefits Explained
White Labeling
The LMS supports white labeling, allowing you to customize the training materials with your own branding.
With white labeling, you can customize the platform's appearance with your own logo, color scheme, themes, and branding elements. This makes the platform look like it's your own, rather than a generic training platform.
Watch: How to Design Online Training Courses Effortlessly
Assessments
You can create assessments such as quizzes to evaluate learners' knowledge retention. ProProfs LMS lets you build custom assessments with pre-built templates and different question types, including multiple-choice, true/false, and open-ended questions.
Watch: 15+ Question Types for Online Learning & Assessment
Learning Paths
ProProfs learning paths enable you to structure your training materials based on each learner or group's needs. By providing a well-defined path, you can help your learners progressively master a particular subject/topic.
With learning paths, you can guide your learners through a specific learning journey, ensuring that they acquire the necessary knowledge and skills to achieve their goals. The feature enables you to set prerequisites for each course, track learners' progress, and award certificates upon completion.
Also Read: How to Set Up a Learning Path for Your Learners
Real-Time Collaboration
The tool offers collaborative features that allow multiple instructors/trainers to work together on course creation. You can assign different roles and permissions to team members and work together in real-time to create courses efficiently.
Watch: How to Add Multiple Instructors in Your LMS
Powerful Reports and Analytics
ProProfs LMS provides detailed reports and analytics to track learner progress and course performance. You can view reports on learner engagement, assessment results, course completion rates, and more.
These insights help you identify areas where learners may be struggling and make improvements to your training materials.
Watch: How to Analyze Training Course & Quiz Results
ProProfs LMS can help you create engaging and effective training materials quickly and easily. With its collaborative features, content library, learning paths, and analytics, you can ensure that your learners can access high-quality training materials that meet their learning needs.
Frequently Asked Questions
What is the purpose of training materials?
Training materials provide learners with the knowledge and skills needed to perform their jobs effectively. These materials can take many forms, including presentations, manuals, videos, and interactive modules. Ultimately, the purpose of training materials is to help learners learn in the best way possible, achieve their goals, and improve organizational performance.
What topics are covered in training materials?
The topics covered in training materials will vary depending on the training program and the learner's needs. Some common topics might include job-specific skills and knowledge, workplace safety, communication, leadership, and customer service. In addition to these technical and interpersonal skills, training materials may also cover topics such as company policies and procedures, diversity and inclusion, and professional development.
What are the formats of training materials?
Training materials can take various formats, including handbooks; job aids; visual materials such as PowerPoint presentations, infographics, and videos; interactive materials such as quizzes, simulations, and games; and instructor-led materials such as lectures, group discussions, and role-playing exercises. The choice of format will depend on the learning objectives, learner needs, and available resources.
How long will it take to create training materials?
The time it takes to create training materials will vary depending on several factors, including the subject matter's complexity, the project's scope, the available resources, and the chosen format. Some materials may take a few days to develop, while others may take weeks or months. The planning and preparation phase may take several days to a week. Likewise, designing and developing the material may take several weeks, depending on the format and complexity. It is crucial to allocate enough time for testing and revisions to ensure the final product is effective and achieves the desired outcomes.
Empower Your Team With the Best Training Materials
The present business climate necessitates empowering teams with the best training materials. Well-trained employees are more engaged, productive, and profitable for your business. With the right training materials, you can equip your team with the skills and knowledge they need to excel and drive your organization forward.
So, why settle for subpar training materials? Follow the steps that we discussed above. Empower your team with the best resources, watch as they exceed expectations, and help take your organization to new heights.
Pro-tip for course creators: Always use employee training software, as most of them come with exciting features like a course builder, quiz maker, online collaboration tools, reporting tools, learning paths, gamification, and more!
Invest in impactful training materials and reap the rewards you deserve.
Do you want a free Training Software?
We have the #1 Online Training Software for employee training & assessment