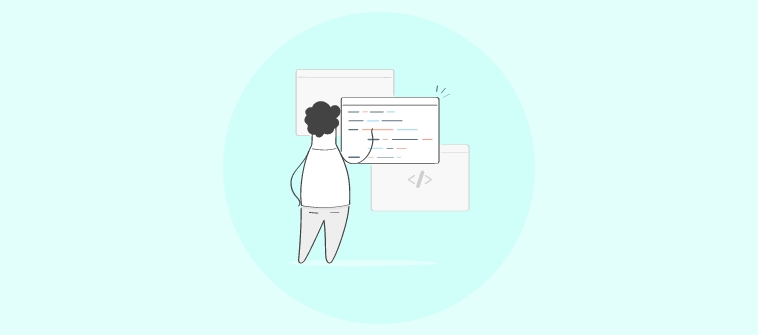 Safety is still a major concern for workers, especially in the construction and manufacturing industries.
According to the National Safety Council, a worker gets injured on the job every seven seconds. That adds up to 540 work injuries an hour.
In 2020, there were 4,113 preventable injury-related deaths among workers, and the cost ran into $643.7 billion.
What's more disappointing is that most of these accidents are preventable.
It is the primary responsibility of every employer to identify and prevent workplace hazards. One of the most effective ways to achieve it is through regular safety compliance training.
This post answers some of the most pressing questions about the training mandated by the Occupational Safety and Health Administration (OSHA), namely OSHA compliance training, including how an engaging OSHA compliance course and intuitive online training software can be a vital element for your business.
Continue reading to find out.

What Is OSHA Compliance Training?
OSHA compliance training is a compliance training program enforced by OSHA. It is an agency of the U.S. Department of Labor (DOL) that regulates health and safety standards in workplaces. The agency was established in 1970 under an act signed into law by President Richard Nixon.
The OSHA Outreach Training Program is an example of the training designed for employees in all industries. It is aimed at promoting a culture of safety by imparting knowledge about identifying and preventing workplace hazards.
The training deals with employers' responsibilities, employees' rights, and the procedure for filing a complaint regarding occupational safety.
For ease of training administration, OSHA divides businesses into four industries:
General Industry

Construction

Maritime

Agriculture
Each industry is required to comply with a specific set of safety standards.
For a detailed overview of the training, watch this video:
What Are OSHA Compliance Training Requirements?
The fundamental idea behind OSHA training requirements is that workers should perform their jobs efficiently and safely by applying all safety standards in their work environment. Along with this, safety managers and supervisors should oversee that workers follow safe practices.
OSHA requires organizations to meet certain safety and health standards in the workplace "to assure safe and healthful working conditions for working men and women by:
authorizing enforcement of the standards developed under the Act;
assisting and encouraging the States in their efforts to assure safe and healthful working conditions;
providing for research, information, education, and training in the field of occupational safety and health."
The objective of this training, like other compliance training programs such as sexual harassment training, is to put in place a well-documented and adequate safety training program.
Here's an OSHA-required training checklist that highlights the general safety requirements:
Each employee must be trained in the safe use of tools on the job.

This training must be provided by a qualified professional.

The training should be in a language and vocabulary that employees best understand.

The training must be scheduled as frequently as required by laws.

Employers should place the free OSHA posters at prominent locations informing employees about their rights.

Companies must document the training programs and maintain them for a specified time.
For more on the key responsibilities of employers in ensuring safe working conditions, here's a summary from the U.S. Department of Labor.
How Frequently Is OSHA Compliance Training Required?
Employers should provide OSHA training to their employees "at least annually." According to OSHA, it means providing retraining at least once every 12 months or within a timeframe not exceeding 365 days.
That said, certain circumstances such as high injury and fatality rates may warrant an increased training frequency. That's why businesses must provide training as and when they deem fit to provide the best safeguard against workplace hazards and accidents.
Benefits of OSHA Compliance Training
OSHA training brings several benefits to those engaged in high-risk occupations such as construction, though it applies to the general industry as well.
The training is instrumental in preventing potential workplace accidents that can result in severe injuries and even death. Trained employees can spot potential hazards and take corrective measures on time.
Some of the significant benefits of the training worth knowing are:
Increased awareness of handling unsafe working conditions

Ability to identify worksite hazards

Fewer occasions for OSHA inspections

Fewer chances of workplace sickness, injuries, & accidents

Reduced costs on workers' compensations

High safety standards and practices

Organizational accountability

Compliance with OSHA regulations

No fines and penalties for violations
OSHA Training Certification
Officially, OSHA does not certify employees on completing the 10-Hour or 30-Hour OSHA Outreach Training Program. The program is voluntary and its sole purpose is to spread awareness about workplace hazards, preventive measures employers should take, and employees' rights.
The program does not strictly meet the training requirements spelled out in OSHA standards.
According to an OSHA disclaimer:
"Although some states, municipalities or others may require outreach training as a condition of employment, it is not an OSHA requirement. None of the courses within the Outreach Training Program is considered a certification."
But some employers may require their employees to earn a pocketable plastic DOL card upon successful completion of OSHA training. This card serves as proof of the training.
Best OSHA Training Course
OSHA doesn't specify which training course employers should use for workplace training. OSHA leaves it to employers to decide on the resources and methods to be used to ensure ideal working conditions for employees. In other words, it's up to the employers to find the right course for the purpose.
Generally, OSHA's online safety training is divided into two types – a 10-hour program for construction and general industry and a 30-hour program for construction and general industry.
OSHA 10-Hour Training Program
The OSHA 10-Hour Training Program educates employees with the knowledge and skills to identify, avoid, prevent, and control hazards. The program is targeted at entry-level workers and generally deals with the safety responsibilities of employers and workers' rights.
On successful completion of this course, participants receive a U.S. Department of Labor card.
OSHA 30-Hour Training Program
Similarly, the 30-Hour Training Program is primarily aimed at site supervisors. Supervisors, including foremen and safety managers from entry to senior level, can take it. The program discusses topics such as general safety, safety inspections, and personal protection.
Watch: What Is Supervisor Health & Safety Awareness Training? | Course Introduction
ProProfs OSHA Training Course
The online OSHA compliance training course by ProProfs is created by industry experts. It is comprehensive, engaging, and used by countless customers worldwide. Best of all, the course is fully editable. So you can tailor it to fit your specific online employee training requirements.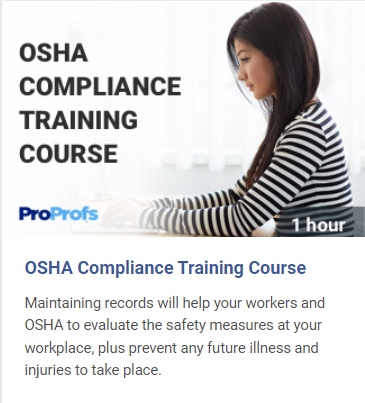 You can easily customize it by adding online quizzes and surveys, uploading existing docs, presentations, videos, and files, and with branding.
Administering the course also becomes easy with a scalable virtual classroom software integrated with ProProfs LMS or a learning management system.

WATCH: How To Set Up Your Virtual Classroom
The course is 100% online, mobile-optimized, and accessible anytime, anywhere. Plus it supports 70+ languages including English, Spanish and more.
Along with OSHA, you get access to other professionally created customizable online courses on topics like HR, customer service, compliance, employee skills and more.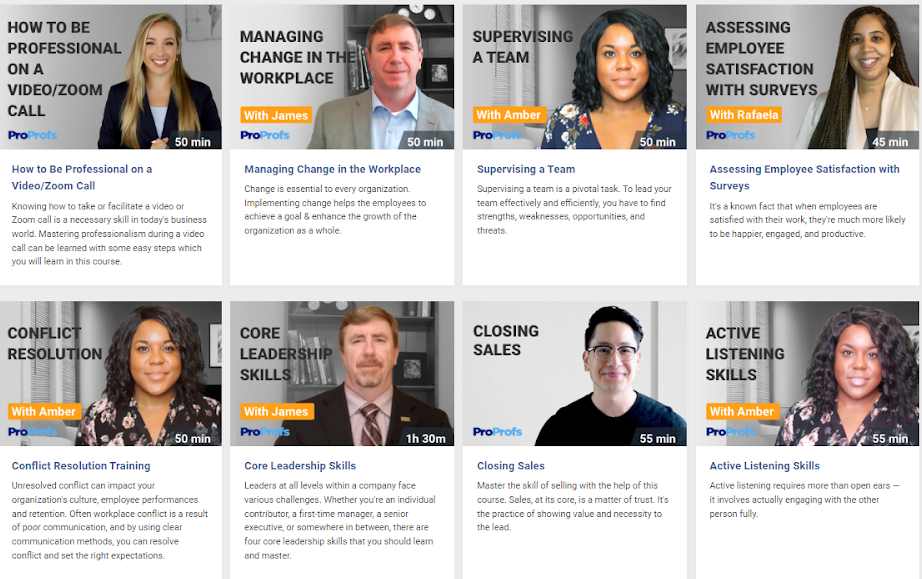 Role of LMS in OSHA Training
LMS software plays multiple significant roles in planning, implementing, and measuring OSHA training and similar compliance programs.
After you've completed all the groundwork for the training, such as workplace risk assessment and training goal-setting, you can start providing the training to your employees using an LMS and purpose-built courses.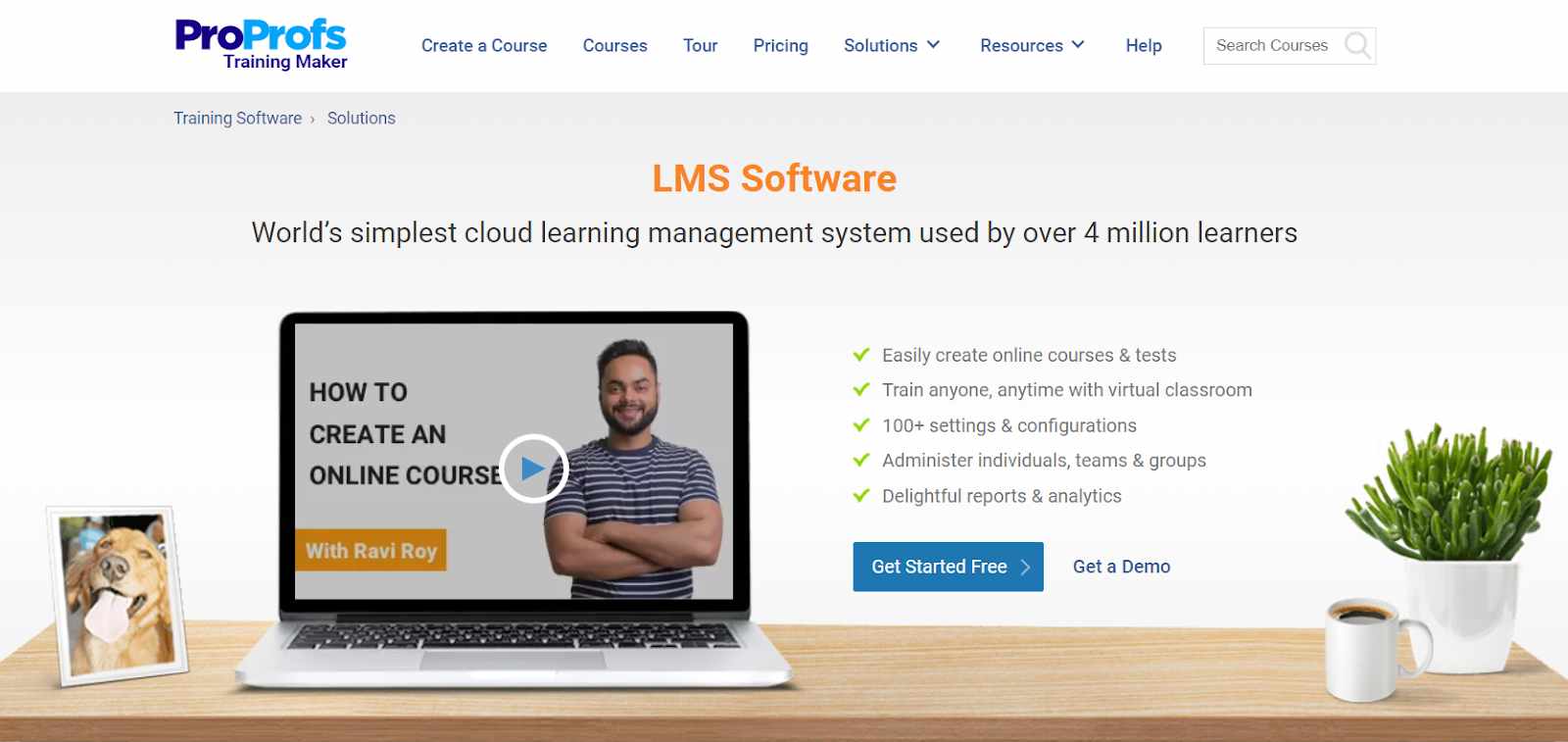 These tools allow you to easily create, design, share and track OSHA employee training courses and tests. You can add videos, safety policies, manuals, guidelines, and real-life examples to these courses.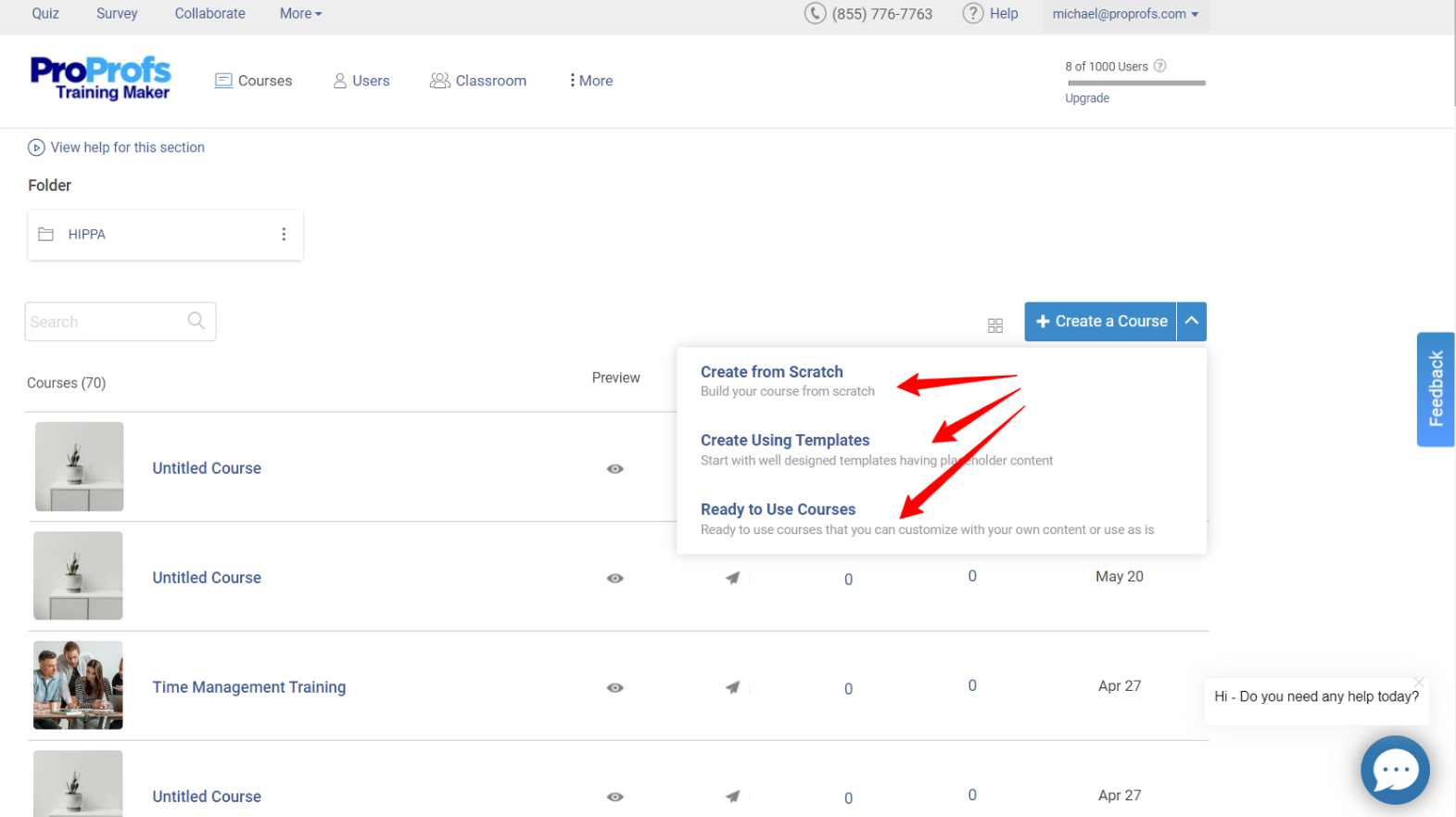 Learn Engagement & Accessibility
While gamification, quizzes, and polls keep learners hooked to the training, mobile-friendliness enables undisrupted learning on the go. This is significant, particularly for construction workers who are out in the field most of the time.
One of the best parts of using such platforms for OSHA safety compliance training is that you can train not only your in-house teams but also those remotely stationed.
Announcements & Reminders
You can send out announcements and reminders to communicate the due dates and ensure course compliance.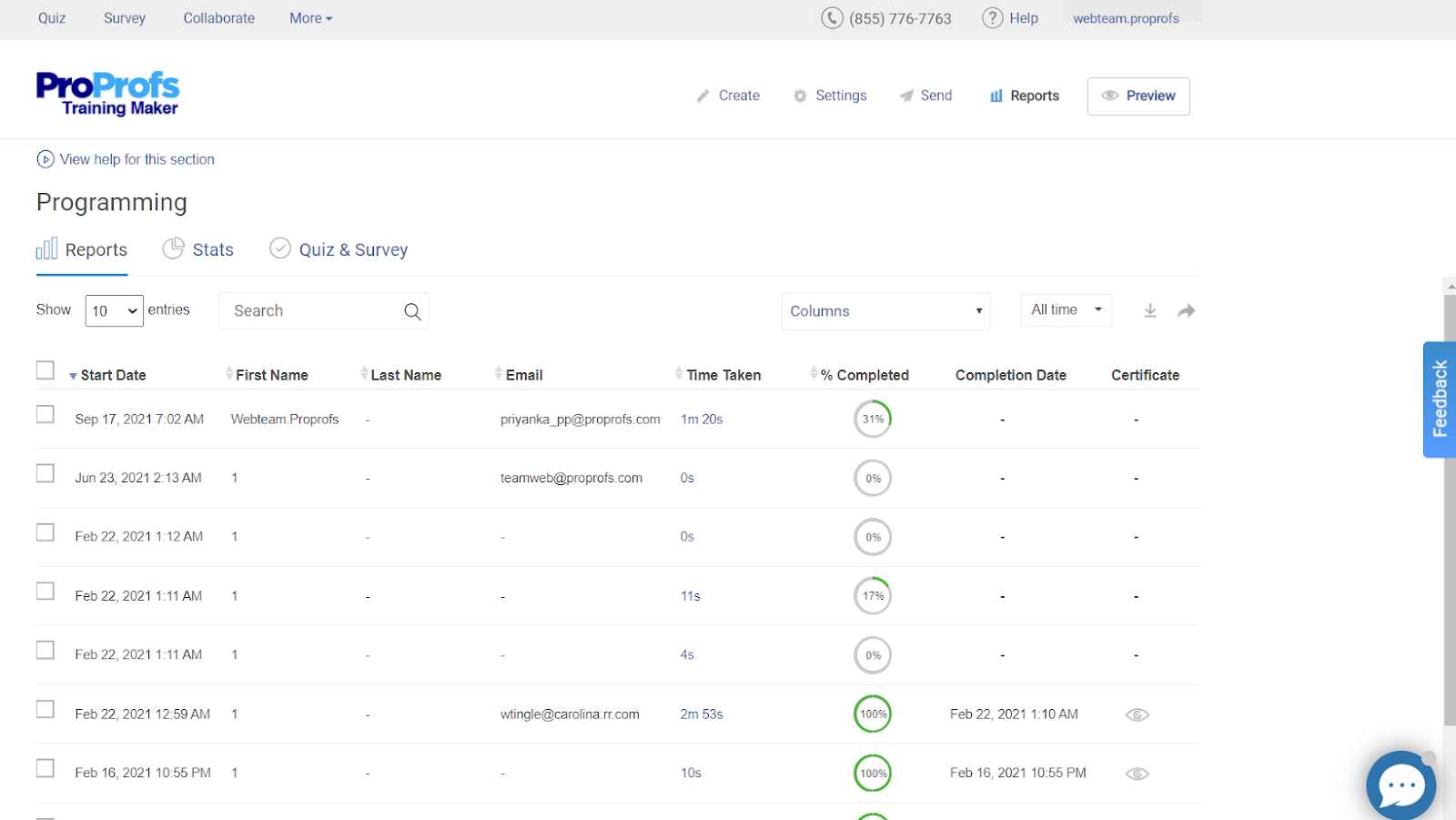 A standard LMS system also lets you track learners' progress in real-time and see who took a course and when, how much time they spend on each module, pending and completed courses, and scores.
Testing and assessments provide insights into retention, gaps, learning challenges, and milestones in your online OSHA safety programs.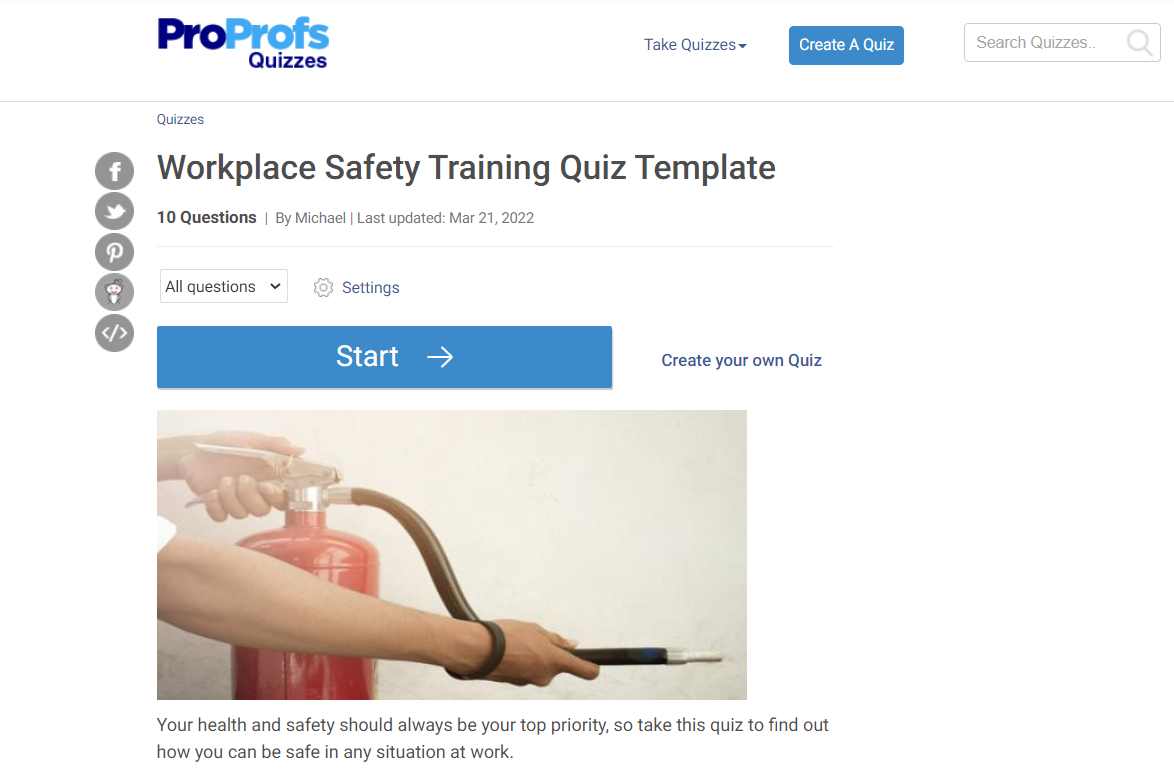 Built-in feedback surveys help you gauge the quality of your course and course performance, and you can improve your course or training delivery method based on them.
Detailed reports and analytics give a complete picture of the training participants by individuals and groups. This information shows their participation rate, engagement level, and satisfaction ratings.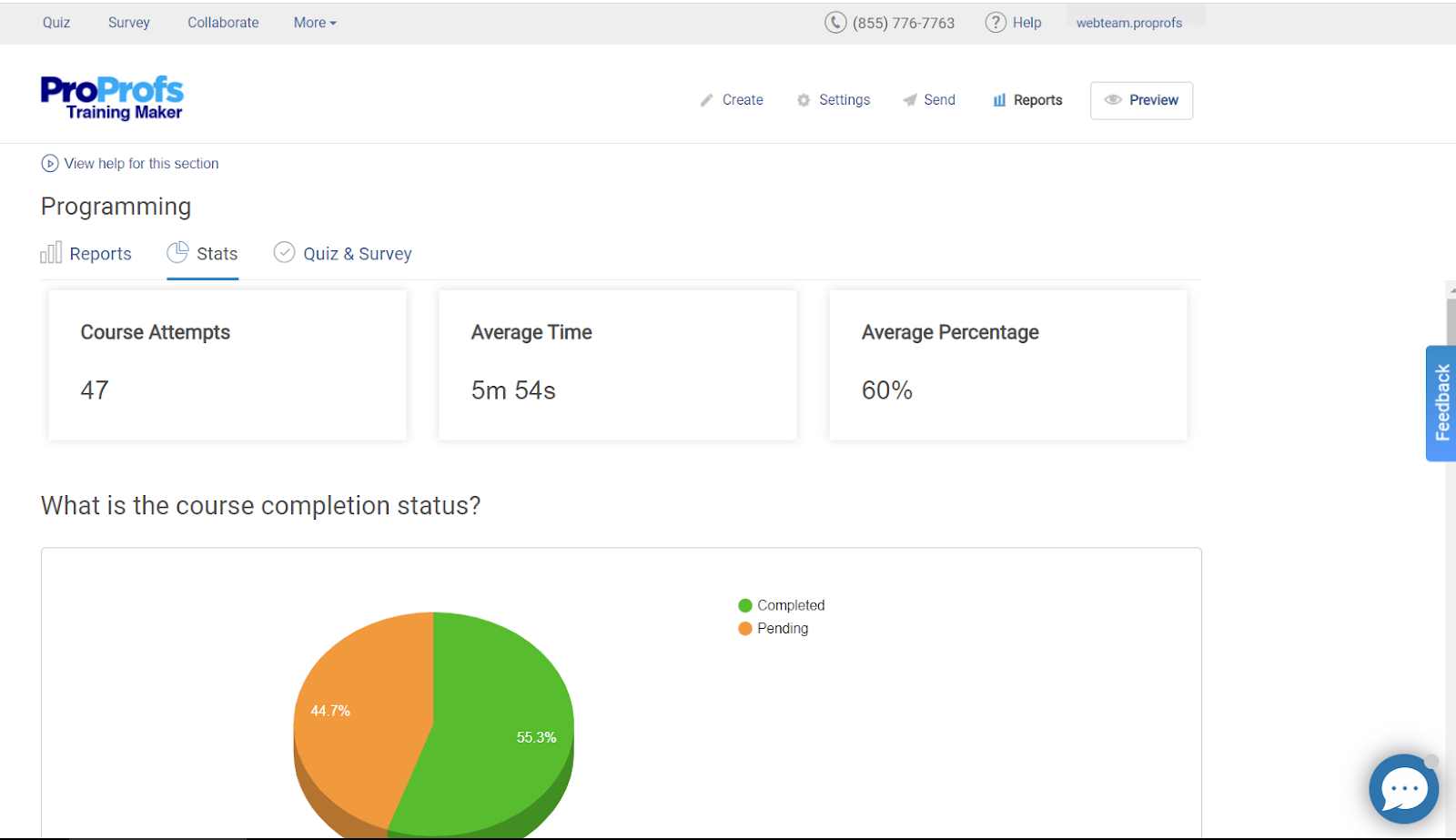 Deploy OSHA Compliance Training for a Safer Workforce

Every employee deserves a safe environment to perform their duties unhindered. Workplace illnesses and injuries can strike anyone, anytime, anywhere, without warning. Don't let your employees be caught off guard.
If you're yet to deploy workplace safety training, now is the right time to get down to it. Set and enforce safety standards as recommended by OSHA. Train and bring your employees up to speed.
The best thing you can do to ensure the safety and health of your workers is to stay prepared.
If you're looking for LMS software to administer OSHA compliance training, there are many on the market. Go for a free trial with as many of these employee training software as possible and choose the one that works best for you.
Do you want a free Training Software?
We have the #1 Online Training Software for employee training & assessment