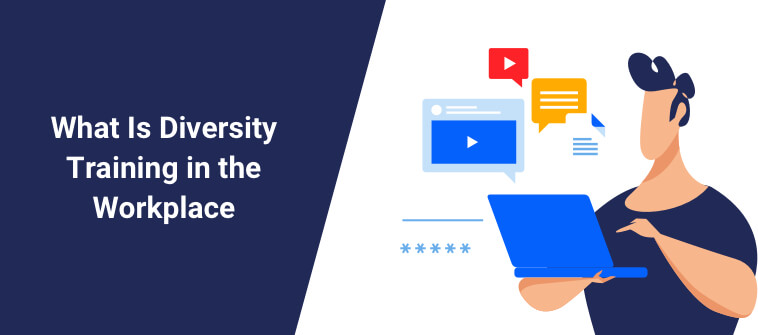 Google. Gap. Pandora. Dropbox. Accenture. BlackRock.
What's common between these companies?
They are diversity champions!
Known for their successful business, these companies are also talent magnets.
Wonder why?
Let these numbers tell you a little story.
According to the online job portal Glassdoor, more than 65% of job seekers consider workplace diversity important while accepting a job offer.
A McKinsey & Company report said that companies with gender, ethnic, and cultural diversity in their leadership outperform their peers financially.
Disputes arising out of differences in race, gender, religion, and culture affect many organizations worldwide. This can lead to personal conflicts, business disruption, loss of productivity, and financial and reputational damages to organizations.
No company would want to go through that kind of tribulation. On the other hand, companies that are more inclusive earn a good reputation in the market.
That's why it is important for you to build an inclusive workplace where everyone is treated fairly. You can achieve this goal only through a systematic workplace diversity training program.
In this blog post, I'll walk you through the different aspects of diversity training in the workplace. Let's dig in.
Watch: What Is Employee Training?
What Is Diversity Training in the Workplace?
Diversity training refers to an employee educational program aimed at raising awareness about the importance of building a diverse workplace.
The idea is to promote a harmonious and conflict-free workplace where employees from different cultural backgrounds can co-exist and work productively.
A perfect example of diversity in the workplace is that of the search engine giant Google. It boasts of a diverse and inclusive workforce. As of Q3 2019, it reported 114,096 employees. Google cares about the diversity of not only its employees but also its customers by offering products that work for everyone.

Want to learn more about diversity training? Read all about it here.
Now that you know what it means, the questions that arise are:
Why is diversity training important in the workplace? Why is there so much talk about it?
Watch: What Is Diversity Training in the Workplace? Benefits & Requirements
Why Is Diversity Training Important?
The importance of diversity training in the workplace can be understood from the fact that it is closely tied to a business' strength, growth, and reputation. Here are some of the top reasons why diversity awareness training matters a lot:
It teaches employees how to accept differences in the workplace
It helps them develop a spirit of tolerance for their fellow employees
It promotes a cohesive and progressive work environment
It breaks down psychological barriers so that employees can work together and stay productive
It helps forge a winning team despite cultural differences among employees
What Are the Different Types of Diversity Training?
Employee diversity training is broadly divided into two types:
1. Awareness-Based Training
The primary purpose of this training is to sensitize employees on the importance of diversity in the workplace. It makes them aware of common assumptions and prejudices about other employees who are different from them.
The training relies on case studies and experiential exercises.
2. Skill-Based Training
Skill-based training is aimed at providing hands-on training to employees and equips employees to handle diversity in the workplace. It uses various methods such as role-plays, online courses, and games to take the employees from the awareness to the competence stage.
Employees are trained on how to communicate with people from different cultures, interpret cultural differences, and adapt naturally. Over time, you can use these skills as an advantage for the online reputation management of your brand as diversity is a strongly-discussed topic nowadays.
Real Benefits of Diversity Training
Corporate diversity training programs bring several benefits to the workplace. Some of them are:
➯ Sense of Belonging: The training can make employees feel that they are a part of a larger team effort. This gives a sense of direction and purpose, besides keeping the employees motivated. The result is employees tend to stick around far longer than it would have been without such training.
➯ Accommodative Workplace: New hires find a diverse workplace more welcoming and accommodative than one that lacks diversity. This company culture is significant since today, more and more businesses have become globalized and enjoy a presence in multiple regions. Cultural diversity training can help them create a common and unifying identity.
➯ Teamwork: Diversity training teaches employees the importance of considering things from others' points of view. It helps them cultivate the habit of collaboration through knowledge exchange with their colleagues in performing different tasks. This, in turn, serves as a support system for each other and helps them grow professionally.
➯ Increased Innovation: When people with different experiences and capabilities come together, it increases the chances of innovative problem-solving. They can put their creative minds together and come up with effective solutions. This is because two heads are always better than one. So, the more diverse a workplace is, the better.
➯ Better Employee Engagement: Workplace diversity training is critical from the perspective of employee engagement. When your employees feel genuinely included, they tend to become more engaged in what they do. This has been corroborated by research from Deloitte, where it says employee engagement is a result of an inclusive workplace.
➯ Larger Market Share: An inclusive workplace is good for your business as well. When your teams think and work with inclusiveness in mind, your brand will be able to reach out to more markets. This increases your competitive edge. That's why it helps to include people from diverse backgrounds in your decision-making team.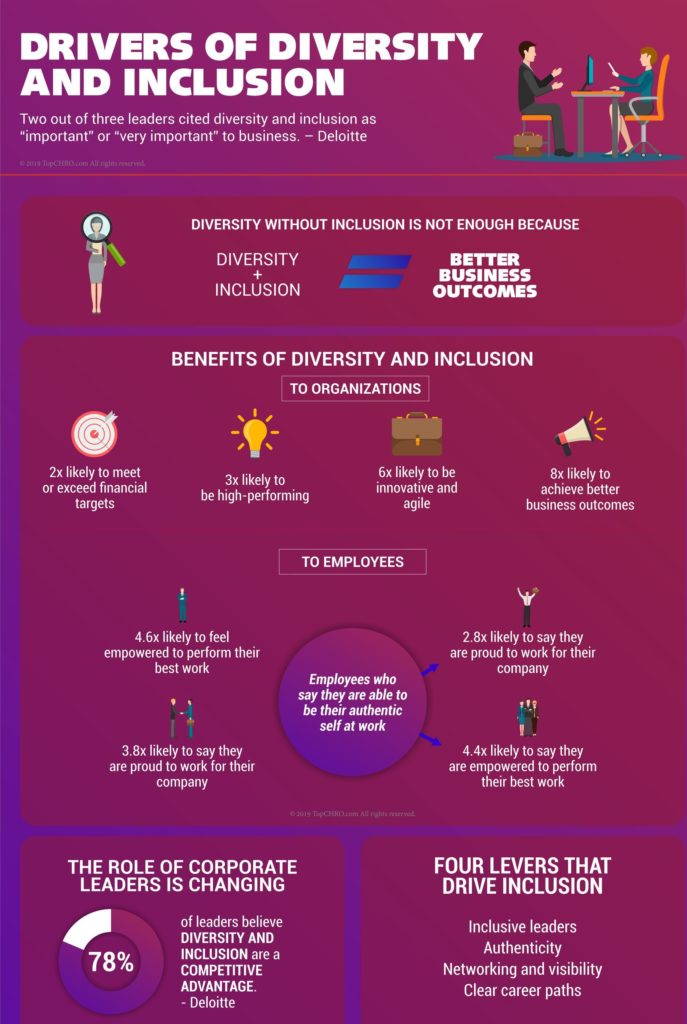 (Source: elearninginfographics)
Diversity Training Requirements
When anti-discriminatory laws such as the Civil Rights Act of 1964 were enacted in the 1960s, the definition of workplace diversity was limited. It was confined to a person's race, color, sex, religion, and origin. Later on, the definition was extended to include employees with disabilities, those 40 years and above, and veterans. It also includes differences in work styles, culture, and generation.
The U.S. Equal Employment Opportunity Commission (EEOC) recommends including a topic on workplace diversity in all employee training programs.
The need for maintaining diversity in employment is also reflected in the Executive Order 11246. It prohibits contractors from engaging in discriminatory employment on the basis of race, color, sex, religion, sexual orientation, or national origin. It requires contractors to take affirmative action to ensure equal opportunity in employment.
Diversity training programs should address all such forms of discrimination and what needs to be done to make a workplace more inclusive.
Even though it is a requirement for federal contractors, it is considered a wise practice to follow by all businesses operating in different industries.
How to Create Effective Diversity Training
Administering diversity training is no different from other workplace training programs.
To start with, you need to do a learning needs analysis
For example, you can prioritize topics that your employees need to know most importantly. This groundwork will make the training meaningful and worthwhile instead of throwing everything to your learners at once.
Next, you should choose the right tool for the training
A learning management system (LMS) can be the best choice. Enterprises of all sizes rely on this software application to create, share, and track training courses seamlessly. Some of the top software providers offer a library of pre-built courses that you can easily customize to suit your eLearning needs.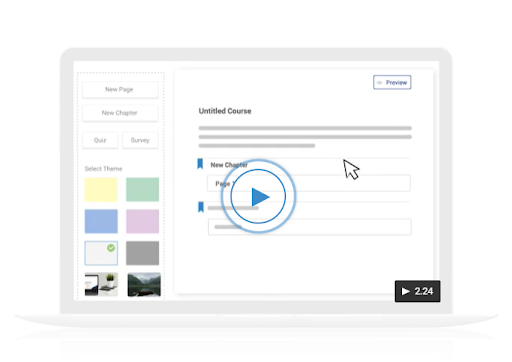 Not only this, they provide integrated tools such as a virtual classroom that you can leverage to manage training centrally
You can monitor learners' progress with a reporting & analytics engine that's common with most LMS software. You can also facilitate group discussions and peer-to-peering learning among your course participants using an online forum for collaboration.
Assess your employees via interactive quizzes that you can embed at the end of each course chapter or as a final evaluation
Similarly, some LMSs support surveys, which you can use to gather feedback from course participants about what they think about a course so that you can improve it for better training in the future.
Tips to Make Diversity Training Successful
There are various diversity training methods that you can employ. Keep the following diversity training ideas in mind to make sure it is effective and successful in the long run.
Open Door Policy
The top management should always keep the door of communication open with their employees. This will encourage openness and transparency, even when dealing with diversity issues. Employees should feel free to discuss any matter without any hesitation, fear, or doubt.
Cultural Training
One of the concepts of diversity in the workplace that your training programs should reflect is how to treat different cultures. Let your employees understand how people from different cultures respond to certain events in their own ways and why so that they can respect it.
Workplace Harassment Training
Cases of sexual harassment in the workplace are often a fallout of bias on the part of employees, either conscious or subconscious. They are, thus, closely linked with workplace diversity. You should make harassment training a priority and deploy an online sexual harassment training course as mandated by federal and state laws.
How to Conduct Employee Sexual Harassment Training in the Workplace
Focus On Similarities
It's important to condition employees to look for common grounds whenever they can, instead of focusing solely on the differences to build a happy workplace. Let them make efforts toward finding similarities with their fellow employees that go beyond obvious differences. You can try this interesting method to let them know each other better.
Breaking Down Stereotypes
Generally, cultural stereotypes are ingrained in our psyche. They are extremely dangerous if not tackled properly. That's why workplace diversity training programs should be designed to challenge and break these stereotypes to create a positive work environment for everyone.
Holistic Training
Make diversity training as comprehensive as possible. Focus on every possible aspect of diversity, including differences in personality traits, sexual orientation, intellectual abilities, and so on. Never leave any existing difference unaddressed as it can escalate with time and get out of control.
Best Diversity Training Courses
Like any other online training program, using the right content is half the work done in diversity training. It can make a world of difference in the outcome.
While you can build a course from scratch, using pre-built courses can be a good idea as it saves time and effort. Also, these courses are generally designed and developed by industry experts, including HR professionals.
One such course is the ProProfs workplace diversity training course.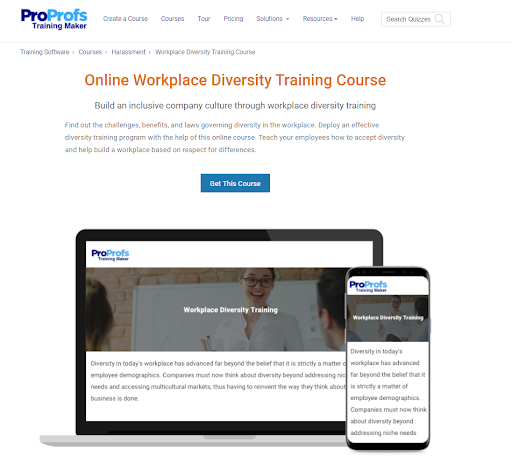 With ProProfs, delivering online diversity training is super-easy. Here's why:
You can use its ready-to-use course
Its library houses not only a diversity training course but 100+ other courses on different workplace training topics such as workplace communication, negotiation skills, workplace ethics, and assertiveness training for women.
These resources are ready for deployment and you can use them to kick-start your online training programs.
To help ensure 100% compliance, ProProfs supports engaging quizzes, surveys, flashcards, and gamification.
You can also assign personalized learning paths to learners and train anyone, anytime, anywhere.
The course is priced at Forever free plan (up to 10 learners). Paid plan starts at $1.97/learner/month (billed annually) for large teams. No hidden charges. 15-day money-back guarantee.
Interested in more diversity and workplace-related courses? We have them.
1.Fair Labor Standards Act Training
Train the management on fair labor practices such as minimum wage, record keeping, overtime, and child labor. Easily ensure compliance with the federal law.
Ensure fair labor practices and safeguard your employees' rights with this Fair Labor Standards Act Training Course.
2.Workplace Anti-Bullying and Harassment Training
Handle bullying and harassment in the workplace arising out of bias, discrimination, and stereotypes. Learn how to report, document and deal with such incidents.
Want to eradicate bullying and harassment from your workplace? Take this Workplace Anti-Bullying and Harassment Training Course.
3.Workplace Conflict Resolution Training
Take this course to understand how to identify and resolve workplace conflicts. Mediate disagreements between employees before they spiral out of control.
You'll find our Workplace Conflict Resolution Training Course helpful in eliminating stressful conflict situations.
4.Code of Conduct Course
Train your employees on the standard code of conduct and build an ethical work environment. Educate them on appropriate and inappropriate behaviors and other best practices.
This professionally designed Code of Conduct Course is what you need for the purpose.
Need Help With Diversity Training?
ProProfs can help you create, design, configure, distribute, and analyze cultural diversity training In the workplace in the easiest way. In addition to a professionally designed diversity training course, you get a cloud LMS to administer the training your way. So go ahead and train your employees online to get along well with others and nurture healthy workplace relationships.
Take a tour. Schedule a personalized demo. Or call us at (855) 776-7763.
Do you want a free Training Software?
We have the #1 Online Training Software for employee training & assessment