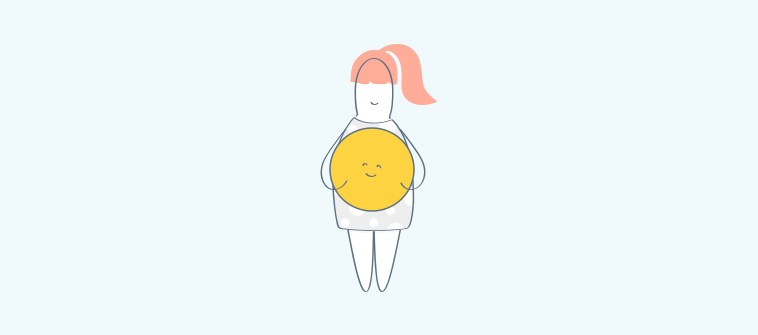 Sexual harassment training for employees is one of the most important educational programs in the modern workplace. This is primarily because incidents of harassment occur more frequently than you'd think.
Harassment is indeed an uncomfortable topic to raise for discussion, but it's also a serious issue that you need to prevent or deal with firmly.
Apart from public spaces and homes, workplaces are the most common locations where sexual harassment occurs daily.
But it can be difficult for many businesses to understand where to begin when it comes to training their employees using anti-harassment programs. We get that but here's how you can make a start.
After reading this post, you'll know how to build a respectful and healthy work environment through sexual harassment training for employees. You'll learn what it is, its objectives, benefits, courses, and how to develop an effective program.
Let's start with some facts to have a better understanding.
Facts About Sexual Harassment
According to the U.S. Equal Employment Opportunity Commission (EEOC), women filed 78.2% of sexual harassment charges from the financial year 2018 to 2021.
Similarly, the National Sexual Violence Resource Center reported that nearly a quarter, or 24.8%, of men in the U.S., experienced some form of contact sexual violence in their lifetime.
If we count unreported sexual harassment cases, the number would be much higher.
Though there are more female victims of sexual harassment than men, it's nevertheless a vital training topic for both genders in all organizations across industries.
What Is Sexual Harassment Training for Employees?
Sexual harassment training for employees is an educational program for employees at all levels to sensitize them to the issue of sexual harassment in the workplace.
Usually based on applicable federal and state laws, such compliance programs enable employees to understand what constitutes sexual harassment and how to identify, prevent, and report them.
Sexual harassment in the workplace in any form is condemnable. It causes trauma to victims, brings reputational damage to organizations, disrupts employee productivity, and incurs legal costs.
So, sexual harassment prevention training can help businesses prevent all this and promote mutual respect, safety, and a supportive environment for employees.
Watch: What Is Sexual Harassment Training?
Why Is Sexual Harassment Training Important?
According to New America, the think tank that focuses on a range of public policy issues, sexual harassment in the workplace remains pervasive, troubling, and largely unresolved in virtually every sector of the economy. It says that the consequences of harassment can be severe and long-lasting.
Training is essential to prevent such scenarios. Here's how it helps:
Employee Empowerment
A sexual harassment training program is the best way to spread awareness about the issue in the workplace. Employees who undergo such training feel more empowered to speak up about incidents of harassment experienced by them or others.
Feeling of Security
Training also conveys that your company's leadership is investing in their welfare. This makes them feel more secure, and they can contribute to their organization without interruptions in productivity. There is an improvement in professional relationships and employee confidence.
Watch: Understanding the Code of Conduct | Training Course Introduction
Positive Social Impact
Employees who understand sexual harassment and its impact on people tend to extend the lessons they learn even outside their workplace. So, sexual harassment training for employees also has a positive effect on society, thanks to the right etiquette and ethics.
Watch: How to Build an Ethical Work Culture
Safety From Liabilities
Without such a program, not only employees but businesses also remain vulnerable to complaints, lawsuits, and other legal liabilities.
Research has found that each incident of sexual harassment costs organizations around $22,500 a year in loss of productivity. In recent years, U.S.-based companies have spent over $295 million in penalties. This figure doesn't include private settlements.
Workplace Sexual Harassment Case Study
Take a look at the following case study that demonstrates the magnitude of the problem and why sexual harassment training is a must.
Ashley Alford vs. Aaron's, Inc. 2011
This case was one of the most sensational real-life examples of sexual harassment in the workplace.
Ashley was an employee at Aaron's, a Georgia-based lease-to-own retail chain dealing in furniture, electronics, and other items. She accused her manager Richard Moore of sexual harassment and assault. According to her, Richard attacked her, pulled up her shirt, and masturbated on her.
Despite Ashley's repeated complaints, Aaron's didn't take any action.
Finally, Ashley won a federal court verdict amounting to $95 million in an Equal Employment Opportunity Commission case.
The verdict in her case was later reduced to $41.3 million because of a cap on federal damages. Aaron's moved for either a reconsideration of the verdict or a fresh trial.
Subsequently, parties to the case reached an out-of-court settlement with an agreement totaling $6 million.
Objectives of Harassment Prevention Training
Training on the prevention of sexual harassment (POSH) in the workplace has specific goals. It's not a one-time event but an ongoing process and is intended to:
create awareness about sexual harassment

put in place a strict code of conduct

protect employees from derogatory behaviors

prevent reputational damage

fulfill state or federal harassment training requirements

prevent legal costs and other liabilities

build a safe & supportive work environment based on mutual respect
Sexual Harassment Training Requirements by States
Federal: Fair Employment and Housing Act and Title VII of the federal Civil Rights Act of 1964, FEHA and Title VII statutory provisions and case law concerning the prohibition against and the prevention of retaliation in employment, unlawful sexual harassment, discrimination based on sexual orientation or gender identity, such as lesbian, gay, bisexual, and transgender (LGBT).
To make it easy for you, we've provided state-wise sexual harassment prevention training requirements below along with recommended customizable and ready-to-use training courses.
State
Training Requirements
Recommended Courses
California
(AB 1825, AB 2053 and S.B. 396, S.B 1343)
Starting January 1, 2020, Senate Bill 1343 requires employers with 5 or more employees, including temporary or seasonal employees, to provide at least 2 hours of sexual harassment training to all supervisory employees and at least one hour of sexual harassment training to all nonsupervisory employees, and once every 2 years thereafter, as specified.
Cal. Gov Code §12950. AB 2053 amends Cal. Gov Code §12950 Learn more
California Supervisor Sexual Harassment Training Course

California Employee Sexual Harassment Training Course

Curso de Capacitación sobre Acoso Sexual para los Empleados en California

Connecticut
(Connecticut Human Rights and Opportunity Act)
Beginning October 1, 2019, employers, regardless of size, must provide 2 hours of sexual harassment training to all employees. All employees hired on or after October 1, 2019, must receive the training within six months of hire.
Conn. Gen. Stat. § 46a-54(15)(B). Conn. Agencies Regs. § 46a-54-204. Learn more
Connecticut Sexual Harassment Training Course Online
Delaware
(Delaware Discrimination in Employment Act)
Employers with 4 or more employees, including state and local governments, must provide sexual harassment training to all employees within six months of assuming office, and the training must be conducted every two years. It also applies to employment agencies and labor organizations.
(HB 360) Learn more
Delaware Sexual Harassment Training Course Online
Illinois
(Illinois Human Rights Act)
Effective January 1, 2020, SB75 requires all employers with 1 or more employees to provide sexual harassment prevention training to all employees and supervisors within the first calendar week of the employee's employment and on an annual basis thereafter.
Comp. Stat., Chap. 775, § 2-105(B)(5). Learn more
Illinois Sexual Harassment Training Course for Employees
Illinois Sexual Harassment Training Course for Supervisors
Maine
(Sexual Harassment Training and Education in the Workplace Law)
All employers with 15 or more employees located in or doing business in the state of Maine must train all employees about sexual harassment within a year of the beginning of their employment.
26 Me. Rev. Stat. § 807(3). Learn more
Maine Sexual Harassment Training Course
New York
(New York State Division of Human Rights)
Beginning October 9, 2018, all private and public employers in the state of New York are required to conduct annual anti-harassment training for all employees and distribute a written anti-harassment policy. Learn more
NYS Sexual Harassment Training Course
Alabama, Alaska, Arizona, Arkansas, Colorado, District of Columbia, Florida, Georgia, Hawaii, Idaho, Indiana, Iowa, Kansas, Kentucky, Louisiana, Maryland, Massachusetts, Michigan, Minnesota, Mississippi, Missouri, Montana, Nebraska, Nevada, New Hampshire, New Jersey, New Mexico, North Carolina, North Dakota, Ohio, Oklahoma, Oregon, Pennsylvania, Rhode Island, South Carolina, South Dakota, Tennessee, Texas, Utah, Vermont, Virginia, Washington, West Virginia, Wisconsin, Wyoming.
Not required, but recommended.
The state encourages employers to take any necessary preventative measures against sexual harassment because prevention is the best way to eliminate sexual harassment. Suggested methods include raising the issue, condemning sexual harassment, and discussing employees' rights in sexual harassment incidents. Learn more
Sexual Harassment Training Course
Diversity, Equity & Inclusion Training Course
Workplace Ethics Training Course
Explore more in the ProProfs course library
How Does Sexual Harassment Prevention Training Work?
Anti-harassment training for employees educates them on the standards of behavior expected of them in the workplace to create a harassment-free environment.
State and local jurisdictions have their own harassment laws, and organizations develop programs based on them. The rules may relate to the type of content, training format, and frequency of training. While you may modify the training by adding your company policies and training materials, you must meet the minimum established standards.
According to experts, interactive in-person sessions combined with online training are the most effective way to deliver sexual harassment training.
One of the key training topics is types of sexual harassment. Some employees may not be aware of the forms of harassment, such as quid pro quo, unwanted contact, sexism, offensive comments, obscene gestures, and online harassment.
So, generally, POSH training includes a description and example of each type for employees' knowledge.
As a part of the training, employees learn about their rights, filing complaints, and the investigation process.
Retaliation by the accused and bystander intervention are other important topics the training covers.
You should review your company's anti-harassment policy before the training for best results. It will help you know whether your policy aligns with the latest rules of regulatory bodies.

How to Develop An Effective Sexual Harassment Training Program
Now that you know a few things about sexual harassment training for employees, you must be wondering how to create such a program. It's understandable if you haven't done it before.
Here are some tips or best practices for developing an effective harassment training program.
👉 Define Your Training Goals
Before you roll out anti-harassment training, find out what you want to achieve out of it. For this, you'll need to analyze the prevailing atmosphere in your workplace, the employees' awareness levels, and any incidents in the past.
Based on that, you can use a checklist of goals like this while developing sexual harassment training for employees:
Familiarity with the issue of workplace sexual harassment

Acceptable standards for employee conduct

Knowledge of do's and don'ts as a victim or witness to sexual harassment

Awareness about the consequences of violating a sexual harassment prevention policy

Legal defense at the organizational level in the event of criminal charges

Compliance with local, state, and federal laws
👉 Decide on the Scope of Training
Sexual harassment is a vast topic, and so the more comprehensive the training is or, the broader the scope, the better it is for learners. For example, the following topics are related to harassment like:
So, it makes sense to touch on these topics while delivering a program on sexual harassment. Train your employees on bullying, intimidation, bias & discrimination, and any unwanted conduct.
Though it might take a bit more time, such sexual harassment training for employees will create a greater impact on understanding acceptable and unacceptable behaviors in the workplace.
Watch: Handling Workplace Violence Course
👉 Involve Your Management in Training
By involving top management in important compliance training, such as sexual harassment, you're setting it up for success.
Apart from the fact that they are the ones who approve and fund the training, management sets a good example for the entire organization by playing an active role in the process. This motivates employees to participate in the program.
The idea is to ensure your management sees value in your learning & development initiatives and becomes your partner.
👉 Provide Training to Your Supervisors
Ideally, supervisors and others in leadership roles should undergo sexual harassment training before the employees. They are in charge of employees and have a key responsibility for monitoring their behaviors and preventing sexual harassment in the workplace.
This way, the success or failure of the program depends on these leaders. They should be aware of the consequences of non-compliance and its damage to employees and businesses.
👉 Customize the Training to Suit Your Organization
Your employees should never feel that you're conducting the training program merely to comply with legal requirements. While those regulations are certainly important, the training must align with your company's values, mission, vision, and culture.
In other words, the sexual harassment training for employees should be consistent with your business policies and practices. This way, employees will be able to easily identify the significance of the program, and they will feel motivated to participate.
👉 Decide on the Training Format
There are various methods to deliver sexual harassment training. It can be live (in-person), online, and a blend of both. Whatever method you choose, it should be engaging, relevant, and practical.
The most widely used method nowadays is online or web-based training through a robust tool like a cloud learning management system (LMS). It provides several features like a virtual classroom, anytime, anywhere access, ready-to-use courses, multilingual support, and security.
You can even use training materials you already have, such as docs, videos, PDF files, audio, recorded webinars, and presentations.
A purpose-built platform like this can be your reliable compliance training software. The best part is they combine independently run applications into one.
Watch: What is a Cloud-Based Learning Management System?
👉 Determine the Length and Frequency of Training
Regulatory bodies such as EEOC stipulate the minimum length and frequency of sexual harassment training in the workplace. It should be for at least one hour and held annually.

That said, you may decide on these standards based on your requirements while developing sexual harassment training for employees. In other words, you may conduct training of a longer duration, if necessary. Similarly, depending on your employees' needs, you may conduct the training more than once a year.
For example, you may need to train new hires on harassment laws based on how frequently you recruit them.
At the end of the day, employees should be aware of sexual harassment prevention, and your business should remain audit-ready for whatever training length and frequency you choose.
Sexual Harassment Training Courses You Can Use
Like a purpose-built software application, the right online courses can help you administer anti-harassment training programs easily and successfully.
So, before we wrap up, let's look at some of the best sexual harassment prevention training courses. These courses are designed by professionals, customizable, and ready to use.
Federal Sexual Harassment Training Course
This course is designed for supervisors and employees working at all levels in the U.S. Here, you'll learn about federal and state laws governing workplace sexual harassment. This will enable you to identify and respond to cases of sexual harassment on time.
Watch: Federal Sexual Harassment Training Course
CA Sexual Harassment Training for Employees
This California sexual harassment training course is designed for employees at all levels and across industries in the state. It's based on state-mandated requirements to provide training by businesses with five or more employees.
Watch: California Sexual Harassment Training for Employees
Watch: Capacitación Sobre Acoso Sexual de California Para (Empleados)
New York Sexual Harassment Training Course
Designed by legal experts, this online training course can help you deploy harassment training in the workplace based on federal and NYS laws. The course is meant for employees at all levels working in the state.
Watch: What Are the NYS Sexual Harassment Training Requirements?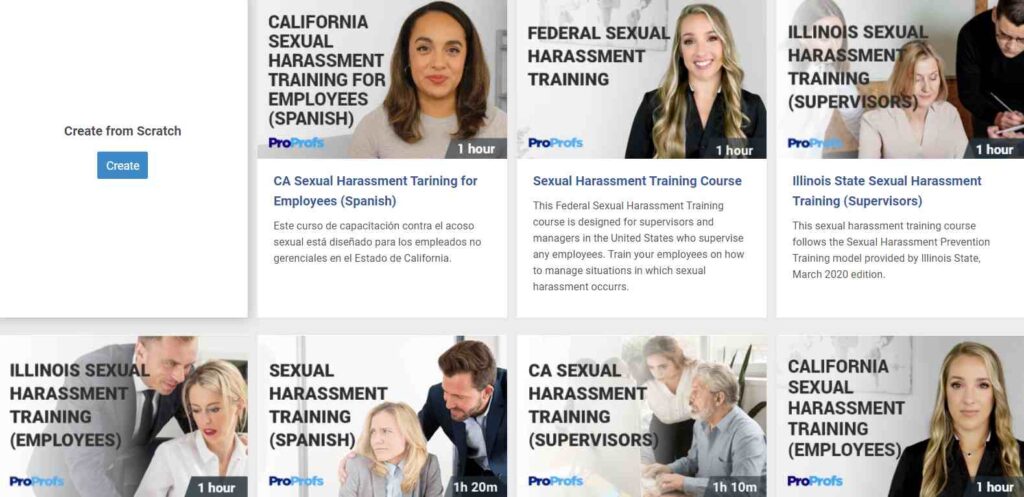 Sexual Harassment Training FAQs
What is federal sexual harassment training?
It's a compliance training that's applicable to all the 50 states in the United States. It is designed to educate employees on the law, their rights and responsibilities, and provide tools to identify and prevent sexual harassment. It is based on the provisions present in the Civil Rights Act of 1964, and the regulations of the Equal Employment Opportunity Commission (EEOC).
Who needs to take sexual harassment training?
All employees and supervisors in the U.S. must undergo sexual harassment training as mandated by the governing bodies. Depending on state-based regulations, you may need a 1-hour training course for employees and a 2-hour course for supervisors.
In some states, you need to deploy the training within six months of an employee joining the office and every one or two years after that.
What should harassment prevention training teach?
Some of the main topics the training should cover include what sexual harassment is and how to recognize and report it. For this, employees need to know what constitutes harassment and the reporting mechanisms available to them.
The training should teach how to cultivate professional and respectful behavior at work. Employers should empower their staff to help build a healthy environment for everyone.
How should I administer sexual harassment training?
Administering sexual harassment training is easy with ready-to-use courses and an intuitive LMS. All you need to do is pick the relevant course for your state from the ProProfs library, customize it with your company harassment policy and branding, and share it with participants.
Check out this easy guide to learn How to Conduct Sexual Harassment Training.
How can I choose the best tool for compliance training, like harassment?
First of all, it should be user-friendly. Ideally, the platform should offer ready-to-use courses & templates for quick training implementation. Also, the ability to upload existing content, quizzes & assessments, multilingual support, SCORM & Tin Can compliance, multiple admins/instructors, and tracking & reporting are worth considering.
Build a Safe Workplace With Harassment Training for Employees
Sexual harassment in any form is unacceptable in the workplace. You first need to train your employees to build an environment free from harassment, conflict, fear, bias, and discrimination. General awareness and the ability to take timely actions will come only through systematic training. There is no better alternative to training.
You have learned what sexual harassment training is all about, including its importance in the workplace. You have also seen the state-specific training requirements, courses you can use, and how to develop such a program.
Equipped with this understanding, you'll now find it easy to deploy the training in your organization. Remember, the best practices combined with the right courses and a robust training tool make a powerful recipe for successful training.
Do you want a free Training Software?
We have the #1 Online Training Software for employee training & assessment