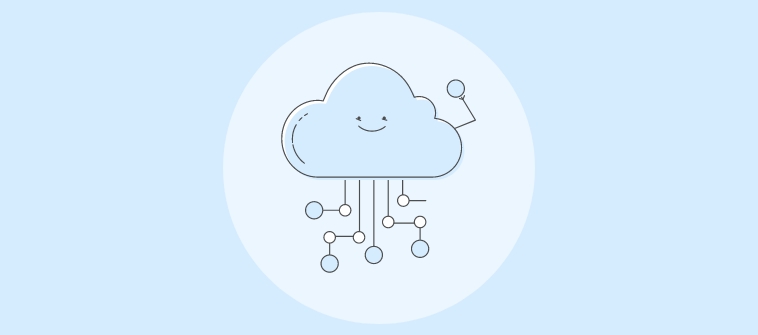 The switch to cloud-based learning solutions is fueling the growth of eLearning worldwide. In this development, learning technologies, such as Tin Can API LMS, play a key role by expanding the playing field, ensuring transparency in learning, and giving people more control over how and where they learn.
The main drivers of this growth story are the demands from higher education, corporate training programs, content digitization, and the rising use of mobile devices.
As a matter of fact, online learning is expected to reach more than USD 1 trillion by 2027.
Tin Can is an advancement over the Sharable Content Object Reference Model or SCORM and addresses all the limitations of SCORM. Tin Can LMS tools hold out many promises in the field of eLearning.
To help you understand these tools better, in this post, let's do a little digging and find out the 10 best Tin Can LMS 2021, their features, pros and pricing.
Top Tin Can API LMS & Their Features
10 Best Tin Can API LMS
Why Is It the Best?
ProProfs LMS

Easy to Use
Centralized Virtual Classroom
Engaging Quizzes for Assessment
Learning Record Store
Anytime, Anywhere Access
Real-Time Tracking
AI Reporting & Analytics

Moodle

Tin Can Plugin
Highly Customizable
Accessible
Safe
Easy Integrations
Process Automation

Docebo

Tin Can Standard 1.0
400+ Integrations
Content Curation
Social Learning
Go.Learn Mobile App
AI Automation

TalentLMS

Easy to Set Up
Basic LRS Implementation
Supports All Types of Training
Native & 3rd Party Integrations
Blended Learning Support
Extended Enterprise Training

SAP Litmos

Tin Can-Compliant
Receives and Stores xAPI Statements
Tracks Learning Experiences Everywhere
Quick Deployment
Universal Accessibility
Robust Reporting

LearnDash

Fully Functional Learning Record Store
Tin Canny Reporting Plugin
Integration With Popular Apps
Detailed Reporting
Popular Add-Ons
WordPress LMS Plugin

Absorb LMS

Importing Third-Party Tin Can Courses
Smart Reporting & Analysis
Creation & Publication of xAPI Courses
Access to LMS & Courses From Anywhere
A Library of xAPI-Compliant Courses
Intelligent Recommendations

Blackboard Learn

One of the first to adopt Tin Can API
Open Architecture
Mobile Learning Solutions
Reporting Tools
Partnership With Rustici Software
Access to eLearning Standards Experts

eFront

Supports Tin Can-Compliant Content
Mobile-Ready Design
Built-in Course Tracking
Extended Enterprise Learning
Built for Intricate Learning Ecosystems
APIs & Native Integrations

Cornerstone

Learning Record Store
Custom Reports
Pre-Built Integrations
Android & iOS Apps
Multiple eLearning Formats
Multiple Languages

Before we move ahead and discuss each of these LMS tools in more detail, let's understand the following:
What is a Tin Can API LMS?
A Tin Can API LMS is a learning management system that is compliant with the standards of Tin Can. These LMS software tools are beneficial when you need to track and record data as a part of your web-based learning programs. You no longer need to rely entirely on a specific browser or technology associated with the browser. In other words, you don't have to confine yourself to an LMS platform.
To keep pace with time, your LMS should be Tin Can-compliant, not just SCORM-compliant.
Important Features of Tin Can API LMS
Like you do in the case of other software solutions, the best way to select a Tin Can LMS that is the right fit for your needs is to consider what features they offer. Some of the features worth considering in Tin Can LMS software are:
Creation, delivery, & tracking of eLearning programs
Mobile learning
Activity logs
Software integrations
Customization
Multiple learning formats
Offline learning tracking
Security & permissions
Assessment
Reporting
Key Benefits of Tin Can API LMS
Now that we've understood the key features in a Tin Can LMS, let's shift our focus on some of the benefits to expect.
Tracking, Recording, & Evaluation
With a Tin Can API LMS, you can track, record, and evaluate learning activities. The data collected can then be utilized to assess the progress of each learner or group in a Tin Can learning environment.
Browser-Independence
Tin Can LMS systems are independent of web browsers since this standard can work without an internet connection.
Data From Multiple Sources
The LRS records every single interaction that takes place between learners and an online course. This function is regardless of the devices the learners use. Tin Can API can help you source the data from multiple places at one time.
Now let's get back to our main topic – 10 Best Tin Can LMS.
10 Best Tin Can API LMS You Should Consider
With heaps of solutions on the market, you may be feeling indecisive about choosing the right Tin Can API LMS. That's why we're here today – to make the selection easier for you.
Check out the following top 10 Tin Can API LMS.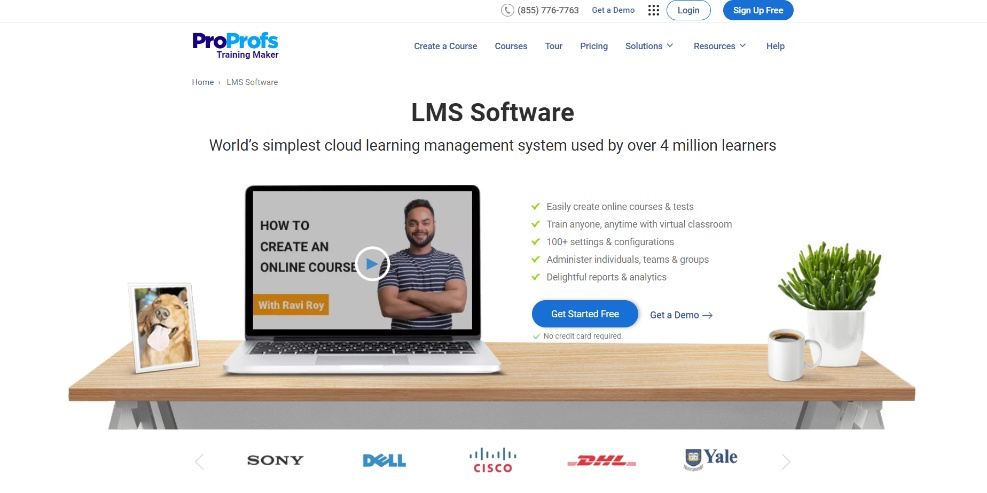 ProProfs LMS is a user-friendly Tin Can learning management system and online training software. You can use it to manage a variety of enterprise learning programs super-easily. A built-in authoring allows users to create courses and tests in minutes. The LMS supports different engaging file types, including images, videos, podcasts, PDFs, and presentations.
Along with this, the LMS enables users to:
track courses made in any eLearning software
record learning experiences in an integrated LRS
assess and continuously improve training programs
facilitate easy platform transition
A library of 100+ professionally designed and ready-to-use courses make it easy to get started with training. Or else, you can easily create online courses and tests using a built-in and intuitive authoring tool.
You can train anyone, anytime, anywhere, with a virtual classroom. The LMS supports over 100 options for customization so that you can tailor the platform to your specific needs.
Yet another must-have feature is the ability to view insightful reports and analytics. This feature enables you to make informed decisions.
Features
Premium Course Library: Access a premium library of 100+ expert-designed, customizable, and ready-to-use courses on any corporate training topic.
Virtual Classroom Software: Manage your learner groups and courses easily using a centralized and secure virtual classroom.
Anytime, Anywhere Learning: Train anyone, anywhere, and at any time. Easily manage remote employees with their learning & development through collaboration tools.
Reports & Analytics: Extract real-time statistics on learning progress, performance, engagement, total time taken, and scores.
Pros
Simple & easy to use
Highly customizable
Awesome customer support
Pricing: Forever free plan (up to 10 learners). Paid plan starts at $1.97/learner/month (billed annually) for large teams. No hidden charges. 15-day money-back guarantee.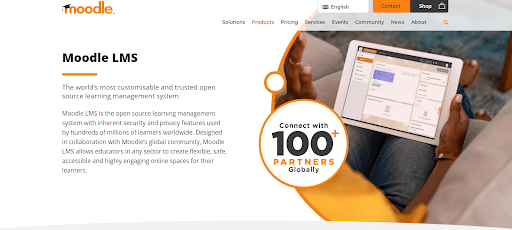 One of the most popular LMS software, Moodle offers accessible, flexible, highly engaging, and safe online learning spaces. It is the most customizable LMS out there. Since the software is open source, users are in full control of designing its look and feel, data ownership, and setting up privacy and security.
The LMS makes it easy to automate common processes and streamline employee onboarding, workplace learning, and compliance management. A number of plugins and add-ons extend the functionality of the solution.
Using one such plugin, you can launch Tin Can xAPI activities from a Moodle course and track the statements in an LRS. The plugin is compatible with Captivate, Storyline, and others.
You can use Moodle Tin Can API for vocational training, K-12, and higher education, apart from workplace training.
Features
Multiple Learning Platforms: Leverage the multi-tenancy architecture of the LMS to provide a branded learning platform to different departments or organizations.
Process Automation: Save your valuable time by automating repetitive tasks, such as enrollments, notifications, and certifications.
Centralized Management: Schedule and assign courses across departments or organizations through a centralized system. Track progress on onboarding, compliance training, and certifications.
Integrations: Integrate Moodle Workplace with internal systems and platforms or external content repositories for a seamless eLearning experience.
Pros
Customizable
Simple implementation
Impressive range of features
Pricing: Available on contact.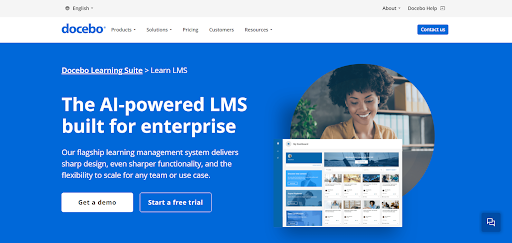 Docebo's Learn LMS supports endless configurability to enable users to create audience-specific LMS pages. You can leverage its free extensions, such as custom domains, automation, audit trail, and certifications to shape the LMS to a specific use case.
With over 400 integrations, the LMS enables you to connect all your business systems under one online learning environment. It also serves as an extended enterprise LMS for training channel partners and customers.
If you're using blended learning, recording activities outside of the LMS is easy. Docebo is a Tin Can API-compliant LMS and it supports the Tin Can Standard 1.0.
Measuring learning effectiveness is also easy with Docebo. It supports surveys and built-in reporting for this purpose.
Features
Integrations: Docebo brings the first integrations library focussed on enterprise learning. Both free and paid integration platform as a service (iPaaS) connectors and native integrations are available.
Social Learning: Easily combine formal learning with social learning. Its collaboration tools are accessible at the point of need, and knowledge sharing across organizations becomes easy.
Mobile App: Empower your learners to learn on the go with a mobile learning app. It's available on both Android and iOS. Take advantage of uninterrupted learning.
Content Curation: Simplify how you organize, view, and update training content. Hide and unhide the content, mark outdated content, and receive notifications for your outdated content.
Pros
Clean UI
Ability to draw content from various sources
Ease of integrations
Pricing: Available on request.

TalentLMS is a versatile platform that fits into the needs of users in all industries and their training types. It is a simple platform, easy to customize and manage. Ease of setup makes it an excellent choice for both first-timers and experienced users.
TalentLMS offers a basic LRS implementation to send and record eLearning experiences. You can learn more about Tin Can API integration with the LMS in this document.
Unlike some LMS software solutions that take months to set up and go live, TalentLMS can be run in days. Build online courses, add branding, offer learning paths, and stay in touch with your teams with messages, discussions, and video conferences.
Features
SCORM, cmi5 & xAPI: Deliver interactive courses that support the latest eLearning standards, such as SCORM, xAPI, and cmi5.
Mass Actions: Simplify admin tasks with mass actions, such as activating, deactivating, or deleting users and courses en masse.
Integrations: Integrate the LMS with over 2k third-party apps via Zapier. They include eLearning standards, SSO, calendars, and videoconferencing tools.
Infrastructure: Amazon's content delivery network (CDN) combined with lightning-fast servers deliver an exceptional online learning experience.
Pros
User experience
Supports different content types
Technical support
Pricing: Starts at $59/month. Up to 40 users. Billed yearly.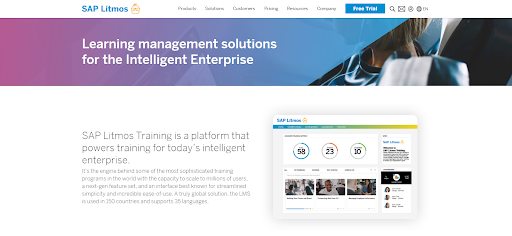 An LMS designed for the intelligent enterprise, SAP Litmos drives some of the most sophisticated corporate training programs worldwide. As a cloud-based LMS, the LMS allows teams to collaborate, create, globally distribute, and track online training courses.
You can build Tin Can-compatible training modules using authoring tools, such as Articulate, Lectora, and Rapid Intake. You can then import these modules into Litmos and capture data from all over the web.
The LMS solution combines virtual, physical classroom, mobile, and social learning. It automates demanding tasks so that your team members can focus on aligning their learning with the company's goals.
The LMS offers an API that ensures that it works seamlessly with your existing systems. It supports 35 languages and is used in 150 countries.
Features
Online Course Builder: Make content accessible to learners. Use content creation tools that support different popular formats.
Task Automation: Give your admins the ability to perform tasks automatically. Automate enrollments, task assignments, and others so that the admins can focus on instructions.
Social Learning & Notifications: Ensure higher course completion rates through social learning. Get real-time notifications of the online activities of your learners.
Tracking & Reporting: Measure learning progress, performance, and the impact of online learning. View reports on dashboards or get them delivered by mail.
Pros
Easy UI for admins
Tracking feature
Prompt & consistent support
Pricing: Available on request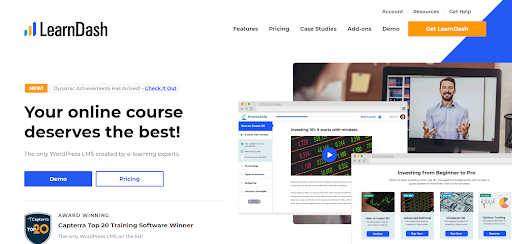 LearnDash is a WordPress LMS plugin developed by eLearning experts. It supports both SCORM and Tin Can API. Structured course content, superior quizzing, and immersive learning experience are some of the highlights of the LMS.
WordPress users know how important it is for plugins and themes to play well with one another. LearnDash makes sure it does exactly that. It expands your creativity as it easily connects with the tools you already know. This way, it supports the creation of unique eLearning platforms.
The LMS is easy to customize, supports multimedia, and is suitable for organizations of any size. Apart from enterprises, the tool is used by solopreneurs, universities, and authors.
You can expect to get the support of LearnDash's vibrant community committed to helping each other succeed.
Features
Course Management: LearnDash gives you full control over courses and learners. Easily manage groups and assignments and access grade books and reporting.
Integrations: The WordPress LMS plugin integrates with Slack, MailChimp, Zapier, Stripe, WooCommerce, and many other popular applications.
Dynamic Forums: Provide a platform for healthy interactions among learners for each course. You can limit the participation to only those enrolled in the course.
ProPanel: Enhance your admin experience by consolidating assignment management and reporting. Send course-specific communications and get real-time updates on your courses.
Pros
Plugins & themes
Course building
Great support
Pricing: Starts at $159 for 1 site license.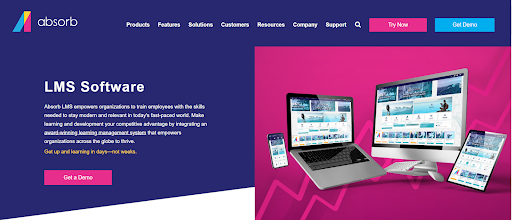 Absorb LMS is an award-winning cloud LMS designed to help train employees for modern workplace skills. It caters to the needs of all types of organizations and learners regardless of who you're training or why.
Using this LMS, you can import third-party eLearning courses, whether they are authored in SCORM, Tin Can, or AICC. Create personalized learning experiences, easily adapt the tool to evolving learning needs, and get the necessary support to stay on track.
Absorb LMS is committed to the idea that anything worth doing is worth doing well. Its thoughtful design and elegant engineering help companies learn and flourish.
It scores high in ease of setup, ease of administration, and quality of support.
Features
Smart Administration: LMS administration is easy with Absorb LMS. Maximize efficiency through automation. Bend the LMS to run it according to your rules and schedules.
Mobile App: Provide anytime, anywhere learning, both online and offline. Extend the flexibility and reach of the platform.
Learner Engagement: Keep your learners coming back to the LMS by making their experiences engaging. Offer a professionally designed and branded user interface.
Observation Checklists: Bridge the gaps between online learning and its application on the job. Make sure your employees have the knowledge, skills, and capabilities to get their jobs done.
Pros
Clean UI
Admin portal
Customer service
Pricing: Available on contact.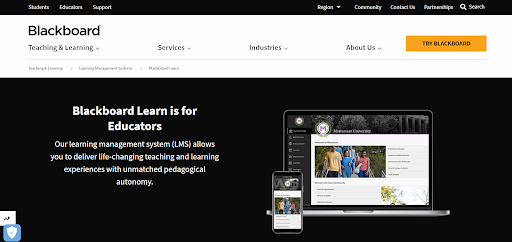 Blackboard Learn gives you the tools, autonomy, and reliability to keep your learners thoroughly engaged, both inside and outside the classroom. Pedagogical best practices, efficient workflows, and extensive technology make it an ideal eLearning solution for many. The best part is instructors and learners find the tools simple and easy.
Blackboard Learn is a SCORM and xAPI-compliant LMS. It supports SCORM 1.2, SCORM 2004, and Rustici Tin Can, as well as Instructional Management System (IMS) and National Learning Network (NLN) content.
Offer personalized support to learners with learning resources, whenever and wherever they need them. You can also connect and collaborate with an educational community and share innovative ideas.
The LMS caters to higher education, businesses, and government.
Features
Data Management System: Validate and manage learning data with Blackboard Intelligence. Remove inconsistencies and improve business productivity through reporting & analytics.
Retention Center: Use this tool to identify learners who may be falling behind in your course and require special attention about course access, course activity, missed deadlines, and grades.
Calendar: View events by day, week, month, or year. Easily organize past and upcoming events into distinct categories.
SafeAssign: Compare the assignments your learners submitted against a set of standards. Ensure academic integrity with originality reports.
Pros
Ease of navigation
Uploading assignments
Communication
Pricing: Starts at $9,500/year. Free trial available.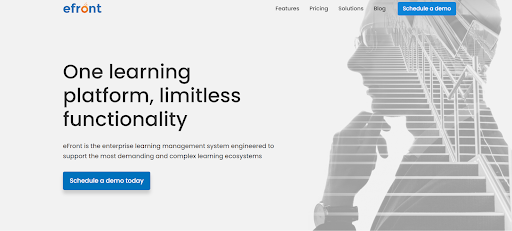 One of the top Tin Can LMS platforms, eFront is the enterprise LMS engineered to support the most complex and demanding learning ecosystems. Robust customization options and access to the source code enable users to build a unique training platform. It is mobile-optimized and supports APIs and native integrations.
Users can add documents, images, videos, presentations, and Tin Can-compliant content to create courses. Easily bring in web-based material from Wikipedia, YouTube, and Prezi.
Blended learning, gamification, rich communication tools, skill gap testing, and plugins are some of the features you can expect from eFront.
The LMS is flexible, stable, and requires only minimal maintenance. Its professional services team is always ready to help you adapt your business to changing online learning and training requirements.
Features
SCORM & Tin Can: Leverage support for some of the widely used content interoperability standards and enrich your learners' experience.
Files Repository: Store all your files in one place. Organize them, share them with users, and reuse them in different courses.
Notifications: Receive predefined and automatic email notifications following selected events.
Accessibility: eFront is fully compliant with the WCAG-2, Section 508, and ADA accessibility requirements.
Pros
Flexibility
Reporting
Good customer service
Pricing: Starts at $1,000/month. Billed annually. Up to 1,000 registered users.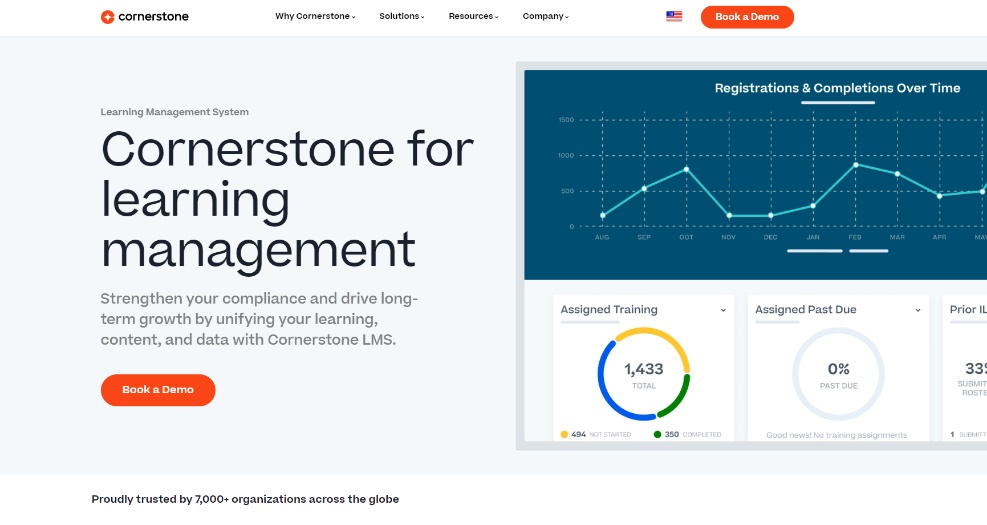 Cornerstone provides a holistic learning ecosystem with several pre-built integrations. This environment supports the unique needs of all organizations.
It is committed to helping customers hire, train, and manage people that impact every aspect of their business. The software supports various formats, including instructor-led, audio, video, docs, and VR, to make sure people learn effectively.
Share the right content using the tools you have so that your audience learns for their roles and stays relevant in the current market.
You can record external Tin Can activities on Cornerstone's LRS. It pushes xAPI statements directly to the LRS.
Regardless of your industry and company size, Cornerstone's partners can help you purchase and implement the product based on your unique business requirements through continuous support.
Features
Helicopter View: Get a complete view of your organization's workforce. The 9-grid Helicopter view provides an overview to help you understand your business performance and set priorities and goals.
Predictive Analysis: Analyze historical and current data and easily forecast future events. Make better business decisions.
Performance Management: Benchmark and track the development activities of your team members by using this one-stop solution. Align performance management with business strategies.
HR Reporting: Find out what is happening with your workforce and optimize their overall performance. Leverage self-service reporting tools and executive dashboards.
Pros
Ease of learning
Performance reviews
Robust reporting
Pricing: Starts at $6/user/month.
Choose the Best Tin Can API LMS
A Tin Can LMS makes all the difference when it comes to tracking and recording learning data.
The idea is to adopt a tool that offers comprehensive support to admins, instructors, and learners.
Most of these LMS software tools share many common features, such as mobile apps and social learning. At the same time, some of them go a little further with innovative solutions, such as premium libraries, retention centers, and observation checklists.
Whichever tool you finally choose, make sure it makes online learning as easy and simple as possible. In other words, you should be able to create, design, share and track online courses and quizzes seamlessly.
It is best to go for a solution that doesn't offer just an intuitive LMS software but also a library of online courses and assessments to get started quickly.
Do you want a free Training Software?
We have the #1 Online Training Software for employee training & assessment