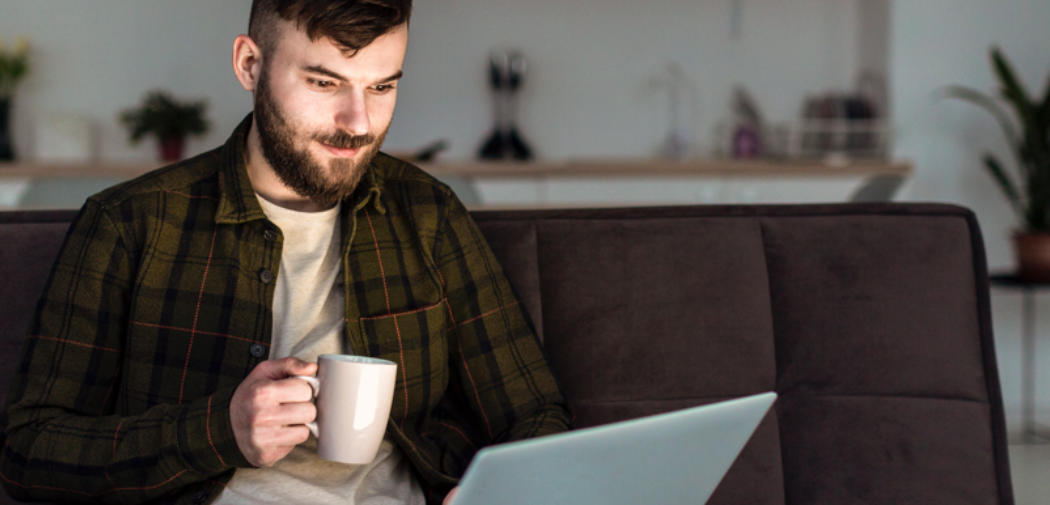 The importance of remote training software is rising. Let's see how based on some statistics.
According to data compiled by Findstack, a website dedicated to finding the best software tools and services:
16% of companies in the world are 100% remote
85% of managers believe that remote workers will become the new norm.
77% of remote workers say they're more productive when working from home.
74% of workers say that the option to work remotely would make them less likely to leave a company.
When remote work becomes mainstream, companies will certainly feel the need to train their remote workforce regularly. But the question that arises here is – "How to Manage a Remote Team" training-wise.
Well, there's an excellent way to face this challenge.
The best way is to conduct training for the new and existing‌ remote workforce by utilizing remote training software.
If you, too, are looking to adopt such a platform for distance education of your employees, you'll find the following list of 10 best remote training software helpful. Take a look.
Key Features and Comparison of the Best Remote Training Software
10 Best Remote Training Software
Why Is It Best?
Pricing
ProProfs Virtual Classroom Software

Easy to Use
Fully Customizable
Ready-to-Use Courses
Collaboration Tool
70+ Languages
Anytime, Anywhere Learning

Forever free for up to 10 learners.Paid plan starts at $1.97/active learner/month for large teams. Billed annually.
iSpring

Rapid Authoring
Assessments
PowerPoint Presentations
HTML5 Content
Compatible With Other LMSs
Live Customer Support

$770/user/year
ezTalks

Live Webinars
Interactive Whiteboards
Online Meetings
Scheduling Feature
Excellent Audiovisuals
Up to 100 participants for Free

$10/host/month
WizIQ

Easy Course Builder
Mobile Learning
Assessment in 9 formats
WebRTC-Based Virtual Classroom
LMS Analytics
eCommerce

Not disclosed by vendor
Zoom

Online Meetings
Chat
Meeting Recording
Screen Sharing
Enterprise Cloud Phone System
Conference Rooms

$14.99/host/month
TalentLMS

SCORM, xAPI, cmi5
Video Conferencing
Blended Learning
Native Integrations
30+ Languages

$59/up to 40 users/month
Looop

Process Automation
Learning Data At Fingertips
Compliance Management
Multilingual Support
Active Directory/LDAP Integration
Customer Reports

$299/up to 50 users/month
ClickUp

Automation of Routine Tasks
Custom Views
100s of Templates
1,000+ Integrations
Project Collaboration
Real-Time Reporting

$5/user/month
Google Workspace

Single Sign-In
Document Sharing
Customized UI
Reliable Security
Work Insights
Chat

$1.64/user/month
Zoho ShowTime

Trainer-Friendly
On-Demand Training
Live Interaction
Quizzes & Tests
Admin Console
Learner Analytics

$6.55/user/month
Before we proceed and look at each of these remote learning software tools in detail, let's understand the following:
What is Remote Training Software?
As the name suggests, remote training software is an online learning software solution that you can use to administer remote training and distance learning. A cloud-based learning management system (LMS) is an example.
These tools make it easy to engage employees working from home or in remote offices in learning & development.
Over the last few years, remote working has become a norm for many companies with a presence in multiple regions. The advancement in communication and collaboration technology facilitates easy and effective remote employee training.
Key Features of Remote Training Software
Different remote training platforms offer different sets of features to assist users in distant learning and training. Here's a list of the features common in most of them.
Course Builder
Virtual Classroom
Screen Sharing
Whiteboards
Instant Messaging/Chat
Multilingual Support
Meeting Recording
Collaboration Tool
Assessment Tool
Reports & Analytics
Advantages of Using Remote Training Software
Remote training software can bring a team closer by overriding the physical distances and time zone differences between them. Some of the advantages of these tools are:
Seamless LearningMany remote training tools come mobile-ready. This provides a seamless learning experience by enabling learners to learn at their own pace. Learning becomes available at one's fingertips on any device, any time, and anywhere.
Rapid AuthoringSome of the remote training software solutions support rapid course development through ready-to-use courses and intuitive authoring tools. They are as easy as drag and drop. This is significant, especially when you need to deploy training programs in a short time.
Improved EngagementBy providing room for adding engaging elements to courses such as video lectures, audio files, and quizzes, remote training platforms keep learners focussed on what is important. This, in turn, makes learning exciting and fun and ensures a higher course completion rate.
Real-Time TrackingA remote training tool such as an LMS fetches real-time data on training participation, progress, and completion. These insights enable you to monitor training compliance and find out what works and what doesn't. Accordingly, you can improve your training approach and learning patterns.
Tips to Train Your Remote Employees
When it comes to training remote employees effectively, there are some golden rules that you should follow steadfastly.
☞ Choose the Right Solution
Choosing the right tool for remote training is half the work done. Make sure it involves little to no learning curve and supports all the essential functionalities for centralized learning administration. Also, there should be the automation of time-consuming manual tasks, such as reminders and notifications.
☞ Make the Purpose Clear
You certainly have a remote training plan and the strategies to achieve it. So it is your responsibility to communicate them to your learners even before you kick start the training. This way, both you and learners will be on the same page and make all the efforts worthwhile.
☞ Meet All Learning Styles
Different learners have different learning styles and preferences. This is another thing that you should acknowledge. Employ learning methods that address the needs of visual, auditory, experiential, and other learners. Include video lectures, podcasts, role-plays, simulations, etc., for better knowledge acquisition and retention.
☞ Emphasize Social Learning
For a dispersed remote team, creating a sense of belonging is essential. It will make them feel less isolated and lonely. There is no better way to do this than engage the team members in community-based peer learning. This will make learning more exciting and engaging while indicating that there's support whenever your training participants need help.
☞ Provide Regular Feedback
Constant feedback during remote training can clear any air of uncertainty and communicate what's expected of the participants. Additionally, feedback will help you keep the learners on track with learning. It is also one way to stay in touch with your learners and keep them focussed on what's important to them.
☞ Ensure Accountability
Once you clearly communicate your remote training objectives, it is time to ensure that the participants abide by them. They should follow through with them, and for this, you can track their learning progress and remind those who are falling behind. A remote learning tool such as an LMS can help you with these functions.
Let's now get back to our main topic, the 10 best remote training software to use.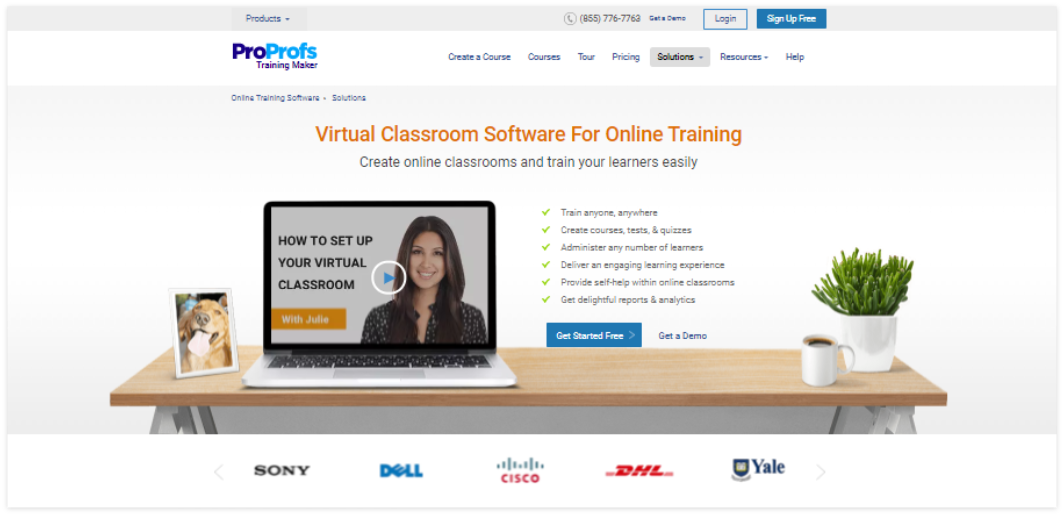 ProProfs Virtual Classroom Software is an easy-to-use cloud-based application. It supports anytime, anywhere learning, making it one of the best remote training platforms available today. Using it, you can administer any number of learners, individually or in groups.
The tool lets you create online courses and tests, centrally manage learner groups and their online activities, provide self-paced learning, and track progress in real-time.
It has a premium course library of 100+ ready-to-use courses that you can leverage to rapidly set up and deliver remote training. These resources are professionally designed and fully editable.
ProProfs enables self-enrollment and provides a complete learning management system package, including a self-help knowledge base, quizzes, surveys, a collaboration tool, and an online project management tool.
Its enterprise plan offers unlimited online classrooms and unlimited storage.
Features
✓ User AdministrationEasily manage learners of any class size.
Create multiple classrooms
, group learners by course or location, and assign them courses.
✓ Self-HelpProvide a self-help or self-service system within the online classroom. Let your learners find the information they need by themselves. Integrate a knowledge base of FAQs, manuals, and help centers.
✓ ReportingGet insightful reports and statistics on each learner or group. Use the data to improve participation, engagement level, and course quality continuously.
Pros
Intuitive
Premade courses & templates
Excellent support
Why Choose ProProfs?
Easy to UseIt's the world's easiest distance learning software as it was designed for users of all skills levels.
Anytime, Anywhere LearningBeing cloud-based, the tool is easily accessible, and it supports learning anytime and from anywhere.
CustomizableTailor your remote training programs to meet your specific needs by choosing from over 100 customization options.
70+ LanguagesProProfs supports more than 70 interface languages, so training an audience in a language they understand is easy.
Pricing: Forever free plan (up to 10 learners). Paid plan
starts at $1.97/learner/month
(billed annually) for large teams. No hidden charges. 15-day money-back guarantee.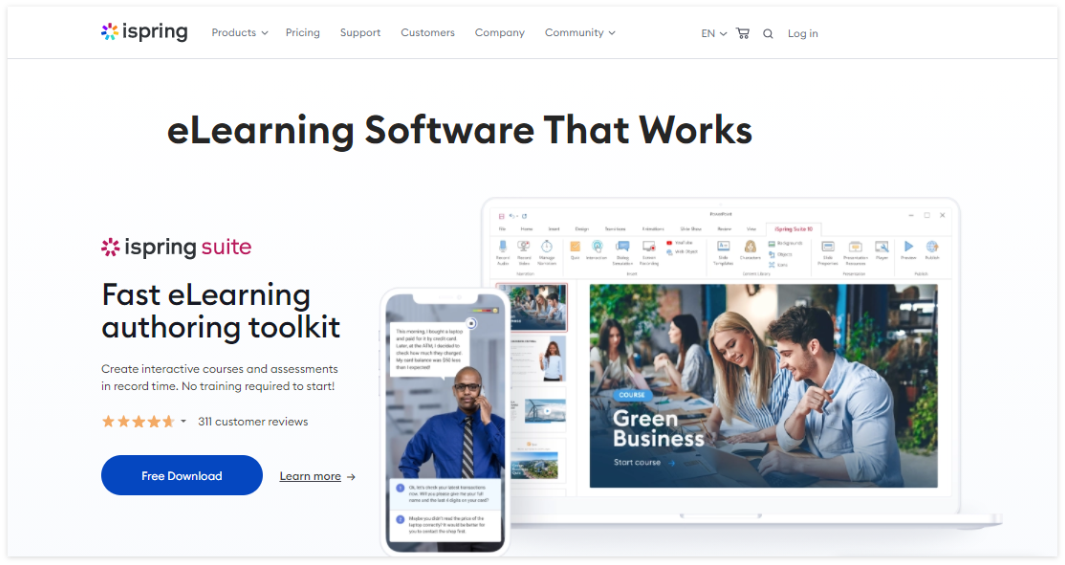 Generally, software users know iSpring as a PowerPoint-based eLearning authoring toolkit. But it goes far beyond that definition. With compelling features such as mobile learning, webinars, and PowerPoint to HTML5 or PowerPoint to video conversion, it is a tool worth considering for remote training programs.
The tool facilitates training on the go, helps you manage web-based training easily, and delivers it across all devices.
You can create interactive courses and assessments quickly. For this, you aren't required to undergo any training. Automate remote learning, from course assignment to report generation. Keep your remote teams engaged and boost their performance over time.
All this makes iSpring one of the best tools for mission-critical training programs.
Features
✓ Fast AuthoringTake advantage of rapid and user‑friendly eLearning toolkits to create courses, record narrations, and publish them online. No need for prior experience in development.
✓ PowerPoint IntegrationiSpring supports PowerPoint features, including buttons, hyperlinks, styles, and transitions. You can either reuse your existing presentations or create new ones from scratch using all PowerPoint effects.
✓ Characters & Role-PlaysPick a character and location from the
iSpring
library, or simply upload your own. Easily develop interactive role-plays and create a scenario for interactions between the character and your employees.
Pros
Easy course creation
Training on any device
Customer support
Why Choose iSpring?
Ease of UseThe software is highly user-friendly, and you can easily create quality courses. Anyone with basic knowledge can author fantastic courses without requiring any help.
Easy PowerPoint ConversionTake any PowerPoint content and convert it into an online course rapidly. Learners can easily take the course on any popular device.
Supports All eLearning StandardsiSpring Suite supports all the major eLearning standards, including SCORM 1.2, SCORM 2004, xAPI (Tin Can), AICC, and cmi5. You can upload your eLearning materials to any LMS.
Live Expert SupportiSpring offers technical support to its customers with highly skilled professionals. It assists customers with any product-related queries.
Pricing: Starts @ $770/user/year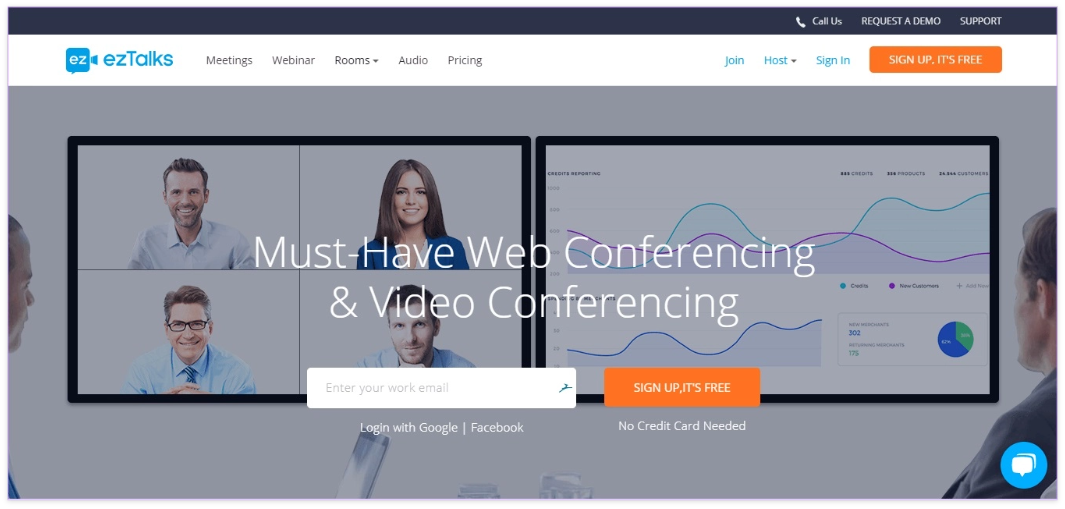 ezTalks is a provider of one-stop video conferencing solutions. As a world leader, it enables you to connect with people anywhere, at any time. It offers an amazing range of web conferencing hardware and services for rich collaborative learning experiences.
Online business meetings or educational meetings with remote teams become a breeze with audiovisual support for communication. With ezTalks, you can host online meetings with up to 100 participants completely free.
Users don't need to set up an account to get started with the solution. Recently, Capterra named ezTalks as one of the top 20 most popular web conferencing software.
Features
✓ Live WebinarsSchedule and host live webinars with thousands of participants at a time. Run a webinar anytime, anywhere, and on any device. Know your webinar performance through detailed reports that this remote training software provides.
✓ MeetingsEasily arrange meetings with your employees. Join team meetings through a phone-in. Manage participants with full control using multiple rooms such as lock-room, kick-out, or mute-all.
✓ Room SolutionUse conference rooms of different sizes depending on the number of participants. These room software tools are compatible with popular collaborative tools, including GoToMeeting and Skype for Business. They are easily configurable and support multiple screens, wireless content sharing, and more.
✓ Interactive WhiteboardsLeverage interactive training technology in the form of whiteboards. Visualize and brainstorm ideas together for faster decision-making. Increase the engagement level of your employees and facilitate better communication.
Pros
A great alternative to other apps
Easy & convenient
Session recordin
Why Choose ezTalks?
ReliableBy offering the ultimate video conferencing experience, ezTalks has specialized in providing reliable online communication solutions. It is committed to making online meetings easier and more collaborative.
Easy UIEven first-time users will find ezTalks' user interface comparatively straightforward to use. It is seamless and lets you connect with others quickly and conveniently.
HD Video ResolutionezTalks Meetings offer HD video resolution of 1920 x 1080p. You can easily customize the resolution of videos based on your preference.
Free for Up to 100 ParticipantsThe free version of the video conferencing tool allows you to connect with up to 100 training participants at one time, absolutely free.
Pricing: Starts @ $10/host/month

WizIQ is an easy-to-use cloud-based platform for high-impact teaching and training. Its WebRTC-based HTML5 virtual classroom system makes it easy to deliver online training modules to anyone, anywhere, anytime.
One of the best remote learning software, WizIQ can be used to train employees, channel partners, vendors, and even customers remotely.
High-definition video conferencing, interactive whiteboards, an integrated library, and a bunch of other essential features accompany this online classroom.
Ease of administration, learning on the go, and smooth integration with existing LMS, CMS, and website are some of the enablements for remote training and learning that WizIQ supports.
Features
✓ Online Course CreationWizIQ helps you create interactive online courses, but it doesn't stop there. It further allows you to structure, brand, and upload the courses easily. You can create, share, and sell online courses from a single platform.
✓ Mobile LearningLet your learners access dynamic digital content on the go with a mLearning solution. It works perfectly on both Android and iOS devices. Grow your learner base through higher reach that mLearning makes possible.
✓ WebinarsPlan, schedule, host, and monitor webinar sessions from one place. Integrate WizIQ webinar software easily with your LMS or website and go live in minutes. Record live webinars and share them with learners.
✓ Testing & Assessment
Create online tests
using WizIQ test creator. Choose from a variety of question types that only a few remote training tools offer. Assess learning progress easily. Prevent cheating by setting time limits and providing invite-only access.
Pros
World-class virtual classroom platform
Simple UI
Excellent recorded video quality
Why Choose WizIQ?
User-FriendlyAn intuitive user interface lets users focus on teaching, not the technology. The tool works on all operating systems without requiring any installation or change in existing systems.
Supports 14 LanguagesWizIQ supports 14 languages, including English, Spanish, French, Chinese, Russian, and Arabic. So training a remote team located in any region is easy.
Highly ExtensibleYou can easily add new functionality or capabilities to WizIQ Virtual Classroom as it integrates with existing systems. Plugins are available for all versions of top learning management systems.
Ease of AdministrationSetting up and carrying out administrative tasks is easy with the tool. You can assign roles and permissions to session attendees. Automated reports enable you to measure training success and make informed decisions.
Pricing: Available on request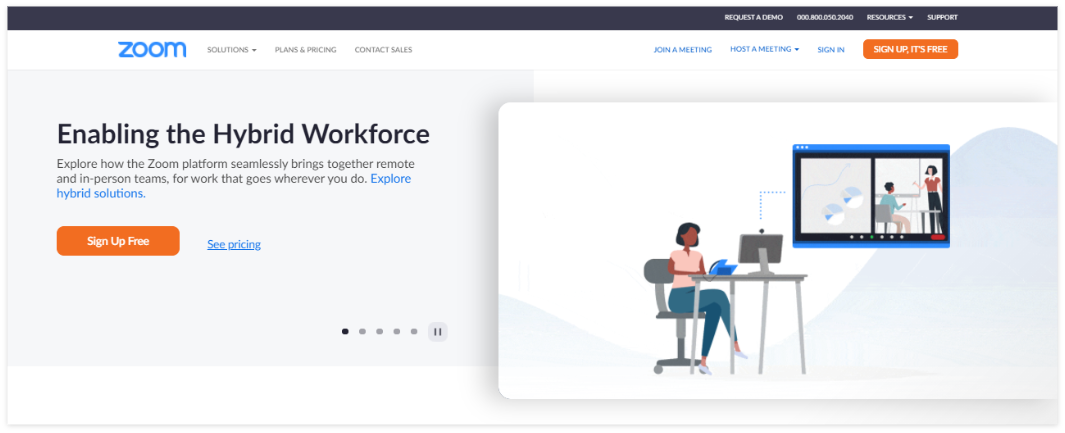 Zoom is the most well-known video conferencing tool that keeps businesses connected with remote employees. It offers group chat, online meeting, and web conferencing solutions across all popular devices and operating platforms.
The software can power up all your needs for distance communication with high-quality, customizable, and secure experiences. In fact, it is among the must-have training tools for employees today. It promises consistent experience in all use cases as it has been engineered to work reliably for all. It is easy to use and easy to scale.
Schedule, host, join, and collaborate with team members in real-time. You can leverage the tool to improve the engagement, trust, and performance of your remote employees.
Features
✓ Video WebinarsThe webinar solutions by Zoom can help you reach more users and grow your business. Enable on-demand viewing of recorded sessions in high-definition audiovisual. Leverage a range of control systems designed for hosting an enhanced experience.
✓ Meetings & ChatsEngage in real-time meetings and messaging with team members. Secure meetings with password protection and other measures. Allow simultaneous screen-sharing by multiple participants and adding explanatory notes and comments.
✓ Cloud Phone SystemThis is a powerful and flexible phone call conferencing system for enterprises. Make or receive calls seamlessly. Convert phone calls to meetings easily. Retain your current PSTN service provider in any country.
✓ Rooms & WorkspacesZoom rooms are optimized for modern users. These rooms address the common pain points of a conference room – booking an online meeting, starting a meeting, and sharing relevant content. Use up to 12 whiteboards at a time to add interactivity to sessions.
Pros
Excellent audiovisual quality
Easy to use
Easily customizabl
Why Choose Zoom?
It's Simple Zoom makes video meetings simple for everyone. Once you set it up, connecting with your remote teams is just a few clicks away. It is designed to perform as expected.
One Platform, Multiple Solutions You can host meetings, webinars, chat, and phone calls with the help of just this one platform. But Zoom doesn't stop there. It continues to evolve itself to meet the changing needs of users.
Streaming on Social Media You can easily stream Zoom meetings and webinars on Facebook. The social networking site enjoys billions of active users each month, and this is a great way to cash in on it with live streaming.
Unlimited Meetings The free plan supports meetings with up to 100 participants, unlimited group meetings for up to 40 minutes, and unlimited one-to-one meetings for 30 hours per meeting. There is no fixed trial period, and so you can try the platform for as long as you like.
Pricing: Starts @ $14.99/host/month

TalentLMS is a cloud-based and award-winning learning management system. It makes an ideal solution for training both in-house and remote employees. Even people with zero experience can use the tool easily.
You can achieve not only faster training but consistency in them by using this software application. As a lean online training software designed with remote workforce in mind, TalentLMS offers the most efficient and hassle-free online learning experience.
You can provide your remote staff with discussion forums to stay connected with each other and enable them to stick to schedules with personal messages and calendars. Taking your employee training out of your main office is easy with such optimized and seamless learning experiences.
Features
✓ Content BuilderDevelop online training courses using one of the best training development tools. Reuse existing resources or source content from the Internet. Upload presentations, videos, and PDFs along with the courses.
✓ Learning DeliveryUse the
blended learning
method to train learners. Add gamified elements to make your courses and tests more exciting. Video conferencing and messaging tools facilitate seamless communications.
✓ SCORM and xAPIThe software supports the latest industry standards in terms of content interoperability. It allows you to use
SCORM 1.2
, xAPI, and cmi5 content to enhance user experience and make training more engaging.
✓ Multilingual SupportLocalization of employee training becomes easy with the multilingual feature in TalentLMS. Cater to a global audience in different linguistic regions. Never let language become a barrier in learning & development.
Pros
Clean UI
Easy content creation
Mobile responsiv
Why Choose TalentLMS?
Time-SavingFeatures such as fast content creation and single sign-on make it easy for users to set up remote training quickly. The implementation time is short as most of the features come ready for immediate use.
Industry RecognitionTalentLMS has earned a name in the online learning industry. In 2020, it was named one of the rapidly growing eLearning companies by TechRepublic.
Attractive PricingTalentLMS offers buyer-friendly pricing packages, including a free plan with no limit on time.
Supports Different FormatsEasily import your existing materials and create courses from scratch in popular formats, such as Word docs, PowerPoint presentations, videos, webpages, etc.
Pricing: Starts @ $59/up to 40 users/month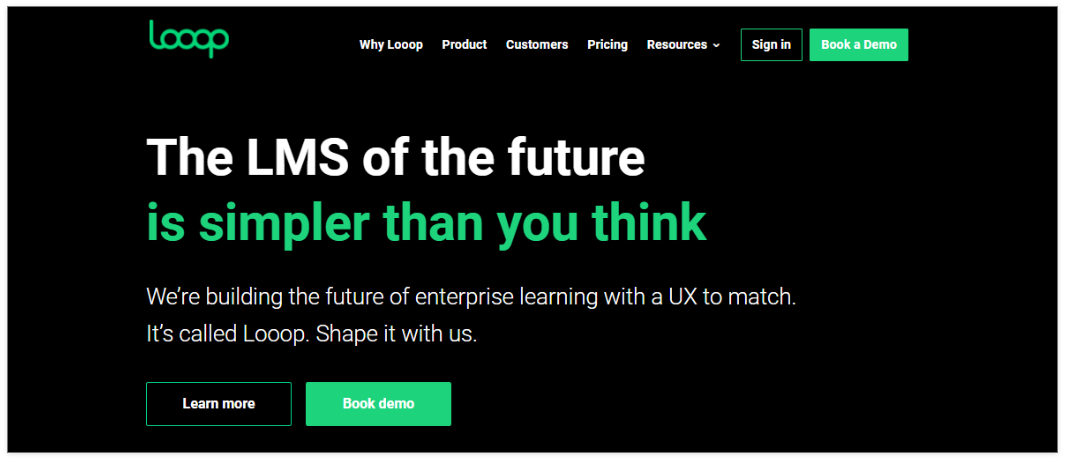 Tired of software applications that over-promise and under-deliver? Looop can be a fantastic tool in your online learning ecosystem. It enables you to focus on things that matter most to your business – employees.
Remove the redundancies and bells and whistles that you find in most LMSs today and get down to solving real problems. Embed learning in the flow of work so that learners don't pause work to learn.
A lean and modern UI makes it easy to deliver progressive L&D programs. Keep learners engaged and boost their performance by delivering the right learning material at the right time. The customer support and Looop community with helpful guides and other resources are a real value for money.
Features
✓ Mobile-ReadyLooop is entirely mobile-friendly and supports the seamless delivery of
training material
. Your learners can easily use it on their mobile devices on the go.
✓ Quizzes & WorkbooksAdd an unlimited number of
quizzes
, tests, questionnaires, and workbooks to courses. Customize them as per the learning needs of each group. Continuously challenge your learners.
✓ Secure Cloud HostingLooop uses a secure cloud hosting system. Automatic backup in the cloud ensures data is backed up every day using a secure SSL. No question of downtime due to possible hardware failures.
✓ Real-Time User TrackingKeep track of training compliance by remote employees. Don't be led by an out-of-sight, out-of-mind mindset. Get access to actionable insights. Find out what works and change what doesn't.
Pros
+ Excellent customer success team
+ Easy setup
+ Message automation
Why Choose Looop?
Forward-LookingLooop is building the future of learning & development through process automation, feedback loops, alignment with business objectives, and ensuring ROI.
Emphasis on Learning ResourcesLooop believes that the future of learning will revolve around simple and clear resources sourced from anywhere and delivered at the moment of need. It will go beyond courses.
Advanced InsightsLooop's deep analytics offer full visibility into each learner's learning journey right from whether they even checked your email. Find out the engagement level and what's working and what's not.
Support 70+ LanguagesTraining a remote team speaking any of the world's languages is easy with Looop. It supports over 70 languages, which includes English, Russian, Hindi, Portuguese, Thai, Afrikaans, Arabic, and German.
Pricing: Starts @ $299/up to 50 users/month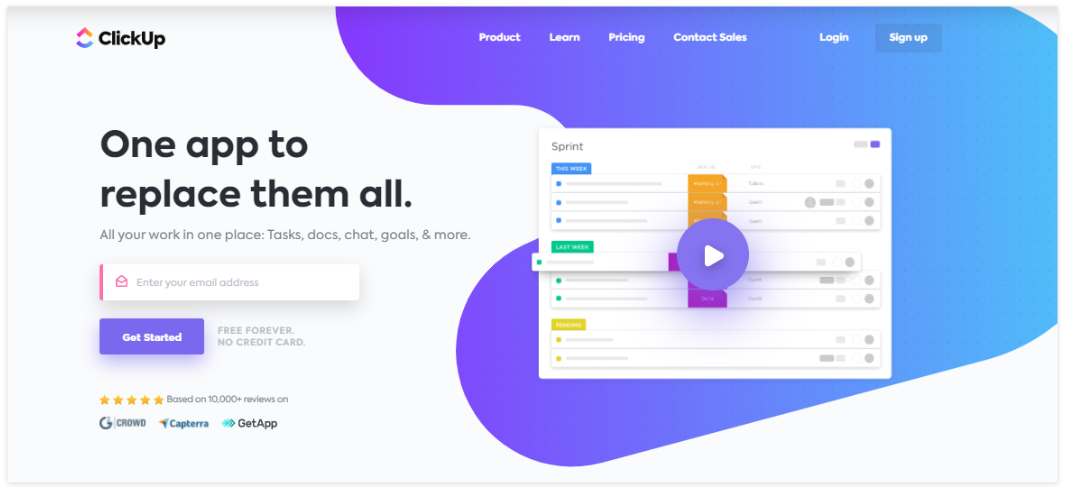 ClickUp is a cloud-based project management and team collaboration tool designed for businesses of all sizes. This all-in-one toolkit eliminates the need to use separate applications for employee training or retraining purposes.
Time tracking, goal tracking, screenshot & video capturing, reminder, and chat services are a few of the highlights of this tool. It ensures that you streamline all your projects for successful completion.
Collaborate with people and manage remote training worldwide effortlessly. Stay connected, clear, and aligned with your training goals. Pre-built templates, integration with Zoom, and automation features in ClickUp keep collaboration with remote teams easy and manageable.
Features
✓ Task ManagementOrganize tasks and make changes to them easily. Choose your favorite default view, enable filtered search, use task tray, reorder tasks through drag-and-drop, and do a host of other things.
✓ Team Collaboration>Make sure your team stays productive by leveraging a variety of collaborative tools from ClickUp. Be notified through real-time syncing whenever someone makes a comment or edits something in the project.
✓ CustomizationManage projects the way you want. Add custom fields, task statuses, and tags. Customize project notifications to choose what you receive, when, and where. This remote training software for employees lets you do all of it.
✓ IntegrationsClickUp was designed keeping the future in mind. It boasts of releasing one new integration every week. Users can connect with their favorite productivity tools within the platform natively.
Pros
Great interface
Best people in support
Team & task management
Why Choose ClickUp?
Easily AdaptableClickUp is adaptable to the real needs of any business. You set it up specific to your business by leveraging its formatting features, different views, and other elements.
All-in-OneClickUp replaces all other apps by bringing them under one roof. Find all your docs, tasks, chat, resources, and goals in one place and remain productive all the time.
Ease of TrackingView what people are doing and what they will be doing next to ensure transparency at every stage of a project.
1,000+ IntegrationsClickUp is integrated with time-tracking tools, calendars, cloud storage, and developers. This enables users to get more things done out of it.
Pricing: Starts @ $5/user/month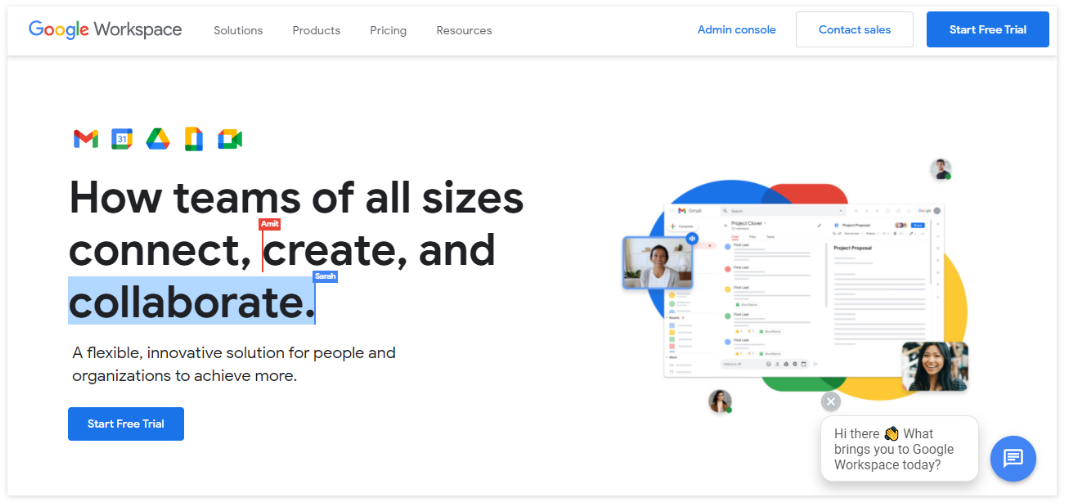 Google Workspace, formerly G Suite, is a suite of collaborative and productivity tools from Google. It makes working together a lot easier. Collaborate in real-time, store and share files, and secure your devices and data. It allows administrators to control user access and security settings.
The platform brings everything you need to connect, create, and collaborate with others in real-time with complete flexibility. It is available to anyone with a Google account and comprises Gmail, Meet, Chat, Drive, Calendar, Docs, Sheets, Slides, and many other services.
Those who prefer to work out of the cloud instead of relying on desktop solutions and local, on-premise storage will find Google Workspace useful. This makes it another remote learning software suite to consider.
Features
✓ Content CreationProduce in one place everything you need to kick-start your project. Easily create docs, slides, sheets, surveys, forms, and more.
✓ AccessibilityStore training-related data in Google Drive and find them on-demand via Google Cloud Search. Secure how you store and share files.
✓ ConnectivityA must-have feature in all remote training tools. Reach out and connect with your remote employees wherever they are in the world. Use Gmail and Hangouts for mails and chats as well as Calendar for easy event scheduling.
✓ Security ControlManage users, devices, and security settings. Deploy endpoint management to secure data. Centrally manage all security setups by leveraging advanced protection programs.
Pros
+ All the tools work harmoniously
+ Email management
+ Good for remote business
Why Choose Google Workspace?
Loved By BillionsOver 2.6 billion people worldwide use the apps in Google Workspace to power their daily business operations. This is because these apps are simple, easy, and backed up by world-class infrastructure.
Designed for All IndustriesGoogle Workspace is crafted to meet the collaboration needs of employees in any industry – healthcare organizations, oil & gas companies, manufacturing companies, airways, etc.
Large StorageYou get a secure storage space in the cloud starting from 30 GB. With this, you can save all your training resources, such as docs, videos, PDFs, and any file type. A smart search system makes it easy to find the files.
Cost-SavingWith the need for maintaining traditional server rooms, software updates, or risks of data loss out of the way, Google Workspace proves to be a cost-saving alternative to physical servers, storage, and computers.
Pricing: Starts @ $1.64/user/month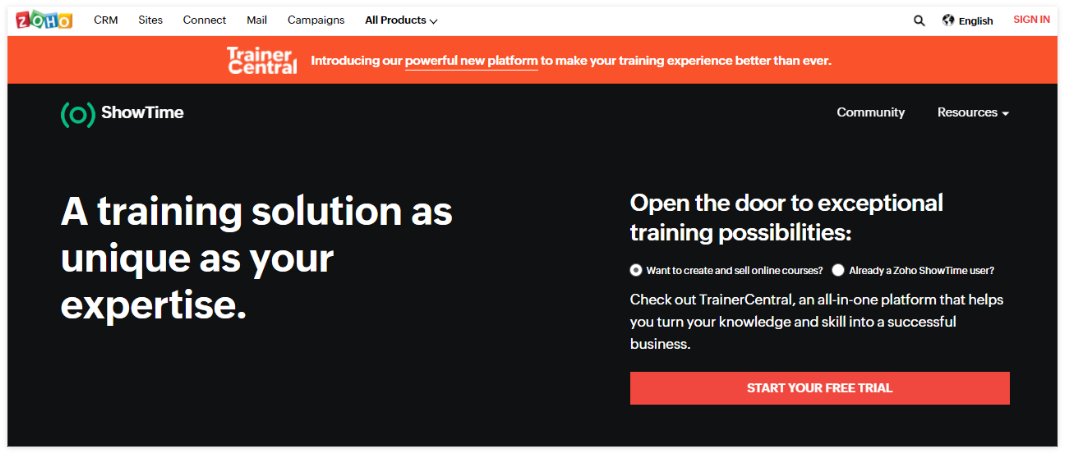 Zoho ShowTime is a comprehensive video conferencing and training platform to deploy and manage online employee training. Independent trainers, training agencies, HR, and training departments use it. They find it to be an excellent tool to connect and engage with training participants effectively.
It is an all-in-one and learner-centric solution that can be every user's training assistant. Businesses and trainers can use it to train learners located anywhere in the world.
Create a virtual classroom and allow any number of participants to attend training from anywhere. Zoho ShowTime has been designed to deliver learning smartly, continuously engage with an audience, and measure training performance and effectiveness.
Features
✓ On-Demand TrainingUpload training material and let your learners access them at their preferred time, place, and pace. Allow them to engage in asynchronous training sessions.
✓ Multiple TrainersAdd as many trainers as you want to your training programs. They will serve as your co-trainers or co-presenters and let you go off the need to multitask yourself.
✓ WhiteboardsMake remote training visually engaging with interactive whiteboards. Use them to break down a complex idea, illustrate an example, or simply draw a flowchart.
✓ Evaluation & AssessmentAssess your trainees at the end of each training session to understand the impact of learning. Gauge their awareness of a subject and what they think of your training program. You can even gather feedback from customers via surveys, for example, after a product demo.
Pros
Easy to use
Data security
Screen sharing
Why Choose Zoho ShowTime?
Works For EveryoneWhether you're a training manager, a tutor, or a college professor, Zoho ShowTime has solutions for you. All you need is a good Internet connection and a modern device to get started.
Uninterrupted LearningWith Zoho ShowTime, learning never stops, no matter what the situation is in the outside world. Merge pre-recorded videos with live training sessions for continued remote training.
Feature-RichThe features in the platform enable users to deliver on-demand remote training. Learners can self-pace their learning and engage in real-time interactions with instructors and peers. Measure learning effectiveness through analytics and sell courses easily.
Personalized SessionsYou can customize each training session to deliver a specific experience to learners. Choose from different settings to fit your needs, ranging from creating forms and overseeing registration to team communication and follow-up.
Pricing: Starts @ $6.55/user/month
Is the Lack of Remote Training Tools Bothering You?
These 10 best remote employee training software can certainly be a wise choice for your business continuity plan. Don't let the challenges of remote working get the better of you. Crisis or no crisis, continue to deliver employee training in the best possible way.
In case you're still unsure which one is the best fit for you, don't worry. We're here to help you.
Our virtual classroom software is designed to help you gain full control of your remote training and streamline teaching and learning. It offers in one place all the tools, resources, and support you'd ever need. Take a test drive today.
Do you want a free Training Software?
We have the #1 Online Training Software for employee training & assessment