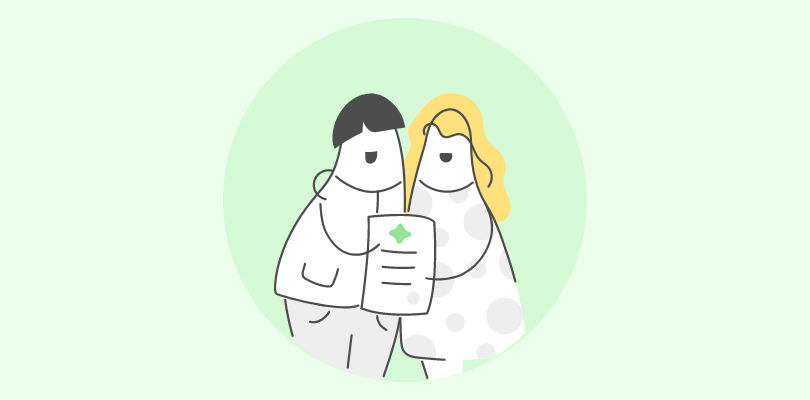 Step into the future of healthcare education and join me as we explore the world of Learning Management Systems (LMSs), specifically tailored to the unique needs of healthcare professionals and organizations.
The demand for comprehensive training solutions is skyrocketing in the healthcare industry, where digital transformation is taking center stage.
Luckily, I have the perfect solution for you – the 15 best Healthcare Learning Management Systems for 2023.
As someone who has witnessed the healthcare landscape evolve, I can tell you that these LMS platforms are game-changers.
This curated list of LMS platforms will be your guiding light if you want to streamline your healthcare training tailored to your needs. Train your diverse workforce, including nurses and caregivers, in HIPAA standards, confidentiality, COVID safety, and more. Equip your staff with essential skills, including medical software and equipment training, ensuring top-notch medical service delivery.
Let's now explore each of these tools in detail.
15 Best Healthcare Learning Management Systems (LMS)
I have compiled this selection of healthcare management systems using my experience, extensive research, and input from colleagues who have used these platforms. Moreover, I have considered unbiased evaluations from external websites and client feedback while making my choices.
1. ProProfs LMS – Best Healthcare LMS for Employee Training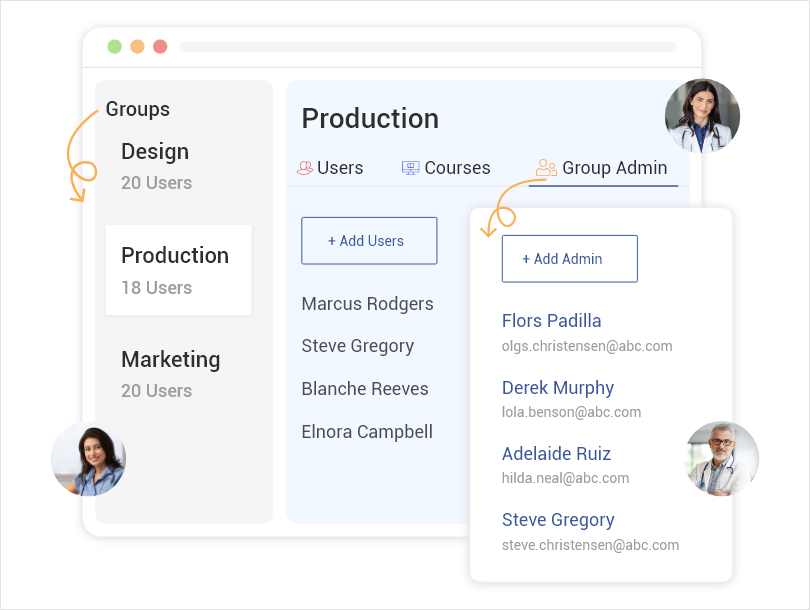 ProProfs Training Maker is a comprehensive learning management system (LMS) designed to meet the specific employee training needs of healthcare organizations.
It has various features to facilitate skill development, and ongoing education for healthcare professionals. With this tool, I was able to train my staff on compliance, safety, policies, and procedures, ensuring that employees stay up-to-date with the latest regulations and best practices.
As the best employee training platform, administrators can create, share, and track online training courses. The best thing I liked is the customizable courses that cover various healthcare topics, or users can create their courses by uploading PowerPoint presentations, documents, videos, and more.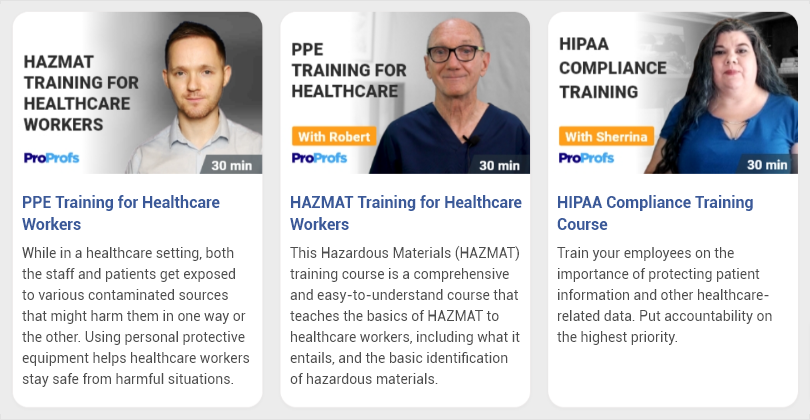 The system also includes 100+ settings and compliance reminders, enabling organizations to tailor the training experience to their specific requirements. The tool offers a range of templates for different healthcare training needs. Users can easily modify these templates or import their existing training materials to create engaging and practical courses. The platform supports multimedia elements, gamification, flashcards, relatable scenarios, labeled graphics, and quizzes for interactive and engaging learning experiences.
I also admire the reporting and analytics features. The system supports multiple instructors and administrators, allowing collaboration and workload distribution. This healthcare LMS software is recognized for its excellence in healthcare training and is trusted by numerous organizations, including well-known brands like Sony, Dell, Cisco, DHL, Yale, and LinkedIn.
Here's "How Leon Medical Trained 1,000+ Healthcare Professionals using ProProfs Training Maker.
What You Will Like:
Professionally designed courses for quick start
High flexibility as it supports self-paced learning
Intuitive UI so it is easy to use
SCORM-compliance ensuring interoperability
What You May Not Like:
The free plan offered is limited to 10 users only
Need more video conferencing tools for live training
Frequent updates might require adaptation every now and then
The software is packed with specialized tools tailored for experts, so casual users might find some of them unnecessary
Pricing:
Starts at $1.97/learner/month. Billed annually. No hidden charges. 15-day free trial. A 15-days money-back guarantee
2. TalentLMS – Best Healthcare LMS for Course Creation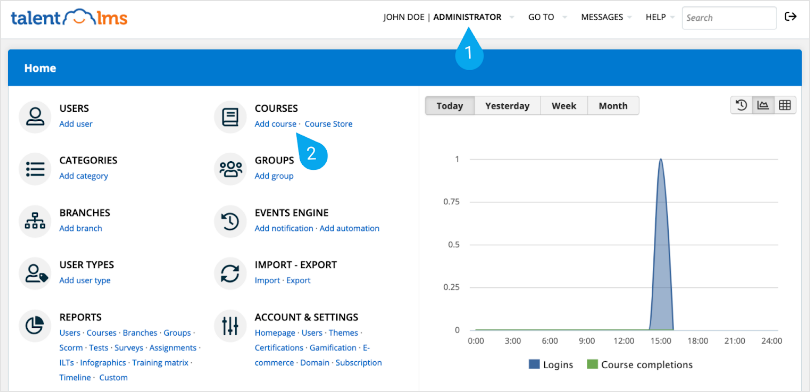 TalentLMS is a versatile learning management system for healthcare that provides a comprehensive solution for healthcare organizations to deliver effective training programs to their employees and medical staff. Recognized as one of the best healthcare LMSs by the eLearning Industry, TalentLMS offers a range of features and benefits tailored specifically for the healthcare industry.
With TalentLMS, we were able to transition from expensive in-person seminars to online training, which significantly reduced costs and increased accessibility for our team. The tool allowed us to create and customize courses directly within the system, and we could also upload existing training materials for a seamless transition.
The tool also simplifies the administrative tasks associated with training management. The platform provides on-demand reports and certificates, allowing healthcare administrators to track learners' progress, generate compliance reports, and demonstrate training completion. In addition, organizations can leverage TalentLibrary™, an extensive collection of pre-built courses on hard and soft skills, to save time and resources on course creation.
What You Will Like:
Fully customizable and easy to manage courses
Mobile readiness for anywhere anytime learning
Supports white labeling for branding
Learning paths to provide guided learning
What You May Not Like:
Discussion forum could be improved for better collaboration
Navigation is slightly complex especially for the first time users
Customization is slightly difficult for the beginners
Search for users and courses gets a little complicated
Pricing:
Starts at $69/month (billed yearly)
3. Absorb LMS – Best Healthcare LMS for Simplified Training

Absorb LMS is a powerful LMS offering reliable healthcare training software to ensure organizations comply with industry regulations and standards. As one of the best healthcare LMS systems, this LMS simplifies training, making it easy to manage compliance programs and track training statuses in real time.
One of the key advantages of using Absorb LMS is its ability to automate various tasks, including scheduling, enrollment, course access, and certificate delivery, streamlining the training process. Additionally, this LMS offers access to proven and up-to-date courses from award-winning content libraries.
The interesting part is that Absorb LMS integrates with MedTrainer, which helps healthcare organizations meet regulatory compliance requirements. It provides access to an extensive library of over 500 up-to-date courses. By leveraging this integration, organizations can meet OSHA/HIPAA compliance standards.
What You Will Like:
Auto-assignment of curriculum so it removes all manual work
Simple and fast access to training to save time
UI is easy to use
Ability to track learner's progress in real time
What You May Not Like:
Maintaining training record is slightly difficult
Inability to schedule recurring sessions
Need custom messaging options for better interactions
Look and feel customization lacks flexibility
Pricing:
Starts at $800/month
4. Relias Healthcare LMS – Best Healthcare LMS for Compliance Tracking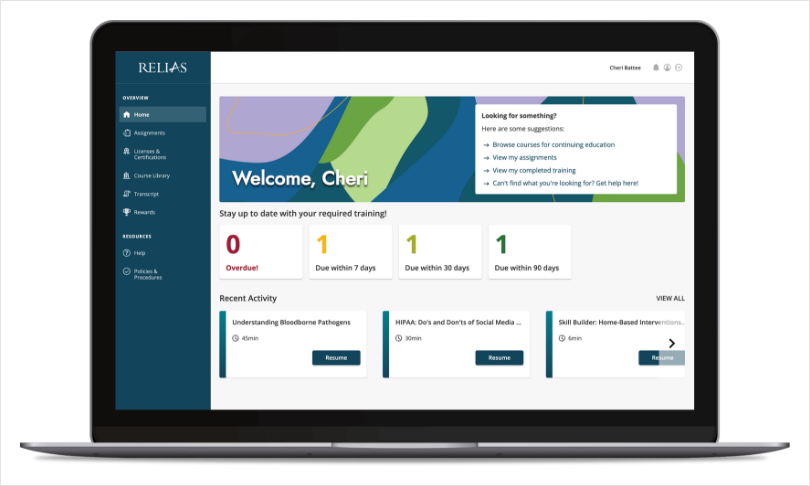 During my experience with Relias Healthcare System, I was impressed by the comprehensive nature of their LMS, which provided a centralized platform for all our healthcare training needs. The tool simplifies healthcare training by providing personalized learning in one central system.
Their award-winning courses and advanced tools are designed to save time and training costs while enhancing the learning experience.
The platform supports easy assigning and enrolling of training specific to staff roles, and organizations can leverage their existing content by turning presentations into functional courses through course authoring. The system supports various eLearning standards, such as SCORM, AICC, and xAPI.
Relias Learning offers over 5,000 courses created by medical experts and national leaders and access to a vast library of custom courses. The platform keeps track of and maintains requirements for over 135 national accrediting organizations and multiple state regulatory boards.
What You Will Like:
Personalized learning paths for guided learning
Spaced learning with automated memory boosters
Mobile app accessibility for 24/7 learning
Microlearning modules for better knowledge retention
What You May Not Like:
Videos and tutorials could be more engaging
Pop-ups need to be removed
Reporting features need to be updated
Interface is slightly bland
Pricing:
Starts at $85/year
5. HealthStream LMS – Best Healthcare LMS for Certificate Management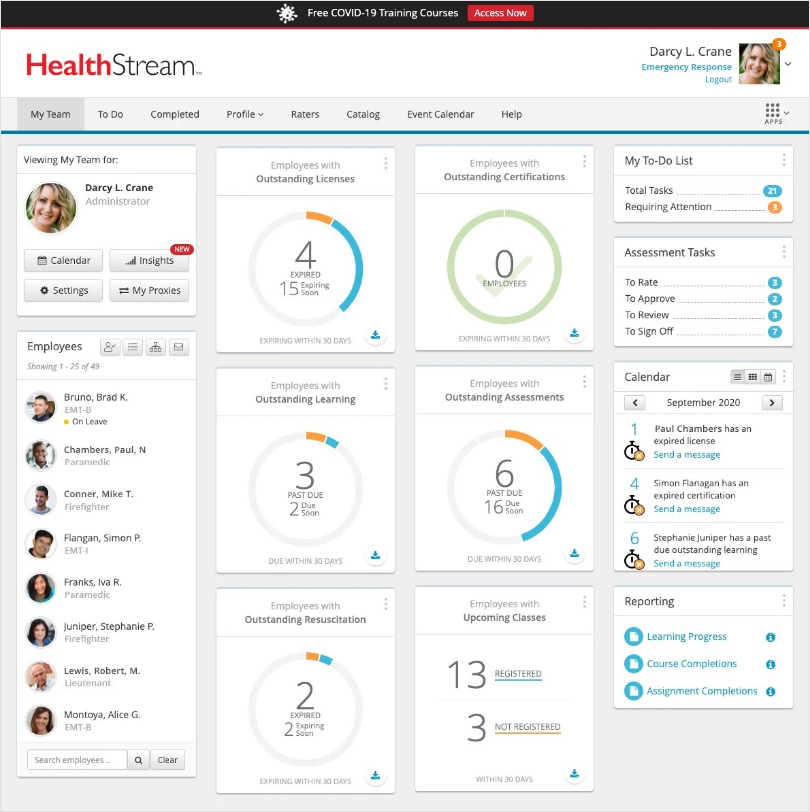 HealthStream LMS is a healthcare training and development tool designed to maximize learning and improve outcomes in the healthcare workforce. It offers a comprehensive suite of tools and features that cater to the unique training needs of healthcare organizations.
As one of the best healthcare LMS systems, this tool provides personalized learning paths for learners, addressing their knowledge gaps and meeting them at their career development stage. It offers features such as automated learning assignments, access to third-party courseware, and configurable reporting.
The system also includes tools for assignment management, annotations, and student groups. HealthStream's LMS aims to engage and retain top performers, meet compliance requirements, and enhance the quality of patient care through continuous staff development.
What You May Like:
Track compliance to meet regulatory requirements
Configured system for increased efficiency
Easy and simple interface enables smooth navigation
Broad customization options to tailor your training programs
What You May Not Like:
Embedding e-learning tutorials are complicated
Does not support discussion boards or homework uploads
Not great for setting up large dynamic assignments
Keeping users synced into the most up-to-date user groups can be a bit tricky
Pricing:
Starts at $4/user/month
6. iSpring Learn – Best Healthcare LMS for Content Management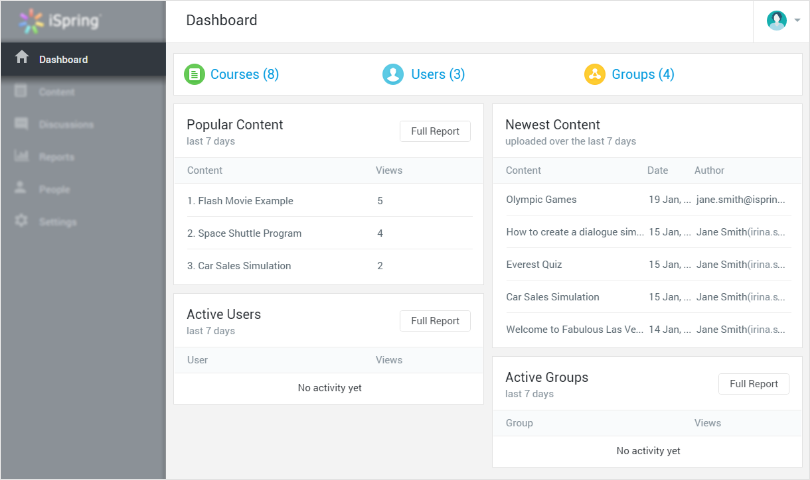 The healthcare LMS by iSpring is a powerful training tool designed specifically for hospitals and healthcare providers. It enables these organizations to deliver high-quality training to their medical personnel and healthcare providers, ensuring compliance with regulations while providing the best possible patient care.
iSpring provides a comprehensive solution for healthcare training. The authoring tool enables the creation of engaging courses, role-plays, and quizzes to keep healthcare personnel up to date and assess their knowledge effectively.
iSpring Learn has been chosen by over 4,000 healthcare organizations worldwide. It has received positive feedback from clients, who have reported improvements in employee readiness, reduced training expenses, and excellent support from the iSpring team.
What You May Like:
Integration with Zoom and Microsoft for live sessions
Facilitates certification and recertification for validating knowledge
Automated renewal notifications which eliminates manual work
Supports mobile learning for self-paced learning
What You May Not Like:
Course authoring tool is incompatible with Mac
Online video screen recording has some issues (occasional glitches)
Limited custom user profile fields
Reporting could be more granular for better progress tracking
Pricing:
Starts at $2.29/user/month (billed annually)
7. Docebo – Best Healthcare LMS for Artificial Intelligence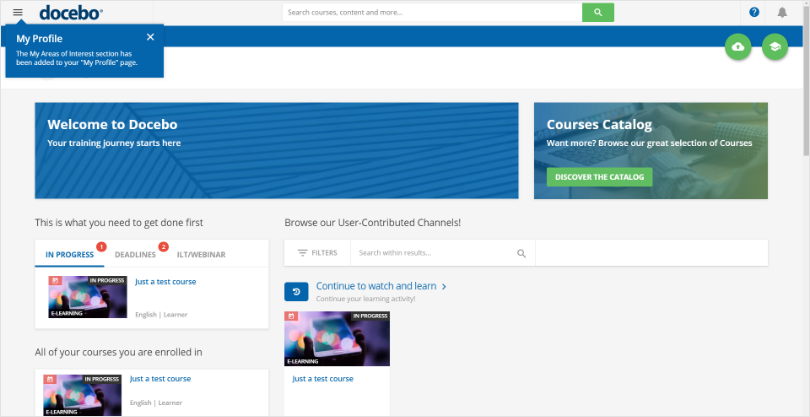 In my experience, I have found Docebo's LMS for Healthcare, Medical, and Telemedicine to be one of the best medical learning management systems available. It has been specifically designed to meet the unique training and support needs of healthcare providers, and it has proven to be a valuable tool in our organization. By centralizing training programs and content management, it simplifies compliance management and minimizes risks.
The LMS incorporates blended learning and social learning, making it easier to connect with top healthcare professionals while reducing in-person training costs. It ensures compliance with predefined standards, such as HIPAA, by tracking course completion, automating retraining and certifications, and simplifying reporting.
Healthcare organizations highly regard Docebo's LMS for offering features like an automated audit trail, mobile learning for medical professionals, robust security measures, and excellent customer support.
Why You Will Like:
UI is clean and intuitive so it is easy to use
Ability to pull in content from different sources
Auto assignment of learners to specified learning paths
Ability to incorporate your own branding elements
What You May Not Like:
Reporting needs improvement to get a better understanding of learner progress
Need more customization options for better branding
Steep learning curve for new users
Need more integrations for seamless workflows
Pricing:
Starts at $25000/year
8. Tovuti LMS – Best Healthcare LMS for Training Large Teams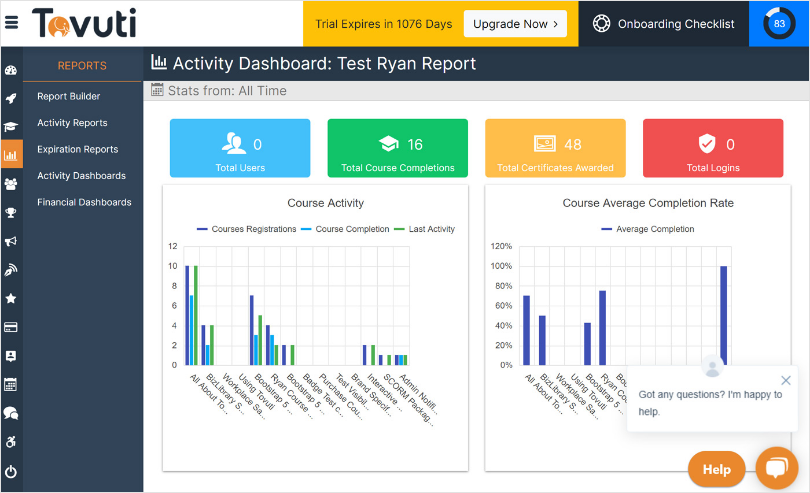 Tovuti LMS is a robust healthcare LMS software catering to multiple industries, including healthcare organizations. It centralizes training programs into one easy-to-use platform, making training manageable, trackable, and transparent.
With Tovuti, you can create beautiful courses, automate enrollments and notifications, and use data to improve training effectiveness. The system ensures compliance by creating an easily searchable audit trail and simplifying reporting.
Tovuti supports fast implementation and it integrates with over 2,000 APIs, allowing you to connect to various platforms seamlessly. The fully customizable platform allows you to extend your brand experience and create tailored learning paths for individual learners.
With access to over 30,000 pre-built courses, a mobile app for on-the-go learning, and interactive features like gamification, Tovuti engages learners and increases knowledge retention. It also provides automated features for enrollments, reminders, and certifications.
What You Will Like:
Access to high-quality courses for delivering better training
User-friendly administrative portal ( makes it easy to navigate)
System supports virtual classrooms and events
Provides granular insights for data-driven decisions
What You May Not Like:
Most of the courses are available in English language only
There's a steep learning curve
Price is slightly on the higher side
Not good in terms of assessments (need to add more formats)
Pricing:
Starts at $775/month
9. Litmos – Best Healthcare LMS for Social Learning

Training is crucial in healthcare, as every task performed by staff members affects patients directly or indirectly. In this regard, Litmos can be helpful. It is a comprehensive LMS that provides healthcare companies with the necessary tools to improve the patient experience and streamline the revenue cycle.
Litmos offers online learning solutions that help healthcare organizations train their staff on best practices, compliance requirements (such as HIPAA and OSHA), and core skills. What I found particularly impressive is that the tool allows the creation of courses and content that adhere to regulatory standards. It has a catalog of healthcare-focused courses covering topics such as policy and compliance, health and safety, and well-being.
Security is a top priority for Litmos, with robust measures in place to protect content and user information. The system features role-based training controls, allowing administrators to assign and track ongoing continuing education for different organizational roles. The platform offers a 14-day free trial, allowing organizations to test its features and experience the benefits of online learning management.
What You May Like:
Good library of pre-built courses for a quick start
Easy to add users and assign courses (discards manual work)
Tracking and progress monitoring is easy
Language localization to deliver training to a diverse audience
What You May Not Like:
Lack of integrations which disrupts workflows
A modest curve for first time users
Personalized reports can improve
Lack of tagging option in learning paths
Pricing:
Starts at $3 per user/month
10. SkyPrep – Best Healthcare LMS for Enterprise Learning Needs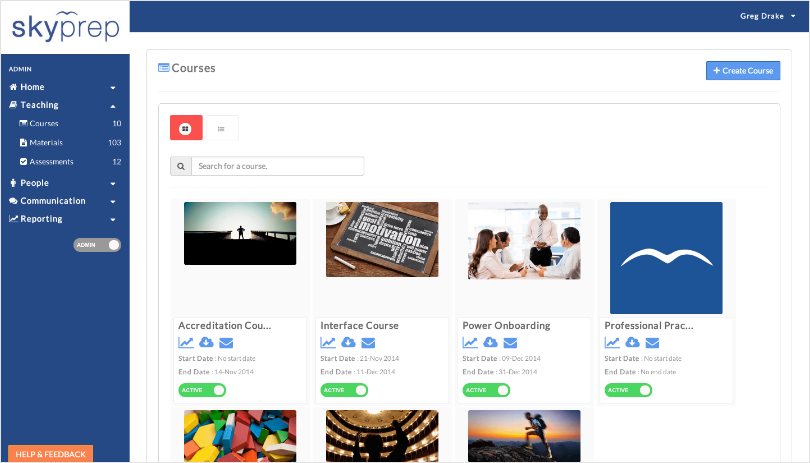 SkyPrep is a learning management system designed to meet the unique training needs of healthcare organizations. SkyPrep offers comprehensive solutions to improve the patient experience and streamline the revenue cycle in the fast-paced healthcare industry, where continuous training and certification are essential.
With SkyPrep's LMS, healthcare organizations can offer certification training, ensuring employees receive recognized credentials upon course completion. The platform also enables HIPAA and policy compliance training, providing robust reporting capabilities to meet regulatory requirements. Additionally, SkyPrep facilitates continuing education, motivating employees to further their knowledge and skills through interactive learning.
One aspect of SkyPrep that truly impressed me was its focus on continuing education. The platform actively encourages employees to expand their knowledge and skills through interactive learning experiences. The tool offers a seamless and easy-to-use platform accessible anytime, anywhere.
What You Will Like:
Easy to upload docs and videos
Supports gamification for engagement
Certification and license tracking for compliance
The learner dashboard is intuitive and easy to use
What You May Not Like:
User management is difficult
Reporting feature is slightly clunky (needs to improve for better progress tracking)
The notification section needs improvement (learners don't always get notified)
Limited user role customization
Pricing:
Starts at $199/month
11. MedTrainer – Best Healthcare LMS for Compliance Regulation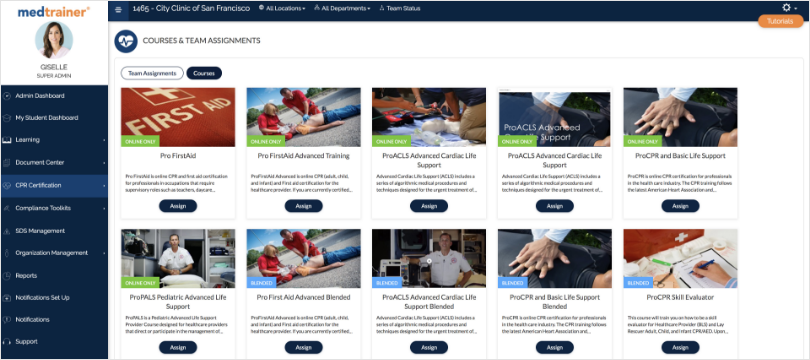 If you're looking for the best learning management systems for healthcare, look no further than MedTrainer. It is trusted by over 3,000 clients, serving more than 15,000 healthcare facilities and benefiting over 300,000 healthcare professionals. The platform offers flexibility in implementation, ranging from turnkey self-serve activation to planned enterprise implementation, depending on the organization's needs.
This software enables organizations to meet the standards of multiple regulatory bodies, including HIPAA, OSHA, HRSA, TJC, QUAD A, CMS, OIG, CLIA, and CARF. One of the key components of MedTrainer is the learning module. It provides access to nearly 1,000 healthcare-specific courses covering a wide range of topics relevant to healthcare professionals, enabling them to stay updated with the latest industry knowledge and regulatory requirements.
With over 300 continuing education unit (CEU) courses and premium courses like CPR/BLS, the tool provides real-time reporting capabilities to monitor training progress and ensure compliance.
What You Will Like:
Easy to use for both learners and administrators
Keeps track of all compliance needs
Automation and tracking is simple and easy
Streamlines employee onboarding processes
What You May Not Like:
Occasional technical glitches
Limited integration options that disrupts workflow at times
Reporting features can improve for more clarity on learner progress
Needs more flexibility in securing assignments for preventing cheating
Pricing:
Starts at $10/user/month
12. Northpass – Best Healthcare LMS for Mid-Sized Businesses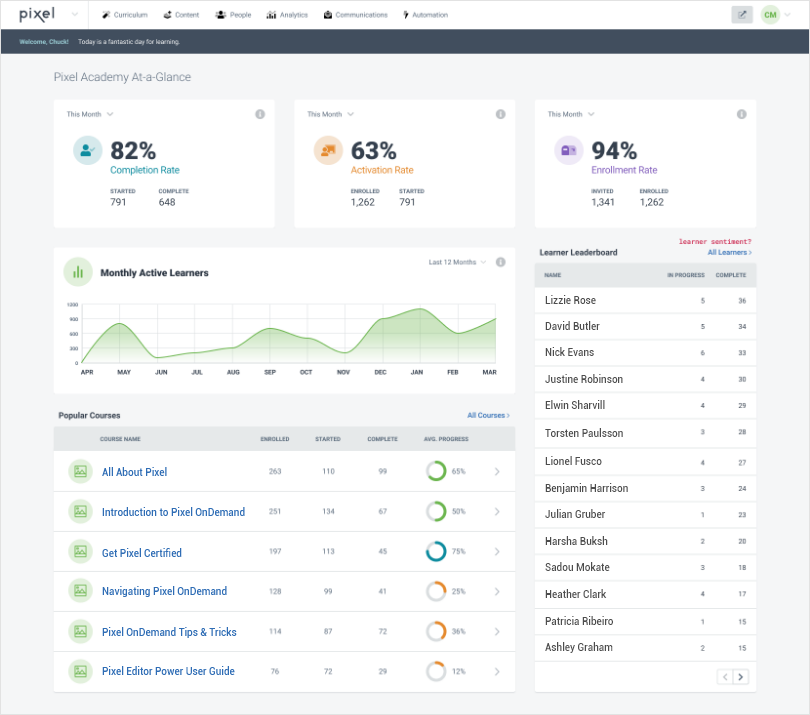 Northpass is a powerful LMS for customer education. It provides a comprehensive solution for delivering on-demand learning experiences. With Northpass, businesses can enhance productivity, reduce costs, and elevate customer experiences through digital learning solutions.
Businesses can enhance learner engagement, proficiency, and product usage by offering quality, personalized content available on-demand. Learners can access the learning materials at their own pace, encouraging ongoing interaction with the brand and fostering a deeper connection with the product or service.
The best thing I found about this platform is that it provides valuable learning insights and analytics, allowing businesses to measure the impact of the learning efforts. By tracking learner progress and engagement, organizations can gain actionable data and insights into the effectiveness of their training programs. This information helps optimize and refine the learning experience to ensure continuous improvement.
What You Will Like:
A straight-forward platform so it is easy to use
Ability to provide certificates upon completion for validating achievement
Personalized learning experiences for targeting learning
Anytime, anywhere access through mobile learning
What You May Not Like:
Lacks major customization capabilities
Need more integrations for better workflows
Reporting features need improvement for better progress tracking
Need regular updates to the product
Pricing:
Starts at $200/month
13. Cornerstone – Best Healthcare LMS for Virtual Training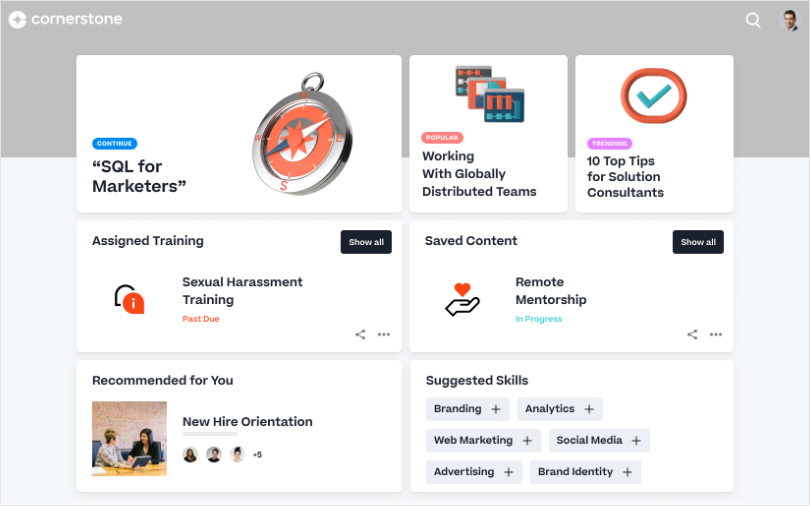 Cornerstone helps engage the healthcare workforce by providing a centralized platform for tracking personal goals, building engagement, increasing connectivity, and sharing knowledge. As one of the best healthcare learning management systems, Cornerstone simplifies accreditation reporting, making it easier for healthcare organizations to meet the requirements of accrediting bodies such as the Joint Commission, CMS, OSHA, ANCC, and others.
With instant access to reports, data, and information, healthcare organizations can navigate accreditation audits more smoothly, ensuring compliance with industry standards and regulations.
The LMS aims to transform the quality of work and patient care by reimagining how healthcare practices attract, develop, and retain the next generation of healthcare leaders. Cornerstone is trusted by over 7,000 organizations worldwide and it offers a range of solutions tailored to the unique needs of healthcare professionals.
What You Will Like:
Track personal goals and build engagement
Deliver targeted learning content through learning paths
Track compliance for risk management
AI-driven insights for better decision making
What You May Not Like:
Evaluation tool is not easy to use
Steep learning curve for the first time users
Certification feature has to be improved (branding features)
Need more integrations for process automation
Pricing:
Starts at $6/user/month
14. Bridge – Best Healthcare LMS for Experience-Based Training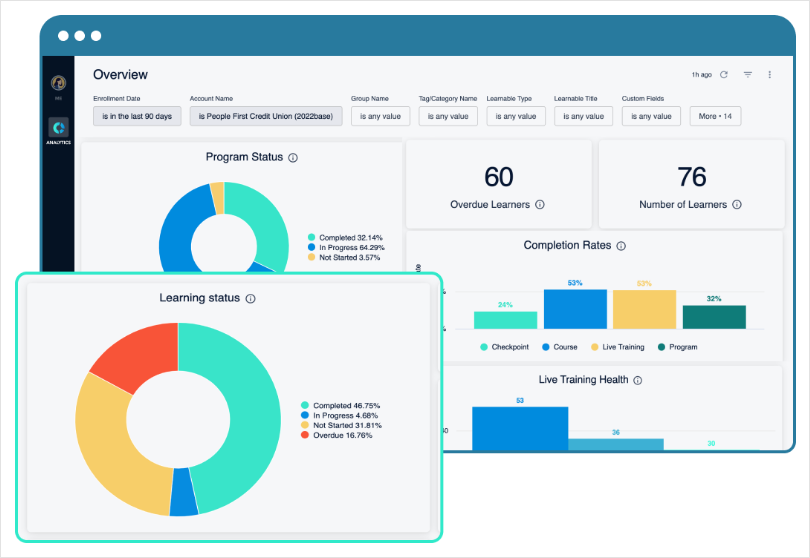 Bridge is a comprehensive learning and development platform for the medical and healthcare industry. It helps medical and healthcare professionals acquire the necessary skills and fosters a culture of continuous learning within organizations.
As the best LMS for healthcare, this tool enables certification and training on new regulations and facilitates team communication and collaboration. By implementing automated learning pathways with Bridge Journeys, organizations can ensure that individuals are not overwhelmed with too much training all at once. This helps create a manageable and structured learning experience for healthcare workers.
Bridge also offers a mobile learning app, recognizing that medical professionals often spend more time on their feet than at a desk. The mobile app enables learning anytime, anywhere, even in areas with limited or no internet access.
What You Will Like:
Build high quality content using the authoring tool
Ability to accept any raw SCORM data ensuring compatibility and interoperability
Simple and intuitive interface so it facilitates smooth navigation
Ability to combine courses and checkpoints for personalized learning journeys
What You May Not Like:
Lack of text formatting options
Inability to export course content that limits learning
Need a robust quizzing engine for better assessments
The text editor is very basic (need to improve)
Pricing:
Starts at $4/user/month (billed annually)
15. Trakstar Learn – Best Healthcare LMS for Employee Engagement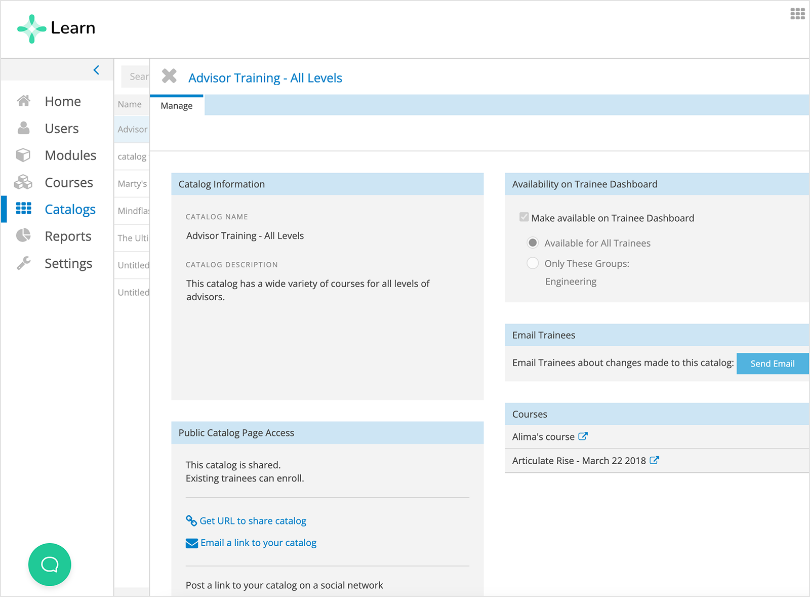 Trakstar Learn, formerly Mindflash, is one of the top learning management systems that cater to the healthcare industry with its healthcare LMS. Healthcare facilities are challenged to deliver relevant and up-to-date training to patients, doctors, clinicians, and staff. Trakstar Learn's healthcare LMS enables healthcare facilities to create courses that effectively convey complex learning materials, document trainee scores, and demonstrate regulatory compliance.
The healthcare LMS supports multimedia content formats, including SCORM files, PDFs, Word documents, voice-overs, videos, PowerPoints, and embedded quizzes. It also offers certification options, allowing the certification of end users and the creation of customized certificates of completion.
The platform is mobile-friendly providing trainees with access to courses anytime and anywhere using desktops, laptops, tablets, and smartphones. Custom branding options allow organizations to maintain consistency with their brand, ensuring a seamless and branded learning experience for trainees.
What You Will Like:
Provides built-in tutorials so it is easy to use the platform
Reporting capabilities are pretty good
Set timelines for course completion to ensure compliance
Clean and uncomplicated user interface for better navigation
What You May Not Like:
Pulling out survey report is difficult
Lacks built-in reward systems so it might be disengaging for learners
Classroom training functionality is basic (needs improvement)
Lacks capabilities to edit/reorder presentation slides
Pricing:
Starts at $249/month
Which Is the Best Healthcare LMS for You?
Determining the best healthcare LMS primarily depends on your specific requirements, which are in turn influenced by factors such as your target audience, their proficiency levels, and their learning preferences.
To help you narrow down the search, here are the top picks based on my analysis:
Option A: Proprofs LMS
Proprofs LMS is a reliable choice for creating engaging courses while maintaining compliance in the healthcare industry. Its intuitive interface, powerful course authoring tools, and real-time tracking make it easy to develop engaging and interactive healthcare courses.
Option B: TalentLMS
TalentLMS stands out as the best option for course creation in the healthcare sector. The tool enables the development of interactive content that captivates learners. You can add videos, images, PDFs, docs, brain games, and quizzes to make your training effective.
Option C: Relias Healthcare
Relias Healthcare provides tailored educational resources for healthcare professionals. By focusing on individual needs and preferences, the tool ensures that learners receive targeted and efficient learning experiences, ultimately improving their knowledge and skills in the medical field.
In my view, Proprofs LMS is the best LMS for healthcare. The tool offers a reliable solution for healthcare organizations to create captivating courses while adhering to compliance standards. Its robust course authoring tools and user-friendly interface enable the development of interactive content that keeps learners engaged. Furthermore, the comprehensive tracking and reporting features ensure compliance monitoring and maintaining healthcare standards.
Frequently Asked Questions
What is a healthcare LMS?
A healthcare LMS is a software platform designed to facilitate the management, delivery, and tracking of educational and training programs within the healthcare industry. It provides a centralized platform for healthcare organizations to create, distribute, and monitor online courses, training modules, and assessments for healthcare professionals. For more on these platforms, watch: What is a Cloud-Based Learning Management System?
What are the features of a healthcare LMS?
Key features of a healthcare LMS typically include content creation and management tools, course delivery and tracking capabilities, assessment and grading functionality, and reporting and analytics tools. Healthcare LMS platforms may also offer features specific to the healthcare industry, such as compliance training modules, patient privacy and security training, and continuing education programs for healthcare professionals.
What are the benefits of healthcare LMS?
A healthcare LMS provides a centralized platform for creating, delivering, and tracking educational programs, ensuring consistent and standardized training. LMSs enable healthcare organizations to reduce costs associated with traditional training methods, such as travel and instructor fees.
They offer flexibility in course delivery, allowing learners to access materials at their convenience. LMSs also facilitate compliance training and help ensure regulatory requirements are met. With reporting and analytics tools, LMSs enable organizations to track learner progress, identify knowledge gaps, and improve training effectiveness. Read this blog to know more.
How do I choose a healthcare LMS?
When choosing a healthcare LMS, assess your organization's specific training needs and ensure the LMS can cater to those requirements. Look for a system that offers a user-friendly interface, customizable features, and robust content management capabilities. Consider the scalability, compatibility with existing systems and integration options. Evaluate the security features, including data encryption and user authentication. Additionally, know the quality of customer support and training resources provided by the LMS vendor. Finally, consider the cost, including licensing fees, implementation costs, and ongoing maintenance expenses. A comprehensive evaluation of these factors will help you choose the right healthcare LMS for your organization. For more information,
Watch this video: How to Choose the Best Healthcare LMS
Do you want a free Training Software?
We have the #1 Online Training Software for employee training & assessment