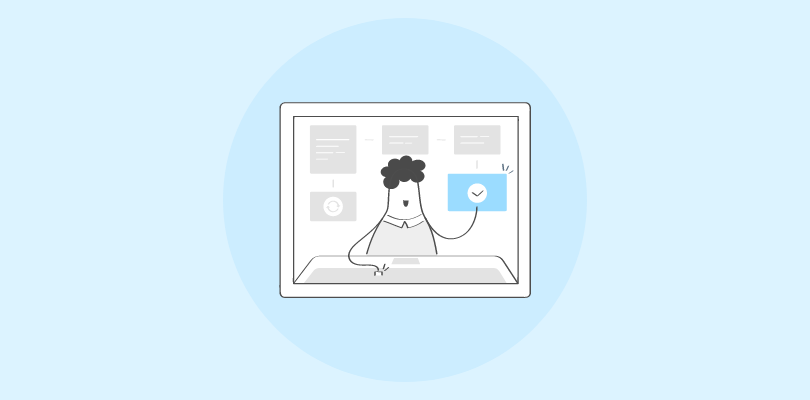 Imagine having a learning management system (LMS) that molds itself around your teaching style, branding, and integrations, rather than forcing you into a rigid framework.
Sounds dreamy, right?
That's where custom LMS software shines.
I've done the heavy lifting for you and curated a list of the top 10 custom LMS tools of 2023. These aren't just any tools; they're your tickets for crafting transformative, engaging, and truly memorable e-learning journeys.
Are you as excited as I am? Let's dive right in.
Best Custom LMS
Best For
Pricing
ProProfs LMS
Employee Training
Forever free for up to 10 learners. Paid plan starts at $1.97/learner/month for large teams. Billed annually.
Absorb LMS
AI-Powered Learning
Paid plans start at $800/active user/month
TalentLMS
Meet and Connect
Paid plans start at $69/month (billed yearly)
Paradiso LMS
Blended Learning
Free plan available (Limited to 50 users)
Paid plans start at $5.50/user/month
Docebo
Social Learning
Paid plans start at $25000/ year
360Learning
Learner Experience
Paid plans start at $8/user/month
LearnUpon
User Management
Paid plans start at $599/month (billed annually)
Litmos
Instructor-Led Training
Starts at $3/user/month
Lessonly by Seismic
Content Automation
Free plan available (limited to 25 users)
Paid plans start at $200/month (billed annually)
iSpring Learn
Smart Training Management
Paid plans start at $2.99/user/month
(billed annually)
List of the Best Custom Learning Management Systems
I curated this list of the best custom LMS solutions based on my experiences, recommendations from friends and colleagues, reviews on software comparison sites, and customer testimonials.
1. ProProfs LMS – Best Custom LMS for Employee Training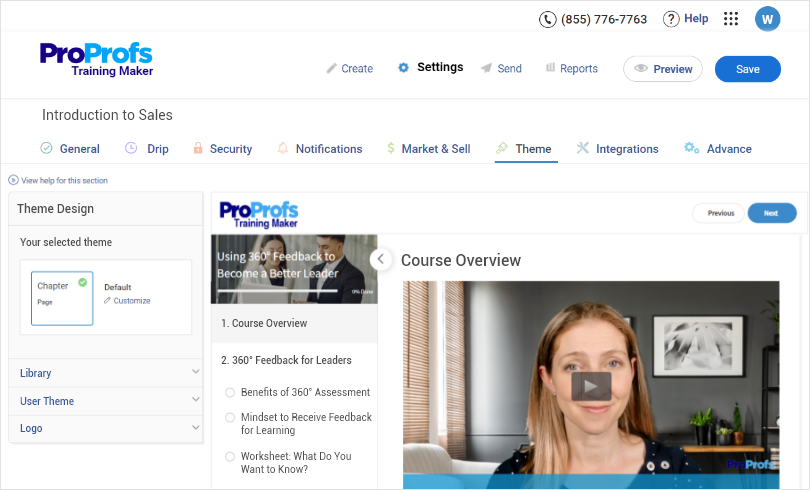 ProProfs LMS is a cloud-based LMS with hundreds of customizable features effective for employee training. It simplifies the creation, delivery, and tracking of online courses. A drag-and-drop course builder, a library of 150+ ready-to-go courses, and a built-in assessment tool.
You can use the eLearning authoring tool to build engaging courses from scratch or import existing material. The virtual classroom lets you add individual learners and groups, administer courses, view reports, and more.
As the best custom LMS for employee training, it lets you tailor the platform to your organization's needs. Along with customizing branding with your logo and themes, the tool provides a range of security features, including password protection for your courses, single sign-on, role-based access control, etc., as well as settings for notifications, integrations, and more.
What You Will Like:
White labeling features that let you change logos, themes, and fonts
Mobile-friendliness that ensures learning on the go
Pre-built courses that let you get your training up and running quickly.
Online collaboration enables learners and instructors to connect in real-time
What You May Not Like:
While ProProfs generously offers free access, it's limited to just 10 users
Integrates only with Zoom, so it may not be an ideal choice for those who use other video conferencing tools
The interface is user-friendly, but it looks slightly bland. It would be great if they could work on modifying the overall look and feel of the interface
Pricing:
Forever FREE plan for small teams (up to 10 learners). Paid starts at $1.97/learner/month with a 15-day money-back guarantee. No hidden charges.
2. Absorb LMS – Best Custom LMS for AI-Powered Learning

AbsorbLMS brings learning to your fingertips. It's not just another platform – it's like a personal guide through the learning journey. This customizable LMS lets you create and manage dashboard tiles, enabling the display of essential elements such as courses, news, and events.
No matter how your organization grows and changes, AbsorbLMS grows with you. It's like a customized learning companion. The interface is so easy to navigate, keeping you engaged and involved.
The magic of AI sets AbsorbLMS apart. It figures out what you need and provides the right content for you. It's like having a tutor who knows you well.
Lastly, the toolbox of collaboration features, content resources, integrations, and performance insights is impressive.
What You Will Like:
Competency badges serve as rewards for learners who achieve milestones
Choose from various themes, layouts, colors, fonts, and logos to create a personalized learning experience
Empowers administrators to control who has access to specific features and information
The seamless mobile experience through the mobile app enables learning on the go
What You May Not Like:
Does not have a way to track learner progress across different learning modalities
There have been reports of bugs in the software, such as courses not marking complete as expected
Need more assessment options (currently it supports only a few types, such as multiple choice, true/false, and fill-in-the-blank)
Pricing:
Paid plans start at $800/active user/month
3. Paradiso LMS – Best Custom LMS for Blended Learning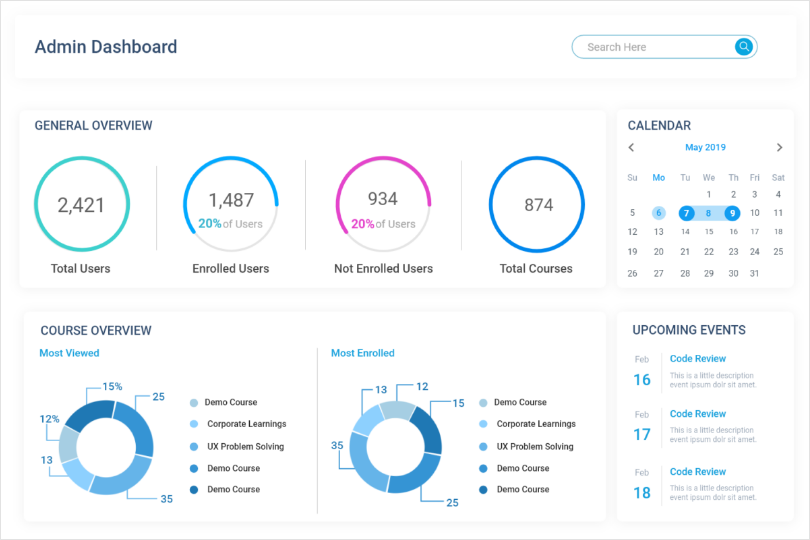 Another tool I would recommend is Paradiso LMS. It offers a versatile blended learning solution that caters to various learning styles, circumstances, and corporate needs. Trusted globally by numerous companies, it empowers training programs through its range of tools.
The platform facilitates personalized training experiences and easy course creation, even for non-technical users. It combines self-paced online learning with human interaction, fostering a supportive learning environment.
It offers a range of customization abilities that can help you create a unique and engaging learning environment for your learners. You can create separate versions of the LMS for different audiences with your branding, logo, themes, and color schemes.
What You Will Like:
Acts as a centralized hub for training content and resources, making it efficient to deliver training programs to employees
Offers robust reporting and analytics capabilities, helping you measure the effectiveness of training initiatives
Includes gamification, surveys, and quizzes, which maximizes the impact of training initiatives
The LMS is scalable and adaptable, making it suitable for diverse corporate training needs, including onboarding, compliance, and product training
What You May Not Like:
Some users have reported that Paradiso LMS can be slow, especially when loading large courses or modules
While Paradiso LMS offers customization options, users with limited technical experience might find it challenging
Integrating Paradiso LMS with other systems or applications could be complex
Pricing:
Free plan available (Limited to 50 users). Paid plans start at $5.50/user/month
4. TalentLMS – Best Custom LMS for Large Teams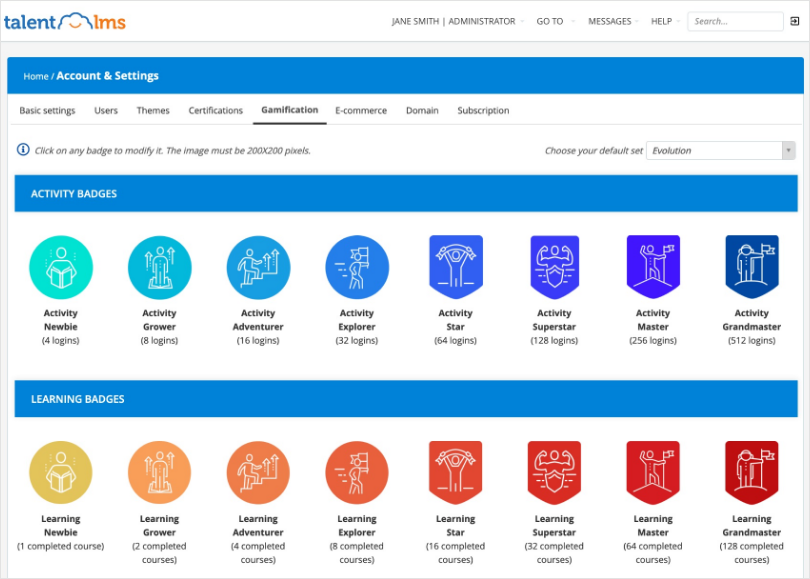 TalentLMS is another LMS with customizable features. It would be a great choice if you want to deliver personalized learning to large teams. The tool is designed to be flexible and scalable. It offers many features, including customization, live sessions, reporting, gamification, and integration.
The tool can be customized to meet your business needs, including branding, learning paths, and assessment types. It can also be scaled to accommodate large numbers of users, making it a good choice for organizations with hundreds or even thousands of employees.
TalentLMS provides detailed reporting on learner progress, so you can track how your employees are learning and identify areas where they need more support. The platform streamlines administrative tasks through automation, enabling easy course assignments, email alerts, and reporting.
What You Will Like:
The mobile app that allows users to access their training on the go
Integrates with a variety of other business tools, making it easy to connect your training with your other systems
It has a powerful AI engine that delivers personalized and relevant content, recommendations, and feedback
Makes course creation a breeze as it provides drag-and-drop media and SCORM file compatibility
What You May Not Like:
Limited availability of templates for certifications, which could restrict the diversity and uniqueness of the content and design
Users might find the API documentation provided by TalentLMS to be lacking in sufficient detail
Does not have a native chat feature, so users cannot communicate with each other directly in the platform
Pricing:
Paid plans start at $69/month (billed yearly)
5. Docebo – Best Custom LMS for Social Learning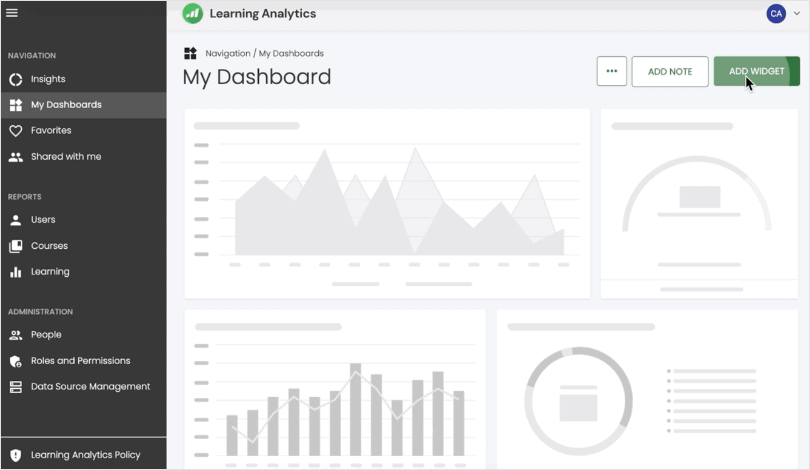 Docebo is an AI-powered solution tailored for enterprises. This flagship LMS offers a perfect blend of sleek design, robust functionality, and scalability for any team or purpose.
The remarkable configurability allows quick setup of audience-specific pages through intuitive drag-and-drop tools. Free extensions like certifications, automation, and gamification enhance customization. This LMS fosters a learning culture with social interaction and empowers users through AI-driven support, making learning more efficient.
As the top enterprise social learning platform, it brings Discover, Coach & Share together, creating a unique and engaging learning experience. This feature facilitates real-time interaction among learners and experts, fostering knowledge sharing and collaborative learning.
What You Will Like:
With its versatile configuration engine, Docebo allows tailored learning experiences and easy customization
Offering over 400 integrations, Docebo seamlessly connects various SaaS business systems for a unified learning environment
AI-powered automated learning personalization supports effective upskilling and reskilling of employees
Docebo's gamification, leaderboards, and interactive elements enhance learner engagement and motivation
What You May Not Like:
Docebo's extensive features may lead to a more complex implementation process and require technical expertise
Some users may find the user interface less intuitive or overwhelming due to the abundance of features and options
The e-commerce functionality is not robust enough to sell courses and training materials
Pricing:
Paid plans start at $25,000/ year
6. 360Learning – Best Custom LMS for Learner Experience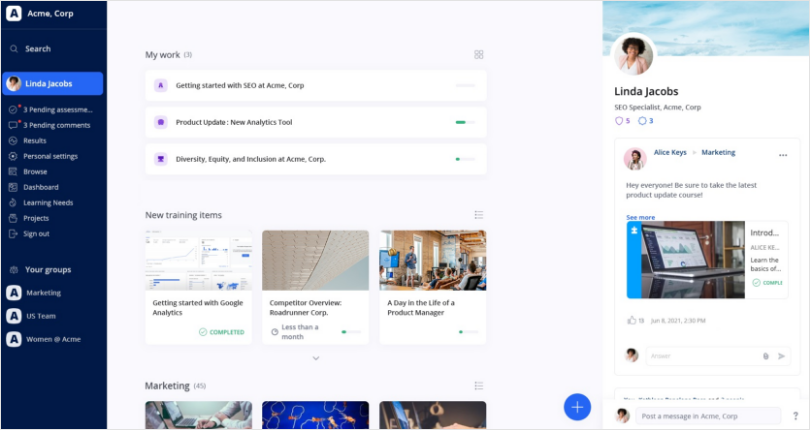 360Learning is a premier custom LMS that redefines corporate training. With a dynamic blend of automation and user-centric design, it optimizes learning workflows. The robust authoring tool simplifies content creation, while SCORM compatibility facilitates migration.
With its robust Learning Experience Platform (LXP, it crafts personalized career paths, smart course recommendations, and collaborative learning experiences. This dynamic tool empowers organizations to align training with career trajectories, bridge skills gaps, and enhance internal mobility.
It creates a holistic learning environment with customizable layouts, seamless integrations, and a wealth of resources. Its data-rich analytics enable informed decision-making, while AI-powered notifications and mobile capabilities keep learning accessible and engaging.
What You Will Like:
Seamless integration with HRIS systems and popular business tools streamlining data management
User-friendly authoring tool empowers anyone to create custom training content
With automated enrollment, reminder notifications, and audit-proof reporting, 360Learning simplifies compliance training
The multilingual support enables organizations to deliver consistent training experiences to a global workforce
What You May Not Like:
It has semi-opaque pricing, and most of the features are reserved for the top plan.
It has issues with LinkedIn learning integration
Some users have reported occasional technical glitches and performance issues that affect the learning experience
Pricing:
Paid plans start at $8/user/month
7. LearnUpon – Best Custom LMS for User Management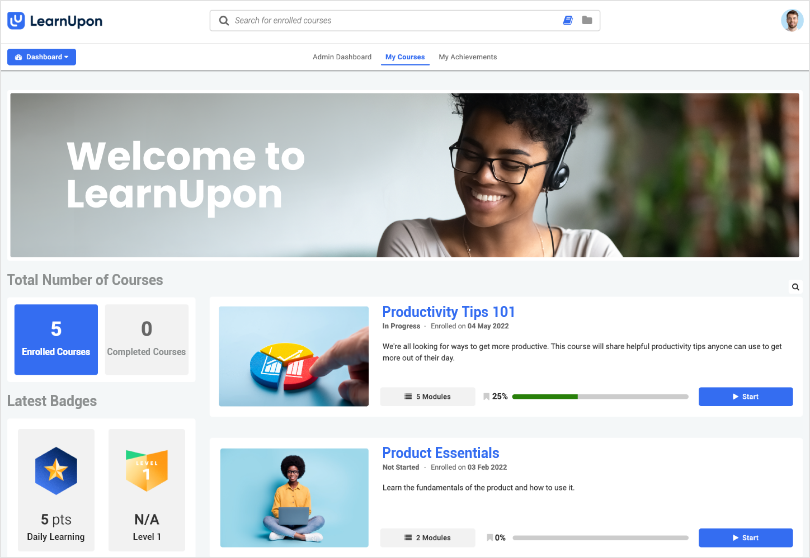 LearnUpon is a comprehensive LMS designed to streamline training processes. Its intuitive platform offers a range of essential features, including course creation, training delivery, user management, learner engagement, portals, reporting, integrations, and webinars.
The "User Management" feature streamlines user organization, automating tasks and integrations and enhancing efficiency. Users can be added through bulk uploads, automated imports, or manual creation.
Group segmentation offers tailored content and simplified reporting. Role-based permissions cater to administrators, instructors, managers, and learners. Whether employee, customer, partner, or member training, LearnUpon optimizes learning experiences.
What You Will Like:
Allows for various content formats, from videos and quizzes to documents and interactive modules
Gamification elements like badges and points, as well as interactive discussions and social learning tools, foster higher learner engagement
Whether for a small team or a large enterprise, LearnUpon's scalability ensures the platform can grow with the organization
Mobile-friendly interface ensures learners can access and engage with training content on various devices
What You May Not Like:
Admins may struggle with course searches, especially for multiple versions, without the ability to filter or exclude archived courses.
Standard reports don't provide insights specifically for bundled courses, limiting comprehensive data analysis
Generating certificates is hindered by slow field selection and the discrepancy between portrait and landscape orientations for printing
Pricing:
Paid plans start at $599/month (billed annually)
8. Litmos – Best Custom LMS for Instructor-Led Training (ILT)

Litmos, an advanced cloud-based LMS, emerges as an optimal solution for tailored Instructor-Led Training (ILT). The platform boasts versatile attributes, including a flexible course builder for personalized curriculum development and a robust reporting system to monitor learner engagement and progress.
Litmos further enhances accessibility through its mobile app, enabling on-the-go learning. Integration capabilities with various systems magnifies its utility. With expert support and affordability, Litmos streamlines ILT tasks, ensuring time and cost savings.
Moreover, its interactive elements like gamification and social learning bolster engagement, while detailed progress tracking refines ILT strategies.
What You Will Like:
The interface is intuitive, and there are plenty of resources available to help users get started
Supports a wide range of content formats, including videos, quizzes, and simulations
A secure platform that protects learner data. It complies with industry standards such as GDPR and SOC 2
Can accommodate any organization size. It can also be used to deliver training to learners in multiple locations
What You May Not Like:
Mobile app is not as good as web app. It is not as user-friendly and does not have all of the web app's features
Can be difficult to integrate with other systems. This can be a barrier if your organization already uses a variety of other systems
Does not natively support single sign-on (SSO), which can make it difficult to manage user access
Pricing:
Starts at $3/user/month
9. Lessonly by Seismic – Best Custom LMS for Content Automation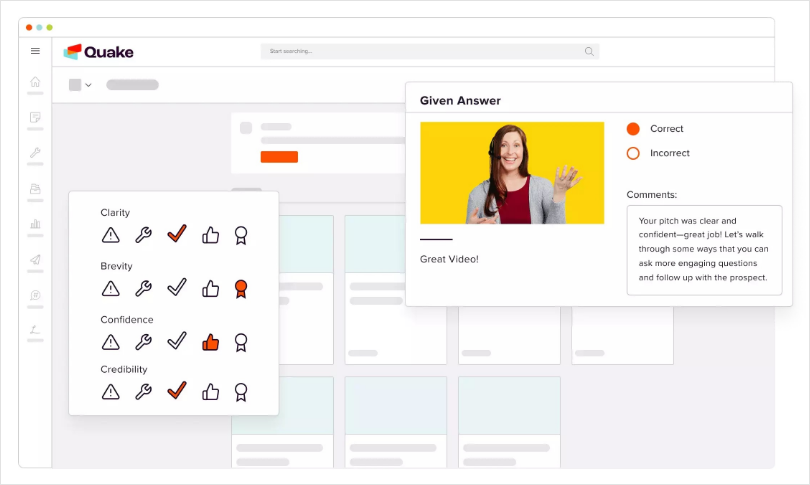 Lessonly by Seismic is designed for modern learners. It is the ultimate solution for training and coaching your teams. As the best custom learning management system, this tool offers the flexibility to customize courses to align with your brand, target audience, and learning objectives.
It can also automatically transform data from your computer into visual elements like charts and tables. Additionally, you can quickly generate many documents helpful in sharing updates or information.
Lessonly allows you to combine various pieces of information to create tailored materials for different purposes. The tool ensures that all content adheres to established guidelines and maintains a consistent appearance.
What You Will Like:
Boasts an intuitive platform for effortless course creation and assignment
Seamlessly integrates with tools like Salesforce, Slack, and Zendesk, enhancing workflow efficiency
Facilitates personalized, interactive learning experiences for employees, customers, and partners
Mobile-friendly feature ensures lessons can be accessed and completed from any device, anywhere
What You May Not Like:
The process of reviewing lessons is cumbersome, possibly impacting the overall user experience
The search functionality, although functional, is perceived as not fully robust at present, which can hinder efficient content retrieval
Some users express frustration with having to provide feedback in a separate file during the training loop
Pricing:
Free plan available (limited to 25 users). Paid plans start at $200/month (billed annually)
10. iSpring Learn – Best Custom LMS for Smart Training Management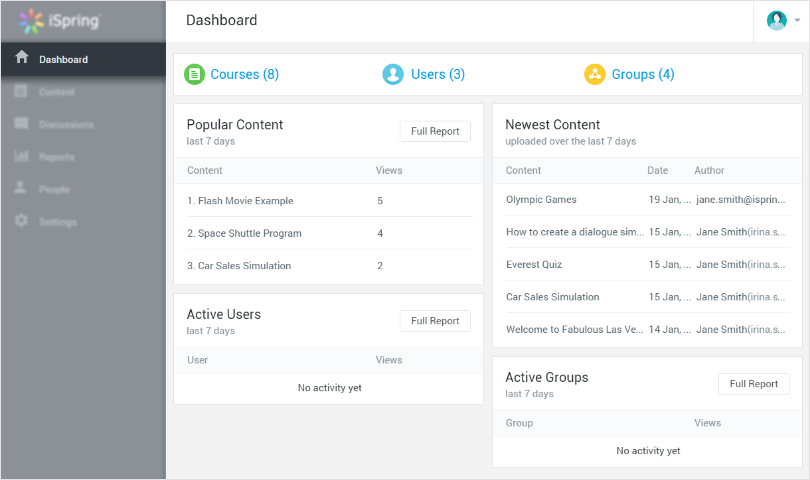 iSpring Learn platform is synonymous with powerful features that ensure successful eLearning endeavors. They include content management, user management, training management, and robust reporting.
It also facilitates building learning tracks, managing users and groups, and monitoring productivity. The tool offers a convenient filter for course assignments, allowing you to target users by team, job title, or custom criteria. For instance, if you've uploaded a course on warehouse safety, you can quickly enroll all warehouse workers by filtering job titles.
iSpring Learn can automatically assign courses, such as onboarding, to specific employee groups. The integrated Events Calendar streamlines the management of live training, workshops, and web meetings, ensuring learners stay on schedule.
What You Will Like:
Users can upload various content formats like presentations, courses, videos, etc., and enjoy unlimited storage
The platform supports SCORM content and enables the creation of interactive longreads
Gels well with Zoom for powerful video conferencing capabilities, enhancing engagement and data collection
Employees can earn points and badges for completing courses and activities, and they can see their progress on leaderboards
What You May Not Like:
Users new to eLearning platforms might find the tool's extensive capabilities a bit overwhelming
While the mobile app offers offline access, it lacks some advanced features present in the web version
While customization options are available, users without technical skills might face challenges in fully tailoring the platform
Pricing:
Paid plans start at $2.99/user/month (billed annually)
Which Custom LMS Is the Best One for You?
The custom LMS you choose will depend on several factors, such as your organization's specific needs, budget, technical requirements, and desired features. Considering these elements is crucial to finding the most suitable solution.
After evaluating various options, my picks would be:
Option A: ProProfs LMS
With its user-friendly interface and a range of customization options, ProProfs LMS offers a seamless learning experience for employees. It's particularly well-suited for organizations seeking simplicity in content creation and delivery. It caters to various industries like manufacturing, healthcare, corporate, retail, etc.
Option B: Absorb LMS
This tool also presents a compelling choice. Its robust customization capabilities and integration options suit organizations looking to tailor the learning environment to their unique needs.
Option C: Paradiso LMS
With its feature-rich platform and focus on collaboration, Paradiso LMS is ideal for organizations aiming to foster engagement and interaction among learners.
In my opinion, ProProfs LMS distinguishes itself through its user-friendly interface, robust customization capabilities, and broad industry compatibility among these options. It excels in offering an intuitive platform for content creation, flexible branding options, and adaptable solutions for diverse industries, making it a standout choice for tailored learning solutions.
Frequently Asked Questions
What is a custom LMS?
A custom LMS is a personalized online platform facilitating educational content creation, management, and delivery. It is tailored to specific needs and allows organizations to provide unique learning experiences through customizable features such as course creation, assessment tools, progress tracking, etc. This bespoke LMS enables seamless training and education, aligning with the organization's goals and enhancing learner engagement and outcomes.
Custom LMS vs traditional LMS: What's the difference?
The key difference between a custom LMS and a traditional LMS lies in their level of personalization. A custom LMS solution is tailored to an organization's specific needs, offering flexibility in design, features, and integration with existing systems. It aligns closely with the organization's goals, fostering a more engaging and relevant learning experience. In contrast, a traditional LMS provides standardized features and templates, limiting customization options. While both LMS types manage and deliver e-learning content, a custom LMS offers more adaptability and uniqueness, enhancing user engagement and learning outcomes.
What are the key features of a custom LMS?
Features in such an LMS include personalized course creation tools, adaptive content delivery, and advanced assessment options. Custom branding and user interfaces maintain a consistent organizational identity, while integration with other systems streamlines data flow. Enhanced analytics provide insights into learner progress and the effectiveness of training. Customizable user roles ensure appropriate access and administration. Click here to explore the features.
What are the main benefits of a custom LMS?
A custom LMS offers several significant benefits. It aligns closely with an organization's unique needs, fostering a tailored learning experience that enhances engagement and knowledge retention. The flexibility to design personalized courses, integrate diverse content formats, and incorporate specific features promotes effective learning. Custom branding and interfaces maintain a consistent organizational identity. Integration with existing systems streamlines operations. Advanced analytics provide actionable insights into learner progress and content effectiveness. With adaptable scalability and future-proofing, a custom LMS ensures continued relevance as needs evolve. Read this blog to know more.
What are the steps for custom LMS development?
Developing a custom LMS involves several key steps. First, define clear objectives and requirements based on organizational needs. Research potential development partners or in-house resources. Evaluate their expertise, track record, and alignment with your vision. Collaboratively design the LMS architecture, user interface, and features. Prioritize scalability, security, and integration capabilities. Develop a detailed project plan and timeline. Build and test the LMS iteratively, incorporating feedback. Thoroughly conduct quality assurance to ensure functionality, usability, and compatibility. Train administrators and users. Finally, deploy the LMS and continue refining it based on user feedback and changing needs.
What is the structure of custom LMS pricing?
The price for a custom LMS varies. Initial development costs include analysis, design, coding, and testing. The complexity of features, user interfaces, and integrations influences costs. Ongoing expenses encompass hosting, maintenance, updates, and support. Pricing models can be project-based or subscription-based with the latter often including licensing, hosting, and support fees. Customization level and the number of users impact pricing tiers. Additional charges might apply for integration with third-party systems or data migration. Request a detailed quote, understand the pricing tiers, and anticipate potential add-ons before committing. View the pricing details here.
Do you want a free Training Software?
We have the #1 Online Training Software for employee training & assessment