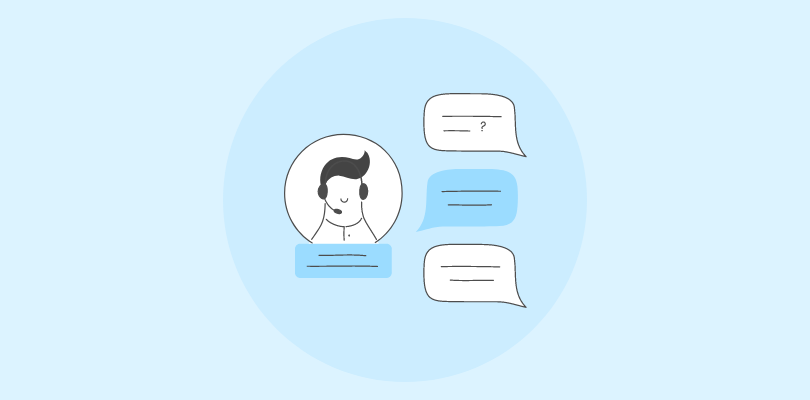 In today's cutthroat telecom sector, "just keeping up" won't cut it.
Rapid tech shifts? You bet.
Stringent regulations? Absolutely.
Skyrocketing consumer demands? More than ever.
Tackling these isn't about simple training—it's about transformation. Traditional methods? They're falling flat.
But there's a silver bullet: Learning Management Systems (LMS). It's not hype—it's your lifeline in this fast-paced industry.
But it can be time consuming to explore top LMS tools to find out which one works best for your telecommunications company. So I've done the hard work bit so that you don't have to! Ready for a deep dive?
I've dissected the telecom industry's needs and handpicked the 7 standout LMS platforms. Equip your team with the best, because in telecom, second best just doesn't ring true.
| Tools | Best For | Pricing |
| --- | --- | --- |
| ProProfs Training Maker | Companies of all sizes that need a simple yet powerful LMS with mobile learning, ready-to-use course library and built-in quizzes & surveys. | Forever free for small teams, up to 10 learners. Paid starts from $1.97 per learner / month. |
| Absorb LMS | Mid-market companies that need a versatile and engaging LMS with content authoring tools. | $4 to $6 per user per month, depending on the number of users and the plan selected. |
| Docebo | Large enterprises that need an AI-driven LMS with advanced features for learning personalization, social learning, and content curation. | $4 to $8 per user per month, depending on the number of users and the plan selected. |
| TalentLMS | Companies of all sizes that need a flexible and affordable LMS with gamification, eCommerce, and integrations. | $69 to $459 per month, depending on the number of users and the plan selected. |
| iSpring Learn | Companies that need an easy-to-use LMS with content creation tools and performance appraisal. | $2.29 to $3.14 per user per month, depending on the number of users and the plan selected. |
| 360Learning | Companies that need a collaborative LMS that enables learners and experts to create and share courses, quizzes, and feedback. | $8 per registered user per month for the Team plan. Custom pricing for the Business and Enterprise plans. |
| SAP Litmos | Companies that need a cloud-based LMS with a built-in course library, video assessments, gamification, and integrations. | $4 to $6 per user per month, depending on the number of users and the plan selected. |
List of LMS Solutions for Telecommunications
The best LMS for telecom companies will be something that can help you create, deliver, and manage online training courses for your employees, customers, and partners – on the go.
Plus, it should let you track and measure the effectiveness of your training programs and ensure compliance with industry standards.
In this article, I will share with you the 7 best LMS for telecom companies based on my research, experience, and feedback from my peers in the industry.
These LMS systems can help you streamline your training processes, enhance learner engagement, and improve business outcomes.
1. ProProfs Training Maker – Best for Mobile Training of Telecom Ground Staff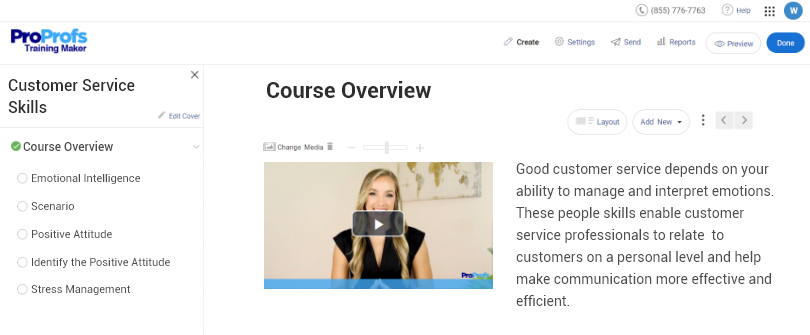 ProProfs Training Maker grabs the number one spot on my list. (I've used it extensively and can vouch for it). It is one of the easiest LMS platforms for telecom training out there.
ProProfs Training Maker, as it's called, lets you create online courses for various topics, such as sexual harassment, compliance, SOPs, product knowledge, technical skills, customer service, sales, and more.
I could design customized learning paths for different roles and levels. This is best for self-paced but guided learning. Building courses is easy with ProProfs Training Maker. You can import any existing materials you have or choose from their library of 100+ ready courses that you can customize for your requirements.
You can use its mobile application to train your engineers and technicians who are out in the field most of the time. This app removes the need for learners to become desk-bound. Instead, they can learn on the go according to their personal schedules and pace. They can simply log into the LMS using portable devices and take mini-courses and quizzes, view flash cards, access knowledge base, and watch how-to videos.
One of the things I liked about ProProfs Training Maker is that it offers features such as gamification for engagement, quizzes for in-course assessment, surveys for training feedback, certificates for motivation (and meeting compliance requirements), and reports for instructors to gauge important statistics, such as courses taken and pending, learners who passed and failed the assessments, etc.
You can also integrate ProProfs Training Maker with your existing tools and systems, such as Zoom for hybrid training (training with ProProfs Training Maker via Zoom), ProProfs Collaborate for team discussions, etc.
It also comes with onboarding and on-going support from a dedicated team of experts who are always ready to help me with any issues or questions. I love using ProProfs Training Maker for my training teams, and I think you will too.
What you'll like:
Launch courses from mobile, tablet or desktop
Upload Word or Presentation that are automatically rendered mobile ready
100+ ready-made courses created by experts so you can get started quickly
AI-powered reports to track learner progress, performance, and feedback
Automated email notifications for course assignments, reminders, and completion
Custom LMS certification to verify learner achievements
Ready-to-use pre and post employment skill assessments
Responsive customer support via chat, phone, ticket, and knowledge base.
What you may not like:
The free plan is limited to 10 learners only.
Frequent software updates can require some time to adjust to the new features.
Pricing:
Forever Free for small teams (up to 10 learners). Paid starts at $1.97/learner/month for large teams with a 15-day money-back guarantee. No hidden fees.
Watch: What Is a Mobile LMS & How Can It Help Train Anytime, Anywhere?
2. Absorb LMS – Best for Scalable and Customizable Training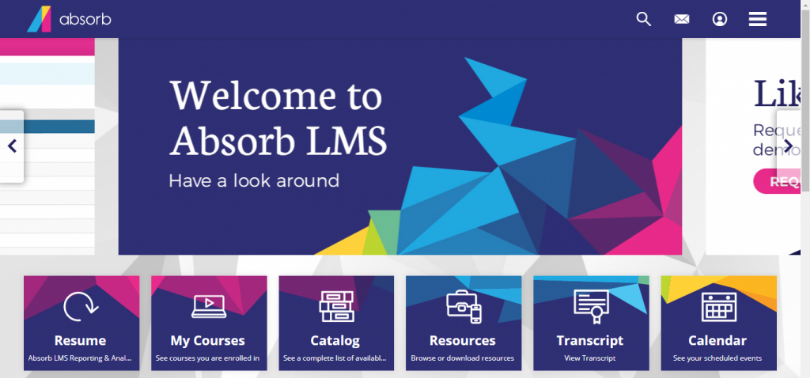 The next LMS on our list is Absorb LMS. I found Absorb LMS to be flexible and scalable, which means it can adapt to the changing demands and challenges of the telecom industry.
I could access my courses and content in multiple languages, formats, devices, and integrations, which makes it convenient and versatile for me and my colleagues.
Absorb LMS is also designed to drive learning and ROI, which is very important for the telecom industry. It has powerful features such as gamification, social learning, reporting, and analytics that make learning fun, engaging, and measurable.
What you'll like:
You can customize the look and feel of the LMS to match your brand and preferences.
You can automate various tasks such as enrollment, reminders, notifications, and certificates.
Learners can access the LMS anytime, anywhere, and on any device.
What you may not like:
The amount of setup required to configure the system, which can be challenging for non-technical users and requires a lot of time and energy.
The pricing, which is not transparent and can be expensive for smaller businesses.
Pricing:
Absorb LMS doesn't mention pricing on their website. However, based on my research online and user reviews, Absorb LMS licensing fee is around $800 per month plus a 12-month user fee of $16 per active user when I'm drafting this blog.
3. Docebo – Best for AI-Powered & Integrated Learning Solutions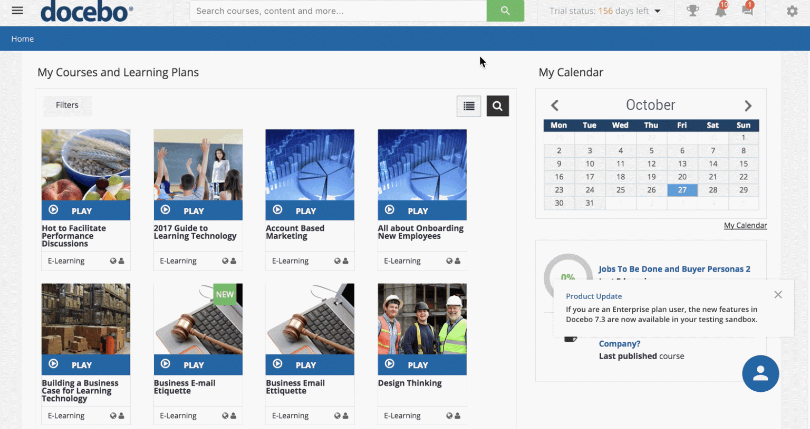 My experience with Docebo was nothing short of revolutionary. It's not just an LMS; it's a complete learning suite that caters to various learning needs, be it for customers, partners, or employees.
The first thing that caught my attention was its claim of being the 1st Generative AI LMS. This means it leverages artificial intelligence to enhance the learning experience, making it more personalized and efficient.
As someone who's always on the lookout for awesome tools, especially for the dynamic telecom industry, this was a delightful solution.
Docebo offers a range of products within its suite. From creating engaging content in minutes with "Shape" to unlocking top-notch e-learning content with "Content", and measuring the effectiveness of learning programs with "Learning Impact", it's a holistic solution. The "Learn Data" feature, which links learning data to real business outcomes, was particularly impressive, ensuring that learning aligns with business goals.
What you'll like:
Docebo's AI capabilities ensure a tailored learning experience for every user.
Whether it's customer training, partner training, or employee training, Docebo has got you covered.
Connect learning across all your business systems with over 400 integrations.
What you may not like:
It is not ideal for small businesses or organizations with less than 300 users, as it can be quite expensive and complex to set up and maintain.
It has limited assessment options when it comes to answer types and feedback mechanisms.
It may require additional fees for extra features or modules that are not included in the base plan.
Pricing:
Docebo does not disclose its pricing details on its official website. However, based on user reviews and my online research, Docebo's license plans range somewhere from $900 per month for about 300 active learners to $2,500 per month for enterprises. The best way to get a custom quote is to contact Docebo directly.
4. TalentLMS – Best for Quick Training Deployment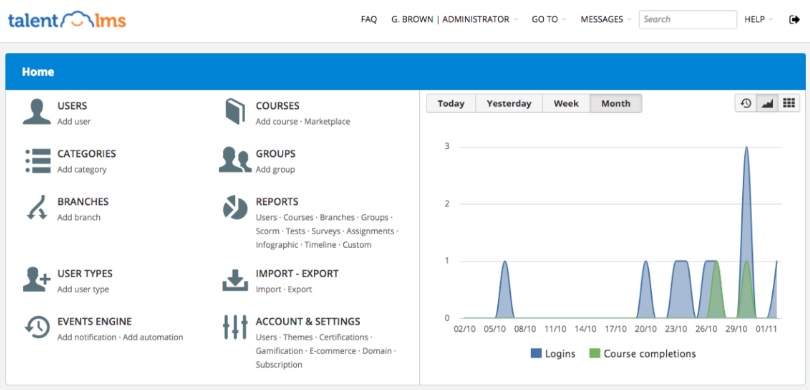 Following Docebo, the next LMS that caught my attention is TalentLMS. My experience with TalentLMS was smooth and efficient, emphasizing its tagline of being "built for success." It's not just about training; it's about delivering a seamless experience that users can easily adapt to.
From the get-go, TalentLMS promises an intuitive interface that feels right from the first click. This is crucial for the telecom industry, where rapid changes are the norm, and teams need to get onboarded quickly.
The platform's accessibility across devices ensures that learners can jump in anytime, anywhere.
One of the standout features for me was its quick setup time.
Unlike other platforms that might take months to deploy, with TalentLMS, you can have your courses up and running by the end of the day. This agility is a boon for industries like telecom, which are always on the move.
What you'll like:
TalentLMS is easy to use and manage, with a user-friendly interface and customizable features.
It is affordable and offers a free plan for up to 10 users and 10 courses.
TalentLMS has a wide range of integrations with popular tools such as Zoom, Shopify, WordPress, Mailchimp, and more.
What you may not like:
The reporting and analytics feature can be improved to fix the inability to export reports in different formats, customize dashboards, or track learner engagement.
TalentLMS has a steep learning curve for some of its advanced features, such as gamification, branching scenarios, and automation.
Pricing:
TalentLMS pricing starts at $69 /month / Up to 40 users without TalentContent library. If you'd like to subscribe to the ready-to-use courses, it would charge somewhere around $99 for less than 40 users / month.
5. iSpring Learn – Best for Comprehensive Employee Training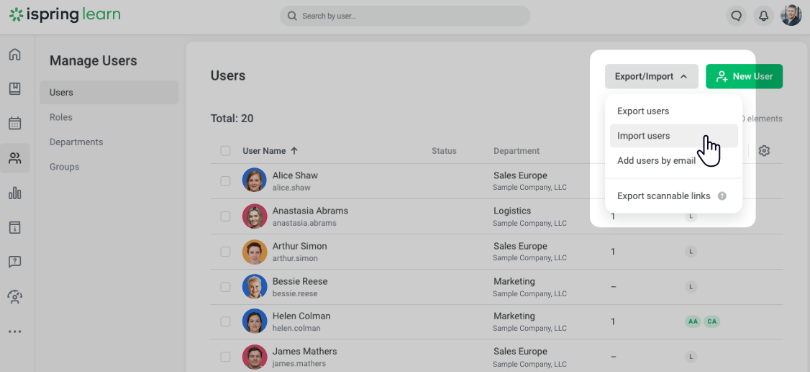 Navigating through iSpring Learn, I was immediately drawn to its emphasis on upskilling employees and streamlining processes.
The platform's content creation was notably straightforward, allowing me to craft interactive courses and assessments with ease.
The in-depth reporting provided clear insights into learner progress, ensuring the training's effectiveness. What truly stood out was the platform's automation; once set up, it practically ran on its own, sending out progress reports and reminders.
In my experience, iSpring Learn offers a comprehensive solution for organizations looking to elevate their training programs. With its focus on ease of use, in-depth analytics, automation, and engagement, it's a platform that promises to deliver tangible results in the realm of employee training.
What you'll like:
Simple and intuitive design that makes it easy to use for both instructors and learners.
It supports mobile learning with native apps for iOS and Android devices that allow offline access to courses.
It offers web meetings by Zoom, a popular video conferencing platform that enables live online sessions with learners.
It allows you to customize your LMS with your own logo, colors, domain, and certificates.
What you may not like:
It can be overwhelming for new users because of its wide range of features and functionalities.
It does not support SCORM or xAPI standards. You need to use iSpring Suite to convert your content to iSpring format.
It does not have a social learning feature that allows learners to interact with each other and share their feedback or questions.
Pricing:
The pricing ranges from $2.29 to $3.14 per user per month for the Start and Business plans, respectively. There are also custom plans and on-premise installation options available by quote.
6. 360Learning – Best for Collaborative Learning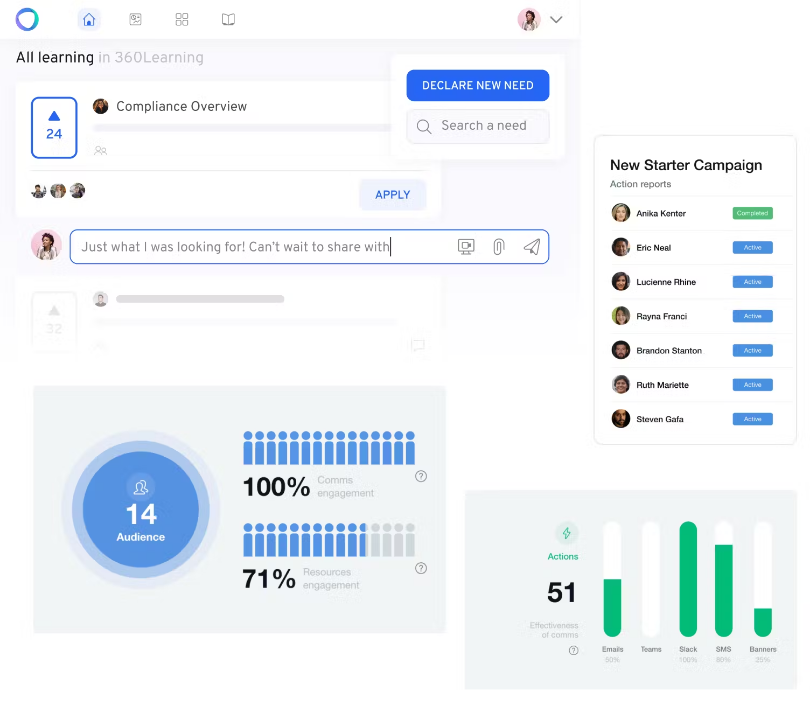 Exploring 360Learning, I noticed its distinct focus on collaborative learning. The platform encourages teams, like mine, to collaboratively create, refine, and deliver courses. This approach is a departure from many traditional LMS systems I've encountered, where course creation often feels top-down.
In 360Learning, I appreciated how everyone could contribute, enriching the course content with diverse insights.
One thing that stood out to me was the 91% course completion rate. It made me think about how engaged my team would be with such a platform. The swift course creation time, just around 17 minutes, also caught my attention. It meant that my team could keep content updated without lengthy delays.
Going through user feedback, I noted how many appreciated the platform's responsive support and its adaptability to evolving business needs.
Given its focus on collaborative learning and the inclusive nature of content creation, I felt 360Learning could be a valuable asset for teams looking to enhance internal learning and development.
What you'll like:
Promotes knowledge sharing and fosters a vibrant learning community.
Intuitive platform with an easy-to-use course builder.
Highly responsive and receptive customer service team.
Provides valuable insights for effective training and decision-making.
What you may not like:
Coming into contact with the interface for the first time can be overwhelming for new users.
Needs more gamification elements for engagement.
There may be issues with course crashes and presentation order
Pricing:
Pricing for 360Learning starts at $8 /registered user per month (Up to 100 users/month). For custom pricing, you'll need to request a quote / demo.
7. SAP Litmos – Best for Efficient Corporate Learning

One of the first things I noticed about Litmos is that I could set it up in minutes and easily integrate it with other tools and systems my team uses. This ease of setup and integration is complemented by a range of out-of-the-box connectors.
I used it with a limited number of users and functionalities for this review, however, large scale teams can benefit from their open APIs that offer further customization based on specific needs.
Litmos didn't disappoint me when it comes to security, which is paramount for an LMS. The platform ensures that all data is encrypted, stored securely, and is GDPR compliant. So, you have peace of mind about the safety of your training content and user data.
The built-in content authoring tool was another feature that stood out. It allows for the creation of dynamic SCORM content directly within the LMS.
This capability, designed to cater to both novice trainers and expert instructional designers, eliminated the need for external content creation tools, streamlining the course development process for my team.
What you'll like:
Universal accessibility feature that ensures training is available to learners anytime, anywhere, and in over 35 preconfigured languages.
Adept at addressing the diverse training needs of modern businesses.
Content library of 2000 soft-skills and general compliance courses.
What you may not like:
No eCommerce feature that allows you to sell your courses online.
No social learning feature that allows learners to interact with each other and share their feedback or questions.
Pricing:
Litmos comes in three different pricing plans – Foundation, Premier, and Platinum. However, it doesn't display pricing on its website. The best part is, Litmos offers a 14-day free trial – go ahead and explore the product well to make up your mind.
Finding the Right Balance in LMS Selection
Alright, let's break it down.
In the bustling field of telecom training, it's essential to find an LMS that aligns with your business's unique needs. It's about understanding what your business truly needs.
While large enterprises might gravitate towards feature-rich platforms, many organizations, especially smaller ones, seek a balance between cost, functionality, and ease of use.
Platforms like ProProfs Training Maker exemplify this balance, offering a solution that's user-friendly, cost-effective, and backed by reliable support.
Whether you're a startup, a growing business, or an established entity, the key is to choose an LMS that fits your budget, meets your training objectives, and provides a seamless experience for your learners.
After all, empowering your team with the right tools is pivotal in today's digital landscape.
Learn More About Telecommunications LMS
What is a telecommunications LMS?
A Telecommunications LMS is a specialized learning management system tailored to meet the training needs of the telecom industry. It's designed to address the unique challenges and requirements of telecom professionals.
Watch: What is a Cloud-Based Learning Management System?
What are the key features to look for in a telecommunications LMS?
When I was researching, I found that the most crucial features include industry-specific course content, scalability to handle large user bases, integration capabilities with telecom tools, and robust reporting for tracking progress.
How do I choose the right LMS for my telecom company?
For me, it boiled down to understanding my organization's specific needs, evaluating the LMS' features against those needs, and considering factors like pricing, support, and user feedback.
Watch: How to Choose the Best SaaS LMS Software
Who can benefit from the telecommunications LMS?
In my view, everyone from telecom engineers, customer support reps, to sales teams can benefit. It's designed to cater to a wide range of roles within the telecom sector.
Can it be integrated into training programs offered by telecom companies?
Absolutely! In my journey, I found that many LMS platforms offer integration capabilities, allowing telecom companies to seamlessly incorporate them into their existing training programs. These LMS systems also integrate with the tools you use daily. Check out all the integrations that a standard LMS supports.
Do you want a free Training Software?
We have the #1 Online Training Software for employee training & assessment