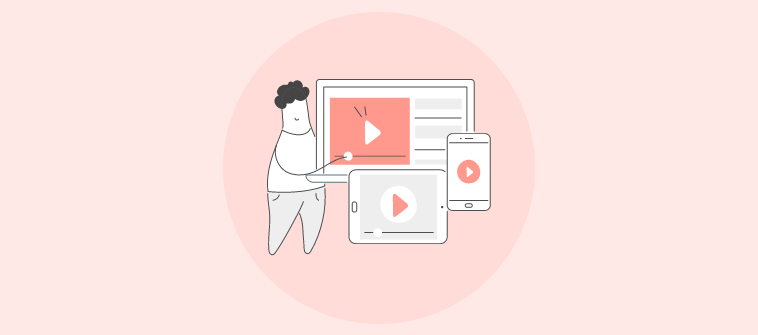 In an age of instant gratification, people expect to get immediate results with what they want. Whether it is voice command-based digital assistants or quick food delivery services, they work around customers' changing needs.
The same is true of online video training software. They facilitate better and faster knowledge acquisition through on-demand, engaging, and impactful eLearning experiences.
It is no surprise then that 88% of companies rely on video broadcasting, webcasting, and virtual classrooms as a training medium.
Initially, people used videos solely for entertainment, but now they have become a source of education too.
Training videos supplement and even replace text-based courses, manuals, guides, and policy & procedure training during onboarding and annual compliance programs.
If you are yet to capitalize on this viral trend of using software for training videos, we can help.
In this post, we will take you through some of the best video training platforms available on the market. Explore their key features, pros and pricing to land the right one for your needs.
Continue reading to find out.
Watch: What is eLearning and How Can It Help You?
A Quick Feature & Price Comparison Table of the Best Video Training Software
10 Best Video Training Platforms
Best For
Pricing
ProProfs LMS
eLearning Authoring Tool

Ready Video-Based Courses

Zoom Integration

Virtual Classroom

Mobile Learning

Reports & Analytics

Forever free for up to 10 learners.Paid plan starts at $1.97/active learner/month for large teams. Billed annually.
LearnWorlds
Video Editor

Video Transcripts

Video Interaction Stats

Testing Engine

Starts at $24/month.
Whatfix
Interactive Tutorials & Walkthroughs

In-App Guidance

Easy Content Conversion

Analytics

Get in touch with the company for a quote.
Lessonly
Lesson Builder

Content Repurposing

Supporting Text for Videos

Mobile Optimization

Get in touch with the company for a quote.
Visme
Video Templates

Interactivity

Asset Management

Data Visualization

Starts at $0.
Panopto
On-Demand Videos

Smart Chapters

Live Streaming

Video Analytics

Starts at $0.
EdApp
80+ Content Templates

Video Conferencing

Mobile-First Learning

Reporting & Analytics

Starts at $0.
Camtasia
Video Templates

Screen Recording

Interactive Quizzes

Royalty-Free Music and Sound Effects

Starts at ₹20,141.94 per user
WIREWAX
Video Toolset

HTML5 Video Player

360° Video

Video Hotspot

Get in touch with the company for a quote.
Hippo Video
AI Video Generator

Video Editing

Template Builder

Detailed Analytics

Starts at $15/month.
Now let's discuss the features of each software for creating training videos in detail:
10 Best Software for Creating Training Videos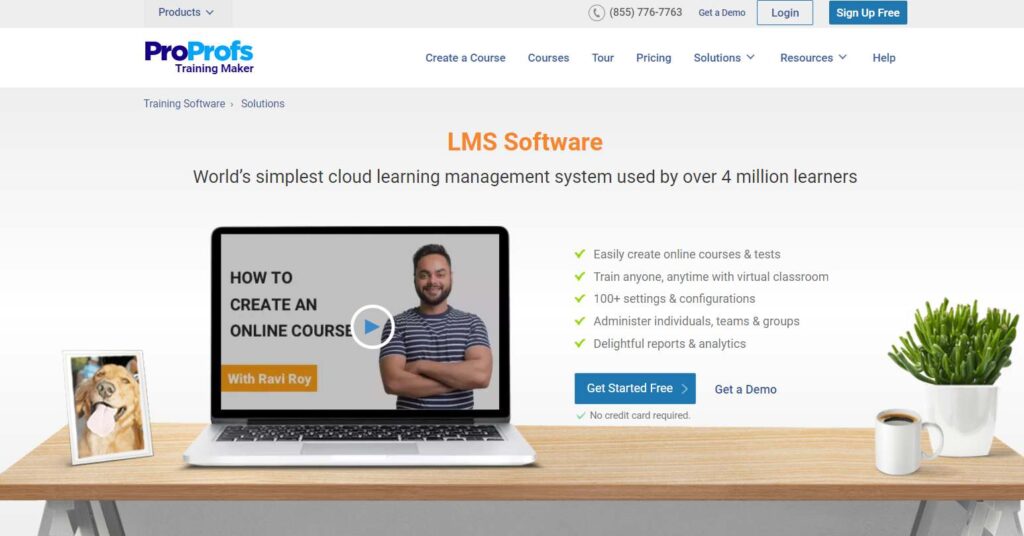 ProProfs LMS is an award-winning and the world's easiest-to-use cloud LMS software. Using this platform, you can create online courses and add multimedia files, including engaging videos.
Leverage a growing library of 100+ courses and templates. You can upload training materials you already have, such as images, videos, audio files, docs, PDF files, recorded webinars, and presentations.
The LMS also offers numerous how-to and explainer videos on its YouTube channel.You can also add quizzes, surveys, flashcards, brain games, and visuals to courses for a sensory learning experience. Personalization lets you stay on brand. The SaaS LMS comes with a centralized virtual classroom, video conferencing tool Zoom, and other powerful integrations.
Features
👉 Video Courses
Implement online training immediately with a regularly updated catalog of video-based courses. These resources are professionally designed, editable, and ready to use. The video courses are hosted by training experts.
👉 Virtual Classroom
Centrally administer learners and courses, view reports, and issue certificates. Create and manage groups, admins, roles, and permissions. An intuitive learner dashboard displays assignments, course announcements, and other information.
👉 Zoom Integration
Easily host and participate in live training sessions, online meetings, and webinars with Zoom integration. It is easy to set up and supports single sign-on (SSO) and automated notifications.
👉 Quizzes
Add engaging online quizzes to go with your training videos. Use different question types and quiz formats. Create video based questions and get video responses from learners.
👉 Mobile Learning
Let your learners watch training videos on the go or in their moment of need. The mobile LMS by ProProfs is accessible across devices. Learners can even download and access materials offline.
👉 Reports & Analytics
View insightful LMS reports on individuals, groups, courses, and in-course quizzes. Check pending and completed courses, total time taken, challenges, and scores.
Pros
+ Ease of use
+ Ready courses for video instructions
+ Customization & personalization
Pricing: Forever free plan (up to 10 learners). Paid plan starts at $1.97/learner/month (billed annually) for large teams. No hidden charges. 15-day money-back guarantee.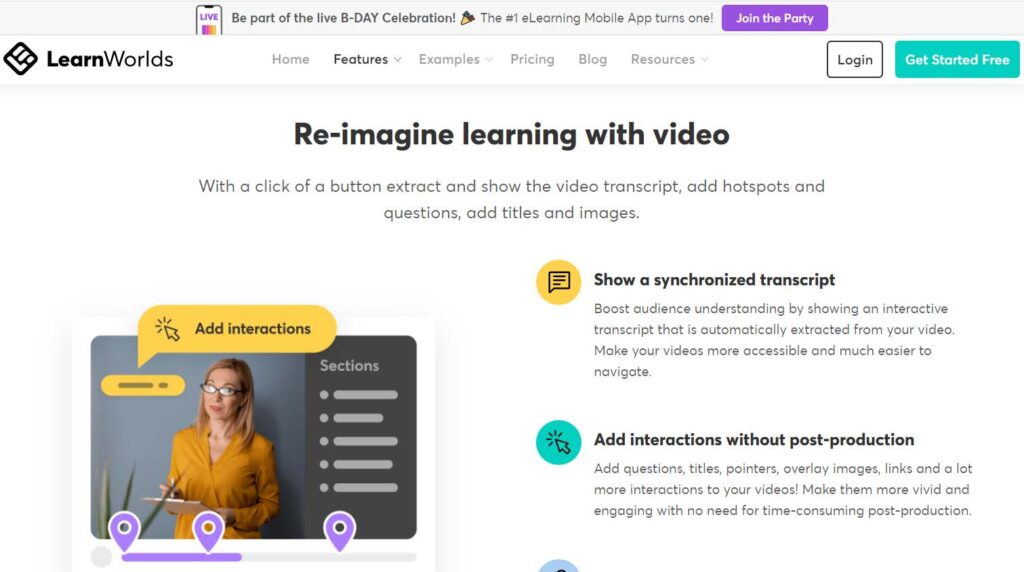 LearnWorlds is an all-in-one platform for creating courses and interactive videos to boost learner engagement, satisfaction, and retention. Along with videos, the solution supports SCORM, eBooks, 1:1 & group sessions, assessments, surveys, certificates, and more.
Choose from beautiful themes for your course player and provide free, paid, drip-fed, curated, or private course pathways. Automatically extract tables of contents, quizzes, and transcripts from your videos.
You can also build your own white-labeled mobile app for Android and iOS to take video training to the next level.
Features
👉 Video Editor
Leverage a powerful video editor with advanced functionalities. Add interactive elements, text, images, subtitles, watermarks, and player skins to your videos for unique experiences.
👉 Video Transcripts
The video editor comes with advanced features, such as transcripts that automatically extract audio from your video. Transcripts enhance learners' comprehension and help those who are hard of hearing.
👉 Video Interaction Stat
Evaluate your audience's viewing behaviors. Identify drop-off points. Check engagement graphs, total plays, and Heatmaps showing your audience's watching journey second by second.
👉 Testing Engine
This sophisticated testing engine lets you add formal and informal, graded and ungraded, and open and closed questionnaires. Easily meet the assessment needs of every learning outcome.
Pros
+ Platform is continuously improving
+ Gives full control over changes
+ Easy to use
Pricing: Starts at $24/month.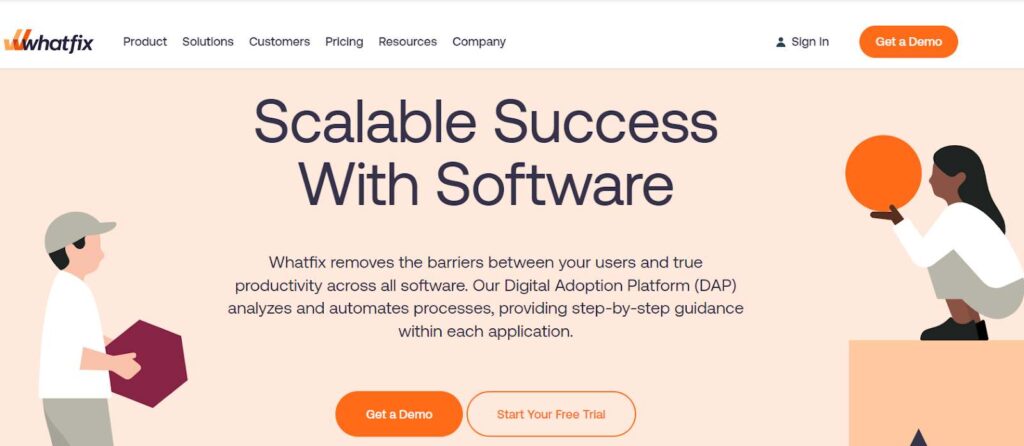 Whatfix is a SaaS-based digital adoption platform that provides in-app guidance and performance support for various software products. Using it, you can create interactive walkthroughs and tutorials for new hire onboarding and ongoing staff training.
You can create flows to help learners navigate through different software processes. Then you can convert those flows into videos, upload them, and embed them in applications. Learning in such an audiovisual format is more effective for product demos.

Add voice-overs to your videos in multiple languages. Automatically upload the content as soon as you create and publish them. No coding knowledge is required.
Features
👉 Interactive Tutorials & Walkthroughs
Easily create in-app tutorials, walkthroughs, tooltips, contextual guidance, and onboarding checklists. Ensure faster software adoption.
👉 Editor Extension
The editor plugin lets you create interactive elements in your applications to create flows, smart tips, and beacons. Generate content in multiple formats in minutes and add annotations.
👉 Easy Content Translation
Translate content in different languages without having to recreate each flow in a different language from scratch. Communicate with your audience in their native language.
👉 Analytics
Get data on usage of and engagement with all your apps and help content through easy-to-understand visuals. Identify content completion rate, weak points in your content, and user behaviors.
Pros
+ Ease of flow creation
+ Guided pop-ups
+ Regular feature enhancements
Pricing: Get in touch with the company for a quote.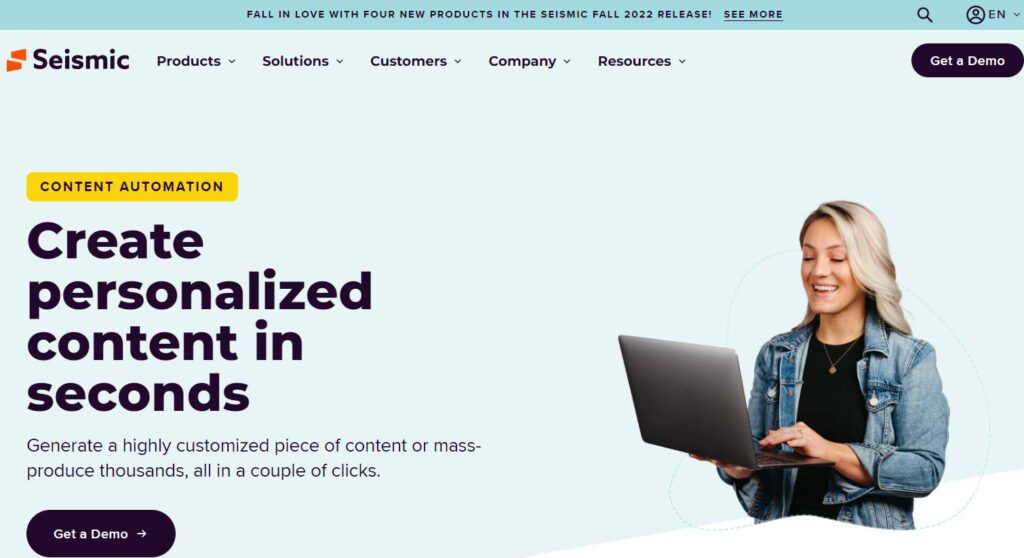 Lessonly by Seismic is online learning software designed for better training and coaching. Use video recordings and role-plays to easily create interactive courses and simulate real-life scenarios.
The platform can withstand the demands of large enterprises while being intuitive and nimble enough for smaller teams.
Using it, you can develop a centralized and easily searchable content repository, including videos, that surfaces the right content at the right time. Add your select videos from Google Drive to Lessonly.
Features
👉 Lesson Builder
Empower your teams to work better with engaging and impactful lessons. The course and lesson builder enable users to create and maintain content in a single system. Incorporate multiple elements such as images, audio and video, questions, and supplemental documents.
👉 Content Repurposing
Easily repurpose your existing content into a video series. Add supporting text to videos for better comprehension. You can also add paths and practice scenarios to your content.
👉 Mobile Optimization
Lessonly is optimized for viewing on mobile devices, and so learners can access it on the go. It is cloud-born and suitable for training even those employees in remote locations.
👉 Reports & Analytics
Create custom reports to see the progress your learners have made in your video training sessions. You can use the training analytics dashboard Insights to see usage, engagement, and satisfaction.
Pros
+ Creating training videos is easy
+ Searchability
+ Intuitive UI
Pricing: Get in touch with the company for a quote.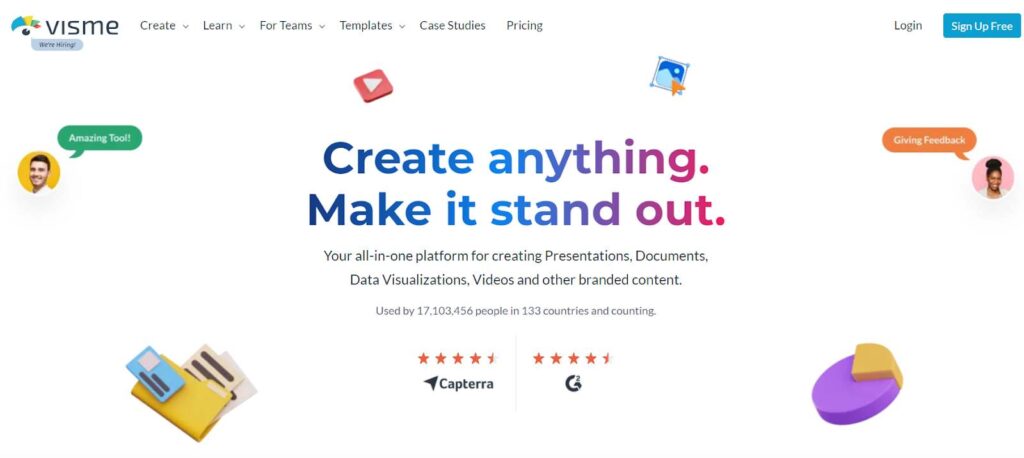 If you are looking for an all-in-one video training platform, you can consider Visme. The solution helps users create videos, documents, presentations, data visualizations, and other branded content.
With Visme, video creation is easy. Start with a template, customize the visuals, personalize the text, add voice-over or music tracks, and download.
Ramp up your video production efforts with its free online video maker. Create engaging video content in minutes and train your audiences or engage in video marketing strategies. Use templates, add custom visuals, personalize the text, and add voice-over or music tracks.
The software lets you create training videos of all types without breaking a sweat.
Features
👉 Video Templates
Leverage pre-animated and ready-to-go video templates. Add eye-catching intros to your videos and wrap them up with powerful outros.
👉 Interactivity
Deliver stunning experiences using Visme's animations and interactives. No design skills are required. Make content navigation easy with an interactive menu.
👉 Asset Management
Use the platform's digital asset manager to store and manage your logos, colors, fonts, images, and templates. Put them in organized folders so that you find them in seconds.
👉 Data Visualization
Visualize data through graphs and charts. Use Gantt charts, Venn diagrams, flowcharts, and other visualizations to offer engaging and memorable experiences to your audiences.
Pros
+ Easy to use
+ Excellent graphics
+ It keeps improving
Pricing: Starts at $0.

A leading video platform for businesses and universities, Panopto enables users to record, broadcast, and manage professional-looking on-demand videos securely. Ease of use is a central tenet of the platform. That's why it's easy to get started, integrate, and switch from existing systems and processes.
Develop reusable training resources at scale. Making training videos is a breeze with dedicated apps for Windows and Mac. Once your video recording is complete, the tool automatically syncs your video with slides, on-screen content, and any other training material you've captured.
Edit and securely share your videos with your viewers using mobile-responsive HTML5 HD video players. Organize and search any content at any moment you want.
Features
👉 On-Demand Webinars
Watch webinars on demand, including upcoming live webinars, for onboarding, employee training, soft skills, workforce success, and many more. Enroll a large number of participants at a time and benefit from the flexibility of time and place.
👉 Smart Chapters
Panopto's smart chapters are automatic tables of contents generated through Optical Character Recognition (OCR). This feature is ideal for longer video recordings and makes content easier to navigate.
👉 Live Streaming
Live stream corporate communications, lectures, events, and more in high definition. No complicated setup, no unnecessary buffering.
👉 Video Analytics
The video analytics dashboard generates detailed reports on who's watching what, video engagement, viewing behaviors, and more. Get minute-by-minute analytics on each of your videos.
Pros
+ Easy and reliable
+ Lecture recordings
+ Flexible
Pricing: Starts at $0.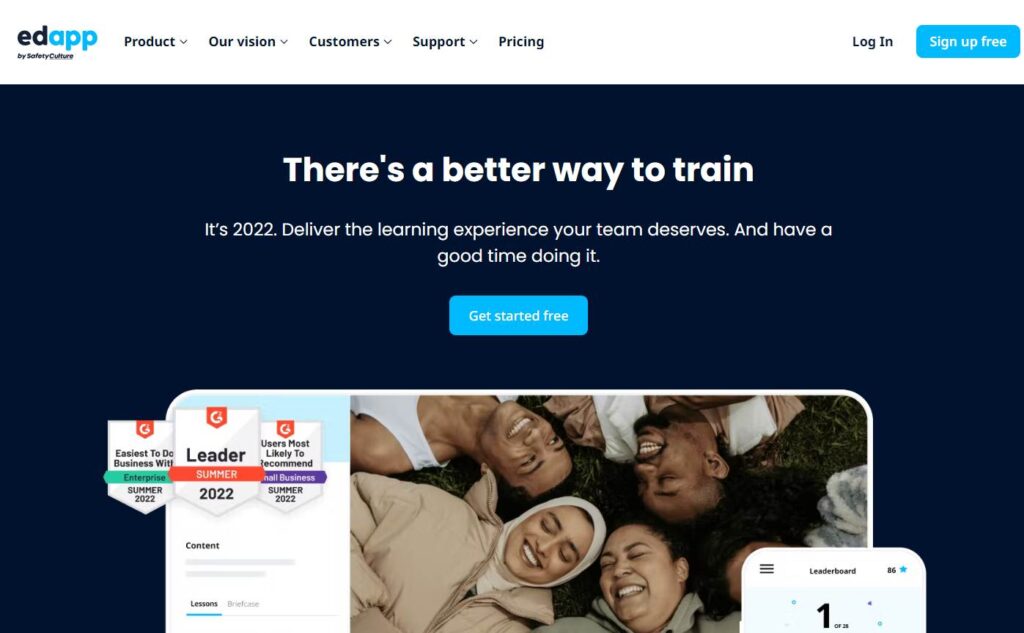 EdApp is a mobile and video-based training platform that offers numerous options for including video in your lessons. Upload videos to a lesson using drag-and-drop functionality or by browsing computer files.
You can put videos on autoplay, play on demand, and auto progress. You can also add or remove the skip video button depending on whether a video is mandatory or not.
As a one-stop LMS, EdApp is engineered to help users deliver top-notch onboarding and training content to teams. It works regardless of location, device, or internet connection.
Features
👉 Content Templates
The template library houses more than 50 intuitively-designed microlearning templates tailored for diverse learning needs. They make knowledge transfer easier without any fuss.
👉 Virtual Classroom
Easily integrate the virtual classroom with Zoom and Microsoft Teams and host video conferences. Instructors and admins can deliver blended learning through this feature.
👉 Mobile-First Learning
EdApp is "the world's most-loved mobile-first microlearning platform" for training teams of all sizes. Create and distribute content in minutes to teams worldwide.
👉 Reporting & Analytics
Easily view and export performance and engagement insights. The platform provides all learning data at a glance. Track training compliance, spot challenges, and improve your programs.
Pros
+ All course creators' needs in one place
+ Curated content
+ Mobile compatible
Pricing: Starts at $0.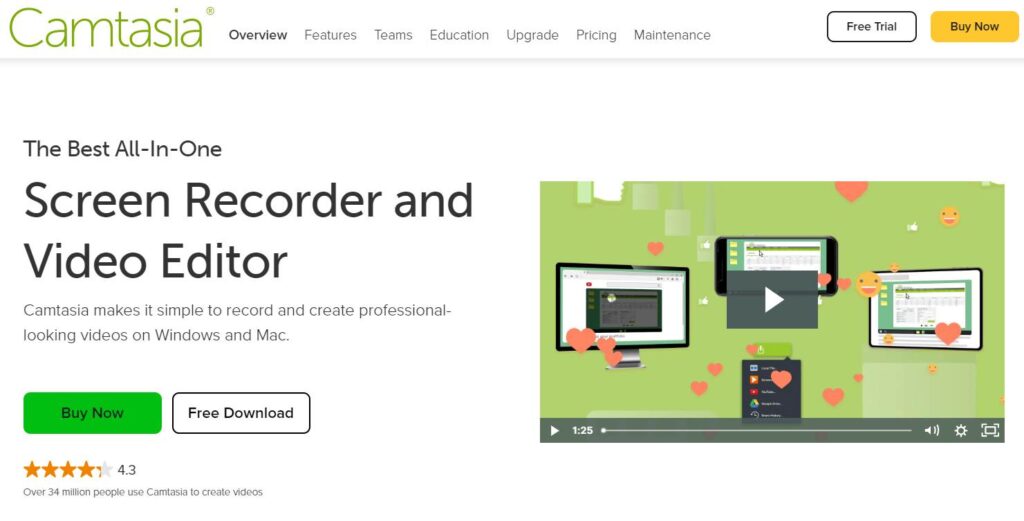 Camtasia is one of the best screen recorders and video editors. The software application makes it easy to record and create professional-looking videos on Windows and Mac. You can use it to build training videos, tutorials, presentation recordings, software demos, and more.
It comes with themes, templates, interactivities, quizzes, music, sound effects, transitions, and annotations.
Camtasia is quick to learn. You don't need special video editing skills and a big budget to get started. Begin with a template or simply record your screen, add effects, and you are good to go.
The platform provides new features such as versioning, an updated video player, and reviewer groups for an enhanced user experience.
Features
👉 Video Templates
Create training videos faster with drag-and-drop video templates. Customize them with just a few clicks to fit your unique requirements.
👉 Screen Recording
Professional quality screen recordings through shortcuts make it easy and quick to record or capture screens. Reduce background noise and improve the audio quality.
👉 Interactive Quizzes
Gather feedback and learn about your video viewers with quizzes. Keep the quizzes scored or unscored. Get score reports. It is easy to set up a quiz; you can do it in a few steps.
👉 Royalty-Free Music and Sound Effects
Find high-quality and royalty-free music and sound effects for your educational videos. Choose from instrumental and vocal audio tracks.
Pros
+ Flat learning curve
+ Amazing screen captures
+ Asset library
Pricing: Starts at ₹20,141.94 per user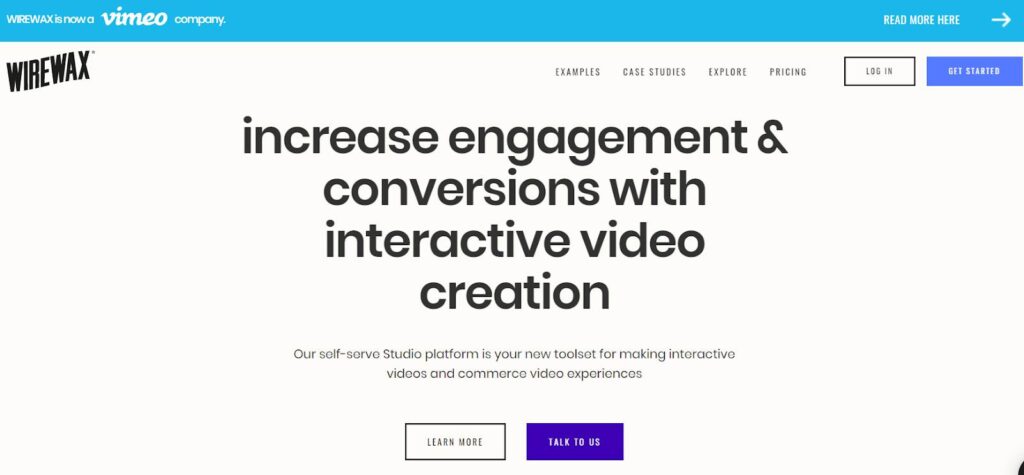 WIREWAX is an interactive video creation platform. You can create immersive and powerful videos, and add overlays, branching, and hotspots.
Once you've created a video, you can simply embed it in your website or blog with a simple line of code. Or else, you can share it on social media.
The self-serve platform provides toolsets for creating and publishing training and commercial videos. Track video performance analytics in real time and measure how your videos are performing.
Features
👉 Video Toolset
WIREWAX Studio enables users to easily create interactive video content. Whether you're a seasoned pro or just producing your first video, the platform offers everything you need to craft world-class video experiences.
👉 HTML5 Video Player
Use either WIREWAX's HTML5 video player or your existing player. WIREWAX has spent years perfecting this lightweight and interactive video player so that you can distribute your visuals worldwide.
👉 Video Hotspot
Add interactivity to your videos with hotspots. Create multidimensional experiences with clickable video overlays. Hotspots serve as a visual call-to-action where your viewers can interact with your videos.
👉 Video Analytics
Access detailed video interaction and engagement analytics. Produce better videos based on this data. Get behind each user's behavior to understand what works and doesn't work in your videos.
Pros
+ Creative solution
+ Easy to use
+ Flexibility
Pricing: Get in touch with the company for a quote.

Hippo Video is a video personalization and distribution platform. It helps you easily create personalized videos and distribute them through multiple channels. The solution emphasizes making videos accessible and easy to use.
Share information and communicate effectively through real and impactful custom videos. Video editing becomes easy with its free video editing software. Promote videos under your own brand without Hippo Video watermarks.
Record, edit, share, and analyze videos with this solution designed for every business type. Leverage video template builder, custom text, teleprompter, virtual backgrounds, and other compelling features.
Features
👉 AI Video Generator
Turns text into videos with an AI-powered video generation platform. Create personalized videos at scale and in a faster, better, and smarter way.
👉 Video Editing
Trim video clips and add text, emojis, and callouts with the Hippo Video editor. You can also import videos from anywhere for editing. Produce great-looking videos in no time.
👉 Template Builder
With this feature, you can customize and use pre-designed templates to create and share repeatable videos. This reduces video creation time and keeps learning consistent.
👉 Detailed Analytics
Easily track video analytics to understand engagement and video performance. Check the number of views, shares, watching rate, and reactions.
Pros
+ Easy to handle
+ Clear recordings
+ Gets better by the day
Pricing: Starts at $15/month.
FAQs
What Is Video Training Software?
Video training software is a tool for creating, editing, designing, publishing, sharing, and analyzing training videos. These software applications help you use engaging and interactive videos for employee onboarding, compliance training, skills training, custom software training, and more.
They enable HR, training departments, and sales teams to leverage creative videos for online training, education, product demos, and marketing and ensure better information sharing.
What Are the Key Features of Video Training Software?
There are some standard features you can see in most of the training solutions, such as:
Video templates

Content authoring tool

Video editor

Screen recording

Video conferencing

Video courses

Quizzes and questions

Asset library

Content converter

Video analytics and reports

Software integrations
What Are the Benefits of Video Training Software?
Online video training platforms provide several benefits to end-users such as increased engagement & retention, consistent learning experience, cost savings, flexibility, and easy measurablility. Let's discuss these in detail:
Increased Engagement & Retention
Videos boost audience engagement and knowledge retention as the human brain processes visuals faster and better than written words. In fact, people remember just 20% of what they read, while they remember 80% of what they see.
Consistent Learning Experience
When training a large group of learners in a lecture-based traditional classroom, you usually need to put them in different batches for convenience. In addition, you need to assign them different dates, times, and trainers.
This can lead to inconsistent learning among the groups due to varying teaching styles and training materials. But with video training, you can avoid this and deliver the same training experience to all groups of learners.
In instructor-led training, you spend on instructors' time, travel costs, training venues, and other related arrangements in addition to training materials. But with training videos, you don't need to pay for any of these.
You incur only a one-time cost for producing a quality video, and after that, you can use it endlessly for educating audiences anywhere.
Videos are flexible by nature. You can easily customize them according to the requirements of your training programs. They are versatile as you can use them for both new hire training and upskilling the existing workforce.
Also, you can deliver a variety of video types, such as instructor-led, animated, interactive, and screen capture.
Video hosting services provide data for measuring training effectiveness. They include the number of views, comments, shares, and whether your audience watched a video till the end.
Metrics like these provide you with analytics on the engagement, completion, and interactivity levels of your videos.
Who Uses Video Software for Training?
Businesses of all sizes and across industries use videos as one of the main mediums for delivering enterprise training. This is primarily due to the inherent capability of videos to present information more engagingly and impactfully. For this reason, organizations rely on top video training software.
How Can Video Training Software Help Your Business?
These solutions can help you simplify video content creation, updates, publication, sharing, and tracking. With video templates, customization options, quizzes & assessments, and analytical tools, they make a complete solution to implement a video-based learning system in your organization. They are also generally easy to use, cost-effective, and flexible.
With these basic questions out of the way, let's now turn our attention to the main topic of this post. Take a closer look at each of the top video training platforms briefly mentioned above to get a better idea of why they should make it to your shortlist.
Adopt a Video Training Platform for Amazing Experiences!
Whether you need to onboard new hires, train your employees, present sales demos to customers, or engage in marketing strategies, a platform for creating professional videos is a must. Most of the solutions we listed above serve as an all-in-one platform for these needs.
Create, edit, design, add text and interactivities, extract transcripts automatically, and view video analytics.
Run a quick feature and price comparison and consider the pros of each tool before you make up your mind. Make sure you go for a test drive with as many of them as possible to see if they are what you actually need.
Also, consider the quality of their customer service as it can make or break your business relationships with a provider.
Do you want a free Training Software?
We have the #1 Online Training Software for employee training & assessment