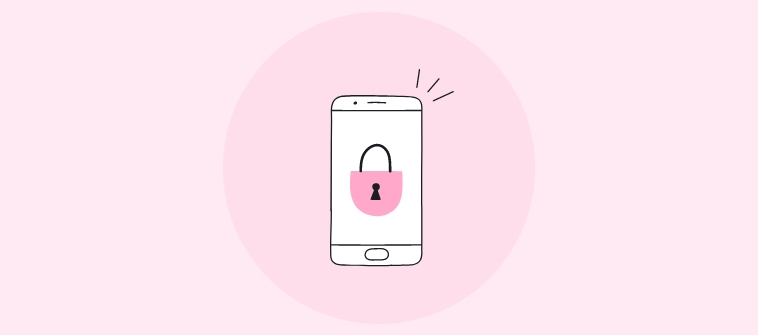 Hazard communication training in the workplace is more important than most companies think.
Here's one of the most disastrous incidents that supports this statement.
The infamous 2010 Deepwater Horizon oil spill off the Gulf of Mexico is considered the biggest marine industrial disaster in history. It killed 11 people and resulted in the spillage of gallons of oil worth millions into the ocean basin.
A White House commission attributed the catastrophe to bad management and a communication breakdown and said it could have been avoided.
According to the commission, British Petroleum and its business partners failed to share vital information. They did not fully appreciate the risks they took in the final days of the disaster. There were also huge gaps in monitoring offshore drilling.
It was not the first incident involving the oil company. In March 2006, there was an oil spill on Prudhoe Bay, Alaska, in a pipeline owned by BP that spilled 200,000 gallons of crude oil. Under the settlement, BP agreed to pay $25 million.
Interestingly, BP had launched a massive $200 million rebranding project in mid-2000 by changing its name from British Petroleum to Beyond Petroleum. The goal of this project was to position itself as an environmentally responsible oil company focused on sustainable, green energy and emission control.
A hazard communication safety training program and full compliance with all safety protocols could have prevented such colossal disasters to a great extent.
Considering the importance of the topic, this post provides an overview of hazard communication training – what it is, its significance, how to create such a training program for employees based on OSHA guidelines, and the topics to cover.
Let's dig in.
Watch: What is OSHA Compliance Training
What Is Hazard Communication Training?
Hazard communication (HazCom) training is a training program for employees on timely and effective communication about workplace hazards. The training is generally related to storing, handling, and shipping hazardous chemicals to avoid harmful exposures. It educates employees on the processes and procedures they need to follow while communicating these health hazards.
While there's no legal requirement for re-administration of the training annually, organizations need to conduct the training when an employee gets an initial work assignment and whenever a new chemical is introduced in the workplace.
Hazard communication is the fifth most commonly cited OSHA violation.
According to Joan Brown, an industrial hygienist at Pinnacol Assurance, the Hazard Communication Standard (HCS) by OSHA is an important occupational safety standard because it ensures chemical safety in the workplace. The standard gives employees the right to know the hazards associated with the chemicals they handle as a part of their job.
10 Benefits of Hazard Communication Training
"In teamwork, silence isn't golden. It's deadly." – Mark Sanborn
OSHA hazard communication training brings numerous benefits in terms of personal safety, environmental safety, and prevention of violation penalties. Here are the top 10:
It develops

communication skills

in employees

Improved handling, storage, and transportation of hazardous chemicals

Knowledge of protective measures in case of an accidental release

Easy recognition of chemical hazards

Exposure control and management

Apart from employees, it protects contractors and visitors to a facility

It prevents miscommunications that can cause injuries & deaths

A safe and healthy workplace

The training is aligned with the

Globally Harmonized System of Classification and Labeling of Chemicals (GHS)

Avoidance of penalty exceeding $13,000 per violation
How to Create Hazard Communication Training for Employees
OSHA recommends six steps to create a hazard communication program for employees. You can implement an effective training plan by following these essential steps.
Step #1: Learn the Standards/Identify Responsible Staff
To start with, you should obtain a copy of OSHA's Hazard Communication Standard. The standard is available on the governing body's hazard communication webpage.
After that, you should become familiar with its provisions before you start the hazard communication training. It is workers' right to know and understand the hazard communication standard.
Next, identify staff who would be responsible for coordinating and implementing the training. They would be in charge of overseeing the training from start to finish.
Step #2: Develop and Implement a Written Hazard Communication Program
A written hazard communication plan is necessary to show how you will systematically address it in your facility.
The written program must indicate how you will put labels and other warnings on various hazardous chemical products. It also includes safety data sheets (SDSs).
For this, you should first prepare a list of all hazardous chemicals in your workplace.
Step #3: Ensure Containers are Labeled
Next, put labels on your workplace containers. If you're a chemical manufacturer and importer, you are required to add labels on shipped containers.
These labels will include information, such as a product identifier, hazard statements, precautionary statements, the name, address, and phone number of the responsible party, signal words, and pictograms.
You may use the same label from the chemical supplier or an alternative third-party system, such as Hazardous Materials Identification System (HMIS). Whichever method you use, make sure your workers have access to the complete hazard information.
Step # 4: Maintain Safety Data Sheets
Maintain safety data sheets for each hazardous chemical and make sure your employees can readily access them during their work shifts.
SDSs contain detailed information on a particular hazardous chemical and employers are expected to maintain copies of SDSs for all hazardous chemicals present in their workplace.
Note: In case you didn't receive an SDS from your supplier, you must request one.
You can keep the SDSs in a binder or electronically in a central location.
You should train your workers on how to access the SDSs. In a medical emergency, you must make a hard copy of the SDSs available to medical personnel.
Step #5: Inform and Train Employees
The HazCom training should precede any job assignment to your employees or introduction of new hazards in the workplace. You should share information about the hazards of chemicals, recommended protective measures, where and how to obtain additional information, and requirements of the standard.
Note: Paragraph (h) of the HCS requires that this training must be conducted in a manner and language that employees can understand.
Step #6: Evaluate and Reassess Your Program
Review your hazard communication training program periodically to make sure it meets the objectives. Note the changed conditions in the workplace and revise your program to accommodate them.
The idea is to keep the program current and relevant.
Your internal safety policies should also be updated and kept in sync with these OSHA standards.
Additional Steps for Online Hazard Communication Training
The above recommendations by OSHA cover most of the key areas of the training. That said, there are a few more hazard communication training requirements to deliver an impactful program to your employees. Find them out below.
Watch: HAZMAT Training for Healthcare Workers
Conduct a Hazard & Training Needs Analysis
Before you get down to training your employees on effective hazard communication, determine the hazards present in your workplace and employees' awareness level about them. Based on that, you can identify their training needs.
This will help you pinpoint the gaps in their knowledge and skills about hazard com munication procedures, and tailor your program to address them.
You can use many methods to analyze your employees' training needs. They include direct observations, interviews, surveys, and even customer feedback.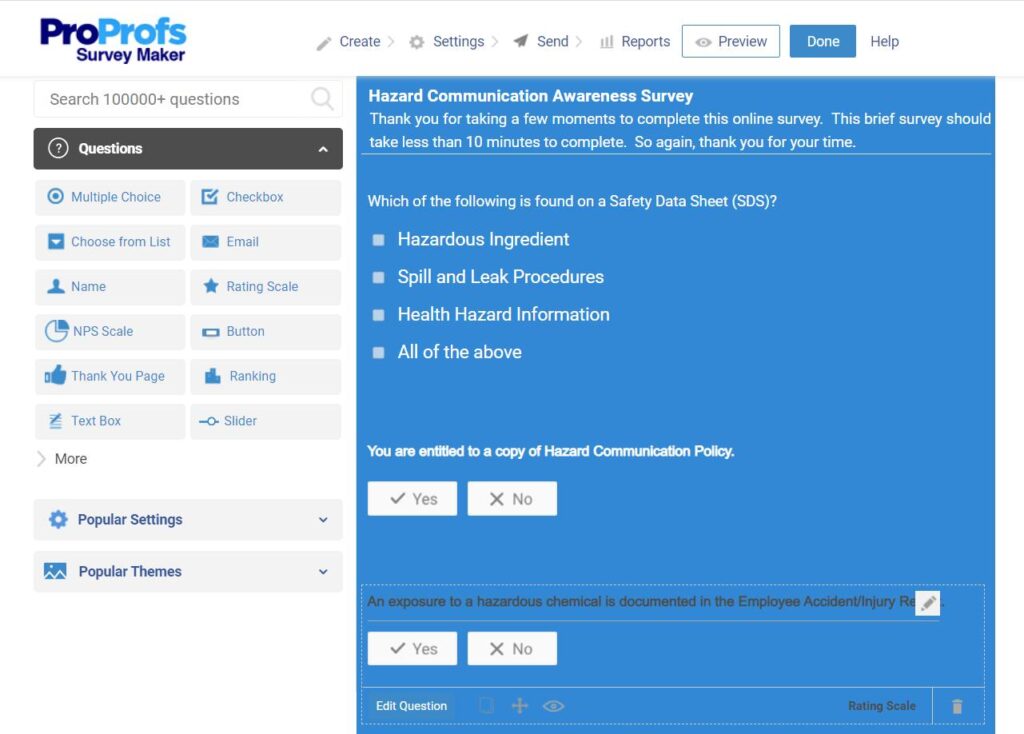 Choose the Right Training Courses
Purpose-built and high-quality online courses can help your learners acquire the right knowledge and skills effectively and quickly. So, it's important to pick the best courses for hazard communication training.
Some leading learning management system (LMS) providers offer online training courses on various safety and compliance topics, including OSHA.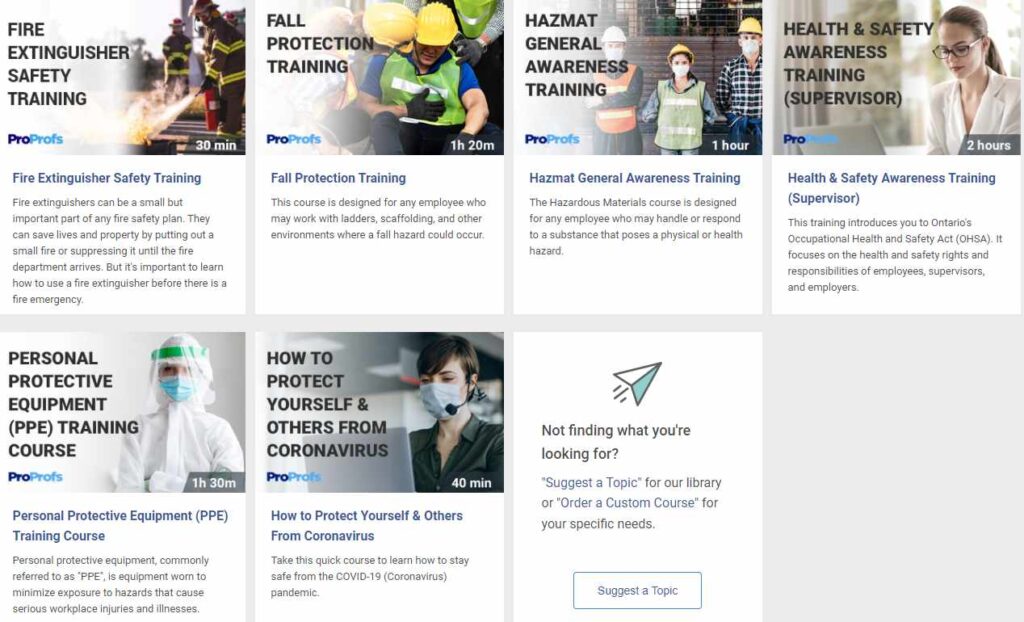 Qualified trainers design the resources, and they are customizable and ready to use. The best thing is you can even upload the training materials you already have, add your company policies, and personalize with your branding.
Make sure the courses you choose contain the latest information and also quizzes, worksheets, scenarios, and handouts for maximum engagement and knowledge retention.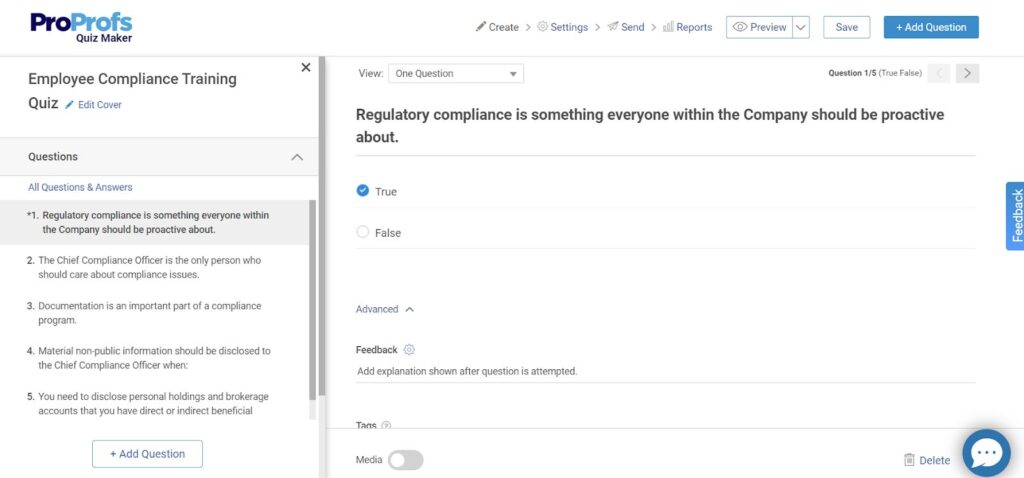 Choose the Best Training Tool
Like the courses, an online training tool is another essential element in hazard communication training. Of late, LMS software systems have been the most widely used platforms for employee training online. And there are several compelling reasons for it.
You get online training up and running quickly

You can train anyone, anytime, anywhere, on any device

Automated compliance reminders

Ease of tracking and reporting

Better engagement through gamification, social & mobile learning

Ease of content update and distribution

They ensure consistency of training

Simplified recordkeeping

There's an LMS for every budget and company size
Make sure you choose an LMS that is:
easy to understand and use,

scalable,

customizable, and

comes with excellent support
This way, you can easily streamline training and take charge of how you teach and your learners learn.
Watch: How to Choose the Best SaaS LMS Software
Before we proceed to other related topics, let's look at a real-life example of using LMS software for safety training.
Case Study: Tupperware
Kitchenware products company, Tupperware, was searching for an easy online platform to deliver safety training to its operators. It also needed software for its ISO certification program.
It chose ProProfs Training Maker LMS mainly because of its ease of use.
The number of users enrolled in the training grew gradually and it conducted more training. Due to this, Tupperware extended the use of the LMS year after year.

Tupperware used ProProfs' library containing 100s of ready-to-use courses, including Quality Assurance Training/Certification, Code of Conduct Training, and Leadership Courses.
ProProfs also helped the company in its ISO certification.
Built-in online assessments enabled Tupperware to see and prove that its employees have understood what they are trained for.
Today, all its plants in Europe are using ProProfs.
Watch: How Tupperware Used ProProfs for Training & Assessment
Now that you know the steps for developing a hazard communication training program and how to choose the right courses and tools, let's check out some important training topics.
7 Hazard Communication Training Topics You Should Cover
Hazardous Materials General Awareness Training
This topic spread awareness about the common types of workplace hazards, including physical and health hazards, and how to control them. It also discusses how exposure occurs. You should include examples of exposure to hazards for better understanding.
Watch: How to Prevent Health Hazards in the Workplace | Training Course Introduction
Hazard Identification & Risk Assessment
Using this topic, you can train your safety committee members and Environment, Health, and Safety (EHS) employees. It will impart them the necessary skills to identify, assess, prevent, and take corrective measures against workplace hazards to ensure safe work conditions. The topic mainly deals with the safety inspection process.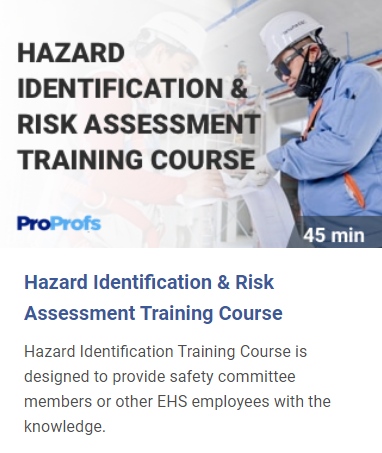 Personal Protective Equipment (PPE)
A discussion on hazard communication and management would remain incomplete without a topic on PPE. This equipment can minimize exposure to harmful substances that can cause illnesses and injuries. Ideally, the topic should cover the types of PPE used across industries and the hierarchy of controls.
Watch: Personal Protective Equipment (PPE) Training Course
Health & Safety Awareness Training (Supervisors)
This training topic focuses on supervisors' roles and responsibilities in ensuring the health and safety of employees based on OSHA guidelines. Considering the authority and influence they have in a workplace, supervisors can play a vital role in ensuring workplace safety, and training on this topic can help you meet that objective.
Watch: What Is Supervisor Health & Safety Awareness Training? | Course Introduction
This topic gives an overview of common chemical hazards, communication methods, and other related safety information. The objective is to train employees on correct and timely communication to prevent or minimize damage to humans and the environment.
This will remove the chances of a lack of communication, delayed communication, and miscommunication that can bring unwanted consequences.
Watch: HAZMAT Training for Healthcare Workers
Globally Harmonized System (GHS)
A course on this topic trains employees on GHS, a global standard developed by the United Nations for classifying and labeling hazardous chemicals. Training participants can familiarize themselves with the steps for classifying and labeling these industrial chemicals and follow a standardized system.
Controlling Hazardous Energy: Lockout/Tagout
This is an important training topic, specifically for workers in manufacturing plants. It looks at the different types of hazardous energy, such as chemical, thermal, hydraulic, mechanical, pneumatic, and electrical, and how to prevent their accidental release.
It also covers the machine safety procedure called lockout/tagout to ensure machines are properly shut down and remain inoperable until the completion of a repair or routine maintenance.
Prioritize Hazard Communication Training
Employees who work in high-risk industries such as manufacturing are vulnerable to several health and safety issues. These industries employ a large number of employees and they face daily dangers. Exposure to hazardous chemicals is one of them.
Numerous compliance requirements and a high employee turnover rate also necessitate regular training.
So, as an employer, you should provide them appropriate hazard communication training. Apart from being a compliance matter, such training will help you keep your employees safe in the workplace and ensure unhampered productivity.
For this, you need to understand the provisions of OSHA's HazCom standards, existing hazards in your workplace, and your workers' learning needs. Based on this information, you can train them using the best courses and a platform to deliver these courses.
Implement the OSHA guidelines in letter and spirit. In this effort, a user-friendly and customizable training tool, such as an LMS and professionally designed and engaging courses can help you.
Do you want a free Training Software?
We have the #1 Online Training Software for employee training & assessment