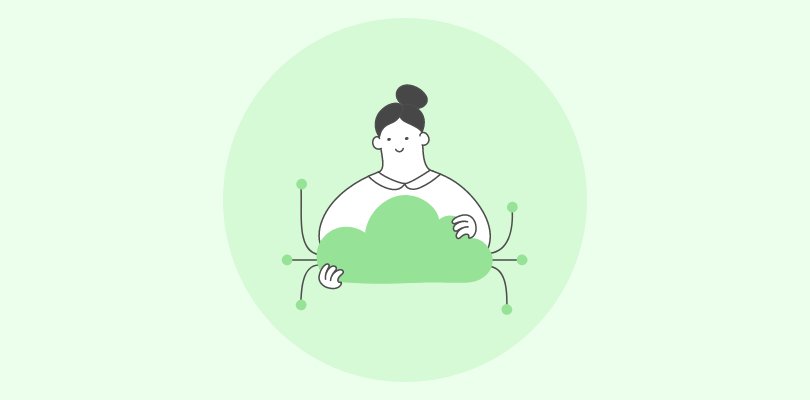 Looking for the best SaaS learning management systems out there? I can help you.
As an eLearning professional, I felt limited with using a self-hosted LMS. Such an LMS presents many issues related to complexity in installation and maintenance, scalability, safety, cost, etc.
That's why I started searching for SaaS LMSs and they have been treating me well.
In this post, I present you with a list of the best SaaS LMS platforms currently on the market for an unbiased comparison and selection.
Here's a quick summary of the trending tools.
| 12 Best SaaS LMS Systems | Best For | Pricing |
| --- | --- | --- |
| ProProfs LMS | Best SaaS LMS for onboarding & skills training | Forever free for up to 10 learners. Paid plan starts at $1.97/learner/month for large teams. Billed annually. |
| Docebo | Best SaaS LMS with AI features | $25,000/year |
| Canvas LMS | Best SaaS LMS for interactive learning | Starts at $0 (no course templates) |
| TalentLMS | Best SaaS LMS if you're looking for unlimited courses | Starts at $ 69/month |
| Absorb LMS | Best LMS for unmatched learning experience | $14,500/year |
| Moodle | Best free option (open source) | Free (reporting is basic) |
| LearnUpon | Best for training companies & SMEs | $599/month |
| CYPHER Learning | Best automated platform | $549/month |
| iSpring Learn | Best SaaS LMS for teams relying on PowerPoint | Starts at $2.29/user/month |
| Blackboard Learn | Best for community-based learning | $9,500/year |
| LearnWorlds | Best for creating & selling courses | Starts at $24/month |
| Litmos | Best for modern enterprises | $2/user/month |
12 Best SaaS Learning Management Systems
I curated this list of SaaS LMSs based on my first-hand experience, in-depth research, and recommendation by peers who have used these tools. I also took into account neutral reviews on third-party sites and client testimonials.
1. ProProfs LMS – Best SaaS LMS for Onboarding & Skills Training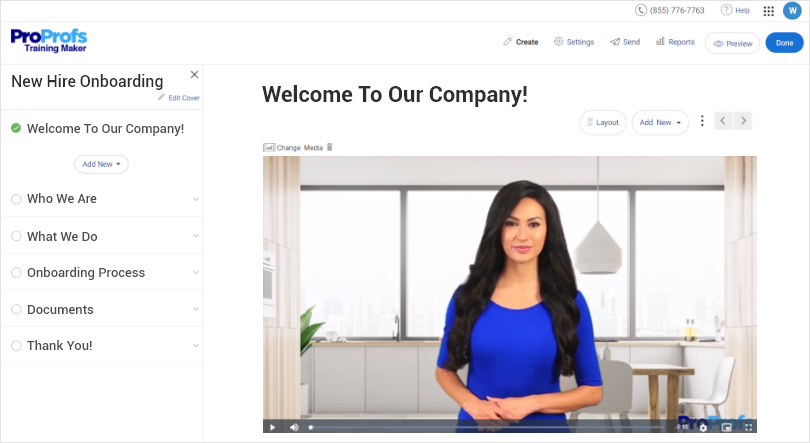 I found ProProfs LMS to be one of the best SaaS LMS out there and ended up choosing this one for my organization.
What I like about it is it's comparatively easy to use and it helps simplify and accelerate online training and eLearning.
The platform provides end-to-end solutions for course creation, management, sharing, tracking, and analysis.
I find its premium library of 100+ ready-to-use courses and templates easy and fast to get started. The LMS offers built-in quizzes, a collaboration forum, a virtual classroom, learning pathways, eCommerce, and certification.
Easy user management based on training topic, department, or location; assigning group admins to different groups for ease of administration; and support for multimedia content, such as images, videos, presentations, PDF files, audio, recorded webinars, and graphics, are among the core features I find in the tool.
You can even add flashcards, gamification, relatable scenarios, labeled graphics, and other interactive elements to enhance online learning.
Single sign-on (SSO)-based user authentication, self-enrolment, and SCORM and Tin Can compliance are other valuable features.
As a lean and clean LMS, ProProfs is flexible for anytime, anywhere learning on all popular devices and you can train both in-house and remote teams with equal ease.
What you'll like:
People of all skill levels find it easy to understand and use
Pre-built courses & templates for a quick start
Customization & branding to deliver training the way you want it
The ability to upload existing content
Smart reporting for detailed real-time data on individuals & groups
Customer service is professional, prompt, and always supportive
What you may not like:
The UI hasn't been updated since a long time
Limited number of templates
Lack of focus on academic use cases
Pricing:
Forever free plan (up to 10 learners). Paid plan starts at $1.97/learner/month (billed annually) for large teams. No hidden charges. 15-day money-back guarantee.
2. Docebo – Best SaaS LMS with AI Features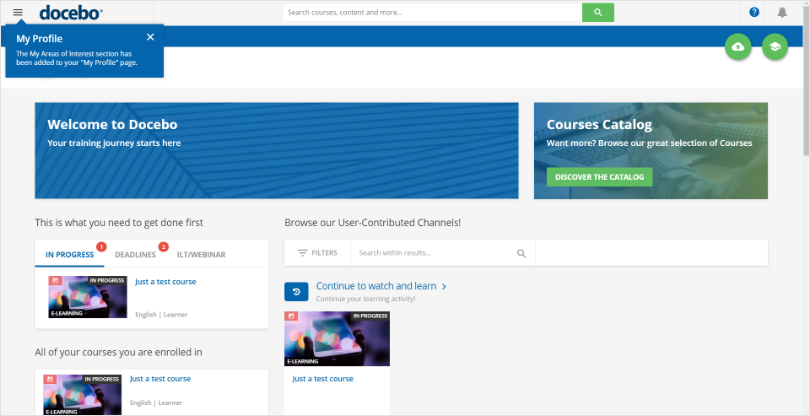 Docebo is built around the idea of offering SaaS products that help people succeed. It is one of the eLearning industry's most innovative and fastest-growing technologies.
With a sharp design and even sharper functionality, the LMS drives enterprises' online training programs worldwide. You can build audience-specific pages with its boundless configurability feature.
Employee upskilling and reskilling can be personalized and automated to align their learning needs with your business goals. This ensures that your employees and business grow together toward a common end.
As I see it, Docebo encourages a continuous learning culture that goes beyond formal learning. Similarly, its mobile app promotes learning on the go without limiting learners to their desktops.
With compelling features, such as auto-tagging, content suggestions, and virtual coaching, the LMS lets AI do the heavy lifting for you. This way, you have more time to focus on improving your training programs.
What you'll like:
Clean and intuitive interface for easy experience
You can pull content from anywhere
Straightforward administration that saves time
Large number of integrations for robust software
What you may not like:
A limit on the size of training videos
Lack of video conferences or live training
Inflexible pricing models for SMEs
Pricing:
$25,000/year
3. Canvas LMS – Best Interactive SaaS LMS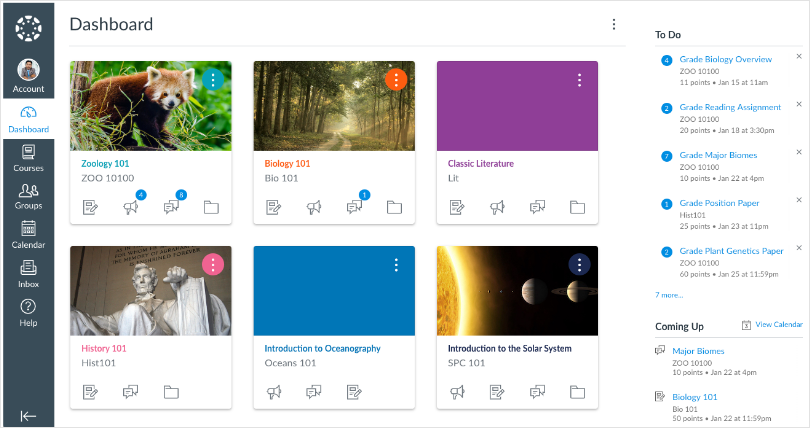 With Canvas LMS, you can deliver engaging employee training at any scale. Corporate trainers and eLearning developers can easily create courses and incorporate interactive videos, targeted feedback loops, and mobility.
Offer development opportunities that support your employees' long-term career objectives. Align individual, team, and company goals to improve efficiency, productivity, and business results.
Canvas' time-tested tools are loved by learners. They have been designed to help train, develop, and inspire every employee regardless of their role or location.
Using Canvas LMS, I could create my own learning and development space, deliver engaging experiences, and engage, retain, and level up my employees.
The LMS boasts 7,000+ global customers, over 6 million concurrent users, 99.9% system uptime, and a customer satisfaction score of more than 90%.
What you'll like:
Comparatively user-friendly
Seamless third-party integrations
Scalability to grow at the pace of business expansion
Assured privacy & security for safe learning
What you may not like:
There is room for improvement in the SpeedGrader
Delays in announcements & messages
Maintenance downtime
Pricing:
Starts at $0 (no course templates)
4. TalentLMS – Best for Creating Unlimited Courses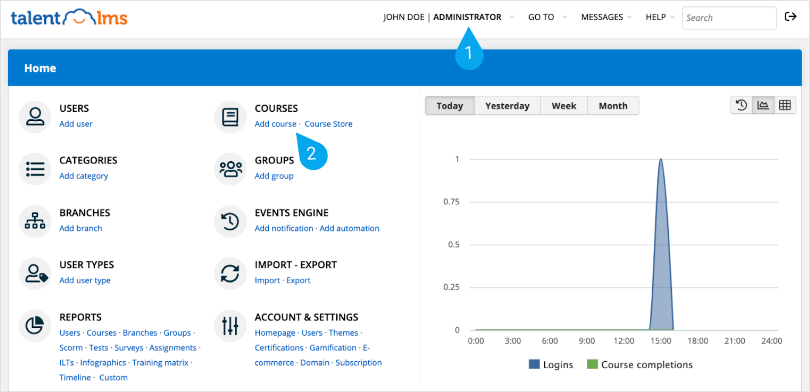 TalentLMS is an intuitive and powerful cloud-based LMS designed to simplify online training and eLearning initiatives. In my observation, this is the closest it comes to ProProfs LMS in terms of the USP.
With its user-friendly interface, organizations can effortlessly create, manage, and deliver engaging courses to learners of all levels. Talent LMS's USP is that all its plans offer unlimited online courses.
The LMS offers a range of features, including content authoring, assessments, progress tracking, collaboration tools, and mobile accessibility. It also provides robust analytics and reporting capabilities to monitor learner performance and make data-driven decisions.
With its extensive customization options and seamless integrations, TalentLMS enables organizations to deliver personalized and impactful training programs while streamlining administrative tasks.
Whether you're a small business, a large enterprise, or an educational institution, TalentLMS is a versatile solution that can empower you to enhance knowledge acquisition and drive learner success.
It has been consistently recognized by independent software review sites as a valuable tool for every team and use case. In fact, the LMS software is "changing the way people think and feel about training."
What you'll like:
Great user interface with ease of navigation
Comprehensive features that cater to entire learning lifecycle
Extensive options for customization
First-rate support at every step
What you may not like:
The site design looks a bit outdated
Certification can be more refined
Reports lack analytics
Pricing:
Starts at $69/month
5. Absorb LMS – Best LMS for Unmatched Learning Experience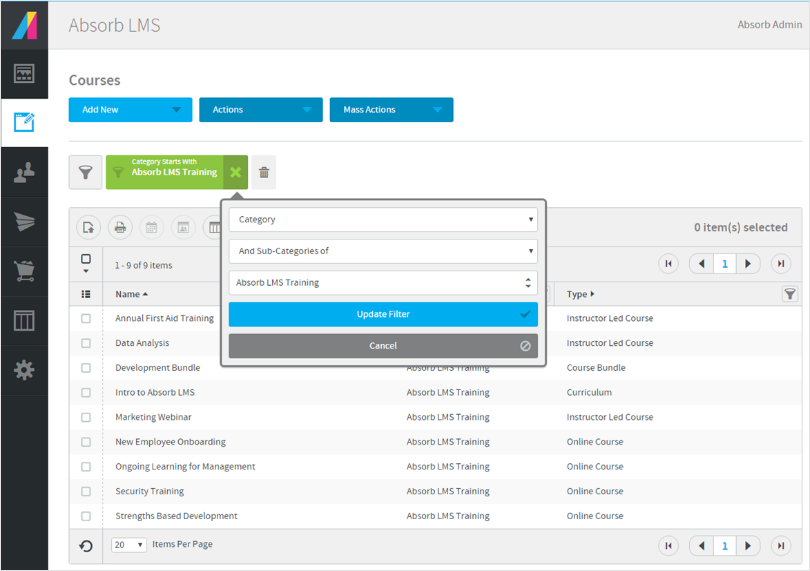 Absorb LMS is another easy-to-use and customizable enterprise LMS I would recommend. You can use it to deploy all types of training programs. It emphasizes learning experiences that keep learners coming back for more training.
This award-winning LMS for business is trusted by some of the biggest brands. It can help you start on the right track and grow your business over time through learning.
Absorb LMS is revolutionizing the eLearning landscape with its exceptional software and unparalleled support. Driven by a shared belief that excellence should be the norm, it strives to exceed expectations in every aspect of its products.
Through its thoughtful design, the SaaS LMS vendor empowers organizations to unlock the full potential of their employees' talent.
It fosters an environment where companies can thrive and flourish, and it is committed to providing an unmatched learning experience that inspires success.
What you'll like:
Amazing site design for delightful experience
Learner and admin portals
Users can get up to speed quickly
Fast & responsive service
What you may not like:
You've to re-enroll users whenever you update a course
Lacks project management functions
Limited options for assessment
Pricing:
$14,500/year
6. Moodle – Best Free and Open-Source SaaS LMS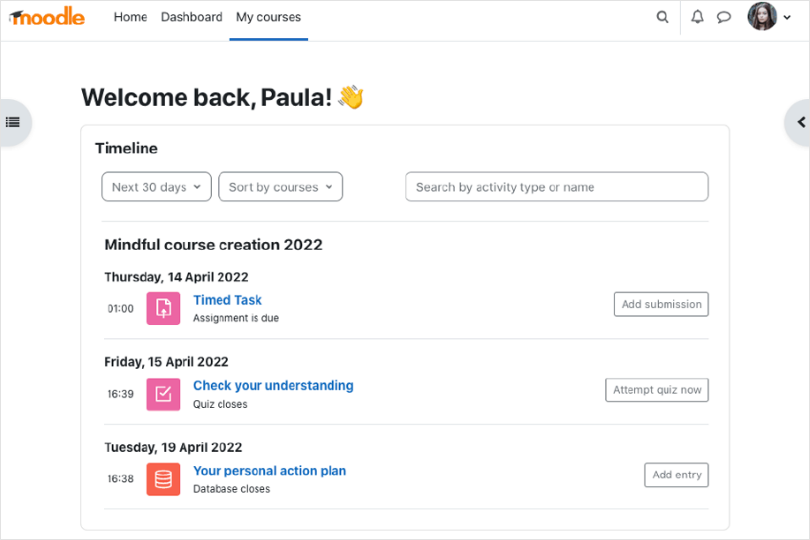 Moodle is a fully customizable SaaS LMS for creating engaging eLearning experiences. As an open-source learning management system, it enables users to teach and learners to learn just the way they want.
This feature-rich and time-saving platform can help you improve workplace training and outcomes.
Its latest release Moodle 4.0 is focused on learning and it makes managing learning efficient and easy. It also further simplifies how you create and edit online courses and make informed decisions.
Like many other solutions, Moodle supports a wide range of multimedia content, allowing instructors to incorporate videos, documents, and interactive elements into their courses.
One of key strengths I came across in the LMS is its vibrant and supportive community, which actively contributes to its development and offers a wealth of plugins and integrations. This extensibility enables users to customize and extend Moodle's functionality to meet their specific needs.
Overall, Moodle LMS is a trusted platform that has been adopted by educational institutions, corporations, and organizations worldwide to deliver effective online learning experiences.
What you'll like:
Rich customization options to tailor to users' needs
It supports LTI standard
A good number of plugins
Active and helpful community
What you may not like:
Basic reporting feature that doesn't tell much
Configuring it with other tools is not easy
A professional IT team is a must
Pricing:
Free (reporting is basic)
7. LearnUpon – Best for Training Companies & SMEs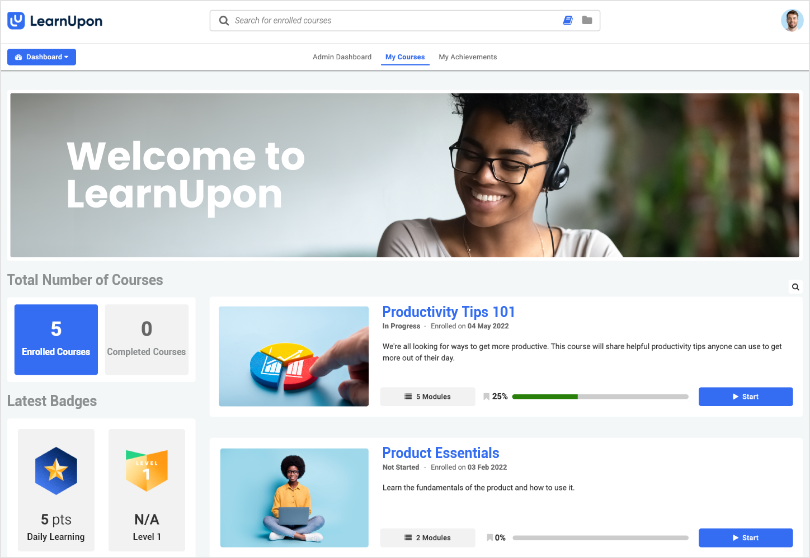 LearnUpon puts learners first in delivering an enjoyable learning experience and achieving learning goals. And this is something I think every learning tool should do.
It is driven by the belief that learning should be simple while creating a huge impact. Using the LMS, you can train any audience type under a single platform.
A centralized management system with maximum engagement characterizes LearnUpon, be it new hire onboarding, ongoing skill development, or compliance training. You can reduce the admin workload by automating individual or group enrolment into online courses.
Create online training content the way you want it based on your learners' needs. Make training available on demand and gather feedback at all stages.
You can give different learning environments to different audiences. Powerful integrations let data flow between the tools you use daily.
A powerful reporting suite in the LMS enables you to measure the impact of your employee training programs.
Apart from employee training, some of the popular programs you can deliver by using LearnUpon include customer training, partner training, member training, and extended enterprise training.
What you'll like:
Simplified admin-side functionality
User management is effortless
Multiple portals for different target groups
Extraordinary service that keeps customers delighted
What you may not like:
Creating course modules requires lots of efforts
Limited reports
The inability to retake a course or test when you make updates
Pricing:
$599/month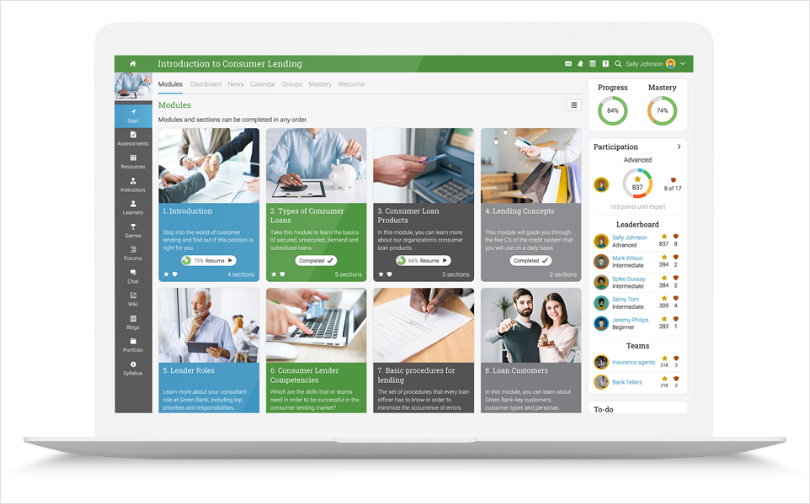 CYPHER Learning is an educational technology company that offers learning management systems and other e-learning solutions.
Its main product is NEO LMS, which stands for "New Era of Learning Management System." NEO LMS is a cloud-based platform designed to facilitate online learning and training for schools, universities, and corporate organizations.
Like all top-notch SaaS-based LMSs, CYPHER Learning provides many in-demand features in its LMS. They include course management, personalization, collaboration, grading, and assessment.
Mobile accessibility, automation, and reporting and analytics are other notable features in the LMS. You can improve efficiency and save time through workflow automation by adding rules to various areas of the platform.
CYPHER Learning provides a user-friendly interface, along with the above robust features, to support effective online learning experiences. It serves a wide range of educational institutions and organizations globally, aiming to enhance teaching and learning processes through its technology solutions.
It is driven by innovation and progress and for this, it offers a powerful LMS that unleashes human potential and energizes everyone.
What you'll like:
User-friendly design that simplifies teaching and learning
Building custom courses is easy
Agility in administering content
Amazing platform structure and layout
What you may not like:
Lack of formatting options
Problem with email notification
The mobile app can improve
Pricing:
$549/month
9. iSpring Learn – Best for PowerPoint to HTML5 Conversion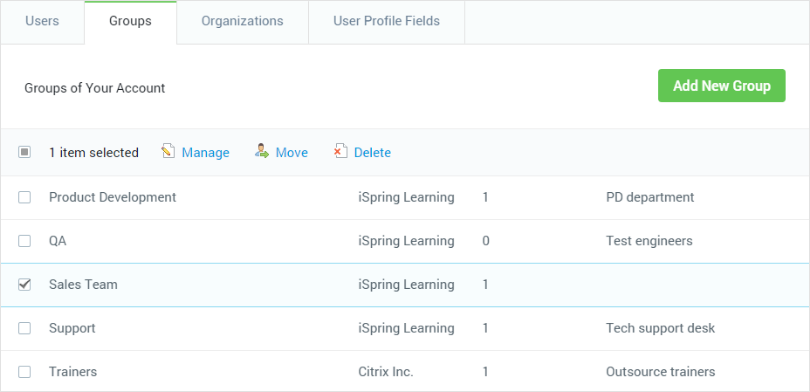 For more than 20 years, iSpring Learn has been designing eLearning software to help individuals, teams, and businesses succeed through employee training and development. It is one of the top veteran players I have been seeing in the industry.
Among other things, employee upskilling through quality training and improved workflow through time-saving automation are valuable capabilities in the SaaS LMS system.
The LMS rolls out regular updates based on client feedback and new business challenges.
One unique aspect of iSpring Learn is its robust and scalable infrastructure that enables organizations to effortlessly handle large-scale training programs. This SaaS learning management system ensures high performance, reliability, and availability of the platform, even during peak usage times or when serving a large number of concurrent learners.
With iSpring Learn's SaaS LMS, organizations can provide seamless learning experiences to learners regardless of their geographical distribution, enabling global training initiatives and remote workforce development.
Overall, iSpring Learn's SaaS LMS stands out with its robust and scalable infrastructure, global reach, and the convenience of managed hosting. These features ensure optimal performance, availability, and reduced IT overhead, making it an ideal choice for organizations seeking a reliable and user-friendly cloud-based LMS.
What you'll like:
Easy custom course authoring
Administrative portal is helpful and easily navigated
Learner and course reports
PPT to HTML5 conversion
What you may not like:
Limited language support
Starters require some time to familiarize themselves with the LMS
Social learning feature is missing
Pricing:
Starts at $2.29/user/month
10. Blackboard Learn – Best for Community-Based Learning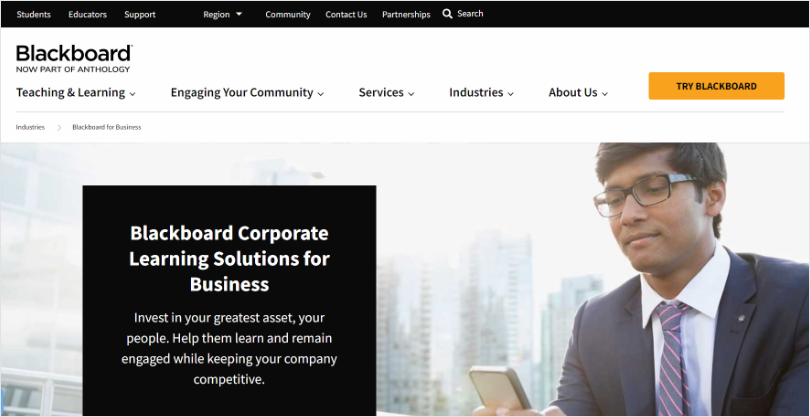 Blackboard Learn is a comprehensive and feature-rich SaaS LMS that has established itself as a leading solution in the education and corporate training sectors. With its robust infrastructure and powerful tools, Blackboard Learn offers a highly adaptable and scalable platform for delivering engaging and interactive learning experiences.
What sets Blackboard Learn apart is its extensive suite of collaborative features. It facilitates seamless communication and collaboration among learners and instructors through discussion boards, chat rooms, video conferencing, and group projects. This emphasis on collaboration promotes active learning and fosters a sense of community within the virtual learning environment.
Another standout aspect of Blackboard Learn that I want to draw your attention to is its advanced assessment and grading capabilities. The LMS offers a range of assessment options, including quizzes, tests, and assignments, with customizable grading criteria. It also supports automated grading, reducing the administrative burden on instructors and enabling timely feedback for learners.
Similarly, Blackboard Learn boasts a robust content management system backed up by a user-friendly interface and intuitive course design tools.
The LMS supports seamless integration with various third-party tools.
What you'll like:
Ease of setup and running
Easy collaboration among all stakeholders
Content management & assignment
Multiple channels of communication
What you may not like:
The mobile app is stunted by limited functionality
The LMS is not that easy to understand
The messaging system can be made more advanced
Pricing:
$9,500/year
11. LearnWorlds – Best for Creating & Selling Courses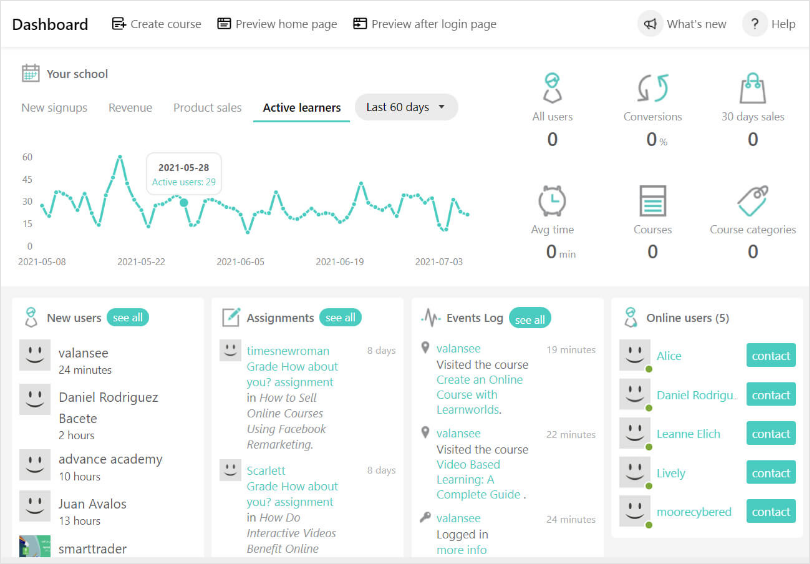 LearnWorlds is a lightweight, easy, and fast SaaS LMS platform for creating, promoting, and selling online courses and training employees and customers. The LMS is SCORM-compliant and eCommerce-ready.
It offers interactive authoring tools and supports unlimited learners, quizzes, exams, and surveys. Security features such as SSO and GDPR enable users to maximize their data protection measures.
A drag-and-drop course builder lets you create multimedia-rich content, assessments, and interactive learning activities. The SaaS LMS also supports gamification elements, such as badges and points, to increase learner motivation and participation.
LearnWorlds serves as a one-stop shop for all kinds of training – employee training, customer training, partner training, and compliance training.
By engaging learners, providing ideal training programs, and making data-driven decisions, you can build a smarter organization.
LearnWorlds focuses on providing a comprehensive LMS solution that combines course creation, customization, engagement features, and monetization options for a seamless online learning experience.
What you'll like:
The platform is constantly improving
Course marketing is a huge support
You can build a custom website with no coding knowledge
Response customer support
What you may not like:
The reports & analytics are basic
No native email marketing feature
The course creator doesn't support bulk upload
Pricing:
Starts at $24/month
12. Litmos – Best for Modern Enterprises

Litmos LMS is a modern and agile SaaS learning management system for intelligent enterprises. It stands out from other tools with its emphasis on simplicity and scalability. Thanks to its sleek and intuitive interface design, Litmos offers a user-friendly experience for both administrators and learners.
This cloud LMS combines robust functionality with a focus on ease of use, making it an ideal choice for organizations seeking a flexible and scalable learning platform that keeps the learning process streamlined and efficient.
Its comprehensive feature set caters to the diverse needs of modern organizations. One of the standout features of Litmos is its ability to support blended learning approaches.
It seamlessly integrates with virtual classrooms, enabling organizations to deliver live instructor-led training sessions and webinars, fostering interactive and engaging learning experiences.
Robust mobile learning capabilities, scalability, integrations with third-party tools, and analytics and reporting features make it a complete platform for online employee training.
In my opinion, Litmos can be a robust tool for empowering individuals, teams, and organizations to achieve long-term success. It develops learning solutions for top-performing companies.
What you'll like:
Amazing UI for quick understanding and navigation
Easy content creation for any training type
Custom dashboard for performance monitoring
A rich variety of online courses
What you may not like:
No dedicated payment gateway
Reporting can be improved
The inability to make a course optional for learners
Pricing:
$2/user/month
Which Is the Best SaaS LMS for You?
The best one will entirely depend on your requirements, which are based on your audience type, their skill level, and their learning needs.
To simplify your search and help you narrow down the possible tools, here's what I think you should consider:
Option A: ProProfs LMS
This LMS doesn't require any specialized tech knowledge to get started. The tool makes it incredibly easy to create online courses in minutes. It is used by SMBs, large enterprises, freelancers, NPOs, and government agencies.
Option B: TalentLMS
TalentLMS has earned a top spot when it comes to streamlining admin tasks, extensive customization options, and seamless integrations. It is best for delivering personalized and impactful learning. The tool is primarily used by small to mid-sized companies.
Option C: CYPHER Learning
This LMS supports site-wide automation. With 25+ automated actions, it saves valuable time for users. The platform is generally used by trainer managers, L&D experts, HR professionals, teachers, course creators, and admins.
Overall, speaking from personal experience, I think ProProfs Training Maker is the best SaaS LMS software currently on the market. Based on my analysis, I found ProProfs is the best SaaS LMS because it offers a user-friendly interface, comprehensive automation features, and versatility in delivering training across industries and use cases.
Frequently Asked Questions
What is a SaaS LMS?
A SaaS LMS is a type of learning management system that is based on the software as a service (SaaS) model. In this method of software delivery and licensing, the LMS is accessed online via a subscription, rather than bought and installed on individual computers. ProProfs Training Maker is an example of a SaaS LMS. It removes the need to invest huge sums of money in procuring and setting up an online learning platform. SaaS applications are hosted entirely in the cloud by SaaS LMS vendors. You can simply sign up with a web-based software services company to start availing all the benefits. For more, watch:

What is the difference between a SaaS LMS and a self-hosted LMS?
A SaaS LMS is another name for cloud-based LMS solutions. They are hosted on the internet by a service provider and available on-demand, either free or paid. A self-hosted LMS, on the other hand, is an LMS that is installed and run on an in-house server. You host and manage it on-premise with the help of a tech team instead of taking the service of a remote cloud server. To learn the differences in detail, read this post: Hosted LMS vs. SaaS LMS: Which One Is Best for You
What are the benefits of SaaS LMS?
A SaaS LMS is quick and straightforward to implement, it is cost-effective in the long run, it is quick to scale, and you don't have to worry about updates and maintenance. Powerful integrations with several useful tools and ongoing technical support are significant benefits of deploying a SaaS LMS.
How is the SaaS LMS pricing structured?
There are different pricing models for a SaaS learning management system. They include pay per user, pay per use, pay per course, licensing fee, feature-based, and custom pricing. For more on LMS pricing, read How Much Does LMS Software Cost? Comparison of Pricing Plans
How do I choose a SaaS LMS system?
Choosing an LMS becomes easy once you identify your training needs. So, as a rule of thumb, first, identify your learning objectives, assess feature requirements, consider the ease of use and customization, read online reviews and client testimonials, and make sure the quality of service is excellent. Also, choose a solution that is flexible, accessible, and scalable as needed. By following these steps and involving key stakeholders in decision-making, you can make an informed choice and select a SaaS LMS system that meets your organization's unique needs and sets you up for successful eLearning and training initiatives.
Do you want a free Training Software?
We have the #1 Online Training Software for employee training & assessment