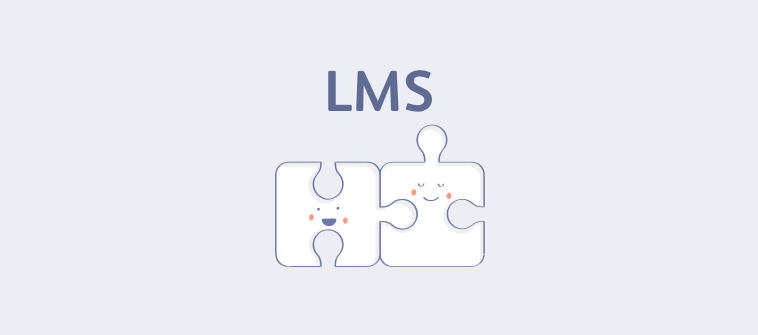 "Things Grow Stronger When You Integrate" – Daniel Wilson
A learning management system or LMS by itself is a powerful tool for online employee training as well as eLearning purposes. But when you integrate it with another equally robust and useful tool, it becomes unbeatable.
Watch this video:

It is just like the case where two persons putting their heads together while working on a project is better than one handling it single-handedly. This is the magic of LMS integrations that we are going to discuss in the post.
An LMS when integrated with another piece of software increases in its functionality and deliver better results to end-users.
Here is a list of 10 must-have LMS integrations that you should expect to see in your eLearning platform for a better learning and development process. Read on to find out:
1. Tin Can API
An Application Programming Interface, or API in short, is a software intermediary that provides a set of technical standards on how two applications should communicate with each other.
By using an LMS that supports SCORM or Tin Can API, you can create a course in an authoring tool and host it in a separate LMS. This is because the tools are able to share learning data with each other seamlessly.
You can easily track reports from a central location, even though you use multiple eLearning tools. The end result is a more comprehensive and enriching training program.
ProProfs Training Maker is a Tin Can API-compliant LMS or Tin Can Experience API LMS that allows easy platform transition and makes enterprise learning more manageable. With this LMS, you can track courses made in any eLearning software, and record learning experiences in ProProfs LRS or learning record store.
In addition to that, you can track and assess training programs for gauging their effectiveness and for improvement purpose.
Watch This Video
2. Single Sign-On
Single Sign-On (SSO) is an access control system in which a user logs in to a software application using a single user ID and password. In other words, an LMS integrated with Single Sign-On enables users to access multiple yet related applications and services using the same credentials. This can be an email address or any other personal data.
Such LMS integration standards assist users to remember their login credentials more easily since just one set is used across all applications. On top of this, it lets web admins centralize their access management and enforce uniform access policy.
For instance, ProProfs Training Maker allows you to manage learners at one place using the Active Directory & Lightweight Directory Access Protocol (LDAP) integration that enables Single Sign-On for easy login and quick authentication process.
3. Salesforce
LMS integration with Salesforce is another powerful integration that you'd love to find in your eLearning platform. Salesforce is an industry-leading Customer Relationship Management (CRM) platform. By integrating Salesforce with an LMS, you can boost employee productivity and sales. Further, you can manage your organization's interactions with current and potential customers far easily.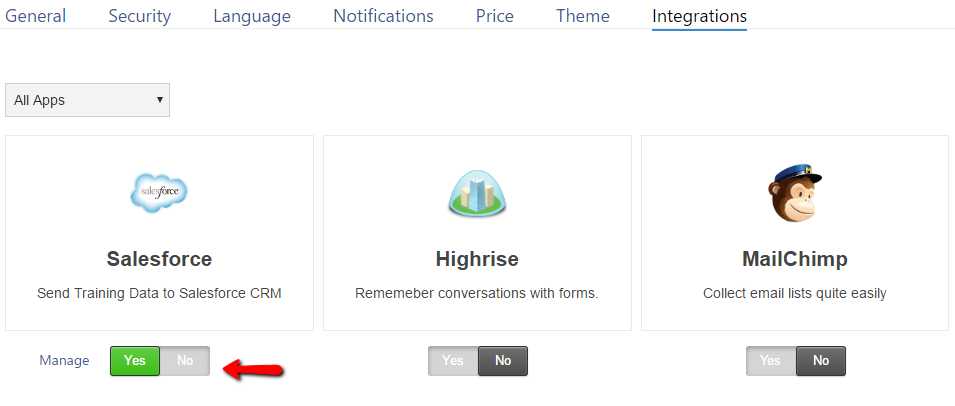 You can train your sales reps, channel partners, and resellers as well as manage online training from within your Salesforce account. The user experience resulting from this integration is such that neither instructors nor trainees have to switch between the two platforms, thereby saving time and energy.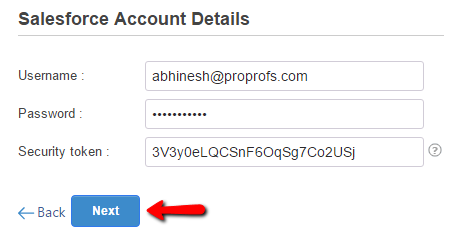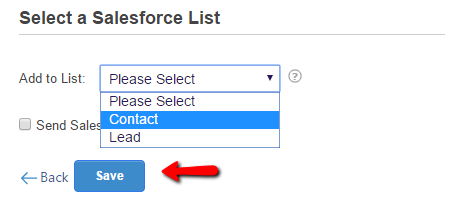 Create online courses and assign them to learners using a centralized LMS dashboard. Organizations who already use Salesforce will find integrating the platform with an LMS comparatively easy.
Salesforce-LMS integration streamlines the training process and enables instructors to make data-driven decisions. It also improves user experience besides providing insightful reports. Through customer data analysis, CRM integration with LMS improves business relationships with customers. This ultimately leads to customer retention and growth in sales.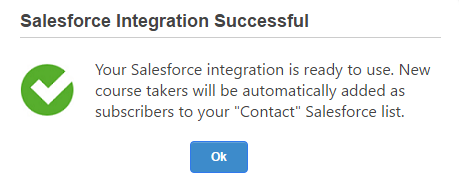 4. Video Conferencing Tools
When you integrate your LMS with your favorite teleconferencing or webinar tools such as GoToMeeting, it brings a lot of benefits in its trail. The most noticeable benefit is it helps to reduce duplication by automating time-consuming tasks. Registering course attendees and scheduling training become much easier as it can all be managed from one place.
This kind of integration is also significant from another perspective. Despite the advancement in Internet-based technologies, in-person training has not lost its relevance. The latter adds an element of interactivity and give learners a real-life learning experience.
Such on-screen and instructor-led learning systems also serve as an online classroom where you can manage learners and track attendance using a learner portal or dashboard. ProProfs Training Maker is an example of such a secure learning platform with any time, anywhere access.
5. MailChimp
MailChimp is an email marketing automation platform. By integrating LMS with MailChimp, you can import new MailChimp subscribers to your LMS, assign them courses, add details of new LMS course takers to MailChimp and so on.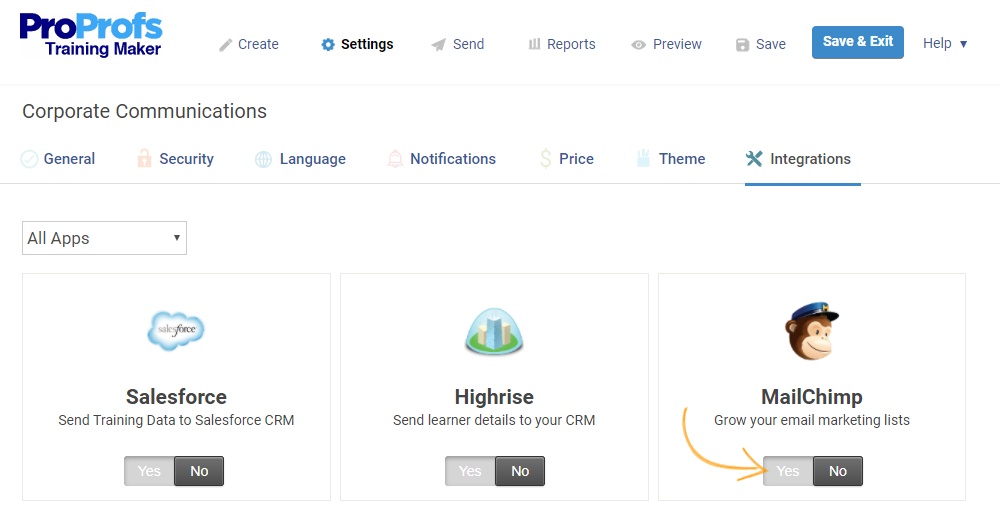 You can save tons of time by sending to MailChimp the contact details of new LMS users, who have signed up for a particular course. This ensures that you grow your MailChimp email marketing lists effortlessly and quickly.

Conversely, you can assign courses instantly to new MailChimp subscribers. You can segment the way in which you assign courses based on the nature of campaigns so that users who have subscribed to a particular campaign are assigned targeted courses.
6. HR Software
The idea behind this integration is to make sure that your HR system works in sync with your LMS as far as employee data is concerned.
When you integrate HR software with LMS, you can keep important information related to employees, training and other data updated across both platforms.
Such integrations save a huge amount of time for admins since they no longer have to re-enter the same information across multiple platforms. Additionally, it reduces the chances of human errors and discrepancies.
Through this type of integration, organizations can add new employees automatically to the LMS and enroll them in the training. User profiles, learner progress, and completion history are some of the data that you can transfer between the two integrated platforms.
7. WordPress
WordPress is a market-leading content management system (CMS) with a user-friendly dashboard for managing content. When you go for a WordPress LMS integration, you open doors to extra features and functions.
Likewise, an LMS comes equipped with all the features online instructors need to run online training, right from creating courses all the way through to issuing completion certificates. Using LMS plugin for WordPress, you can simplify the way you create, share, and manage online courses.
You can even embed quizzes to make learning more interactive. What's more, selling courses online becomes easy.
Some of the leading LMS tools on the market today come with an online store that facilitates easy creation and monetization of training courses. ProProfs Store is a good example, which uses a number of secure payment gateways for the convenience of users.
8. Email
LMS email integration is another software feature you should find in your eLearning tool. Some of the best LMS come equipped with email software. Choose an LMS with email notification functionality as it helps notify learners about assignments and enable you to make learning-related announcements.
With ProProfs, you can configure scheduled email notifications so that you get notified when someone takes a course or quiz. This LMS integration is powerful and enabling by nature, as it ensures that no stakeholders miss any important learning updates.
9. eCommerce Integration
The primary advantage of integrating an LMS with an eCommerce tool is that you get to sell your online courses easily. Using a leading eCommerce platform such as Shopify, you can set up an online storefront and start selling your courses right away.
Course creators will get all the support typical of an eCommerce website such as shopping carts, promotions, credit card verification, and invoice processing in an eCommerce integration.
You can configure the store in minutes, add your branding, and do a host of other things. One of the best parts of the integration is that you get access to sales reports for insights.
10. Social Media Integration
American author Erik Qualman once said, "We don't have a choice on whether we do social media. The question is how well we do it."
The importance of social media to a business is too great to put into words. So, it makes complete sense to integrate and make it an integral part of the LMS you use. Through social media integration with LMS, you can leverage opportunities to identify business trends, establish networks, and formulate social media strategies.
As for the learners, they get similar benefits from such LMS and social media integrations. For instance, after the successful completion of training courses, learners can share and display their certificates on their LinkedIn profile.
Ready to Try LMS Integrations?
The potential of an LMS gets amplified multiple times the moment you integrate it with other equally robust tools. Although it is up to you to choose the tools you need to integrate to suit your business requirements, you should never overlook the power of LMS integrations.
An organization can do simply unlimited things with such integrations. Check out how these integrations work for your organizations.
Do you want a free Training Software?
We have the #1 Online Training Software for employee training & assessment