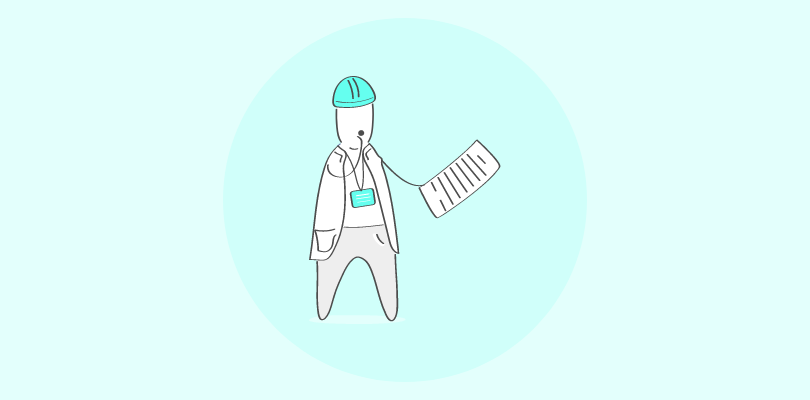 Are you a professional in the logistics and supply chain field aiming to optimize training for your workforce involved in manufacturing operations?
Are you seeking the ideal learning management system for manufacturing training needs?
I understand the predicament. I've faced similar challenges in the past that you might be dealing with now – searching for a robust training platform that is a perfect blend of simplicity and functionality.
But don't worry.
I've listed the top 12 LMS for manufacturing below. These platforms can help you standardize and streamline high-stake training in your industry.
Before we dive into comparing the features, benefits, drawbacks, and prices of these tools, here's a quick overview of the LMS options we'll explore:
| Software | Best For | Pricing |
| --- | --- | --- |
| ProProfs Training Maker | Employee training | Forever free for up to 10 learners. Paid plan starts at $1.97/learner/month for large teams. Billed annually. |
| Moodle | Personalized learning | Starts at $130/month (billed annually) |
| Absorb LMS | Learner engagement | Custom Pricing |
| Docebo | Flexible training programs | Custom Pricing |
| TalentLMS | Fuss-free course creation | Starts at $69/month (billed yearly) |
| iSpring LMS | Improved operational efficiency | Starts at $770/author/year |
| 360Learning | Automated training | Starts at $8/registered users per month |
| Litmos | Large enterprises | Custom pricing |
| LearnUpon | AI-powered learning | Starts at $599 per month |
| Vector LMS | Skill & safety training | Custom pricing |
| SkyPrep | Comprehensive training programs | Custom pricing |
| Paradiso LMS | Gamification | Custom pricing |
List of 12 Best LMS for the Manufacturing Industry
I've compiled this selection of the best LMS for manufacturing training needs through personal experiences, extensive research, and input from colleagues. Moreover, I've considered unbiased assessments from independent websites and gathered feedback from satisfied customers.
Take a look!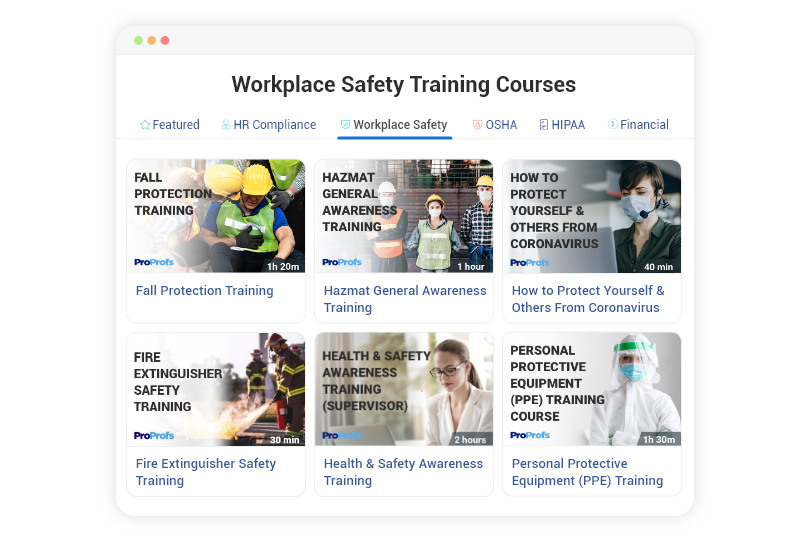 ProProfs Training Maker is one of the top LMS you can use in high-risk and compliance-bound industries such as manufacturing. I have no doubt about its effectiveness as a learning management system for manufacturing companies.
You can use it to create, administer, and track courses and assessments for employees facing daily workplace danger and high compliance requirements. Train them on core skills and standard operating procedures for machines, compliance, and safety.
The LMS offers an intuitive user interface that requires no specialized knowledge, no software download and installation required. It allows learners to access the training regardless of their location and device. The best part is that these courses can be downloaded and accessed easily when offline.
This solution simplifies online training and makes record-keeping for audit purposes easy.
I find its library of 100+ pre-designed courses covering in-demand topics like fall protection, fire extinguisher safety, sexual harassment training, and leadership skills really delightful and time-saving.
I can also easily import existing material I already have, such as videos, PDF files, images, and presentations.
Real-time and AI-based reports and analytics, along with scheduled notifications on pending courses, are helpful in ensuring timely upskilling and maintaining compliance.
What you'll like:
Engaging quizzes that allow you to measure learning outcomes
Ability to train a global audience in different languages such as English, Spanish, and 70+ others
Personalization options that allow you to use your own logo, theme, and domain
Award certificates on course completion
The ease of integration with popular tools such as Zoom, Salesforce, Mailchimp, BambooHR, and more
What you may not like:
The interface can incorporate both light and dark mode choices to enhance the learning experience for users
Its free plan is limited to 10 learners only
Pricing:
Forever FREE plan for small teams (up to 10 learners). Paid plan starts at $1.97/learner/month with a 15-day money-back guarantee. No hidden charges.
2. Moodle – Best for Personalized Learning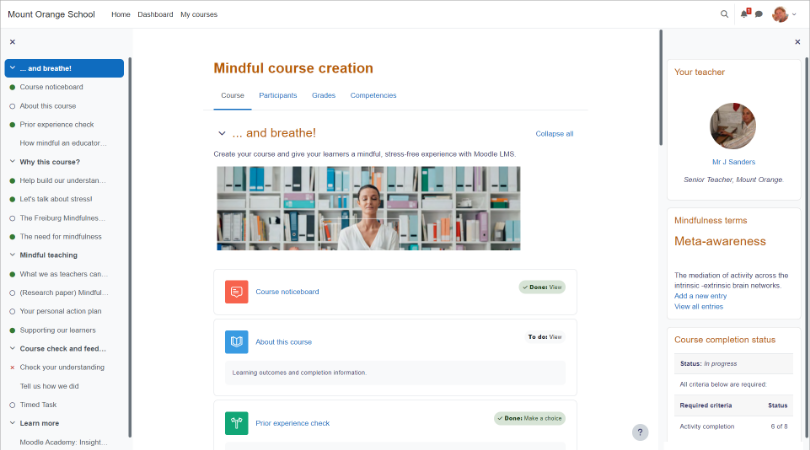 This fully-customizable manufacturing learning management system proved to be quite helpful for creating personalized and engaging courses.
The tool seamlessly empowers learners of all types, enabling them to excel through diverse content and a variety of task formats tailored to suit individual learning preferences.
To ensure learners stay on course, I used the tool to set up automated email and mobile alerts, serving as timely reminders for upcoming deadlines and essential course obligations.
Moreover, I could extract insightful learning analytics and personalized reports to track student progress effortlessly.
What you'll like:
Staff and workers can conveniently access courses via any browser or device, ensuring a seamless experience even in offline settings.
Manage manufacturing courses in a secure and scalable way
Seamless integration with content accessibility checkers, text-to-speech tools, and more
What you may not like:
Complex to set up and use, especially for less experienced users
Can be slow and resource-intensive
Pricing:
Starts at $130/month (billed annually).
3. Absorb LMS – Best for Learner Engagement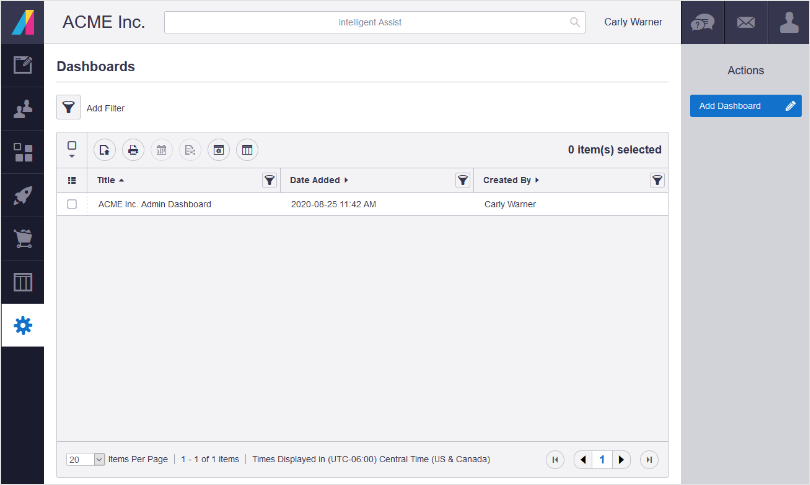 If you're in search of the ideal LMS solution for manufacturing units, consider exploring Absorb LMS.
Navigating through courses becomes effortless with Absorb LMS, enabling learners to swiftly access course materials, engage with content, and effectively retain the knowledge presented.
The tool enabled my staff to rate their learning experiences, collaborate with peers, and showcase their achievements.
To keep the learning process dynamic and engaging, you can integrate different elements into its courses. Leaderboards add a competitive edge, videos enhance visual learning, polls encourage participation, and quizzes test comprehension.
What you'll like:
Complete control over custom look and course recommendations
Discussion forums and collaborative assignments for continuous learning and support
Learners can showcase earned badges on their individual social profiles
What you may not like:
Not as feature-rich as some other LMS
Can be expensive
Pricing:
Custom Pricing.
4. Docebo – Best for Flexible Training Programs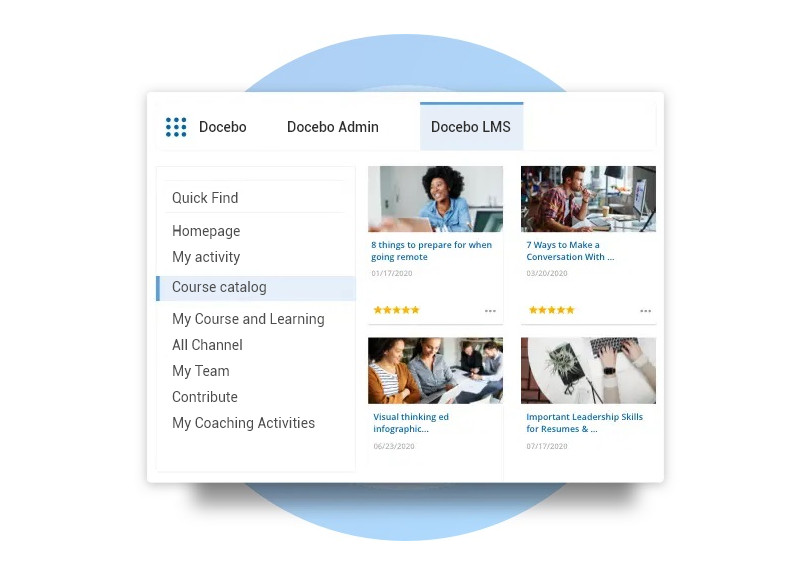 What sets Docebo apart is its flexibility compared to other LMS platforms.
Docebo's intuitive and user-friendly platform is designed to make the learning experience seamless. Its versatile dashboard offers training solutions to employees in multiple formats and at their own pace.
When experimenting with this LMS, I was able to onboard and train new hires faster. This was both cost-effective and profitable in terms of reduced cost owing to employee churn.
Apart from this, the tool helped me stay on top of my game by continuously imparting in-demand manufacturing skills via training. This further helped me respond to market shifts quickly.
What you'll like:
You can automate retraining to optimize safety and mitigate non-compliance risks.
Learners can access consistent training even in offline mode via Docebo's mobile learning solution
Integrating directly with Salesforce LMS boosts deal closure and customer connections
What you may not like:
Users may find the interface overwhelming with too many features on the dashboard
Poor customer support
Pricing:
Custom Pricing.
5. TalentLMS – Best for Fuss-Free Course Creation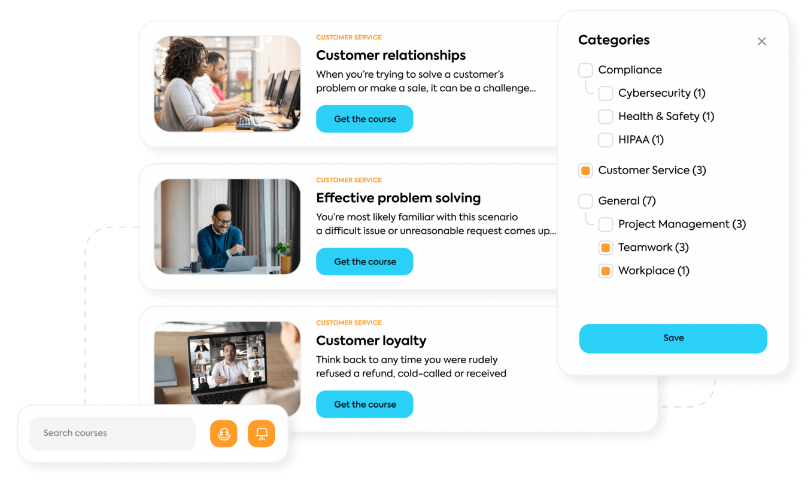 Does creating courses seem like an uphill task? Not with TalentLMS, a popular manufacturing LMS that helps you create courses in a jiffy.
I've utilized TalentLMS for creating courses on new employee onboarding, ongoing training, and keeping everyone current with industry practices and safety protocols. Believe me, it did a fantastic job of it.
Whether you require a broad view of team training or a thorough examination of scores and completions, this tool's reporting capabilities put these insights right at your fingertips.
Moreover, TalentLMS lets you create numerous sub-accounts while maintaining clear user and information separation.
What you'll like:
It's easy to organize courses and share them with users within the tool
It allows you to train employees from anywhere using smartphones and tablets
Its robust automation capabilities help streamline learning management
What you may not like:
Long pages experience sluggish loading times
Its UI can be improved
Pricing:
Starts at $69/month (billed yearly).
6. iSpring Learn – Best for Improved Operational Efficiency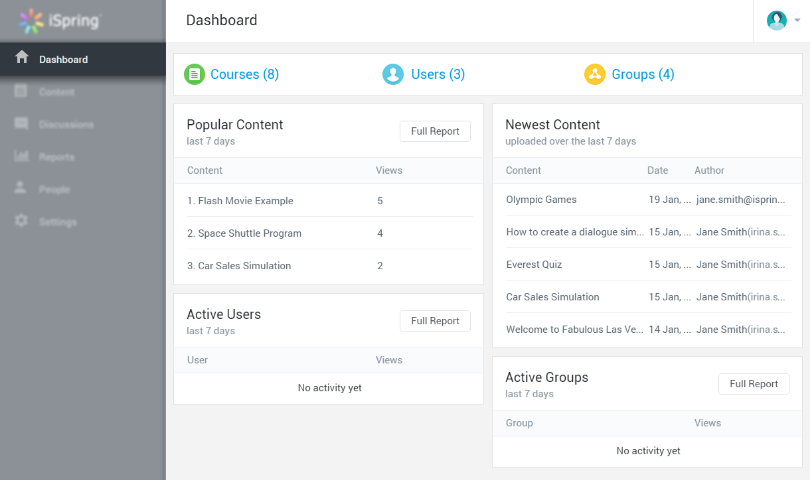 iSpring's LMS truly impressed me, expediting onboarding and enhancing manufacturing efficiency.
Whether it was training courses, videos, or ebooks, I could produce content in the format that worked for my employees. I found it easy to build simple quizzes to create an interactive program.
You can segment users by roles and locations, personalizing learning for each group.
Moreover, automation handles routine tasks, like automatic enrollments, re-enrollments, and event invites, freeing you time for strategic focus.
What you'll like:
Self-paced online learning that works for everyone's schedules
Get a detailed analysis of your employees' training status using out-of-the-box reports
Training for compliance and safety aligned with OSHA and ISO standards
Watch: What is OSHA Compliance Training? Requirements & Benefits
What you may not like:
Inability to copy text directly from the slide during text-to-speech
The cost can become a drawback for smaller companies seeking advanced functionalities
Pricing:
Starts at $770/author/year.
7. 360Learning – Best for Automated Training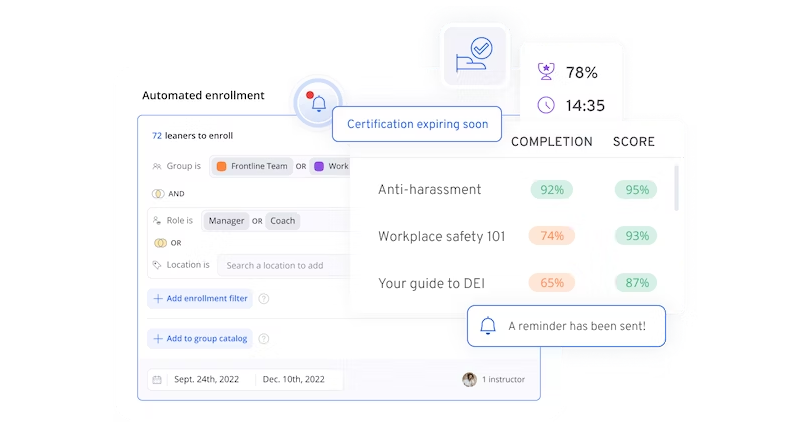 360Learning is the best learning management system for manufacturing training automation.
I found that navigating the system requires minimal effort, allowing me to effortlessly streamline and oversee essential manufacturing-related training and re-training.
The system's automatic learner enrolment functionality takes the burden off users' shoulders by enrolling learners into courses as soon as they fulfill the predetermined prerequisites.
This not only simplifies the process but also drastically cuts down on administrative time.
I believe you can elevate your compliance training further by leveraging the power of automated enrolment, timely reminders, and certificate notifications.
The LMS also enables swift course creation via customized templates reflecting common use cases.
What you'll like:
Reduced training costs by moving employee training online
No content migration needed for hosting your existing catalog of SCORM courses
Popular third-party integrations available
What you may not like:
User experience may be frustrating due to frequent bugs
Not enough gamification
Pricing:
Starts at $8/registered users per month.
8. Litmos – Best for Large Enterprises

Large enterprises encounter the daunting task of adhering to numerous compliances such as EPA, FDA, and OSHA. This plethora of regulations can make it challenging in maintaining regular training protocols.
Enter Litmos, your solution to these challenges. By automating training processes, Litmos empowers you to effectively manage the multitude of rules and policies.
I used Litmos to educate both factory workers and contractors. From those stationed on the bustling factory floor to the sales team interacting directly with customers, this platform caters to all.
One remarkable feature is its cross-device compatibility – be it mobile, laptop, or even wearables – and the added bonus of offline accessibility.
What's more, the headache of manually tracking course completions and compliance training becomes a thing of the past. Litmos offers built-in reports that seamlessly track employees' training progress, activities, and even gauges program success through quiz results and content engagement.
What you'll like:
No limitation on how learners can access training material
Access to gamification and leaderboards
Custom UI to complement your branding
What you may not like:
There's no feature to make some courses optional for learners
High learning curve
Pricing:
Custom pricing.
9. LearnUpon – Best for AI-powered Learning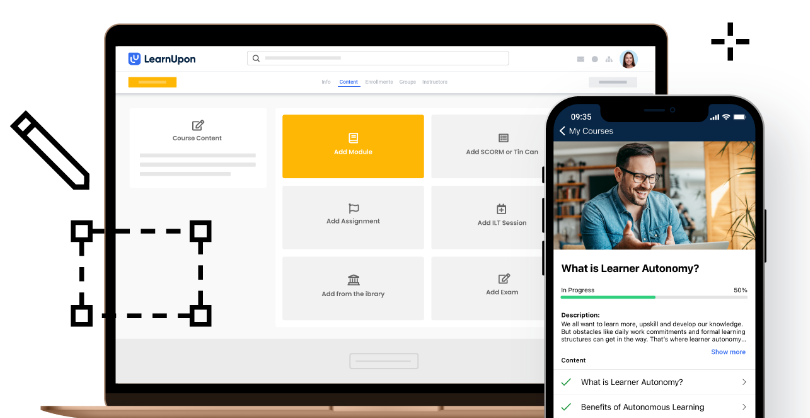 When it comes to manufacturing businesses seeking a smarter and scalable learning solution, LearnUpon sets itself apart as the ultimate choice.
To begin with, the need to build courses from the ground up has been dealt with effectively by LearnUpon. Thanks to its generative AI platform, crafting summaries, exams, and scripts is a matter of seconds.
Whether it's crafting captivating images and videos, seamlessly translating text, or even developing entire courses, the process is remarkably effortless.
Adding to its powerful capabilities, LearnUpon introduces interactive bots as virtual coaches, enhancing the learning experience.
Customized assessments tailored to each learner's knowledge are a key feature. So I could use the tool to send targeted prompts and align the course with their preferences and comprehension.
What you'll like:
Machine-powered recommendations that simplify and make learning more intuitive than ever
Reports that throw light on learner progress
Gamification features for increased knowledge retention
What you may not like:
Its UI is not easy to navigate
The search functionality for courses is not impressive
Pricing:
Starts at $599 per month.
10. Vector LMS – Best for Skill & Safety Training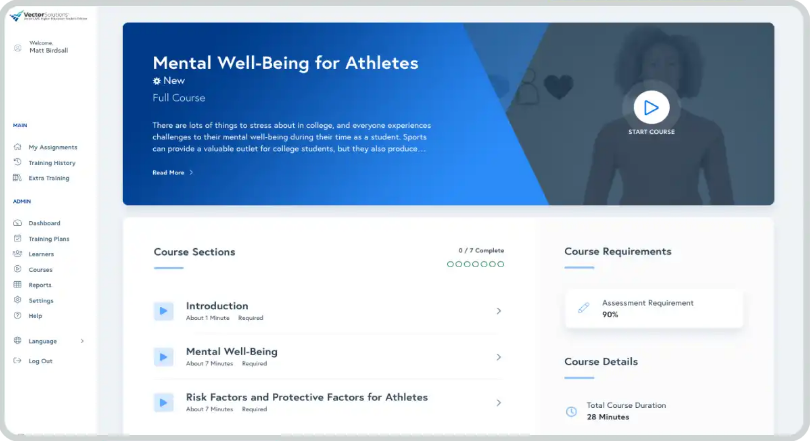 Vector is a go-to choice for manufacturing businesses looking to integrate safety training and skill development seamlessly.
By effortlessly syncing employee data with HR/payroll systems, you can swiftly initiate training management across various locations.
Using the tool, I could improve new hire orientation and assign training based on job role, team, and site.
I could also conduct training data analysis by importing and comparing data from multiple HRIS systems, safety platforms, and beyond.
Overall, the LMS is comprehensive , complete with integrated content creation capabilities. This means you can craft eLearning modules featuring personalized images and videos, alongside interactive quizzes, surveys, and task lists.
What you'll like:
70 new online courses and 50 course updates annually
Flexibility to choose from multiple-choice, multiple-response, and true/false question formats
Freedom to set minimum passing scores and provide customized feedback – all at your fingertips
What you may not like:
Users often complain of restarting modules due to glitches
Its reporting capabilities are limited
Pricing:
Custom pricing.
11. SkyPrep – Best for Comprehensive Training Programs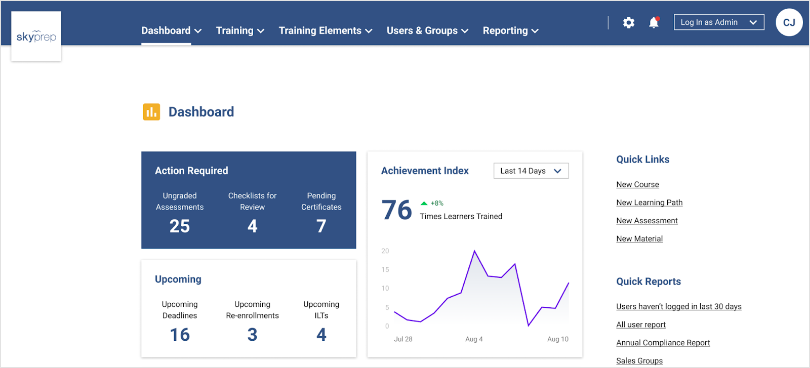 SkyPrep is an intuitive cloud LMS for manufacturing companies, providing impressive features for course creation and training management.
One notable aspect is its efficacy in upholding employee safety through continuous safety training. I could overcome my initial apprehension regarding training a diverse workforce spanning multiple departments.
This solution empowered me to design courses and empower employees to undertake training at their convenient time and preferred pace.
The ability to generate certificates automatically was a merit. These ensured that my employees were qualified for the job that they were doing. Additionally, SkyPrep could automatically re-enroll users who have certificates that are no longer current.
What you'll like:
Analytics help recognize star performers, improving employee productivity and efficiency
The platform is always secure and up-to-date
Supports mobile learning on the go
What you may not like:
Customer service can be improved
Lacks popular integration options
Pricing:
Custom pricing.
12. Paradiso LMS – Best for Gamification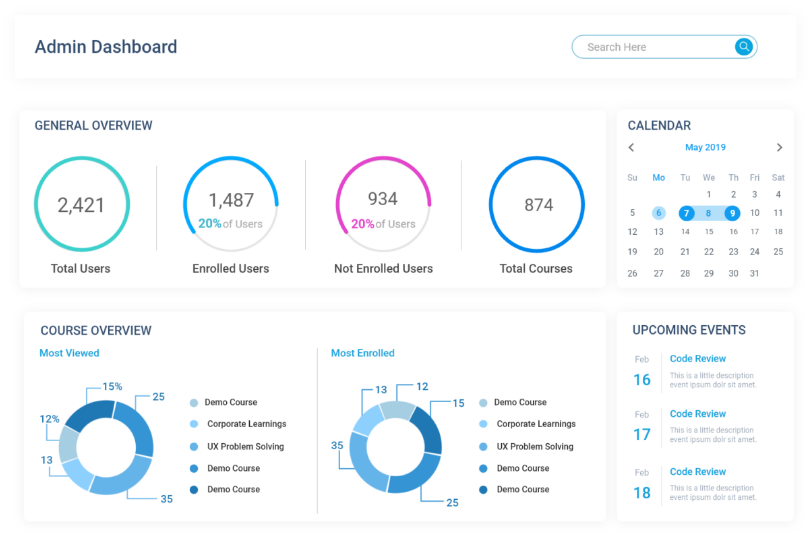 While on the hunt for the best manufacturing training LMS, I stumbled upon Paradiso, and instantly fell in love!
The LMS sends the message that manufacturing training doesn't have to be dull and uninteresting.
It is an all-in-one gamification LMS software, perfect for engaging learning experiences.
I used the platform to create an immersive and interactive learning experience. I was able to achieve this by integrating game elements such as points, badges, and fun challenges into the platform. This helped motivate learners to stay on track and accomplish their learning goals.
Another thing I like about this platform is its leaderboards that enable learners and instructors to monitor progress across all game elements. This tracking helps learners compare their progress with peers, boosting their motivation to succeed.
What you'll like:
Its Skill Gap Analysis helps bridge knowledge disparities effectively
Fully-customizable platform
Ability to facilitate learning anytime, anywhere with mobile compatibility
What you may not like:
Users may face sluggish navigation occasionally
Its reporting capabilities are limited
Pricing:
Custom pricing.
Which Is the Best LMS for Manufacturing?
Selecting the ideal LMS for your manufacturing company depends on your unique needs, shaped by your audience, their skills, and learning style.
To simplify your search and assist in making an informed choice, here are three of my recommendations:
Option A: ProProfs Training Maker
ProProfs Training Maker is a great choice for manufacturing companies looking for a complete LMS solution. It's easy to use and it comes with a regularly updated library of 100+ ready-made courses for quick start. You can also craft courses from scratch using the eLearning authoring tool and integrate existing materials like videos and PDFs. Real-time tracking, due-date reminders, and reporting ensure compliance.
Option B: Docebo
Docebo is notable for its remarkable flexibility, surpassing other LMS platforms. With an easy-to-use interface, it ensures a smooth learning experience. Its adaptable dashboard provides training in various formats and paces, aiding quicker onboarding and cost-effective training. Additionally, it kept me updated with manufacturing skills, enabling quick responses to market changes.
Option C: LearnUpon
LearnUpon is the top choice for manufacturing businesses seeking a smarter learning solution. Building courses is easy with its AI platform, which quickly creates summaries, exams, and content. Interactive bots enhance learning, and personalized assessments align courses with individual preferences for a better experience.
However, from my own hands-on experience and the substantial time I've invested in its use, I can firmly assert that the ProProfs Training Maker emerges as the undisputed leader. Its user-centric approach coupled with ready resources undeniably position it as a valuable tool for various learning situations within the manufacturing sector.
Frequently Asked Questions
What is a manufacturing LMS?
A manufacturing learning management system (LMS) is a digital platform that helps manufacturing companies to train and educate their employees on skills, safety, compliance, and internal policies. It provides a central hub to create, deliver, and track training materials, ensuring workers gain the necessary skills for safe and efficient manufacturing processes.For more,
Watch: What is a Cloud-Based Learning Management System?
What are the key features to look for in a manufacturing LMS?
When choosing a manufacturing LMS, focus on key features like customizable training content, progress tracking, assessment tools, compliance management, and mobile accessibility. These features ensure effective employee training, skill development, and streamlined manufacturing processes.
How to choose the right LMS for manufacturing?
To select the right manufacturing learning management system, consider your specific training needs, scalability, user-friendliness, integration with existing systems, and the quality of customer support. Prioritize a solution that aligns with your manufacturing goals and offers the necessary tools to enhance employee skills and productivity. To know more,
Watch: How to Choose the Best LMS for Manufacturing Industry
Does the LMS offer training modules tailored to the manufacturing industry?
Absolutely, a standard manufacturing LMS provides specialized training modules designed for the industry. Look for modules covering safety protocols, compliance regulations, quality control procedures, and machine operations. These tailored modules ensure that employees receive relevant and effective training to excel in manufacturing roles.
How can a manufacturing LMS help in improving the skills and knowledge of my manufacturing workforce?
An LMS for manufacturing enhances workforce skills by offering targeted training. It provides accessible and engaging modules on safety, procedures, machinery, and quality control. With progress tracking and assessments, employees gain valuable knowledge, leading to improved performance, safer practices, and increased efficiency in the manufacturing environment.
Can the manufacturing LMS accommodate a large number of employees, including operators, technicians, and supervisors?
Certainly, a robust manufacturing learning management system (LMS) is designed to handle a diverse workforce, from operators to supervisors, locally or remotely. It can efficiently scale to accommodate a large number of users. This ensures that all levels of employees receive tailored training, fostering skill development and consistency throughout the manufacturing organization.
Can the LMS integrate with our existing manufacturing systems, such as manufacturing execution systems (MES) or enterprise resource planning (ERP) software?
An ideal manufacturing learning management system (LMS) can integrate seamlessly with your existing manufacturing systems like MES or ERP software. This integration ensures smooth data flow, centralizes information, and streamlines operations, enhancing overall efficiency and enabling better coordination between training and production processes. Check out all the powerful integrations in ProProfs Training Maker.
Do you want a free Training Software?
We have the #1 Online Training Software for employee training & assessment