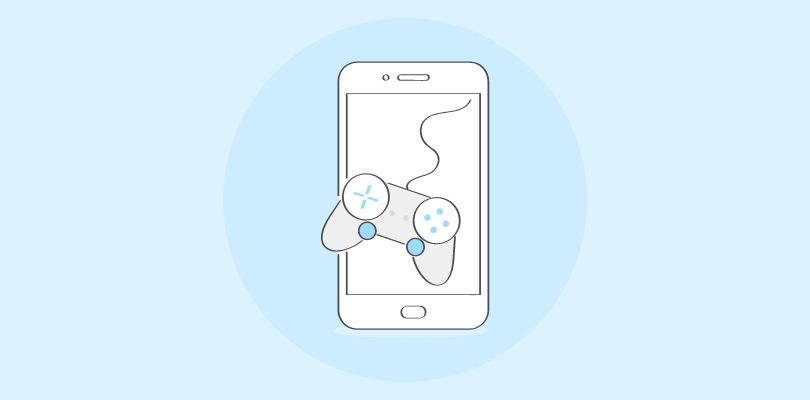 If you're exploring the world of e-learning, you've probably heard the buzz around gamification LMS.
I've been deep in the trenches of corporate e-learning for years, and trust me, gamification in learning management systems (LMS) is more than just a trend.
By weaving-in points, badges, and leaderboards, into your online courses, you're not just making learning fun—you're supercharging motivation and driving results.
Ready to get the lowdown? I've handpicked the 12 top gamification LMS for 2023.
Let's jump right into a side-by-side comparison of these game-changers.
| Top Gamification LMS | Best For | Pricing |
| --- | --- | --- |
| ProProfs LMS | Employee training | Forever free for up to 10 learners. Paid plan starts at $1.97/learner/month for large teams. Billed annually. |
| TalentLMS | Adaptive learning | Starts at $69/month |
| Moodle | Customized learning | Free (reporting is basic) and paid plans are available. Paid plans start at AUD 180/year. |
| Absorb LMS | AI-powered learning | Starts at $14,500/year |
| iSpring Learn | HTML5-based learning | Starts at $2.29/user/month |
| Tovuti LMS | Live training | Starts at $11,160/year (billed annually) |
| Paradiso LMS | Skill training | Starts at $150/month |
| LearnUpon | SMEs & training companies | Starts at $599/month |
| Litmos | Modern enterprises | Starts at $6/user (for 150 to 500 active learners) |
| Docebo Learn LMS | Large enterprises | Starts at $25,000/year |
| Easy LMS | Simplified course creation | Starts at $55/month |
| eFront | Mobile learning | Starts at $1,200/month (billed annually) |
List of the Best Gamification LMS
This list of gamification LMS is the result of my experience, extensive research, and peer recommendations. I have also considered unbiased reviews from independent sources.
1. ProProfs LMS – Best Gamification LMS for Employee Training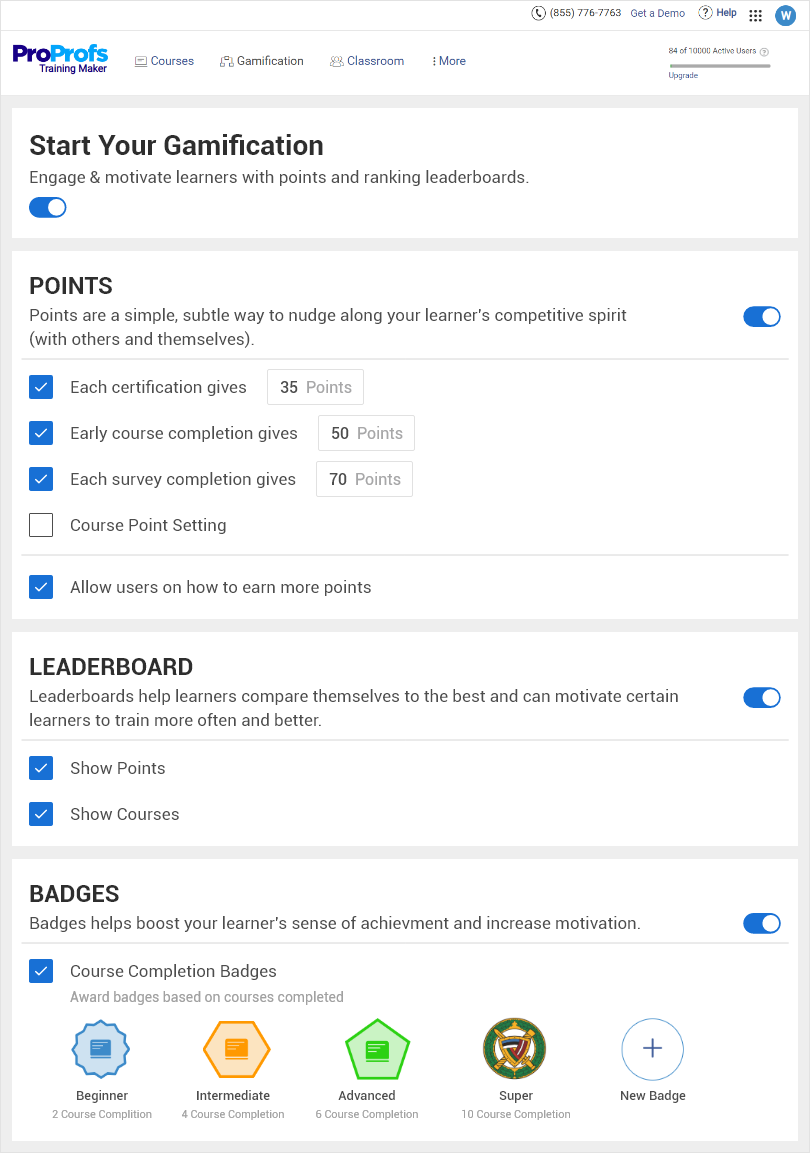 ProProfs LMS is an easy-to-use, customizable, and scalable learning management system offering various features to make online training fun and engaging.
With this tool, you can create gamified online courses for employee training with elements such as leaderboards, badges, points, branching quizzes, flashcards, and more.
You can also use brain games, learning paths, and completion certificates to enhance the learning experience and motivate your employees to achieve their goals.
ProProfs LMS supports collaborative learning through virtual classrooms and a Q&A platform where employees can interact with each other and the instructor. It is perfect for corporate training, education, and certification programs.
You can use ProProfs LMS to deliver training on policies, procedures, skills, workplace technology, safety, compliance, and more, regardless of your industry.
You can utilize purpose-built templates and expert-designed courses that you can customize to suit your requirements. You can also track and measure the progress and performance of your employees using AI reports and analytics.
ProProfs LMS integrates with popular tools such as Zoom, Salesforce, Mailchimp, BambooHR, and more.
What you'll like:
Intuitive course builder and user management functionalities to simplify employee training
A library of professionally designed training courses on skill development, onboarding, and compliance
Customization features to tailor courses and classrooms to your brand identity and learning needs
You can upload PDF, PPT, DOC, videos, and images to create a course out of your existing training materials.
AI reporting for detailed, real-time insights on individual and group progress
Efficient customer support team you can always rely on
What you may not like:
Light and dark mode options can be added to the interface for a better learner experience.
The LMS doesn't integrate with another LMS.
More course templates could be provided.
Pricing:
Forever free plan (up to 10 learners). Paid plan starts at $1.97/learner/month (billed annually) for large teams. No hidden charges. 15-day money-back guarantee.
2. TalentLMS – Best Gamification LMS for Adaptive Learning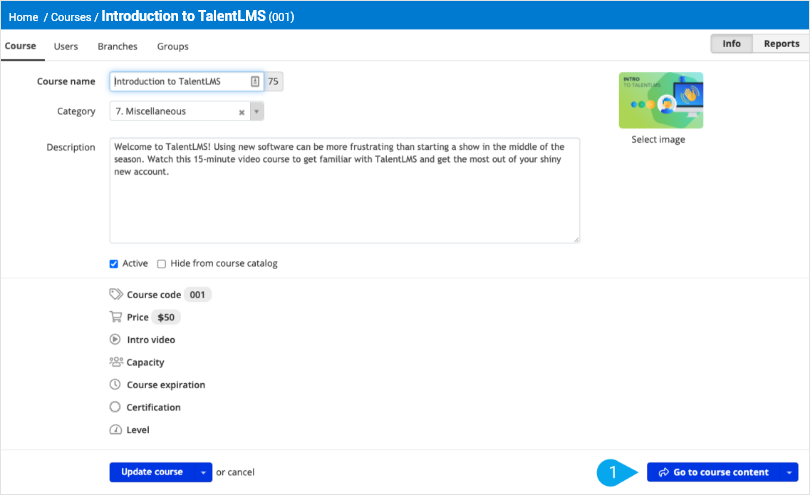 TalentLMS is an online learning platform that leverages gamification techniques to enhance learner engagement and retention.
With TalentLMS, you can award points and badges to your learners for completing various actions, such as logging in, finishing courses, passing tests, and participating in discussions.
You can also assign levels to your learners based on their points, badges, or completed courses and restrict access to specific courses based on the level requirement.
Moreover, you can enable leaderboards to rank your learners based on their performance and achievements and foster a healthy sense of competition. Finally, you can offer rewards to your learners through discounts on course prices, depending on their points, badges, or levels.
TalentLMS also lets you create adaptive learning experiences that adjust to each learner's needs and preferences. It uses branching scenarios, personalized learning paths, and artificial intelligence to improve learners' outcomes and satisfaction.
What you'll like:
A user-friendly interface that makes course creation and progress monitoring effortless
Varied content formats and question styles for crafting engaging courses
Seamless integration with videoconferencing tools for conducting live training sessions with ease
All TalentLMS pricing plans allow you to create an unlimited number of courses.
What you may not like:
The website's design could be updated to a more modern style.
Enhanced analytics could be integrated into the reports.
Simplifying course management, including unit rearrangement, would be beneficial.
Pricing:
Starts at $69/month
3. Moodle – Best Gamification LMS for Customized Learning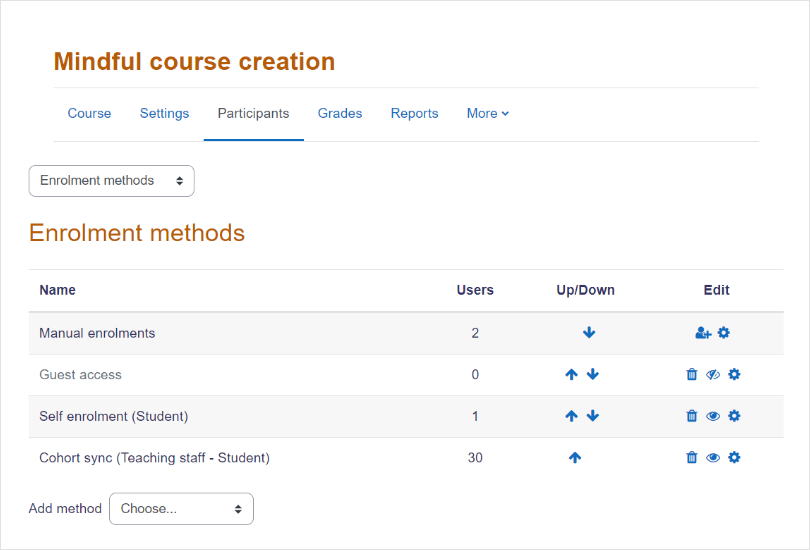 Moodle is an LMS platform that has an open-source license, which means you can modify its source code to suit your needs.
I had a wonderful experience using this tool. It could easily design and administer courses for different learning modes, such as self-directed, instructor-led, hybrid, or fully online.
Moodle also facilitates collaborative learning through various tools, such as forums, wikis, glossaries, and database activities. It incorporates several gamification elements, such as points, levels, badges, leaderboards, and certificates.
Moodle has an active community that contributes significantly to its improvement by sharing plugins and integrations.
Its Level Up plugin enables learners to gain experience points (XP) by completing activities or engaging with the course. Learners can also advance to higher levels and unlock new rewards, such as badges, avatars, or custom messages.
Meanwhile, the H5P plugin allows you to create and embed interactive content, such as quizzes, videos, presentations, games, and simulations, into your Moodle courses.
What you'll like:
Open-source approach for personalized and engaging learning
Numerous plugins to enhance functionality, customization, and gamification
LTI (Learning Tools Interoperability) standard support for seamless integration with other educational tools
It is supported by a global community of developers, educators, and learners contributing to its continuous improvement.
What you may not like:
Limited insights from the reporting feature may be a drawback for certain users.
Course engagement tracking could offer more comprehensive details.
Moodle's scheduling management system could be improved to support organization and planning better.
Pricing:
Free (reporting is basic) and paid plans are available. Paid plans start at AUD 180/year.
4. Absorb LMS – Best Gamification LMS for AI-Powered Learning

Absorb LMS uses AI to provide personalized learning experiences and reduce the workload of administrators. It has many features that make it stand out from other LMS platforms.
One of the features that impressed me is Intelligent Recommendations. It examines the learner's profile, preferences, behavior, and feedback to suggest courses, videos, articles, and other resources.
Another top feature, Intelligent Assist, allows you to perform admin tasks efficiently using natural language commands. It saves you time and hassle by automating common admin tasks.
Absorb LMS enables learners to earn badges and points for learning activities. Badges and points can be customized, displayed, shared, and used for rewards and competition.
Learners can also see their progress in completing courses or learning paths through visual indicators such as progress bars.
Besides the excellent AI and gamification features, Absorb LMS also offers powerful reporting, custom certificates, social learning, a handy mobile app, content libraries, and more.
What you'll like:
Excellent AI capabilities for quicker and more individualized training
A visually appealing website layout that enhances the learning journey
Efficient course assignment through automated curriculum distribution
Assistance for self-guided learning, empowering learners to finish modules at their preferred pace
Dependable and punctual customer support
What you may not like:
Users must undergo re-enrollment following each course modification
The setup and configuration might entail a certain level of complexity
Scheduling recurring sessions is not feasible
Pricing:
Starts at $14,500/year
5. iSpring Learn – Best Gamification LMS for HTML5-Based Learning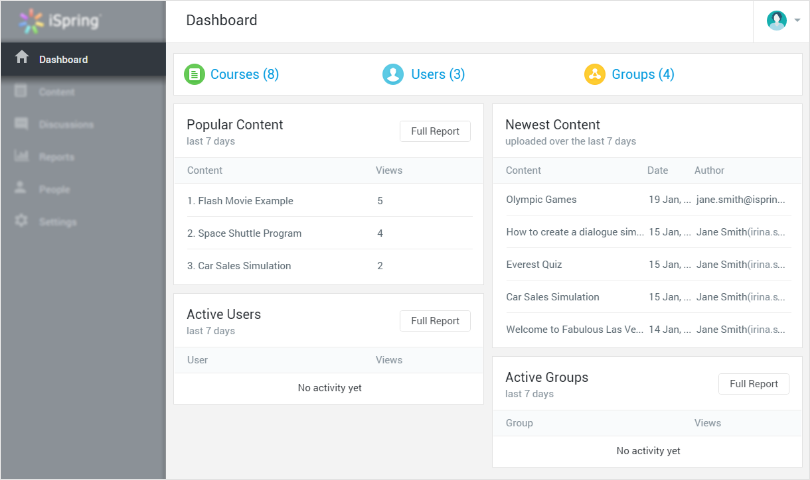 With iSpring Learn, you can create a simple, interactive, and powerful learning experience.
One of its unique features is the ability to transform PowerPoint slides into HTML5 courses with a single click, keeping all the animations and effects intact. This feature allows you to create fantastic courses without coding or design skills.
iSpring Learn also enables you to build a social learning environment where learners can communicate with each other. This environment can include news feeds, chats, feedback, and more.
iSpring Learn's gamification features consist of points, badges, and leaderboards. You can set up different leaderboards for different groups of learners based on departments, teams, or locations.
You can also customize the ranking criteria for learners, such as points, badges, completion rate, or average score.
iSpring Learn offers all the essential features of an LMS, such as content creation, training automation, smart management, and in-depth reporting.
What you'll like:
Simple custom course creation for personalized e-learning
Comprehensive reporting system offering insights into learning needs and challenges
User-friendly portal for streamlined course management
Effortless PPT to HTML5 conversion for creating engaging training content using existing learning materials
What you may not like:
Challenges in training culturally diverse teams due to limited language support
Steep learning curve for mastering LMS functionalities and settings
Lack of built-in course marketplace or content library
Pricing:
Starts at $2.29/user/month
6. Tovuti LMS – Best Gamification LMS for Live Training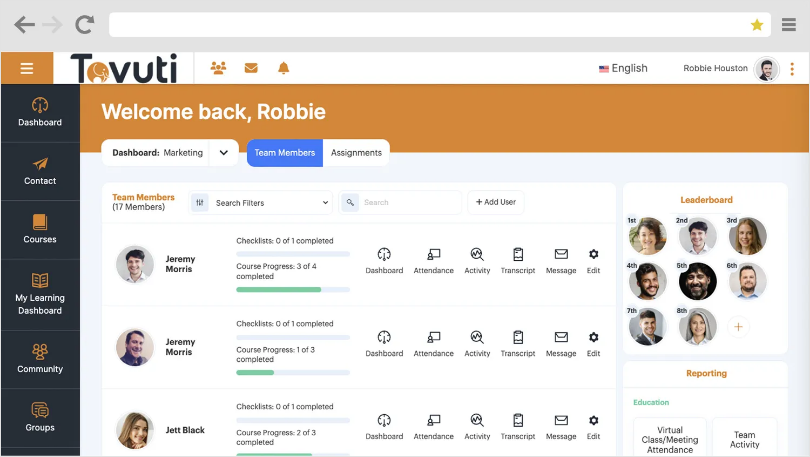 Tovuti LMS is ideal for engaging learners with fun interactive courses. It also makes it easy to design multimedia content, quizzes, and assessments to motivate and challenge learners.
This gamified learning management system supports all top gamification features, such as points, badges, and leaderboards. It also lets learners use their points to unlock rewards, such as discounts, certificates, and more.
Tovuti is perfect for conducting live training sessions using video conferencing tools such as Zoom, GoToMeeting, or Skype. You can also create, manage, and host live virtual events or classroom sessions with breakout rooms and whiteboards.
Tovuti also supports webinars with live video and audio, chat, polls, and Q&A. Users can also record and archive their webinars for future access.
Another thing l like about this tool is that it fosters collaboration and knowledge-sharing among learners by allowing them to join groups within the community, comment on courses or content, and share their achievements on leaderboards or social media.
What you'll like:
In-depth reporting for clear learner progress visualization
Simple setup and management of registered courses
Microlearning support for enhanced knowledge retention
What you may not like:
The learning curve is steep, requiring time to understand all features.
There is no dedicated Windows app; it must be accessed via a web browser.
There are limited customization templates for site appearance.
Pricing:
Starts at $11,160/year (billed annually)
7. Paradiso LMS – Best Gamification LMS for Skill Training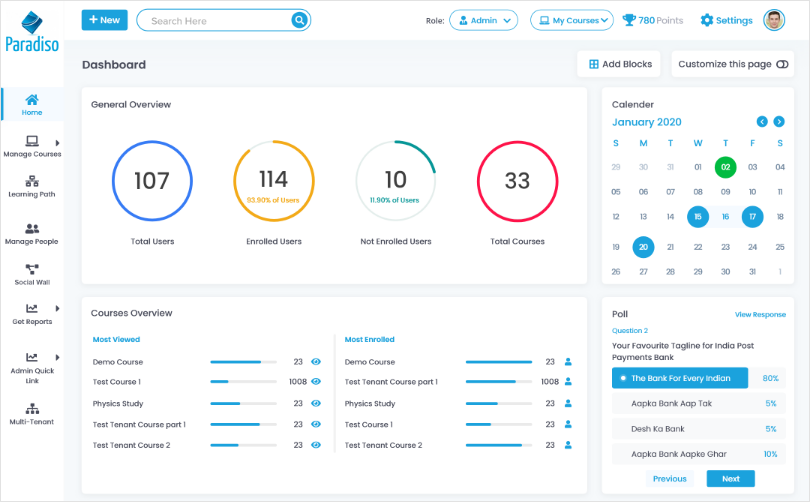 Paradiso LMS is a versatile, innovative, and highly scalable solution that can help you deliver a memorable learning experience for employee upskilling. It lets you create engaging and effective learning programs with game elements, analytics, integrations, and more.
With this gamified LMS, you can motivate your learners to achieve their learning goals by using badges, points, leaderboards, levels, quests, feedback, certificates, and rewards.
You can also let your learners create their own avatars and personalize their learning environment. Moreover, you can enhance your courses with AI-powered videos that include quizzes, polls, and surveys.
You can also generate captions, transcripts, and translations for your videos with the AI Media Studio feature. You can integrate Paradiso LMS with various platforms like Zoom, Salesforce, Google Workspace, Moodle, and more.
Paradiso LMS lets you create multiple sub-domains within your LMS, each with its own branding, theme, courses, and users. This multi-tenant feature is ideal for training different audiences, such as employees, customers, and partners.
What you'll like:
Paradiso LMS offers various features and functionalities, such as gamification, performance management, reporting, integration, customization, and accessibility.
It is easy to use and mobile-compatible; learners can take courses anytime, anywhere, and on any device.
It provides excellent customer support; you can contact them through chat, email, or phone and get quick and helpful responses.
It is flexible and scalable; you can create multiple tenants, white-label your LMS, and integrate with various platforms such as Salesforce, Moodle, Zoom, and more.
What you may not like:
Paradiso LMS's user interface could be improved. Some users have reported that it is slow, outdated, or unattractive.
Its updates are not frequent or consistent; some users have experienced glitches after updating their LMS.
Pricing:
Starts at $150/month
8. Learnupon – Best Gamification LMS for SMEs & Training Companies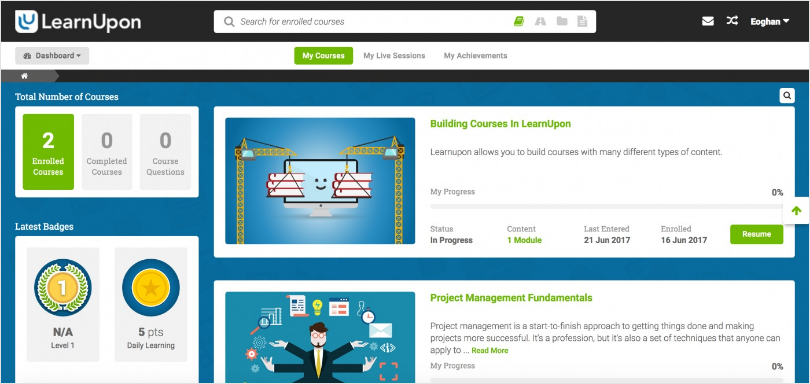 With LearnUpon, you can meet your company's or clients' varied training needs, whether it's onboarding, skill development, or compliance training. You can also automate the enrollment process for your courses, making it easier and faster for administrators.
LearnUpon allows you to create gamification elements, such as levels, badges, and points. You can assign different points to different activities and courses and customize the gamification features to match your learning goals and audience.
For instance, you can adjust the difficulty levels, design your own badges with images and descriptions, or enable leaderboards to encourage friendly competition among learners.
LearnUpon also gives you gamification reports for administrators so that you can monitor and evaluate the effect of gamification on your learners' engagement and performance.
I found this LMS very user-friendly and versatile. It helped me create tailored training content and collect feedback from learners. It also enabled me to provide personalized learning experiences for different groups of learners.
What you'll like:
This LMS is cost-effective, cloud-based, and compliant with SCORM/Tin Can standards; it offers user-friendly administrative functions and efficient user management.
Custom reports, dashboards, and certificates can be generated according to your needs.
It integrates with various third-party tools, including Google Analytics, Salesforce, and Zapier.
You have access to round-the-clock live chat, phone, email support, and online help guides and webinars.
What you may not like:
Creating course modules demands substantial effort.
Once a course or test is updated, retaking it is not an option.
LearnUpon might not be suitable for users seeking highly advanced features.
Pricing:
Starts at $599/month
9. Litmos – Best Gamification LMS for Modern Enterprises

Litmos is a flexible, intuitive, and scalable corporate learning tool that fits modern enterprises' needs. It supports blended learning by allowing users to easily connect with virtual classrooms for interactive training sessions and webinars, regardless of where the learners are.
It also lets users create hybrid learning courses that combine online, offline, and live training sessions with gamification, video assessments, and personalized learning paths.
Gamification is an essential feature of Litmos that makes learning more fun and rewarding. Learners can collect points and badges, compete with others, and advance through different levels as they finish courses and modules.
Litmos provides a mobile app for offline course access and assessments, smooth integration with various third-party tools, and powerful analytics capabilities to evaluate and improve the effectiveness of employee training initiatives.
What you'll like:
A streamlined user interface enabling seamless navigation and an excellent user experience
Personalized dashboard for progress tracking aligned with specific employee training needs.
Extensive training content library covering compliance and skill development.
Integration with popular HR and performance management systems for centralized data management and reporting.
What you may not like:
The reporting system for learning paths should be more user-friendly and intuitive.
There's a limitation in making courses optional for learners.
New users might encounter a learning curve when initially using the LMS.
Pricing:
Starts at $6/user (150 to 500 active learners)
10. Docebo Learn LMS – Best Gamification LMS for Large Enterprises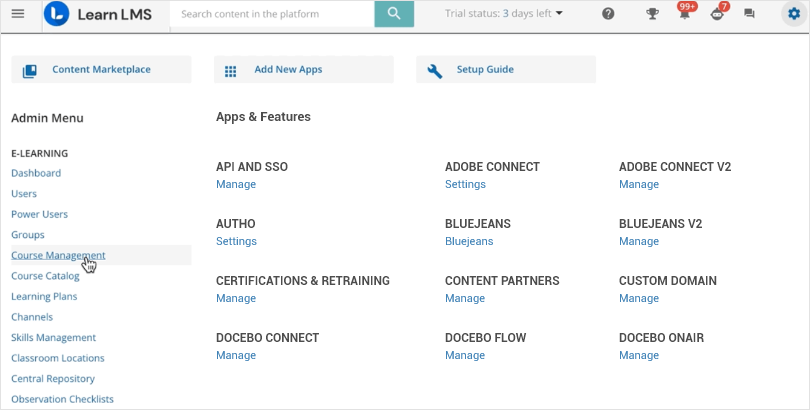 If you have a large company, you might want to consider Docebo Learn LMS as your learning management system. It can accommodate many users, integrate with various platforms, and support multiple languages. You can also tailor it to suit your audience's needs.
Moreover, you can leverage its AI capabilities to train your employees according to your business objectives.
The AI analyzes your learning content, identifies the skills it covers, and then matches it to your employees. This way, their learning paths adapt to their progress and your business changes.
Docebo Learn LMS is also ideal for blended learning, as it offers webinars, face-to-face sessions, online courses, micro-learning, and gamified learning.
Gamification elements include badges, points, leaderboards, contests, and rewards. Learners can earn points and badges for completing a course, passing a quiz, or participating in the social learning community. Points can be exchanged for rewards, such as certificates, vouchers, or access to premium content.
What you'll like:
Utilization of artificial intelligence for tailored learning experiences
Modern and user-friendly interface for easy course creation, management, and delivery
Features catering to diverse learning scenarios and styles like social learning, coaching, and gamification
Integrations with multiple tools, including third-party gamification platforms, such as Badgeville and Bunchball
In-depth analytics facilitating a data-driven approach to employee training implementation
What you may not like:
Training videos are constrained by a size limit.
The API's scope is limited and doesn't provide access to all LMS objects and actions.
The pricing plans might not be flexible enough for small and medium-sized enterprises.
Pricing:
Starts at $25,000/year
11. Easy LMS – Best Gamification LMS for Simplified Course Creation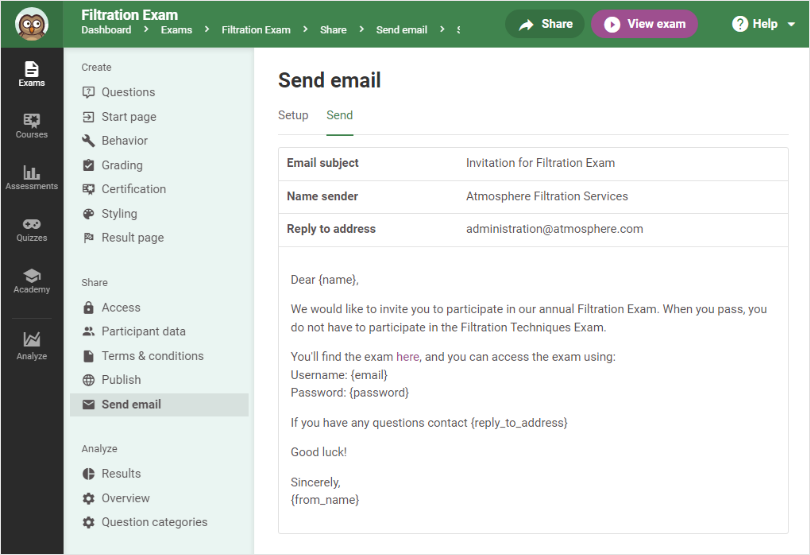 Easy LMS is the choice of over 2,500 small and medium businesses. This platform lets you create and publish courses with ease. You don't need to worry about distractions or complications when using its simple and intuitive interface. It also makes maintenance a breeze.
Easy LMS also allows you to manage your content centrally, customize your eLearning experiences, create learning paths, design assessments, add gamification, enable collaboration, integrate with other tools, track progress, and analyze results.
You can create leaderboards to show the progress and ranking of your learners based on their scores, completion rates, or other criteria. You can also award badges to your learners when they achieve certain milestones, such as completing a course, passing a quiz, or mastering a skill.
Additionally, you can use certificates to certify your learners' achievements and competencies. Certificates can be customized with your logo, colors, and text and can be downloaded or shared online by your learners.
What you'll like:
Flexible quiz and assessment options to adapt to various learning goals
Multi-language support for catering to diverse audiences
You can add text, audio, video, and PDFs to your courses with ease to make them visual and engaging.
You can share reports from Easy LMS to other tools using webhooks.
You can create learning paths easily with drag-and-drop functionality.
What you may not like:
The interface appears somewhat outdated.
The company should provide improved documentation for newcomers.
Pricing:
Starts at $55/month
12. eFront – Best Gamification LMS for Mobile Learning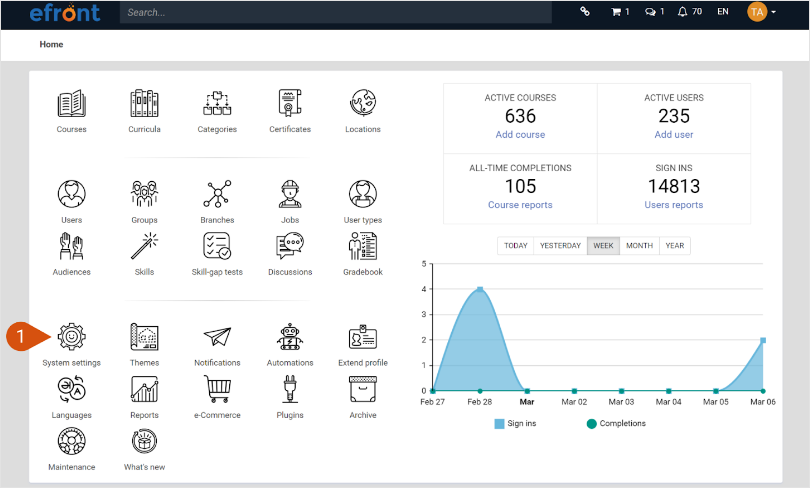 eFront is a flexible and adaptable learning management system (LMS) platform that offers a gamified learning experience for mobile learners. With eFront, you can create engaging and interactive courses that can be accessed on a computer or via a mobile app.
The mobile app combines a full-featured LMS engine with a streamlined, mobile-optimized UI. It offers offline compatibility to deliver SCORM courses and micro-learning content anytime and anywhere. All progress on the app can also be synced with the main portal.
eFront lets you reward your learners with badges, points, and certificates and track their progress and performance with advanced analytics. It supports various types of content, such as SCORM, xAPI, video, audio, PDF, and more.
Whether you need to train your employees, partners, or customers, eFront can help you deliver compelling, personalized learning solutions that suit your business needs.
What you'll like:
Learners can access courses via a mobile app, including offline access and synchronization.
Integration with systems like CRM, ERP, HRIS, and more to extend the usability of the LMS
It facilitates internal communication through emails, calendars, and discussion forums.
It can be deployed either on-premise within an organization's intranet or on a fully managed private cloud.
What you may not like:
It can be confusing to organize courses into files and folders.
Some users have stated that the user interface is difficult to navigate, which can be a source of frustration.
Pricing:
Starts at $1,200/month (billed annually)
Which Is the Best LMS With Gamification?
Finding the best gamification LMS that suits your needs is essential for reaching your training or teaching goals. You have to consider the requirements of your audience, such as their knowledge, skills, characteristics, and learning styles.
To make it easier for you, I have selected three options for you. Let's explore them and see which one is the ideal match!
ProProfs LMS
ProProfs LMS lets you easily create interactive courses with badges, certificates, leaderboards, quizzes, flashcards, and more. You can also customize and use ready-made courses and templates for maximum impact. You can also track and measure your learners' performance with AI reports. This LMS is ideal for training employees in skills and compliance.
TalentLMS
TalentLMS lets you hook your learners with leaderboards, points, badges, and certifications. It makes it easy to enhance employee motivation, feedback, and competition. TalentLMS also allows you to customize your gamification settings to suit your learning goals and audience preferences and track your learners' progress and performance with advanced analytics.
Docebo Learn LMS
Docebo is a modular LMS and an open-source gamification tool that combines formal, social, and experiential learning with skills management. It enables you to create gamified courses with points, badges, awards, and leaderboards. It also supports gamification scenarios like quests, challenges, missions, and rewards.
In my opinion, ProProfs LMS stands out as the best gamification LMS in the market today. It seamlessly combines simplicity, power, flexibility, automation, and gamification to deliver effective training across various sectors, such as services, construction, manufacturing, and healthcare.
Frequently Asked Question
What is LMS gamification?
LMS gamification is the use of game-like elements and mechanics in a learning management system (LMS) to enhance user engagement and motivation. It can involve features such as points, badges, leaderboards, challenges, rewards, and feedback that make the learning process more interactive and enjoyable. For more on such LMS, visit our dedicated page.
What is gamification in eLearning?
Gamification in eLearning is the application of gaming strategies to improve learning and make it more engaging for learners. Gamification eLearning tools can help learners acquire and retain knowledge, develop skills, and achieve learning goals. Gamification in eLearning can also leverage emotions, social interactions, and storytelling to create immersive and memorable learning experiences.
Watch:
What is an eLearning Course Authoring Tool?
What are the methods of gamification in LMS?
Some of the most common methods of gamification in LMS are:
Badges: Badges are visual symbols that represent a user's achievement or progress. They can be used to reward learners for completing tasks, mastering skills, or reaching milestones.
Points: Points are numerical values that indicate a user's performance or contribution. They can be used to measure learners' progress, motivate them to improve, or rank them on leaderboards.
Leaderboards: Leaderboards are displays that show the ranking of users based on their points, badges, or other criteria. They can be used to create a sense of competition, recognition, or social comparison among learners.
Watch: How to Choose the Best SaaS LMS Software

What are the benefits of LMS gamification?
The benefits of LMS gamification are manifold. Some of the most notable benefits are
Increased engagement: It can increase learner engagement by making learning more fun and interactive. Gamified elements can capture and sustain learners' attention, encourage them to participate actively, and provide them with feedback and reinforcement.
Improved motivation: It can improve learner motivation by tapping into their intrinsic and extrinsic drives. Gamified elements can help learners set and achieve goals, provide them with rewards and recognition, and foster a sense of autonomy and competence.
Personalized learning: It can personalize the learning experience by catering to different learner needs, preferences, and styles. Gamified elements can allow learners to choose their own path, pace, and difficulty level and customize their avatars, profiles, or themes.
Enhanced learning outcomes: It can enhance learning outcomes by facilitating acquiring and retaining knowledge and skills. Gamified elements can help learners practice and apply what they learn in realistic scenarios, reinforce their learning through repetition and feedback, and transfer it to new contexts.
Do you want a free Training Software?
We have the #1 Online Training Software for employee training & assessment