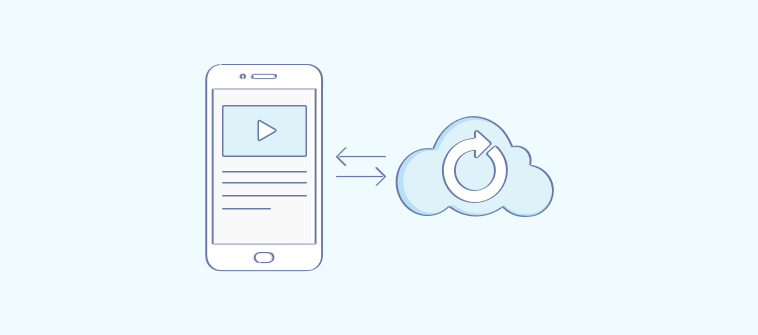 Software is a great combination between artistry and engineering. – Bill Gates
These days, there is a buzz around SaaS LMS. Cloud-based LMS platforms are leading the way in providing solutions to today's fast-paced learning & development (L&D) environment.
According to a study by Research and Markets, prominent software vendors have come up with advanced LMS features such as seamless communication and collaboration that simplify learning management. Add to that, online classrooms, educational path planning, and automatic learner reports that make SaaS-based LMSs valuable.
So, what exactly is SaaS LMS? What makes it so intriguing? This blog post sheds light on everything you need to know about this platform. Continue reading to find out.
What Is a SaaS LMS?
A SaaS LMS is a type of learning management system that is based on software as a service (SaaS). SaaS LMS is defined as a method of software delivery and licensing in which software is accessed online via a subscription, rather than bought and installed on individual computers.
For instance, ProProfs Training Maker is a SaaS LMS based on the cloud. You can use this tool to create training courses, assign them to multiple learners, and track learning progress in real-time.
Before the arrival of cloud computing, the only way a business could use online software was to buy it and install it on its servers. SaaS LMSs have changed that forever. Now, you no longer need to invest huge sums of money in procuring and setting up such software. SaaS applications are hosted entirely on the Internet. You can simply sign up with a web-based software services company to start availing all the benefits.
---
Read More: What is an LMS?
---
Why Is It Worth Considering?
An increasing number of corporate enterprises and K-12 institutions are adopting SaaS learning at a rapid pace. It is fueling the growth in the L&D market. There are some valid reasons for their growing popularity, which translates into real benefits for end users. Find out why training SaaS such as LMS is worth an investment:
#1. Easy to get started
SaaS LMS is simple and easy to deploy. Unlike traditional software, installing SaaS training software is pretty straightforward since it is completely user-friendly. Most of them are designed for all skill levels. You won't need a dedicated IT professional or an IT department to launch your training program.
#2. Multi-tenant support
Most of the market-leading SaaS LMSs are based on a multi-tenant architecture. This means two things:- First, such a system allows admins and instructors to manage multiple learners or customers at a time. Using a single sign-on system, course creators can identify learners automatically from their name or email. Learners don't need to sign in every time they need access to a course.
Secondly, there is a single code base that applies to all clients. Due to this, activities such as product upgrades and bug fixes are available automatically to all eligible users. The multi-tenant architecture, thus, brings all software-related operations under one roof and hands over greater control over an LMS.
#3. Centralized learning
One of the primary advantages of using a SaaS LMS is the online classrooms where you can store all learning-related data and manage all your training courses and learners in one place. Instructors can add, manage, and track leaners using a virtual classroom. It is a secure platform where learners can interact and engage in collaborative learning, anytime, anywhere.
Read More: 10 Best Virtual Classroom Software
#4. Hassle-free maintenance
Upgrading traditional software is an expensive process. The organization that relies on such software tools has to bear the costs associated with such updates. It is not the case with a SaaS LMS. The software vendor usually upgrades the LMS platform to incorporate the latest technology in the industry. This reduces the overall IT costs that a business normally incurs in such a situation.
#5. Easy scalability
With a SaaS LMS, scalability is never an issue. You can purchase add-ons or integrations and upgrade your services at any time. Conversely, you have the liberty to downgrade the system whenever the need arises. The idea is to manage costs for such software. If you think that you don't need some features or particular support, you can do away with them. Why pay for something that you don't need at all?
Interesting Read: Best Moodle Alternative
How It Improves the Learning Curve
Using a SaaS LMS, you can decrease the forgetting curve and increase the learning curve of trainees. How? Through engaging courses. As a one-stop learning management system, cloud-based LMSs can be utilized to create delightfully engaging training courses based on any topic. These beautifully designed courses enhance the retention rate of learners by making learning an enjoyable activity.
Designated learning paths and anytime, anywhere access enable learners to study at their own pace and convenience, which enhances the overall learning experience. Insightful reports at different stages of learning provide data on engagement levels, retention rates, and knowledge gaps among learners. Instructors can use such information to make their courses more exciting and bridge any existing gaps.
---
Read More: 6 Engaging Ways To Use ProProfs Quiz Maker In The Classroom
---
Wrap Up
Clearly, a SaaS LMS can transform how you offer training for your employees or online students. It is a complete learning solution for all types of online learning environments. If you're interested in learning all the other features found in an advanced SaaS LMS, take a tour of ProProfs Training Maker and sign up for free!
Do you want a free Training Software?
We have the #1 Online Training Software for employee training & assessment