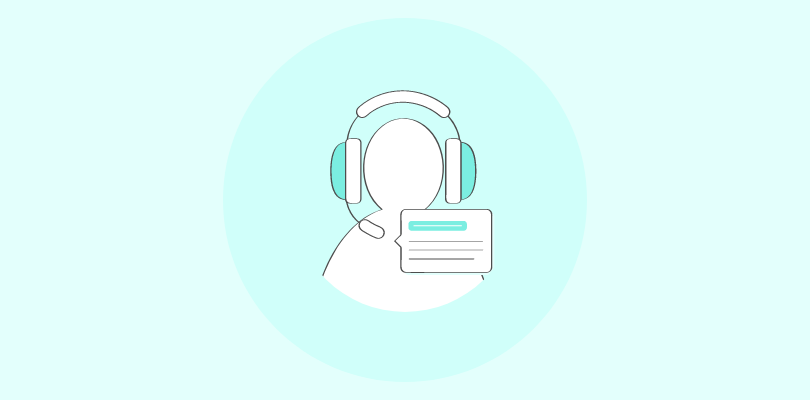 Consultants always need to go the extra mile to ensure clients get maximum benefits out of their services.
This is where the LMS for consultants comes into play. It's not just another software; it's your secret weapon to deliver top-notch training, gain customers' trust, and achieve repeat business.
Whether in financial, healthcare, HR, or political consultancy, the LMS for consulting firms can be your ally in training your customers to make the most of your services. It's about transforming transactions into lasting partnerships.
Being in the training industry for over a decade now, I understand the constant struggle to make every bit of training effort count and to see that coveted return on investment (ROI).
Let's get real – traditional training methods often fall flat. They're like outdated maps in a GPS world.
That's why I am here to share the 10 best LMS for consultants tailor-made to transform your training initiatives into long-term gain.
Best LMS for Consultants
Best For
Pricing
ProProfs LMS
Onboarding & Training
Free for up to 10 learners.
Paid plan starts at $1.97/learner/monthfor large teams.
Litmos
Video Assessments
Paid plan starts at $3 per user/month
Absorb LMS
Learner Experience
Paid plans start at $800/month
Docebo
Artificial Intelligence
Paid plans start at $25,000/year
D2L Brightspace
Digitized Courses
Paid plans start at $69/year
iSpring Learn
Microlearning
Paid plans start at $2.29/user/month
360Learning
Collaborative Learning
Paid plans start at $8/user/month
Tovuti
Personalized Learning
Paid plans start at $11,160/year
Canvas by Instructure
Mobile Learning
Custom pricing
eFront
Course Management
Paid plans start at $1,200/month (billed annually)
List of the Best LMS for Consultants
This list has been curated through recommendations from industry peers and consulting colleagues, extensive research of trusted review sites, customer testimonials, and personal experiences.
Each LMS featured here has been selected based on its track record of reliability, adaptability, and suitability for a diverse range of consultancy scenarios.
From the moment I started using ProProfs LMS, I was amazed by its user-friendly interface.
My colleagues in the consulting industry were also impressed with how easy it is to introduce countless clients to the systems.
The tool helps create, manage, administer, track, and analyze online courses and assessments.
Whether you need to onboard or train your customers on compliance, safety, or service-related matters, ProProfs has you covered.
You can even upload your existing content, making customization a breeze.
What truly sets ProProfs apart is its robust content creation and management tools. It has 100+ readymade courses to speed up course creation.

Managing multiple clients has never been easier. ProProfs lets you create separate classrooms for each client or company, complete with branding to maintain their identity. You can easily organize users into distinct groups and assign roles, streamlining administration and ensuring that no two clients get mixed up.
Tracking and reporting are essential components of any employee training program, and ProProfs LMS delivers in this regard. With actionable reports, you can track training progress and completion for each client in real time, gaining insights into their learning journey.
What You Will Like:
Supports blended learning, accommodating live virtual training sessions as well as self-paced learning
SSO feature allows users to log into applications using a single credential
A range of course settings, such as the number of reattempts, compliance requirements, due dates, reminders, security options, and more
Consultants can add their logo and brand colors to their courses
What You May Not Like:
While ProProfs offers free access, it's limited to just 10 users. This can be a great way to test the waters, but larger teams might need to consider premium plans
Designed with teamwork in mind, ProProfs emphasizes collaborative features, making it ideal for group training and discussions. Solo trainers, however, might find some collaborative tools less relevant
Pricing:
Free for up to 10 learners. Paid plan starts at $1.97/learner/month for large teams. No hidden costs. A 15-day money-back guarantee.
Here's a case study on how a security consultancy saw an increase in the number of its customers worldwide after adopting an LMS.
Watch: How to Measure Customer Satisfaction
2. Litmos – Best for Video Assessments

Having been in the training industry, I need to assess my learners' skills and knowledge in various ways. I often use video assessments because they are a quick and effective way to understand a person's abilities comprehensively.
That's why I'm so glad I found Litmos. It's the perfect LMS for consultants who need to create and deliver video assessments.
This cloud-based LMS makes it easy to scale and access training materials from anywhere and offers robust content-creation tools.
Apart from video assessments, the tool also employs AI to evaluate content.
What's great is the platform's customization options, allowing me to maintain a professional, branded appearance.
I've also used gamification to boost engagement effectively. With integration, tracking, and multi-language support, Litmos covers everything I need to deliver top-notch training experiences.
What You Will Like:
Flexible platform that can be used to deliver a variety of learning content, including courses, videos, assessments, and more
Offers a variety of features to help you manage your learners, such as reporting and analytics
A mobile-friendly platform where learners can access their courses and content from anywhere
Integrates with a variety of other systems, such as Salesforce, Microsoft Office 365, and Google Workspace
What You May Not Like:
Some users are disappointed with the quality and variety of the courses in the course library
Learning paths are confusing and tedious due to the lack of a tagging option
Pricing:
Paid plan starts at $3 per user/month
3. Absorb LMS – Best for Learner Experience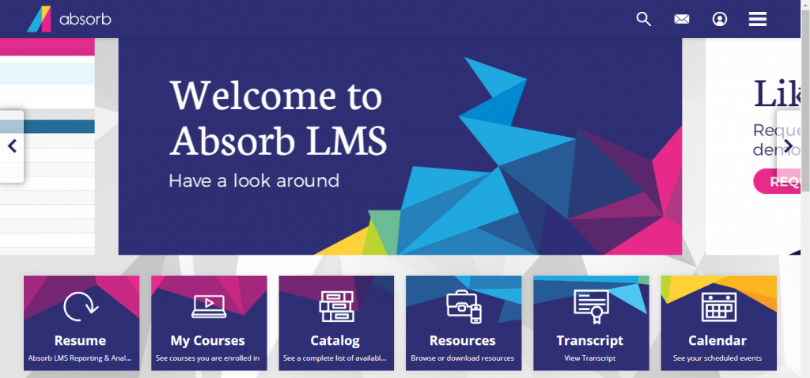 Another tool I'd recommend is Absorb LMS, which offers a top-notch learner experience featuring an accessible and intuitive interface that fosters engagement and retention.
What sets Absorb LMS apart is its ability to provide tailored learning experiences for different groups within an organization.
The platform's advanced features enhance the learning process. Seamless enrollment in instructor-led courses, available both virtually and in-person, streamlines the experience for learners.
The customizable communication options, including over 1,500 adaptable terms and phrases, enable organizations to maintain branding consistency while connecting with a global audience in 25 languages.
The Public Dashboard acts as a dynamic content showcase, enabling organizations to present FAQs, news articles, featured courses, and more to users before they log in.
What You Will Like:
It has curated courses you can use or customize for your needs. You can access ready-made content from Absorb Amplify or third-party libraries
You can use gamification, social learning, and virtual classrooms to motivate and interact with your learners
It has tailored training that allows you to create learning paths based on the learner's needs, preferences, and goals
Has an automated administration feature that simplifies the management of learners, courses, and enrollments
What You May Not Like:
Some users have noted that the tool lacks some features, such as the ability to copy or duplicate courses, reorder lessons, or preview courses before publishing
Users who want to create more interactive or complex assessments, such as drag-and-drop, matching, or fill-in-the-blank, have to use external tools or third-party integrations
Pricing:
Paid plans start at $800/month
4. Docebo – Best for Artificial Intelligence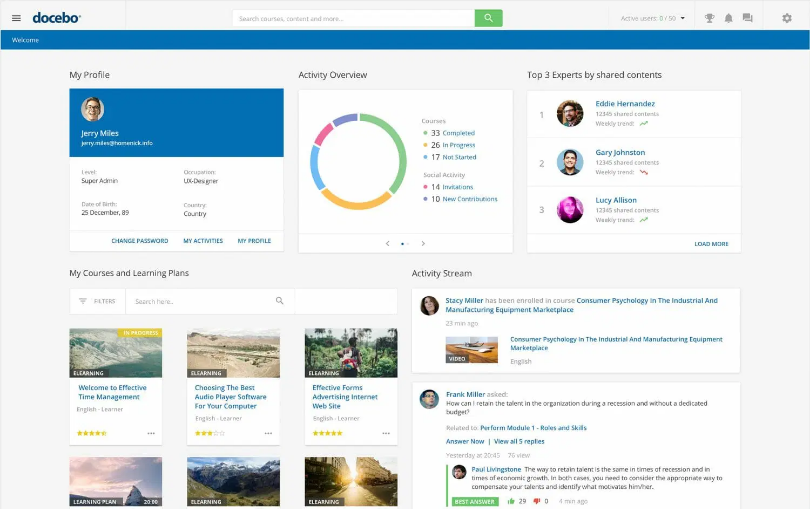 d it challenging to tailor learning content to their diverse learners' specific needs and interests.
With its AI-powered personalization feature, Docebo solves this problem by recommending courses and content that align with each learner's unique profile.
This enhances engagement and streamlines learning, ensuring learners receive the most relevant materials.
Docebo's AI-driven approach continues beyond there. It collects and analyzes learner data, enabling organizations to identify areas where additional support may be needed.
Docebo's AI capabilities tackle the problem of generic, one-size-fits-all learning, paving the way for a more tailored, engaging, and impactful educational journey.
What You Will Like:
Offers a wide range of features and functionalities that can be adapted to different learning environments and modalities
The tool is easy to set up and integrate with other enterprise applications
Docebo is constantly innovating and adding new features that can be turned on as needed
Has a flexible pricing plan that makes it affordable for businesses of all sizes
What You May Not Like:
The reporting features are not very robust or customizable
The mobile app is not very friendly or intuitive
Pricing:
Paid plans start at $25,000/year
5. D2L Brightspace – Best for Digitized Courses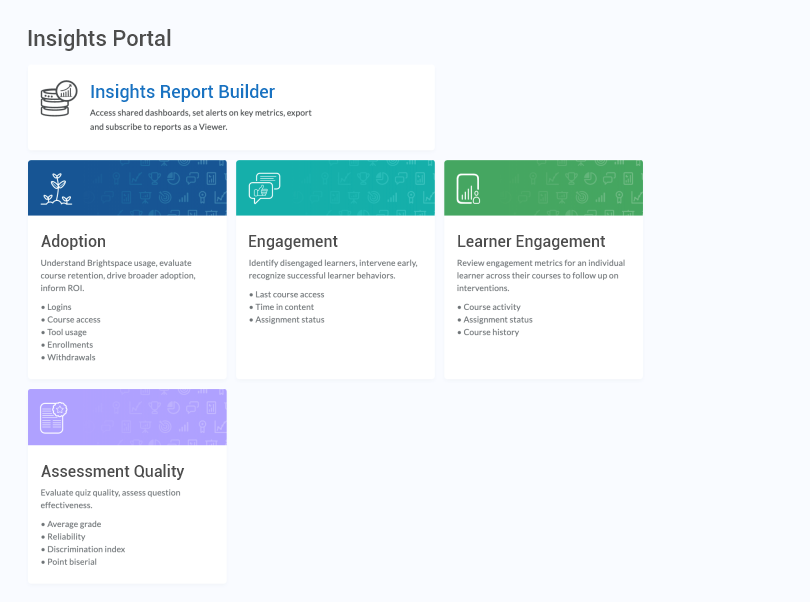 Are you looking for a learning platform that can help you deliver great results no matter where or how you train? If so, then Brightspace is the perfect solution for you.
Its ability to digitize courses makes it ideal for delivering effective and efficient training to our consultant teams. So, for me, it's a great LMS for consultant training.
By digitizing courses with Brightspace, it became easy to streamline administrative tasks, freeing up valuable time to focus on providing personalized support and enhancing the consultant learning experience.
The data analytics tools provide data-driven decisions to improve training programs continuously. Moreover, the discussion boards, outcomes-based assessments, and video note features facilitate active engagement and skill assessment.
What You Will Like:
Simplified content creation with D2L Brightspace, facilitating easy lesson creation, course transfer, and replication of plans from one year to another.
Boasts an intuitive interface and clean design, praised by approximately 50% of analyzed reviews
Provides impressive analytics, offering granular and actionable insights into performance, engagement, and progress
Offers deep support for competency-based education, allowing users to define learning outcomes
What You May Not Like:
Some users have encountered bugs when trying to integrate the tool with Respondus or Zoom
Need greater customization possibilities for increased flexibility and control over the look and functionality, including the ability to modify fonts, colors, or layouts
Pricing:
Paid plans start at $69/year
6. iSpring Learn – Best for Microlearning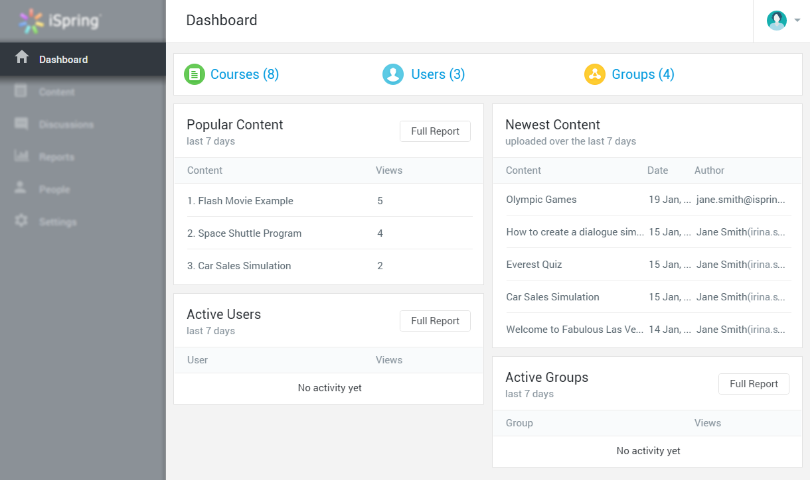 Did you know that microlearning can boost knowledge retention by up to 80% compared to traditional methods?
That's where iSpring shines. It's a fantastic tool for crafting bite-sized training that sticks.
With iSpring, creating engaging microlearning courses is a breeze. You can repurpose existing materials or get creative with their authoring toolkit.
Your team gets access anywhere, anytime, even offline, thanks to their mobile app and automated notifications.
Gamification keeps learners motivated with points, badges, and certificates.
Plus, iSpring's user-friendly features let you start your microlearning program in just one day. No tech headaches!
Unlimited storage, dedicated support, and transparent pricing make it even more appealing.
What You Will Like:
Has a user-friendly interface that makes it easy to create and manage eLearning courses
Integrates with PowerPoint, making it easy to create eLearning courses from existing PowerPoint presentations
A mobile-friendly tool that helps learners access their courses from anywhere, anytime
iSpring offers unlimited storage space without additional costs or quality compromises
What You May Not Like:
iSpring Learn is not as customizable as some other LMSs. This means that users may be unable to tailor the platform to their specific needs
Only available in a limited number of languages. This can be a barrier for organizations that have learners who speak other languages
Pricing:
Paid plans start at $2.29/user/month
7. 360Learning – Best for Collaborative Learning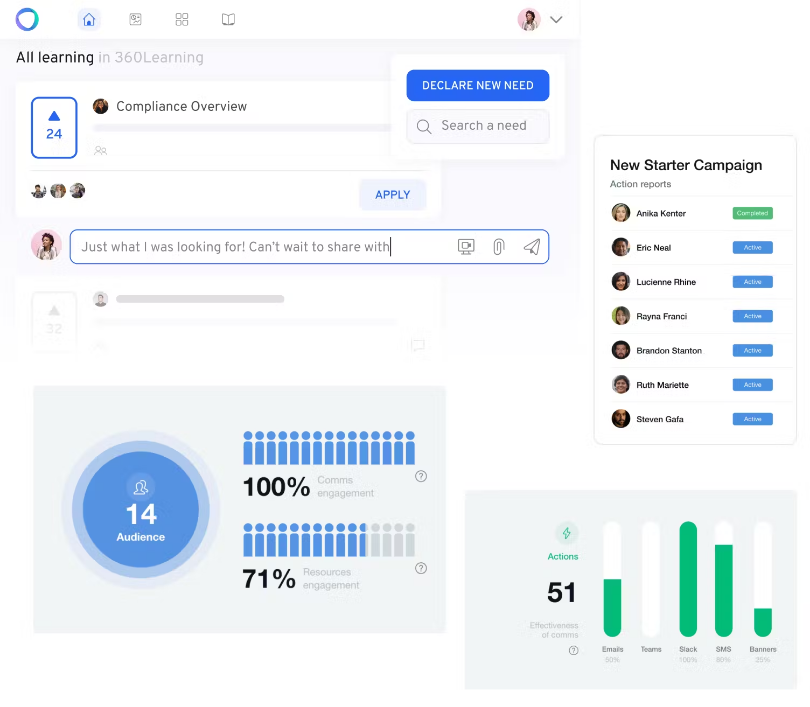 Consultants often need to collaborate with clients and colleagues to share knowledge and expertise. This can be challenging, especially when working remotely or across different time zones.
360Learning is an LMS that facilitates collaborative learning. You can work in real-time with colleagues and clients, edit content, provide feedback, and foster a culture of co-creation.
The social learning features, including discussion forums and gamification, facilitate meaningful interactions among learners, promoting knowledge sharing and peer-to-peer learning.
Another feature I like is the centralized knowledge repository, where I can effortlessly store and share critical documents, presentations, and learning materials. This streamlines knowledge management and ensures everyone stays up-to-date with the latest information.
What You Will Like:
Works with any media and web format, which makes it easy to use existing resources and create new interactive content
Boosts learner engagement with game-like elements, social interaction, and mobile-friendly features
Fosters collaboration and innovation among learners and trainers with community-based reviews, crowdsourcing, and brainstorming sessions
Offers real-time tracking, analytics, and A/B testing to optimize and measure the impact of online courses
What You May Not Like:
Can be difficult to set up and manage for some users, especially those who are not familiar with IT or LMS
May have some errors or problems that affect the user experience or the course performance
Pricing:
Paid plans start at $8/user/month
8. Tovuti – Best LMS for Personalized Learning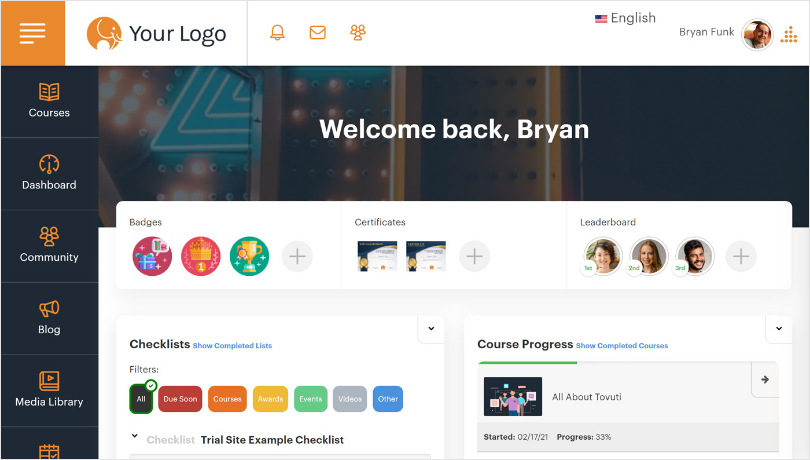 91% of employees want their training to be personalized and relevant.
Tovuti LMS excels in personalization. With its customizable learner portals, I can create a personalized landing page that's uniquely mine. It's like having my own dedicated space within the platform. I can easily access everything that matters to me, including courses, checklists, badges, certificates, events, and more, all in one place.
The platform offers a dynamic learning experience that I truly enjoy. Its sleek and modern design makes navigation a breeze. Plus, the mobile-responsive feature ensures I can learn on the go without any hassle.
What I love most is the interactive content – it keeps me engaged and eager to learn. Tovuti fosters collaboration with its social and peer-to-peer interaction tools, which is perfect for remote learning. The customizable learner portals make it easy to access relevant content.
Tovuti's user transcripts are handy, allowing me to track my progress effortlessly. The integrated video conferencing and language localization options make learning diverse and inclusive.
What You Will Like:
Allows learners to access their courses anytime, anywhere, and on any device
Provides a secure and reliable platform that protects the privacy and integrity of data
Whitelabel the portal, add your logo, and use a custom URL to represent training as a direct extension of your brand
Provide certificates to your learners at the end of training sessions
What You May Not Like:
Can be difficult to customize and adapt to specific needs or preferences, as it has a rigid structure and interface
Can have technical issues or glitches that affect the user experience and performance
Pricing:
Paid plans start at $11,160/year
9. Canvas – Best for Mobile Learning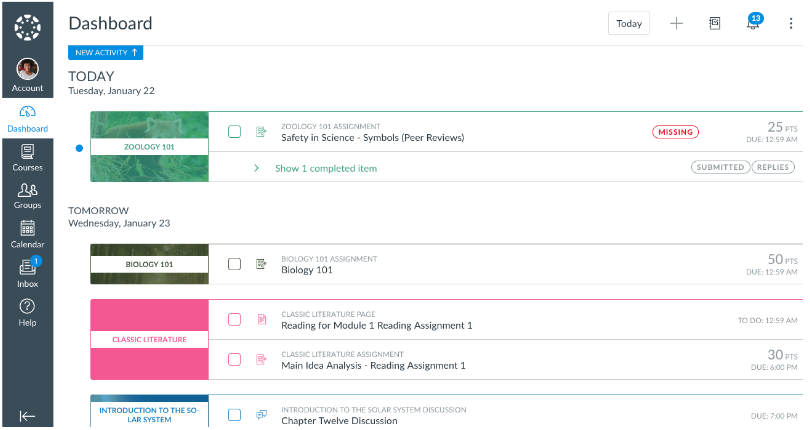 I've worked with many different LMSs, but Canvas by Instructure is my top choice for mobile learning. It's easy to use and navigate, even on small screens, and it offers a wide range of features that make it ideal for mobile learners.
For example, Canvas has a mobile-friendly interface that makes accessing courses, assignments, and other content easy. It also has a built-in chat feature that allows students and instructors to communicate with each other, even when they're not in the same place.
In addition, Canvas offers a variety of tools that can help learners stay on track, such as notifications, reminders, and progress tracking.
This makes it easy for learners to learn independently and at their own pace, regardless of where they are.
So, if you're looking for an LMS to help you deliver engaging and effective mobile learning experiences, then Canvas is the way to go.
What You Will Like:
Canvas offers Web 2.0 integration, enabling seamless connections with a variety of third-party apps and services, including Google Docs, YouTube, Flipgrid, Canva, etc.
Hosted on Amazon Web Services, eliminating the need for user installations or maintenance
Course assembly tool empowers instructors to efficiently create, oversee, and share modules, quizzes, assessments, and other learning materials
Features an open API, allowing developers to craft custom tools and extensions for the platform
What You May Not Like:
Occasionally experiences bugs, particularly in grade syncing with other systems like PowerSchool
Lacks a built-in video conferencing tool, necessitating reliance on external services such as Zoom or Skype
Pricing:
Custom pricing
10. eFront – Best for Course Management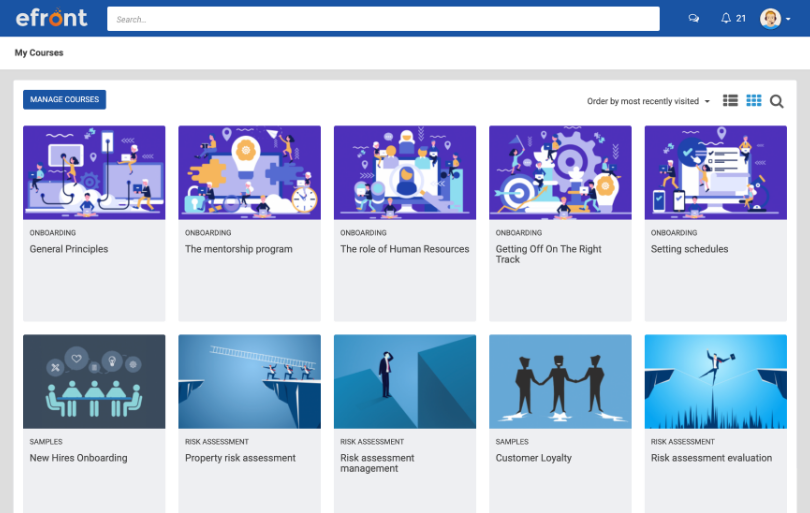 Last but not least is eFront, and it's my top choice for managing courses efficiently. I've used eFront to create and manage courses, and I've always been impressed with its ease of use and flexibility.
The interface is easy to navigate, even for users unfamiliar with LMSs.
The platform is highly customizable, so you can tailor it to the specific needs of your organization.
One of the things I like most about eFront is its content creation tools.
They're easy to use and allow you to create various content types, including text, images, videos, and assessments. You can also easily import content from other sources.
Another great thing about eFront is its learning paths feature. This allows you to create a structured learning experience for your learners by defining the sequence of courses or modules and the learning objectives for each learner.
What You Will Like:
Supports a range of content formats, including SCORM, xAPI, cmi5, H5P, and various media files
Offers unlimited storage with no file size limit for video, audio, and SCORM/xAPI files
Enables the creation of custom branches with unique URLs and designs within the main account
Integrates seamlessly with various services, including Zapier, OpenSesame, Encode Magic, GoToMeeting, WebEx, BigBlueButton, etc.
What You May Not Like:
Features a somewhat outdated graphical interface and lacks a comprehensive onboarding tour
Does not support LTI/PENS and does not allow the export of content created in the LMS to SCORM
Pricing:
Paid plans start at $1,200/month (billed annually)
Which LMS for Consultants Should You Pick?
Now, that's the million-dollar question. The answer depends on various factors, including your specific needs, training budget, learners' skills, and the type of training you want to deliver.
However, my top three picks for the best LMS for consultants are as follows:
Option A: ProProfs LMS
ProProfs LMS is an excellent choice for consultants prioritizing a user-friendly interface. It offers versatile content creation and management tools, with a wide range of ready-made and expert-designed courses and templates. Its robust tracking and reporting capabilities allow you to monitor learners' progress effectively.
Option B: Litmos
Litmos is a great choice if you frequently use video assessments in your consulting work. It's a cloud-based LMS with robust content creation tools and AI-based content evaluation. Litmos offers customization options and supports gamification, making it engaging for learners.
Option C: Absorb LMS
Absorb LMS excels in providing a top-notch learner experience with an intuitive interface and customizable learning paths. It offers tailored training experiences for different groups and supports multiple languages. The platform includes curated courses and gamification features.
For me, ProProfs LMS emerges as the perfect choice. Its intuitive interface simplifies customer training, and its content creation tools offer unmatched versatility. I love how it caters to various learning styles. Plus, the detailed progress tracking ensures close monitoring of milestones, challenges, and roadblocks. Despite the limitation on free users, the value it offers is unbeatable.
Frequently Asked Questions
What is an LMS for consultants?
A learning management system for consultants is a specialized software platform designed to meet consulting professionals' unique training and development needs. It provides tools for creating, delivering, and managing training content, often tailored to specific consulting practices and industries. This LMS helps consultants enhance their employees and clients' knowledge about the services they offer and take, stay updated on industry trends, and collaborate with clients and colleagues effectively, ensuring the highest quality consulting services.
Watch: What is a Cloud-Based Learning Management System?
What are the key features to look for in a consultant's LMS?
When evaluating a consultant LMS, consider scalability for accommodating growing needs, a user-friendly interface for easy adoption, robust analytics for tracking progress, customizable content management, integration capabilities, mobile compatibility for flexible learning, and strong security measures to protect sensitive data. Additionally, the quality of customer support and regular updates ensure a successful learning experience. Visit this features page to know more.
How do I choose the right LMS for consultants?
When selecting the ideal LMS for consultants, consider factors like scalability, customization options, ease of use, robust reporting and analytics, mobile-friendliness, and integration capabilities with other tools. Additionally, prioritize LMS platforms that offer tailored learning paths, content management, and client collaboration features, ensuring they align with your business needs and enhance client engagement and learning experiences.
Watch: How to Choose the Best LMS Software for Employee Training
Who can benefit from an LMS for consultants?
Such an LMS is valuable for consultancies seeking to train their employees and clients on the services they offer and receive. Consultants can use the platform to onboard new team members, share knowledge, and track progress. It enhances their professionalism and efficiency. Similarly, clients gain from LMS implementation. They receive structured, accessible, and engaging training programs. This ensures that the consultant's expertise is effectively transferred to clients.
Can a consultant's LMS be integrated into training programs for consulting firms?
Absolutely. Integrating a consultant's LMS into its training programs is feasible via API connections. This enables content and course sharing, data exchange, progress tracking, and performance reporting across connected systems. The result is enhanced training efficiency, effectiveness, and access to up-to-date, relevant data. Check out the full integrations in a standard LMS.
Do you want a free Training Software?
We have the #1 Online Training Software for employee training & assessment