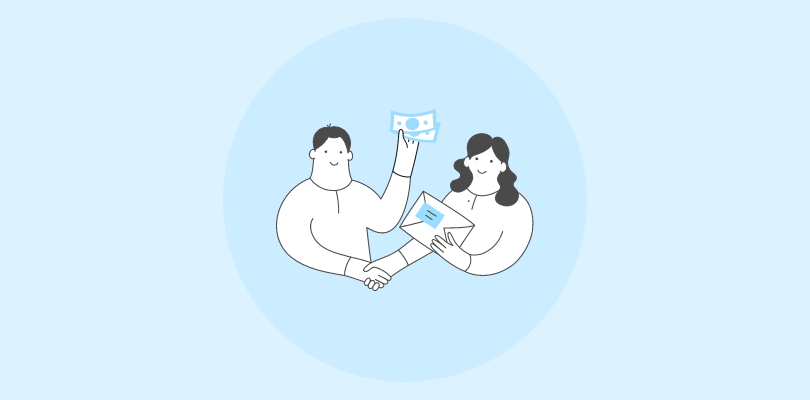 As a banking professional, you must be knowing that staying up-to-date on the latest regulations and best practices is essential. You have strict protocols and regulations that employees need to adhere to all the time.
Therefore, training your employees is a must. But with so many LMS solutions on the market, finding which one is right for you can take time and effort.
That's why I've put together this list of the 12 best LMS for financial services and banking. These solutions can simplify training and make record-keeping easy.
Whether you're looking for an LMS to train your employees on new products or services, keep them compliant with regulations, or simply upskill them for success, I'm confident you'll find a solution on this list that meets your needs.
So let's explore the best financial services and banking LMS in 2023.
Best LMS for Banking
Best For
Pricing
ProProfs Training Maker
Employee Training
Forever free for up to 10 learners. Paid plan starts at $1.97/learner/month for large teams. Billed annually.
GyrusAim
Competency Rating
Paid plans start at $3,000/year
Absorb LMS
Learner Engagement
Paid plans start at $800/active user/month
Docebo
AI-Based Upskilling
Paid plans start at $25,000/ year
TalentLMS
Training Large Teams
Paid plans start at $69/month (billed yearly)
Tovuti
Multi-Language Capabilities
Paid plans start at
$11,160/year
360Learning
Collaborative Learning
Paid plans start at $8/user/month
Litmos
Compliance Management
Paid plans start at $3/user/month
LearnUpon
Webinar Sessions
Paid plans start at $599/month (billed annually)
Paradiso
White Labeling
Free plan available (Limited to 50 users)
Paid plans start at $5.50/user/month
eFront
Blended Learning
Paid plans start at $1,200/month (billed annually)
SeekLMS
Gamified Learning
Paid plans start at $10/month
List of the Top Learning Management Systems for Banks
I've curated this list of the top 12 learning management systems for banks and financial services drawing on my expertise, user reviews in software comparison websites, and thorough research.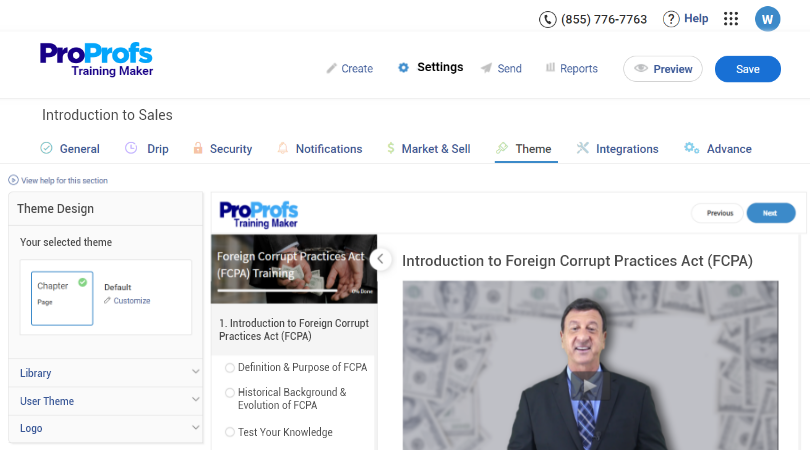 Reflecting on my first-hand experience with ProProfs LMS, I've found that it's a wonderful finance learning management system. It empowers teams with online training, covering everything from new hire onboarding to compliance standards.
You can train employees on financial frauds, scams, anti-money laundering, terrorist financing, and rules of governing bodies, such as FTC, SEC, and CFPB.
The LMS simplifies this by offering ready-to-use courses developed by industry experts and the flexibility to customize content. Its e-learning authoring tool lets you create courses from scratch using your existing documents, podcasts, videos, PDFs, etc.
Watch: How to Create Employee Training Courses Online
One notable feature of the ProProfs LMS is its robust "certification" functionality, which adds a layer of credibility and accountability to training and enables trainers to validate employees' knowledge and skills.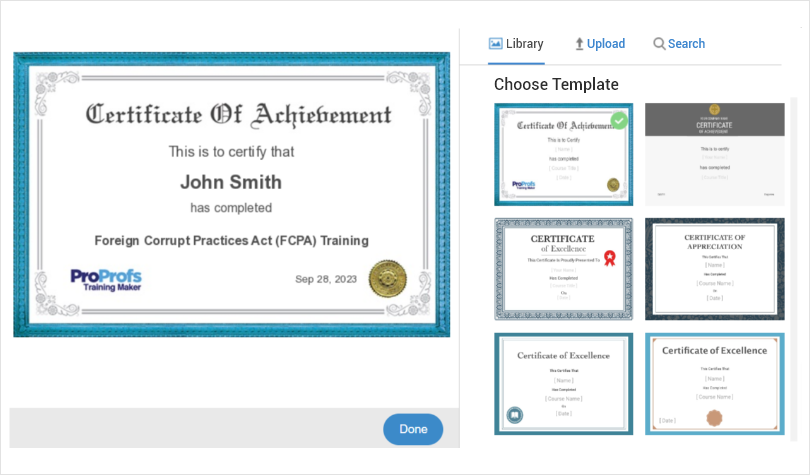 The LMS' user-friendly interface, single sign-on security, and real-time tracking make it an invaluable asset for any financial institution. Its recognition, including awards for employee training software, further strengthens its credibility and effectiveness in the field.
What You Will Like:
Virtual classroom lets you manage your users and courses with ease
Enables mobile learning by allowing you to access your courses from any device and location
Integrated quiz maker helps you create engaging assessments for your learners
Create and embed surveys into your courses to collect feedback, measure satisfaction, and improve your courses
What You May Not Like:
The free plan is limited to just 10 users
While frequent updates ensure you're getting the latest, it might require some adaptation every now and then
A dark mode would be really great to enhance the user experience
Pricing:
Forever free plan for up to 10 learners. Paid plans start at $1.97 /learner/month (billed annually) for large teams. No hidden costs. A 15-day money-back guarantee.
Watch: Anti-Money Laundering (AML) Training | Course Introduction
2. GyrusAim – Best LMS for Competency Rating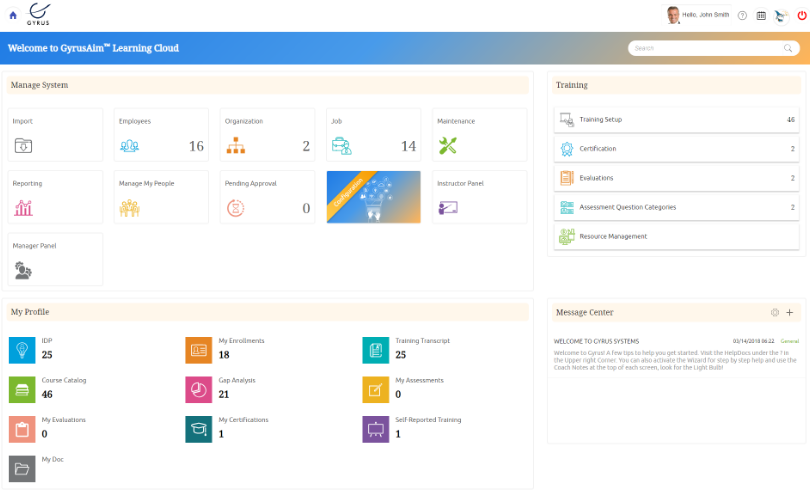 Experience unparalleled learning in banking and finance with Gyrus, a globally recognized, award-winning LMS platform. With users in over 25 countries, Gyrus offers a multitenant environment, exceptional user experience, and customizable workflows in multiple languages.
Streamline financial services with features like personalized learning paths. Integration with existing systems, mobile compatibility, progress tracking, and performance measurement are seamless.
Increase learner competency with Gyrus's integrated Competency Ratings feature. Easily create skill rating systems, track task performance, and bridge online and on-the-job training.
This tool simplifies the validation of employee skills, aligns with compliance needs, and offers remote rating capabilities. Customize rating formats, monitor progress, and enhance compliance.
What You Will Like:
Provides in-depth insights into learner performance to optimize training strategies
Integrates with existing systems, such as HRIS and CRM platforms, ensuring a smooth user experience
Responsive design ensures that learners can access training content anytime, anywhere
Allows you to create personalized learning journeys for each user, catering to their specific needs and skills
What You May Not Like:
The platform entails a steep learning curve for both administrators and learners
While highly customizable, tailoring GyrusAim to precise requirements may involve extensive configuration
Managing and maintaining GyrusAim could require significant time and resources, especially for organizations with limited staff or IT support
Pricing:
Paid plans start at $3,000/year
3. Absorb LMS – Best LMS for Learner Engagement

If you are looking for a finance learning management system that emphasizes learner engagement, Absorb LMS is the go-to platform.
For effective learning, engaging your learners is essential. Absorb LMS offers an easy-to-use platform, making course content discovery and interaction effortless. With robust capabilities, it fosters engagement anytime, anywhere, boosting learner retention.
Absorb LMS's personalized experience allows course recommendations and element display.
Similarly, social learning features enable learner interaction, sharing, and peer collaboration.
Leaderboards and badges encourage friendly competition, celebrating accomplishments. Create captivating, hands-on custom courses with features like videos, quizzes, and leaderboards.
What You Will Like:
Provides handpicked courses from its content libraries, enabling learners to access relevant topics for their needs
Supports gamification, social learning, and mobile learning
Allows for customized training that adapts to different learning styles, preferences, and individual goals
Enables monetization of courses by integrating with e-commerce platforms, allowing users to sell their online courses to external audiences
What You May Not Like:
It has a dated look and feel that may not appeal to modern learners
Requires administrators to follow its logic and workflow. This can result in a steep learning curve and frustration for some users
Lacks robust project management features that can help track the progress and completion of learning projects
Pricing
Paid plans start at $800/active user/month
4. Docebo – Best LMS for AI-Based Upskilling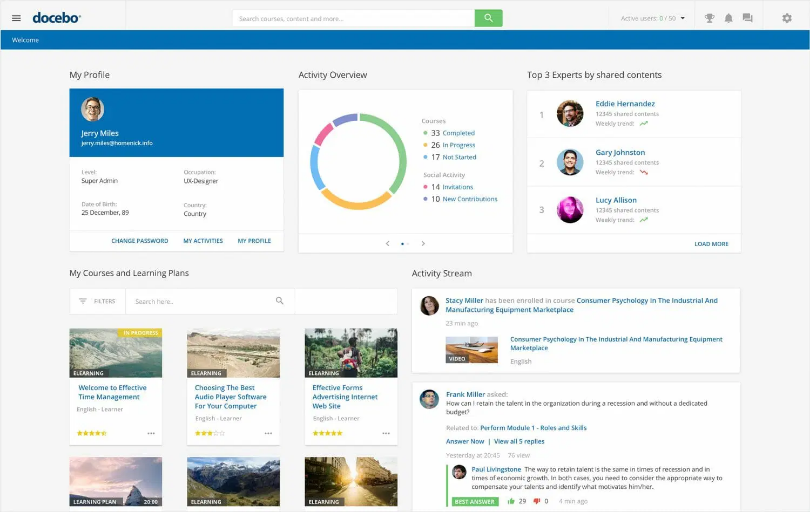 For me, Docebo LMS is like discovering a powerful ally in finance and banking. It's not just another software tool but a solution that understands the challenges faced by financial organizations.
Simplifying e-learning content management by having everything in one place with version control ensures consistency and compliance.
The emphasis on minimizing risk is particularly appealing. Keeping accurate training records and audit trails can be a game-changer when facing regulatory scrutiny. The convenience of automating user and course management across different units and locations streamlines processes and saves time.
Another thing I like about the tool is its AI capabilities that help businesses and individuals learn new skills and stay ahead of the curve. Docebo's AI-powered recommendations engine provides personalized learning paths for each user based on their needs and goals.
What You May Like:
The adaptive learning technology adjusts the difficulty of the content to each user's level of understanding
The gamification features make learning fun and engaging. This helps users stay motivated and on track
The social learning features allow users to connect with other learners and share knowledge
Enhanced survey techniques to engage and incentivize learners
What You May Not Like:
The learning curve can be steep, especially for users who are not familiar with LMSs
The search function can be difficult to use
The mobile app is not as user-friendly as the desktop version
Some features, like the gamification module, are only available in higher pricing tiers
Pricing
Paid plans start at $25,000/ year
5. TalentLMS – Best LMS for Training Large Teams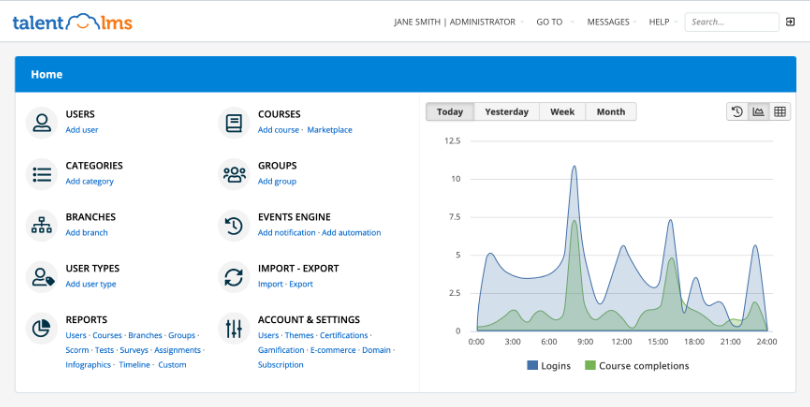 Experience the game-changing impact of TalentLMS, a smart tool designed to simplify financial services training. It helps you stay up to date with rules and certificates hassle-free. TalentLMS is super easy to use, letting you quickly set up courses and get reminders.
You can customize it to match your needs and keep your team engaged. Plus, it helps reduce staff turnover and keeps your data safe from cyber threats. Forget about long setup times – TalentLMS is ready to use.
Many companies love it; it keeps your training safe and secure. With its scalable approach, you can extend training to every corner of your organization using just one account.
Seamlessly create unlimited sub-accounts, mirroring your organization's structure, and efficiently manage them from a single hub. Tailor each sub-account to suit diverse teams, departments, and audiences, ensuring a personalized learning experience.
What You Will Like:
Allows you to create custom modules tailored to the specific needs of your organization
It is easy to set up and use. You can get it up and running in minutes without the need for any IT assistance
Provides you with comprehensive reporting features that help you track the progress and performance of your learners
Enables you to customize your learning environment with custom domain, theme, logo, and branding
What You May Not Like:
The course setup options and course content variety could be made more robust
Certain advanced features or settings available on the desktop might not be accessible through the mobile app
The discussion forum could be enhanced to make it possible to network with learners using forums/comments/discussions
Pricing
Paid plans start at $69/month (billed yearly)
6. Tovuti – Best LMS for Multilingual Training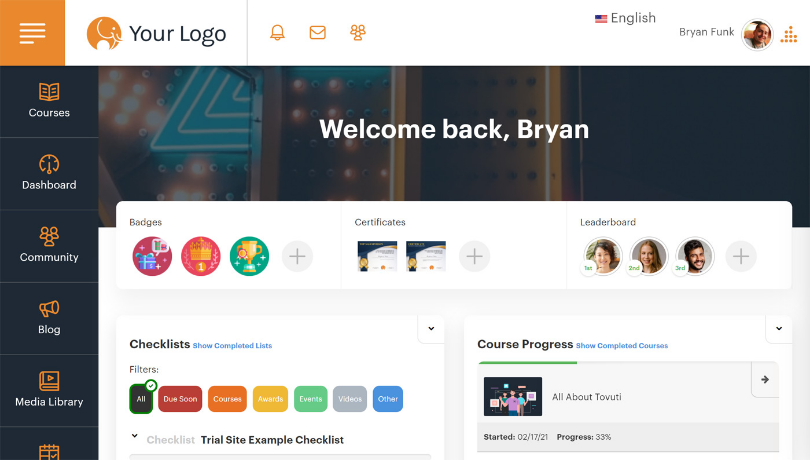 In today's business world, untrained employees can expose companies to significant risks like fraud, legal consequences, and customer dissatisfaction. Tovuti LMS offers standardized training that mitigates these risks, ensures compliance, safeguards the bottom line, and promotes adaptability in a competitive market.
The LMS emphasizes on-the-go learning, allowing employees to access training anytime and anywhere through the mobile app.
Tovuti's vast repository of 30,000+ pre-built courses accelerates program development. Interactive elements such as gamification improve engagement and knowledge retention.
What I particularly like is its impressive multilingual capability. Currently accessible in 12 languages, this feature ensures learners across diverse linguistic regions can comfortably engage with the platform.
Tovuti LMS for banking empowers financial institutions to reach a broader audience for effective training and development worldwide.
What You Will Like:
Has a powerful automation feature that lets you set up rules and triggers to personalize the learning experience
The virtual classroom lets you host live sessions with breakout rooms, chat, polls, quizzes, and whiteboards
Add badges, points, leaderboards, rewards, forums, blogs, and wikis to foster healthy competition
Native integration feature lets you connect Tovuti LMS with various software tools
What You May Not Like:
Admin interface can be difficult to use, especially for those who are not familiar with LMS platforms
The white-labeling capabilities are limited, so you may not be able to get the exact look and feel you want
Only displays a limited number of content items, such as courses and lessons, on the screen. This can make it difficult to find the content you're looking for
Pricing:
Paid plans start at$11,160/year
7. 360Learning – Best LMS for Collaborative Learning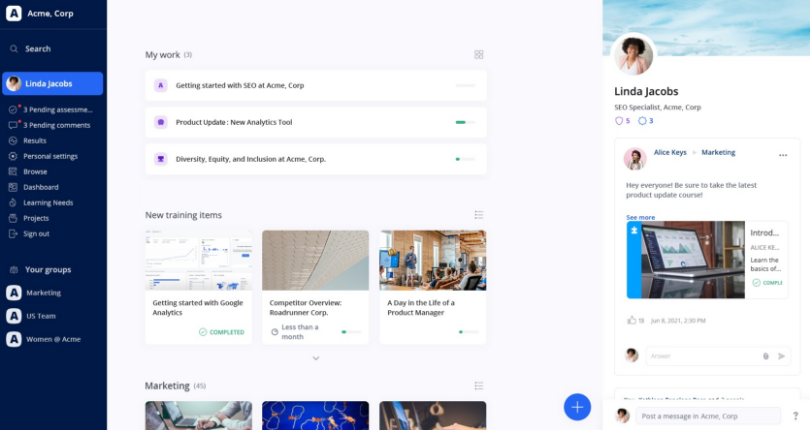 360Learning is a platform designed to transform compliance training in the finance and banking sectors. With over 1,700 teams already benefiting, it offers a fresh approach to automating and managing mandatory training while prioritizing learner experience.
Traditional compliance training often becomes repetitive and generic, leading to disengagement. However, 360Learning shifts the paradigm. Automating compliance tasks and incorporating custom training ensures high engagement while making training more rewarding.
With 360Learning, you can build a culture of collaborative learning that empowers participants to upskill from within. Engage in interactive courses, tap into in-house expertise, and shape your learning experience.
With features like dynamic groups, custom filters, and automated enrollment, the tool also streamlines the tracking of compliance progress. The comprehensive reporting features ensure audit-proof compliance.
What You Will Like:
Allows for the creation of engaging content with videos, images, and interactive elements
Comprehensive reporting and analytics capabilities that help you track the progress and measure the ROI of your learning programs
Sharing and collaboration, such as social learning communities and the ability to comment on content
Encourages a continuous feedback loop between learners and instructors, fostering a culture of improvement
What You May Not Like:
Instructors who are new to the platform might require a bit of time to get accustomed to its features and tools
Transitioning existing content from other platforms to 360Learning might pose challenges due to differences in formatting and compatibility
While 360Learning supports mobile access, full offline access to course materials might be limited
Pricing:
Paid plans start at $8/user/month
8. Litmos – Best LMS for Compliance Management

Litmos, a versatile LMS in banking, emerges as a powerful tool tailored to the rigorous demands of the financial services sector.
Notable for its compliance management, Litmos excels in delivering training aligned with stringent regulations like GLBA, BSA, AML, and FFIEC.
With rapid implementation and seamless integration capabilities, the platform incorporates training into existing workflows.
Its finance-focused content, covering areas from policy and compliance to cybersecurity, enriches professionals' knowledge. Litmos prioritizes security with robust measures, including data encryption and strict authentication.
The analytics provide insights into training effectiveness and learner progress. While a slight learning curve and customization considerations exist, Litmos emerges as a reliable solution for financial institutions seeking comprehensive and compliant learning experiences.
What You Will Like:
A great content engine that allows you to create engaging and interactive courses
Litmos enables you to customize your learning environment with your branding, logo, domain, and theme.
You can generate custom reports and dashboards to visualize and share your data
Litmos supports gamification and social learning features that make learning more fun and engaging
What You May Not Like:
While the platform is generally user-friendly, it might become less intuitive when dealing with a large number of courses or users
The reporting features in Litmos can be complex to use, especially for non-technical users
Depending on the scale of your organization and your specific needs, the cost of Litmos could be relatively high
Pricing:
Paid plans start at $3/user/month
9. LearnUpon – Best LMS for Webinar Sessions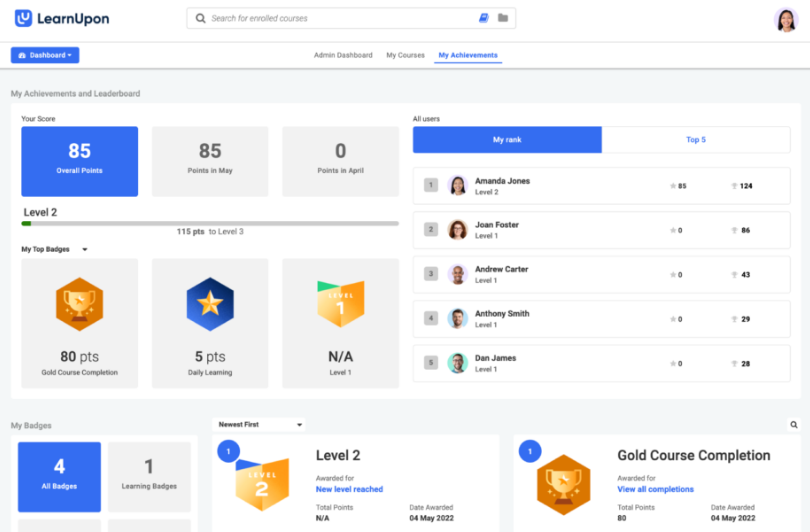 LearnUpon is a cloud-based LMS that can be used to deliver engaging and effective webinar sessions for finance professionals. The tool offers course creation, user management, learner engagement, portals, reporting, integrations, and webinars in one intuitive platform.
Seamlessly integrate live sessions into your training courses with leading webinar tools like Zoom, GoToWebinar, and Adobe Connect. Setup is a breeze – no developer assistance is needed. LearnUpon allows you to record and playback your webinar sessions. Learners who miss the live session can still watch it later.
Enhance learner experience with blended learning, automated attendance tracking, and time zone support. Effortlessly manage multiple sessions, schedule notifications, and engage a global audience.
What You Will Like:
Allows you to conduct live polling and Q&A during your webinar sessions
Detailed reporting and analytics on training attendance, engagement, and performance
Interactive bots to make learning more impactful with AI
AI-generated summaries of courses and modules, helping learners review key concepts and content
What You May Not Like:
Some of LearnUpon's features, such as gamification and social learning, are only available in the higher plans
LearnUpon's branding and user interface are not as customizable as some other LMSs
Searching for courses as an admin is challenging, especially when you have different versions of the same course
Pricing:
Paid plans start at $599/month (billed annually)
10. Paradiso – Best LMS for White Labeling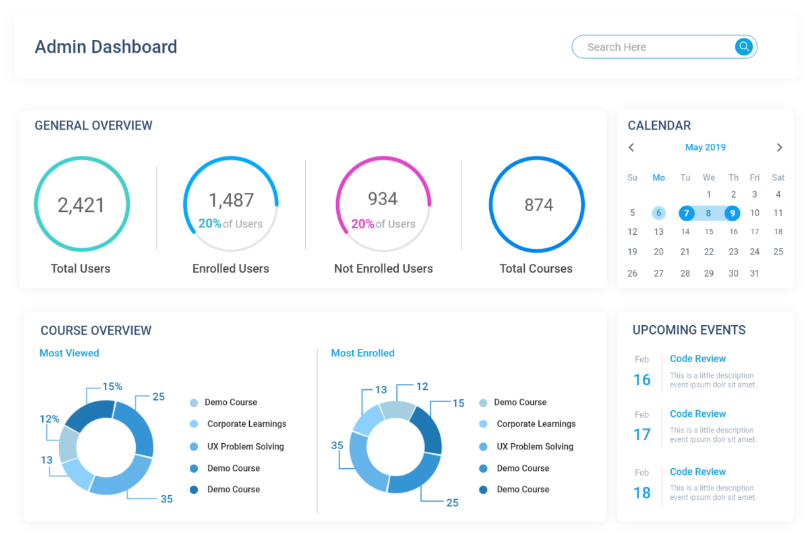 Paradiso LMS is an innovative cloud-based eLearning solution designed for the financial sector. As the best white-label LMS, you can personalize the platform's logo, colors, layout, and more.
With a user-friendly experience, you can customize domain names, implement single sign-on (SSO), integrate various platforms, and create badges and certifications.
Paradiso LMS enables efficient course creation through AI tools for new hires, sales reps, managers, or compliance officers and provides access to a vast library of 80k+ pre-made financial courses.
The system seamlessly integrates with existing tools via APIs, allowing customization to align with brand identity.
Trusted by major institutions, including Bank of America and HSBC, Paradiso LMS conforms to industry standards like SCORM, Tin Can API and GDPR.
What You Will Like:
Offers an intuitive and user-friendly interface that facilitates easy navigation
It supports multi-tenancy, which enables users to create and manage multiple subdomains or portals within one LMS
Optimized for mobile devices, enabling learners to access and engage with their courses anytime, anywhere
It integrates with many popular platforms, such as Salesforce, Google Apps, Moodle, and more
What You May Not Like:
Due to its extensive feature set, beginners might experience a steep learning curve
Requires server resources, making it less suitable for organizations with limited IT infrastructure
The performance might suffer when dealing with a large number of learners
Pricing:
Free plan available (Limited to 50 users). Paid plans start at $5.50/user/month
11. e-Front – Best LMS for Blended Learning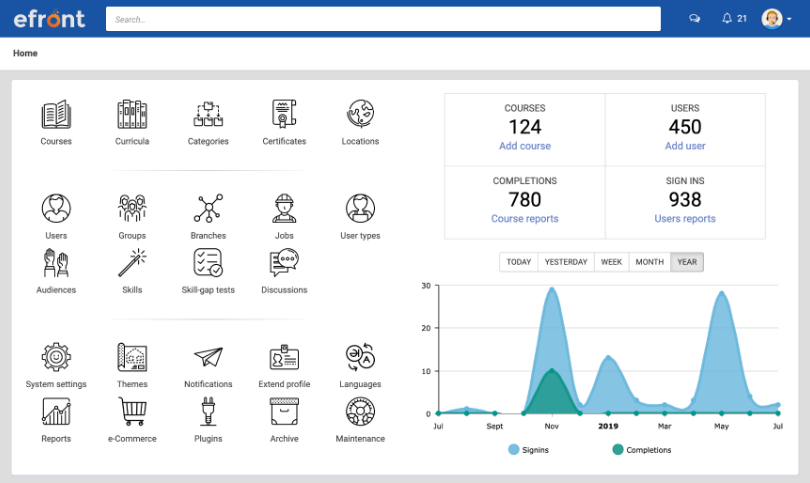 eFront is an advanced LMS tailored to the industry's needs. It helps financial organizations overcome challenges by providing scalable training solutions. It streamlines onboarding, enhances compliance, promotes technology adoption, and reduces costs.
The tool supports employee development, retention, and efficient time management. The system is available in 22 languages, which is great for companies with employees worldwide.
This LMS also supports blended learning, seamlessly integrating online and traditional learning methods to facilitate efficient training in complex financial products and processes.
What's more, the tool optimizes compliance tracking and regulatory training through its custom certification and expiration capabilities, ensuring maximum training efficiency.
What You Will Like:
Create custom reports to track user actions and system activities, utilizing audit logs for a comprehensive historical view
Assign courses based on trainees' skills, closely monitoring their progress and ensuring targeted growth
Identify employee weaknesses through skill-gap tests, allowing you to reshape learning paths to address their specific needs
Build individualized training programs around job roles, boosting employee focus and overall productivity
What You May Not Like:
Has a slightly outdated graphical interface that may not appeal to some users
Does not support LTI/PENS standards for content interoperability
Does not allow the bulk download of completion certificates
Pricing:
Paid plans start at $1,200/month (billed annually)
12. SeekLMS – Best LMS for Gamified Learning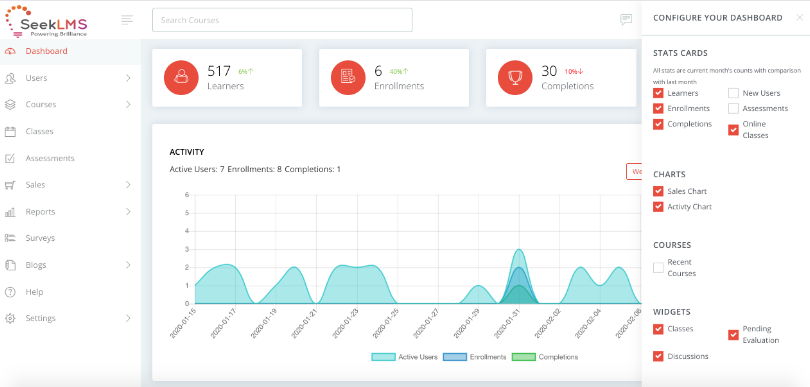 Another robust LMS I would recommend is SeekLMS. In the face of disruptive forces like technology and global events, this modern LMS offers a solution to enhance employee skills and knowledge continuously. Moreover, it promotes employee engagement, reduces costs, and saves time by streamlining training processes.
It offers flexible delivery modes, engagement-enhancing gamification, and affordability while aiding in course creation and providing valuable insights through analytics.
This LMS recognizes that harnessing the intrinsic human desire for competition, self-expression, and achievement can revolutionize the learning experience.
The gamification engine introduces a reward system that adds an engaging layer to the learning journey. SeekLMS transforms learning from a conventional endeavor into an exciting quest for knowledge through elements such as points, badges, levels, and winners.
What You Will Like:
Craft immersive courses by incorporating multimedia elements that resonate with modern learners
Ability to gather learner feedback and track progress equips organizations with actionable insights
Caters to enterprise needs, offering role-based access, security features, integrations, and robust support
Provides support for diverse training delivery modes and automated administrative functions
What You May Not Like:
Does not have a free trial or a free plan, so you will have to pay a monthly or yearly fee to use it
Lacks multilingual support and English is the default language for courses and learners
Does not have a native app for iOS devices
Pricing:
Paid plans start at $10/month
Which LMS for Banking Should You Choose?
Choosing an LMS for banking depends on several factors, like security features, regulatory compliance support, content customization options, integration capabilities, scalability, user-friendly interface, mobile accessibility, and customer support.
My top picks would be:
Option A: ProProfs
ProProfs LMS is an exceptional solution for finance education. It offers a wide range of online training, from onboarding to compliance, which is critical for financial institutions. With ready-to-use courses and customization options, it is easy and quick to get started. Its user-friendly interface, real-time tracking, and recognition enhance its value.
Option B: GyrusAim
GyrusAim excels in banking learning, offering a multilingual, personalized learning environment. Its distinctive Competency Ratings feature simplifies skill validation and compliance. Rich insights into learner performance, integration capabilities, and personalized learning paths make GyrusAim a powerful choice, albeit with a potential learning curve.
Option C: Absorb LMS
Absorb LMS prioritizes engagement for effective finance education. Its user-friendly platform encourages interaction, boosting retention. Personalized experiences, social learning, and gamification enhance learner involvement. Custom courses with multimedia elements facilitate captivating learning.
For me, ProProfs LMS is the best choice among the three. It is a robust platform for finance training. Its end-to-end support for comprehensive online training, customization options, and real-time tracking empower financial institutions.
Learn More About LMS for Banking and Financial Services
What is LMS in banking and finance?
An LMS in banking and finance is a digital platform used to deliver, manage, and track training and educational content for employees in the industry. It enables banks and financial institutions, such as insurance and investment companies, to provide structured learning experiences, regulatory compliance training, and skill development, ensuring they stay updated with industry trends and regulations while enhancing their professional expertise. Watch: What is a Cloud-Based Learning Management System?
What are the key features to look for in a banking LMS?
In a banking LMS, key features to consider are robust security measures to safeguard sensitive financial data, customizable content creation and delivery options tailored to industry-specific needs, integration capabilities with existing banking systems, compliance tracking to ensure regulatory requirements are met, analytics tools for monitoring learner progress and performance, and mobile compatibility to facilitate learning on-the-go for banking professionals. Read this guide to know more.
How to choose the right LMS for banking and financial services
To choose the right LMS for banking and financial services, prioritize security, flexibility for custom content, and integration with existing systems. Ensure it tracks compliance, offers analytics for progress monitoring, and supports mobile learning. Look for user-friendly interfaces and consider scalability for future needs. Read user reviews, seek demos, and evaluate the quality of customer support. A suitable LMS should align with industry requirements, offer efficient learning, and adapt to evolving banking and finance demands.
Watch: How to Choose the Best LMS Software for Employee Training
Does an LMS offer specific training modules tailored to the banking and finance industry?
Yes, many LMS platforms offer specific training modules tailored to the banking and finance industry. These modules cover financial regulations, risk management, customer service, and investment strategies. For example, ProProfs LMS offers ready-to-use finance and banking training courses, including courses on Anti-Money Laundering and the Foreign Corrupt Practices Act. These specialized modules help banks and financial institutions provide targeted and effective training to their employees.
Can an LMS accommodate various types of training content?
Yes, an LMS can accommodate various types of training content. It's designed to handle diverse formats like text, videos, presentations, quizzes, and interactive activities. For instance, ProProfs LMS supports PDFs, videos, presentations, online quizzes, games, and podcasts. Learners can access mixed content types, enhancing their understanding and retention of crucial industry-specific information and skills.
Watch:How to Add Media to Your Online Courses
How can an LMS help in delivering consistent training across different departments and branches of a financial institution?
An LMS ensures consistent training across departments and branches of a financial institution by centralizing training content and delivery. LMS features like tracking and reporting enable managers to monitor progress and identify gaps, ensuring consistent learning outcomes. Additionally, using the same standardized content to train different teams on the same topic helps you maintain consistency in learning and outcomes. This results in a well-informed and synchronized workforce across the institution's various branches and divisions.
Do you want a free Training Software?
We have the #1 Online Training Software for employee training & assessment