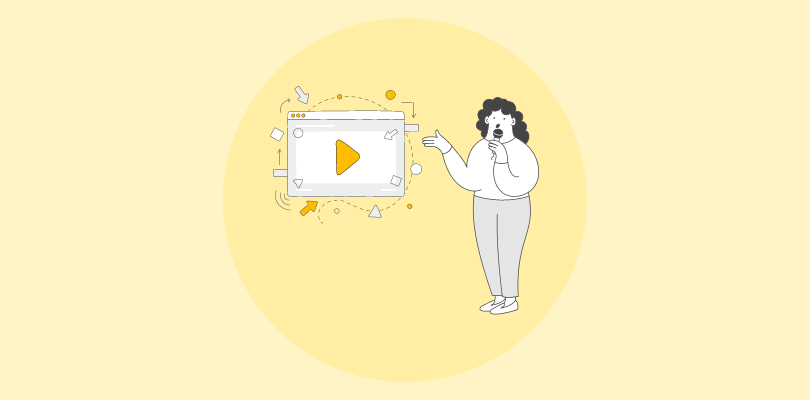 Do you think that learning management systems can offer benefits to government agencies?
You bet they do!
You have a lot of employees who need regular training so they remain compliant and safe and follow your policies and procedures.
But complex bureaucratic processes, technological barriers, and a large workforce can delay the adoption of modern learning systems.
Governments can use LMSs to enhance employee training, streamline workflows, and ensure top-notch education delivery. You can also offer mass education at scale, such as awareness courses. This solution simplifies training and makes record-keeping easy.
Whether you're working at the federal, state, or local level, the right LMS can make all the difference in achieving your educational goals while adhering to the strict standards of government operations.
Over the past close to a decade, I've had the privilege of working within the corporate training industry and have become well-acquainted with a variety of tools.
I'm excited to bring you not only my own experiences but also the collective wisdom of my peers and extensive research of online reviews. Together, we've put together a list of some of the top LMS options tailor-made for government use.
Check out.
| Tools | Best For | Price |
| --- | --- | --- |
| ProProfs Training Maker | Employee training | Forever free for up to 10 learners. Paid plan starts at $1.97/learner/month for large teams. Billed annually. |
| Trakstar Learn | Online learning communities | Starts at $249/month for the basic plan |
| Totara Learn | Corporate training | Free plan available. Custom paid plans. |
| Paradiso LMS | Collaborative & social learning | Starts at $199/month for up to 100 users |
| PlatCore LMS | Gamified learning experience | Starts at $5/user/month |
| Meridian LMS | Dynamic and interactive learning | Custom pricing. |
| Tovuti LMS | Creating engaging courses | Starts at $775/month for up to 500 users |
| Gyrus | Compliance management | Starts at $300/month |
| Anthology | Higher education learning | Starts at $260/user/month |
| CourseMill | Secure training | Starts at $149/month for basic plan |
| Titus | Military applications | Starts at $199/month |
| Open LMS | Dynamic reporting | Free plan available. Paid plan starts at $99/month for up to 100 users |
List of Best Government LMS Software
If there's one government LMS that I found really versatile, it has to be the ProProfs Training Maker.
It's like your reliable cloud-based assistant for government agencies, non-profits, and associations.
With it, you can easily create, deliver, and keep tabs on online training courses and tests for your employees. It's all about making learning and tracking a breeze!
I found it user-friendly, flexible, and scalable, and it can support various training needs such as compliance, safety, skills, and policies.
A major payback of using ProProfs Training Maker as a government LMS is that it can help reduce training costs and time by enabling online learning anytime, anywhere, and on any device.
It has features such as enabling learner groups and group admins, need-based LMS customization, self-registration, SSO, and real-time reports on courses & in-course quizzes.
ProProfs Training Maker is trusted by many government organizations and public sector entities around the world for its ease of use, reliability, security, and affordability.
"ProProfs helped us to reduce training costs by 50% and improve surveyor performance."

– Sharon Irvine (Training and Development Analyst,California Department of Public Health)
No wonder it's really useful in providing mass education and training employees on HIPAA compliance, medical emergency procedures, technology, and much more.
Watch: How to Conduct HIPAA Compliance Training in the Workplace

What You Will Like:
100+ professionally-designed courses for government
Upload videos, presentations, images & PDFs and add quizzes.
Access real-time reports on courses & quizzes.
White-label LMS with your logo, theme, and messaging for easy brand recognition.
Import SCORM/Tin Can courses.
Watch: What Is SCORM and How Does It Work?

What You May Not Like:
The forever free plan is capped at 10 learners
Does not have a dark mode.
Price:
FREE for up to 10 learners. Paid plan starts at $1.97/learner/month for 10+ learners. 15-day money-back guarantee. No hidden charges.
2. Trakstar Learn – Best for Online Learning Communities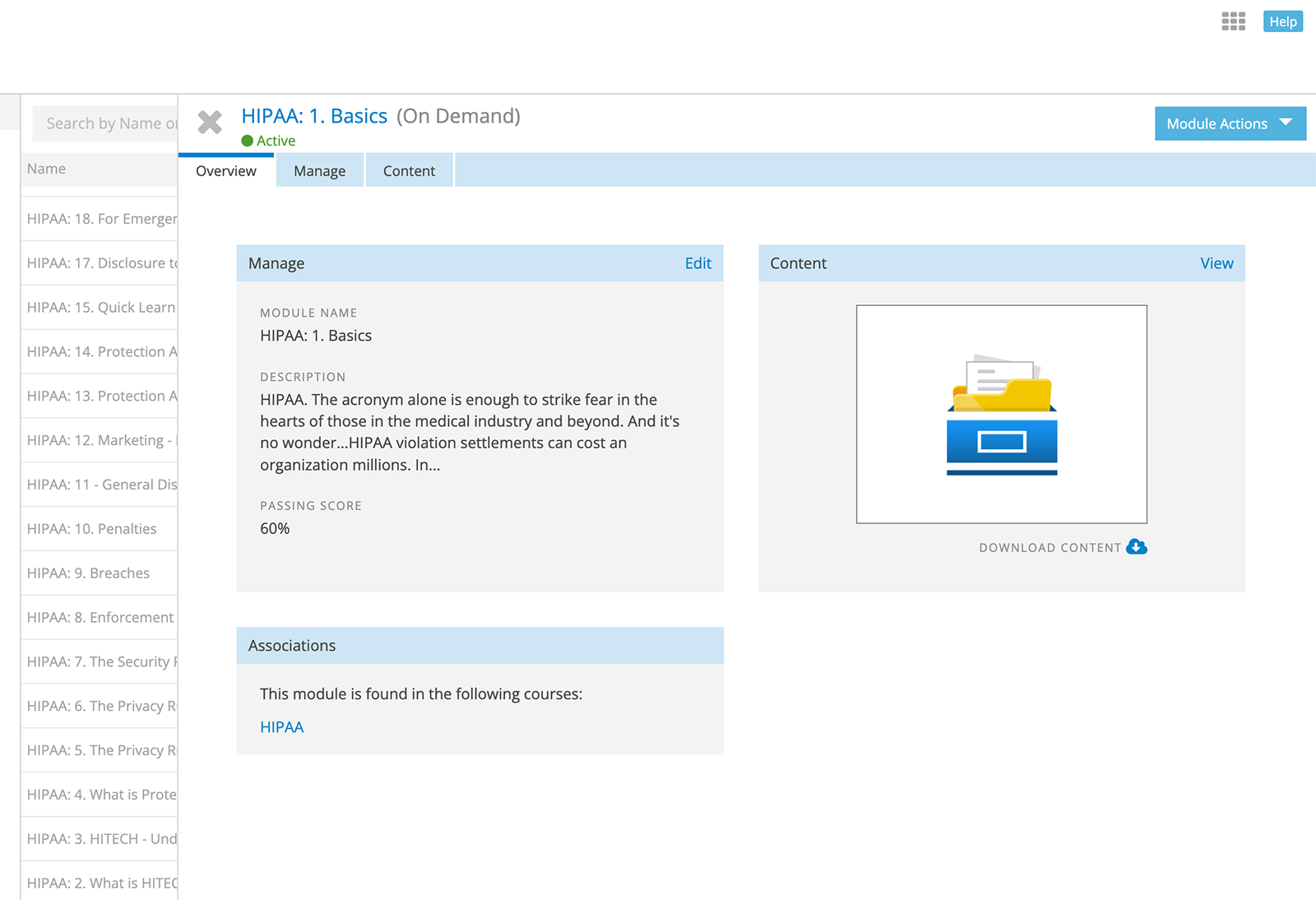 I have found Trakstar Learn to be incredibly effective for training as a government LMS.
One of its remarkable features is the online learning communities, and Trackstar Learn can foster collaboration and engagement among learners by creating virtual classrooms and online learning communities.
They allow learners to interact with each other and with instructors, defining user roles, permissions, and access to different courses and communities.
It also contains robust discussion forums where learners can interact, ask questions, and collaborate with peers and instructors for a collaborative learning experience.
Sounds cool, right? There's more to the story.
It contains tools for administrators to moderate discussions, manage user access, and maintain a positive learning environment – a complete win-win.
What You Will Like:
Gamification elements, quizzes, and assessments that can make learning more enjoyable.
Creation and management of compliance training programs.
Allows the agencies to offer skill development courses to employees.
Accessible through various devices; employees can access training materials remotely or on the go.
Drag-and-drop course builder makes it easy to create and customize courses.
What You May Not Like:
Does not integrate well with other tools and platforms
Limited options for personalization
Price:
Starts at $249/month for the basic plan
3. Totara Learn LMS – Best for Corporate Learning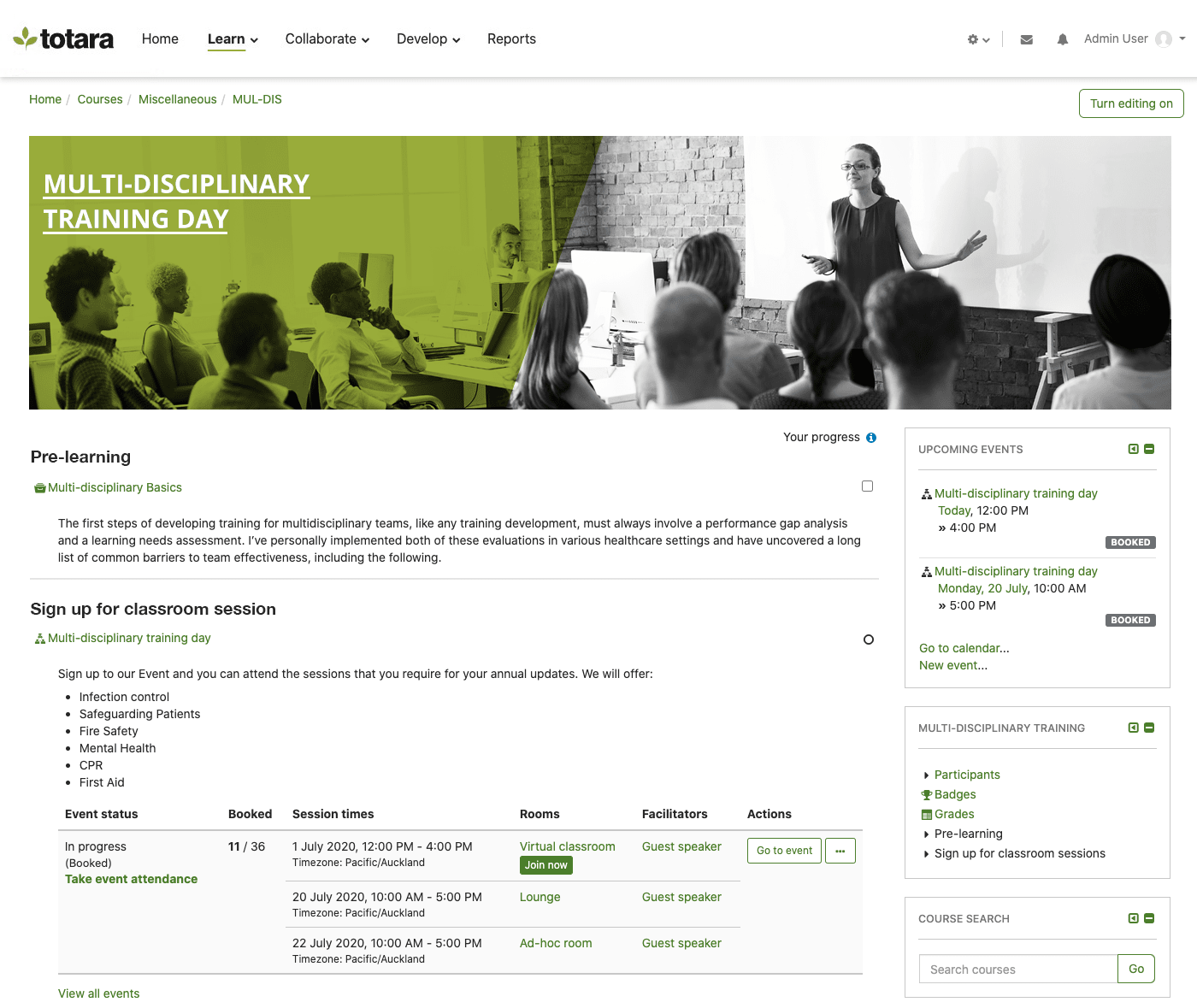 In my view, Totara Learn is one of the best LMSs for government and non-profit organizations, and I have several reasons.
First of all, it's an open-source platform that can be customized and adapted to suit the specific needs and preferences of different organizations. What struck me right away was its tailored approach – it's like it understands our unique needs.
For government agencies, it's a lifesaver in terms of compliance training.
This feature lets them craft tailored programs to make sure everyone stays current with the latest regulations, which is absolutely crucial.
And let's talk about skill enhancement – Totara Learn's versatility means we can offer courses that directly align with the diverse roles within our organizations, boosting overall efficiency.
But it's not all serious stuff – the interactive elements and gamification in Totara Learn make learning engaging and, dare I say, fun. Onboarding new hires becomes smooth and standardized, which is crucial for maintaining the standards.
What You Will Like:
Creation of targeted compliance training programs to stay updated.
Robust tracking and reporting features to track learners' progress and training.
Seamless accessibility to allow office-based and remote employees to access training materials anytime, anywhere.
Huge community that fosters collaboration and sharing knowledge, resources, best practices, etc.
Supports skill development across various roles.
What You May Not Like:
Learners might take a bit of time to fully grasp all the capabilities.
May not offer quick and efficient technical support.
Price:
Free plan available. Custom paid plans.
4. Paradiso LMS – Best for Collaborative & Social Learning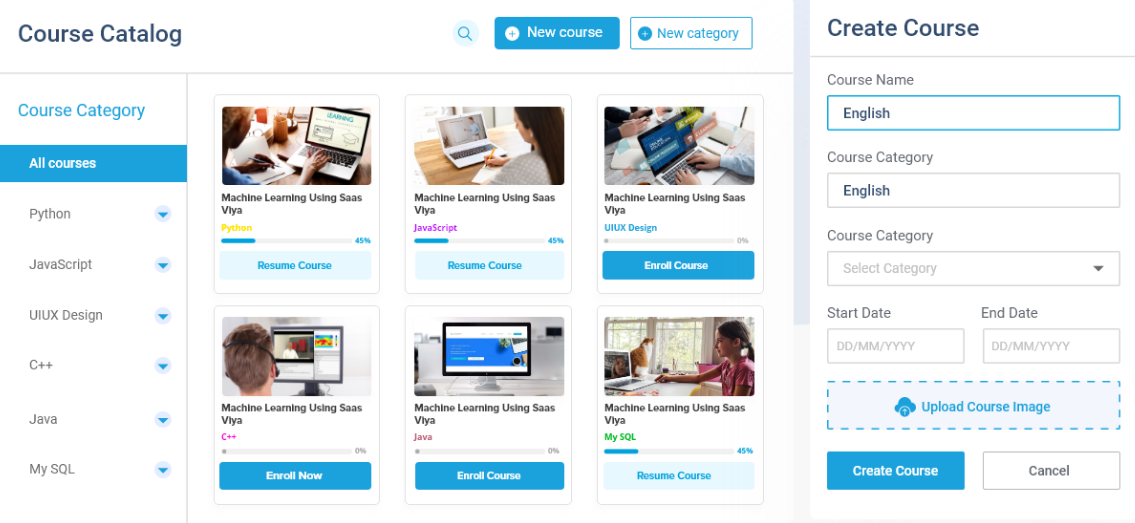 When you are looking for a smart government learning management system, Paradiso LMS is a paradise.
I would consider it a remarkable discovery for government endeavors. It's like the platform has been tailor-made, understanding the unique challenges they face.
One of its unique features is a collaborative learning environment along with social sharing.
For instance, you can create and join online groups or communities based on shared interests, courses, or projects, fostering effective learning. Besides, it contains features to upload, share, and collaborate on documents, presentations, and multimedia content.
What I really liked was its peer review and evaluation aspect for assignments and projects. It promotes constructive feedback and assessment among the learners and lessens the workload of the instructors.
It also supports user-generated content for learners, where they can create and share content, fostering a sense of ownership and contribution.
What You Will Like:
Creation of targeted programs that keep employees updated on changing regulations.
Comprehensive features cover course creation, management, and engagement.
Minimizes the learning curve and ensures easy adoption by employees.
Smooth customer support experience.
Incorporates gamification elements that make learning interactive.
What You May Not Like:
Extensive features might be overwhelming for smaller organizations.
Security and data privacy can be a challenge in government organizations.
Price:
Starts at $199/month for up to 100 users
5. PlatCore LMS – Best for Gamified Learning Experience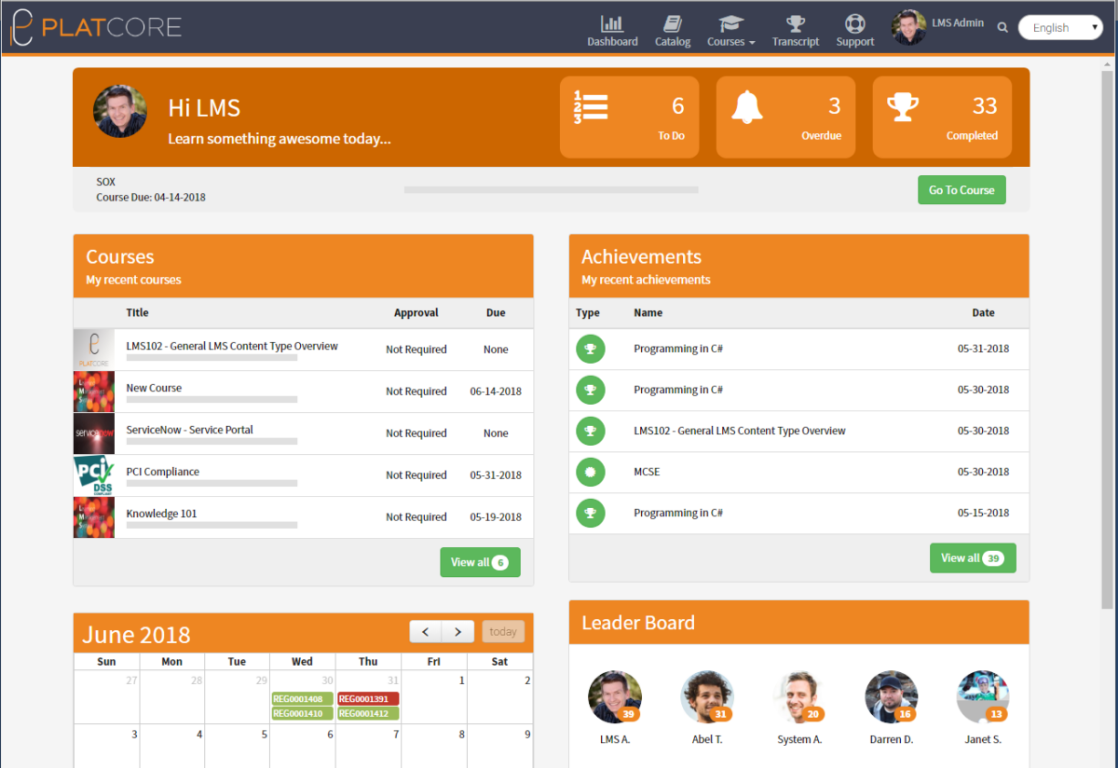 PlatCore LMS' gamification elements make it a significant platform.
While they get the training, learners can earn badges or achievements for completing courses, modules, or specific tasks, which fosters recognition and motivation.
There's a real-time leaderboard that displays top performers, encouraging friendly competition and engagement among learners.
Sounds so competitive, right?
Learners are also presented with challenges, quests, and missions that require problem-solving and critical thinking to complete.
And this gamified learning approach is a smart way to foster learning among employees at every level.
What You Will Like
Provides configurable reports that offer better insight into training
Accommodates increased training demands according to needs
Specialized compliance modules that keep government employees up to date
Centralized training hub; makes it easier to manage, organize, and deliver learning materials
Community features foster collaboration among volunteers and team members
What You May Not Like:
Steep learning curve for some users, especially those less tech-savvy
Integrating with existing systems or databases requires technical expertise
Price:
Starts at $5/user/month.
6. Meridian LMS – Best for Dynamic and Interactive Learning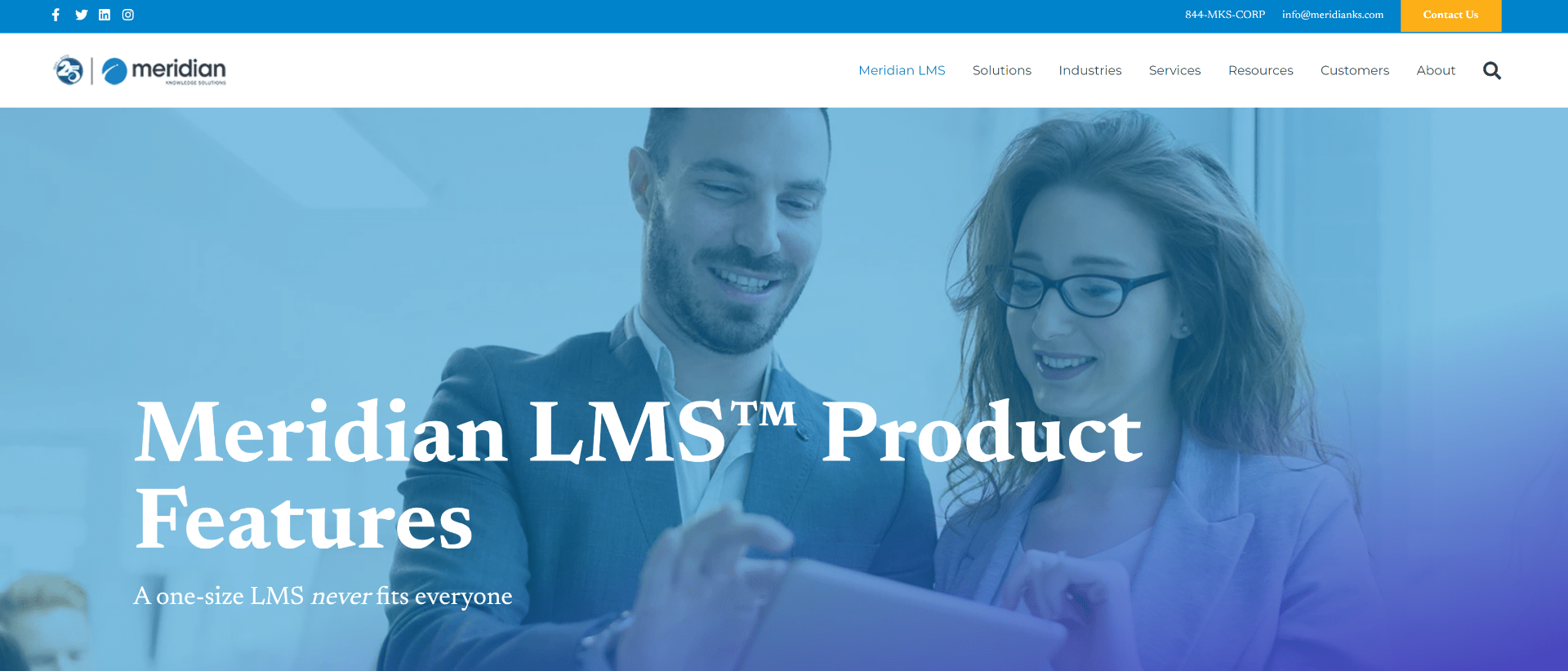 Whether you're looking for an LMS for the federal, state, or local government, Meridian LMS ticks all the boxes.
Meridian LMS is a software platform that provides enterprise-level learning solutions to meet complex learning challenges.
When I explored the tool, I found that Meridian LMS has been rated as a top learning management suite by various industry awards. It is best for interactive and dynamic learning environments.
It has been used by the U.S. Army, U.S. Secret Service, Commonwealth of Virginia, New York City, Johnson Controls, Abbott, HAI Group, and The Auto Club Group (AAA).
Sounds quite exciting, right?
Besides, what I really like is the career development feature that empowers your workforce to prepare them for progress.
You can use the Career Explorer tool to create personalized learning paths based on competencies, goals, and interests.
No doubt, it is one of the favorite LMSs for government training and is preferred by non-profit organizations too.
What You Will Like:
Multi-domain architecture to segment and connect to various learner groups.
Compliant with Section 508, SCORM, AICC, and xAPI specifications.
Integrates with various tools such as ADP, BambooHR, Salesforce, SharePoint, Zoom, and more.
Supports online, instructor-led, video-based and collaborative learning.
Built-in xAPI Learning Record Store (LRS) for real-time insights to get better results.
What You May Not Like:
Limited reporting options.
Not compatible with some payroll systems.
Price:
Custom pricing.
7. Tovuti LMS – Best for Creating Engaging Courses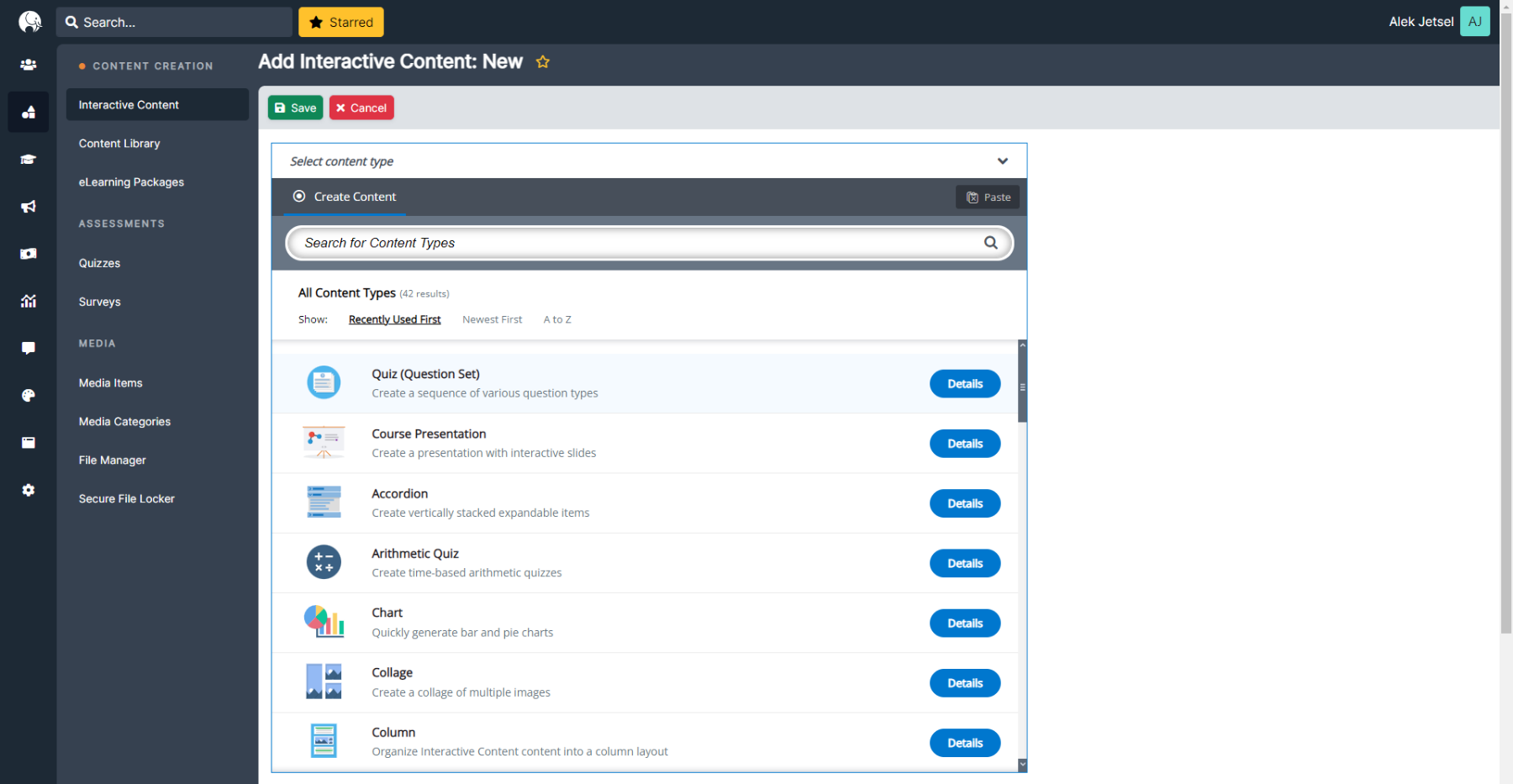 I was researching some online review websites, and according to them, Tovuti LMS is one of the finest LMS software for government organizations because it is user-friendly, versatile, reliable, and affordable.
This software allows you to host live virtual events or classroom sessions with your learners, using features like video conferencing, screen sharing, chat, polls, and whiteboard.
You can also record and replay your sessions for future reference.
It supports interactive content types, such as videos with quizzes, simulations, and branching scenarios. Besides, the LMS can be integrated with live webinars and virtual events, fostering real-time engagement and interaction.
Adding to that, you can conduct polls, surveys, and quizzes that help in gathering learner feedback and insights.
Tovuti LMS courses are compatible with various devices and browsers, and you can export them to PDF or Word formats.
What You Will Like:
Strong user management and access control to restrict access to sensitive training materials.
Includes features such as data encryption, user authentication, and compliance with data protection laws.
Capable of integrating with existing government systems.
Dedicated support and training services.
Accessible on various devices, including mobile phones and tablets, to accommodate training materials remotely.
What You May Not Like:
Limited customization; government organizations may not be able to tailor it to their specific needs.
Lacks advanced features such as compliance management, security clearance, and accreditation.
Price:
Starts at $775/month for up to 500 users.
8. Gyrus LMS – Best for Compliance Management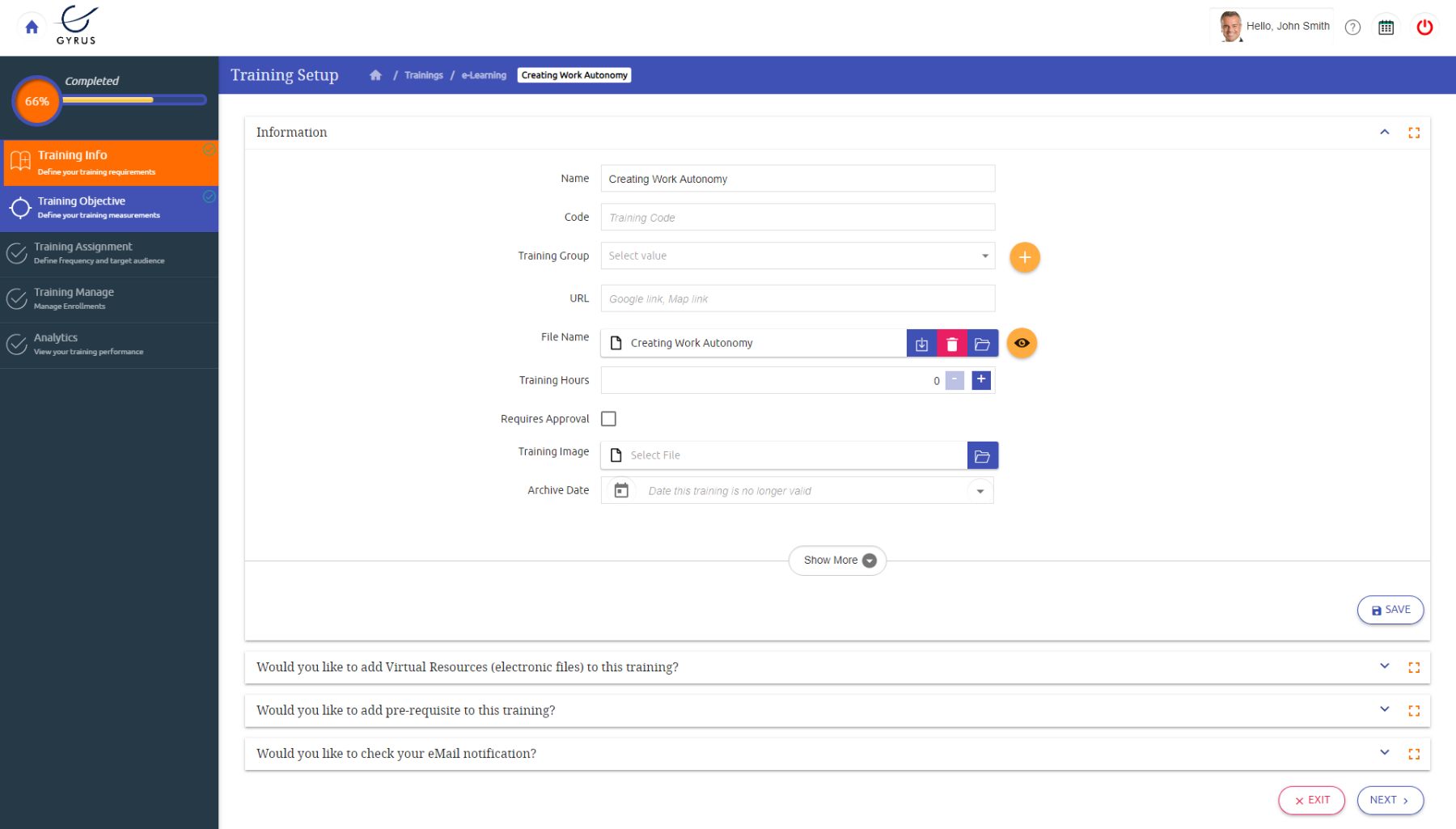 As a part of my research, I found that Gyrus is one of the oldest and most experienced LMS providers in the market, with over 30 years of experience and more than 500 customers worldwide.
It has won several awards and recognitions and is designed to meet the needs of large enterprises as well as government agencies.
One of the first things that struck me about Gyrus LMS was its impressive compliance management features. In fact, it allows email notifications and reminders to ensure learners are aware of upcoming compliance training requirements and deadlines.
Not just this, you can create customized learning paths for learners based on their previous training history and identified skill gaps. You can even add assessments, quizzes, and tests to evaluate learner comprehension of compliance-related material.
Also, in the realm of government training, where each department may have unique requirements and content, this flexibility was invaluable.
Managing vast repositories of training materials, including documents, videos, and interactive modules, can be a daunting task in a government organization.
Don't worry! Gyrus LMS simplified this process.
You can easily upload, organize, and update your training content, ensuring that you have access to the most current information.
What You Will Like:
Ability to tailor the platform to our specific needs, from branding to course creation.
Easy scalability to accommodate an ever-increasing number of users and training modules.
Training materials are accessible to individuals with disabilities.
Quick and responsive support team to address your queries and provide solutions to issues.
Offers necessary APIs and support for integrating with existing software and databases.
What You May Not Like:
Reporting interface does not have a user-friendly design.
Does not contain a dedicated mobile app.
Price:
Starts at $300/month.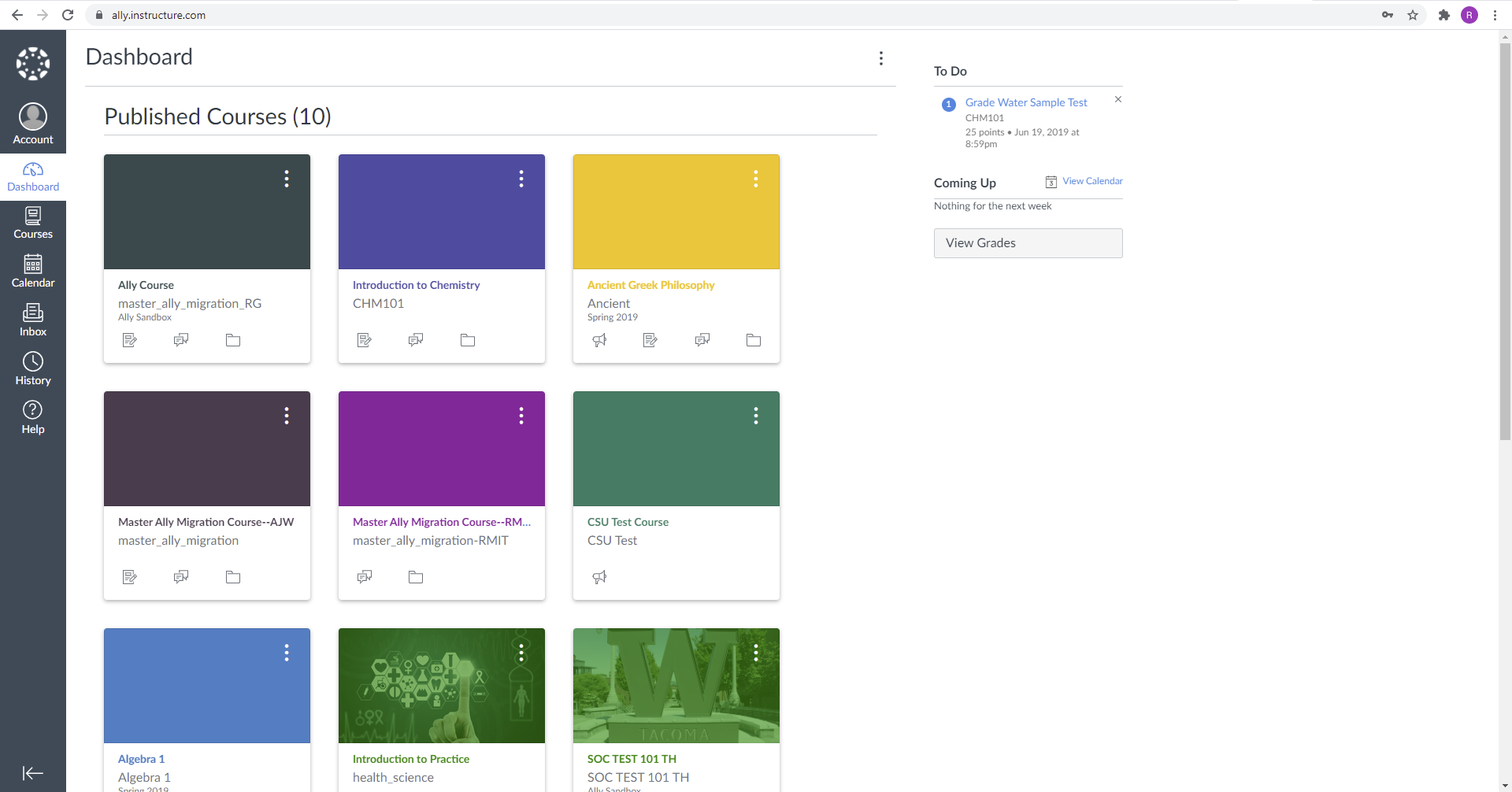 Formerly known as Blackboard Learn, Anthology LMS is a popular government training LMS.
It is part of Anthology's suite of products and services that aim to support government agencies with their teaching and learning, institutional effectiveness, and research needs.
Anthology LMS is a scalable platform that can be used by organizations of all sizes. This is important for government organizations which often have a large number of employees to train.
One of the most interesting things that I love about it is the user-friendly interface. Government employees, who may vary in their technical proficiency, will find the platform intuitive and easy to navigate.
Besides, you could easily track learner progress, assess the effectiveness of training programs, and generate compliance reports for audits and inspections.
Anthology LMS offers a wealth of training resources, including webinars, documentation, and a user community where we can seek advice and best practices.
This combination of support and training resources is instrumental in helping the teams become proficient in managing the LMS effectively.
What You Will Like:
Anthology LMS has Anthology Ally – a tool that works across any LMS to provide feedback and guidance on improving accessibility.
Personalized learning experience from any device with the help of the Blackboard Learn application.
Meets agency requirements for system and data security and has FedRAMP® moderate SaaS authorization.
Compliant with a variety of government regulations, including FERPA and HIPAA
What You May Not Like:
The initial setup costs, licensing fees, and maintenance expenses are high.
Integrating Anthology LMS with existing government systems can be a complex process.
Price:
Starts at $260/user/month
10. CourseMill LMS – Best for Secure Training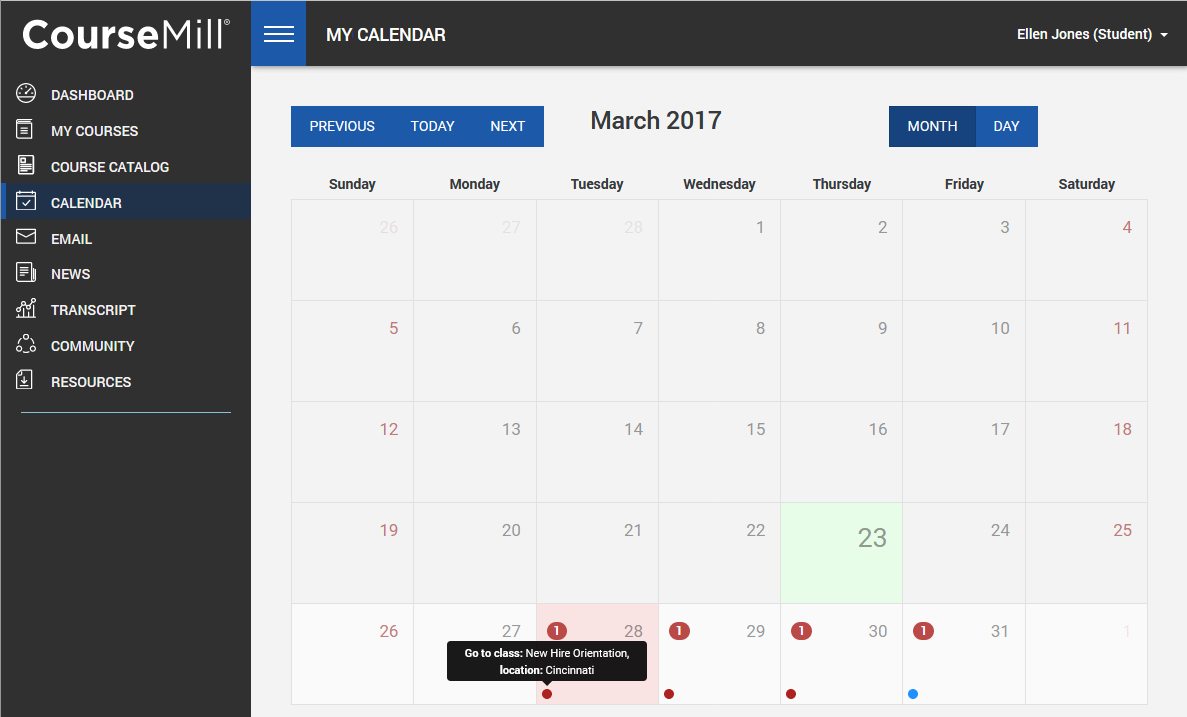 CourseMill is a fantastic choice for government agencies when it comes to managing and delivering training programs.
Having worked closely with a few government departments, I've seen how CourseMill addresses their unique needs and challenges.
Government agencies prioritize security and compliance, and CourseMill doesn't disappoint. It provides robust security features, including user authentication, encryption, and role-based access control.
The LMS complies with most security requirements in the industry, making it safe for your learners to access courses in their preferred devices and locations.
Also, in today's fast-paced world, the ability to access training materials on mobile devices is vital. Isn't it?
CourseMill is equally responsive and mobile-friendly, ensuring that employees can complete their training anywhere, anytime.
What You Will Like:
Straightforward and easy-to-navigate platform to ensure user-friendliness.
Provides robust security measures to keep sensitive information safe and well-protected.
Allows branding to match your agency's identity and tailor courses to your content.
Supports collaboration through discussion forums and group assignments.
Supports microlearning ensuring bite-sized learning content to adult learners.
What You May Not Like:
Requires IT and programming knowledge to customize the platform, which can be challenging.
Lacks personal interaction between instructors and learners.
Price:
Starts at $149/month for Basic plan.
11. Titus LMS – Best for Military Applications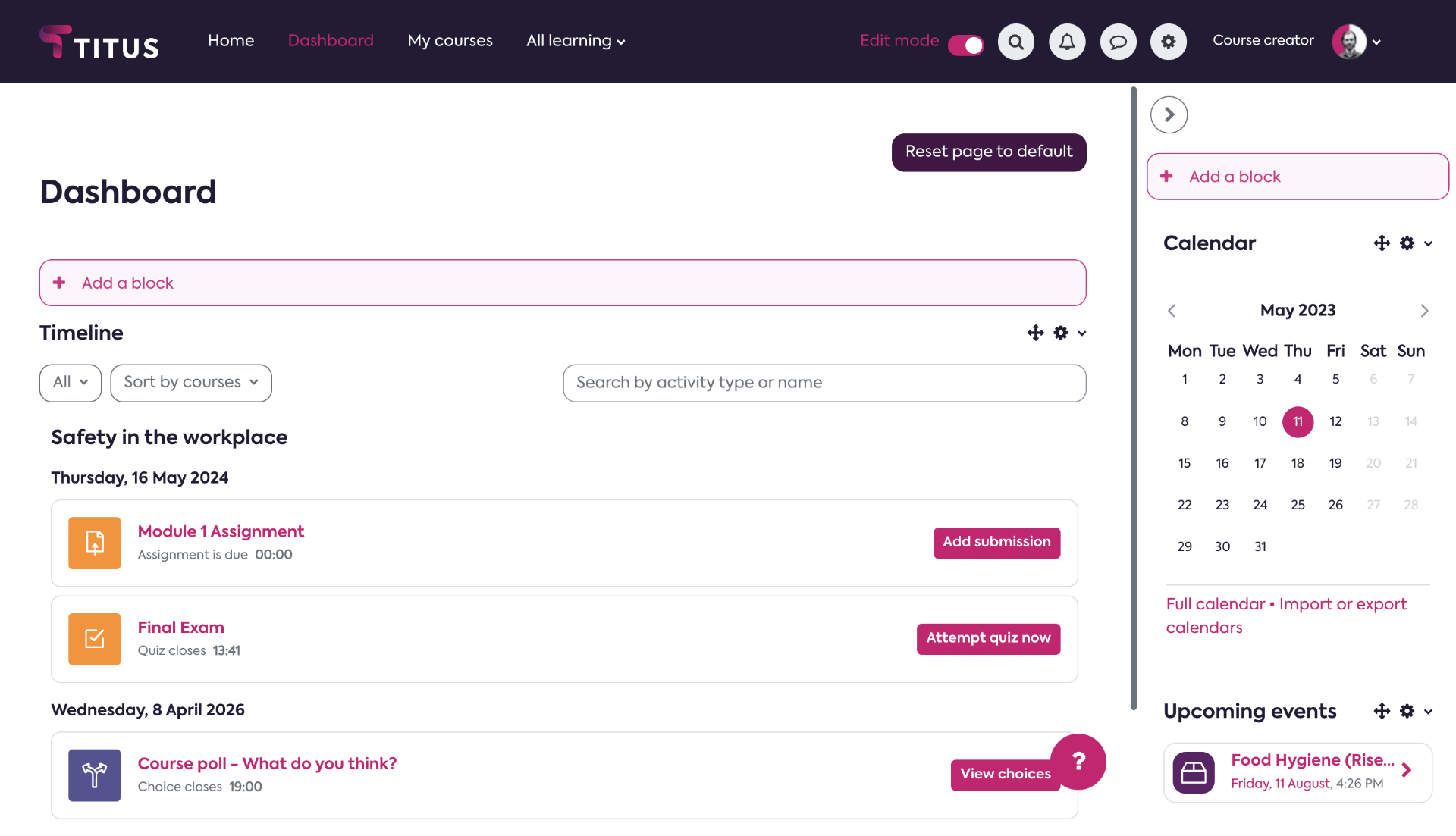 When talking about an all-inclusive tool, Titus can be a great government learning management system (LMS). It is trusted by millions of learners worldwide.
The LMS boasts client coverage in 30+ countries and a range of different sectors, including education (K-12, FE, HE), corporate, military organizations, public sector, and charities.
But what makes it really effective is its military application features, which include strict security measures to protect sensitive military training data and control user access based on clearance levels.
It also has an offline learning feature for learners to download training materials for offline access in remote or disconnected environments.
One of the most interesting features of this government LMS is the realistic training simulations for military exercises, including combat scenarios, vehicle operation, and mission planning.
Besides, the specialized training modules for emergency response, first aid, and disaster management scenarios are also quite useful.
Titus crafted a specialized Moodle-based LMS designed specifically for the Economic Crime Academy's needs. This tailored LMS not only serves as a platform to host their existing training materials but also enables them to effortlessly create brand-new digital-first resources.
(Source)
.
What You Will Like:
Offers Moodle Workplace features, which are configured specifically for workplace learning.
Meets the security and privacy requirements of government agencies and has FedRAMP® moderate SaaS authorization.
Offers comprehensive support services to implement, manage, and optimize the LMS.
Contains an intuitive and user-friendly interface that minimizes the learning curve.
Allows customizing the interface, creating specialized courses, and integrating it with your existing systems.
What You May Not Like:
Some of its advanced features require additional training or experimentation.
Does not offer enough flexibility or scalability for government agencies with complex or changing structures.
Price:
Starts at $199/month
12. Open LMS – Best for Robust Reporting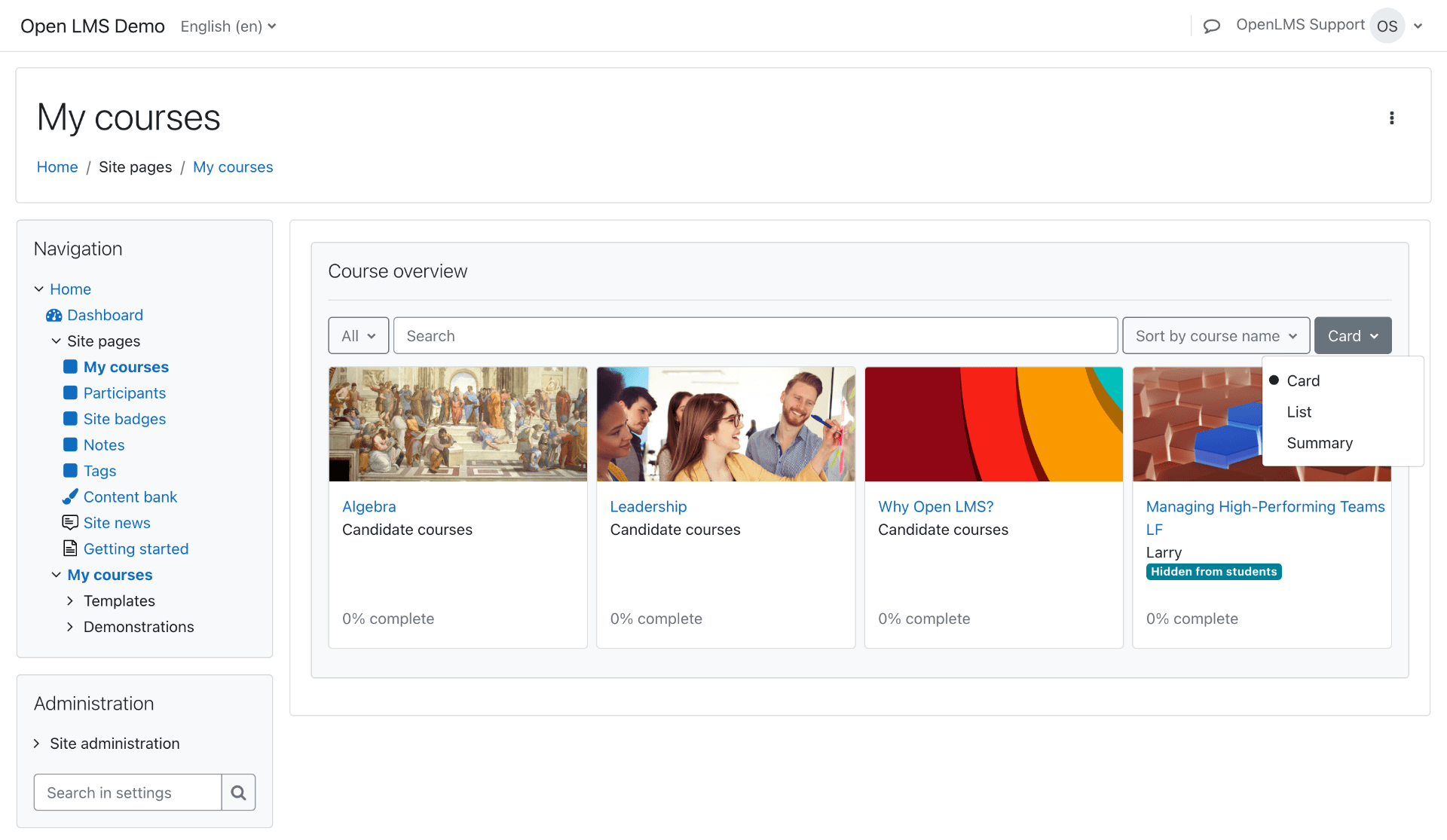 Winner of several prestigious industry awards, this LMS is highly suitable for government training.
One of the unique features of the Open LMS is that it understands the differences between public-sector learning and enterprise training. No wonder it can help build an eLearning solution tailored to the needs of a government agency..
Not only this, it has dynamic reporting and integration features for the instructor to confirm that the employees are meeting specific requirements.
You can get access to real-time data on learner activity, progress, and performance within courses. Plus, it contains a personalized reporting dashboard to display the most relevant metrics and data at a glance.
Plus, you can export reports in various formats (such as PDF, Excel) and share them with the team members individually or in a group. It even allows you to track learner competencies and skill development against predefined learning objectives
What You Will Like:
Offers Amazon Web Services (AWS) cloud hosting support for a global reach
Integrates with various authentication and security protocols, such as SSO, LDAP, and SAML, for robust security.
Allows creating separate sites for different units within an organization using multi-tenancy features.
Thousands of plugins and complementary tools to enhance the user experience.
Allows customized training paths based on employees' roles, ensuring relevant learning experiences.
What You May Not Like:
Implementing and maintaining an OpenLMS system involves significant upfront costs.
The platform's robust features can be overwhelming for smaller government agencies.
Price:
Free plan available. Paid plan starts at $99/month for up to 100 users
Ready to Pick the Best Government LMS?
Too many compelling tools?
Let's make it easier for you.
Based on my experience with all these LMSs for government uses, I have shortlisted three tools that I find the best:
ProProfs Training Maker
ProProfs Training Maker is a trustworthy, all-in-one tool for creating, delivering, and tracking online training, perfect for government agencies, non-profits, and associations.
It's super user-friendly and adaptable to different training needs – be it compliance, safety, technology, policies, or skills development. And here's the real kicker: It saves you time and money by allowing online learning anytime, anywhere, on any device.
ProProfs Training Maker has some seriously smart features, like learner group collaboration, customizations to suit your needs, easy self-registration, and real-time reporting on courses and quizzes.
No wonder government organizations worldwide rely on it. It's simple, reliable, secure, and won't break the bank. In a nutshell, it's a top contender as a government LMS.
Meridian LMS:
Meridian LMS is another worthy choice for government training, whether at the federal, state, or local level. It's an enterprise-level learning solution that impressively addresses complex learning needs.
Notably, it boasts multiple industry awards and has earned the trust of esteemed clients like the U.S. Army, U.S. Secret Service, and more.
What's truly exciting is its Career Development feature, empowering employees to prepare for advancement through personalized learning paths. This tool isn't just a government favorite, non-profit organizations also find it highly appealing.
Meridian LMS offers a comprehensive, award-winning solution that caters to diverse learning challenges in the government and non-profit sectors.
Titus LMS:
Titus is yet another promising government learning management system (LMS), thanks to its robust offerings.
It leverages the widely trusted Moodle and Totara open-source platforms, making it a reliable choice for various sectors. With a global footprint spanning 30+ countries and serving diverse sectors, including education, corporate, public sector, and charities, Titus has earned its stripes.
What truly sets it apart is the Titus Connect feature, a custom integration tool that seamlessly links Titus LMS with essential systems like HR, e-commerce, video conferencing, and analytics tools.
It offers an all-inclusive solution, catering to the multifaceted needs of government and beyond.
Based on my experience, ProProfs Training Maker is hands down the top choice. It's super user-friendly and caters to all use cases and industries. Plus, the wealth of resources it offers is a game-changer, especially as a government LMS, where security and compliance are paramount.
Frequently Asked Questions
What is a government LMS?
A government learning management system (LMS) is a software application designed specifically to meet the employee training and educational needs of government agencies, whether they're at the federal, state, or local level. It serves as a centralized platform for creating, delivering, and tracking training courses and assessments for government employees, promoting effective learning and compliance with regulations.
What are the key features to look for in a government LMS?
When choosing a Government LMS, key features include robust security and compliance measures, an intuitive interface for diverse users, customization options, scalability to accommodate growth, mobile accessibility, thorough content management tools, advanced analytics, and reliable support and training resources. LMSs that provide all or most of these features are considered good enough.
Watch: What Is a Mobile LMS & How Can It Help Train Anytime, Anywhere?
How to choose the right LMS for the government
To select the right LMS for government needs, start by defining your specific requirements and considering factors like security, compliance, and scalability. Research LMS options, read reviews and request demos to assess usability. Prioritize user-friendly interfaces and robust support for customization and integration. Pay attention to reporting and analytics features for tracking progress. Evaluate the vendor's reputation and customer support. Ultimately, the ideal LMS for the government should align with your agency's unique goals, regulations, and workforce demands.
Watch: How to Choose the Best LMS for Government, Non-Profits & Associations

Is the government LMS compliant with security and data privacy regulations to ensure the protection of sensitive government information?
Yes, government LMS systems prioritize security and data privacy compliance, meeting stringent regulations to protect sensitive government data. They implement robust encryption, access controls, and regular security audits to safeguard information, ensuring that sensitive data remains confidential and secure.
Can the LMS support training for various government functions, such as compliance training, cybersecurity, public services, and leadership development?
Absolutely. Most government LMSs are designed to support a wide range of training needs across various government functions. They can facilitate compliance training, cybersecurity awareness, public services training, leadership development, and much more. These LMSs offer flexibility and customization to meet the diverse training requirements of government agencies effectively.
How does a government LMS handle user roles and permissions to ensure proper access and security within the organization?
Government LMSs manage user roles and permissions through a granular system. Administrators can assign specific roles (e.g., learner, instructor, supervisor) with corresponding permissions, regulating access to courses, data, and administrative functions. This ensures that users only have access to the resources and information relevant to their roles, enhancing security and data integrity.
Watch: What Is Security Awareness Training for Employees?

Does the LMS offer the capability to integrate with other government systems, such as HR, payroll, or performance management platforms?
Yes, many government LMSs offer integration capabilities. This seamless integration streamlines user management, data sharing, and reporting, enhancing overall efficiency within an organization. It's a crucial feature for comprehensive workforce management and training.
Can the government LMS be used to train employees in remote locations or those working from home?
Certainly, many government LMSs are designed to support remote training. They provide accessibility from any location with an internet connection, making them ideal for training employees in remote or work-from-home settings. These LMSs offer flexibility and convenience, allowing government agencies to ensure workforce development even in dispersed or remote work environments.
Do you want a free Training Software?
We have the #1 Online Training Software for employee training & assessment