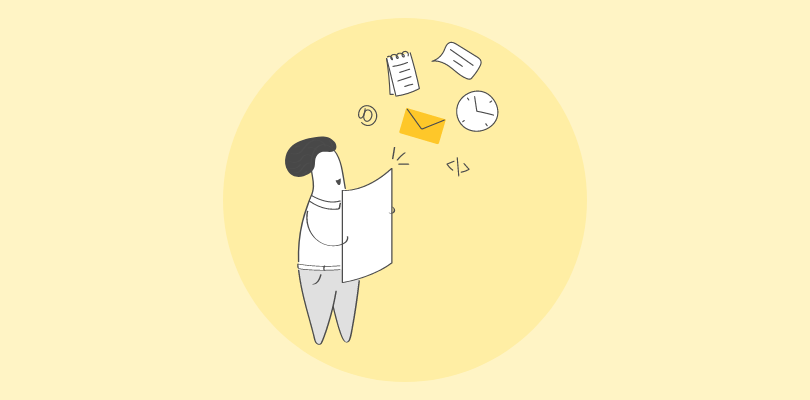 In my nearly 15 years of experience in the eLearning industry, I observed the significant growth and success of many organizations over time driven by enterprise learning management systems (LMSs).
If you also want to be a part of this success story, start by adopting such an LMS, if you haven't already.
In this post, I present a list of the top enterprise LMSs you can make an integral part of your learning initiatives and business workflows.
Before we get to the details of these platforms, here's a quick overview:
| Best Enterprise LMS Systems | Best For | Pricing |
| --- | --- | --- |
| ProProfs LMS | Best LMS for enterprise-grade training | Forever free for up to 10 learners. Paid plan starts at $1.97/learner/month for large teams. Billed annually. |
| CYPHER Learning | Best LMS for automated learning | $549/month |
| iSpring Learn | Best LMS for HTML5-Based Learning | Starts at $2.29/user/month |
| TalentLMS | Best LMS for creating unlimited courses | Starts at $ 69/month |
| Absorb LMS | Best LMS for unmatched learning experiences | $14,500/year |
| Docebo | Best LMS for AI-powered learning | $25,000/year |
| Blackboard Learn | Best LMS for community-based learning | $9,500/year |
| Moodle | Best LMS with a free option | Free (reporting is basic) |
| Lessonly | Best LMS for team training | Starts at $0 (limited to 25 users) |
| LearnUpon | Best LMS for training companies & SMEs | $599/month |
| 360Learning | Best LMS for collaborative learning | Starts at $8/registered user/month |
| Canvas LMS | Best LMS for interactive learning | $0.01 |
| Litmos | Best LMS for modern enterprises | $2/user/month |
| D2L Brightspace LMS | Best LMS for accessible learning | Custom pricing |
| SkyPrep | Best LMS for modern workforce | $199/month |
15 Best Enterprise LMS Software
I came up with this list of enterprise-level LMSs based on in-depth research, first-hand experience, and peer recommendation due to ease of use, customizability, scalability, and the quality of customer service. I also considered client testimonials and neutral third-party reviews.
1. ProProfs LMS – Best LMS for Enterprise-Grade Training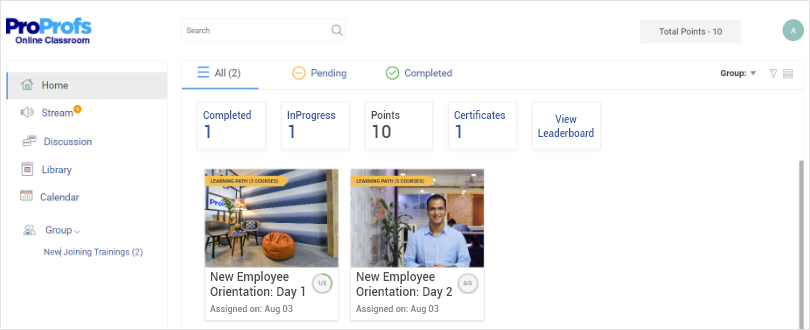 In terms of ease of use, I found ProProfs LMS worth every penny. This enterprise LMS is suitable for delivering skills, compliance, safety, and policy & procedure training. It has many ready-to-use courses and templates on training topics.
Create learner groups and group admins, choose from 100+ smart Settings & configurations, assign personalized learning paths, integrate the LMS with your favorite tools, track real-time progress, and obtain insightful reports and analytics.
I can confirm that this LMS based on the cloud offers complete solutions for creating, managing, administering, tracking, and analyzing courses.
This lightweight LMS can be deployed for both in-house and remote teams training anytime, anywhere, and on any device.
Built-in quizzes, a Q&A forum, a centralized and secure virtual classroom, multimedia support, eCommerce, and certification are among the core functionalities.
Self-enrolment, single sign-on (SSO), SCORM and Tin Can compliance, and gamification are other valuable features.
What you'll like:
You can efficiently use this LMS without any coding knowledge
Option of customization & branding to your specific needs
Its ability to upload existing materials to save time and effort
AI reporting for unbiased and error-free learning data
Excellent customer support at every step
What you may not like:
The platform looks somewhat bland, and it lacks visual appeal, creativity & excitement
Paucity of templates compared to the courses the platform provides
There seems to be a lesser focus on academic learning
Pricing:
Forever free plan (up to 10 learners). Paid plan starts at $1.97/learner/month (billed annually) for large teams. No hidden charges. 15-day money-back guarantee.
2. CYPHER Learning – Best LMS for Automated Learning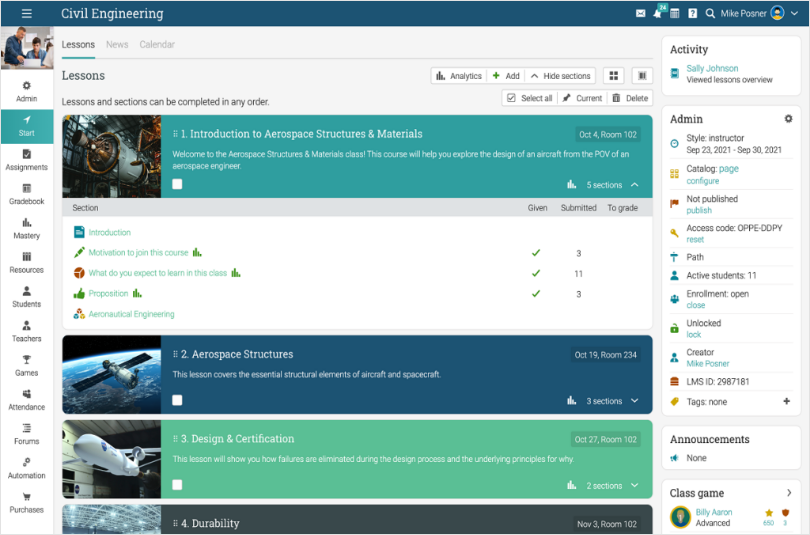 Cypher Learning provides a modern learning platform for enterprises, schools, and entrepreneurs. The LMS aims to increase users' potential by offering a platform that energizes and empowers them, and provides insights to drive better outcomes.
Some of the notable features I find in Cypher Learning as an enterprise learning management system are a user-friendly interface, a competency-based approach, personalized skills development, a sophisticated automation feature, and CYPHER Copilot, which uses artificial intelligence to create multimedia-based gamified courses in minutes.
The certification feature lets you design custom certificates and automate recertification while the reporting feature gives you insights into your learners and courses, with a timeline, a report builder, and data visualization tools.
The eCommerce functionality lets you sell your courses individually or via subscription, with discounts, coupons, and payment options like PayPal and Stripe.
Cypher Learning provides 24/7 support through a dedicated customer success manager to help you extract the maximum value from the platform and foster skills development.
What you'll like:
Intuitive UI that makes navigation a walk in the park
Custom course authoring tailored to your audience, objectives, and needs
Its agile nature focussed on growth and endless possibilities
The LMS prioritizes data security and privacy to protect user information and ensure compliance with regulations
What you may not like:
Limited formatting options
Whenever an email bounces back due to an incorrect email address, the LMS doesn't tell the sender
Room for improvement in the mobile app
Pricing:
$549/month
3. iSpring Learn – Best LMS for HTML5-Based Learning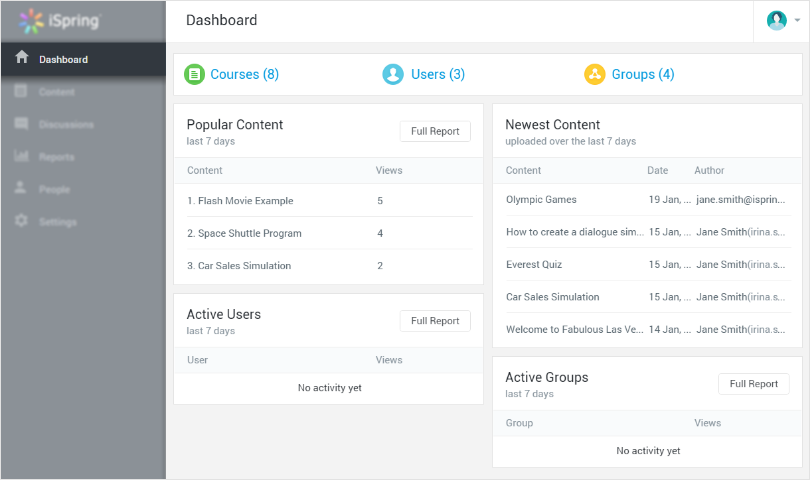 iSpring Learn is another cloud LMS for enterprise training that enables users to launch eLearning quickly and easily. It is characterized by an intuitive interface that makes this LMS easy for learners and training managers.
Some of the capabilities you can expect from this enterprise LMS are easy content creation, automated training, smart training management, and in-depth reporting.
You can create a social learning environment with news feeds, feedback, chats, points, badges, certificates, and leaderboards.
More importantly, it is the only PowerPoint-to-HTML5 converter that preserves all PowerPoint effects while converting PPTs to HTML5 in just one click.
iSpring Learn is suitable for various training scenarios such as new hire onboarding, compliance training, product training, sales training, employee performance appraisal, and partner and customer training.
What you'll like:
Easy custom course creation
Administrator-friendly portal
Extensive reports
PPT to HTML5 conversion
What you may not like:
Limited language support that comes in the way of targeting international audiences
The LMS takes more time to master
Missing social learning feature
Pricing:
Starts at $2.29/user/month
4. TalentLMS – Best LMS for Creating Unlimited Courses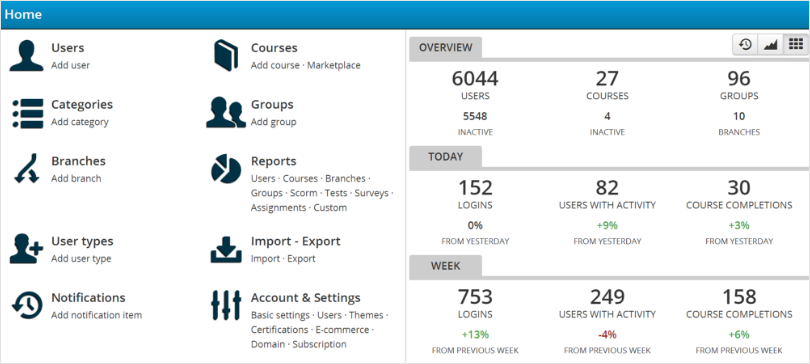 If there's one platform that I find is capable of serving as an enterprise LMS and an extended enterprise LMS, it has to be TalentLMS.
It is a versatile and powerful learning management system that caters to specific enterprise training needs. Designed to focus on simplicity, flexibility, and scalability, TalentLMS offers comprehensive features and tools to deliver effective training programs and drive employee development within organizations.
One of the key strengths of TalentLMS is its user-friendly interface, which makes it accessible and easy to navigate for learners, instructors, and administrators alike.
TalentLMS has many content creation and management tools for creating engaging and interactive courses. Administrators can upload multimedia resources to build rich and immersive learning materials. The platform also supports SCORM and xAPI standards.
TalentLMS' plans provide access to unlimited online courses, which is significant for enterprises needing learning resources.
Collaboration, social learning, seamless integrations, and robust security and privacy are other compelling features of the LMS.
What you'll like:
Amazing user interface
Large feature set under a single solution
Great options for customization
Quality support that keeps customers happy
What you may not like:
The site design is somewhat outdated
Certification needs more fine-tuning
Reports lack in-depth analytics
Pricing:
Starts at $69/month
5. Absorb LMS – Best LMS for Unmatched Learning Experiences
Absorb LMS is one of the most well-regarded enterprise learning management systems. Like most top-rated LMS systems, it is known for its user-friendly interface, customizable design, and robust functionality.
The LMS is designed to inspire learning and fuel business productivity. It is a scalable, enterprise-ready solution that can help you streamline the training and re-skilling of current employees, create a consistent onboarding experience, meet compliance obligations, and engage different types of users, such as customers and partners.
AI-powered learning, gamification, social learning, content libraries, and integrations with other platforms amplify the power of the solution.
If you are looking for enterprise LMS software that can adapt to your unique needs and help you grow your business, Absorb LMS might be a good option.
What you'll like:
Beautiful site design
Implementing & running it at the desired speed
The portal for learners and admins
Prompt & responsive service
What you may not like:
The need to re-enroll users whenever there's a course update
Lack of project management functions
Limited options for assessment
Pricing:
$14,500/year
6. Docebo – Best LMS for AI-Enabled Learning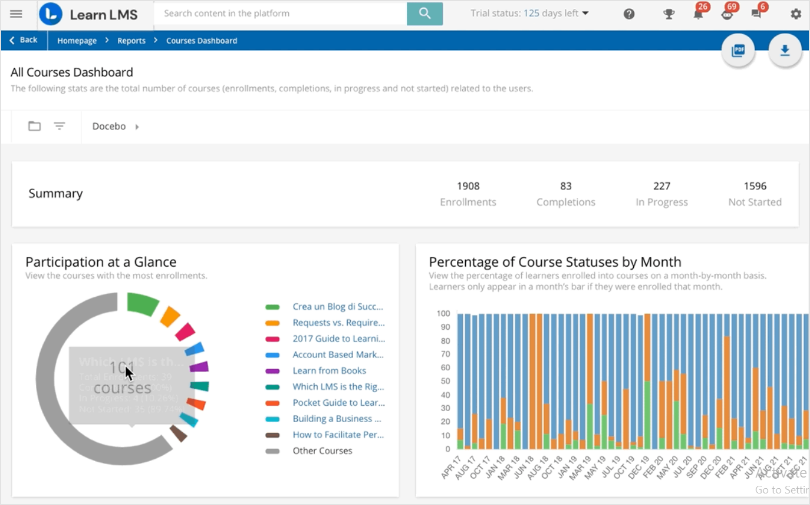 Docebo is an enterprise-grade and AI-driven LMS designed to meet the diverse needs of large organizations. With a comprehensive range of features and a user-friendly interface, Docebo provides a robust and scalable solution for corporate training and learning management.
Whether you need to train your employees, customers, partners, or members, Docebo can help you create engaging and personalized learning experiences that drive business results.
As someone who has personally experienced Docebo, I can confidently say that it revolutionizes how organizations approach learning and development. When I started using it, I was immediately impressed by its user-friendly interface and powerful features, which made managing and delivering training a breeze.
As an administrator, I found it effortless to create courses, upload content, and organize training materials.
Another standout feature is the robust reporting and analytics, which enable me to make data-driven decisions to optimize our learning programs continuously.
Extensive integrations with other tools and social learning are other capabilities that helped me and my peers immensely.
What you'll like:
Clean and intuitive UI
You can pull content from virtually anywhere
Straightforward & time-saving administration
Large number of integrations
What you may not like:
Training videos come with a size limit
Lack of video conferences/live training
Rigid pricing plans for SMEs
Pricing:
$25,000/year
7. Blackboard Learn – Best LMS for Community-Based Learning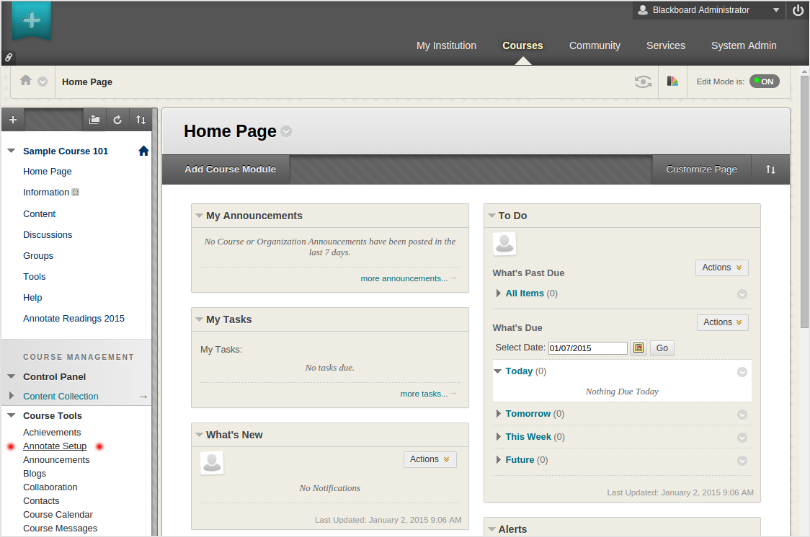 Having used Blackboard Learn as an enterprise learning management system a few times, I believe it's a powerful and comprehensive platform that has transformed how businesses approach education and training within their organization.
From the start, I was impressed by Blackboard Learn's user-friendly interface, which made it easy for administrators and learners to navigate the system.
The real magic of Blackboard Learn lies in its extensive feature set. From interactive multimedia content to discussion boards and assessments, it offers various tools that foster dynamic and collaborative learning experiences.
With its robust analytics and reporting capabilities, I could easily track learners' progress, identify improvement areas, and assess our training initiatives' effectiveness.
Moreover, the system's mobile-friendly design allowed learners to access their training.
The platform's continuous updates and improvements demonstrated its commitment to staying at the forefront of educational technology.
What you'll like:
The platform is easy to set up
Lots of tools and resources for collaborative learning
Content management & assignment are straightforward
Offers numerous channels of communication
What you may not like:
The mobile app is limited in functionality
The LMS entails a learning curve
The messaging system can be improved
Pricing:
$9,500/year
8. Moodle – Best Free LMS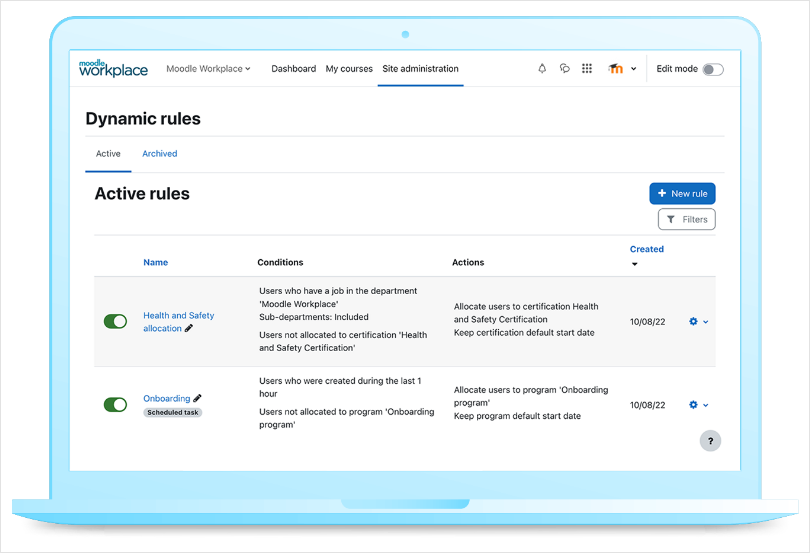 The next LMS of choice I am introducing to you is Moodle.
Moodle has proven invaluable for streamlining and enhancing employee training and development initiatives. It is an open-source LMS that empowers organizations to create a centralized online learning platform tailored to unique needs, free of cost.
Its flexibility and extensive customization options help users create a seamless learning experience for employees across various departments and locations.
Course management, community building, complete data privacy, access control, and reporting & analytics tools are invaluable.
Another advantage of this enterprise learning management software is its scalability. As an organization grows, Moodle can effortlessly accommodate the increasing number of learners and courses.
Moreover, Moodle offers seamless integration with various third-party tools and plugins.
What you'll like:
Being an open source, it offers great customization options
It supports the LTI standard for integrations with a rich set of tools
A good number of plugins to support additional functionality
Active and helpful community for continuous support
What you may not like:
Basic reporting feature
Configuring it with other tools is not easy
A professional IT team is a must
Pricing:
Free (the reporting is too basic)
9. Lessonly – Best LMS for Team Training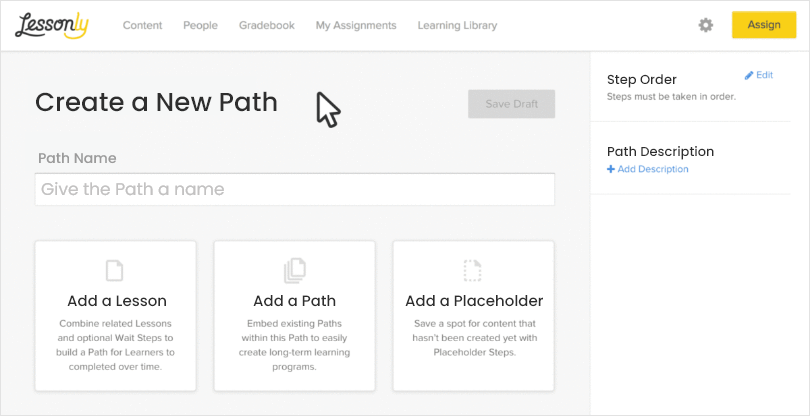 As an L&D specialist, I also had the opportunity to try Lessonly. It is another user-friendly and powerful platform that should make it to your shortlist.
The LMS makes life easy for both administrators and learners. The user experience is seamless, and it has significantly reduced the learning curve for our employees, resulting in increased adoption rates.
The platform enables users to create engaging and interactive courses for teams easily. You can incorporate multimedia elements, quizzes, and simulations to enhance the learning experience.
Similarly, users can track learner progress, identify knowledge gaps, and assess the effectiveness of their training programs.
Personalized learning paths, collaborative social learning, integrations, and exceptional customer support make it an in-demand tool for many organizations.
What you'll like:
Intuitive layout and design
The ability to build lessons that don't feel like training
Practice sessions for teams to reinforce learning
You can easily create training videos
What you may not like:
Sometimes, the search feature doesn't fetch the item you want
Lack of variety in lesson format
Limitation in self-branding
Pricing:
Starts at $0 (limited to 25 users)
10. LearnUpon – Best LMS for Training Companies & SMEs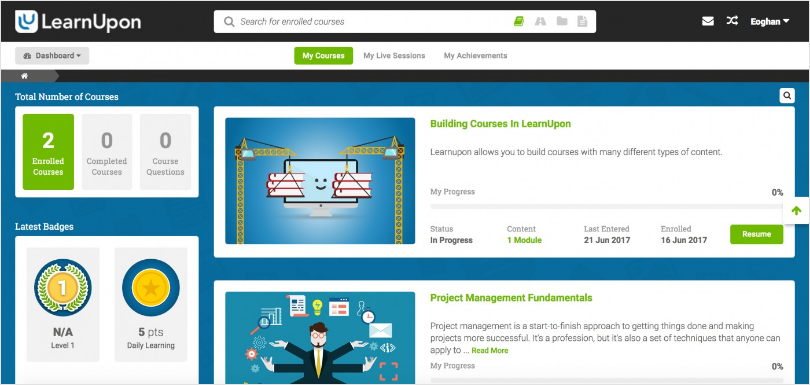 LearnUpon prioritizes learners, ensuring a positive and practical learning experience. Its belief in simplicity with significant impact drives the platform, catering to various audiences under one centralized system.
This LMS meets the varying needs of training companies and SMEs, such as onboarding, skill development, and compliance training. Automation streamlines course enrollment, reducing administrative burdens.
Create customizable training content and gather feedback effortlessly while providing tailored learning environments for various audiences. Seamless integrations facilitate data flow between your daily tools.
Measure the success of employee training with LearnUpon's robust reporting suite. Beyond employee training, the platform supports customer, partner, member, and extended enterprise programs.
What you'll like:
The admin-side functionality is simple
User management is easy
There's a dedicated portal for each target group
Extraordinary service that never leaves you wanting more
What you may not like:
Creating course modules is laborious
Limitation in how it generates learning reports
Whenever there's an update to a course or test, you can't retake it
Pricing:
$599/month
11. 360Learning – Best LMS for Collaborative Learning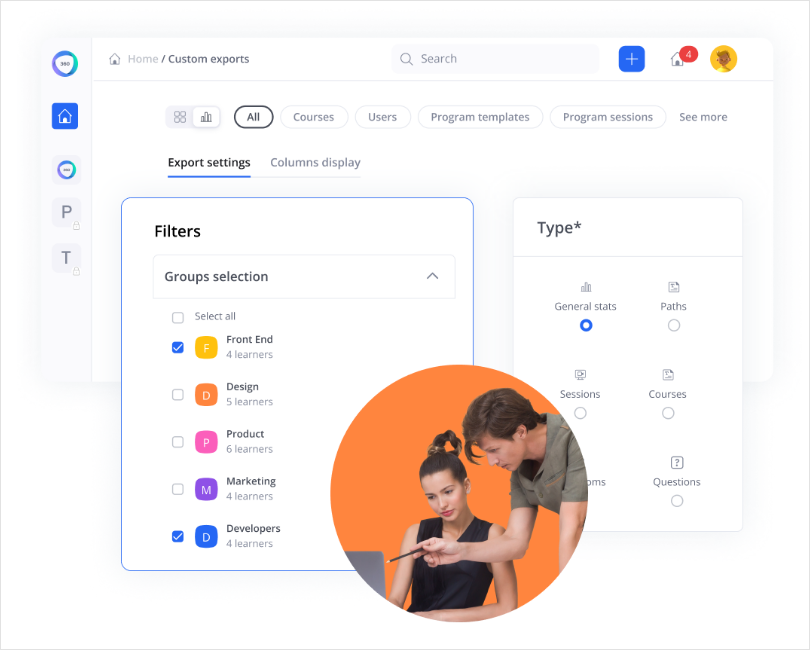 In my long experience as a learning and development enthusiast, I find 360Learning LMS to be a revolutionary platform that has redefined corporate learning.
The enterprise LMS places learners at the forefront of its design, creating a unique and personalized learning journey for each individual.
What truly sets 360Learning apart is its seamless integration of social learning into the fabric of the platform. Teams can collaborate, share insights, and learn from one another effortlessly.
This strong sense of community has fostered a knowledge-sharing culture and mutual growth within organizations.
Likewise, the centralized management system in the LMS has never been more effective. Whether it's onboarding new team members, nurturing skill enhancement, or ensuring compliance, 360Learning's versatility caters to diverse training needs under a single platform.
I'd say 360Learning LMS does an incredible job of enabling teams to learn, collaborate, and grow together like never before. It has redefined corporate learning by blending simplicity, community-driven features, and unmatched personalization, making it an indispensable tool for modern enterprises.
What you'll like:
The platform is social-learning centric
Visibility of content to all stakeholders
Ease of content creation and management
Effortless integrations that magnify the power of the tool
What you may not like:
The customer service can be better
Frequent updates can negatively impact the employee guidelines
Quizzes are less robust and limited
Pricing:
Starts at $8/registered user/month
12. Canvas LMS – Best LMS for Interactive Learning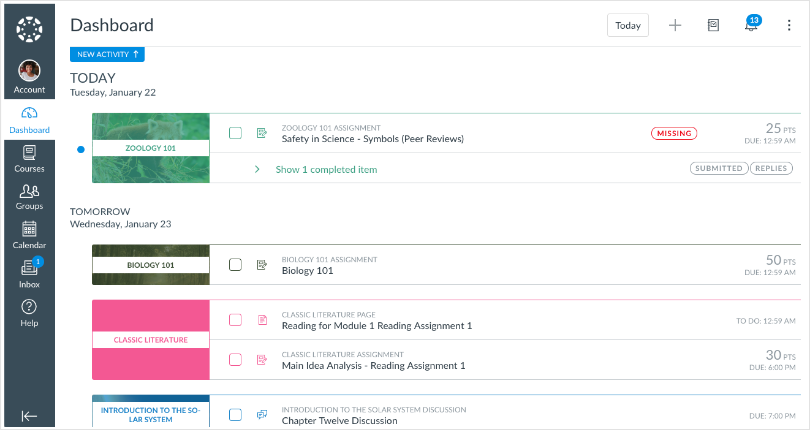 Having experienced the transformative power of Canvas LMS, I can safely say that it's a game-changer for every enterprise's learning and development initiatives.
The LMS places learners at the heart of its design, creating a truly engaging and enjoyable learning experience. Its user-friendly interface and intuitive navigation make it a breeze for employees at all levels to access valuable training content.
True to its commitment to customization, the platform offers flexibility in course authoring capabilities.
Similarly, the collaborative features are unparalleled. Canvas LMS's mobile compatibility is also notable for an increasingly remote and mobile workforce.
It provides valuable insights into learner progress, course effectiveness, and overall training impact.
Integrating existing tools and systems ensures seamless data flow, eliminating data silos and streamlining workflows.
What you'll like:
User-friendly design that works for everyone regardless of their skill level
You can train learners of any size
Seamless third-party integrations to amplify the power of the tool
Guaranteed privacy and security controls
What you may not like:
Its SpeedGrader leaves room for improvement
Users often notice unexplained delays in messages
Frequent maintenance downtime
Pricing:
$0.01
13. Litmos – Best LMS for Modern Enterprises

Litmos LMS is a top-notch learning management system designed specifically for enterprise use cases. It's a modern and agile LMS catering to the unique needs of intelligent organizations. Its focus on simplicity and scalability makes it an ideal choice for businesses seeking a flexible and efficient learning platform.
A significant feature of Litmos is its support for blended learning that seamlessly unifies traditional classroom learning with live instructor-led training sessions.
In addition, mobile learning and powerful integrations facilitate learning on the go while leveraging the benefits of multiple platforms.
Additionally, its analytics and reporting features provide valuable insights into learner progress and course effectiveness, allowing us to improve our training strategies continuously.
I believe Litmos is a powerful tool for empowering individuals, teams, and an entire organization to achieve long-term success.
What you'll like:
Delightful user interface
Easy content creation for fully online or blended learning
Custom dashboard for monitoring learners' progress
The LMS supports a wide variety of online courses
What you may not like:
A dedicated payment gateway is non-existent
Reporting can be improved for a better insight of a data
You cannot make a course optional for learners
Pricing:
$2/user/month
14. D2L Brightspace LMS – Best LMS for Accessible Learning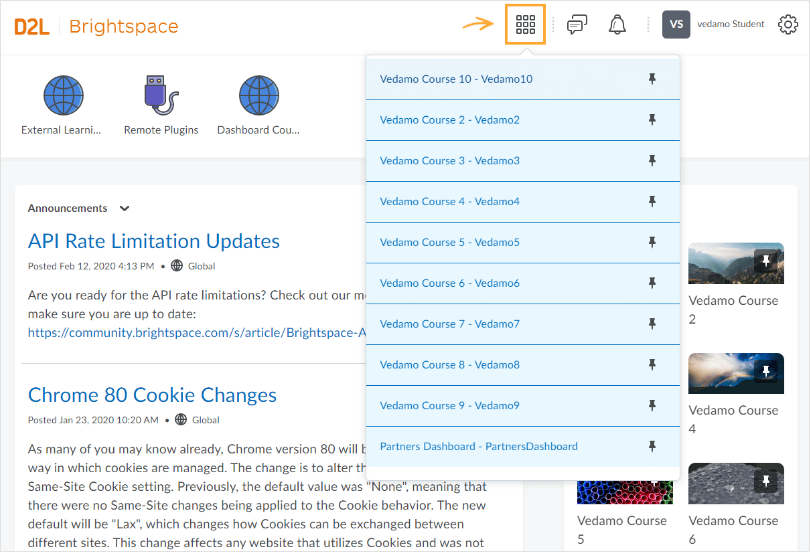 Another comprehensive and versatile learning platform I had the opportunity to work with is D2L Brightspace LMS. It is tailored to meet the unique needs of enterprises.
The LMS strongly focuses on enhancing the learning experience and fostering a culture of continuous learning and growth.
Brightspace is user-centric, intuitive, engaging, and mobile responsive. On top of this, it offers a range of innovative features to support various learning approaches. All this makes it accessible anytime, anywhere.
The LMS also excels in customization, allowing organizations to tailor the platform to align with their unique branding and training requirements.
Security is a top priority for enterprises, and Brightspace meets these concerns with industry-leading data protection measures.
What you'll like:
Easy to use and everything is self-explanatory
Ample configurations to set up based on what you exactly want
Amazing layout and ease of navigation
It supports all types of files
What you may not like:
Creating quizzes is difficult and time-consuming
Rigidity of the rubric tool – it's complicated to edit it once you built it
Limitations in its webinars in providing sufficient guides on using the product
Pricing:
Custom pricing
15. SkyPrep – Best LMS for the Modern Workforce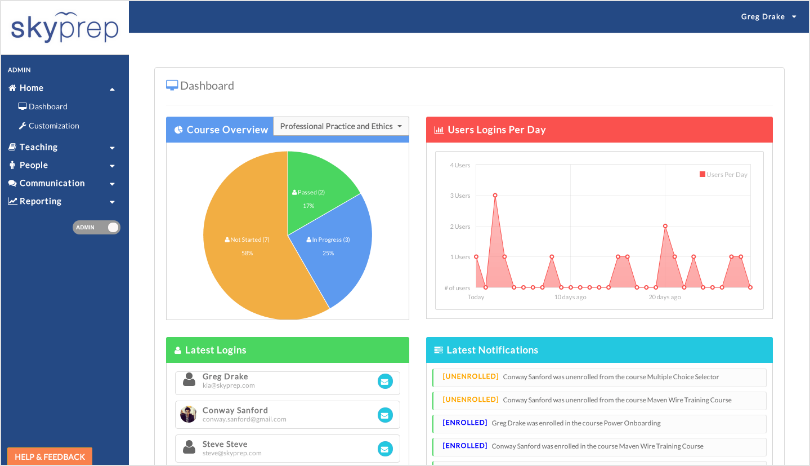 The last tool on my list, SkyPrep is also an exceptional learning solution for enterprise training. It is user-friendly, comprehensive, and supports a variety of training approaches.
Whether it's onboarding new employees, delivering compliance training, or providing ongoing skill development, SkyPrep LMS offers flexibility and adaptability to meet diverse training needs.
The platform fosters a culture of learning and interaction through its social learning tools, such as discussion forums and user groups. Employees can connect, share knowledge, and collaborate on projects, enhancing engagement and creating a strong sense of community within the organization.
The platform's scalability is a significant advantage for any growing organization. As you expand and evolve, SkyPrep LMS can easily accommodate your increasing training demands and the changing needs of your workforce.
The LMS can help you stay ahead of your growth strategies by elevating your skill-building training programs.
What you'll like:
Learner & admin dashboard is completely a no-brainer
It's easy to upload docs & videos
Excellent coursework and learning paths
Ensures consistency in experience across teams
What you may not like:
The user feedback email is no longer available
Limited control over the data displayed on the dashboard
It should add more options to generate detailed performance reports
Pricing:
$199/month
Which Is the Best Enterprise LMS?
The best platform for you among this list will depend on your specific requirements, which, in turn, are influenced by your audience type, their skill level, and their learning needs.
To help you narrow down your search, here's what I think you can consider:
Option A: ProProfs
This cloud LMS is easy to understand and use. It also provides ready-to-use courses for a quick start. It caters to enterprises in business services, manufacturing, construction, healthcare, financial sector, non-profits, and government in helping them deliver skills, safety, compliance, and policy training, locally and remotely.
Option B: SkyPrep
SkyPrep is intuitive, modern, and loaded with several features designed to meet the learning needs of employees. It fosters a culture of interactive learning and grows as your company grows. The tool is trusted by over 500 organizations, including many large enterprises.
Option C: Moodle
This free and open-source LMS suits enterprises having a need for customization. Moodle is highly configurable and cost-effective. You can easily access and modify the source code to meet your unique requirements. Educational institutions, nonprofits, government organizations, and enterprises of all sizes use the platform.
Considering everything, ProProfs turns out to be the best enterprise LMS. It is a forerunner because it is arguably the most user-friendly platform with prebuilt resources, AI features, large customization options, and versatility in delivering all kinds of corporate training programs.
Frequently Asked Questions
What is an enterprise LMS?
It is an LMS you can use for enterprise training or learning at the enterprise level. Businesses of all sizes rely on it to deliver modern workplace training, such as compliance, HR, partner, sales, and customer training. ProProfs enterprise learning management system is an example. Training administrators can deploy this cloud-based training software to create, manage, share, track, and analyze online courses and tests. Learners, on their part, can take the assignments by accessing them on any device, anytime, and from anywhere. To learn more, watch:
What is an extended enterprise LMS?
An extended enterprise LMS is an extended version of an enterprise LMS with additional functionality. It is designed to assist users in training stakeholders who are outside the four walls of the main office. They include customers, dealers, volunteers, resellers, authorized support centers, channel partners, franchisees, suppliers, etc. In this sense, an extended enterprise LMS is a close cousin of an enterprise LMS. Such tools are usually optimized to train any number of learners anywhere and keep them connected to your business goals.
What are the features of enterprise learning management systems?
The core features that characterize most enterprise-level LMSs are an intuitive UI, rapid course authoring, customizations, scalability, multilingual support, process automation, anytime, anywhere accessibility, bulletproof security, robust reporting, and completion certificates. Here is a full feature list of such an LMS.
What are the benefits of enterprise learning management systems?
An enterprise LMS provides centralized training management, scalability, customization, and flexibility in training delivery. It enables mobile learning, offers robust tracking and reporting, ensures compliance, fosters collaboration and knowledge sharing, reduces training costs, and enhances employee engagement and retention. Overall, such LMS software streamlines training processes, improves outcomes and contributes to an organization's success and growth.
How do I choose an enterprise LMS?
Start by defining your learning goals. Make sure the tool is easy to use so that you don't spend much time learning the ropes. It should support easy content creation and curation. Also, it should be mobile-friendly and let you deliver learning in different engaging formats. Lastly, factor in social Learning and learning data analytics features. Watch:
Do you want a free Training Software?
We have the #1 Online Training Software for employee training & assessment