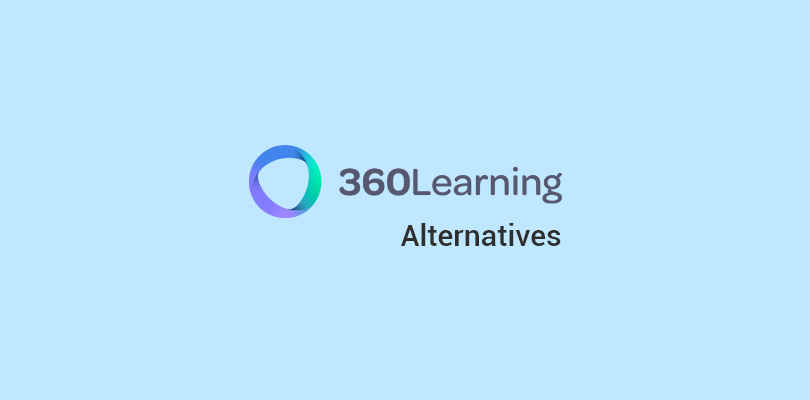 If you are looking for exceptional alternatives to 360Learning LMS, you've come to the right blog!
While 360Learning is a fantastic tool, it has drawbacks, like limited automation features. Plus, each company has specific requirements, prompting the search for a more suitable solution.
That's why I've created this blog.
I evaluated different LMS tools and curated a list of the top 12 contenders for 360Learning in terms of features and pricing. This list aims to help you find the perfect fit for your training needs.
Here's what we have listed for each tool:
Standout Features

Pros

Cons

Pricing Details
So, let's get started!
12 Best 360Learning LMS Alternatives
I considered various criteria when evaluating each tool, including customer testimonials, essential features, neutral third-party reviews, and first-hand experience. The research helped me collect detailed information about each tool and recommend the best for your needs and requirements.
1. ProProfs LMS – Best 360learning Alternative for Compliance & Skill Training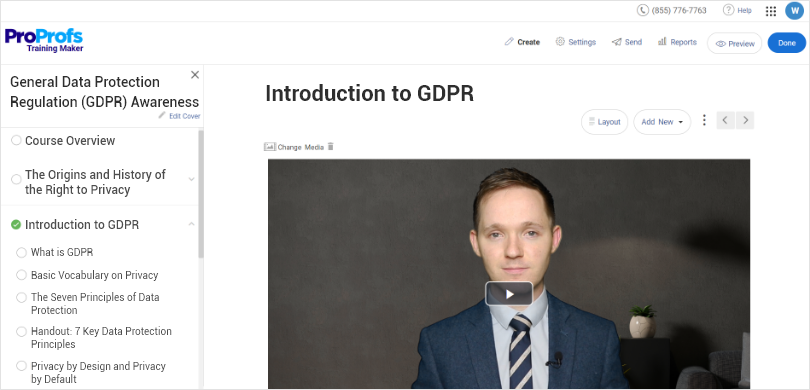 ProProfs LMS is one of the most effective cloud-based LMS systems.
With 100+ pre-built courses on various training topics such as safety, compliance, sales, customer service, leadership, and soft skills, I found creating and managing online courses straightforward.
The platform is suited for various industries like NPOs, construction, manufacturing, and healthcare to run competency and regulatory compliance training.
Its mobile-friendly UI also promotes learning from anywhere. I could access the courses on any device and download them to learn offline. This makes it one of the top 360 learning competitors on the market.
Moreover, you can run virtual classrooms, conduct in-course assessments, add gamification elements, and engage with learners with the built-in Q&A forum to promote social learning.
What you'll like:
Easy-to-use course builder to design training modules and courses without effort.

Ready-to-use courses cover compliance, technical skills, and onboarding.

Build in-course assessments, quizzes, & surveys to test users' progress throughout the course.

Upload files in formats like PDF, PPT, DOC, videos, and images into ProProfs LMS.

Comprehensive reporting with real-time insights into course metrics.

Award certificates on course completion.

Leverage ProProfs marketplace to publish and sell the courses online.
What you won't like:
ProProfs can add more templates to the library.

Some users may find the trial period of 15 days insufficient.
Pricing:
Forever free plan (up to 10 learners). Paid plan starts at $1.97/learner/month (billed annually) for large teams. No hidden charges. 15-day money-back guarantee.
2. Absorb LMS – Best 360Learning Alternative Integrated With AI to Manage Training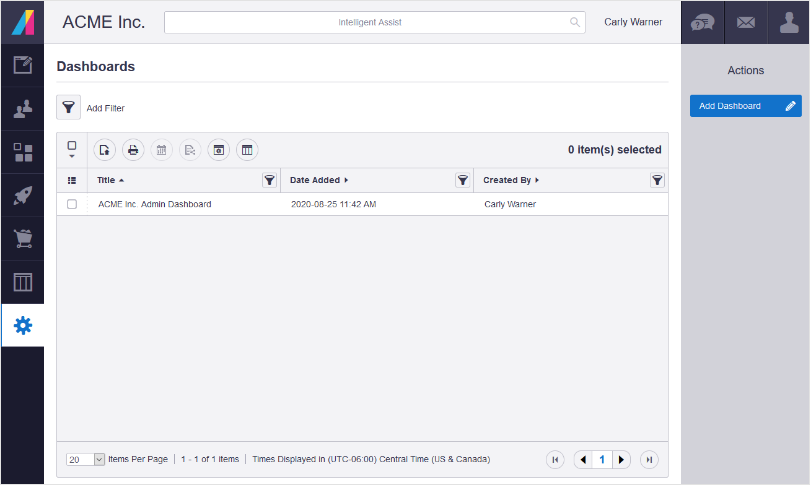 Absorb LMS provides integrated AI support to make course creation and management super easy. The AI assistance proved quite helpful to me while testing the tool. I was able to use simple queries to search for the desired settings and page in an instant. It saved a lot of time and effort in making changes.
The Intelligent Assist feature also suggests courses to learners automatically based on their skill level and learning path.
The platform provides a mobile app so the users can take up training from anywhere on any device.
What you'll like:
Multiple pre-built employee upskilling and cross-skilling modules.

Design customized widgets and dashboards with drag-and-drop features.

Store course assets in the file manager to reuse while building new courses.

Set up the team and department hierarchy to create personalized learning paths.

Add engaging videos and images to the courses and make them more interesting.

Track course metrics like enrollment, completion rates, certificates, etc.

Award certificates or badges to learners so they can show their accomplishments.

Sell courses online with the built-in e-commerce website framework.
What you won't like:
It needs more options to download consolidated reports of multiple users.

Lacks the option to auto-assign courses to learners based on their progress.
Pricing:
$14,500/year
3. Docebo – Best 360Learning Alternative for Building and Tracking Customized Learning Paths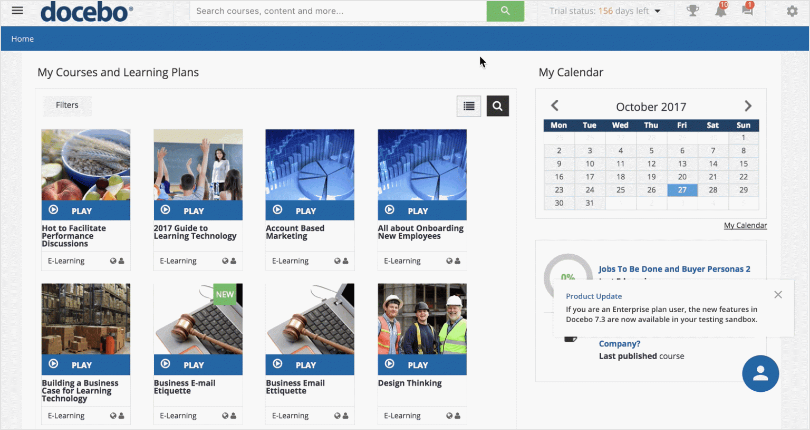 With Docebo, you can create training courses for partners, employees, customers, and other teams. I really loved the multi-level course personalization feature. It makes sure that you deliver only relevant content to the learners. I could create custom learning paths for each user, and they could see which courses are available based on their learning curriculum and preferences.
I also found the dashboard to be highly intuitive. I could track metrics like assigned vs. achieved tasks ratio to monitor users' progress.
The tool has also integrated AI with its platform to automate different tasks, suggest courses to learners, and answer simple questions in the Q&A forums.
What you'll like:
2,000+ course and training templates.

Drag-and-drop course creator for building any training material quickly.

Docebo's extended enterprise platform helps you sell courses online.

Includes gamification elements like badges, certificates, quizzes, and awards to engage learners.

AI-based course translation to make it more accessible.

Monitor course enrollments and training progress with in-depth reporting.
What you won't like:
Tool UI can be improved to enhance navigation.

No gap analysis feature to identify upskilling and cross-skilling opportunities.
Pricing:
$25,000/year
4. TalentLMS – Best 360Learning Alternative for Live Training Sessions and Webinars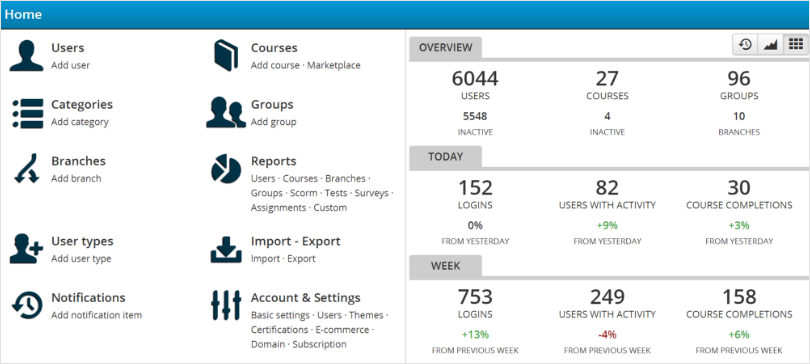 TalentLMS is a fitting 360learning competitor because of its advanced live session and webinar functionality. You can create virtual classrooms to host instructor-led training and record the sessions simultaneously. I used the video recording to build a successful training course for the users later.
It also lets you engage the live audience with interactive quizzes and games. Plus, you can use real-time reports and dynamic dashboards to track the learners' performance.
The responsive design is also fantastic; I could access the training material and continue the course on my tablet without issues.
What you'll like:
Drag-and-drop editor to create various courses for employees and customers.

Bulk import and manage learners' data with the built-in user management dashboard.

Set access rules and permissions for each user.

Automate workflows and tasks like auto-assigning courses, setting expiration dates, and deactivating inactive users.

Gamify training using points, leaderboards, levels, badges, and rewards.
What you won't like:
The UI must be updated to match other modern LMS tools.

No option to collaborate with other learners.
Pricing:
Starts at $69/month billed yearly
5. Cornerstone LMS – Best 360Learning Alternative for Skills Intelligence to Map Training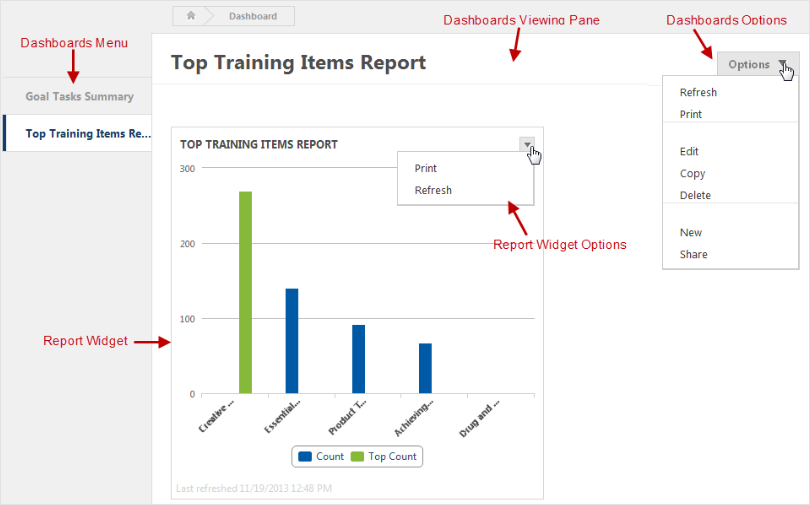 I was genuinely impressed with Cornerstone LMS's capabilities to run automatic skills intelligence. I analyzed learners' skills, competencies, and learning history to create personalized learning paths without manual effort.
The skill matrix lets you visualize the current competencies and assign appropriate courses to bridge the skill gap. It saves time and ensures that learners receive targeted training.
And you can use engagement surveys to measure the impact of talent development programs. The tool UI is also highly intuitive, making managing courses and tracking progress a breeze.
What you'll like:
Gamification elements like points, badges, and leaderboards to motivate learners.

Discussion forums, knowledge sharing, and peer-to-peer interactions to promote social learning.

Mobile-friendly design optimized to enable training on the go.

AI-based intelligent course recommendations based on learner behavior and preferences.

Seamless integration with performance management tools to align training initiatives with individual performance goals.

Comprehensive reporting and analytics to monitor training effectiveness, learner progress, and skill gaps.
What you won't like:
Mobile UI feels a little outdated.

Slow loading time for long pages.
Pricing:
Starts at $6.00 per user/month
6. Litmos – Best 360Learning Alternative for Designing Instructor-Led Courses

Litmos is another great LMS tool for conducting personalized employee training. I am pretty impressed with the extensive library of 2,000+ pre-built training courses. You can pick the required template, make changes, and deploy the course quickly.
Plus, it lets you measure the influence of your training on the business KPIs using the reporting section.
Litmos also offers professional services that include implementation and optimization to set up an effective L&D system at your end, making it one of the best alternatives to 360Learning LMS.
What you'll like:
Workflow automation to enroll people in groups, assign courses, run assignments, and map learning paths.

Sell your courses using the built-in e-commerce capabilities.

Engage and motivate learners with awards, badges, and points.

Create customized learning paths and group relevant courses together for learners.

Track course metrics like test averages, completion rate, and content popularity.

Offers 35+ languages to engage a wider audience.
What you won't like:
The course editor is elementary and needs more a modernized theme

Lacks user-level customization for course management.
Pricing:
Starts at $6/user (for 150 to 500 active learners)
7. Lessonly by Seismic – Best 360Learning Alternative for Sales Enablement Training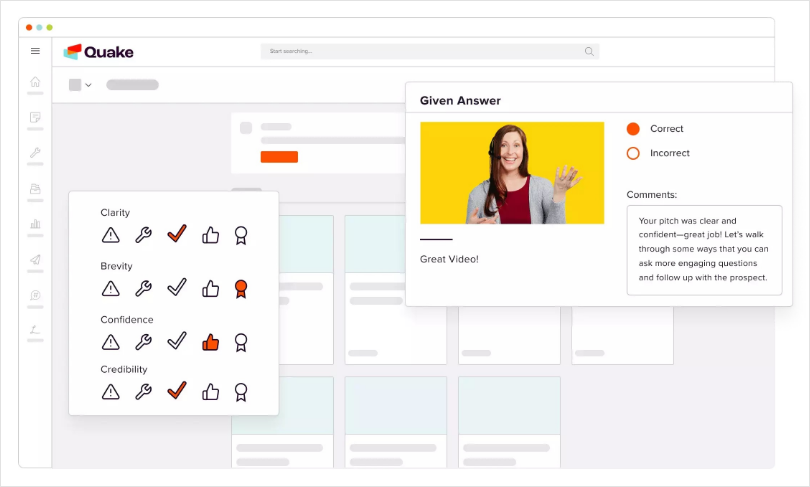 What I liked most about Lessonly is its sales enablement framework designed to equip customer-facing teams with the right skills. This single platform lets you manage the sales reps, run skill gap analysis, build training courses, and track the course's impact on business decisions.
The AI-powered enablement engine provides deep insights into the effectiveness of each sales rep across various processes and recommends relevant courses to maximize outcomes. You can create customized learning paths for each agent according to their current skills and areas of improvement.
It also features a built-in CRM to measure the impact of training courses on revenue and make data-backed decisions.
What you'll like:
Intuitive course editor to easily create training material.

Supports interactive elements like simulations, quizzes, and multimedia.

Create personalized learning paths based on current performance and employees' skills.

Run learning sessions and role-playing scenarios to test learners' knowledge.

Extensive content library to store and manage course assets.

Comprehensive reporting analytics to track course completion rates and learner progress.
What you won't like:
Cannot send notifications to users about new courses.

Needs a dashboard to merge skill intelligence with the business KPIs.
Pricing:
Starts at $0 (limited to 25 users)
8. Paradiso LMS – Best 360Learning Alternative With AI-Based Content Authoring Tool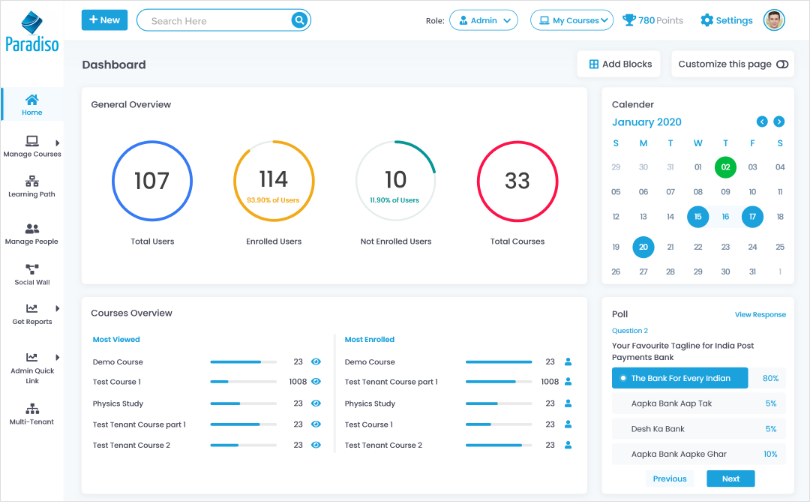 One of the notable features of Paradiso LMS is the AI-based training builder. It made course creation simple for me as the tool provides intelligent suggestions to enhance the content. It significantly reduced the time and effort required to build high-quality courses.
The AI is also integrated into the analytics dashboard. I can analyze learner data and behavior to fine-tune learning paths continuously. It gives nuanced insights into which courses are making the most impact on learners' knowledge and track their progress.
The bottom line is the tool is suited for internal and external training making it one of the best 360Learning competitors on the market.
What you'll like:
Newly added VR training support to create immersive and realistic training scenarios.

Conduct live virtual classrooms, webinars, and interactive training sessions.

AI-Powered personalization to offer tailored learning paths to each learner.

Chat widgets and discussion forums to encourage peer interactions and knowledge sharing.

Offers Tin Can API (xAPI) to track and record learning experiences from various devices.

Supports multiple languages and provides localization features to cater to a broader audience.

Interactive assessments, simulations, quizzes, and scenario-based activities to promote active learning.

Gamification elements such as badges, points, leaderboards, and rewards.
What you won't like:
Lacks advanced reporting analytics to link skills with business KPIs

Limited integration APIs to connect workspace tools with the LMS.
Pricing:
Stars at $5.50 per user/month, billed yearly
9. Tovuti LMS – Best 360Learning Alternative for Advanced Analytics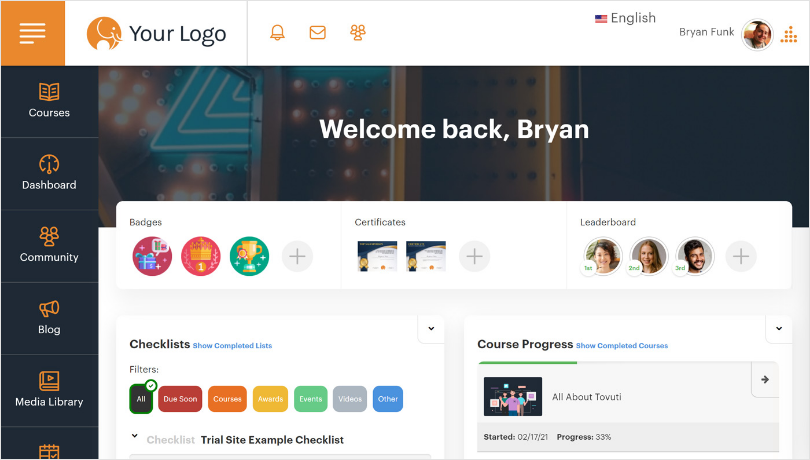 Tovuti LMS offers comprehensive reporting and analytics features to visualize users' learning journeys.
I love that users can create personalized dashboards for managers and set desired access rules. It lets you track individual and team progress, access learning paths, and communicate directly with learners using built-in messaging tools.
Moreover, the platform also provides an integrated CMS for effective content organization, publication, and enhanced learner engagement.
What you'll like:
Intuitive course builder to design courses in minutes.

Import data into Tovuit LMS in formats like AICC, xAPI (Tin Can) Packages, SCORM, and PPT presentations.

Multiple gamification features like points, games, and leaderboards.

Conduct quizzes and run interactive activities to engage learners and promote learning.

Mobile-friendly UI to encourage learning on the go.
What you won't like:
Most courses are available in English only, limiting their utility.

The E-commerce framework needs more flexibility.
Pricing:
Starts at $11,160 / Year
10. LearnUpon – Best 360Learning Alternative for Creating Personalized Learning Portals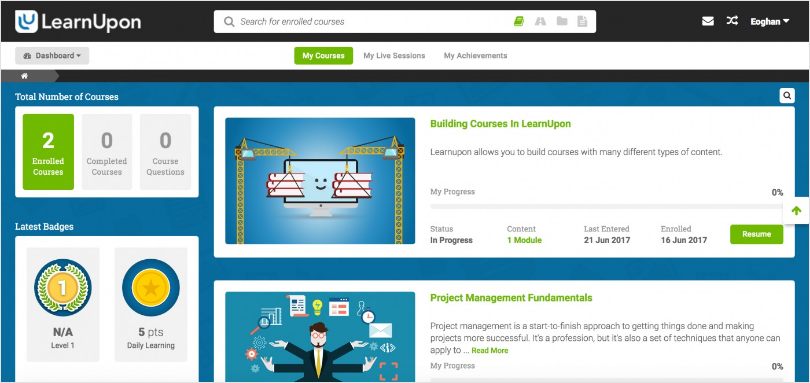 LearnUpon lets users build customized learning environments to promote personalized learning. I created individual portals or sub-environments for my team members. Each portal contained targeted courses and specific learning paths based on the learners' preferences, skill levels, and goals.
The user can access the portal and start their courses per their schedule.
Just update the main course in your library; the same changes are reflected in all the portals containing that course.
Plus, learners can engage with each other using built-in forums and ask questions on topics to build their knowledge.
What you'll like:
Supports various course formats like instructor-led training, webinar, xAPI files, documents, SCORM, and video.

Build an extensive course catalog to promote self-learning.

Test learners' knowledge with surveys, assignments, quizzes, and exams.

Provides built-in CRM to manage users and course enrollment.

Admin dashboard for tracking course progress, user logins, and user progression.

Advanced filters and sorting options to create custom reports.

Share reports with a click.
What you won't like:
The portal's UI is difficult to navigate.

The forum can be revamped and modernized for improved flexibility.
Pricing:
Starts at $599 per month
11. Adobe Learning Manager – Best for Gauging Training Impact on Performance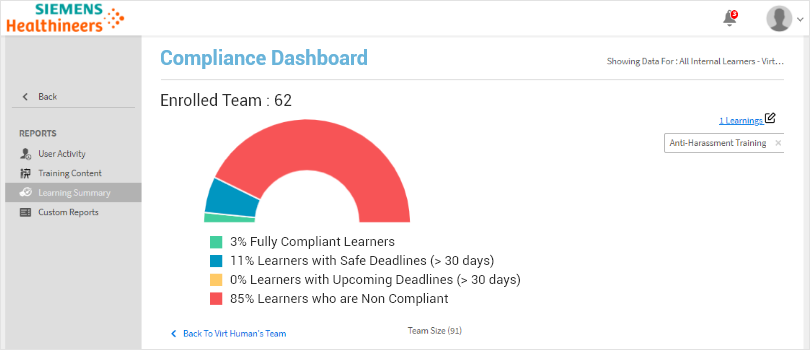 Adobe Learning Manager is a top-notch LMS for conducting skills intelligence of employees and students. I love its AI-based skill matrix dashboard that lets you map cross-departmental skills and helps identify cross-skilling opportunities. It's really a significant feature that truly captured my attention.
It also analyzes learner performance and skill development to gauge the true impact of training courses on job performance.
The tools transform training from a checklist of completed courses into a strategic tool for fostering employee success and driving business outcomes.
What you'll like:
Supports a fluid player to allow learners to access their courses seamlessly across various devices.

Leverage AI to build customized learning pathways for each learner.

Built-in collaborative spaces and discussion forums to promote social learning.

Host virtual classrooms and webinars to conduct real-time training sessions.

It lets you access the courses offline through the mobile app.

Offers embedded analytics to help you gauge the impact of training on learner progress and job.

Add recommendation and calendar widgets to track the learning paths.

Integrates with Adobe Experience Manager to enable

headless LMS

delivery.
What you won't like:
Initial setup and configuration require technical expertise.

The hierarchy dashboard needs more flexibility and customization options.
Pricing:
Custom Pricing
12. Continu – Best 360Learning Alternative for Virtual Classrooms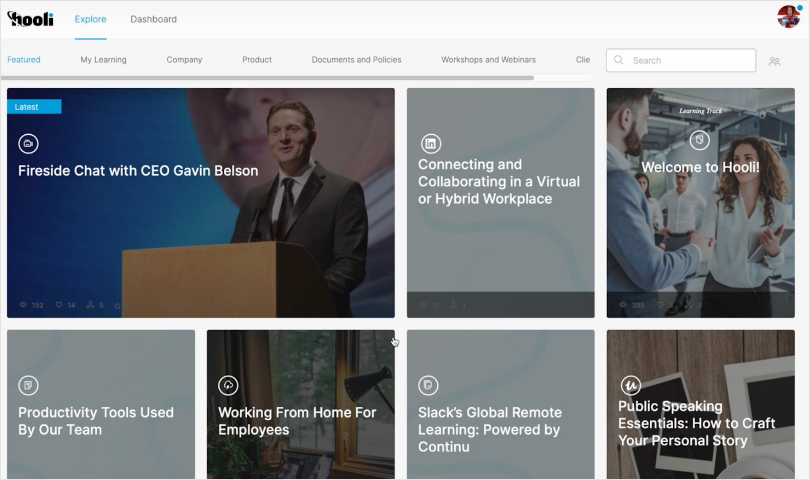 Continu is an enterprise LMS tool that offers an intuitive interface and powerful collaboration features to build seamless learning experiences for learners.
I love its robust virtual classroom functionality that lets you conduct live, interactive online training sessions to bring learners together in a virtual environment. It helps foster real-time collaboration, engage learners in discussions, ask questions, and provide immediate feedback on their queries.
You can conduct instructor-led training sessions, webinars, workshops, and even remote meetings, making learning accessible to a diverse audience regardless of location.
What's more, you can record the live sessions and turn them into a course so learners can revisit them.
What you'll like:
Import files and docs into Continu with a click to create courses easily.

Assessments like quizzes, video coaching, and interactive activities to test learners' knowledge.

Personalize learning paths based on location, department, or custom variables.

Set workflow to automate onboarding and compliance training.

Native Slackbot to promote collaboration and interaction between teams.

Track user attendance, course due dates, escalations, and real-time progression.

Award certificates and badges after course completion.
What you won't like:
Search functionality sometimes does not return correct results.

More filters to build custom reports.
Pricing:
Custom Pricing
So, What Is the Best 360Learning Alternative for You?
With all said and done, the best-suited tool would depend on multiple factors like your training budget, required features, and training environment. We are sure you have decided by now, but if you are still in a dilemma, here are my top three picks to make the selection process easier for you:
Option A: ProProfs LMS
ProProfs is user-friendly and it offers robust automation features. Its fully responsive design is perfect for remote learning and engaging users from anywhere. The platform also provides numerous features to simplify course management, like ready-to-use courses, assessment options, in-depth reports, completion certificates, and virtual classrooms. All this in a budget that won't burn a hole in your pocket.
Option B: Adobe Learning Manager
Adobe Learning Manager is a beast that can transform static training exercises into actionable planning. It's a one-stop solution to train your employees, students, and partners and reap the benefits of your business. You can use in-depth analysis to correlate learning with impact on business KPIs and make data-backed decisions.
Option C: TalentLMS
TalentLMS is another top 360Learning competitor offering engaging learning experiences across every device. The tools provide offline course access, in-app discussion forums, and an intuitive UI. You can easily manage the learning platform with powerful automation features and reduce manual effort.
So, go through the list, pick the right LMS tool, and set up an effective learning system for your customers, students, employees, and partners. Make skill development fun and promote growth.
Do you want a free Training Software?
We have the #1 Online Training Software for employee training & assessment