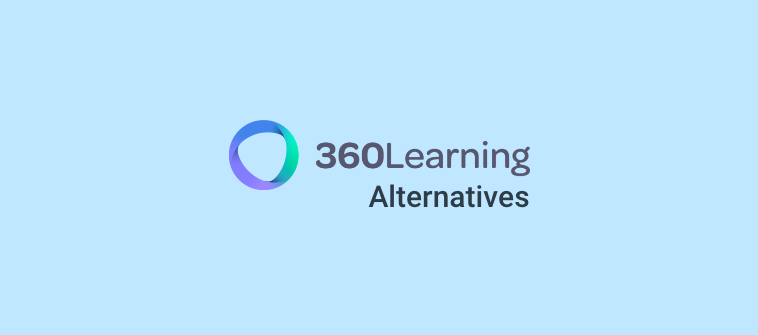 Are you looking for the best 360Learning alternatives?
If yes, look no further.
If you're considering switching from 360Learning and exploring other similar or better tools that suit your learning needs and budget, then we can help you.
We researched on your behalf and discovered the top 15 360Learning competitors in 2023, along with their key features, pros and cons, and pricing structure. These corporate training platforms will help you with more than just course creation, managing, administering, and tracking your training programs.
Continue reading to explore each of the tools in detail.
360Learning Alternatives: A Quick Comparison Chart
Top 15 360Learning Alternatives
Why Is It Worth Considering?
Pricing
ProProfs LMS
Course Library

Virtual Classroom

Supports Mobile Learning

Provides Multilingual Support

White Labeling

100+ Customizations

Quizzes

Built-in Reports

Surveys

Starts at $1/learner/month
Absorb LMS
Smart Administration

Content Libraries

Learner Engagement

Reporting & Analytics

Artificial Intelligence

Get in touch with the company for a quote
TalentLMS
Course Management

White Labeling

Certificates

Gamification

Video Conference Support

Starts from $0 /month (Limited to just 5 learners only)
Cornerstone
People Experience Platform

Performance Management

Skills Graph

Analytics and Reporting

Integration and APIs

Get in touch with the company for a quote
Paradiso LMS
Course Library

Blended Learning

Social Learning

Gamification

Video Conferencing

Get in touch with the company for a quote
Docebo
Audit Trail

Automation

Certification and Re-Training

Gamification

Learning Plan

Get in touch with the company for a quote
Litmos
Built-In Content Authoring

Off-the Shelf Content

Robust Reporting

Powerful Integrations

Accessibility 24/7

Get in touch with the company for a quote
Tovuti LMS
Learning Paths

Assignment Scheduling

User Groups and Permissions

Powerful Analytics

Certification Management

Starts from $775 /month/per month, billed annually
Adobe Experience Cloud
AI Powered Recommendations

Learning Paths

Gamification

Social Learning

Personalization

Get in touch with the company for a quote
Continu
Powerful Authoring Tool

Automation and Discovery

Assessments and Quizzes

Dynamic Integrations

Real-Time Analytics

Get in touch with the company for a quote
LearnUpon
Course Creation

Training Delivery

Webinars

User Management

Integrations

Get in touch with the company for a quote
Lessonly
Repurpose Content

Software Integrations

Project Planning

Content Auditing

Impactful Reports

Get in touch with the company for a quote
SumTotal
Microlearning

Social Collaboration

Mobile Learning

Personalized Learning

IT Certifications

Get in touch with the company for a quote
NovoEd
Collaborative Learning

Powerful Analytics

Social Learning

Partner Ecosystem

Functional Upskilling

Get in touch with the company for a quote
Open LMS
Course Building

Virtual Classroom

Blended Learning

High Impact Courses

Powerful Integrations

Get in touch with the company for a quote
An Overview of 360Learning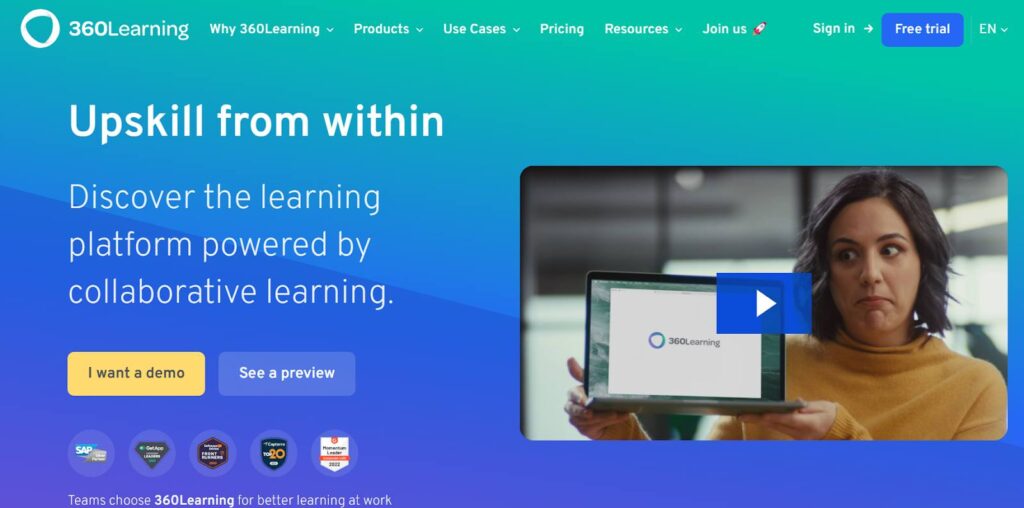 360Learning is a powerful SaaS Learning Management System built for any use case, such as onboarding, customer training, sales enablement, etc. The tool facilitates collaborative learning and offers all the capabilities of a modern LMS.
This solution supports a range of learning styles, including mobile and hybrid learning. You can create online courses in a few minutes as it comes with an authoring tool. Other features of this tool include course templates, cheat sheets, video recordings, built-in assessments, and more.
You can leverage content from anywhere without leaving the platform. 360Learning gels well with Salesforce, OpenSesame, Coursera, LinkedIn, Cornerstone, Loom, and more.
Key Features
Course creation tools

SCORM compliance

Analytics

Asynchronous learning

Gamification

Instant feedback like reactions and comments

Third-party integrations
Despite these compelling features, 360Learning is beset with a few drawbacks.
User management is difficult

The customization feature needs improvement

Reports and dashboards for admins need to be reworked

Need more course templates

Not enough gamification features

The desktop version can be better
So, if the above features are important for your business, then it's time to look at the other available alternatives. With this in mind, we will give you an overview of the 15 best alternatives to 360Learning, their pros and cons, and pricing. This will help you find the next best replacement for the LMS.
15 Best Alternatives to 360Learning LMS
1. ProProfs LMS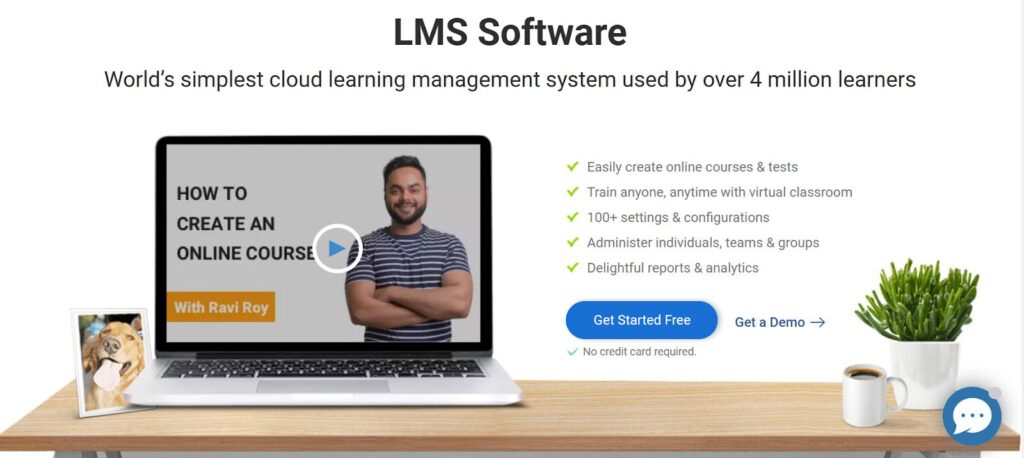 ProProfs LMS is one of the best alternatives to 360Learning LMS. It is an award-winning and the world's easiest-to-use learning solution consisting of a virtual classroom, e-learning authoring tools, a Q&A platform, built-in quizzes, reporting features, third-party integrations, and more.
This software is learner-centric and usable by people of all experience levels. It's a great solution for training employees, partners, and customers. The best part is that you can use the software without prior coding knowledge.
The professionally designed courses and templates drastically reduce course development time and enable you to train your learners on various topics like leadership, compliance, safety, HR, sales, and more.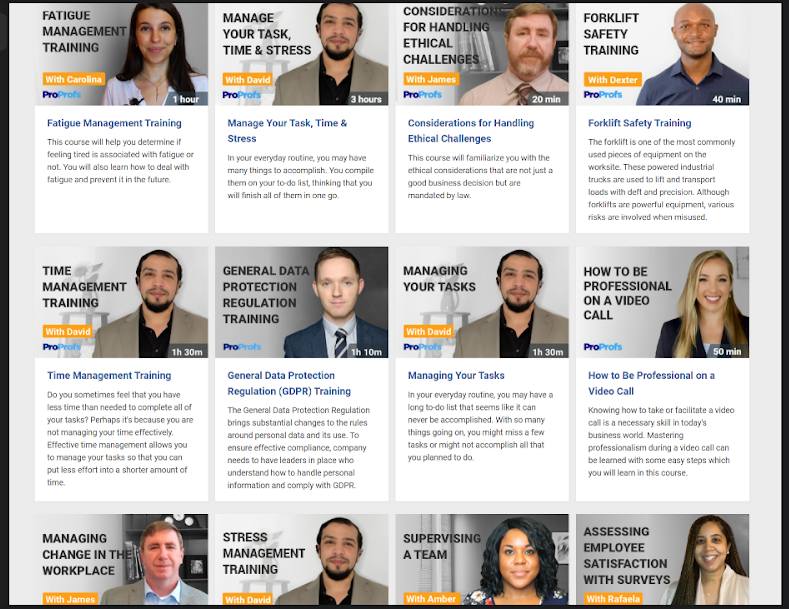 These resources can be used as-is or customized with branding and existing materials.
The tool has added a new feature where you can make your course videos interactive by adding questions. The video will pause once the question pops, and it will resume again after the learner answers it. Here's How to Add Interactive Questions to a Video.
ProProfs has over 100+ course customization options, such as password-protecting your courses, setting a reminder for the course due dates, restricting repeat reattempts on a course, re-ordering course chapters, and more.
Apart from these, you also get access to other features, such as:
White labeling

Multilingual support

Single Sign On

Multiple instructors

Preventing page skipping
Along with this, the customer support provides 24/7 services and has a track of resolving queries faster than customers expected.
Why We Picked It
+ Readymade courses and templates
+ Intuitive UI
+ Robust feedback tools
+ Huge customization capabilities
Pricing
2. Absorb LMS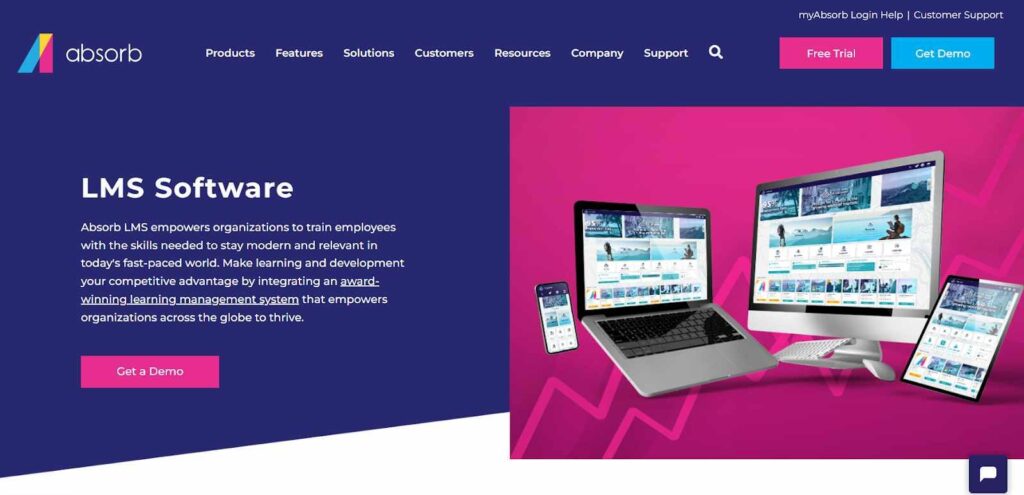 Another award-winning LMS and one of the best alternatives to 360Learning, Absorb LMS is designed to fuel business growth and inspire learning. Backed by powerful technology and excellent customer service, it is one of the best solutions to create impactful training programs and boost engagement.
The pre-built courses from professional content providers enable users to create content in just a few minutes, not days. You can leverage white-labeling to customize the platform based on your learning needs and automate many repetitive tasks.
The mobile version of this LMS facilitates learning on the go, anytime, anywhere, and even offline. Absorb LMS has robust reporting capabilities that provide vital data about learner performance and progress and helps you improve your content.
Why We Picked It
+ Customization capabilities
+ Admin onboarding
+ Powerful integrations
+ Ease of importing courses from other APIs
Pricing
Get in touch with the company for a quote
3. TalentLMS

TalentLMS is a cloud-based LMS ideal for creating courses and training your remote workers. It is an irresistible solution that offers three things –
An enjoyable experience

Quick setup and implementation

Customized training options
It is a popular LMS characterized by intuitive UI and a mobile responsive design. The features packed within this LMS make it easy to provide the best learning experience. This platform is commonly used for onboarding, compliance training, skills training, product training, and other use cases.
You can customize the platform with your branding elements and use it to train your employees, customers, students, and partners.
Why We Picked It
+ Certification management
+ Intuitive UI
+ Gamification
+ Learning paths
Pricing
Starts from $0 /month
4. Cornerstone Learning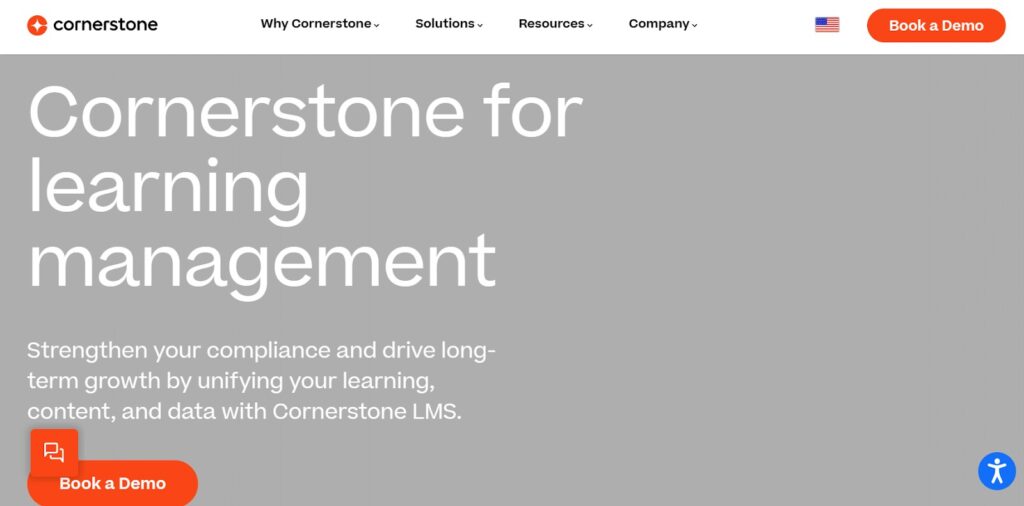 Another 360Learning alternative you can try is Cornerstone, an award-winning LMS that enables organizations to create, deliver, and track training to employees, customers, and partners. It's a holistic platform for self-directed learning and is backed by AI and skills-forward systems for the modern workforce.
Cornerstone aims to deliver the most relevant content to develop new skills. It serves over 6,000 customers and is available across 180 countries. The multilingual support offered by this LMS enables you to train a worldwide audience.
This dynamic solution is designed to understand learner needs and connect them to personalized growth opportunities.
Why We Picked It
+ Powerful integrations
+ Robust reporting capabilities
+ Quiz functionality is great
Pricing
Get in touch with the company for a quote
5. Paradiso LMS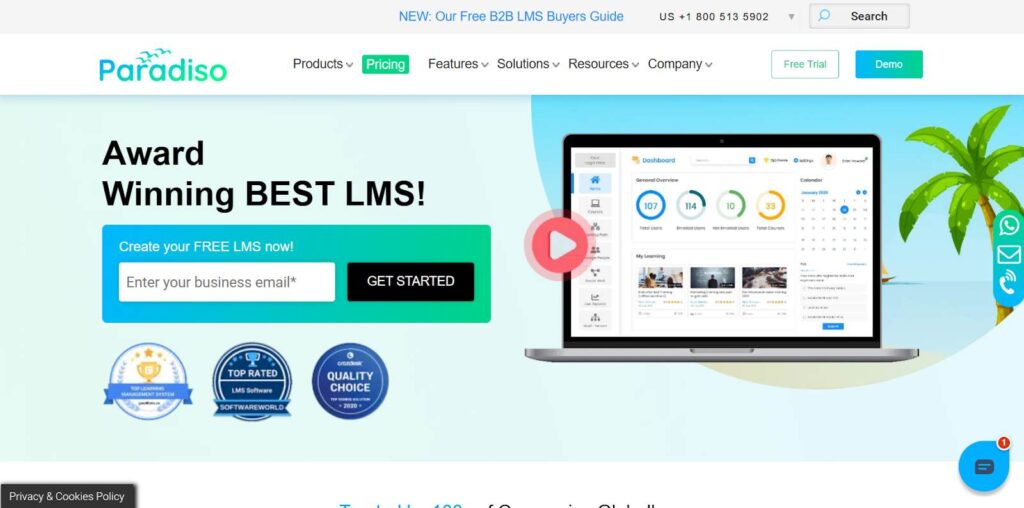 Paradiso LMS is a next-gen and highly sophisticated platform designed to provide the best learning experiences beyond expectations. The focus on blended learning brings together the best of both online and classroom learning experiences. With this LMS, you can access high-quality courses, calendars, and assessments 24/7.
The Single Sign On (SSO) feature helps you deliver a seamless user experience through a faster and a more secure identification and authentication method.
Other features like tailored learning plans, social learning, interactive videos, multilingual support, course analytics, and compliance with SCORM and Tin Can API make it one of the best 360Learning alternatives. Lastly, it provides out-of-the-box integrations with CRM, CMS, ERP, and other platforms.
Why We Picked It
+ Virtual classroom
+ Fully Customizable
+ Gamification
+ Mobile Compatible
Pricing
Get in touch with the company for a quote
6. Docebo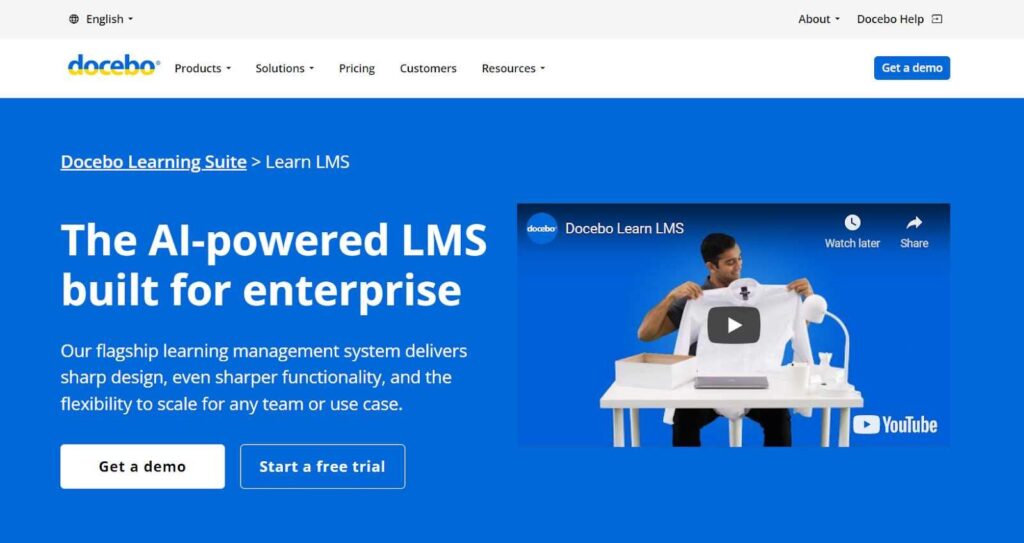 Docebo, an AI-powered LMS, transforms how corporations and enterprises conduct customer education and employee onboarding. It's perfect for mid-sized and big organizations that have a large number of courses to deliver.
You can build and deliver engaging courses and measure the effectiveness of your programs in one place. In short, Docebo LMS delivers sharp functionality and the flexibility to scale any business.
The powerful configuration engine lets you create audience-specific pages through drag-and-drop functionality to make your training programs up and running fast. Leverage automation, gamification, custom domains, and more to configure your LMS platform. Docebo provides 400+ third-party integrations to bring all your learning activities under a single platform.
Why We Picked It
+ Advanced LMS reports
+ Personalized learning paths
+ Branding and white labeling
+ Course management
Pricing
Get in touch with the company for a quote
7. Litmos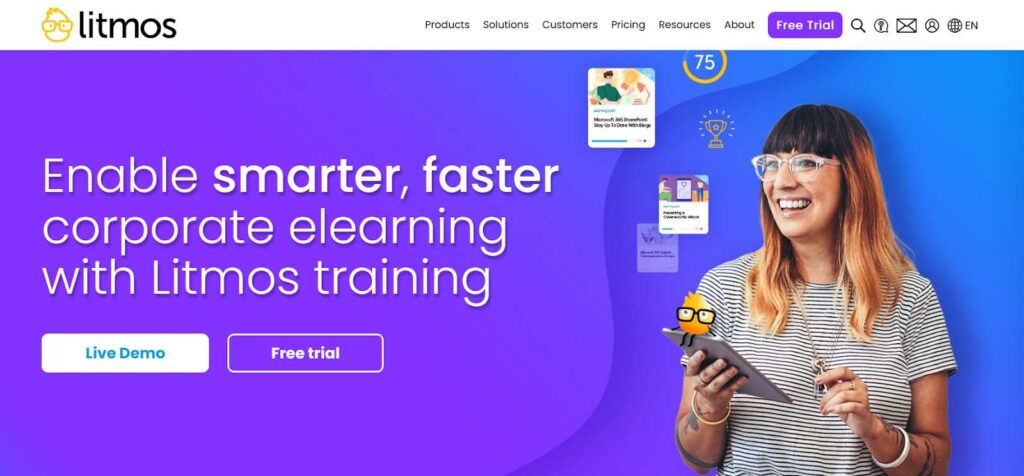 Litmos is one of the best 360Learning alternatives and it provides learning solutions for every segment of your business, such as employees, sales, operations, compliance, and customers. You can author, distribute, and track web-based programs and also schedule and track ILT courses.
The tool is packed with robust features that help you manage your training program from one centralized environment.
SAP Litmos LMS automates repetitive tasks so teams can focus more on aligning training with their organizational objectives. It unifies classroom, virtual, mobile, and social learning and empowers employees to perform at their best, which boosts retention and drives engagement.
Why We Picked It
+ Real-time monitoring of learner progress
+ Easy to set up
+ Fully encrypted
+ Intuitive UI
Pricing
Get in touch with the company for a quote
8. Tovuti LMS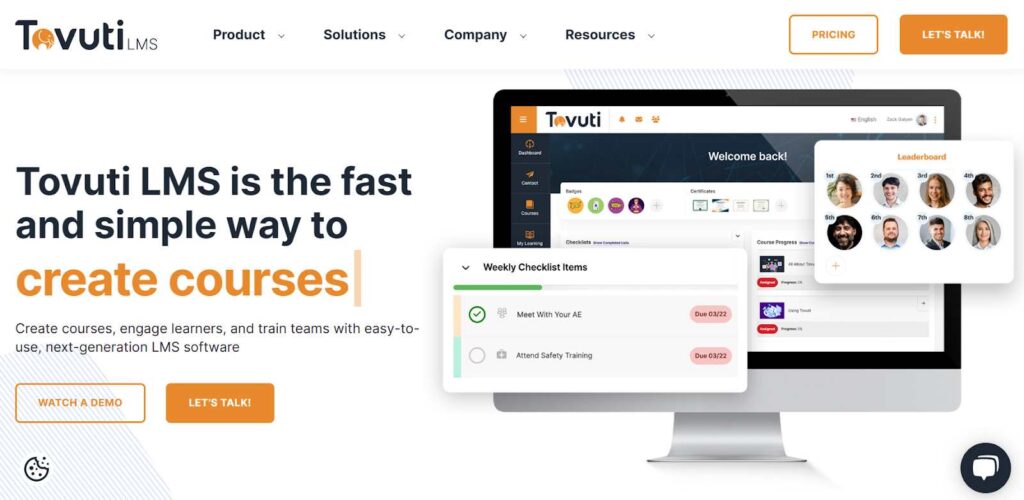 Tovuti is an all-in-one training solution that offers a range of tools to help you create, deliver, and track your e-learning programs. As an award-winning cloud-based LMS, it helps deliver engaging learning programs and it is compatible with all popular devices.
It is one of the top 10 360Learning alternatives for apparent reasons. It empowers instructors to create 40+ interactive and gamified courses to boost engagement. You can create courses from scratch using your existing docs, videos, images, SCORM files, and more.
Tovuti simplifies training management, delivery, and analysis. The solution is backed by powerful enterprise-level security protocols like SSO, end-to-end encryption, disaster recovery, and redundant data storage.
Why We Picked It
+ Powerful software integrations
+ Content gamification
+ Analytics and KPI dashboards
Pricing
Starts from $775/month/per month, billed annually
9. Adobe Experience Cloud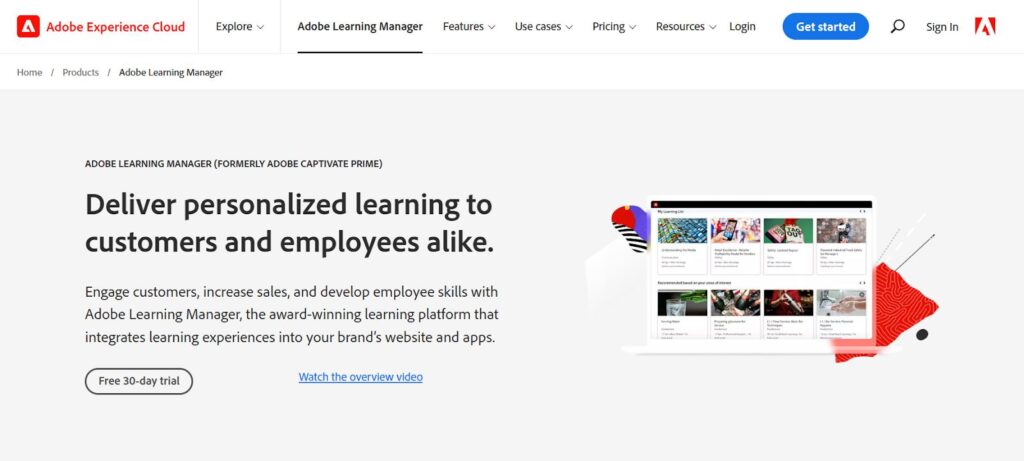 The Adobe Learning Manager (formerly known as Adobe Captivate Prime) by Adobe Experience Cloud is a digital learning tool that lets you create engaging and mobile-ready courses in just a few minutes. Whether you are a marketer looking forward to building strong connections with your customers or the head of the training department, Adobe Learning Manager helps create personalized learning experiences.
One of the peculiar features of this tool is its Headless LMS capability, in which you can make content available within your chosen digital platform. Whether providing a Single Sign-On feature or simply customizing your courses to accommodate your branding guidelines, the headless nature makes it feel like a natural extension of your brand.
The social APIs allow you to integrate social learning experiences, and the intuitive data visualization tools provide powerful insights into your training program. Other features of this platform include AI-powered recommendations, seamless engagement, and easy administration.
Why We Picked It
+ Excellent interactions
+ Intuitive UI
+ Powerful integrations
Pricing
Get in touch with the company for a quote
10. Continu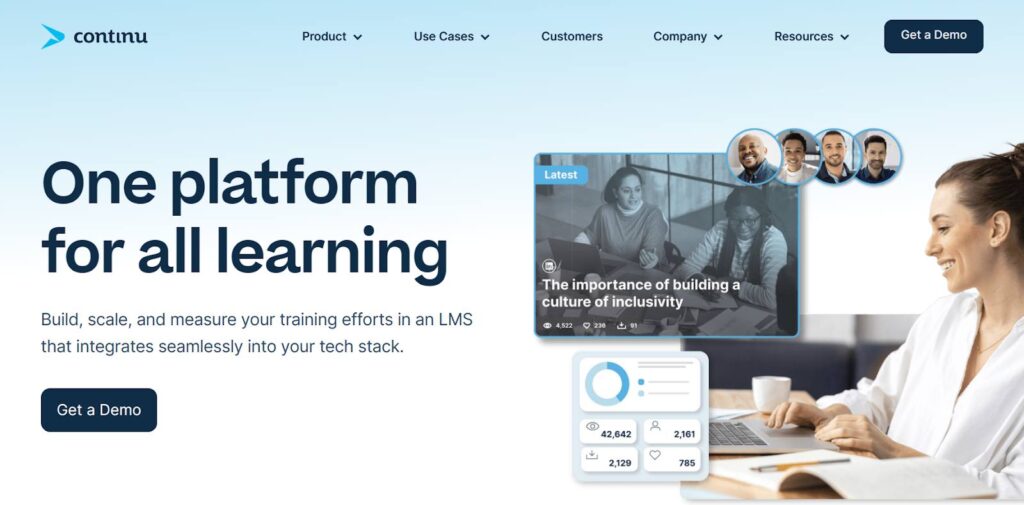 Continu aims to solve the biggest learning challenges by automating learning initiatives. The tool offers powerful analytics to keep track of your learning programs. This software has multiple use cases, such as sales training, customer training, employee onboarding, and compliance training.
Leverage Continu's authoring tool to build engaging courses. Create flexible wikis and articles, including embedded files and media. The virtual classroom allows you to manage attendance, create waitlists, and automate workshop materials.
Measure knowledge with quizzes and assessments. Create different types of questions like MCQs, true and false, fill in the blanks, etc., under a single platform. Enable collaboration and celebrate learning milestones with badges.
Why We Picked It
+ Real-time tracking through beautiful reports
+ Attendance tracking
+ ROI dashboard
+ Logical flows
Pricing
Get in touch with the company for a quote
11. LearnUpon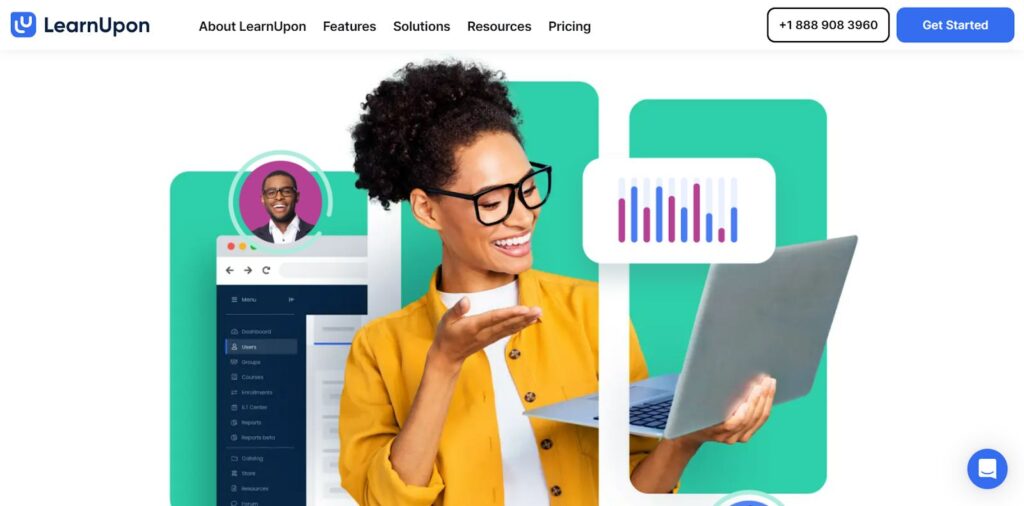 LearnUpon is a robust e-learning solution to manage, deliver, and track training programs. It offers everything you need to deliver impactful training by streamlining the management of your training programs and accelerating business growth.
From automating tasks to ensuring the smooth sailing of your training programs, LearnUpon has everything to power your learning initiatives. Build courses without any technical knowledge and get access to out-of-the-box reports to track progress.
Integrate this LMS with your essential apps and keep your automation, communication, and insights in one place. The best thing about LearnUpon is that it enables self-paced learning and supports live class streams.
Why We Picked It
+ Easy installation
+ Content structuring
+ Enterprise-grade security
+ API integration needs some rework
Pricing
Get in touch with the company for a quote
12. Lessonly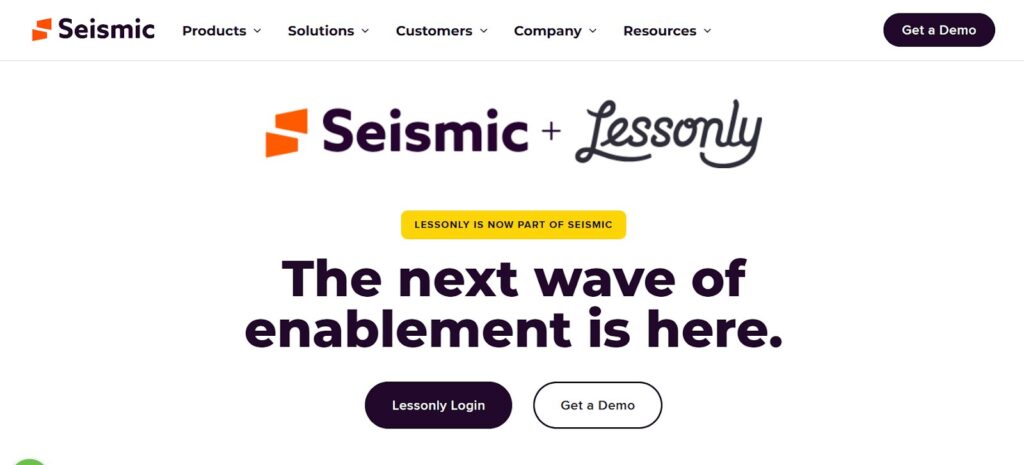 Lessonly by Seismic is a powerful tool that helps teams learn, practice, and perform better. With over 3 million learners across 900 organizations, Lessonly helps develop skills, share knowledge, and reinforce best practices.
This solution allows you to assign lessons and learning paths to individuals and groups. Like other LMS solutions, it supports mobile learning enabling learners to take courses at their chosen pace and schedule.
The robust reporting solution helps you measure progress and get a bird's eye view of your training programs. Lessonly plays well with Chrome, Salesforce, BambooHR, VidGrid, Mediafly, Zendesk, etc.
Why We Picked It
+ Best for onboarding
+ Robust feedback mechanism
+ Powerful quizzes
Pricing
Get in touch with the company for a quote
13. SumTotal
SumTotal is a comprehensive LMS and one of the best 360Learning competitors known for supporting a range of learning delivery, such as informal/external learning, instructor-led training, virtual classrooms, and certification programs. With this tool, you can deliver training in a style your learners prefer.
With this solution, learning is available on any device, which facilitates continuous learning and helps increase overall productivity and engagement.
The SumTotal Intelligent Assistant (SIA), one of the unique features of this tool, enables rapid and seamless access to learning at the precise moment of need. When learners search for a topic in SIA, it instantly provides contextual learning in the form of books, audio, courses, and videos available within the LMS.
Why We Picked It
+ Courses on the go
+ Tailored learning paths
+ Compliance management
+ Social collaboration and gamification
Pricing
Get in touch with the company for a quote
14. NovoEd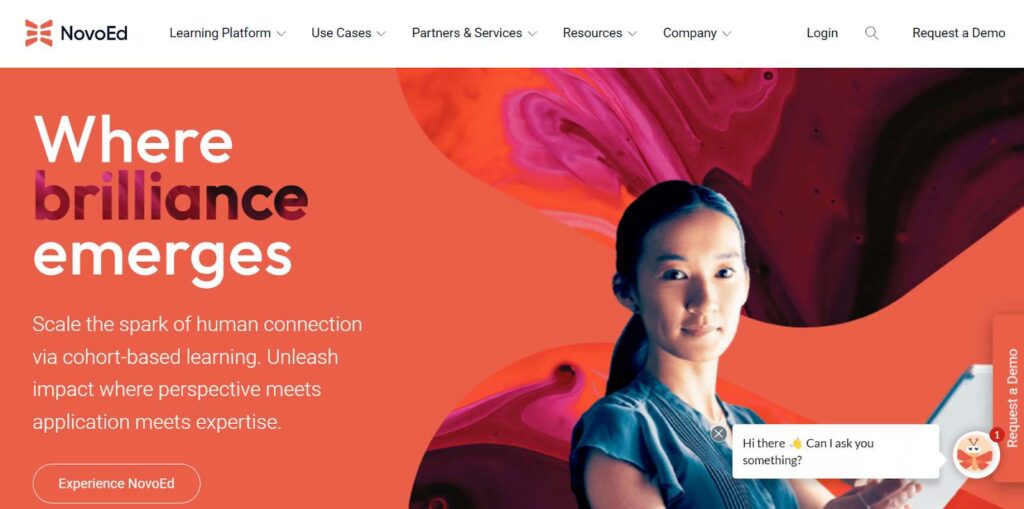 NovoEd is a cohort-based learning platform that empowers organizations to create and distribute experiential learning and accelerate business performance at a massive scale. The trifecta of robust analytics, effective collaboration, and intuitive learning design facilitates shared learning experiences imperative for building high-value business capabilities.
The proven approach of this tool connects a diverse group of coaches, learners, and leaders in an impactful learning environment that drives transformational results. Create high-end corporate courses your company needs to learn together and ensure compliance. The tool is best for employee onboarding, sales development, innovative thinking, and more.
Design programs seamlessly by leveraging built-in templates. Measure the impact of your training through powerful analytics. Create learning journeys and seal the gap between work and learning.
Why We Picked It
+ Mentorship
+ Video practice
+ Robust integrations
+ Best for functional upskilling
Pricing
Get in touch with the company for a quote
15. Open LMS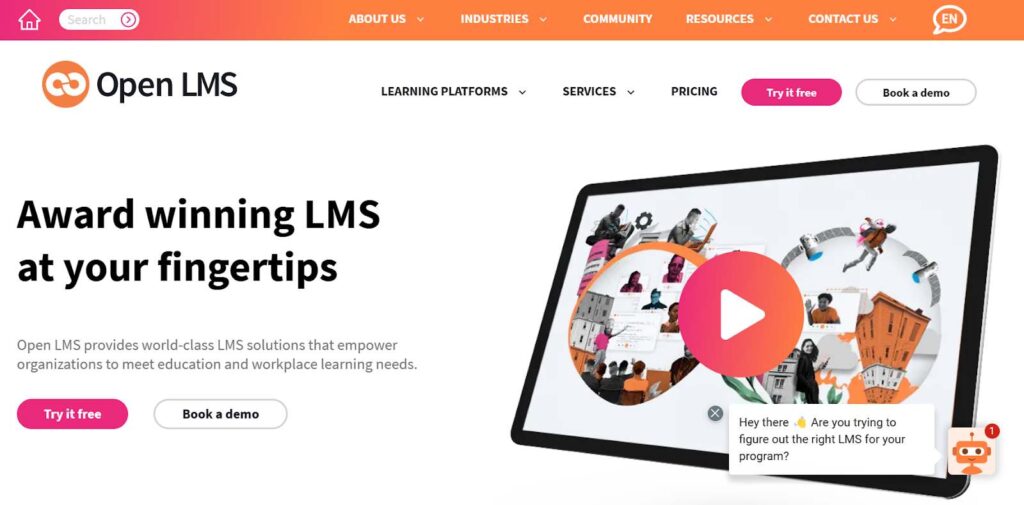 Open LMS is a one-stop solution enabling organizations to deliver impactful training to meet education and workplace learning needs. It caters to the learning needs of all business types – be it an NGO, a mid-sized firm, or a large corporation.
Get support from the professional e-learning content design team to develop impactful courses and fuel your learning journeys. This award-winning LMS supports learning through open-source learning technology. You can deliver customized training materials with your company branding elements. It's an appealing way for organizations to train employees, students, volunteers, and customers.
Being hosted on Amazon Web Services (AWS), this LMS provides a high level of security and scalability, which means you can focus more on maximizing the learning experience.
Why We Picked It
+ Multi-tenant feature
+ Best for compliance and staff development needs
+ High-quality exams
+ E-learning podcasts
Pricing
Get in touch with the company for a quote
Pick the Best 360Learning Alternative For Your Business
As you can see, these are the top 15 360 learning alternatives you can consider to make an informed decision. If you are a long-time user of 360Learning and want to improve your training programs further, then you can explore each of the alternatives discussed above.
Go for a free trial or request a demo from as many of them as possible. This will give you a fair idea of how the LMS will work and help with your training programs. So, go through each tool, weigh its pros and cons, and choose the one that best fits your business needs.
Do you want a free Training Software?
We have the #1 Online Training Software for employee training & assessment