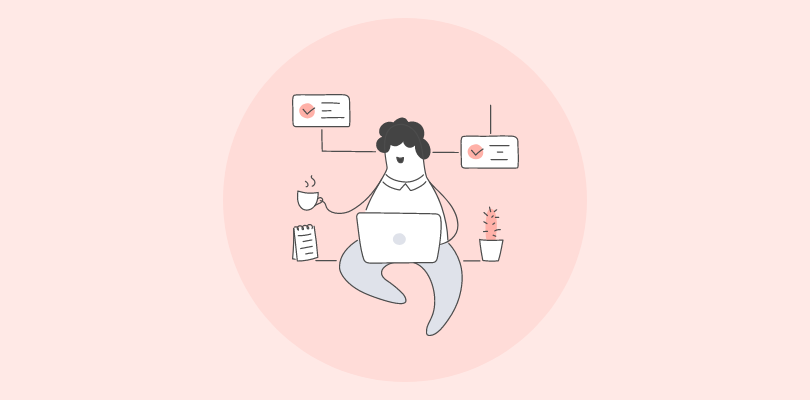 Looking for the best LMS for associations or organizations?
You've landed at the right place.
As someone who has worked closely with several eLearning tools over the years, I can share my firsthand experiences with these tools.
I understand you have a lot of employees and volunteers to train so they adhere to your policies and procedures and remain compliant and safe all the time.
You need to offer mass education at scale and for that you need a solution that simplifies training and makes record-keeping easy.
I have handpicked the top 12 LMS that can prove transformative for your employee onboarding and ongoing training.
Let's jump right in.
| 12 Best LMS Systems | Best for | Pricing |
| --- | --- | --- |
| ProProfs Training Maker | Employee training | Forever free for up to 10 learners. Paid plan starts at $1.97/learner/month for large teams. Billed annually. |
| Moodle LMS | Online learning communities | Custom pricing |
| Absorb LMS | AI-driven learner engagement | Custom pricing |
| Docebo | Scalable enterprise learning solutions | Custom pricing |
| TalentLMS | Gamified learning experience | Starts from $69/month |
| iSpring Learn | Interactive e-learning content | Starts from $770/author/month |
| 360 Learning | Collaborative & social learning | Starts from $8/user/month |
| SAP Litmos | Comprehensive employee training | Custom pricing |
| Learnupon | Small to midsize organizations | Custom pricing |
| Tovuti LMS | Dynamic and interactive learning | Starts from $11,160/year for 50 users |
| Paradiso LMS | Enterprise training | Custom pricing |
| Blue Sky eLearn | Webinars and virtual events | Custom pricing |
List of 12 Best LMS for Associations and Organizations
ProProfs Training Maker is a complete solution for associations and organizations that are focused on delivering effective onboarding, skills, policies, safety, and compliance training.
With its comprehensive features, the platform helps you create, manage, share, track, and analyze courses and tests seamlessly.
The software's emphasis on tracking and reporting, combined with its interactive course creation capabilities, makes it an excellent choice for organizations seeking to enhance employee skills.
I've tried its comprehensive reporting capabilities firsthand, and there is only one thing I can say – it's awesome!
With over 100 ready-to-use courses, creating courses is a breeze. You can also upload PPTs, videos, and PDFs to accelerate the course creation process and leverage its multilingual capabilities to train employees spread across the globe.
What's even more fascinating about this LMS for associations is that you can add gamification elements to courses to elevate the overall learning experience of your employees.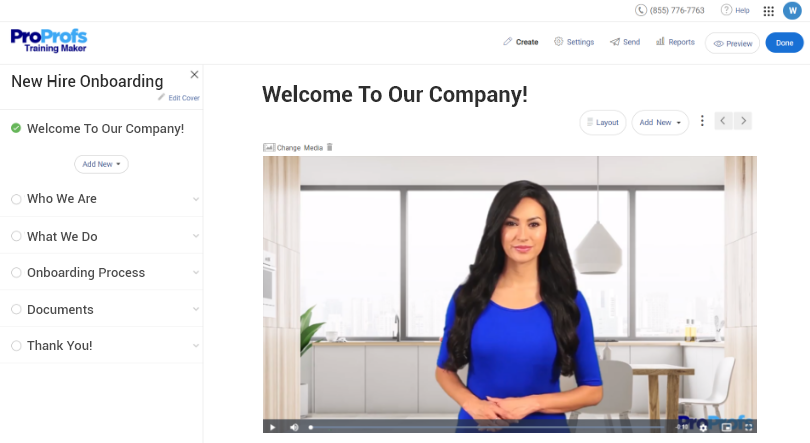 What you may like:
Interactive features, such as quizzes, assessments, and multimedia support for an engaging learning experience.
Powerful customization and branding to create courses just the way you want
Solid customer service
What you may not like:
The free plan is limited to just 10 learners
Currently, there is no dark mode in the platform, and it can be a welcome addition
Pricing:
Forever FREE plan for small teams (up to 10 learners). Paid starts at $1.97/learner/month for large teams with a 15-day money-back guarantee. No hidden charges.
Watch: What is a Cloud-Based Learning Management System?
2. Moodle LMS – Best for Online Learning Communities
I've witnessed Moodle LMS' capability in creating dynamic online learning environments.
With its user-friendly interface and versatile features, Moodle empowers associations and organizations to create interactive courses, manage content, and facilitate seamless collaboration.
The platform's tools encompass discussion forums, multimedia integration, and assessment modules, ensuring a comprehensive learning experience.
Its collaborative features and customization capabilities promote active participation, transforming learning into a vibrant and interactive journey. With Moodle, I could effortlessly build engaging online ecosystems that foster knowledge exchange and drive member engagement.
The best part is Moodle gives you access to a thriving community of learners where you can share ideas, post questions, and instantly get all the support you need.
What you'll like:
Extensive customization options to create branded courses
Integrated forums and real-time chat functionality to facilitate lively discussions
What you may not like:
For newcomers, the initial setup and configuration might require some learning.
As a self-hosted platform, regular updates and maintenance tasks can be challenging.
Pricing:
Custom pricing
3. Absorb LMS – Best for AI-Driven Learner Engagement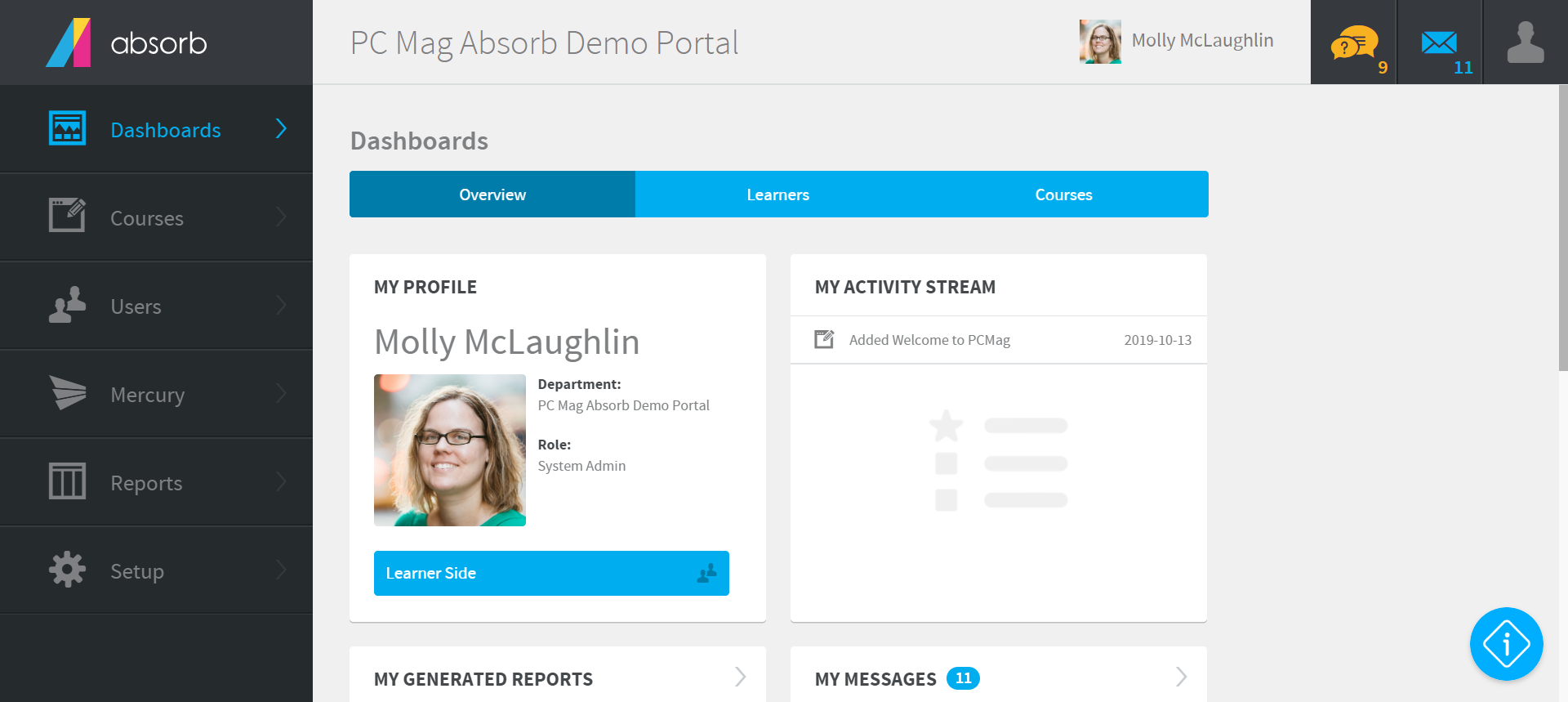 Navigating the corporate training landscape is seamless with Absorb LMS.
This tool empowers associations and organizations with its intuitive interface and robust feature set. From creating and delivering courses to tracking progress and analyzing performance, Absorb LMS simplifies every aspect of employee development.
Its user-friendly design, comprehensive reporting, and mobile compatibility make it a go-to solution for organizations seeking efficient and effective training.
Furthermore, I found its AI-powered features extremely useful for driving content engagement and simplifying time-consuming admin tasks.
What you may like:
User-friendly course builder for quick and engaging content creation
Advanced analytics to monitor learner progress and course effectiveness
What you may not like:
Requires regular updates and maintenance
Exploring the tool's wide range of features requires some time and training
Pricing:
Custom pricing
4. Docebo – Best for Scalable Enterprise Learning Solutions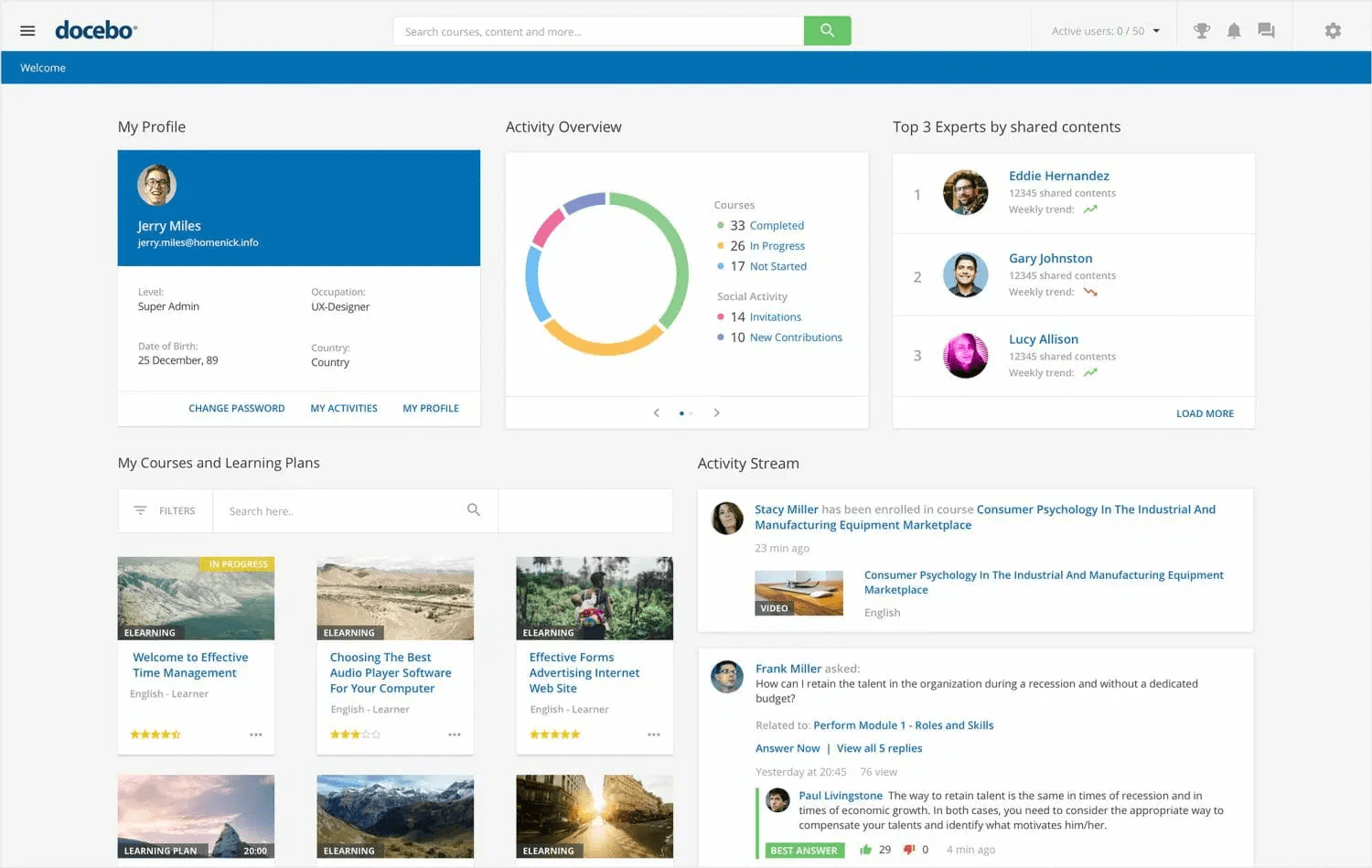 Docebo, a leading player in the realm of online training, is an exceptional choice for associations and organizations seeking scalable and versatile learning solutions.
With its robust set of features, Docebo facilitates the creation of engaging courses, efficient content management, and comprehensive tracking. Its AI-powered capabilities offer personalized learning paths, making it an ideal solution for large enterprises looking to nurture employee growth and drive performance.
Docebo's blend of AI-driven personalization and extended enterprise features make it an ideal LMS for associations with diverse learning needs.
I've witnessed how its robust capabilities deliver tailored training experiences to large teams, ensuring optimal knowledge acquisition, skill development, and performance improvement.
What you may like:
Flexible, drag-and-drop functionality to get learning programs ready in minutes
Over 400 no-code integrations for a holistic learning experience
What you may not like:
Complex setup and configuration
Customer support can be slow at times
Pricing:
Custom pricing
5. TalentLMS – Best for Gamified Learning Experience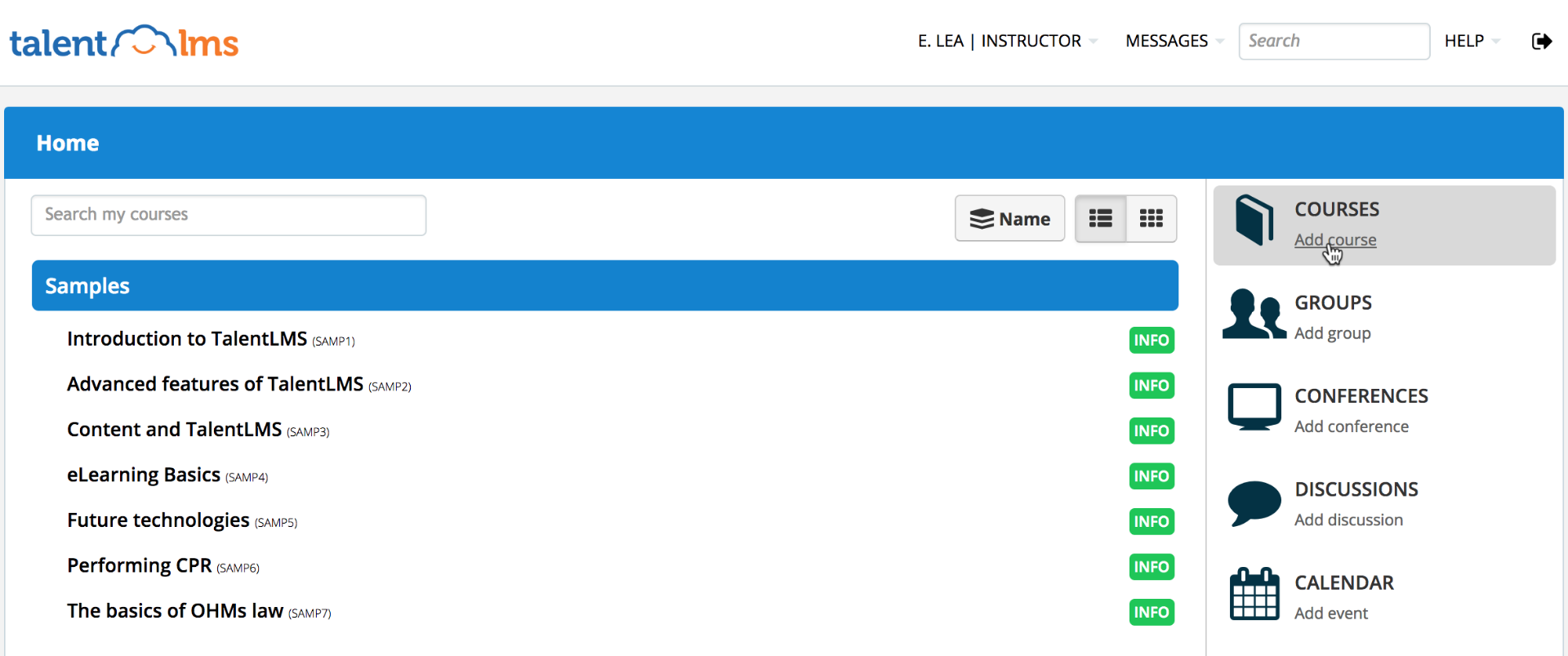 TalentLMS offers a user-friendly interface that simplifies navigation, course creation, content management, and learner engagement.
With a focus on simplicity, this tool enables hassle-free deployment of courses, making it a perfect fit for organizations looking to quickly onboard employees and provide them with essential skills.
What did I love about TalentLMS? The fact that I could add points, badges, and leader boards to my training programs, which gamified and transformed the whole learning experience.
Furthermore, TalentLMS is ISO-certified and GDPR-compliant, which means, the security of your training programs is in safe hands.
What you may like:
Built-in video conferencing for live training sessions
No-code integrations that promise uninterrupted training
What you may not like:
Organizations with complex requirements may face a lack of some advanced features in the platform.
Extensive customization options are somewhat limited
Pricing:
Starts from $69/month
6. iSpring Learn – Best for Interactive e-Learning Content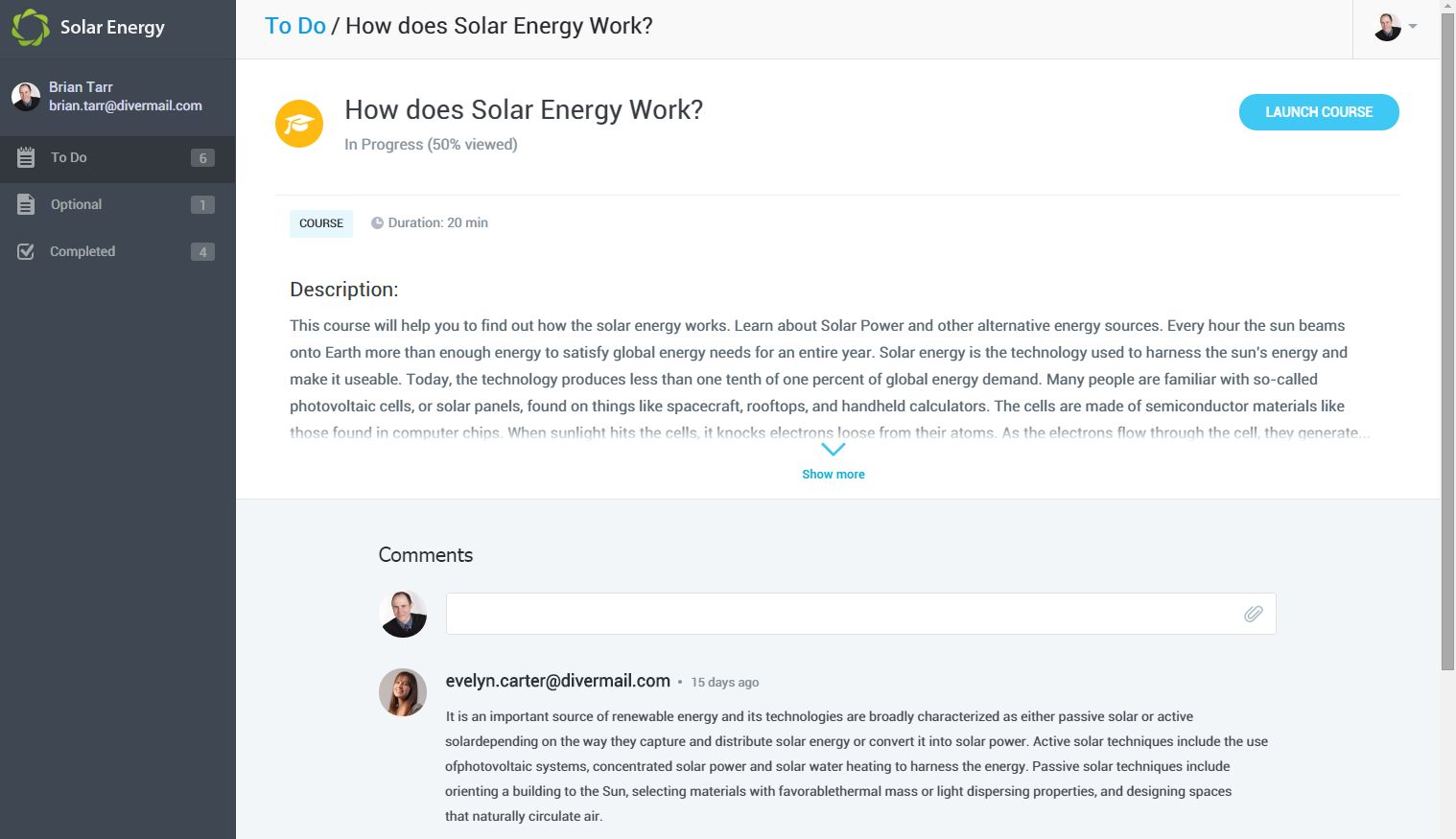 With its focus on interactive content, iSpring Learn helped me design dynamic courses enriched with multimedia elements, quizzes, and simulations.
iSpring Learn's focus on interactive content is great for create e-learning experiences that captivate learners and drive meaningful knowledge acquisition. Through multimedia-rich courses and responsive design, you can craft engaging modules that resonate with your audience.
You also get in-depth reporting to track learner progress and course performance. Additionally, the tool's automation features reduce the load of repetitive admin tasks, giving your team more time to focus on the work that really matters.
What you may like:
Unlimited storage space to help you upload as much content as you need
Courses adapt seamlessly to various devices, ensuring a consistent experience for learners on desktops, tablets, and smartphones.
What you may not like:
It can be complicated and sluggish at times
Lacks built-in web conferencing features
Pricing:
Starts from $770/author/month
7. 360Learning – Best for Collaborative and Social Learning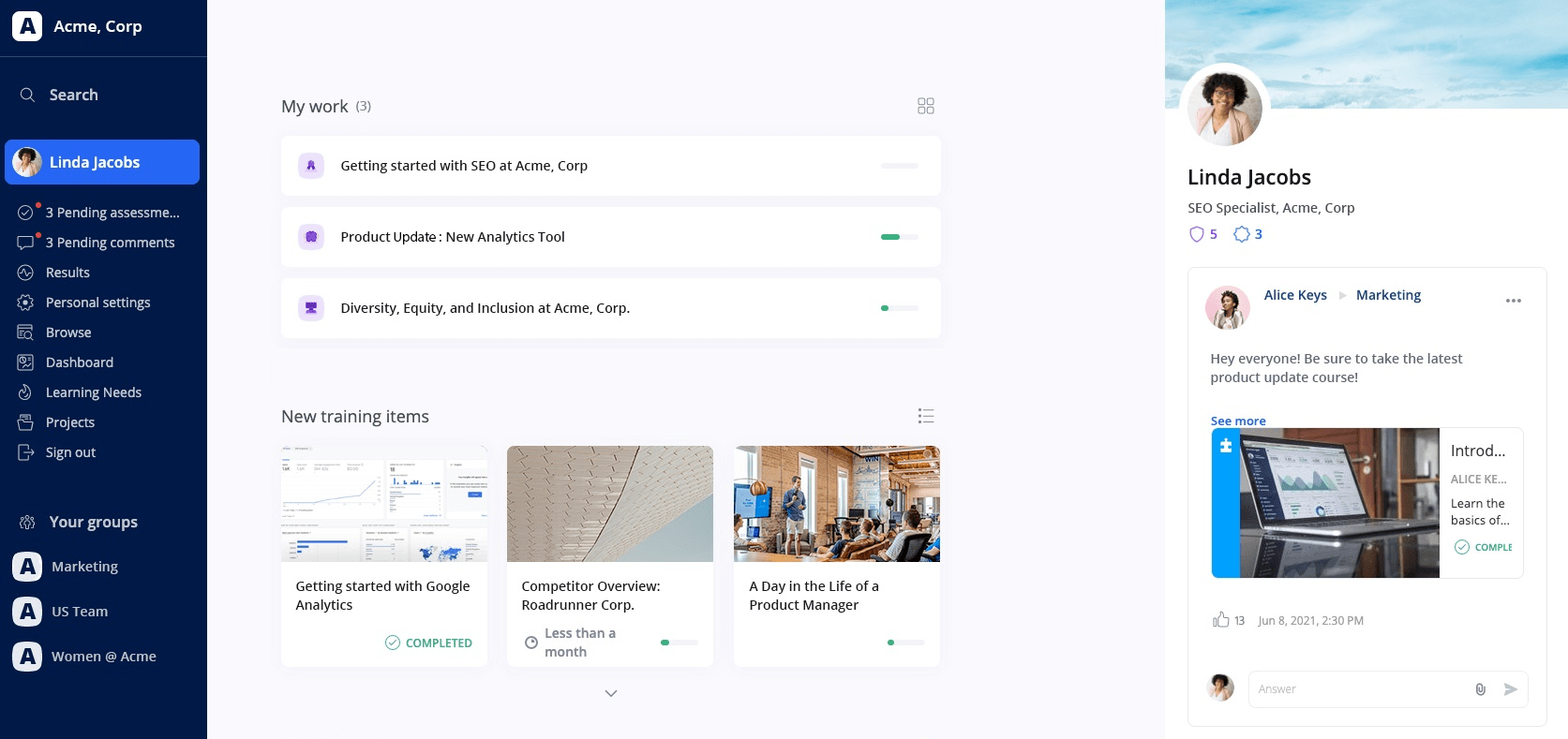 360Learning takes a unique approach by placing collaboration and social learning at the forefront.
Associations and organizations seeking an LMS that fosters interaction and knowledge sharing among learners will find 360Learning to be an exceptional choice.
Its powerful features, such as collaborative content creation, peer feedback, and discussions, transform learning into an engaging experience that encourages active participation and community building.
Single Sign-On, advanced user roles and permissions and nested groups, further make sure that your training programs are safe and in the right hands.
What you may like:
Enables learners and instructors to collaborate on content creation, fostering a sense of ownership
Custom integrations to streamline workflows
What you may not like:
Lacks gamification features
Reporting lacks depth
Pricing:
Starts from $8/user/month
8. SAP Litmos – Best for Comprehensive Employee Training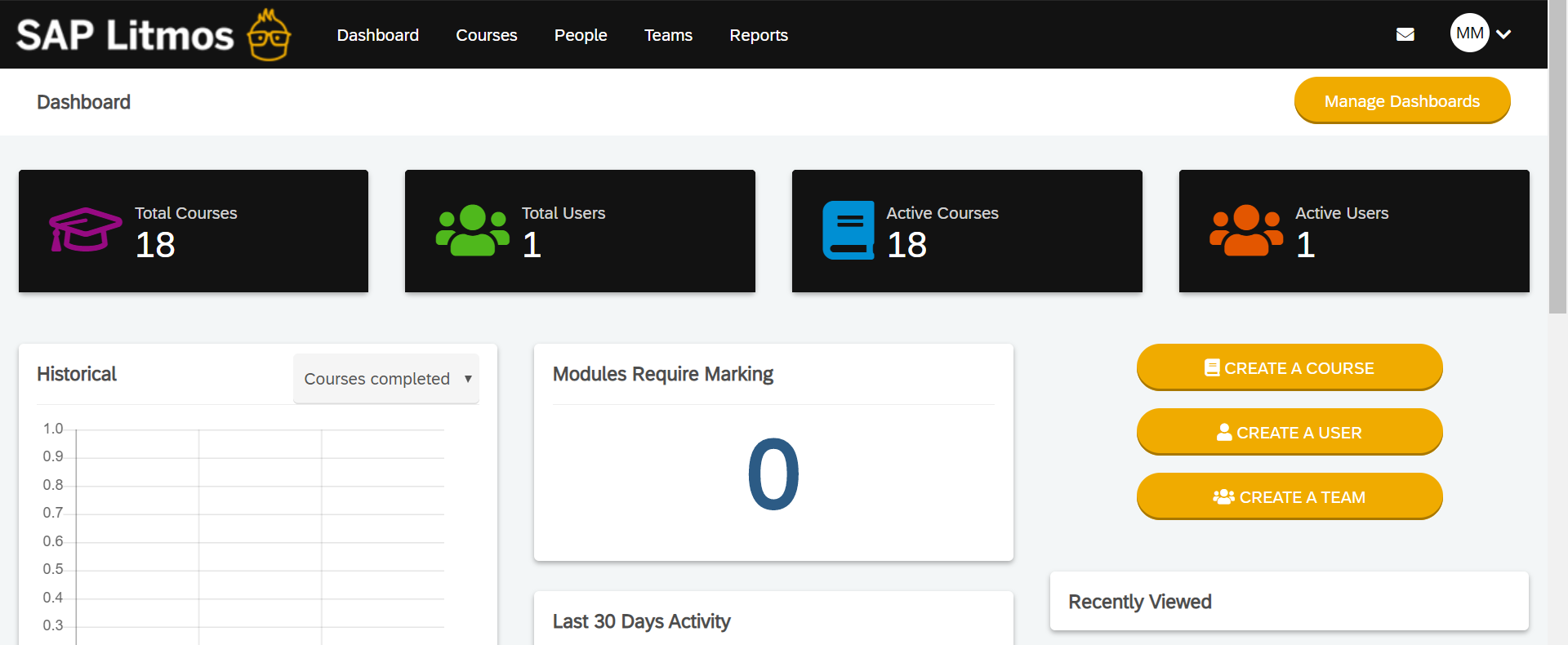 SAP Litmos offers a holistic approach to learning management, from onboarding to skill enhancement.
It empowers administrators to deliver diverse training formats, such as video modules, quizzes, and assessments, enabling you to create well-rounded training courses.
Using SAP Litmos's I could deliver training in diverse formats and facilitate a well-structured learning journey for my employees.
The software also offers 24×7 course accessibility – both offline and online – and supports over 35 languages, eliminating all barriers to learning. It also enables you to drive higher course completion rates with its social learning and real-time notifications.
What you may like:
Custom UI branding to elevate the learning experience
Seamless third-party integrations to enhance workflow efficiency and reduce manual data entry
What you may not like:
Limited gamification options
User interface can be overwhelming for beginners
Pricing:
Custom Pricing
9. Learnupon – Best for Small to Midsize Organizations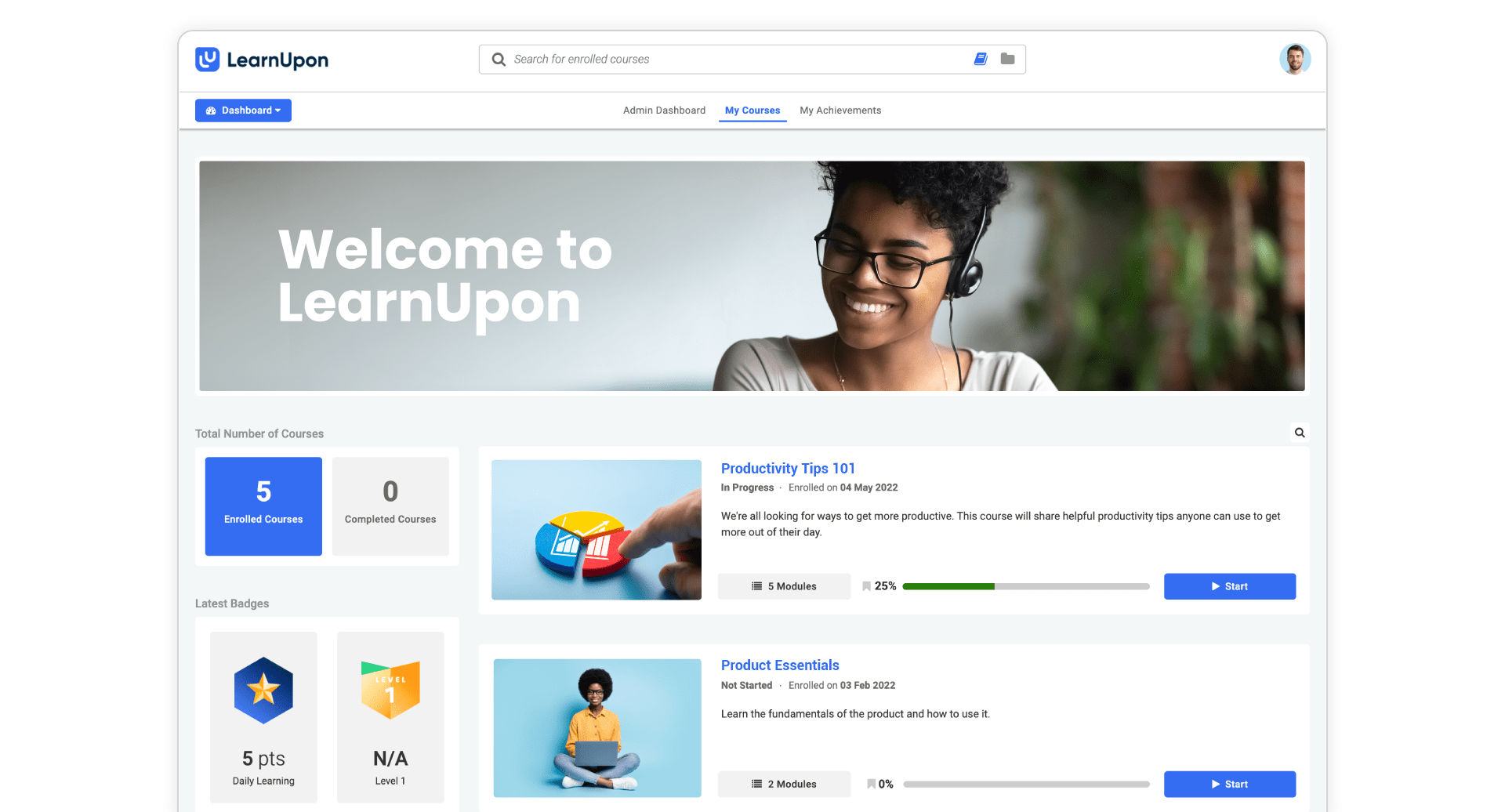 LearnUpon empowers smaller teams to efficiently create, manage, and deliver engaging training content.
The platform's scalability, combined with its affordability, makes it an excellent learning management system for associations and organizations looking to provide quality training without a hefty investment.
Its straightforward interface and adaptable features make it a valuable asset for smaller teams seeking to provide quality training experiences that align with their budget and goals.
LearnUpon's comprehensive reporting and analytics provide valuable insights into learner progress and engagement. Moreover, its flexible integration capabilities ensure seamless connectivity with existing systems.
Advanced features like gamification and certifications further helped me enhance the overall experience of learners.
What you may like:
AI-powered features to eliminate repetitive tasks
URL white labeling to create unique learning portals
What you may not like:
Learning paths are a bit cumbersome
Integrations are complex and require deeper technical expertise
Pricing:
Custom pricing
10. Tovuti LMS – Best for Dynamic & Interactive Learning Experiences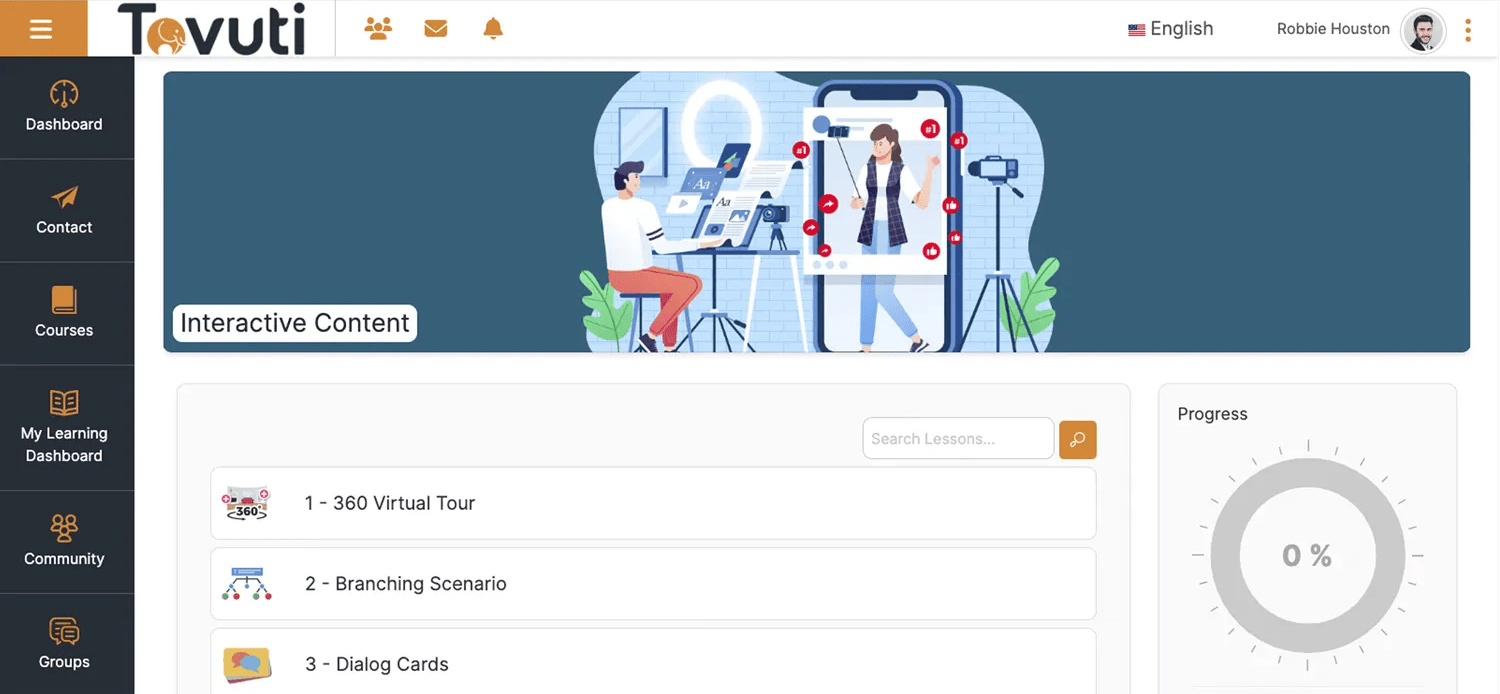 With its emphasis on multimedia-rich content and engagement tools, Tovuti transforms traditional training into an immersive journey.
Its drag-and-drop course builder, gamification options, and robust multimedia support make it a compelling choice for organizations aiming to captivate learners and drive meaningful knowledge retention.
Using the software's beautiful templates, huge content library, and professionally designed themes, I could create courses of compelling quality and design.
Moreover, its enterprise-scale security, powerful reporting and tracking are other crucial features that help deliver elevated learning experiences for employees.
What you may like:
Supports multimedia elements, such as videos, quizzes, and interactive assessments
Gamification options, including badges and leaderboards to encourage friendly competition and motivation among learners.
What you may not like:
Steep learning curve for beginners
Lacks customization options
Pricing:
Starts from $11,160/year for 50 users
11. Paradiso LMS – Best for Enterprise Training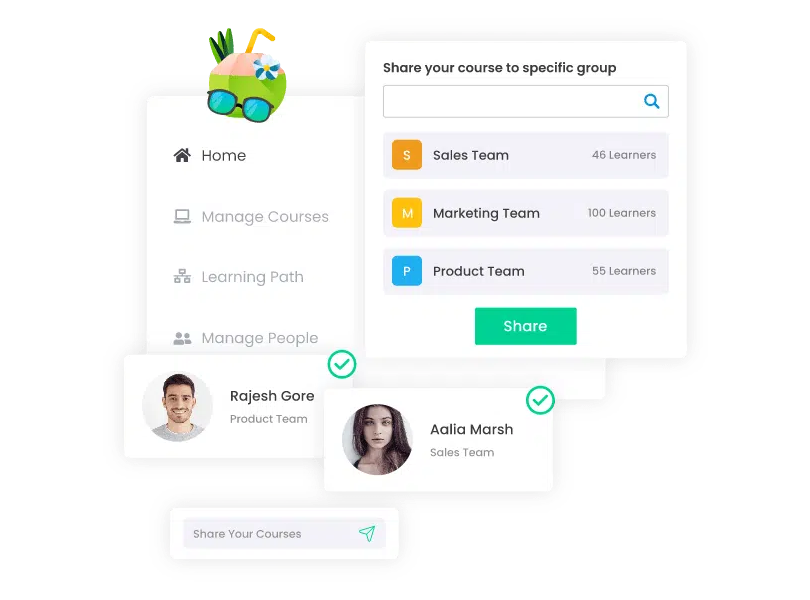 With its extended enterprise capabilities, Paradiso enables you to train partners, customers, and external stakeholders effectively.
The platform's scalability and integrations make it a versatile choice for organizations aiming to extend their training reach and foster collaboration across their entire ecosystem.
I loved how its specialized features enabled me to create tailored training experiences for partners and clients, fostering a culture of continuous learning and collaboration.
Furthermore, features like mobile accessibility, gamification, and reports, make Paradiso LMS an ideal choice for organizations.
You can also use the software's blended training solution to empower learners, reduce knowledge gaps, and create personalized learning experiences.
What you may like:
Localized and multilingual LMS to serve a diverse audience
Multi-tenancy to help you create separate versions of the LMS
What you may not like:
UI needs regular updates
Lacks detailed reports
Pricing:
Custom pricing
12. Blue Sky eLearn – Best for Webinars & Virtual Events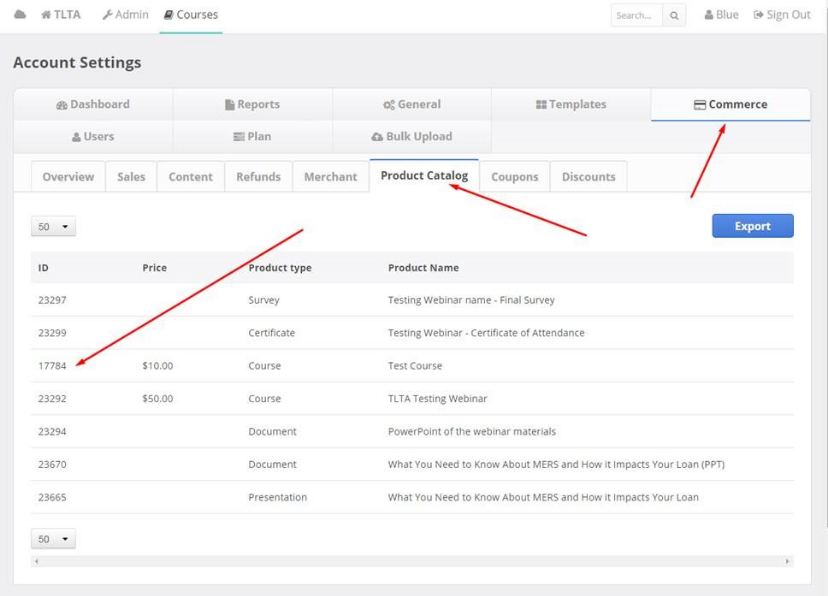 Blue Sky eLearn is a premier learning management system for associations seeking to host engaging webinars and virtual events.
With its specialized focus on interactive online presentations, Blue Sky eLearn can help you create captivating training programs that facilitate knowledge sharing and audience engagement.
The platform's robust features, such as live streaming, interactive polls, and networking opportunities, make it an ideal choice for companies aiming to deliver impactful virtual experiences.
The tool also provides visually appealing templates, designs, and graphics to take your courses from good to great. Additionally, you also get over 70 powerful integrations, multilingual support, and easy accessibility – all of which together help you deliver a stellar learning experience.
What you may like:
Polls and Q&A sessions to foster meaningful employee engagement
Course configuration and permission management for unlimited use cases
What you may not like:
Lacks detailed analytics
Too complex for smaller organizations
Pricing:
Traditionpricing
Which Is the Best LMS for Your Organization?
As we come to the conclusion, it is good to remember that empowered learning leads to empowered organizations. Now armed with these insights into different tools, you can embrace the power they bring to the table.
Here are the tools that I think you can consider in 2023:
Option A: ProProfs Training Maker
ProProfs Training Maker offers a comprehensive set of features that help streamline course creation, tracking, and reporting. With 100+ ready resources complemented by multilingual support, course creation is a real breeze. The tool is best for enterprises, government agencies, and SMBs.
Option B: TalentLMS
TalentLMS simplifies course creation, content management, and learner engagement through its user-friendly interface. Its gamification features—points, badges, and leaderboards— can enhance the overall learning journey. Additionally, TalentLMS's GDPR compliance ensure the security of your training programs.
Option C: Docebo
Docebo is noted for its scalable learning solutions. Its robust features enable engaging courses, content management, and tracking. Its AI-powered personalization is best for large enterprises aiming to foster growth and drive performance, making it an ideal choice for diverse learning needs.
My final recommendation to you would be ProProfs Training Maker, since it has a library of training courses and best-in-class features for imparting an impactful learning experience.
When you pick a tool, go for a free trial and demo to explore its features and functionalities, before investing. It will give you a first-hand experience of the software and help you make an informed decision.
Frequently Asked Questions
What is an association LMS?
An association learning management system (LMS) is a software platform specifically designed to facilitate the creation, delivery, management, and tracking of training and educational content for associations and their members. It enables associations to provide a centralized hub for learning materials, courses, certifications, and continuing education, fostering member engagement and professional development.
What are the key features to look for in an LMS for associations?
When selecting an LMS for associations, key features to consider include customizable course creation, comprehensive reporting and analytics, integration capabilities with other systems, mobile accessibility, task automation, gamification options, and the ability to deliver personalized learning paths tailored to different member needs.
How do I choose the right LMS for associations?
To choose the right LMS for your association, start by identifying your specific training goals and member needs. Consider factors such as scalability, ease of use, integration capabilities, support services, cost, and the platform's alignment with your association's mission and values. Request demos, evaluate user reviews, and seek recommendations from other associations to make an informed decision.
Watch: How to Choose the Best LMS for Government, Non-Profits & Associations
How can an association LMS help in delivering training and continuing education to my members?
An association LMS streamlines the delivery of training and continuing education by providing a centralized platform for creating, organizing, and distributing learning content. It enables members to access courses and materials at their convenience, track their progress, earn certifications, and engage in interactive learning experiences. This fosters ongoing professional development and enhances the value of association membership.
Does the LMS offer a user-friendly interface for both administrators and members to access training materials easily?
Yes, a standard LMS should provide a user-friendly interface that caters to both administrators and members. Administrators should be able to easily create, organize, and manage content as well as learners, while members should enjoy intuitive navigation to access courses, track their progress, and engage with interactive elements seamlessly.
Can the LMS integrate with our existing association management system (AMS) or member database?
Many modern LMS platforms support integrations with the tools you already use daily. This integration ensures smooth data flow, member authentication, and seamless user experiences. Before selecting an LMS, inquire about integration options and compatibility with your most used systems to ensure maximum efficiency and data accuracy.
Do you want a free Training Software?
We have the #1 Online Training Software for employee training & assessment