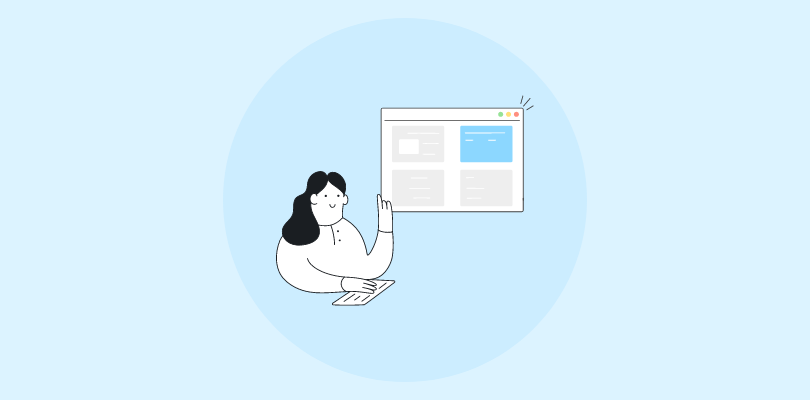 HR executives have a lot on their plates.
They need to be able to do everything from recruitment and onboarding to managing leave requests and employee engagement. To be successful, they need to have the right skills and knowledge.
That's where HR LMSs come in.
HR LMSs can provide HR professionals with the role-based training they need to be effective in their roles. They can also help them to stay up-to-date on HR best practices and knowledge needed to excel at their jobs.
I've spent hours researching tools and have compiled a list of the 11 best HR LMSs for 2023. In this article, I'll take a closer look at each platform and discuss its strengths and weaknesses. I'll also provide tips for choosing the right LMS for your organization.
Before we get to the details, here's a quick overview of the platforms I am going to review in this article:
List of 11 Best HR LMS Software
As someone in the employee training space, I have a passion for nurturing employee growth through continuous learning. I've had the privilege of exploring many tools designed to enhance workplace learning.
Based on my first-hand experience, peer recommendations, client testimonials, and third-party reviews, I have compiled this list of the 11 best HR LMS systems. They can streamline the daily admin chaos and propel you into the realm of strategic prowess.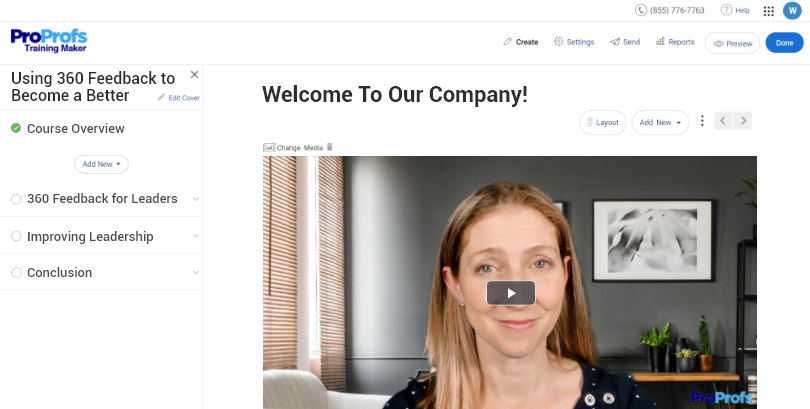 ProProfs Training Maker is more than just a learning management system for HR employee training; it's a strategic asset.
One of its remarkable attributes is how easily users can develop role-based online employee training programs.
You can craft targeted journeys for your HR teams in a straightforward way. The ability to customize courses and modules based on individual roles and skills ensures a laser-focused approach to skill enhancement.
A library of 100+ ready-made courses simplifies the course development process. These resources are professionally designed, fully editable, and ready to go.
Features such as single sign-on (SSO), roles and permissions, and GDPR keep your course content and user data safe.
Automation, gamification, quiz-based assessments, and real-time tracking and reporting are other features you can expect from this HR LMS.
What you'll like:
Instant email notifications for completed or due courses and certificate expiration
AI-powered reports to assess participation, course completion, and engagement levels
Custom LMS certification to validate course completion
Q&A forum where course participants can collaborate effortlessly
A vast library of ready-made courses designed by subject-matter experts
What you won't like:
The forever free plan is limited to just 10 learners
Frequent software updates can make the experience a bit cumbersome by requiring constant adaptation
Pricing:
Forever FREE plan for small teams (up to 10 learners). Paid plans start at $1.97/learner/month for large teams with a 15-day money-back guarantee. No hidden charges.
2. Moodle – Best LMS for Customized Learning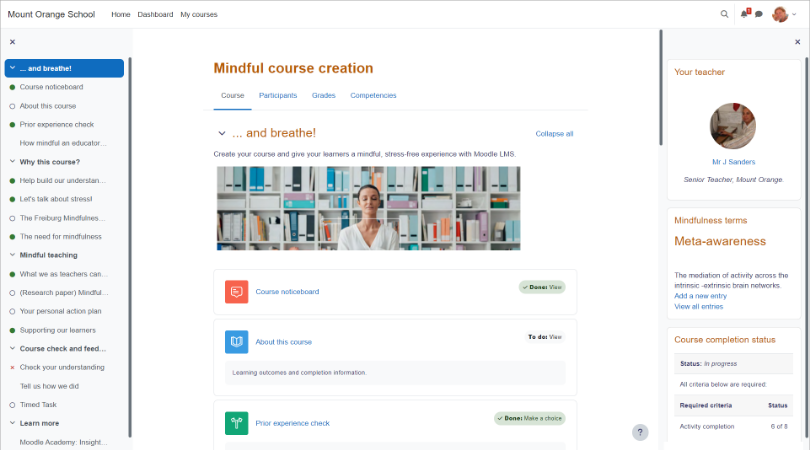 If you are on the lookout for a fully customizable and free LMS, I cannot recommend Moodle enough. This comprehensive platform empowers organizations to craft tailored learning experiences, nurturing employee growth.
You can easily modify the source code and custom-build the LMS to run your way.
With its user-friendly interface, Moodle simplifies course creation, allowing you to design HR training courses that align precisely with your learning and business objectives.
From multimedia integration to progress tracking, the platform ensures engagement and accountability, elevating the learning journey.
Its collaborative spaces foster a sense of community among learners, driving interaction and knowledge sharing.
Scalability is another significant advantage of Moodle, ensuring it adapts seamlessly to organizations of all sizes, from startups to global enterprises.
What you'll like:
Open source tool offering extensive customization options
A dedicated mobile app that facilitates on-the-go learning
Course badges help track progress and celebrate milestones
Quizzes and polls provide insight into learner's progress and understanding
Tailored training pathways are assigned automatically based on pre-set rules
What you won't like:
A steep learning curve for first-time users due to extensive features
Requires technical expertise to operate
Pricing:
Free plan available with limited reporting capabilities. Paid plans start at $120/year.
3. Absorb LMS – Best LMS for Learning Engagement

Fueling a culture of continuous learning and enhancing organizational performance is made easy with Absorb LMS.
I like how you can tailor the learning experience to your vision with a personalized touch that aligns with your organization's branding. Predictive AI and natural language recognition further enhance the tool's productivity.
The LMS platform is perfect for harnessing the power of social learning to foster interaction and knowledge sharing. Learners can rate courses, interact with peers, and celebrate accomplishments through leaderboards and badges.
The engaging and interactive courses crafted with Absorb Engage redefine learning, integrating elements like videos, quizzes, and polls, ensuring a captivating experience that drives better learning outcomes.
What you'll like:
Discussion forums and peer-to-peer learning for a collaborative experience
Mobile app facilitates remote learning
Gamification, badges, social learning, and certificates enhance the learning experience
Separate portals for learners and administrators
Offers a range of pre-built courses
What you won't like:
Initial setup can be challenging and time-consuming
Limited assessment options when it comes to answer types
Pricing:
Starts at $14,500/year.
4. Docebo – Best AI-Powered LMS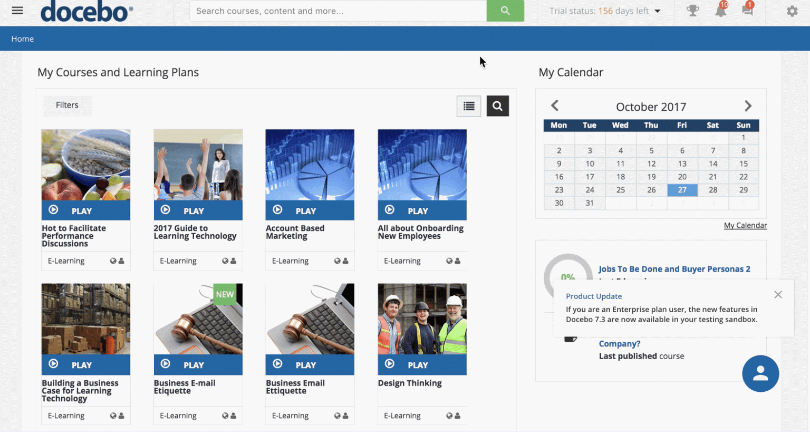 Docebo's platform stands out with its intuitive course creation tools, allowing you to design engaging training content effortlessly.
The AI-powered recommendation engine personalizes learning paths, ensuring each team member receives relevant content for their growth. The analytics dashboard provides deep insights into learning progress, helping fine-tune your training strategies for maximum impact.
One notable feature is the social learning environment, fostering collaboration and knowledge sharing among team members. The mobile app ensures convenient access to learning resources on the go, promoting continuous learning.
Docebo's integrations with third-party tools streamline content management, while its gamification elements add an exciting twist to learning. With advanced certification and compliance tracking, you can ensure our team stays on top of mandatory training.
What you'll like:
AI-powered auto-tagging and content suggestions, personalized learning paths
Uninterrupted learning experience on any device, including smartphones and tablets
Supports SSO and two-factor authentication
Blended learning, including Instructors-led Training (ILT) and webinars
What you won't like:
The search functionality is not easy to use
Cannot publish training videos over a certain size limit
Pricing:
Starts at $25,000/year.
5. iSpring Learn – Best LMS for Automated Training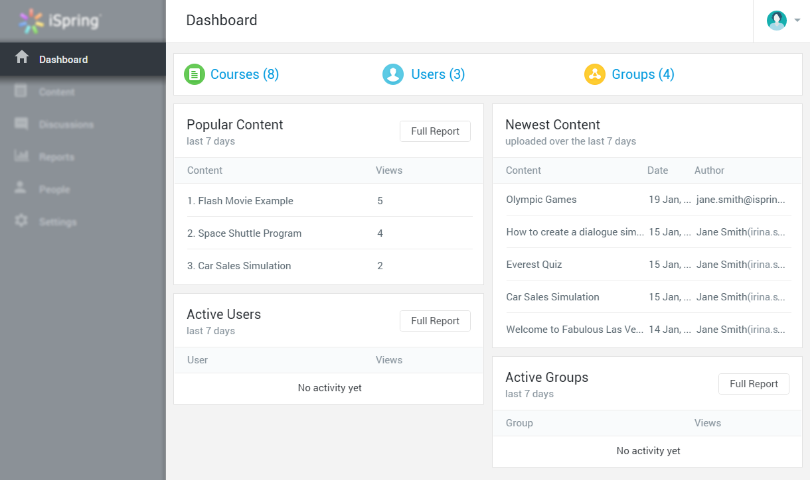 One of the most powerful automated LMS tools that I have come across is iSpring Learn.
The ability to automate routine tasks such as course enrollment, progress tracking, and certification issuance significantly reduces administrative overhead, allowing you to concentrate on strategic training initiatives that drive business growth.
Moreover, iSpring Learn's comprehensive reporting and analytics offer deep insights into learner performance. This data-driven approach empowers you to make informed decisions about training strategies, identify knowledge gaps, and fine-tune content.
Another great feature is iSpring's mobile app, which ensures that team members can access training materials on their devices, enabling convenient and on-the-go learning.
What you'll like:
Badges, certificates, newsfeed, leaderboard, etc., enhance employee engagement
In-depth reports to track learners' progress
Automated notifications for due training and important deadlines
Multiple admin roles to share responsibilities with team members
What you won't like:
Limited customization options for the user portal
Setup can be cumbersome
Pricing:
Starts at $2.29/user/month.
6. 360Learning – Best LMS for Collaborative Learning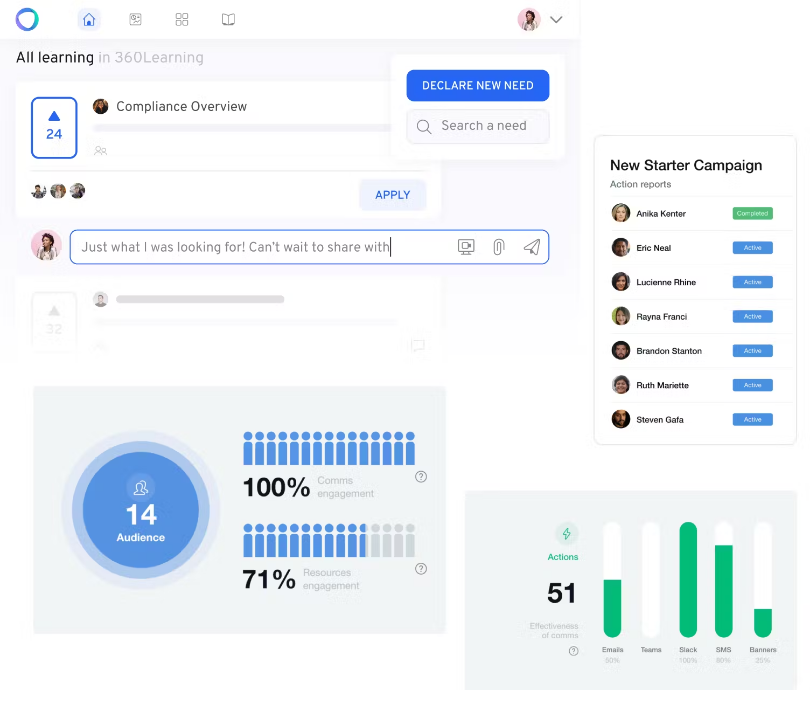 In my opinion, no other tool supports collaborative learning as well as 360Learning.
It allows team members to actively engage in discussions, share insights, and learn from one another. This fosters a sense of community and knowledge sharing, elevating the overall learning journey.
Say goodbye to boring, static content. With 360Learning's multimedia capabilities, you can integrate videos, quizzes, and assignments, ensuring a diversified learning journey. Tracking progress and assessing performance is a breeze, thanks to its comprehensive analytics and reporting tools.
What's more, the mobile-friendly design lets learners access their courses anytime, anywhere. Plus, with its robust security measures, your data remains safe and sound.
What you'll like:
Ready-to-use templates for course creation
Automated enrollment, reports, and reminders
On-the-go learning with a powerful mobile app
Data security with encryption, backups, GDPR compliance, and SSO
Dynamic groups with custom filters to assign training automatically
What you won't like:
Quizzes require significant improvement
Occasional technical glitches and performance issues
Pricing:
Starts at $8/registered user/month.
7. Litmos – Best LMS for Video Assessments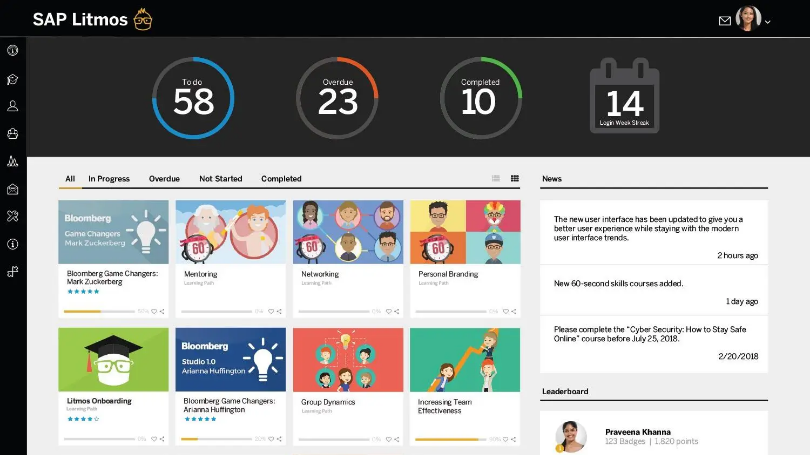 Litmos LMS helps create dynamic, mobile-responsive, and visually appealing SCORM content within the platform. You can access a library of professionally created, video-based courses across a wide range of topics related to HR training.
What you'll also find useful is that the tool enables learners to record and upload videos of themselves demonstrating their skills or knowledge. These videos are then assessed through AI functionality based on specific keywords and rate of speech.
Litmos lets you tailor the LMS to your organization's branding, creating a cohesive training experience. You can use pre-built reports and dashboards to track performance or create your own reports from scratch.
What you'll like:
Customizable learning paths, branding, and dashboards
Real-time notifications for learner's activity
Gamification features like leaderboards, points, and badges
Automated group enrollment, assignment, and learning paths
GDPR-compliant tool with data security features such as encryption and private certificate
What you won't like:
Advanced branding options might be restricted
A steep learning curve is involved
Pricing:
Starts at $6/user/month.
8. LearnUpon – Best Generative AI LMS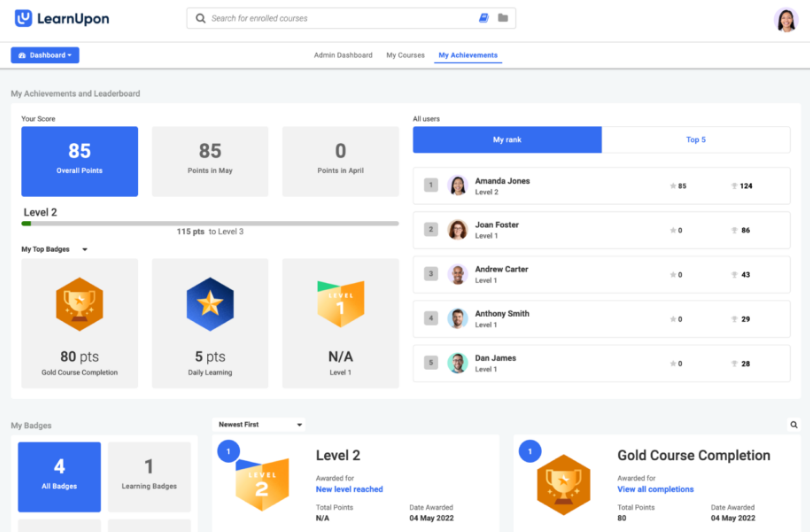 I tried LearnUpon for its cutting-edge generative AI technology. And let me tell you- this revolutionary feature automates course and assessment creation, saving me substantial time and effort.
Utilizing LearnUpon's generative AI tools, you can swiftly generate captivating summaries, exams, scripts, design interactive images and videos, translate text, and even construct complete courses – all within seconds, eliminating the need for weeks of effort.
The platform's robust user management functionality is equally impressive. You can easily organize and oversee team members' learning journeys, from enrollment to progress tracking. This feature streamlines the administrative process and enables personalized learning paths.
Course creation is a breeze with LearnUpon's versatile tools. The platform's user-friendly interface helps design interactive and multimedia-rich courses effortlessly, catering to various learning styles.
LearnUpon's reporting and analytics capabilities are exceptional, providing in-depth insights into learner performance. Gauging the effectiveness of training programs helps identify areas for improvement and make informed decisions to optimize your training strategy.
What you'll like:
Badges, leaderboards, and certifications for learner engagement
User segmentation and customer roles for team members
Advanced filters and scheduling options for reports
AI-powered course recommendations and course summaries
Interactive options like webinars, ILT, SCORM and xAPI files, videos, etc.
What you won't like:
Limitations when it comes to creating user groups
Reports could be more user-friendly
Pricing:
Starts at $599/month.
9. SkyPrep – Best LMS for Continuous Skill Enhancement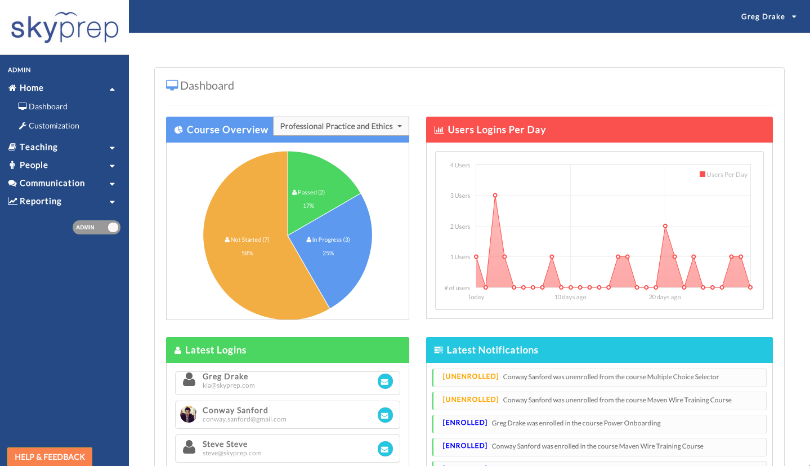 If you are looking to foster continuous skill development within your team, SkyPrep can be a remarkable choice. Its distinctive features and focus on ongoing growth make it an invaluable tool for achieving training goals.
One of SkyPrep's features that impressed me the most is its dynamic content library. The platform enables you to curate a repository of diverse learning materials, from videos and documents to quizzes and surveys, creating a comprehensive hub for team development.
SkyPrep also shines when it comes to automating administrative tasks. Automated enrollment, progress tracking, and even course reminders free up valuable time and resources.
The platform also offers granular control over user roles and permissions. This ensures each team member receives the right content and resources, contributing to a more personalized learning experience.
What you'll like:
Gamification features such as badges, points, and leaderboards
Easy course creation with a drag-and-drop builder, template library, and an assessment builder
Detailed insights into learner progress with reporting & analytics
Learners can access their courses on their smartphones and tablets
Social learning allows learners to collaborate and share ideas
What you won't like:
Limited customization options for the dashboard
Pricing can be a bit high for some organizations
Pricing:
Starts at $199/month.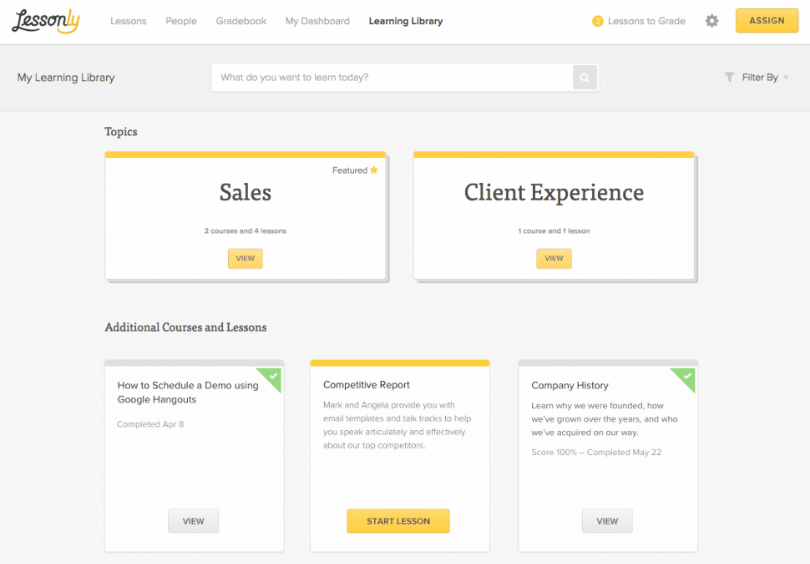 Whether it's practice scenarios or role plays, Lessonly helps you do it all!
I tried Lessonly upon receiving a peer's recommendation. The platform empowered me to coach holistically and individually, addressing unique growth areas through automated coaching, skills assessments, and personalized coaching plans.
I used it to craft engaging onboarding programs that cater to diverse learning styles. The interactive knowledge checks and blended learning, including instructor-led training, made the learning journey both dynamic and effective.
What truly sets Lessonly apart is its commitment to ongoing training. The platform ensures our HR reps are always updated with the latest industry trends. Moreover, Lessonly's insightful dashboards help measure the impact of training, adapt to learning tendencies, and make informed scaling decisions.
What you'll like:
Automated coaching by identifying skill gaps and delivering targeted coaching plans
Interactive learning checks for improved engagement
Dashboards and scorecards to track learner progress
Blended learning with self-paced online modules and instructor-led session
What you won't like:
Limited white-labeling options
Managing a high volume of users, courses, and data could potentially pose challenges
Pricing:
Custom pricing.
11. Tovuti LMS – Best for Pre-Built Courses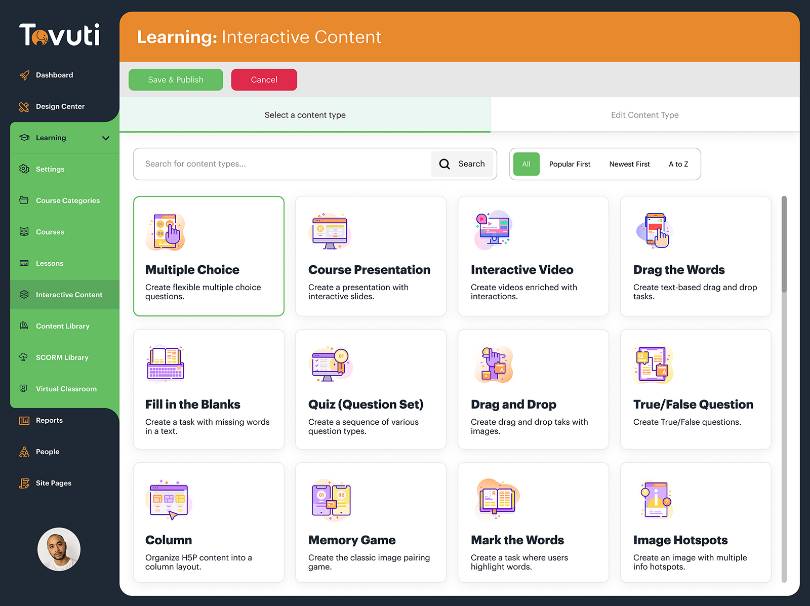 Tovuti LMS is a powerful HR LMS you can use to create, manage and deliver engaging and impactful learning experiences for your employees.
Whether you need to train and develop your team, onboard new hires, or ensure compliance with industry standards and regulations, Tovuti LMS has you covered. You can choose from a range of pre-built courses to get started quickly.
Tovuti LMS lets you track and measure learning outcomes and performance with robust analytics and reports. Moreover, you can automate administrative tasks such as enrollment, reminders, certification, etc.
I also like that the tool supports integration with your existing systems for seamless data transfer and synchronization.
What you'll like:
Personalized learning paths for individual learners
Social learning features such as forums, chats, polls, and surveys
While-labeling options to customize the training according to your branding
SSO and multi-factor authentication to boost security
Built-in reporting and analytics to track and improve training effectiveness
What you won't like:
The mobile app is not as well-developed as the web-based platform
The interface can be a bit clunky and difficult to navigate
Pricing:
Starts at $11,160/year.
Which Is the Best LMS for HR Training?
Having spent years working with tools designed for different niches, including HR, I've come to realize that a robust learning management system is not just a luxury but a necessity for modern businesses.
Choosing the ideal LMS requires you to consider the specific needs of HR training. To assist you in this journey, I've narrowed down the selection to three compelling options.
Option A: ProProfs Training Maker
ProProfs Training Maker can be an excellent choice for HR training due to its user-friendly interface, ready-to-use courses, in-course quizzes, surveys, and AI-driven reports. Add to that its automated certification and engaging gamification elements. The LMS boasts a fully responsive design, ensuring easy access and navigation anytime, anywhere, and on any device.
Option B: Docebo
Docebo's platform excels in course creation, offering intuitive tools for engaging training content. Its AI-driven recommendation engine personalizes learning paths, while the analytics dashboard provides insights for effective training strategies. Notably, it fosters social learning, supports mobile access, and integrates with third-party tools. Gamification and certification tracking enhance the learning experience and ensure compliance.
Option C: 360Learning
360Learning is an exceptional option for HR training, particularly for its collaborative approach. It fosters a culture of shared knowledge with social learning features, allowing HR professionals to learn from each other. The LMS enables interactive content creation and engagement, creating an immersive learning environment.
In my assessment, ProProfs Training Maker emerges as the most suitable LMS for HR training. Its blend of user-friendliness, automation, and engaging features makes it a versatile solution for nurturing HR talent and driving organizational success.
However, the ultimate choice rests on aligning these options with your HR training goals while ensuring a seamless journey toward enhanced skills and performance.
Learn More About HR Learning Management Systems
What is an HR LMS?
An HR LMS, or human resources learning management system, is a specialized software platform designed to help users create, manage, share, track, and analyze online training courses and tests for HR teams. It serves as a centralized hub for organizing and administering training courses, assessments, and other learning materials.
Watch: What is a Cloud-Based Learning Management System?
What are the key features to look for in an HR LMS?
When evaluating an HR LMS for your organization, there are several key features that you should consider to ensure that the tool meets your training and development needs. These include:
Course Library- A robust course library that supports various content formats (videos, documents, presentations) and allows easy course organization and categorization.
Assessment & Quizzes– A built-in assessment module that enables you to create quizzes, exams, and assessments to measure employees' understanding of the training material.
AI-Powered Reporting & Analytics– Advanced AI reporting features provide insights into employee performance, course completion rates, skill gaps, and training effectiveness.
Customization– The option to customize the LMS's appearance, including branding it with your organization's logo, colors, and themes.
Gamification- Gamification elements, such as badges, certifications, leaderboards, and rewards, motivate and engage learners.
Social Learning– Features that facilitate discussions, forums, and peer-to-peer interactions among learners, fostering collaborative learning experiences.
Integrations- Compatibility with other software systems used in your organization, such as HR management systems, talent management platforms, and communication tools.
SCORM & Tin Can API Compatibility– Support for industry-standard e-learning formats like SCORM (Sharable Content Object Reference Model) and Tin Can API for seamless integration of external courses and content.
How to choose the right LMS for HR Training
Selecting the right HR LMS involves identifying your training needs, involving stakeholders, researching options, and evaluating features like course libraries, assessments, integrations, AI reports, and multi-language support. Prioritize user-friendly interfaces, scalability, integration capabilities, customization, support, security, and cost. Seek references, trial periods, and vendor reputation insights to ensure a well-aligned LMS that meets your organization's training goals and supports future growth effectively.
Watch:How to Choose the Best SaaS LMS Software
How can HR LMS help in improving employee training and development within my company?
An HR LMS creates a dynamic learning ecosystem that empowers employees, improves their skills, enhances engagement, and aligns training efforts with organizational goals, contributing to a more knowledgeable, skilled, and productive workforce.
An LMS can suggest courses based on employees' roles, skills, and career aspirations, enabling targeted skill development and career progression.
Standardized training content ensures consistent knowledge transfer across the organization, aligning everyone's understanding of policies, procedures, and best practices.
Through assessments and quizzes, the LMS identifies skill gaps and recommends relevant courses, allowing employees to develop competencies crucial to their roles.
Training content can be updated swiftly to reflect changes in HR policies, procedures, or industry regulations, ensuring employees are always informed.
Can HR LMS integrate with our existing HRIS (Human Resource Information System) or other HR software?
Absolutely. Most modern HR LMSs integrate seamlessly with existing HRIS and other HR software. This integration ensures synchronized employee data, streamlined processes, unified login credentials, efficient reporting, and enhanced user experience. By integrating your systems, you can eliminate manual data entry, reduce errors, and create a comprehensive HR ecosystem that benefits both administrators and employees. To understand such integrations better,
Watch: How to Integrate BambooHR With ProProfs LMS to Automate New Employee
Does LMS offer specific training modules tailored to HR functions, such as onboarding, compliance, performance management, and leadership development?
Yes, leading LMS solutions, such as ProProfs Training Maker, provide purpose-built training modules tailored to various HR functions. These modules often cover critical areas such as onboarding, compliance training, performance management, leadership development, and more. These specialized modules help HR professionals excel at their jobs by upskilling constantly. Check out these popular courses on HR skills.
Do you want a free Training Software?
We have the #1 Online Training Software for employee training & assessment