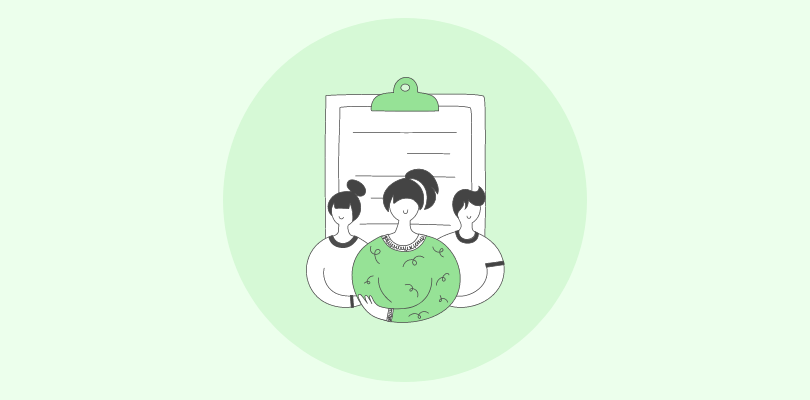 According to a recent USDA ERS report, restaurants are comparatively common in the F&B industry. They account for the largest share of the industry, generating about 40% of the total revenue.
They offer a convenient and affordable way for people to eat out, apart from providing a great way to socialize and spend time with friends and family.
But in my long stint in the online training industry, I've seen many restaurants complaining about having a tough time trying to offer a varied menu, quality food, excellent presentation, great service, and ambiance.
That's not all. They often struggle to adhere to numerous food safety and compliance requirements and develop management and soft skills in their employees.
In such a high-pressure situation, a restaurant LMS becomes inevitable as a one-stop solution to standardize and streamline training delivery in all related areas.
In this blog post, I will take you through the 10 best LMS for restaurants to help you take charge of training for your F&B business.
| LMS for Restaurants | Best For | Pricing |
| --- | --- | --- |
| ProProfs Training Maker | Safety & Compliance Training | Forever free for up to 10 learners. Paid plan starts at $1.97/learner/month for large teams. Billed annually. |
| Kiwi LMS | Employee Training | Starter plan is $50/location/month |
| Paradiso | Personalized Learning | Starts at $5.50/user/month |
| TalentLMS | User-Friendly Experience | Starts at $69/month. Up to 40 users. Billed yearly. |
| iSpring Learn | eLearning Authoring | Starts at $2.29/user/month |
| Innform | All-In-One Solution | Starts at £1/person/month |
| SeekLMS | Accelerated Learning | Custom pricing |
| My Learning Hub | Configurability | Starts at $6/user/month. Billed annually. |
| Totara | Talent Experience Platform | Custom pricing |
| Trakstar Learn | Comprehensive Solution | Starts from $249/month |
List of the Best LMS for Restaurants
I produced this list based on my first-hand experience, peer recommendations, client testimonials & ratings, and reviews in top software comparison sites.
ProProfs Training Maker is one of the earliest LMS software with which I had the opportunity to work the longest.
It is the ideal safety and compliance training software for the food and beverage industry. It can meet the unique needs of restaurant businesses in the hospitality sector.
The platform offers a library of pre-made courses covering the most important safety and compliance topics. These courses are compliant with the latest industry regulations, so you can rest assured that your employees are learning the right information and are well-prepared and compliant with them.
You can easily tailor these courses to suit your restaurant's specific requirements. You can even engage the participants with interactive lessons, quizzes, and videos that make learning enjoyable and effective.
Track progress in real-time and generate detailed reports to demonstrate compliance with food safety and health regulations during inspections.
Whether you run a small bistro or a large restaurant chain, ProProfs Training Maker makes training and recordkeeping easy. It scales to meet your growing training needs. It can help you ensure the safety of your employees and customers as well as the success of your business.

What you'll like:
It's delightfully easy to use and what you see is what you get
Ample customization options for course privacy, notifications, security & branding
You can easily upload existing materials to a course to save time and effort
Insightful reports & analytics on individuals and groups to track progress
Responsive and helpful customer service 24 hours a day, 7 days a week
What you may not like:
The free plan is limited to just 10 users
While having a multitude of features can be a pro for some, it can also be a con for users with limited needs
Pricing:
A forever free plan (up to 10 learners). Paid plan starts at $1.97/learner/month (billed annually) for large teams. No hidden charges. A 15-day money-back guarantee.
Watch: What Is Compliance Training? Requirements & Benefits
2. Kiwi LMS – Best for Employee Training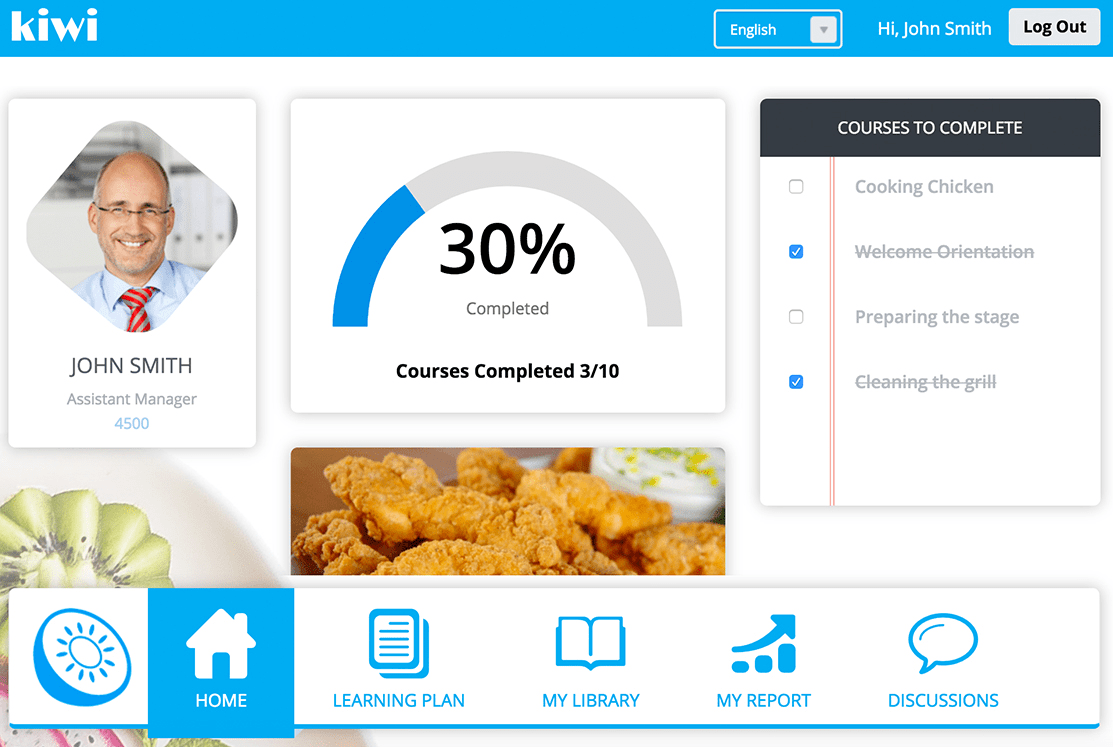 Kiwi LMS is one of my recent discoveries, and I am enchanted that it serves restaurant chains and their franchisees well.
It provides optimal training solutions to equip restaurant staff, spanning from chefs to servers.
This cloud-based platform can help you expedite the onboarding and slash training expenses.
The LMS is easy to use and customizable. It supports the latest industry standards and offers the fastest path to train restaurant employees.
Kiwi's team of eLearning experts is ready to make your employee training a success, whether you have 10 restaurants or a thousand. It easily scales to thousands of restaurant locations.
It seamlessly runs in iOS, Android, and Windows, and integrates with existing employee databases.
The powerful report collects progress data from multiple sources – divisions, districts, areas, and locations.
What you'll like:
More than 400 award-winning courses on food safety, customer service, and restaurant operations
The tool can be instrumental in reducing training costs related to travel, materials, and instructor fees.
The gamification feature makes learning fun and interactive and improves employee engagement and motivation.
What you may not like:
The LMS does not offer offline access to its courses, which can be a problem for users in remote locations or who do not have reliable internet access.
It does not offer as much flexibility for course customization as some other LMSs.
Pricing:
Starter plan is $50/location/month
3. Paradiso – Best for Personalized Learning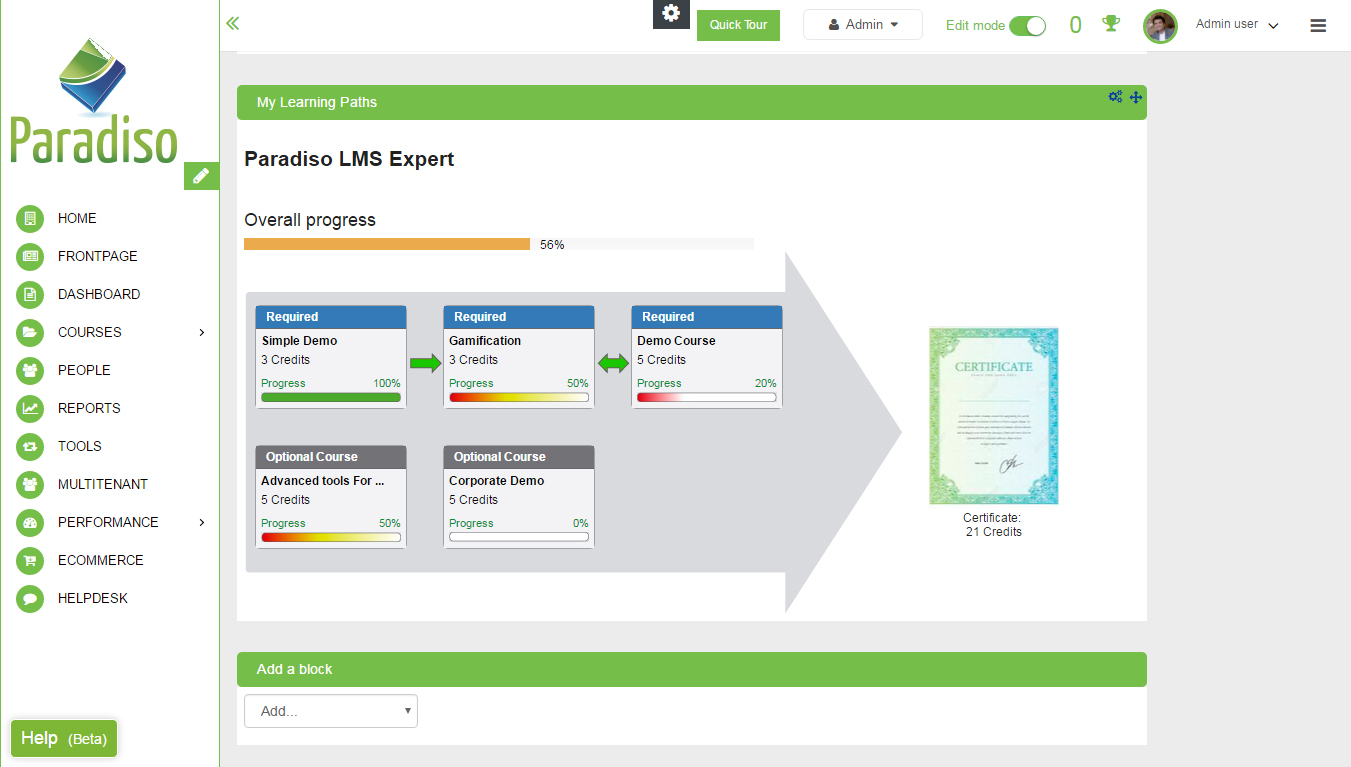 As one of the long-established LMS software on the market, Paradiso has to be on my list.
Personalization is a notable feature I saw in the LMS – the ability to tailor the learning experience to individual needs and preferences.
Users can create customized training modules that cover essential topics such as food safety, customer service, and menu management.
Customizing the training content to your restaurant's specific requirements ensures that your employees receive relevant training.
For this, you can deploy personalized learning paths consisting of courses and assessments based on learners' roles and responsibilities.
Paradiso LMS can accommodate varying schedules of restaurant staff, allowing them to access training materials at times that suit their work shifts, ensuring minimal disruption to daily operations.
What you'll like:
Room for unlimited customization for tailored training experiences
The LMS has done exceptionally well with its gamification elements for better learning, retention & application of knowledge
Provides comprehensive reporting and analytics for performance insights
What you may not like:
The site can be slow at times while navigating between pages
The themes or color schemes should be easier to manage
Pricing:
Starts at $5.50/user/month.
4. TalentLMS – Best for User-Friendly Experience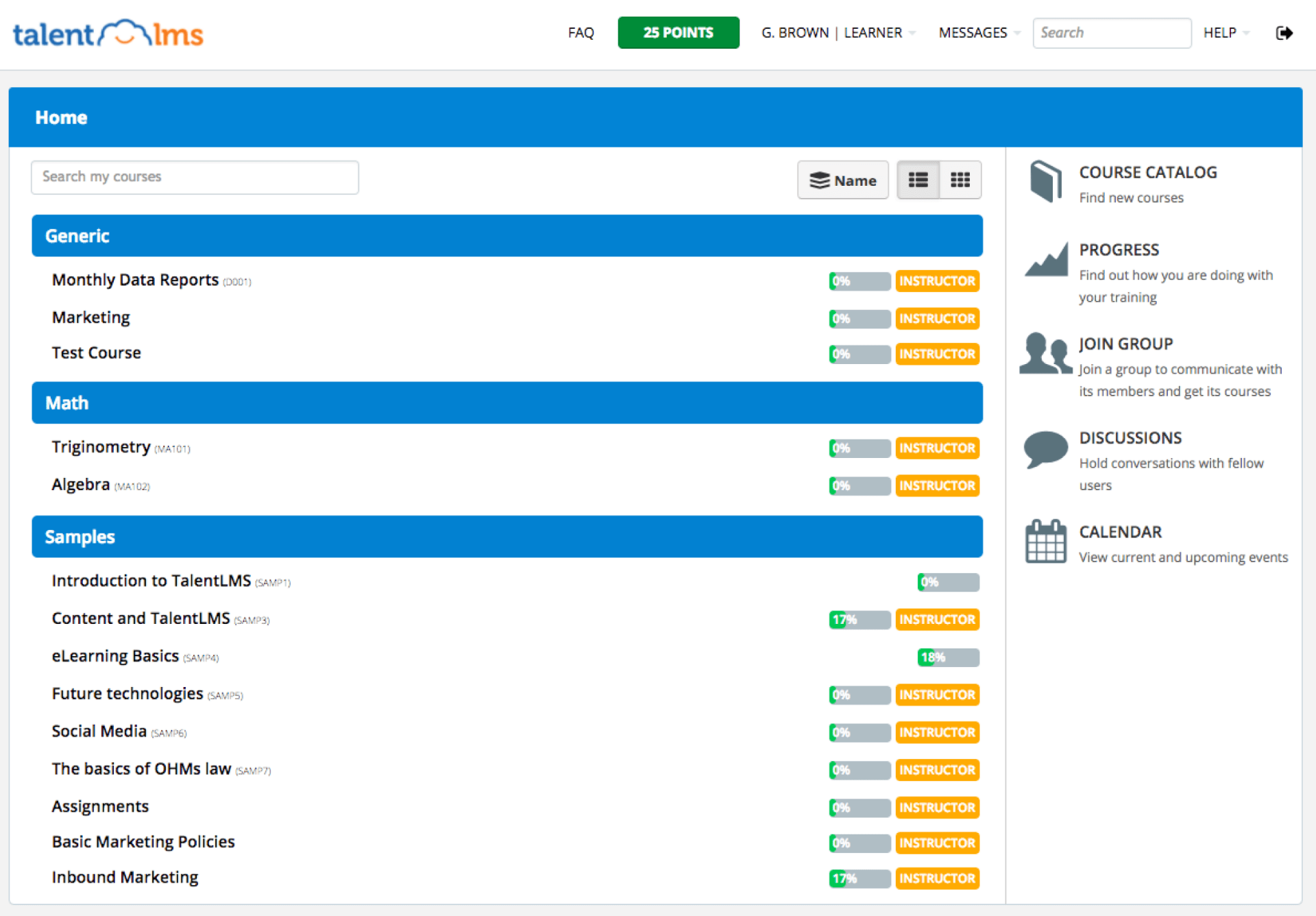 When it comes to ease of use and exceptional user-experience, TalentLMS shares the podium with ProProfs Training Maker.
I experimented with TalentLMS at more or less the same time I did with the latter.
You can use TalentLMS to deliver food safety and other F&B training to your food handlers and other staff members.
The LMS works even in tight schedules as you can deliver training on any device. It is known for its simplicity and accessibility.
Make sure your training participants engage in continuous learning, despite the introduction of new food products, menu changes, or updates to safety regulations. Keeping learners up to date on new information is painless with TalentLMS.
The LMS provides a wealth of online resources, including documentation and tutorials, that aid in effective learning.
What you'll like:
TalentLMS is known for its intuitive and easily navigable interface, making it hassle-free for admins and learners
The LMS is fully responsive, and learners can access training materials on any of the popular devices
It is robust enough to accommodate the changing needs of businesses of different sizes
What you may not like:
It's not easy to fetch the course certificate identity number
Based on the number of users, the LMS is a bit expensive compared to other similar LMS software
Pricing:
Starts at $69/month. Up to 40 users. Billed yearly.
5. iSpring Learn – Best for eLearning Authoring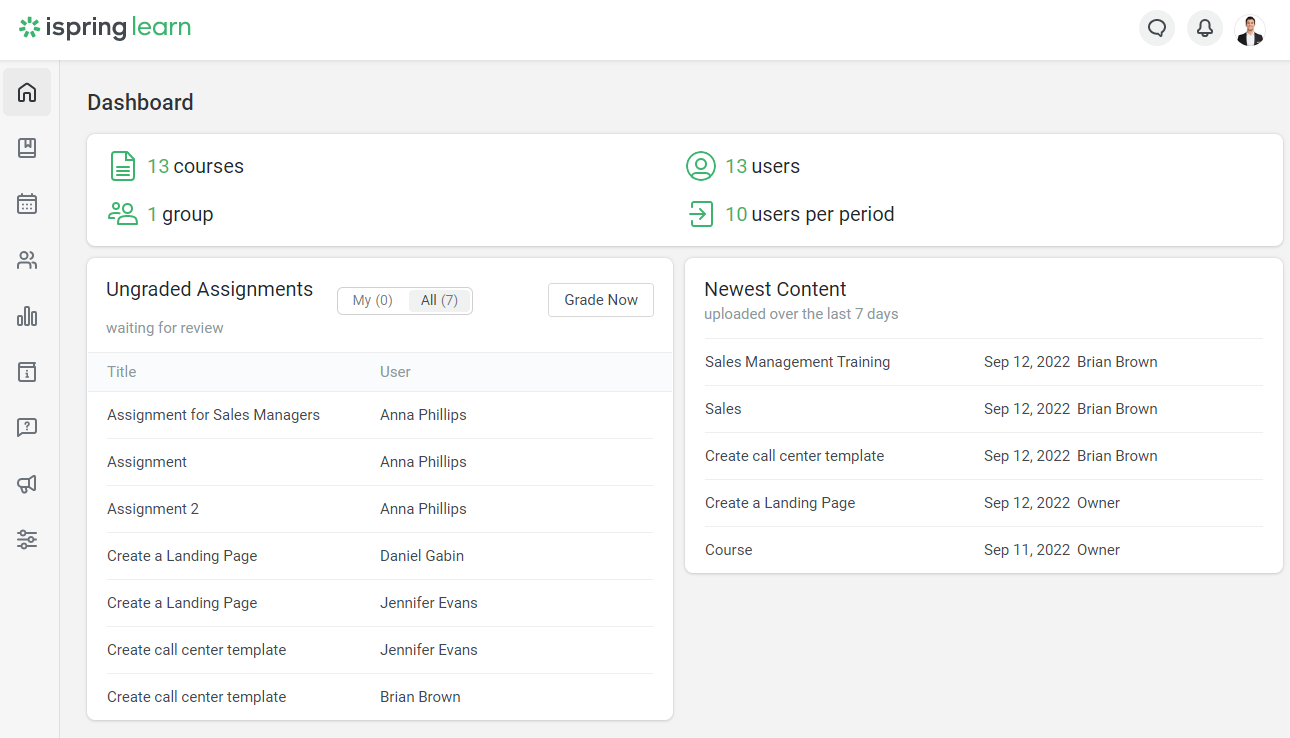 This idea of this platform came from one of my veteran industry peers.
iSpring Learn LMS, while primarily known as a learning management system (LMS), also offers robust authoring tools that empower content creators and trainers to develop engaging and interactive eLearning courses.
You can easily integrate multimedia elements like videos, audio, and images to enhance course interactivity and engagement. Users can design and add custom quizzes and assessments.
Converting existing PowerPoint presentations into engaging eLearning courses is effortless.
Authors can make real-time updates and revisions to their courses to ensure the content remains up-to-date and relevant.
What you'll like:
It's an incredible addition to iSpring Suite that makes creating and assigning online courses simple
Controlling a learner's learning paths from one module to the next is easy
You can easily set up courses and it doesn't take much labor to get them to look professional
What you may not like:
The default certificate can be polished to give it a more professional look
Sometimes, the LMS does not produce a report that shows the percentage of learners who have completed a course.
Pricing:
Starts at $2.29/user/month.
6. Innform – Best for All-In-One Solution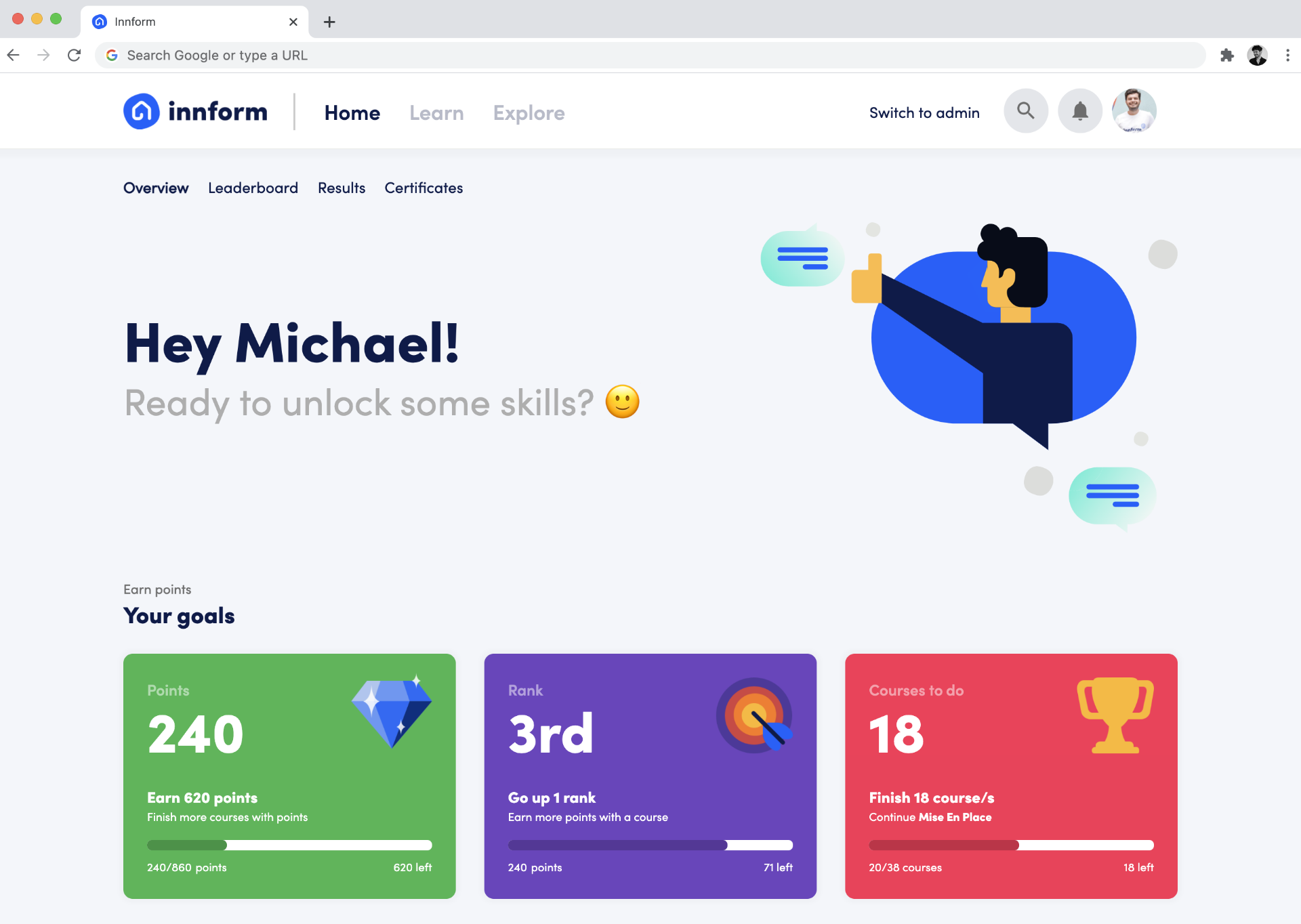 As an LMS for modern hospitality companies, Innform is relatively a new entrant to the market. But from what I know, it has done fantastic as an industry player dedicated to hospitality businesses.
It can act as your one-stop solution to create training content, engage your learners, track their progress, and automate the process.
The LMS supports onboarding, learning paths, blended learning, instant translation, text to speech, multilingual, compliance management, and many more compelling features.
In addition, it supports several use cases by industries, roles, and training types.
What you'll like:
The intuitive user interface and ease of navigation, even for people who are unfamiliar with LMSs.
Innform LMS offers a variety of pricing plans to fit the budget of any restaurant business.
The Innform team is available to answer questions and provide support to customers 24/7.
What you may not like:
Innform LMS was launched in 2022 and is still under development.
Lacks basic functionalities such as GIF integration at the time of creating modules.
Pricing:
Starts at £1/person/month.
7. SeekLMS – Accelerated Learning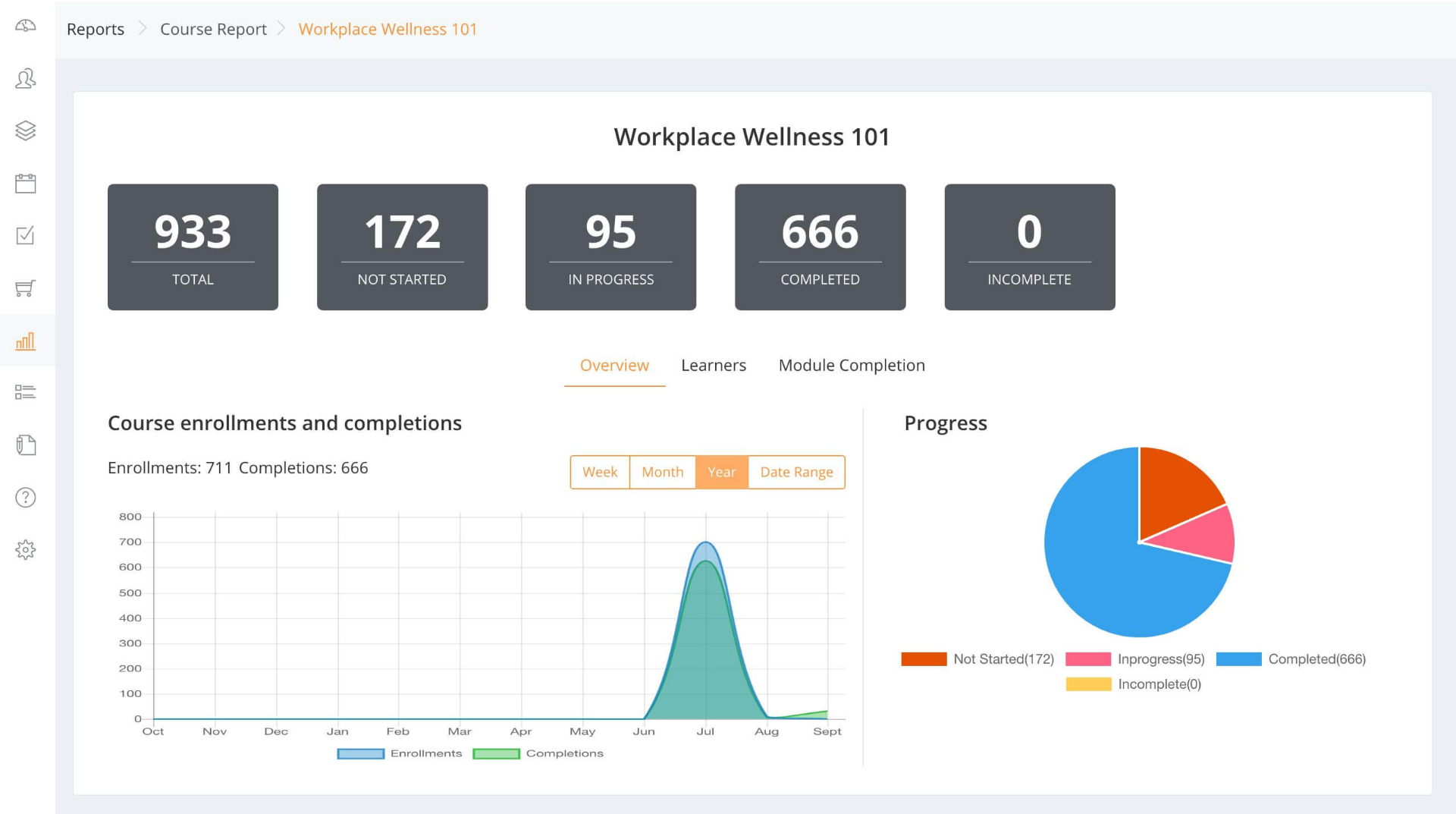 Even though it is not as popular as other tools on the list, SeekLMS can be a valuable tool for businesses looking to improve their hospitality training programs.
One of the reasons I include it here is it can be an amazing platform to accelerate employee training.
Besides gamification and mobile access, the software application provides built-in course creation tools to develop courses and train restaurant staff on key topics like housekeeping, food handling, software training, guest handling and more.
You can choose your course delivery mode – self-study, instructor-led, or blended training.
The LMS can help businesses save time and resources, make training more fun and engaging, and provide employees with the feedback they need to learn faster.
What you'll like:
It is a business-oriented solution that is easy to set up and run
It serves as an off-the-shelf LMS to jumpstart any type of F&B training
Exemplary customer support and turnaround time
What you may not like:
The user interface could have been more customizable to users' branding and design needs.
Like many providers, the support can be delayed at times
Pricing:
Custom pricing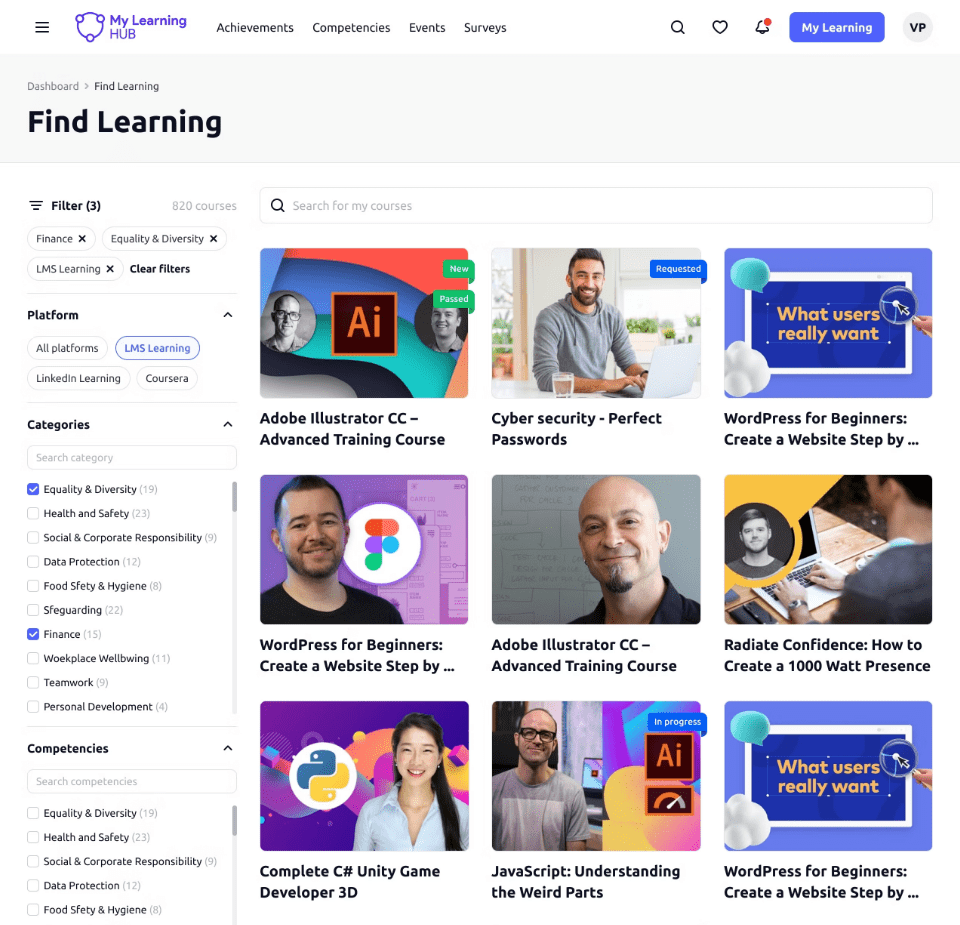 The LMS by My Learning Hub was one of the top solutions that came up at review sites. It is praised particularly for the range of configurations it supports. You can easily adjust the system to your internal workflows.
You can tailor your default settings, user permissions, and security settings to suit your requirements. Similarly, you can customize how the system looks to match your brand guidelines.
However, the level of configurability that is available to businesses will depend on the specific My Learning Hub plan that they choose. The more expensive plans offer more flexibility and customization options.
In terms of user management, you can set access levels to the LMS based on roles and seniority.
As businesses operating in a highly regulated industry, restaurants should always keep up with all sorts of regulations. For this, My Learning Hub enables users to set up notifications to keep employees updated on what they must learn next, the dateline thereof, and certification.
What you'll like:
It is a quality product that can be customized based on any type of learning requirement or environment
The ability to separate users by skills and competencies
No training is required to get the system to work; everything is laid out intuitively once you log in
What you may not like:
Though it helps in developing content quickly, the authoring tool is too basic
Sometimes videos take longer to load than users would like
Pricing:
Starts at $6/user/month. Billed annually.
9. Totara – Best for Talent Experience Platform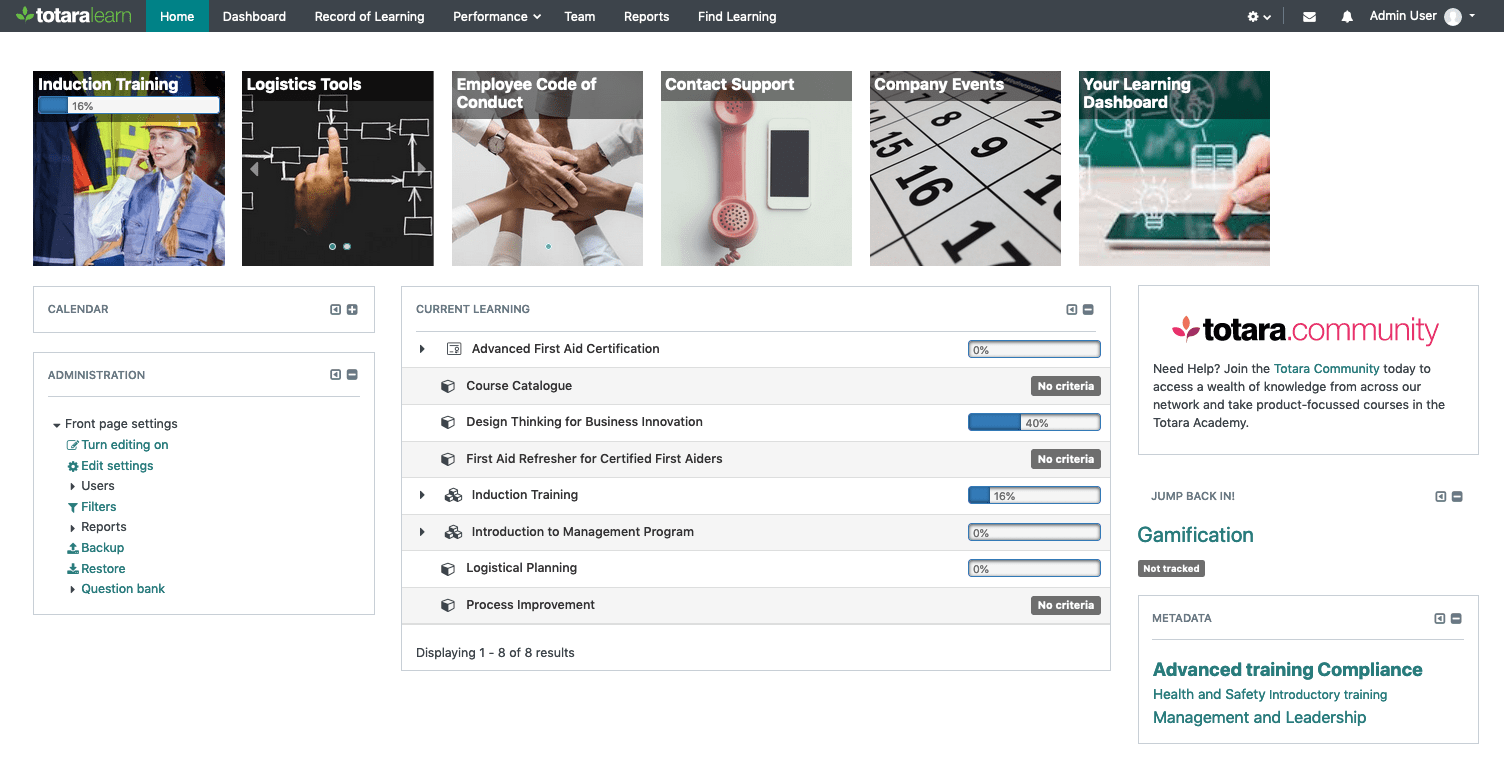 Besides what the company website says, customers are unanimous that Totara's talent experience platform (TXP) empowers their employee development and drives productivity.
Indeed, the LMS takes a "worker first" approach as the key to retaining employees and creating success in the hospitality industry.
In others, the LMS empowers users to do their best work through exceptional learning experiences.
With the LMS software laying the groundwork for you, you can easily upskill your workforce to stay agile to changing customer expectations and industry trends.
Totara reimagines talent development and celebrates the world of work.
What you'll like:
You can take full control of the learning experience across your organization by using this platform
Over the years, it has developed tremendously into a modern, flexible, powerful, and reliable learning system
The automated reporting system can help you stay on top of all compliance requirements
What you may not like:
No centralized notification system
Release of new versions takes a long time
Pricing:
Custom pricing.
10. Trakstar Learn – Comprehensive Solution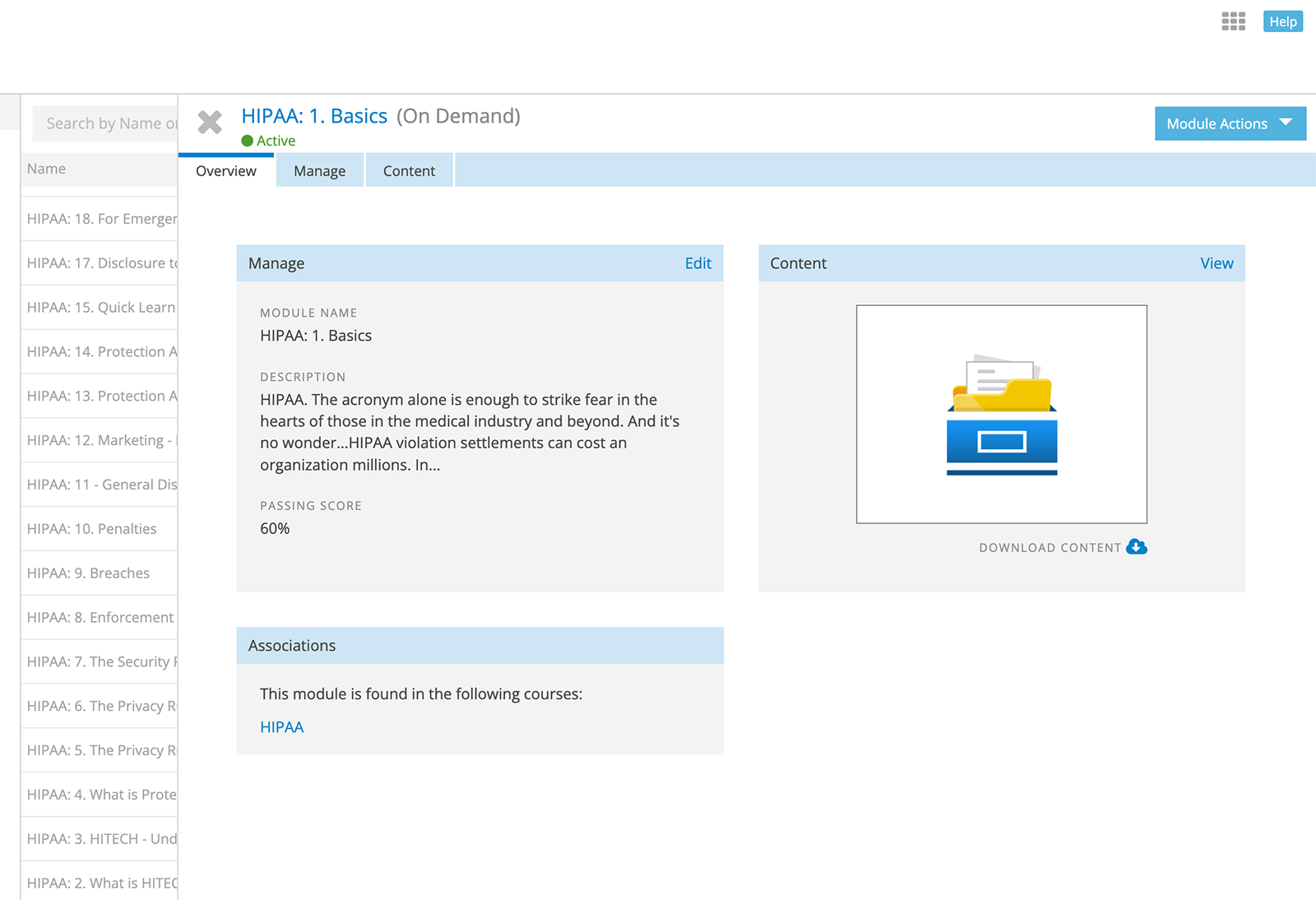 Last but certainly not least on my list is Trakstar Learn (previously known as Mindflash).
It is the complete learning management software for the modern workforce that takes the stress out of training employees with hectic schedules, such as in hotels, bars, and restaurants.
Quickly onboard new hires and deliver engaging food industry training.
The LMS supports course creation, learning management, quizzes, reports, dashboards, SCORM, and API – everything you need for talent development in one place.
Trakstar Learn believes that people are happier and healthier when they know that their work matters. Only engaging and systematic learning can bring you to that endpoint where they start to value their work and the learning related to it.
The LMS is the epitome of a better software solution to achieve better workplaces.
What you'll like:
It's easy to upload files and rearrange content in this system
Creating courses and modules is effortless, even for first-timers
The support team is fast, helpful, and a real delight to interact with
What you may not like:
If a module or quiz gets stuck for some reason, there is no way to mark it passed for a user
The reporting enables users to track not much beyond completions and scores
Pricing:
Starts from $249/month.
Which Is the Best LMS Software for Restaurants?
After going through this list of restaurant LMS, you'd obviously want to be able to decide which one to go for ultimately.
The ideal solution will depend on your team's skill level, preferences, training budget, and many other factors.
However, if you ask me, I would go for the following three:
Option A: ProProfs Training Maker
Given its user-centric nature and pre-uploaded courses, this LMS can be the go-to platform for delivering compliance, safety, and policy & procedure training in the hospitality industry. It has everything you need to create, manage, administer, track, and analyze competency and legal-required training courses and assessments. The fact that millions of customers worldwide across all industries rely on this platform to deliver all types of training makes it worth trying.
Option B: Kiwi LMS
Similarly, Kiwi LMS emerges as a worthy choice considering its easy, customizable, and cost-saving nature. Its drag-and-drop authoring tools make it simple to create professional-looking courses effortlessly. You can re-design your own learning platform according to your needs and desires. On top of that, the LMS supports the latest industry standards in content interoperability.
Option C: My Learning Hub
It is a highly configurable training platform, enabling users to create a custom learning space in minutes. It can also ensure efficient training within an organization. Whether it is the security settings, roles & permissions, or the look and feel of your brand, you can do it all and more with full flexibility. The ability to recommend personalized learning plans that your restaurant staff truly needs is something notable.
If I have to narrow down these three options further, I would go for ProProfs Training Maker without hesitation. It is feature-rich, user friendly, and fully configurable, and it offers a fast-growing library of online training courses on skills, workplace safety, compliance, leadership & management, and more. It is a perfect blend of simplicity and usability.
Frequently Asked Questions
What is a restaurant LMS?
A restaurant LMS is a software platform designed to help facilitate training and development initiatives in restaurants. It can streamline course creation, content management, delivery, tracking, and reporting. Depending on which LMS software you choose, you can use it as your one-stop learning solution.
Watch: What is a Cloud-Based Learning Management System?

What are the key features to look for in a restaurant LMS?
Key features include course authoring, customization, mobile accessibility, compliance tracking, reporting and analytics, gamification, integrations, automation, and scalability to meet restaurant-specific training needs.
How to choose the right LMS for restaurants
Choose an LMS that is easy to understand and easy to use, and one that aligns with your restaurant's unique training requirements. Consider your training budget, team size, and their learning needs. Also, it should provide quality support around the clock. To know more,
Watch: How to Choose the Best SaaS LMS Software
Can the restaurant LMS be used to train both front-of-house and back-of-house staff?
Yes, an LMS for the food industry is designed to train a wide range of restaurant staff, including both front-of-house (servers, hosts) and back-of-house (chefs, kitchen staff) employees.
Can the restaurant LMS integrate with my existing restaurant management systems?
Yes, many restaurant LMS platforms offer integration options to connect seamlessly with the systems you already use daily for ease of data synchronization and administrative efficiency. Check out this page to learn about all the top integrations in a standard LMS.
Do you want a free Training Software?
We have the #1 Online Training Software for employee training & assessment