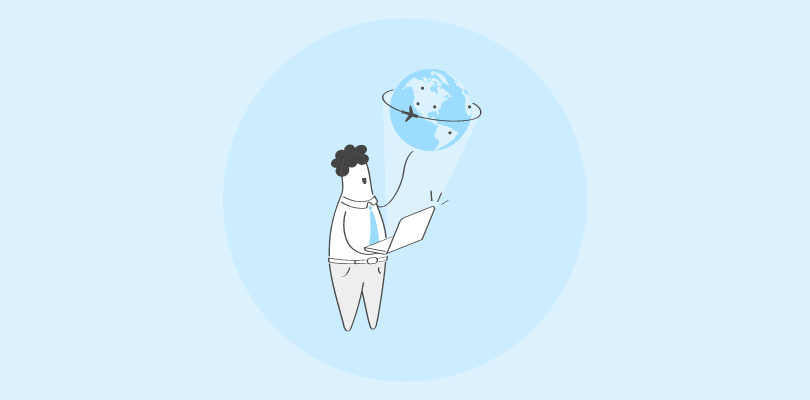 Do you want to train your IT team with skills and technologies in an engaging and effective way that improves their performance and productivity?
Then, you need a learning management system (LMS) for IT training.
An effective LMS for information technology lets you create, deliver, manage, and track online learning courses. You can use it to teach your IT staff anything from basic IT skills to advanced technologies.
However, not all LMS platforms are created equal. There is a substantial variance in capabilities, integrations, support, and adaptability among these systems, and some are better suited to IT training endeavors than others.
How do you choose the best LMS for IT training?
That's what this blog post will show you. I've reviewed 10 of the best LMS for IT training and compared them based on their features, pricing, pros, and cons so you can choose the best for your IT training needs.
| Best IT LMS | Best For | Pricing |
| --- | --- | --- |
| ProProfs LMS | Employee Training | Forever free for up to 10 learners. Paid plan starts at $1.97/learner/month for large teams. Billed annually. |
| Docebo | AI-Powered Learning | Paid plans start at $25000/year |
| Moodle | Customized Learning | Paid plans start at AUD 180 |
| Thinkific | Selling Courses | Free plan (Limited to one course). Paid plans start at $36/month |
| Absorb LMS | Upskilling and Reskilling | Paid plans start at $800/month |
| 360Learning | Collaborative Learning | Paid plans start at $8/user/month |
| eFront | Course Management | Paid plans start at $1200/month/billed annually |
| iSpring Learn | Employee Engagement | Paid plans start at $2.29/user/ billed annually |
| Litmos | Instructor-Led Training | Paid plan starts at $3/user/month |
| Tovuti | Learner Engagement | Paid plan starts at $775/month |
List of the Top 10 LMS for Information Technology
Through my personal experience, research, and valuable feedback from peers, I've curated a list of the top 10 IT Learning Management Systems that can empower your professional growth.
ProProfs is an award-winning enterprise-grade learning management software that enables millions of customers worldwide to simplify, streamline, and optimize corporate training.
I have used ProProfs to create, manage, track, and deliver online employee training programs for IT professionals in my organization.
It's been my go-to choice due to its outstanding features and capabilities.
ProProfs boasts an extensive course library with over 100,000 expertly curated courses, offering a broad spectrum of IT subjects, from data protection to GDPR training.
Its flexibility in customizing these courses is impressive, allowing us to add or remove content, tweak layouts, and brand them with our logo.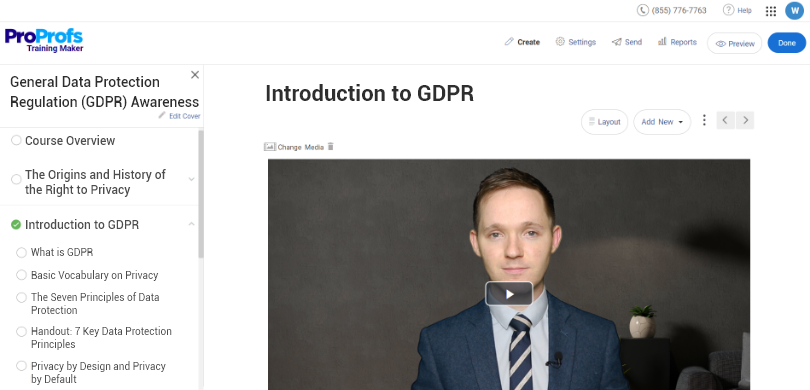 The support for multiple course formats, including quizzes, surveys, videos, and more, has enabled me to create engaging and interactive learning experiences.
Its robust security measures, including SSL encryption, give me peace of mind, and its compliance with industry standards ensures data protection.
What You Will Like:
Learners can access courses and quizzes on any device

See how learners are doing and identify areas where they need more help

Get insights into the effectiveness of your training by tracking learner engagement and completion rates

Choose from a variety of templates or create your own to match your branding
What You May Not Like:
The free plan is limited to 10 users only.

Too many software updates which means learners have to adapt frequently to the changes.
Pricing:
Forever FREE plan for up to 10 learners. Paid plan starts at $1.97/learner/month for large teams. No hidden charges. 15-day money-back guarantee.
2. Docebo – Best IT LMS for AI-Powered Learning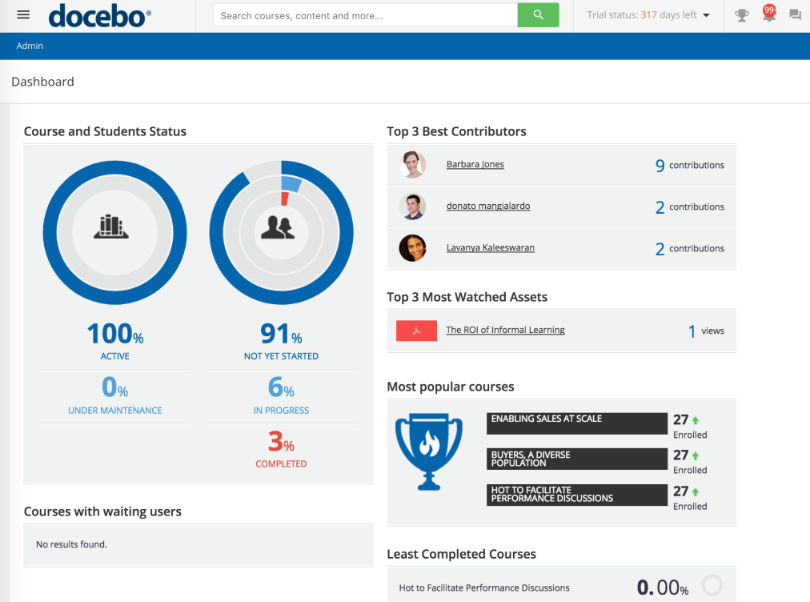 Docebo is another IT LMS I used to train my IT team.
The tool offers a comprehensive and flexible solution covering all learning and development aspects. Docebo has a core LMS (Docebo Learn) that delivers personalized and engaging learning experiences.
What I like about this LMS is that it uses artificial intelligence to enhance learning outcomes, such as recommending relevant content, providing a virtual coach, and generating insights from data.
Docebo's AI engine (Docebo Perform) analyzes learners' behavior, preferences, and goals, providing them with adaptive and personalized learning paths.
What You Will Like:
It supports multiple learning modes: formal, social, experiential, and mobile

Use gamification, badges, leaderboards, and certificates to motivate and reward learners

It has a robust and scalable architecture that ensures high performance, security, and reliability

Supports around 40 languages. You can reach learners across the world and provide them with localized content
What You May Not Like:
It can be expensive for small or medium-sized businesses, as the pricing is based on the number of active users per month

There is a learning curve involved in mastering the platform and getting the most out of it
Pricing:
Paid plans start at $25000/year
3. Moodle – Best Open-Source IT LMS for Customized Learning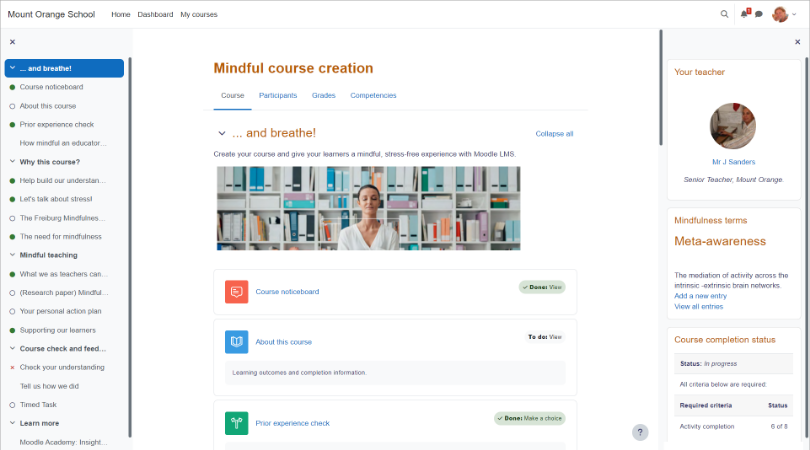 Having used Moodle extensively, I can vouch for this tool as the ultimate LMS for customized learning.
Moodle, an open-source platform, offers a rich collection of features and a user-friendly interface, making it an indispensable tool for IT training and education.
Moodle's customization capabilities are also impressive.
With it, you can tailor your course content, activities, and assessments to match the unique needs of your IT learners.
The system's flexibility enables you to create a dynamic learning environment, effortlessly incorporating multimedia, quizzes, and collaborative tools.
What You Will Like:
Allows you to craft a personalized learning journey, adapting courses to different IT skill levels

Benefit from a thriving community that continually develops plugins and offers support

Gain valuable insights into learners' progress and engagement with Moodle's comprehensive reporting tools

Whether you're training a small team or a global workforce, Moodle can scale to meet your organization's needs
What You May Not Like:
Implementing advanced features might require some technical expertise, which can be challenging for beginners

As an open-source platform, Moodle necessitates regular updates and maintenance to ensure security and performance, which can be time-consuming
Pricing:
Paid plans start at 180 AUD
4. Thinkific – Best IT LMS for Selling Courses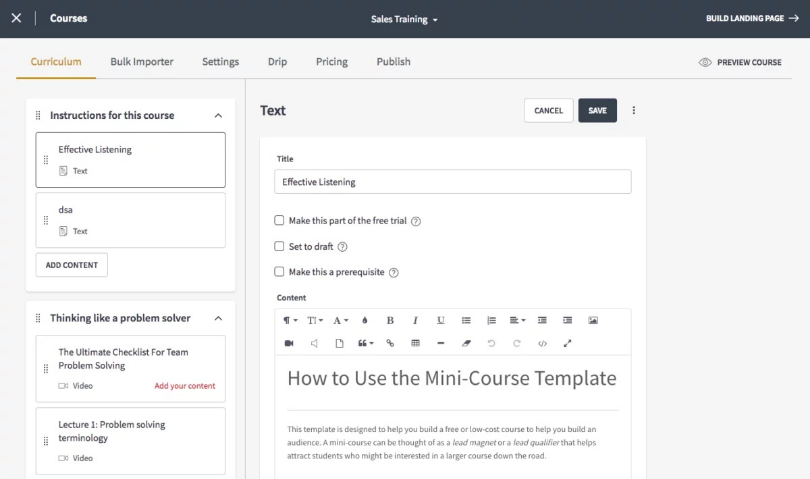 Thinkific has emerged as the ultimate choice for anyone looking to efficiently capitalize on their IT courses.
As I used this platform, I uncovered many features purposefully crafted to streamline course sales and revenue generation.
What sets Thinkific apart is its commitment to simplifying the entire process. Creating IT courses, once a daunting task, becomes a breeze thanks to its intuitive course builder.
Regarding marketing, Thinkific ensures customizable pricing options and comprehensive affiliate marketing support. Selling your courses becomes a strategic advantage rather than a challenge.
Thinkific also offers white-labeling options, allowing you to brand your courses and the entire learning experience, reinforcing your IT brand's identity.
What You Will Like:
Allows you to set pricing structures tailored to your audience, including subscription-based models and one-time purchases

Brand your courses and platform with your logo and color scheme, reinforcing your IT brand identity

Seamlessly integrate with popular marketing tools like email marketing services and CRMs

Use interactive quizzes, assignments, and discussions to keep IT learners engaged and motivated
What You May Not Like:
Thinkific charges transaction fees on its lower-tier plans, which can impact profitability

While it integrates with third-party community tools, Thinkific lacks built-in community features like forums or social groups
Pricing:
Free plan (Limited to one course). Paid plans start at $36/month
5. Absorb LMS – Best Cloud-based IT LMS for Upskilling and Reskilling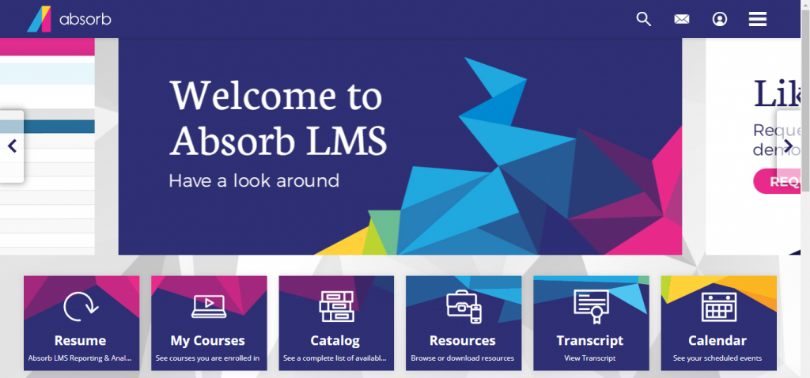 In the fast-paced world of IT, continuous learning is not a luxury but a necessity.
This is where Absorb LMS truly shines. It's more than just a platform; it's a catalyst for transforming your workforce into a highly skilled and adaptive team.
The strength of this tool lies in its commitment to delivering a personalized learning experience.
It tailors content to individual learning paths, ensuring that upskilling and reskilling efforts are finely tuned to meet each learner's unique needs.
This fosters a sense of empowerment and leads to tangible skill enhancement.
I appreciate how effortlessly I can curate a library of courses covering emerging technologies, cybersecurity, coding languages, and more.
What You Will Like:
Gain actionable insights into learner progress and engagement to identify skill gaps and design targeted upskilling programs

Harness the power of AI to suggest the most relevant courses for each IT professional

Empower your IT team to learn on the go with a user-friendly mobile app

Sleek interface that makes navigation smooth and easy
What You May Not Like:
While the tool offers extensive customization options, fine-tuning the platform's advanced features can be intricate and time-consuming

Depending on the version and plugins used, compatibility issues might arise, leading to occasional troubleshooting and maintenance
Pricing:
Paid plans start at $800/month
6. 360Learning – Best IT LMS for Collaborative Learning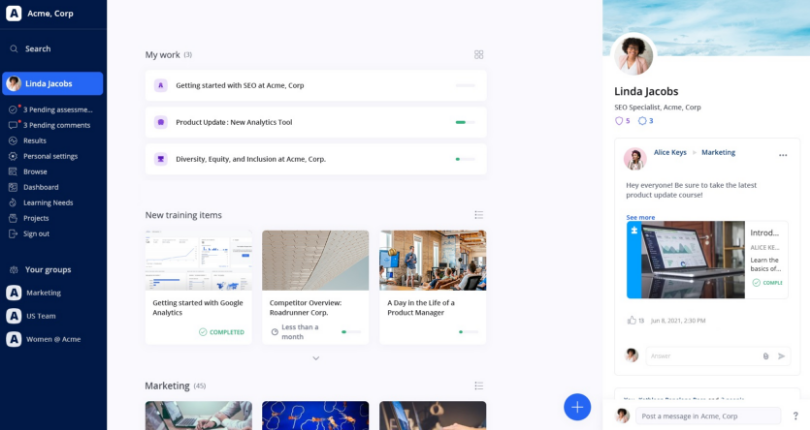 360Learning excels as the go-to IT LMS for collaborative learning, fostering a sense of community among IT professionals.
Its collaborative learning spaces, real-time interaction, gamification, and content creation tools make it a powerful choice.
The platform's unique strength is facilitating knowledge sharing and teamwork among IT professionals.
With 360Learning, I've witnessed IT teams collaboratively tackling complex problem-solving scenarios, co-authoring technical documentation, and sharing the best practices.
The intuitive interface and discussion forums empower learners to engage in meaningful dialogues, enhancing their understanding of complex IT concepts.
What You Will Like:
Offers robust tracking features to identify areas needing improvement and offer timely support

Encourage your IT professionals to create and share their learning materials, fostering a culture of knowledge exchange

Enjoy hassle-free integration with various IT tools and systems, ensuring a smooth learning experience for your tech-savvy audience

Leverage comprehensive data analytics to gain deep insights into your IT training programs
What You May Not Like:
The pricing model may not be ideal for smaller IT teams or organizations with budget constraints

Facilitating a collaborative environment may require dedicated moderation efforts to maintain quality and relevance
Pricing:
Paid plans start at $8/user/month
7. eFront – Best IT LMS for Course Management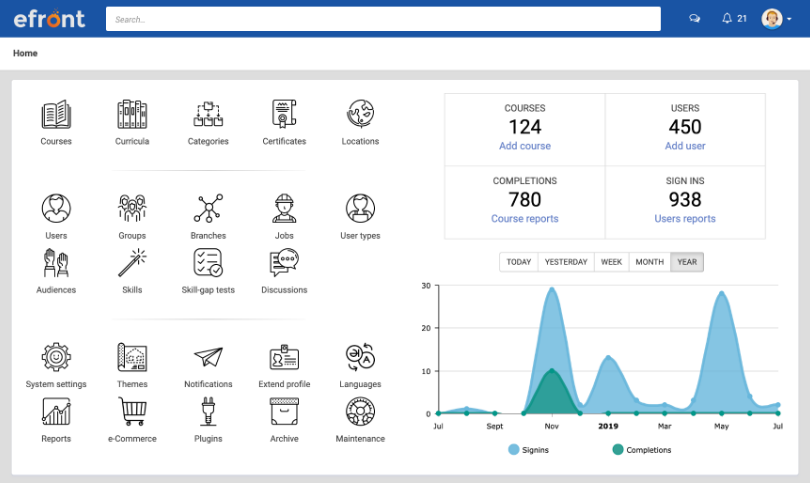 Ever imagined a tool that could make managing IT courses feel like a walk in the digital park? I came across eFront, and it's more like a highly effective tool than just an ordinary solution.
It can handle everything from basic IT courses to complex, mind-bending tech challenges.
With eFront, you're the director of your IT training movie. Customize courses, quizzes, and surveys with your digital wand. Plus, it speaks the language of the web, thanks to its support for SCORM & Tin Can (xAPI).
But wait, there's more!
Learning delivery is a breeze with eFront's learning paths, blended learning options, and curriculums.
And who said learning can't be fun?
With gamification, your learners can compete for badges and glory.
What You Will Like:
eFront offers an interface that's easy to navigate, even for beginners

You can tailor courses, assessments, and surveys to meet your specific training needs

Engage learners with gamification features like badges and leaderboards

eFront supports comprehensive reporting, skill tracking, and personalized training for businesses of all sizes
What You May Not Like:
eFront is a powerful platform, but learning how to use it effectively can be complex. This can be a challenge for organizations unfamiliar with eLearning platforms.

The user interface is not as modern and user-friendly as some of its competitors. This can make it difficult for some users to get started with the platform
Pricing:
Paid plans start at $1200/month/billed annually
8. iSpring Learn – Best IT LMS as eLearning Authoring Tool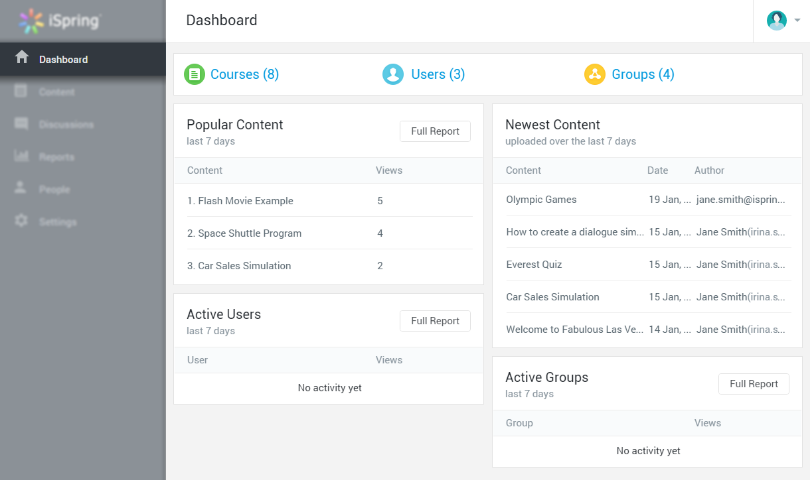 I've been using iSpring Learn for my IT team's training, and I'm impressed with how it engages employees and keeps them motivated to learn.
One of the things I like most about iSpring Learn is how flexible it is as an eLearning authoring tool. I can create courses that are interactive and engaging, using a variety of features like multimedia, quizzes, and simulations. I can also easily customize the platform to meet my team's specific needs.
I recently put together a course on the latest IT product releases. To make the learning experience more engaging, I added videos, images, and interactive tasks to the course content. On top of that, I tailored different versions of the course to suit the various skill levels of IT learners.
The reporting functionalities are good as well. It enables you to track your learners' progress and ensure that your training is effective and learners are getting the most out of it.
What You Will Like:
User-friendly platform, even for those with no experience in eLearning authoring

Offers a wide range of features for creating and managing eLearning courses, including interactive content, quizzes, and assessments

Integrates with other popular platforms, such as content management systems

iSpring Learn courses can be accessed on mobile devices, making them accessible to learners on the go
What You May Not Like:
No drag-and-drop functionality, which can make it more difficult to create complex courses

iSpring Learn courses can only be accessed online, which can be inconvenient for some users as it does not have offline access
Pricing:
Paid plans start at $2.29/user/ billed annually
9. Litmos – Best IT LMS for Instructor-Led Training

Can technology enhance the traditional classroom experience?
This question has been at the forefront of IT training for years.
Try Litmos, an LMS for information technology that helps bridge the gap between technology and instructor-led training. If you value human interaction but appreciate the benefits of technology, Litmos offers a promising path to the future of IT learning.
Instructors can easily conduct IT training sessions online, fostering engagement through live interactions.
Meanwhile, learners gain access to a wealth of resources, making it easier to grasp complex IT concepts. From comprehensive course materials to insightful assessments, it provides the tools learners need to excel in IT.
Whether you're a beginner or an IT pro, Litmos caters to your needs.
What You Will Like:
Easy to set up and use, with a user-friendly interface and intuitive features

Offers a variety of content creation and customization options, including built-in authoring tools, SCORM compatibility, and branding features

Supports multiple languages, accessibility features, and mobile learning, making it suitable for diverse and global audiences

Integrates well with other systems and platforms, such as Salesforce, Zoom, and Slack, and has open APIs for custom integrations
What You May Not Like:
Litmos has some limitations and bugs in its reporting and analytics features, such as inaccurate data, missing filters, and slow loading times

Can be expensive for some users, especially if they need to purchase additional content or modules
Pricing:
Paid plan starts at $3 per user/month
10. Tovuti – Best IT LMS for Learner Engagement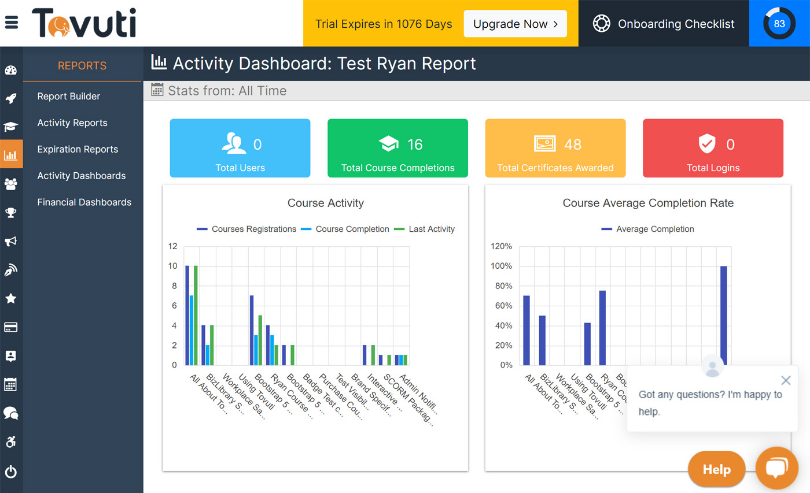 Ever wished learning could be as enjoyable as your favorite pastime?
Tovuti LXP brings that wish to life.
But what truly sets Tovuti apart is its commitment to interactive learning. Say goodbye to boring textbooks and tedious lectures. Tovuti introduces a world of engaging activities, multimedia content, and quizzes that can keep you actively involved.
Collaboration is a breeze with features like whiteboards, surveys, and video conferencing, making it feel like a real classroom.
As one of the best IT learning management systems, you can craft interactive content with many templates and media options. Tovuti's flexibility shines, enabling learning on any device, at any time, and in multiple languages.
Automation features streamline workflows, making enrollment and notifications a breeze.
What You Will Like:
Tovuti is completely customizable, meaning you can adjust the user interface, navigation, color scheme, logos, etc., to suit your brand preferences

Powerful automation features to streamline your training workflows. You can automatically enroll learners in courses, send reminders and notifications, award certificates and badges, etc.

Built-in course authoring tools that can help you create engaging and effective learning content

Has an eCommerce function that allows you to sell your courses online and generate revenue
What You May Not Like:
Tovuti's user interface may be challenging for some users at first, especially if they are not familiar with LMS software

Some users have reported technical issues with Tovuti, such as slow loading times, glitches, bugs, and errors
Pricing:
Paid plan starts at $775/month
Which LMS for Information Technology Should You Consider?
So, you've got a big decision to make: Which LMS for Informational Technology should you go for?
Well, it's not an easy choice, and there are several key factors you'll want to keep in mind as you weigh your options.
These factors include the range of courses available, how customizable the platform is, its support for various course formats, security features, ease of use, and whether it complies with industry standards.
It's a bit of a puzzle, but I'm here to help you put the pieces together. Having evaluated the factors I mentioned, my top three picks would be:
Option A (ProProfs):
ProProfs offers a comprehensive solution with a vast course library, customization flexibility, various course formats, and robust security, making it a top choice for IT training.
Option B (Docebo):
Docebo impresses with AI-driven personalized learning, multiple learning modes, and scalable architecture, though it may fall slightly short of ProProfs' versatility for IT subjects.
Option C (Moodle):
Moodle excels in customization and community support but may require more technical expertise compared to ProProfs, and it lacks certain features crucial for IT training.
While both Docebo and Moodle offer valuable features, ProProfs excels in providing a comprehensive and user-friendly solution that meets the specific needs of IT training. Its extensive course library and the ability to easily tailor content to individual requirements make it a top choice. ProProfs' commitment to data security and compliance with industry standards ensure a safe and reliable learning environment for IT professionals.
Frequently Asked Questions
What is an IT LMS?
An IT LMS is a digital platform used for managing and delivering training and educational content related to information technology. It helps organizations and educational institutions streamline the administration, tracking, and reporting of IT-focused courses and materials, enabling efficient skills development and knowledge transfer in the IT field.
Watch: What is a Cloud-Based Learning Management System?
What are the key features to look for in Information Technology LMS?
When evaluating an IT LMS, prioritize features such as robust content management, user-friendly administration, scalability to accommodate growth, stringent security measures, detailed reporting and analytics, seamless integration with existing IT tools, mobile accessibility for flexible learning, and customization options to align with specific IT training needs. Read this guide to know more.
How to choose the right LMS for Information Technology?
Choosing the right LMS for IT training involves several key steps. Start by assessing your specific training needs and objectives. Consider factors such as scalability, content management, user administration, security, reporting capabilities, and integration possibilities with existing IT systems. Evaluate user-friendliness and mobile accessibility. Seek out user reviews and demos, and compare costs. Prioritize a solution that aligns closely with your IT training goals while offering room for future growth and adaptability to changing needs. Go through this checklist
Watch: How to Choose the Best LMS Software for Employee Training

Who can benefit from an IT LMS?
An IT LMS can benefit a wide range of individuals and organizations, including IT professionals looking to upskill or earn certifications, businesses seeking to train their IT staff, educational institutions providing IT courses, and any organization looking to manage and deliver IT-related training to employees or learners efficiently.
What types of courses are available on an IT LMS?
It depends on which LMS vendor you have chosen, but IT LMS platforms typically offer a wide array of courses covering various aspects of information technology. Common course categories include programming languages (Python, Java, etc.), cybersecurity, network administration, cloud computing (AWS, Azure), database management, software development methodologies (Agile, DevOps), and IT certifications (CompTIA, Cisco, Microsoft). Additionally, you may find courses on specific software applications, web development, data analytics, artificial intelligence, and machine learning. Some LMS platforms even provide customizable options for organizations to create and deliver their own proprietary IT courses tailored to their unique needs.
Watch: How to Create an Online Course

Can an IT LMS be integrated into corporate IT training programs?
Certainly, an IT LMS can integrate into corporate IT training programs. Its versatile features allow organizations to centralize and streamline IT training efforts. It provides a structured platform for delivering courses, tracking progress, and assessing skills. Integration options with existing IT infrastructure, such as Single Sign-On (SSO) and API support, ensure a smooth fit into corporate systems. This enhances the efficiency and effectiveness of IT training and allows companies to tailor course content to align with specific business goals, ensuring employees gain the skills and knowledge needed to excel in their IT roles.
Do you want a free Training Software?
We have the #1 Online Training Software for employee training & assessment