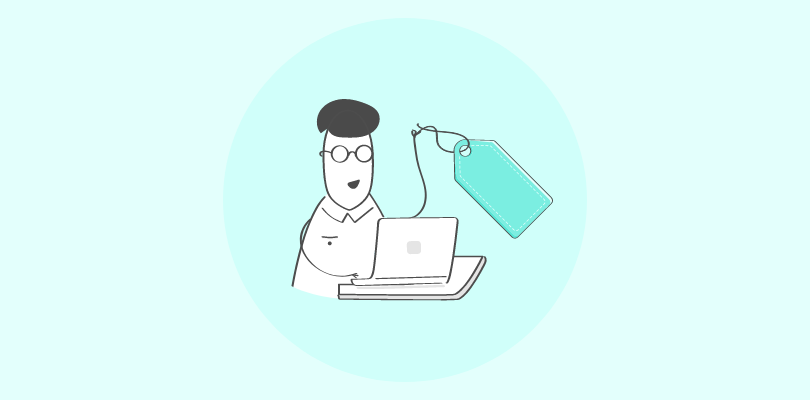 Ever felt overwhelmed trying to choose the right white-label LMS? Well, you're not alone. I totally get how confusing it can be.
In my journey as a training manager, I've learned that the right tools can make all the difference.
That's why I've put together these 10 best white-label LMS options, so you don't have to.
List of the Best White-Label LMS Software
I curated this list based on my personal experiences, recommendations from friends and colleagues, reviews on software comparison sites, and customer testimonials.
1. ProProfs LMS – Best White-Label LMS for Employee Training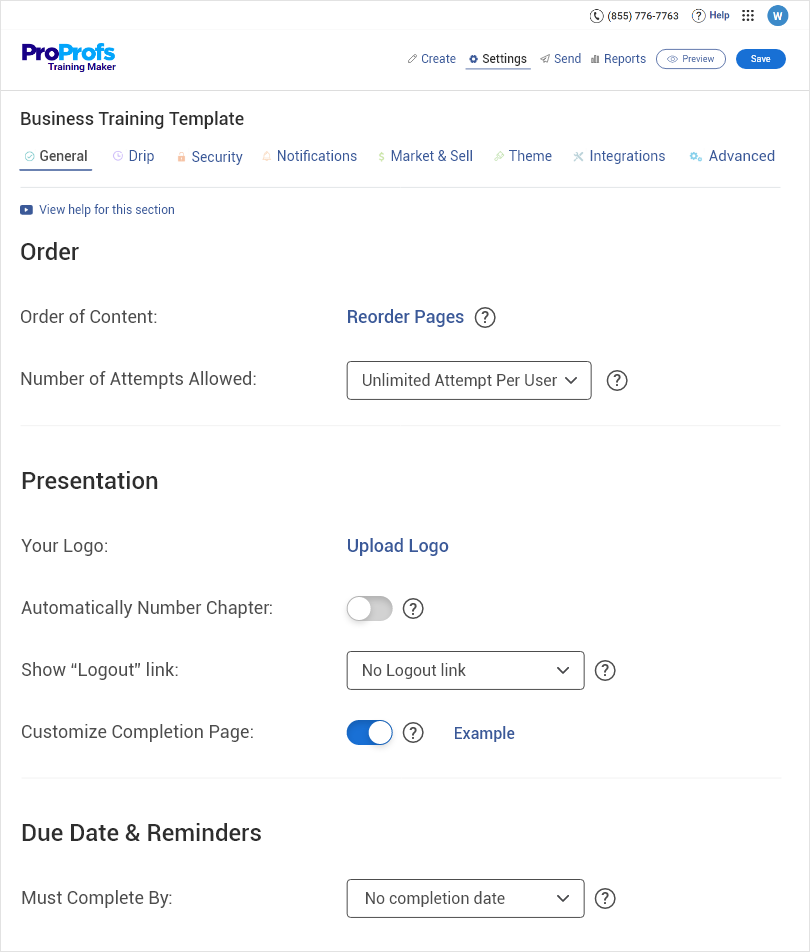 When I tried ProProfs Training Maker, I was delighted with the rich features that make it an outstanding white-label LMS platform. Features such as the ability to upload your logo, pick from themes and color schemes to ensure consistent branding.
The platform's all-inclusive approach offered more than just branding; it provided a complete training solution. The course library and templates will help you create engaging courses in just a few minutes. The best part is that you can upload your existing documents, images, videos, podcasts, and PDFs to build your course from scratch.
The extensive customization toolkit, boasting 100+ settings and configurations, enabled me to fine-tune my training portal to align perfectly with organizational goals. Issuing branded completion certificates personalized with logos and participant details added a motivating touch, while automated reminders ensured compliance.
From course layouts to language preferences, every element is under your control. Adding a touch of gamification with points, badges, and leaderboards enhances the learning experience.
What You Will Like:
150+ ready–to-use, customizable courses for a quick start
Supports self-paced learning by enabling learners to access courses and assessments on any device
Multiple ways to share your courses (through email, website embed, SMS, QR code, etc.)
Powerful reporting capabilities to track progress and make improvements to your training
What You May Not Like:
Currently integrates only with Zoom. It would be great if they allowed integration with a few other video conferencing tools
The software offers a free plan that allows up to 10 users to access the platform. However, the 10-user limit may be too restrictive for some organizations
The gamification and social learning features may not be relevant if the solo user is not working with a team.
Pricing
Forever FREE for small teams. Paid plans start at $1.97 /learner/month (billed annually) for large teams. No hidden charges. 15-day money-back guarantee.
2. Absorb LMS – Best White-Label LMS for Learner Engagement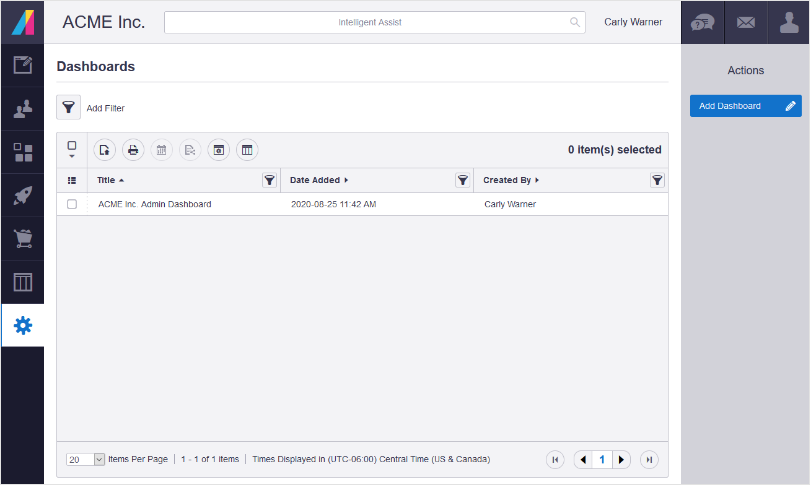 Absorb LMS empowers organizations to easily implement white labeling, crafting a unique and branded learning experience. The tool enables organizations to maintain a consistent brand presence throughout the learning journey, with the option to customize login images, color schemes, logos, and domain names.
At the heart of Absorb LMS lies a commitment to building an exceptional learner experience that drives engagement and knowledge retention. The "Observation Checklists" enable learners to track their progress and achievements systematically. The integration of e-signatures streamlines administrative tasks, making it easy for learners to acknowledge course completions or other milestones.
Beyond these features, this white-label LMS software also provides personalized pathways. Through the fusion of Artificial Intelligence and Absorb Pinpoint, learners receive tailored recommendations and content that align with their interests and progress. Peer engagement, discussions, and shared accomplishments are the other features of this tool.
What You Will Like:
Clean and easy-to-use interface that both learners and administrators can appreciate
Offers several features making it easy to create and customize courses to meet the specific needs of your learners
The mobile app allows learners to access courses and tests on the go
Different kind of reports to help track learner progress and identify areas for improvement
What You May Not Like:
Difficult to use for blended learning courses that combine online and in-person instruction
Some users have found the course management features in the tool to be lacking
The learning path feature is not as robust as some other LMS solutions. This can make it difficult for organizations to create and manage individualized learning plans
Pricing:
Paid plans start at $800/active user/month
3. TalentLMS – Best White-Label LMS for Hosting Live Sessions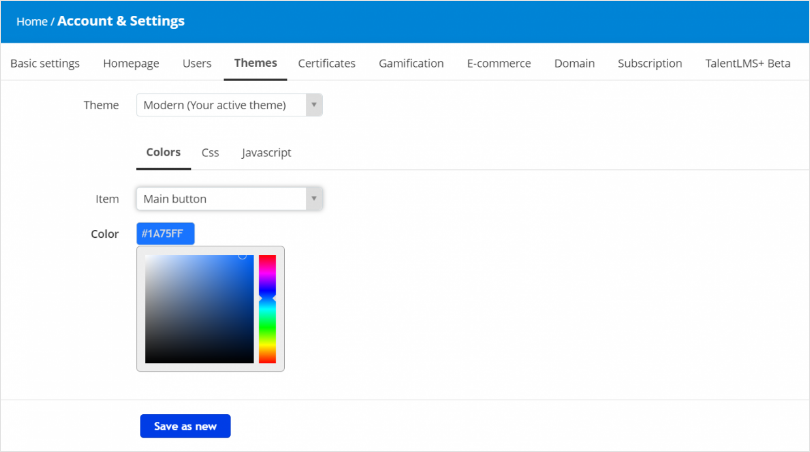 I've used TalentLMS for a few months now and am impressed with the white-label LMS features. Users can modify various aspects, such as logos, colors, fonts, and domain mapping, ensuring the LMS integrates with their corporate identity.
The tool offers single sign-on, customizable messages, gamification elements, and even the ability to develop a branded mobile app. Its adaptability, security compliance, and integration capabilities make it a powerful choice for building efficient learning solutions.
TalentLMS, with its "Host live sessions" functionality, supports online and in-person training sessions. Automatic reminders for upcoming sessions and self-registration for learners enhance the training process.
What You Will Like:
Easy course creation features where instructors can efficiently compile and organize training materials
Ability to design a structured learning experience by grouping related courses into customized learning paths
Instructors can integrate quizzes to gauge learners' understanding and knowledge retention
Supports over 30 languages and can be customized to match each user's language and time zone
What You May Not Like:
Some users have reported that the TalentLMS platform can be buggy at times
Does not have a drag-and-drop course creator, so you will need to create your courses manually
Limited number of third-party systems. This can make it challenging to integrate TalentLMS with your existing systems
Pricing:
Paid plans start at $69/month, billed yearly
4. Paradiso – Best White-Label LMS for AI Course Generation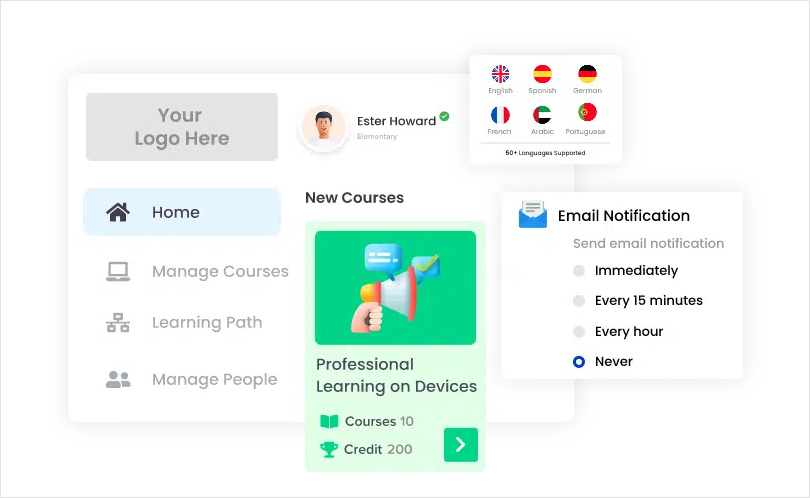 Paradiso is a leading white-label training platform that allows you to customize your online training platform with your brand identity and preferences. You can change the logo, colors, fonts, domain name, and more to make the LMS look like your own.
Paradiso also offers a powerful AI content generation tool to help you create engaging and informative content for your learners. This tool automatically generates text, images, and videos based on your keywords, topics, or categories. You can edit and personalize the content to suit your needs and goals.
The tool supports various content formats, including videos, documents, and quizzes, fostering interactive learning. Its responsive design ensures device compatibility, making learning accessible anytime, anywhere.
What You Will Like:
Add multimedia elements, gamification elements, branching scenarios, and more to make your courses more fun and effective
Build engaging learning paths to help learners acquire mastery of a course/subject
eCommerce storefronts that let you sell your courses online with secure payment processing
Learner analytics that give you insights into learner engagement, progress, and performance. You can track various metrics such as completion rates, test scores, etc.
What You May Not Like:
This LMS does not support checkboxes in the custom user profile fields
No easy options to enable Google/LinkedIn single sign-on (SSO)
Some users may find the initial setup and configuration complex
Pricing:
Free plan available (Limited to 50 users) Paid plans start 5.50$/user/month
5. Docebo – Best White-Label LMS for AI-Powered Learning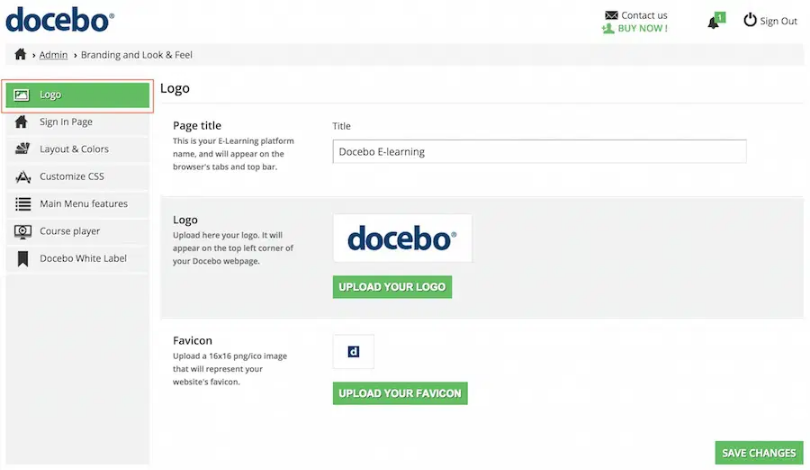 Want to harness AI's potential in training? Look no further! Docebo is an exceptional choice in this regard. By providing comprehensive white-labeling capabilities, the LMS enables the customization of logos, colors, and designs to reinforce an organization's identity.
The tool's emphasis on unique learning experiences for employees, partners, and customers underlines its commitment to tailored growth. With an array of features like accessibility, mobile learning, and social integration, Docebo's LMS delivers versatile learning solutions.
Being an AI-powered LMS, it provides boundless customization through a powerful configuration engine, allowing rapid setup of audience-specific pages using drag-and-drop features. Its adaptive learning paths and automated assessments tailor the learning journey to each individual's needs. The natural language processing and predictive learning capabilities enhance personalization and streamline learning.
What You Will Like:
Allows seamless uploading and conversion of various training materials, including presentations, videos, and SCORM files
ILT-Classroom app facilitates the development, scheduling, and management of instructor-led training sessions
Flexible settings and a modern interface, streamlining content management and improving the user experience
Integrates smoothly with third-party applications, enhancing its functionality through web conferencing, CMS, etc.
What You May Not Like:
Some users found it challenging to navigate and use the mobile app, and they felt that it was missing some essential features
The rating/commenting system on Docebo courses is not very user-friendly
The reporting and survey functionality was not as robust as they would like. Need more features for tracking learner progress and engagement
Pricing:
Paid plans start at $25,000/ year
6. 360Learning – Best White-Label LMS for Collaborative Learning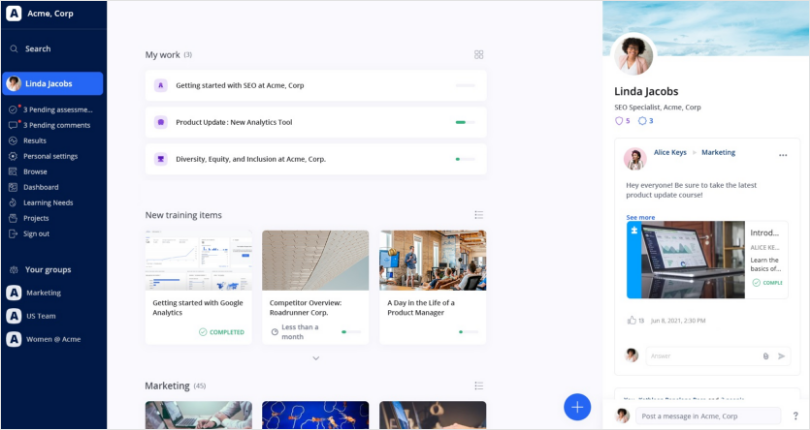 360Learning redefines learning with collaboration. This platform harnesses AI and collaboration to empower internal experts, transforming them into dynamic learning facilitators. This approach shatters traditional eLearning paradigms, fostering engaged, self-directed learning.
Benefits include rapid course creation, improved course completion rates (91%), and democratized content creation. The tool is mostly used for smooth onboarding, automated compliance training, and frontline staff empowerment. Gartner recognizes it as the best white-label e-learning tool for upskilling, bridging skill gaps, and creating a culture of continuous learning within any organization.
Tailoring the platform URL and appearance is easy, enabling organizations to establish a unique and consistent learning experience. Users can create custom subdomain names or even replace the full domain with a personalized URL, reinforcing brand identity. 360Learning empowers organizations to showcase their brand by offering extensive customization options.
What You Will Like:
Provides access to a wide variety of courses and materials, facilitating an easy exploration of new subjects
Interactive elements such as discussions create stimulating learning opportunities
Mobile compatibility enables learning on the go, fitting seamlessly into busy schedules of learners
Supports various types of content, such as videos, quizzes, SCORM, webinars, etc.
What You May Not Like:
The reporting and analytics are not very comprehensive and lack some important metrics and filters
The integration with other applications and systems is not very smooth and sometimes causes data loss
The platform is not very intuitive and requires a lot of training and guidance to use
Pricing:
Paid plans start at $8/user/month
7. LearnUpon – Best White-Label LMS for Webinars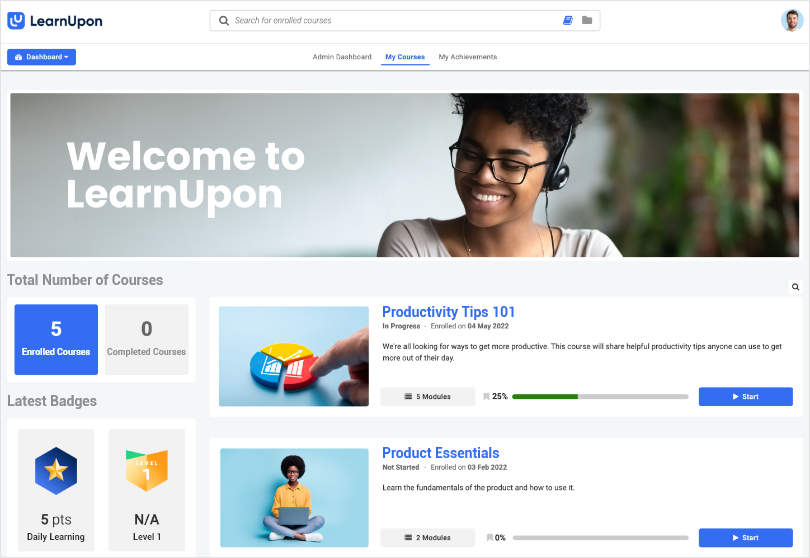 LearnUpon is a robust LMS that empowers businesses to deliver impactful learning experiences, ultimately driving performance, retention, and growth. LearnUpon is learner-centric and it helps organizations streamline training for various audiences, from employees and customers to partners and members.
With the white-labeling feature, organizations can establish a personalized and consistent brand experience for their learners. Users can create a branded URL, such as "elearning.mydomain.com," which is an alternative access point to their training portal. The users can customize URLs to match the organization's branding and identity.
Through its user-friendly interface and versatile features encompassing course creation, training delivery, user management, engagement tools, portals, reporting, and integrations, LearnUpon offers a solution that aligns training efforts with business objectives.
What You Will Like:
Has a clean, beautiful, and easy-to-use user interface that makes it easy to navigate
Offers a robust e-commerce feature that allows users to sell their courses online
Supports all content types, including documents, video, audio, text, and images, as well as SCORM-based courses
Integrates with various third-party tools such as Zoom, Salesforce, Mailchimp, and Google Analytics
What You May Not Like:
Quizzing options are limited and do not offer much variety or customization
The course creation process is module-based, which means users have to input and tab through multiple fields and screens to add content
The pricing is relatively high, especially for smaller businesses or organizations that have a limited budget or number of active users
Pricing:
Paid plans start at $599/month (billed annually)
8. Litmos – Best White-Label LMS for Gamified Learning

When it comes to gamified learning, Litmos is among the top platforms designed for intelligent enterprises. About 20+ million learners across 150 nations use this tool.
With Litmos, companies can deploy powerful, cloud-based, secure training programs encompassing virtual, classroom, mobile, and social learning.
Gamification features like leaderboards, badges, and achievements increase learner engagement and motivation. This gamified approach fosters friendly competition and encourages course completion, enhancing the overall learning experience.
Moreover, the white labeling capabilities of Litmos allow companies to customize the LMS to align with their branding, ensuring a seamless and immersive learning environment. The platform supports deep learner engagement through video assessments and real-time notifications.
What You Will Like:
Provides multilingual support to cater to a broader audience (As of now, it supports 35 languages)
Supports both web-based and instructor-led training
Build dynamic SCORM content to support everyone, be it a novice trainer or an instructional designer
Out of the box e-commerce abilities to sell your courses or set up your storefront through Shopify integration
What You May Not Like:
Reporting views on-screen show misinformation. Reporting on learning paths is especially challenging
The text editor is limited and does not allow much formatting or customization of the course content
The user roles and permissions are limited in terms of access and visibility of different users or groups
Pricing:
Paid plans start at $3/user/month
9. Lessonly by Seismic – Best White-Label LMS for Content Automation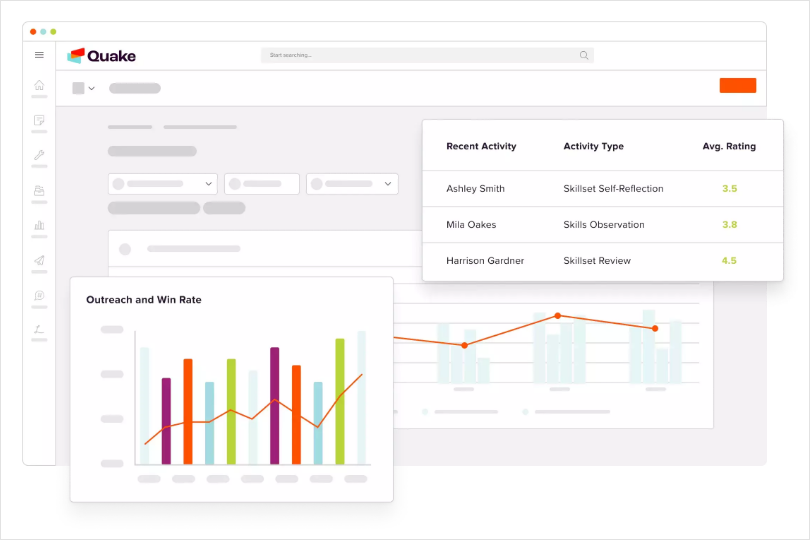 Lessonly stands as a paragon of innovation and efficiency. With a remarkable 100% increase in content usage, it liberates over 100 hours per rep annually, contributing to a substantial 65% rise in revenue from new reps and a 32% surge in leads.
Its content automation tool integrates seamlessly with data sources, such as CRM systems, enabling the automatic creation of charts, tables, and other materials. This ensures accuracy and efficiency in content creation, which is particularly helpful for end-of-quarter updates or dynamic reports. Mass-producing documents is easy, creating hundreds or even thousands of documents at the click of a button.
The tool also emphasizes compliance and brand consistency, allowing teams to create and customize content while maintaining control over branding guidelines. Tailor the platform with your logo, colors, and domain, providing a personalized learning experience that aligns with your identity.
What You Will Like:
Helps the teams ramp faster, deliver effective feedback, and continuously improve
It supports customizable learning paths and corporate onboarding processes
It offers high-quality pre-made courses or assets that are specific to certain industries
It has an incredibly intuitive interface, and building lessons is a breeze
What You May Not Like:
Reviewing lessons can be cumbersome for certain employees, impeding the learning process
The search functionality lacks robustness, affecting the ease of finding specific content
Providing feedback during the training loop requires switching to a separate file, disrupting the learning flow and experience
Pricing:
Free plan available (limited to 25 users). Paid plans start at $200/month (billed annually)
10. iSpring Learn – Best White-Label LMS for Training Management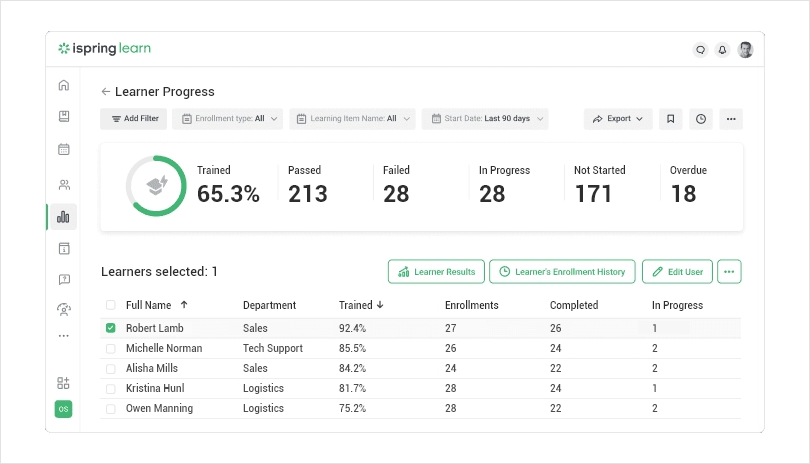 The last platform on this list is iSpring Learn, which empowers organizations with comprehensive training management capabilities. The tool offers a holistic solution for effective eLearning.
iSpring Learn allows users to administer courses and track learners effortlessly. The training process is streamlined by enrolling users in courses and setting completion rules.
The platform also facilitates intuitive content management, allowing you to upload diverse content formats such as presentations, video tutorials, and documents, fostering a dynamic learning experience.
Organizations can tailor the platform's appearance to match their corporate style through white labeling, ensuring a consistent look and feel across all training materials. This branding also extends to the mobile app, allowing for fully customized experiences that reinforce the company's image.
What You Will Like:
On-premise installation, enabling organizations to deploy the platform within their infrastructure
Flexible reporting system allows organizations to request tailored reports
Provides enhanced data control and security, especially for those with specific compliance or security requirements
Capability to localize the user portal into multiple languages, allowing organizations to effectively engage with non-English-speaking audiences
What You May Not Like:
While iSpring Learn offers preloaded courses on soft skills and generic skills, it lacks courses on email etiquette, POSH, etc.
Focuses only on training KPIs, overlooking crucial aspects of overall performance evaluation
Some users have also complained that iSpring Learn does not have options to enable Google/LinkedIn SSO
Pricing:
Paid plans start at $2.99/user/month (billed annually)
Which White-Label LMS is Right for You?
The right choice will ultimately depend on your specific learning needs and priorities, whether they involve content variety, customization, user experience, scalability, or e-commerce capabilities.
However, my top picks would be:
Option A: ProProfs LMS
ProProfs LMS stands out due to its intuitive interface, vast content library, and customizable branding options. Its built-in assessments and ease of integration make it suitable for businesses of all sizes seeking a comprehensive white-label LMS solution. The tool is suitable for deploying onboarding, compliance training, health & safety training, soft skills training, etc., across all major industries.
Option B: Absorb LMS
Absorb LMS offers a user-centric design, advanced reporting capabilities, and scalability. Its highly customizable white-label solution aligns seamlessly with users' brands. With responsive support, Absorb LMS suits companies aiming to provide a tailored learning experience.
Option C: TalentLMS
TalentLMS is known for its simplicity, mobile-friendliness, and gamification features. Its modern interface fosters an engaging learning environment. Small to medium-sized businesses seeking accessibility and rich features might find TalentLMS suitable.
Verdict: In my opinion, ProProfs truly takes the cake. It's not just about the sleek interface and the wide array of content – it's how everything comes together seamlessly. The ability to tailor the learning experience and the built-in assessments is like having your own training toolkit. For me, ProProfs is hands-down the white-label LMS that stands head and shoulders above the rest.
Frequently Asked Questions
What is a white-label LMS?
A white-label LMS is a software platform that organizations can customize and rebrand with their branding, logo, colors, and other visual elements. This allows them to present the LMS as if it were their product, even though it is built and maintained by a third-party provider.
This type of LMS allows organizations to tailor the platform's appearance and sometimes even its functionalities to match their specific needs and branding without developing the LMS from scratch.
What are the benefits of using a white-label LMS?
A white-label LMS provides organizations with a customizable and re-brandable online learning platform, enabling them to deliver tailored training content while showcasing their branding. This solution eliminates the need to build an LMS from scratch, saving time and costs. It offers user-friendly course creation, management, and reporting tools, bolstering training efficiency.
With mobile compatibility and potential integrations, it enhances accessibility and scalability. The LMS provider handles technical aspects and updates, allowing organizations to focus on content and user engagement. Read this guide to know more.
What are the key features of a white-label LMS?
The key features of a white-label LMS include personalized branding, allowing organizations to integrate their logo and design; adaptable content creation tools for diverse courses; scalability to accommodate varying user loads; reports to track learner progress; certificates to validate knowledge; multi-device accessibility for a flexible learning experience; and powerful integration with existing software. This empowers businesses to deliver a tailored online learning platform under their own identity, enhancing engagement, knowledge transfer, and training efficiency. Watch this video to learn how to choose the best LMS:
How to Choose the Best SaaS LMS Software
Can I customize the branding and appearance of the white-label LMS to match my company's identity?
Yes, you can fully customize the branding and appearance of a white-label LMS to align with your company's identity. This includes incorporating your logo, color scheme, fonts, and overall design elements. White-label course platforms typically offer extensive customization options, allowing you to create a seamless and consistent user experience that reflects your brand's identity. This level of customization enhances the sense of ownership and familiarity for your learners, reinforcing your company's visual identity within the learning platform. Explore this guide to know more.
Watch this video: How to Design Online Training Courses Effortlessly

What types of content can I deliver through a white-label LMS?
A white-label LMS supports diverse content delivery. You can share various forms of content, such as interactive e-learning modules, video lectures, quizzes, assignments, PDFs, webinars, and discussion forums. The system accommodates multimedia, text-based, and interactive materials, fostering engaging and effective learning experiences. This versatility enables you to offer a wide range of training content, ensuring learners access information through their preferred formats. Watch this video to know more:
How to Add Media to Your Online Courses

How secure is the data stored within the white-label LMS?
Data security in white-label LMS solutions, like ProProfs, is robust. They implement secure measures like encrypted storage, regular security audits, and compliance with industry standards (e.g., GDPR, HIPAA). Single Sign-On (SSO) enhances security by integrating with your existing authentication systems, reducing password-related risks. For instance, ProProfs uses SSO to ensure authorized user access, safeguarding sensitive learner data. Regular updates and monitoring bolster protection against evolving cyber threats. This comprehensive approach underscores ProProfs' commitment to data security and demonstrates how white-label LMS solutions prioritize safeguarding user information. Read this guide to know more.
Is the white-label LMS mobile-friendly and accessible on various devices?
Absolutely! A white-label LMS prioritizes mobile-friendliness and cross-device accessibility. These platforms have responsive layouts, ensuring a seamless user experience across various devices such as smartphones, tablets, and laptops. Learners can access and engage with content on the go, promoting flexible and convenient learning. Whether on iOS or Android devices, white-label LMS solutions offer optimized interfaces, adaptable content layouts, and touch-friendly navigation, enabling learners to interact easily with course materials regardless of their device. This commitment to multi-device accessibility enhances the reach and effectiveness of the learning experience.
Watch: What Is a Mobile LMS & How Can It Help Train Anytime, Anywhere?
How does the pricing model work for a white-label LMS?
The pricing varies based on factors such as features, user count, and support levels. Providers typically offer tiered plans, each with specific offerings and price points. Basic plans often include just a handful of features to get you started, while higher tiers may provide advanced customization, analytics, and support options. Pricing might be per user/license, active learner, or a flat subscription fee. Some LMS providers also offer scalable enterprise solutions with negotiable pricing. Evaluating your organization's needs, user base, and desired features is crucial to choose a plan that aligns with your budget while delivering the required functionality.
Do you want a free Training Software?
We have the #1 Online Training Software for employee training & assessment