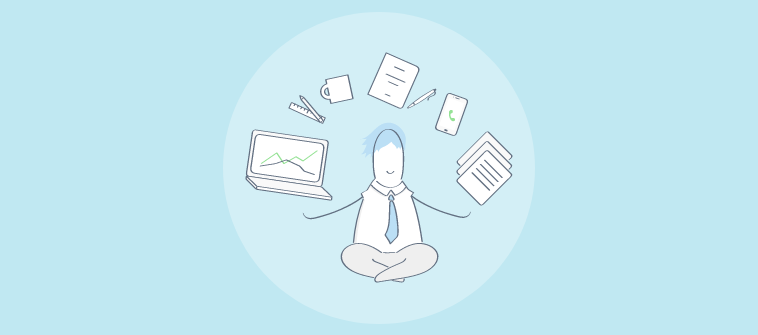 Looking for the best new employee training plan templates?
You're in the right place.
Offering an impactful onboarding program for new employees and training your existing staff can enhance their performance, productivity, and retention.
Employees who get frequent opportunities to upskill themselves through effective training are likely to stay longer with an organization.
That's why, creating a streamlined and sustainable training plan is a must.
But if you've never built a structured program, it can be overwhelming to create the best training from scratch.
So, how can you start?
Well, it's simple.
All you need is a professionally designed training template to speed up your training development.
These training program templates act as jumping-off points to build an impactful training program.
You don't skip out on any important points or topics with expert-designed wireframes or skeletal frameworks.
But again, creating a structured program requires time and effort.
And that's what you'll save with our collection of popular training templates. You'll find them helpful in onboarding new hires and providing ongoing training on compliance, leadership and management roles, employee skills, and more.
You'll also learn how to create the best training plan for your business.
So, let's start.
What Is a Training Plan Template for New Employees?
A training plan template for new employees is a document that outlines the details of a training program, such as goals, expected learning outcomes, training delivery methods, courses, chapters, and multimedia. It helps you structure your training plans and make the new hires familiar with their upcoming training.
Training templates guide you throughout the training planning process and can be used to discuss the rationale, core components, skills, knowledge, outcomes, and assessments.
Watch: What Is Employee Training?
5 Reasons You Need Training Program Templates
Here are five reasons you should use training guide templates to create your training plan.
Speeds Up Training Development Time
With training templates, you can produce your training programs in a small fraction of the time required to create them from scratch. That's because you don't have to design columns, placeholders, and slides again. The best part is that you can reuse the template whenever you want to create a course.
Templatized learning programs can reduce course development time and cost. In most cases, you don't have to change the layout but simply add content to it.
————————————————————————————————————————————————————————–
Interesting Fact: Robust LMS tools offer a variety of training templates that can accelerate your training process and you can devote more time to achieving learning outcomes.
————————————————————————————————————————————————————————–
Convenient and Easy to Use
Access to a template library provides convenience and the ability to choose from a diverse range of pre-made training plans.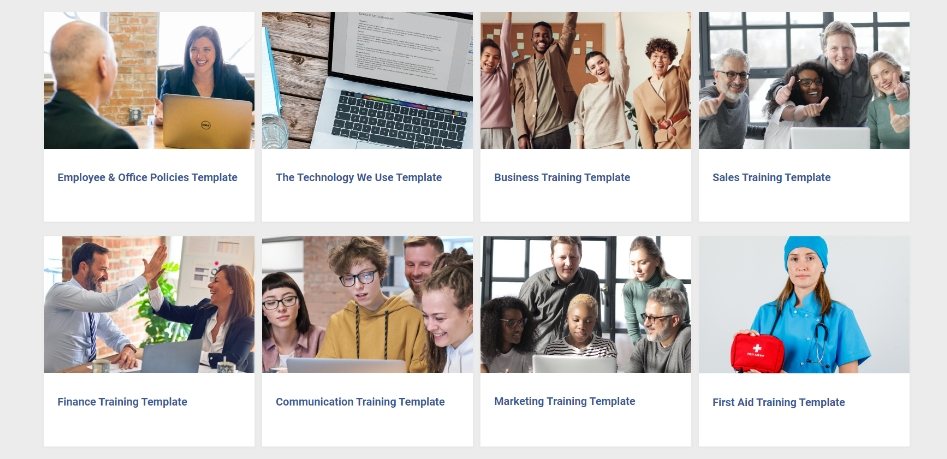 You can use them as-is or customize the look and feel by adding your logo, color schemes, images, theme, and messaging. In short, templates give you more power, freedom, and choice to configure your training courses.
Reduces Rework Time
Having readymade templates means you don't waste time building courses from scratch. Just choose the training topic, select the right template according to your learning needs, and you're good to go! Templates are an ideal solution, especially when you want to roll out your courses quickly.
———————————————————————————————————————————————————————
Interesting Fact: New hire training plan templates reduce rework time, simplify the onboarding process, and ramp up new staff with a shorter time to productivity.
———————————————————————————————————————————————————————
Provides Opportunities for Engagement and Interaction
New hire training plan templates enable you to create different layouts to meet various learning needs of your audience.
In addition, some online training makers provide a range of integrative features such as a virtual classroom, learning paths, gamification, multimedia, and quiz and survey tools to make training fun and interactive.
—————————————————————————————————————————————————————————
Interesting Fact: An engaging templated training program boosts engagement, increases retention, and delivers a stronger employee experience.
—————————————————————————————————————————————————————————
Makes Training More Consistent
When you deliver the same content using the same template across your organization, it ensures consistency. Employee training templates increase consistency by providing standardized pre-defined fonts, images, layouts, and colors, which result in a high-quality and engaging training program.
————————————————————————————————————————————————————————-
Interesting Fact: The training plan templates for new employees create consistency across all your training programs because all instructors and course creators use the same resources to build their programs.
————————————————————————————————————————————————————————
That was all about the benefits of using training templates for new hires. Since templates have a standard outline with key goals and checkpoints, you can prevent missing out on any important element.
Watch: TM Template
10 Employee Training Plan Templates for New Hires
Training templates for employees can be used as a part of your training plan. Ideally, a plan should have training topics, mode of training, training time, training templates, ways to track performance, and career development plans.

1. Employee Onboarding
Onboarding is an important process that makes new hires feel welcome from day one. With the right onboarding program, you can give your new hires the best leg up for their new roles. Train them on company policies, mission, job roles, standard operating procedures, and more.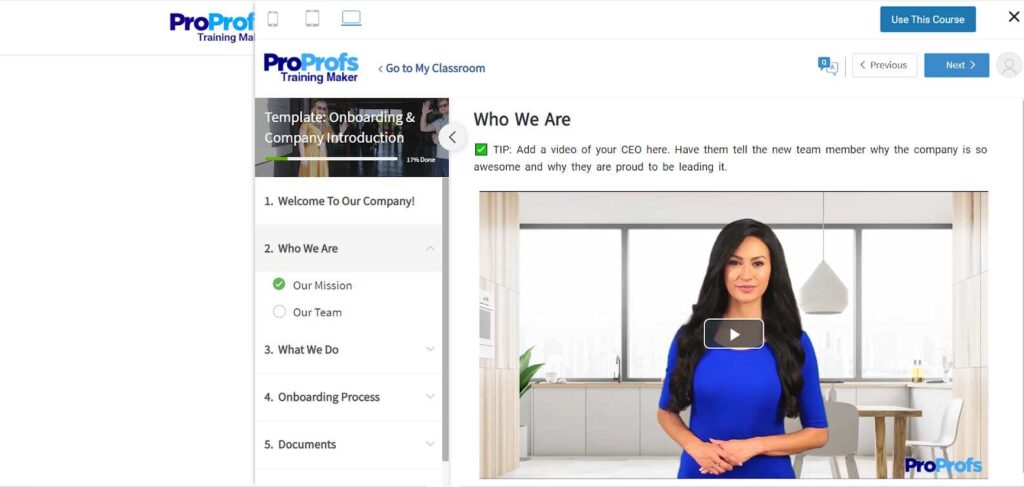 Give your employees a clear idea of what they should do from the start. An employee onboarding template provides a streamlined experience where new hires get all the important information, such as organizational policies, company values, team members and structure, and employee handbook.
Watch: How to Create an Employee Onboarding Training Program
2. Company Orientation
Orientation is an important part of the onboarding process, and it integrates the new hires with the company's systems, policies, and procedures. The training helps them settle down quickly in the new environment.
Using a template is a standardized way to train, align, and assimilate new hires into a new work culture.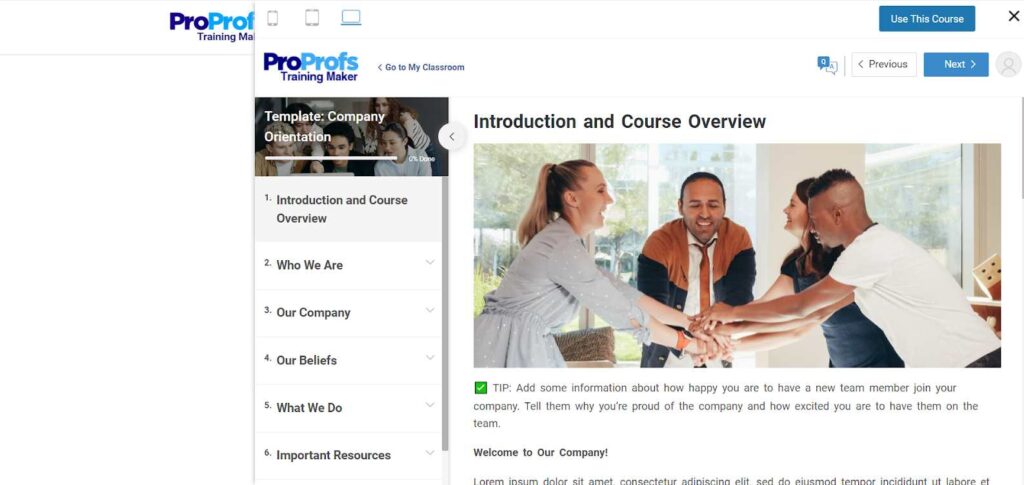 With a company orientation template, you can easily create courses with a high aesthetic appeal, use multimedia and visuals, embed quizzes and surveys, and provide 24/7 course access to learners.
3. Employee Office Policies
Every new hire should be aware of company policies, rules, and regulations. Be it the code of conduct, leave policy, compensation, or work-from-home policy, you can communicate them through employee policies training.
A customized template like the one shown in the image below can help create an engaging and effective training program on employee and office policies.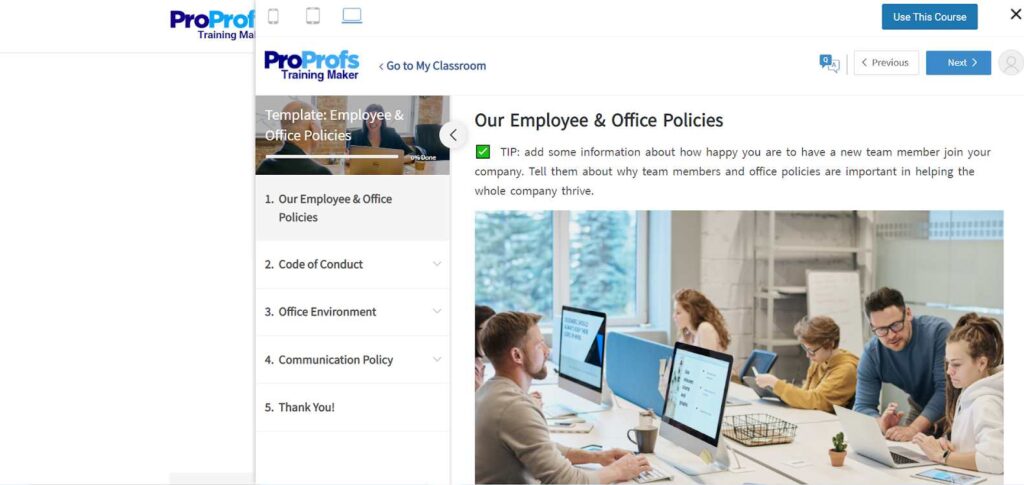 You can customize the template to meet your training needs. You can easily upload SCORM, xAPI, and zipped files. Add multimedia, such as images, videos, PPTs, etc., to make your training interactive and engaging.
Watch: What Is xAPI (Experience API) aka Tin Can API
4. Employee Benefits Information
When new employees join your company, you should provide detailed information on employee benefits, so they know what perks and facilities they'll enjoy.
An employee benefits information training template can help you share an overview of benefits such as medical, insurance plans, and retirement.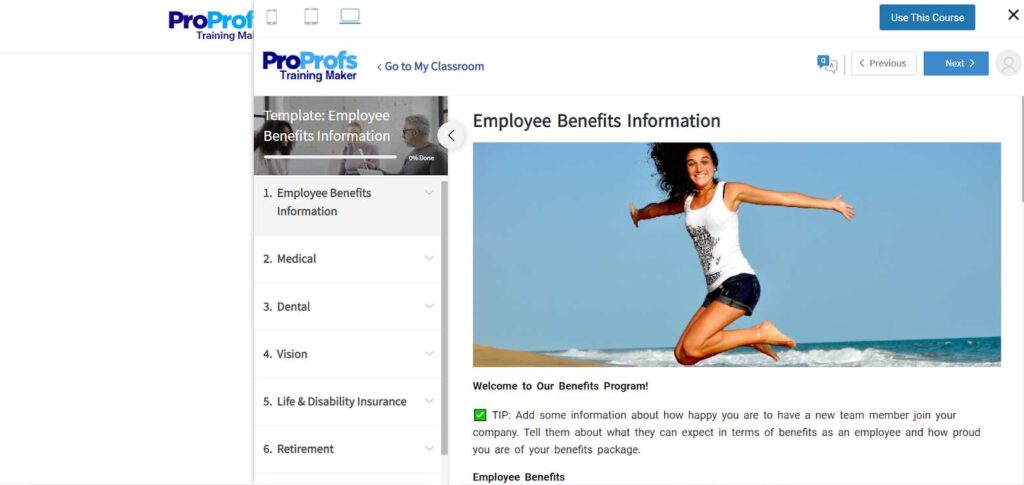 Using a new employee training plan template like this can save time on course creation. Plus, you can reuse them several times with little or no changes. You can create courses on PPO plans, HMO plans, life insurance, voluntary plans, and more.
5. IT Onboarding
In IT onboarding training, you familiarize your new hires with the tools and technologies they'll use while performing their job roles.
The training provides a solid understanding of what hardware and software they'll use and for which purpose. With the right training, your employees, including the IT workforce, will acquire all the necessary skills to operate a tool correctly and securely.
Make your learning experience engaging by using a professionally-designed template as shown below.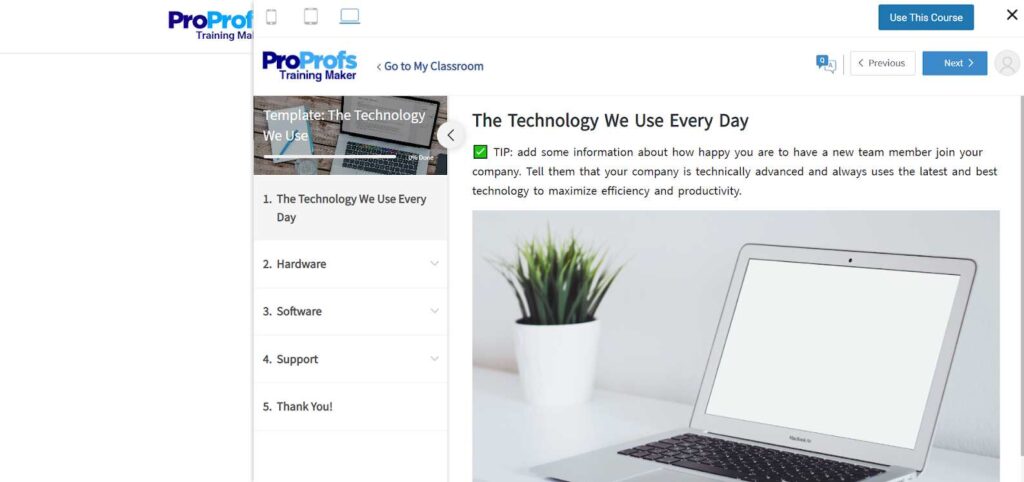 Place your content, such as company IT policy, choose your preferred layout, upload images, videos, and docs, and choose from various settings for security, notifications, language, and course availability.
You can also provide collaboration tools to facilitate knowledge exchange among learners or between learners and instructors.
Watch: How to Configure Your Online Course Settings
6. Employee Training
Having a high-quality employee training program lets you strengthen your workforce's skills and build up knowledge where it's lacking.
A good training program makes your employees competent and ensures that your entire team works towards a common business goal. It also familiarizes your employees with the organization's rules, core values, and culture.
An employee training plan template is designed to fit all use cases and makes learning fun through maximum engagement.

With templates, you can train your staff on corporate policies, compliance matters, diversity, equity & inclusion, anti-harassment policies, and more. Using a professional template makes sense to elevate the overall learning experience.
You can create courses, add games, embed quizzes and surveys, and track learners' progress using reports.
7. Business Team Training
Business team training is an essential part of the Lean Six Sigma Methodology, which aims to improve business processes by eradicating resource waste and maximizing efficiency and productivity.
It's a simple yet effective way to make your new hires better problem-solvers from day one.
A business team training template like the one shown in the image below lets you create an engaging program by enabling you to add different multimedia such as videos, images, presentations, PDFs, and recorded webinars. You can create and publish courses on business processes, business models, business tools, growth plans, and more.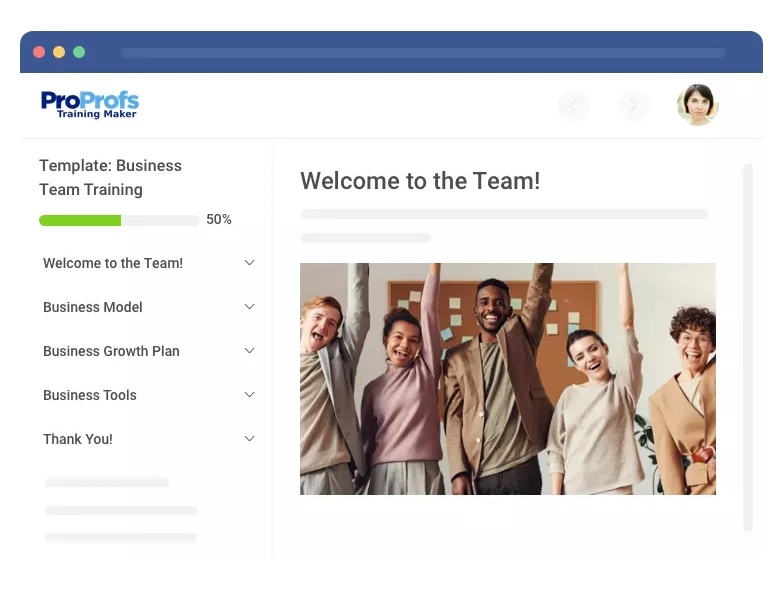 You can deliver a personalized experience by adding branding elements, such as logos, themes, and color palettes. Similarly, you can add assessments for knowledge retention and surveys to collect feedback.
8. Communication Training
Communication is an important skill that new hires need to master for better team collaboration, workflow, and professional relationships.
When employees communicate effectively, it removes misunderstandings, improves work efficiency, and keeps them productive. Employees should develop essential communication skills and also learn how to overcome communication barriers.
A communication training template for new hires covers all the important topics that boost employee skills and knowledge in this area.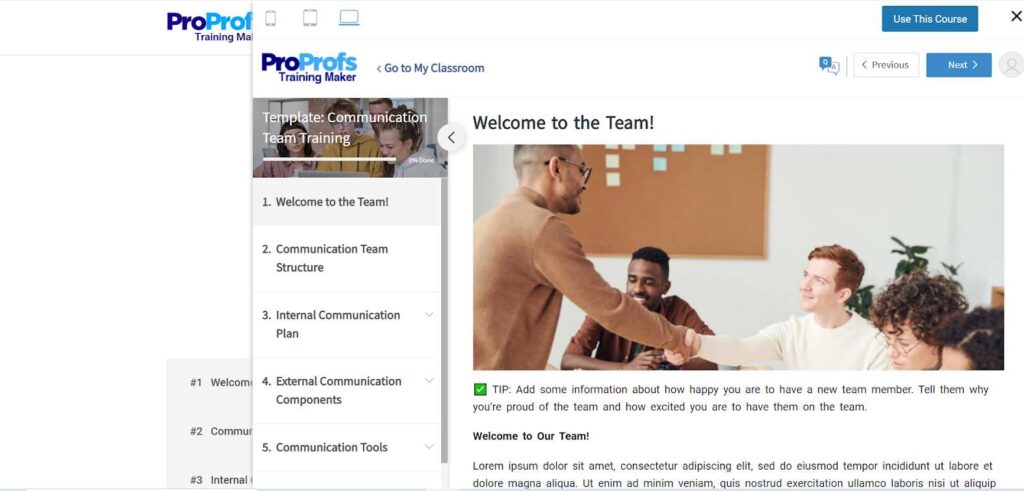 With this template, you can easily reduce course development time and create content in minutes. The best part is that you get a ready structure to add all the necessary information and other design elements based on your training needs. You can ensure 100% visual literacy with the best color composition, alignment, and typography standards.
Watch: How to Overcome Communication Barriers in the Workplace | Training Course Introduction
9. Leadership Training
New hires need training in core leadership skills to prepare them to take on more responsibilities.
Leadership training is possible through continuous learning, experience, practice, and observation. In today's competitive market, the concept of shared leadership is also rapidly gaining ground.
Only a strong training program can develop capable employees. Leadership training has several benefits:
increased productivity and engagement,
better team management,
efficient workflow,
better decision-making, and
succession planning.
A professionally crafted leadership training template can help create and deliver an effective program to build tomorrow's leaders.
——————————————————————————————————————————————————————-
Did you know? Employees who receive leadership training improve their learning capacity by 25% and performance by 20%.
———————————————————————————————————————————————————————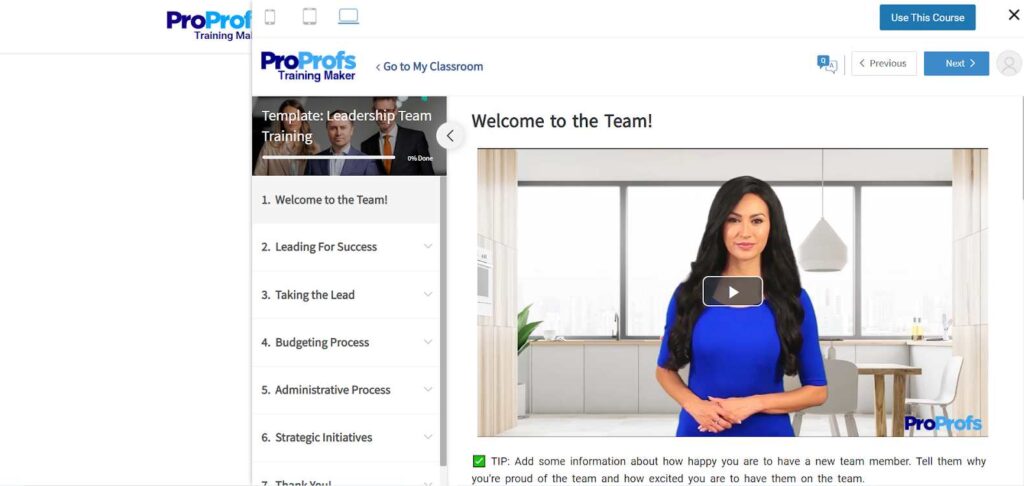 With a template, you can deliver training on core leadership skills, team-building activities, active listening skills, resolving workplace conflicts, and more. Keep your future leaders engaged and help them retain information by combining different audio-visual experiences through multiple formats. Enable self-paced learning and let your learners take training according to their chosen schedule.
Watch: How to Develop Core Leadership Skills | Training Course Introduction
10. First-Aid Training
This general training program educates employees on how to respond to a medical emergency. By providing such training, you can turn your employees into first responders when someone gets injured at the workplace. They can provide primary help to stabilize a patient before the full medical service arrives.
First aid training equips employees with the essential skills to provide emergency care when needed. Such programs provide temporary relief and prevent fatalities in cases of seizures and heart attacks. It increases employee morale and ensures commitment to a safety culture.
————————————————————————————————————————————————————————————
According to OSHA's first aid training guidelines, organizations need to:
Identify workplace risks that cause injury or harm
Design a first aid program that reduces workplace injuries and complies with OSHA requirements for first aid
Train workforce on first aid programs
Evaluate and change first aid programs to comply with the latest regulations and make them relevant to emerging risks
————————————————————————————————————————————————————————————
A training program template ensures that you have a ready structure based on which you can create your courses.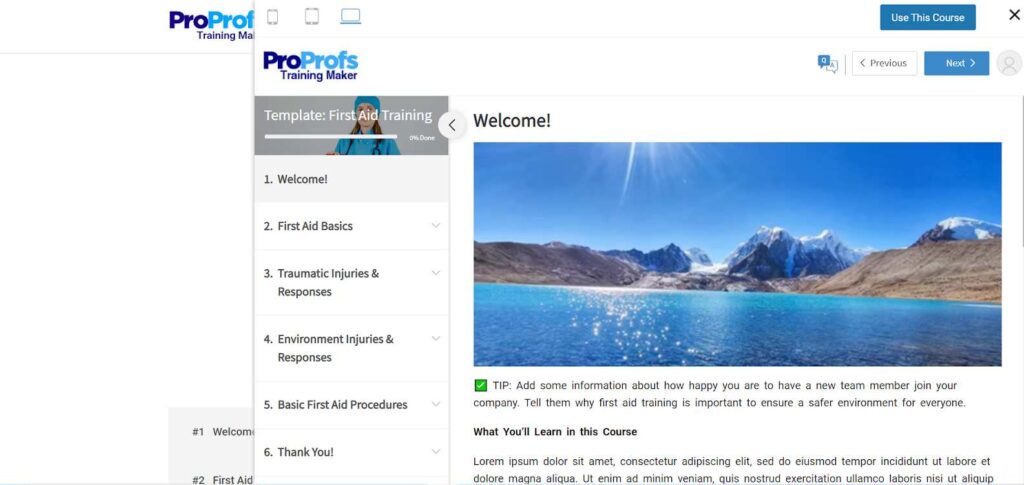 You can add visuals to your content for better retention and cater to multiple learning styles. With some training templates, you can add quizzes, enable video responses, and prevent skipping questions. What's more, you can track learner progress in real-time and leverage software integrations for an enhanced learning experience.
Watch: What is OSHA Compliance Training? Requirements & Benefits
These are some general training plan templates for new hires. But if you want to deliver role-specific training, then you can use the templates shown in the next section.
Role-Based Training Plan Templates for New Employees
1. Sales Training
If you've hired new sales employees, it'd be necessary to train them with the necessary skills, such as product knowledge, sales processes, sales tools, buyer personas, cold calling, customer service, inbound sales, etc. With an effective training program, you can build an efficient sales workforce.
————————————————————————————————————————————————————————
Remember: Only a well-trained sales representative can generate fresh business ideas and high revenue for your company.
————————————————————————————————————————————————————————–
Besides developing strong sales skills, the new hires must also learn basic communication skills to deliver the right message to customers about your products and services. To design an effective training plan, you need a professionally designed training template for new hires, as shown below.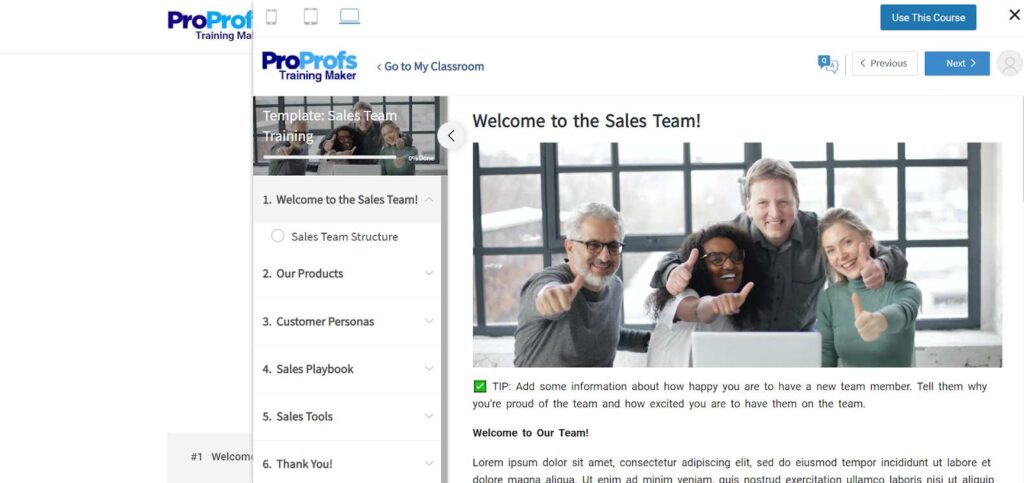 Use this template to create engaging courses and assessments, enable collaboration, track learner progress using reports, and collect actionable feedback using surveys. Make smart use of multimedia to increase engagement and knowledge retention.
Watch: How to Make a Sales Pitch | Training Course Introduction
2. Marketing Training
Marketing is an essential part of any business and is responsible for generating leads and revenue, bringing success to an organization.
Train your marketing professionals on important topics such as digital marketing, branding, strategic campaigns, inbound marketing, market planning, and lead nurturing.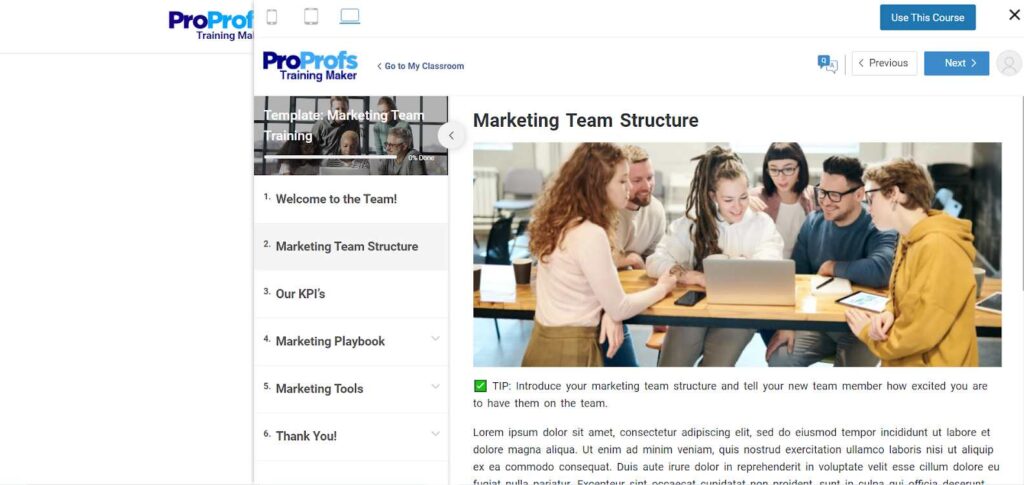 Prepare content on marketing team structure, KPIs, marketing model, strategies, and toolkits. The best training templates for new hires support a wide range of multimedia, such as videos, images, audio, presentations, recorded webinars, and infographics.
Make your course engaging, and use your branding elements and learning paths for an enhanced learning experience. You can embed quizzes and surveys to measure knowledge retention and gain training feedback.
3. Finance Training
Employees in the finance sector must undergo rigorous finance training in financial activities, such as deposits, lendings, shares, bonds, expenditures & expenses, and profit & loss calculation.
When you hire new employees for finance roles, you should thoroughly train them on the following:
Financial principles
Financial goals and objectives of your company
How short-term investments can bring huge profit
Relevant information about mergers and acquisitions
Besides these, you must provide compliance training to meet rules and regulations on financial practices, general data protection, privacy, and security against financial crimes like money laundering.
And why so?
Because most employees find such training boring!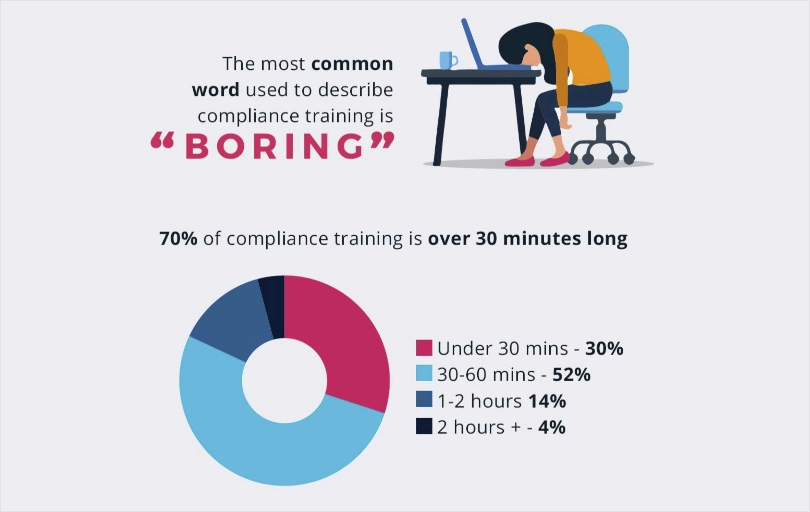 That's why it's important to make your training specific, engaging, and fun. This is where a finance training template can help you.
Templates are engaging and fit naturally into the learning needs of your organization.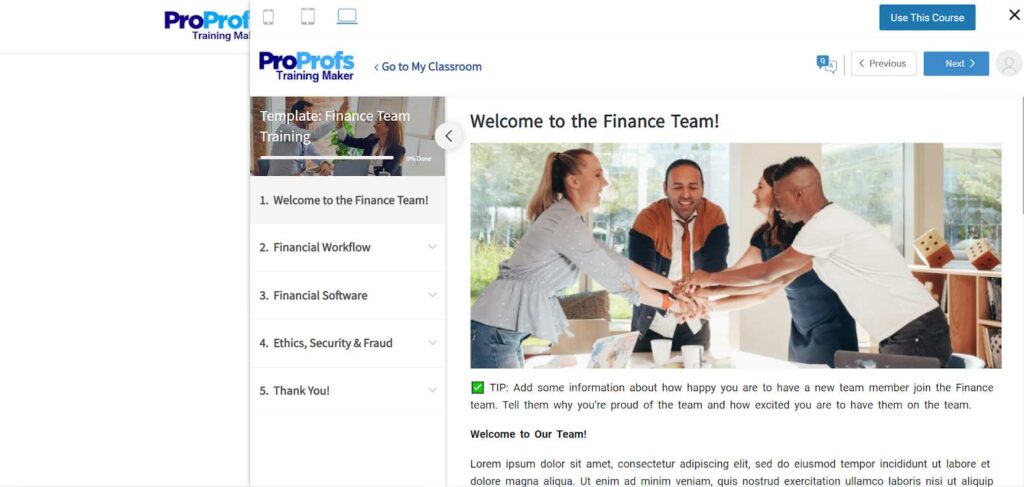 You can create courses using your existing training materials or a course library to save time.
Some training templates let you add media to your courses to support different learning styles, add assignments to understand how well your learners have grasped the information, add gamification and learning paths, and collect feedback through surveys.
4. Customer Service
Customer service is a philosophy that everyone in an organization – from the CEO to the recently hired – should embrace. Training your customer service team is important because they learn the right techniques and best practices to handle customers.
With proper training, they can effectively communicate with customers, handle escalated complaints, and successfully provide a solution.
You can recruit new employees who are naturally great at providing customer service. However, they are rare and in high demand.
So the best bet is to train your new hires and turn them into phenomenal service providers.
You can use this new employee training plan template to design your customer service course.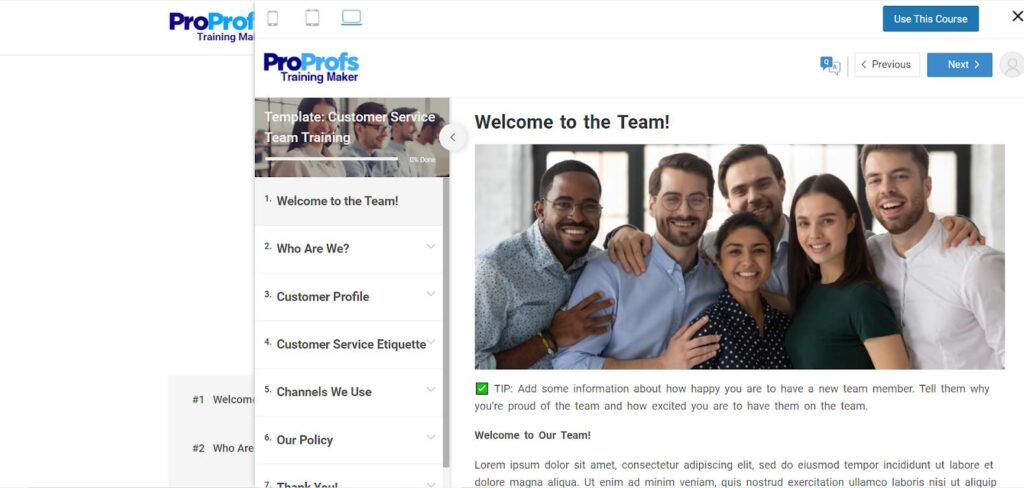 Train them on important topics such as writing customer service emails, managing customer expectations, and strong communication skills to help them learn about different customer problems and ways to solve them quickly.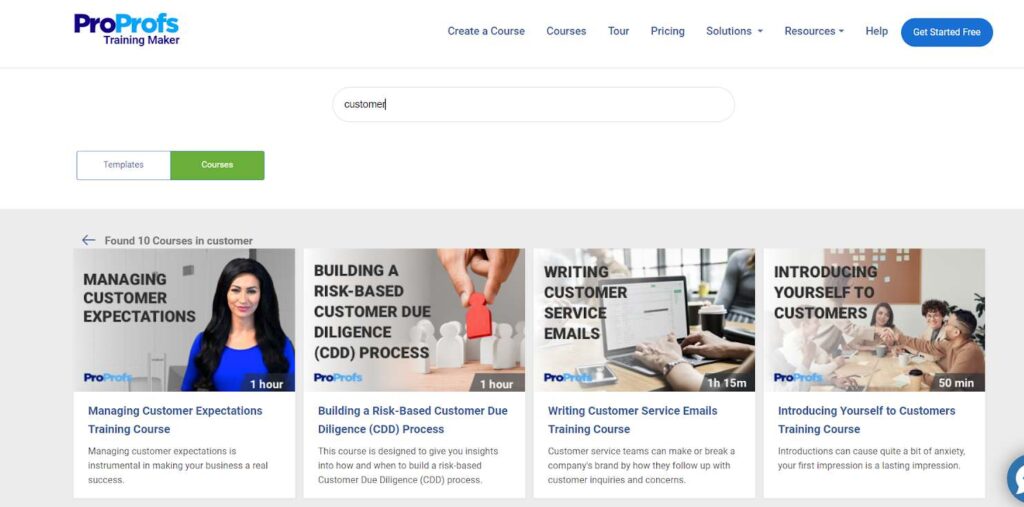 5. Technical Training
Accounting, IT, and engineering professionals must demonstrate high technical expertise. In fact, the new hires must complete relevant technical training before and after joining the workforce.
With proper training, employees learn about different functional components, such as hardware, software, internet, and tech support, which are a part of technical job roles.
With the right training template, you can design engaging courses and customize them based on your training objectives.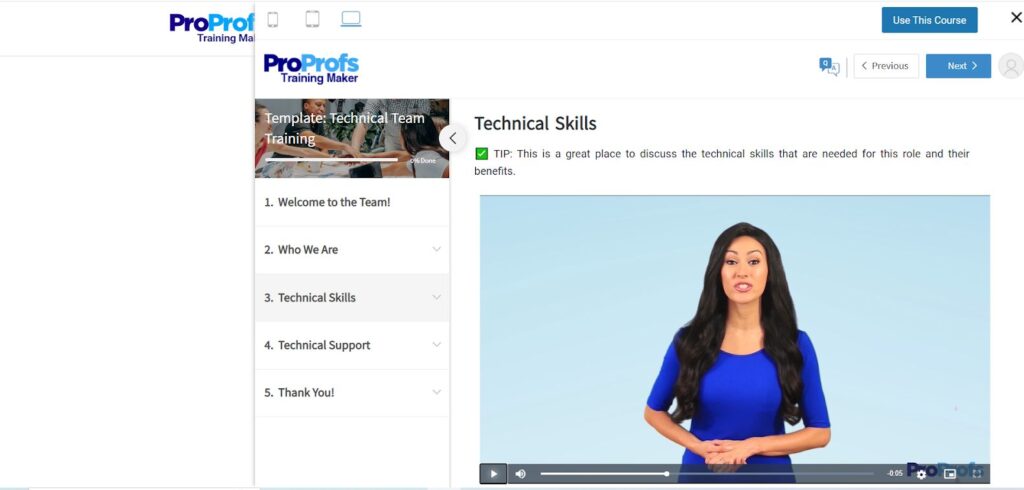 Some employee training plan templates are compatible with all devices and do not require software installation. The courses you create using templates promote self-directed learning and enable anywhere and anytime accessibility.
Now that you have all the templates ready, what's next?
Start creating your employee training plan! Here's how to go about it.
7 Steps to Create an Effective Employee Training Plan
Creating an effective employee training plan requires understanding the training goals, choosing the right training software and templates, adding the right materials, and measuring the learning outcomes.
Follow the seven steps below to build an impactful training program.
Identify Business Goals
First, you need to identify your business goals and establish KPIs to determine your strategic targets and achievements. The goals should also support the personal and professional development of the employees.
Ideally, your goals should be Specific, Measurable, Achievable, Relevant, and Time-bound (SMART).
Once done, find out the type of training you want to provide the new hires, know how to measure success, and find the best ways to track progress and measure learning outcomes.
Watch: How to Set SMART Goals | Training Course Introduction
Determine Training Needs
Next, you must identify your employees' existing knowledge and what they still need to learn to perform their jobs. In short, you should identify their training needs and learning styles because every individual has their way of retaining information.
So, how can you do that?
It's easy.
Use pre-training assessments to identify knowledge gaps!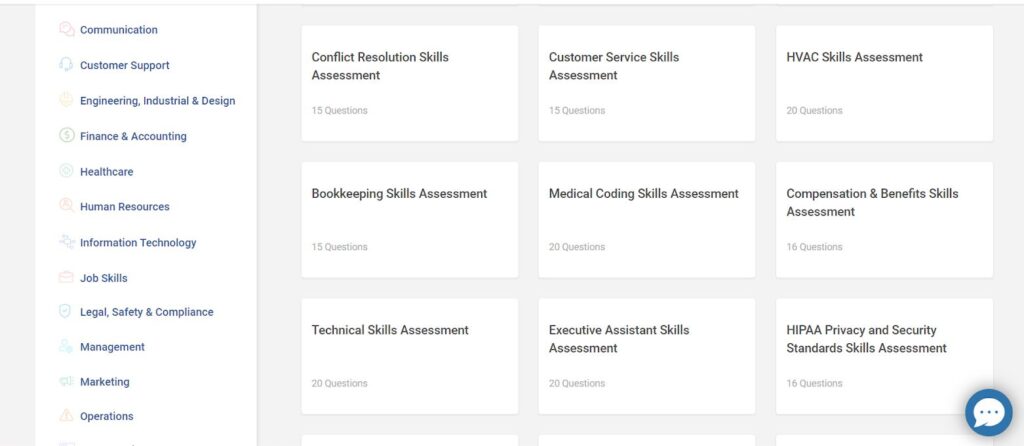 These assessments help trainers prepare the training modules according to real and specific learning needs. This will also fulfill the candidate's expectations and training needs.
Use the Right Training Templates
Once you get clarity on the training needs, you must select the right training templates. They offer a layout where you can place text, multimedia, quizzes, and surveys.
These templates help organize your ideas and ensure that you cover all the training topics. Plus, training module templates provide great flexibility to customize the course based on learning needs, styles, and preferences.
Develop High-Quality Courses
Once you've finalized the template, keep the learning objectives handy because this will ensure you've included everything in your program to fulfill your training goals.
Prepare the course based on these objectives to ensure you add all the information.
You can also use a ready-to-use course and customize it according to your training needs. Alternatively, you may upload your existing training materials such as docs, PDFs, PPTs, videos, infographics, and recorded webinars to develop an impactful program. To know more in detail, you can check out this guide – How to Create an Online Course.
Watch: How to Create an Online Course
Use an LMS to Implement Your Training
Get ready to launch your training program and inform your learners about the same. A Learning Management System can help you at this stage.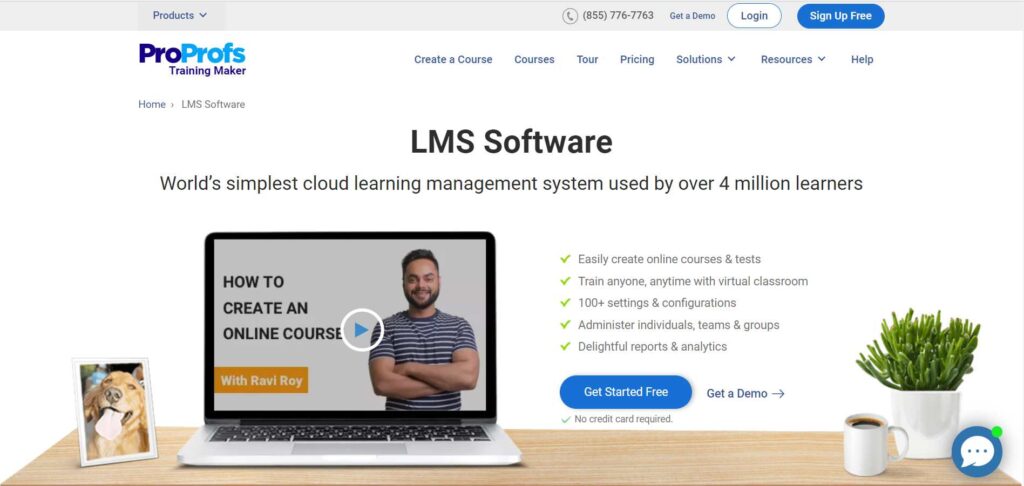 It's an all-in-one solution that caters to all your training needs. It provides readymade courses, templates, real-time reports, quizzes, surveys, collaboration tools, and virtual classrooms. Automation of routine tasks is another feature you find in these solutions.
However, there are various other ways by which you can deliver your training program, such as instructor-led training (ILT), computer-based training, on-site training, and blended learning.
Measure Training Effectiveness
Unless you track learning progress, you'll not be able to measure the success of your program.
So, how can you ensure that your learners have taken your course within the stipulated time or know if they were engaged throughout the program?
Luckily, you can find answers to all these questions through assessments.
You can use a quiz maker to create engaging quizzes. Embed them into your courses to measure knowledge retention. You may also access real-time reports to view completed and pending courses, learner participation levels, course engagement, etc.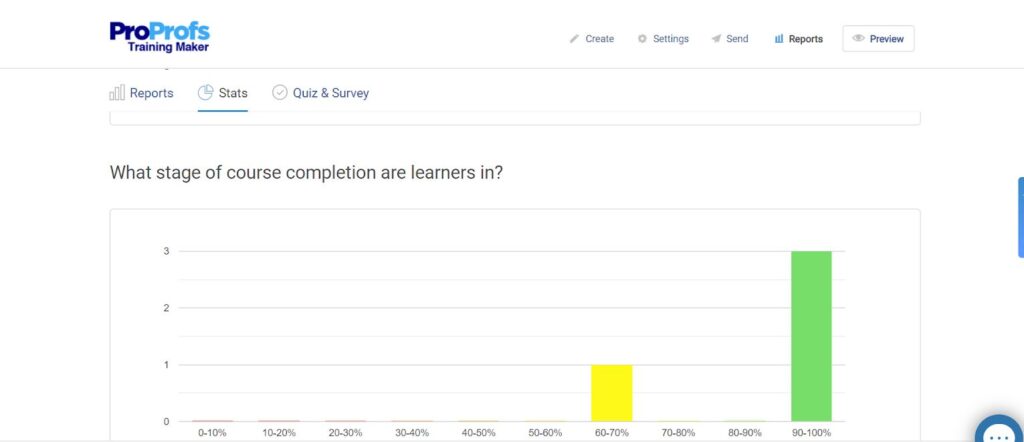 Based on the reports, you can send email reminders to learners who are yet to complete the course, or you can improve the course content for better results. This way, you can improve participation rates and ensure ongoing compliance.
Watch: How to Create an Online Quiz in Under 5 Mins
Conduct Feedback Surveys
Last but not least, do not forget to collect feedback from your learners. Include surveys in your training content to know the impact of your training. Constructive feedback is extremely important to make a training program successful.
When you enable learners to share their thoughts and opinions about the program, they feel valued, further boosting engagement.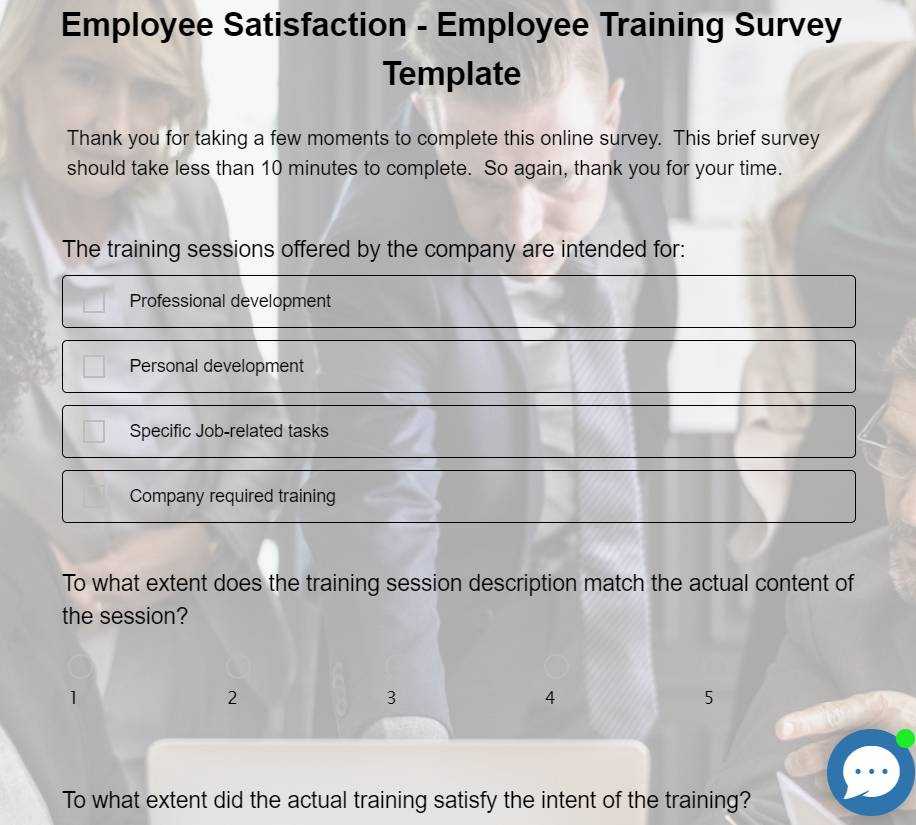 Reflect on the feedback and make necessary improvements in your training program for an enhanced learning experience and to meet your training objectives.
Watch: How to Create a Survey Using ProProfs Survey Maker
That was all about the top seven steps that'll help you create a solid training plan. If you follow the above steps, you can easily build an impactful training program from scratch for your new and existing employees.
Frequently Asked Questions
What are the characteristics of a good training plan template?
A good training plan template should be flexible and convenient. You should be able to customize the training, and add existing materials & branding elements. A good employee training software will enable you to do all of this and also help you track learner progress through reports, and collect feedback by embedding surveys.
Why should I use training templates?
Training templates simplify the course creation process by saving time and effort. This eases the workload, improves training quality, and helps maintain consistency.
Leverage the Right New Employee Training Plan Templates
Employee training templates play a key role in fleshing out your training programs. However, you'll need the right software to build a sustainable program.
The best training software has pre-built templates that enable you to create role-based training programs. Using the templates we discussed above, you can create the best training plan that meets your business goals and objectives.
To use the best templates for your new hires, pick the right training software. Apart from templates, these online tools provide authoring tools, ready-to-use courses, customization options, collaboration tools, quizzes, and surveys to help you build effective training.
So, make sure you choose the right training software with templates to streamline workforce training and achieve your learning goals.
Do you want a free Training Software?
We have the #1 Online Training Software for employee training & assessment