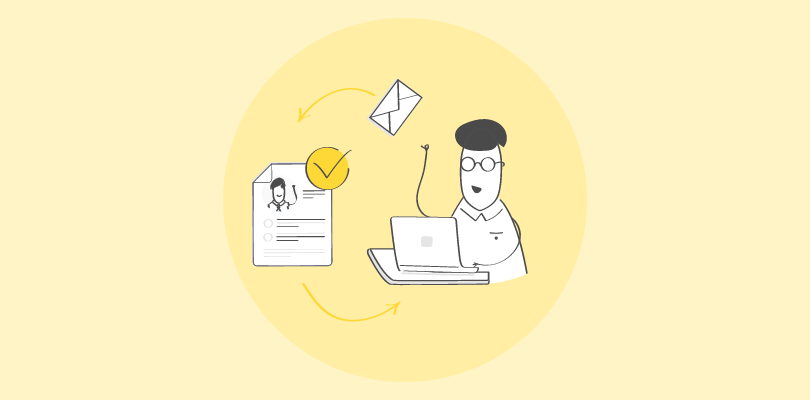 Planning to train your human resource personnel?
If yes, you've come to the right place because we'll be unpacking some popular HR training courses in this post.
Human resources is a key department in any organization. Present-day human resource teams are loaded with responsibilities. They perform various strategic functions ranging from employee management to sustaining and reinforcing company culture. Add to this the need to keep pace with an ever-evolving sector.
No wonder then that HR departments are always central to any major decision a company makes.
Considering the importance of HR, it's essential to invest in their regular training and development. This will ensure continuous learning, which boosts their knowledge and skills and translates into better performance.
For standard HR training, you'd inevitably need quality online courses. To make the search easier for you, here's a list of the 15 best HR training programs for 2023 and beyond.
These courses go beyond the basics and aim to cover some important and relevant HR training topics in depth.
So, whether you're an HR professional looking to brush up your skills or an employer wanting to train your HR teams, this blog might be helpful for you.
Best HR Training Courses & Programs: A Comparison Table
15 Best HR Training Courses
Why Is It Best?
Pricing
ProProfs HR Training Courses
Professionally designed
Easily customizable
Virtual classroom
Engaging quizzes & surveys
Online Q&A community
Reporting & analytics
Forever free for up to 10 learners.Paid plan starts at $1.97/active learner/month for large teams. Billed annually.
HR Training Center
HR certification courses
25+ years of experience
Webinars & seminars
Continuing education courses
Suits both small businesses & corporations
Varies from course to course.
HR Certification Institute
45+ years of experience
World-class learning experience
Customized group package
Fully accredited credentials
Network of HR professionals
Varies from course to course.
Pryor Learning
40+ years of experience
Training for individuals & teams
Complementary cloud learning platform
24/7 access to courses
Options for blended learning
Varies from course to course.
Alison
Free online courses
Courses on modern HR practices
Certificate, diploma, & learning paths
High-quality materials
Equal access to education
Starts at €0/month (Has advertisement)
AiHR
Fully online & self-paced
Comprehensive programs
Real-world projects
Personal coach
Recognized by SHRM
Certificate program starts @ ₹39,500
SHRM
Customized programs
E-learning courses
On-demand conference sessions
Partnership with experts
Recertification
Standard exam fee is $375.
Udemy
Video lectures
Quizzes
Practice tests
Subtitles
Certificate of completion
Varies from course to course
Coursera
Video content
Single sign-on
Learning paths
Course recommendation engine
Skill assessment
Free and paid courses. Financial aid is also available.
LinkedIn Learn
Personalized content
Career development opportunities
Rich insights
Q&A on course pages
Self-paced learning
Starts at INR 762.71/month
FutureLearn
100% online courses
Collaboration
Progress tracking
Flexible learning
CV boosting certificates
Varies from course to course
HR.com
Microlessons
HR certification
Virtual events
Self-paced learning
Recertification programs
Starts from $0 (Limited to content and virtual events only)
The Association for Talent Development (ATD)
Certified courses
Micro courses
Team training
Live online learning
Global events
Starts from $279/year
eCornell
100+ certified programs
Expert-led with structured flexibility
Collaboration
Practice and application
Self-directed learning
Varies from course to course
Josh Bersin Academy
Library of tools and resources
Strategic online programs
Digital cohort-based academy
A global community for HR professionals
Focus on research and innovation
Starts from $280 annually per member
Let's now take a look at the top course providers in detail to understand why they should make it to your shortlist.
List of the Best HR Training Courses and Programs
1. ProProfs HR Training Courses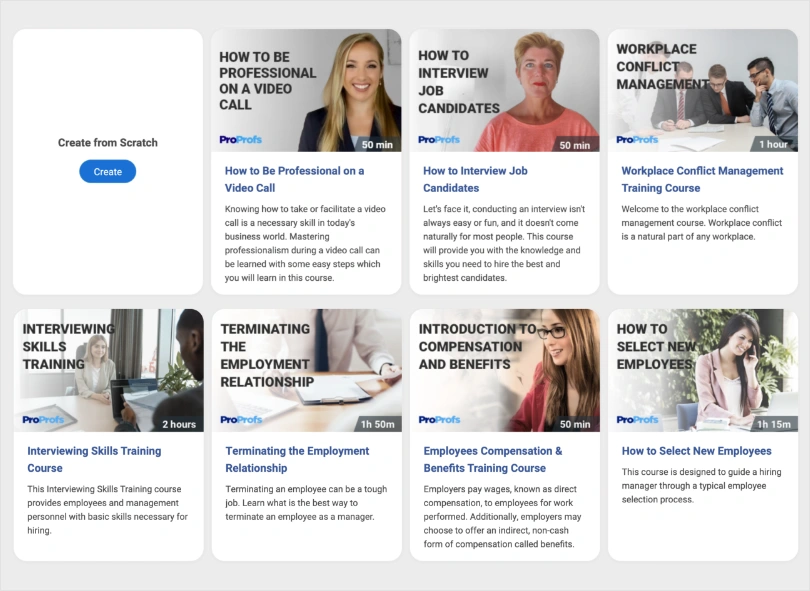 ProProfs is a leading HR training software offering ready-to-use training courses on various in-demand topics and an extensive collection of beautifully designed training templates.
Industry experts design the courses to meet the ongoing learning & development needs of modern HR professionals.
You can customize these courses to make them perfect for your business training or even personalize them to reflect your brand identity.
The courses are comprehensive and skill-based, helping your HR team excel in their trade.
The courses are also self-paced, and learners can access them anytime, anywhere. The courses include engaging quizzes, gamification, flashcards, videos, scenarios, and surveys.
Some of the HR courses by ProProfs are:
Performance Management Training
Along with the courses, ProProfs offers a cloud based LMS to help you easily administer HR training for employees.
Watch: What is a Cloud-Based Learning Management System?
Why We Picked ProProfs?
Ready to use
Fully customizable
Centralized virtual classroom
Reports and analytics
Team collaboration
Anytime, anywhere learning
Pricing: Forever free plan (up to 10 learners). Paid plan starts at $1.97/learner/month (billed annually) for large teams. No hidden charges. 15-day money-back guarantee.
2. HR Training Center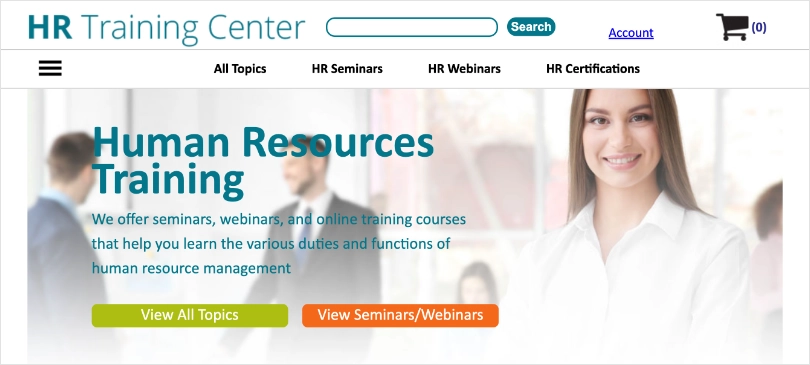 HR Training Center has been in the business of human resources training and development since 1994. Therefore, it knows a thing or two about it. Its professional training courses are designed to increase employees' knowledge and skill levels and help them do better at their jobs.
In addition to courses, it offers several live webinars in live, on-demand, and CD formats.
HR Training Center's HR certificate and recertification programs allow HR personnel to advance their careers. Led by experienced industry experts, the training center employs interactive and practical learning methodologies to ensure participants gain practical insights and apply their learning effectively to real-world scenarios.
The HR Training Center is committed to fostering the growth and success of HR professionals through quality education and professional development opportunities.
Why We Picked HR Training Center?
Network of 100 HR attorneys and subject-matter experts
Interactive webinars
Training for all
Range of compliance topics
Pricing
Varies from course to course
3. HR Certification Institute (HRCI)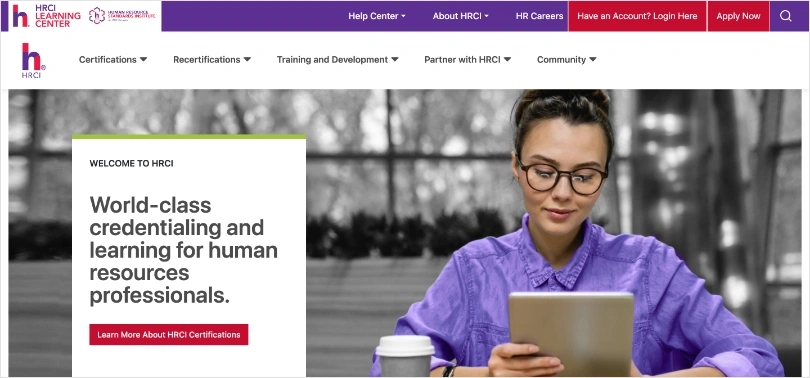 HRCI provides learning and credentialing solutions for human resources. With over four and half decades of experience, the company helps professionals stay relevant by updating their skills in the modern business world.
The certifications offered by HRCI, such as the Professional in Human Resources (PHR) and the Senior Professional in Human Resources (SPHR), are highly regarded in the industry and demonstrate a professional's commitment to continuous learning and excellence in HR practices.
HRCI offers online HR training for employees through courses, podcasts, news flashes, webinars, microlearning programs called upSkill, and accredited certifications. Experts curate HR courses to meet the professional demands of the real world.
Why We Picked HRCI?
Expert-led instruction
Supports multiple learning formats
Group certification
Extensive course catalog
Pricing
Varies from course to course
4. Pryor Learning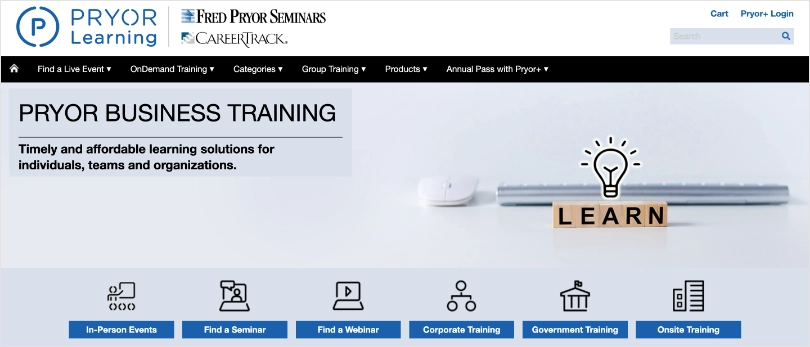 An industry leader in business training, Pryor Learning offers training for HR professionals, from entry-level to senior executives. The training formats include online courses, onsite seminars, and webinars.
Pryor Learning has a team of experienced instructors and subject-matter experts who deliver engaging and practical training experiences.
By offering curated and accredited content, along with options for group training, on-demand learning, and convenient annual individual and enterprise passes, Pryor Learning empowers HR professionals to stay ahead in their careers.
Why We Picked Pryor?
300+ resources
HRCI certified courses
Digital downloads
Advanced administrative features
Pricing
Varies from course to course
5. Alison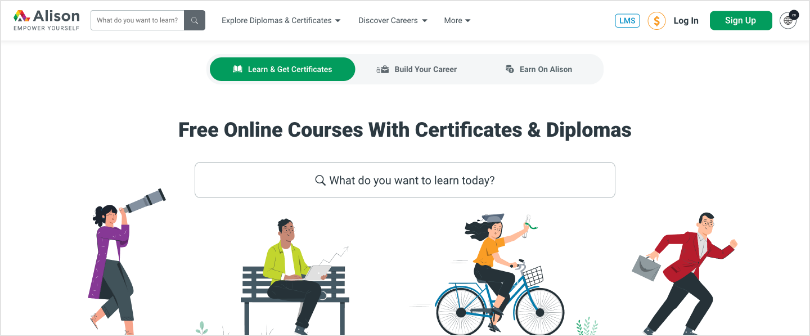 Alison is one of the world's largest free eLearning platforms, enabling anyone to study any subject anytime and anywhere. Its courses are divided into three categories: Certificate Courses, Diploma Courses, and Learning Paths.
With over 15 million learners worldwide, Alison provides opportunities for individuals to acquire new skills, enhance their knowledge, and pursue personal and professional development.
The HR training courses focus on key responsibilities as well as the management practices of human resources. All you need to do to access these courses is register, find the right course, enroll, and earn a certificate.
Why We Picked Alison?
Free diploma courses
Led by innovation
Learning paths
Engages in various philanthropic activities
Pricing
Starts at €0/month (Has advertisement)
6. AiHR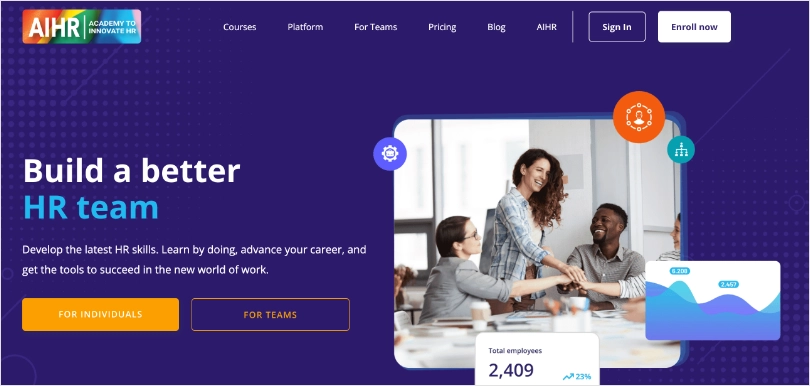 HR training courses by AiHR are one of the most comprehensive. Its HR management training courses are based on in-demand and relevant HR skills and are designed to help HR professionals advance their careers, no matter where they are.
It supplies training to 175+ Fortune Global 500 companies. AiHR aims to future-proof the HR profession through its best HR training programs. The platform is a valuable resource for HR practitioners looking to develop expertise in the rapidly evolving field of HR analytics.
Why We Picked AiHR?
Flexibility in learning
Collaboration with experts
Personal coach
Team license
Pricing
Certificate program starts @ ₹39,500
7. SHRM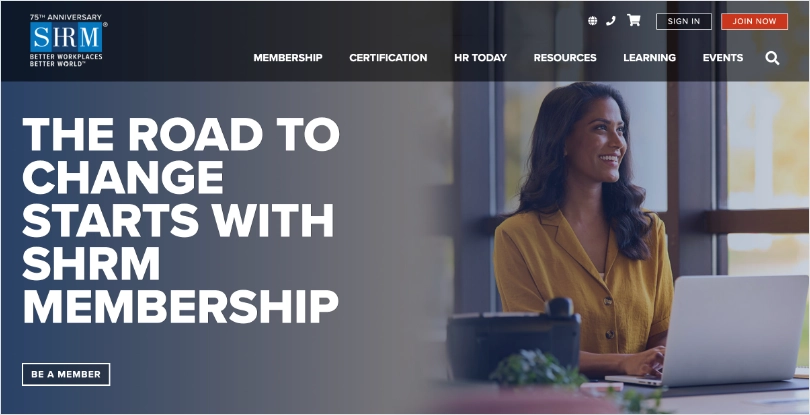 SHRM is a thought leader and expert in matters related to workers and workplaces. It offers one of the best HR certification online courses. Its competency-based HR educational programs equip HR professionals for the 21st-century workplace.
The delivery methods it employs include instructor-led, onsite, and virtual. SHRM-Certified Professional (SHRM-CP) and SHRM-Senior Certified Professional (SHRM-SCP) are two of the certification programs for HR professionals that SHRM offers.
With a global presence, SHRM fosters collaboration and knowledge sharing among HR practitioners, aiming to create impactful workplaces and drive organizational success. By advocating HR policies and practices aligned with business goals, SHRM is a vital resource for HR professionals worldwide.
Why We Picked SHRM?
Resource centers
White paper library
Relevant and certified exams
Self-paced learning
Pricing
Standard exam fee is $375
8. Udemy

Udemy is a popular online learning platform that offers a vast array of courses on various subjects. With over 200,000 courses and millions of students worldwide, it provides a diverse learning experience.
Udemy offers on-demand access to video lectures, downloadable resources, and interactive quizzes. Students can learn at their own pace and access courses from any device. Udemy's HR training and development courses range from hiring talent to human capital management.
With a user-friendly interface and a rating system for instructors and courses, Udemy ensures a quality learning experience for individuals looking to acquire new skills or deepen their knowledge.
Why We Picked Udemy?
Multilingual support
Certificate of completion for paid courses
Supports offline learning
Learning paths
Pricing
Varies from course to course
9. Coursera

Coursera is a renowned online learning platform offering some of the best HR training programs to help professionals advance their skills. It is in partnership with top universities and institutions. Coursera provides access to high-quality content and expert instructions.
Their HR courses cover various aspects, including talent management, employee relations, organizational behavior, and strategic HR management.
Coursera's flexible learning format allows participants to learn independently and earn certificates upon completion. Whether starting a career in HR or seeking professional development, Coursera offers comprehensive HR courses to support your learning journey.
Why We Picked Coursera?
Updated and relevant courses
Guided projects and assignments
Easy to understand & use
Provides financial aids
Pricing
Free and paid courses. Financial aid is also available.
10. LinkedIn Learning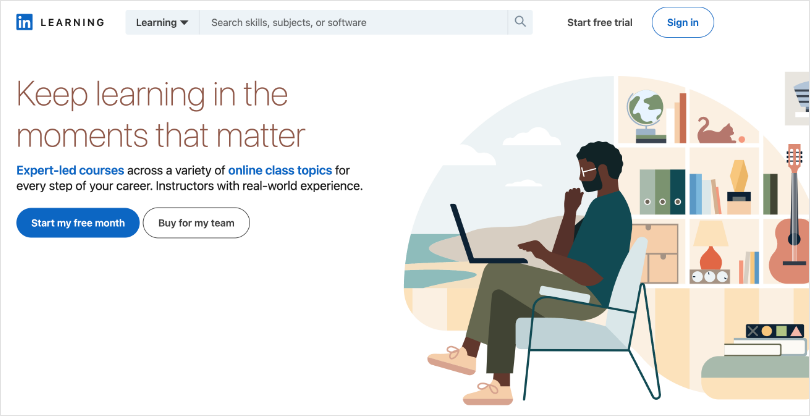 LinkedIn Learning is one of the best platforms for HR training courses. Apart from HR, the platform has thousands of courses covering leadership, programming, marketing, and more.
In addition, it provides flexible and convenient learning opportunities where users can access courses anytime, anywhere, and learn at their own pace. The platform offers engaging video content, interactive quizzes, and downloadable resources to facilitate effective learning.
Whether you want to advance your career, acquire new skills, or stay updated with industry trends, LinkedIn Learning offers a valuable resource for professional development.
Why We Picked LinkedIn Learning?
World-class content
Relevant course recommendation
Shareable multimedia collections
Pre-built learning paths
Pricing
Starts at INR 762.71/month
11. FutureLearn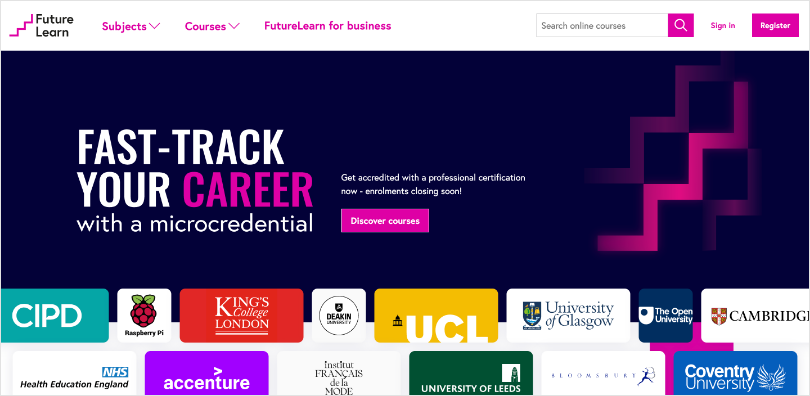 FutureLearn, the leading online learning platform, offers a vast array of captivating courses designed to fuel your knowledge and ignite your passion. From HR and technology to arts and humanities, there's a course for everyone.
FutureLearn's user-friendly interface and flexible learning options make education accessible anytime, anywhere. With expert instructors and innovative teaching methods, you'll acquire practical insights and gain a competitive edge.
This platform offers bite-sized courses, ExpertTracks (series of online courses), micro-credentials, and online degree programs. Upskill yourself on multiple topics, such as talent management, employee engagement, strategic HR planning, and organizational development.
Why We Picked FutureLearn?
Variety of courses
Clear structure
Accredited certificates
High-quality video materials
Pricing
Varies from course to course
12. HR.com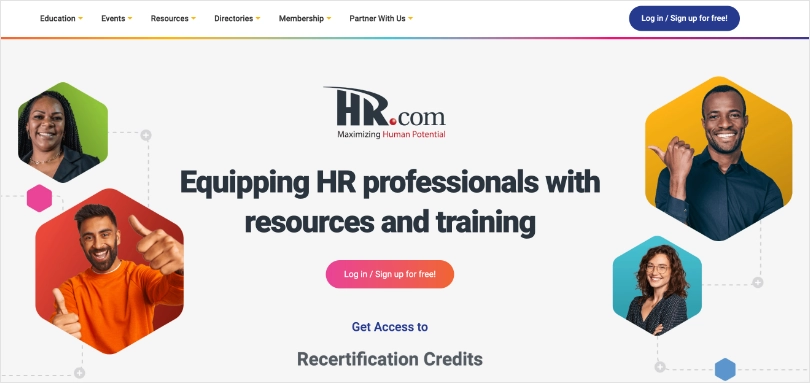 HR.com is a dedicated platform for HR professionals, and they offer a range of courses, including online and instructor-led programs, as well as study materials and certification exam preparation.
The platform offers HR certification courses for beginners as well as seasoned professionals. The platform hosts virtual events, conferences, and webinars, allowing HR professionals to connect, collaborate, and gain insights from industry experts.
By fostering a supportive and interactive community, HR.com serves as a valuable hub for HR professionals to stay updated on the latest trends, exchange ideas, and advance their careers in the ever-evolving field of human resources.
Why We Picked HR.com?
Networking opportunities
Community support
Virtual events and conferences
HRCI and SHRM certification preparation
Pricing
Starts from $0 (Limited to content and virtual events only)
13. The Association for Talent Development (ATD)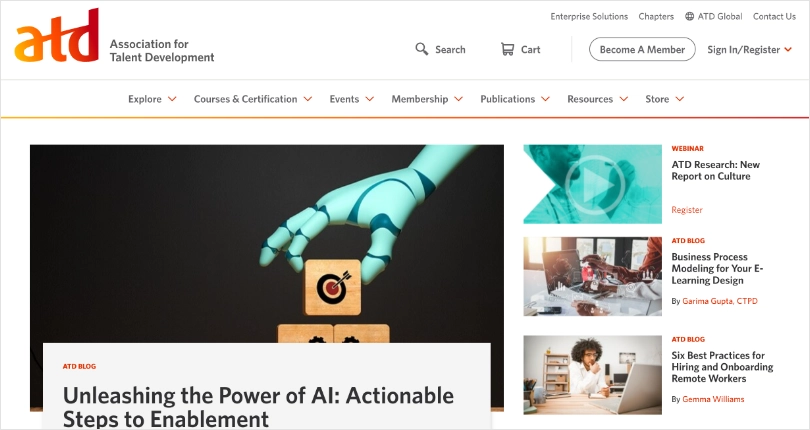 The Association for Talent Development (ATD), formerly known as the American Society for Training & Development (ASTD), is a professional membership organization dedicated to supporting talent development.
ATD has a global presence and collaborates with professionals and organizations worldwide. They support exchanging ideas, knowledge sharing, and continuous learning in the talent development community.
The best part is that the platform supports different formats, such as online learning, face-to-face, or team training. You will also get your hands-on resources like books, guides, and magazines that deliver the knowledge and skills you need to become a HR professional.
Why We Picked ATD?
Expert-vetted content
Professional development opportunities
Access to the latest research in the field
Global presence and collaboration opportunities
Pricing
Starts from $279/year
14. eCornell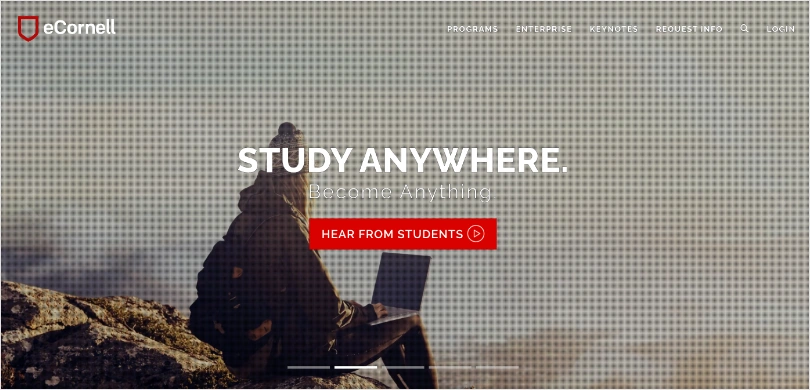 eCornell is an online learning platform that offers professional certificate programs and courses in various fields. As a subsidiary of Cornell University, eCornell provides high-quality, instructor-led courses designed to enhance skills and knowledge in business management, HR, leadership, healthcare, etc.
Their programs are flexible and accessible, allowing individuals to learn at their own pace while benefiting from the expertise of Cornell faculty and industry professionals.
With interactive learning modules, practical assignments, and ongoing support, eCornell enables learners to acquire valuable credentials and advance their careers without the constraints of traditional classroom-based education.
Why We Picked eCornell?
Credibility and reputation
Networking opportunities
Customizable training programs
Supportive learning resources
Pricing
Varies from course to course
15. Josh Bersin Academy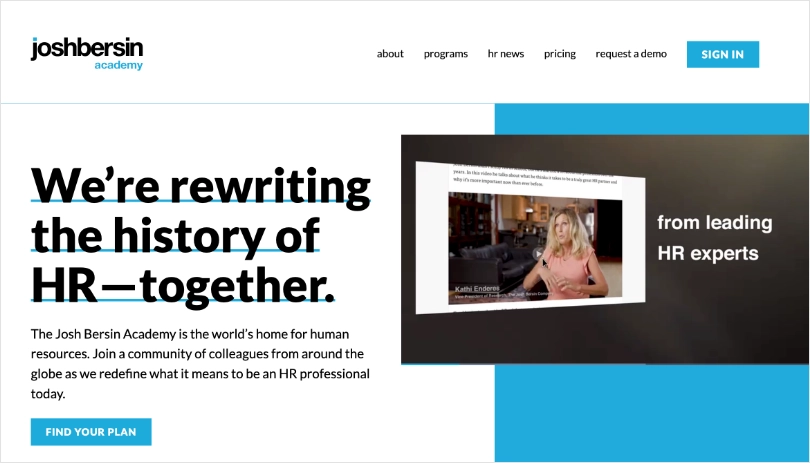 Founded by renowned HR thought leader Josh Bersin, the Josh Bersin Academy is an online learning platform that provides some of the best HR training courses online and resources.
The academy focuses on the latest trends, research, and best practices in talent management, leadership development, employee experience, and digital HR. Learners can access curated content, interactive modules, case studies, and expert insights from industry practitioners.
With its reputation for thought leadership and a strong emphasis on continuous learning, the Josh Bersin Academy is a valuable resource for HR professionals seeking to stay ahead in the ever-evolving field of HR.
Why We Picked Josh Bersin Academy?
A global HR academy
Provides actionable insights
It has trained more than 50,000+ HR leaders worldwide so far
Self-paced learning
Pricing
Starts from $280/member/year
So, those were the best HR training courses that you can consider. You can go for one particular course provider or choose multiple providers based on the kind of training you want to provide. If you still want to know more, check the frequently asked questions section.
Frequently Asked Questions
What is HR training?
HR training is a training program for HR professionals designed to impart essential industry knowledge and skills. Whether it relates to making job offers, recruitment, new hire onboarding, or workforce management, such training programs keep HR executives on top of their game. The training educates HR personnel on various topics, and it's driven toward increasing their efficiency, competency, and productivity.
What are the types of HR training?
HR training consists of a wide range of topics and programs to address specific needs. However, the common types of HR training include compliance training, leadership development, performance management training, organizational development, talent acquisition and recruitment training, employee relations, strategic HR leadership, HR analytics, and conflict resolution training.
What are the main benefits of HR training?
Like employees in other departments, HR teams gain a lot from regular training. Some of the benefits HR training programs bring to these professionals and their companies are improvement in core HR skills, development of effective company policies & programs, recruitment of better employees, the ability to become strategic business partners, better compliance with corporate laws, and improved company culture.
What topics are covered in HR training courses?
Though the choice of topics depends on the type of training you want to provide, some common types include employee onboarding, recruitment and selection, employee engagement, safety and compliance, performance management, and employee relations, to name a few.
Is it worth getting an HR certification course?
Yes, getting an HR certification is immensely beneficial for several reasons. Besides enhancing the knowledge of HR principles and laws, it offers networking opportunities, access to resources, and ongoing professional development.
Certified courses and training programs can lead to career advancement and higher earning potential. However, the worth of an HR certification course depends on your career goals, current skills, and the specific certification program you choose.
How long do HR training courses typically last?
There's no specified time as such for HR training courses. The duration will depend on several factors, such as the depth of the content, the expertise level, and the delivery mode. While some HR training courses can be completed in a few days, others may span several weeks or months.
How much do HR training courses cost?
The cost of HR training courses can vary widely depending on various factors such as the level of the course (beginner, intermediate, advanced), the course duration, the location, the instructor, and the mode of delivery (online or in-person).
In addition, prices may vary across different countries and regions. Generally speaking, basic HR training courses may range from $200 to $500. Intermediate-level courses can cost between $500 and $1,500. Advanced-level courses may range from $1,500 to $5,000 or more.
Pick the Right HR Training Course for Your Employees
Choosing the best HR training courses is an investment that drives skill development and organizational success.
With the right topics, you can empower your HR team with the knowledge and skills needed to understand the complexities of talent development, conflict resolution, handling recruitment, and scores of other industry topics. Make sure the courses you choose are relevant, accessible, and authoritative.
ProProfs HR training courses are such courses that you can keep coming back to for your continuing education needs. They are designed to ensure that HR professionals stay abreast of HR laws and trends.
ProProfs doesn't just offer online HR training courses; it also gives clients a cloud LMS. You can use the tool to administer the courses and extract insightful reports & analytics.
So, what are you waiting for?
Equip your team with the tools and guidance they need and watch as they conquer challenges, boost productivity, and elevate your organization to unprecedented heights!
Do you want a free Training Software?
We have the #1 Online Training Software for employee training & assessment