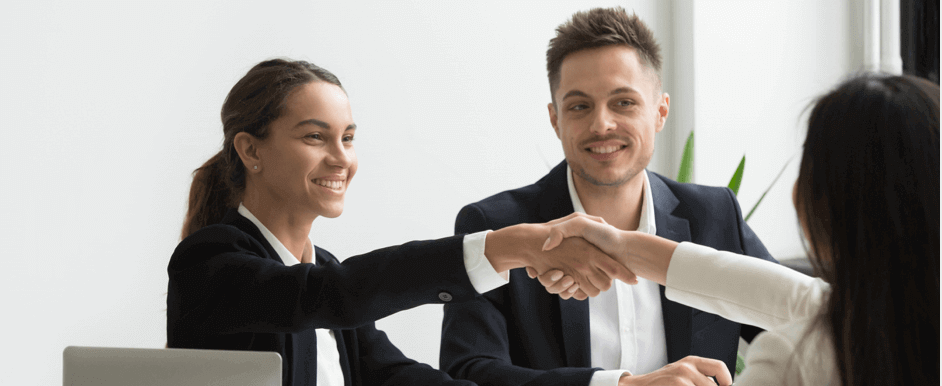 Wondering what makes great human resources training and how to select the right online HR course? The course should be professionally designed, up-to-date, and relevant. It should support various learning formats such as audio, videos, podcasts, and presentations so that it caters to different learning styles. Make sure the training is interactive and includes social learning and quizzes. Self-pacing is another feature to consider as it makes scheduling easy.
Human resources is a critical department in any organization. Present-day human resource teams are loaded with responsibilities. They perform various strategic functions ranging from employee management to sustaining and reinforcing company culture. They are always central to any major decision a company makes.
Considering the importance of HR, you'd find it essential to invest in their training and development. This will ensure continuous learning, which boosts their knowledge and skills and translates into better performance.
For a standard HR training, you'd inevitably need a quality online course. To make the search easier for you, here's a list of the 10 best HR training courses for 2022 and beyond.
10 Best HR Training Courses
Why Is It Best?
ProProfs HR Training Courses

Professionally designed
Easily customizable
Virtual classroom
Engaging quizzes & surveys
Online Q&A; community
Reporting & analytics

HR Training Center

HR certification courses
25+ years of experience
Webinars & seminars
Continuing education courses
Suits both small businesses & corporations

HR Certification Institute

45+ years of experience
World-class learning experience
Customized group package
Fully accredited credentials
Network of HR professionals

Pryor Learning Solutions

40+ years of experience
Training for individuals & teams
Complementary cloud learning platform
24/7 access to courses
Options for blended learning

Alison

Free online courses
Courses on modern HR practices
Certificate, diploma, & learning paths
High-quality materials
Equal access to education

Findcourses.com

Find & compare online courses
4,000+ suppliers
On-demand courses
Virtual classroom
Cost-free search engine

Zoe Talent Solutions

Live online courses
Downloadable online training calendar
Training modules
Proof of learning
Discounts on upcoming confirmed courses

AiHR

Fully online & self-paced
Comprehensive programs
Real-world projects
Personal coach
Recognized by SHRM

Business Training Works

Short courses & partner programs
Certificate courses
Custom solutions
Solutions for individuals & groups
Expert advice

SHRM

Customized programs
eLearning courses
On-demand conference sessions
Partnership with experts
Recertification
Let's now go back and take a detailed look at each of these course providers to understand why they should make it to your shortlist.
10 Best HR Training Courses to Use in 2022
1.

ProProfs HR Training Courses
ProProfs offers ready-to-use HR training courses on a range of in-demand topics. This is in addition to a large collection of beautifully designed templates. The courses are designed by industry experts to meet the ongoing learning & development needs of the modern HR professionals.
You can customize these courses to make them a perfect fit for your business training. You can even personalize the courses to reflect your brand identity.
The courses are comprehensive and skill-based, helping your HR team excel in their trade. Learners can self-pace the courses and access them anytime, anywhere. Engaging quizzes and videos are other features in the courses.
Some of the courses are:
Along with the courses, ProProfs offers a robust cloud LMS to help you easily administer HR training.
Features:
✓ Ready-to-Use
Reduce training time and costs with online HR courses that are ready for deployment. Take advantage of the expertise of resource persons who developed and reviewed the courses. These courses contain up-to-date and accurate information.
✓ Virtual Classroom
Take charge of online HR training with a centralized and secure
virtual classroom
. Let learners enjoy 24/4 access to their coursework and leverage the flexibility of schedules. Provide immediate feedback to course participants as soon as they finish a course.
✓ Interactive Quizzes
Evaluate course understanding and progress with
eLearning quizzes
. These quizzes also help keep learners engaged and motivated till the end. Ensure better retention and maximize outcome.
✓ Reports & AnalyticsInsightful reports and stats on individuals and groups make learning measurable and aid your decision-making. Extract data on start and finish time, total time taken, percentage completed, and total scores.
Why Choose ProProfs?
Trusted by MillionsProProfs is used by 4+ million people to change the status quo of employee training and achieve a more streamlined and optimized learning system.
Easy to UseProProfs LMS is the world's easiest employee training software. It is designed keeping in mind users of skill levels. Fully hosted in the cloud; no software download & installation.
Custom TrainingAddress the specific needs of your business and audience with customized training programs. Add company HR policies, videos, quizzes, and surveys. Cater to different learning styles and achieve greater ROI.
Anytime, Anywhere LearningThe courses are totally web-based, so you can train anyone, anytime, anywhere, using any compatible device.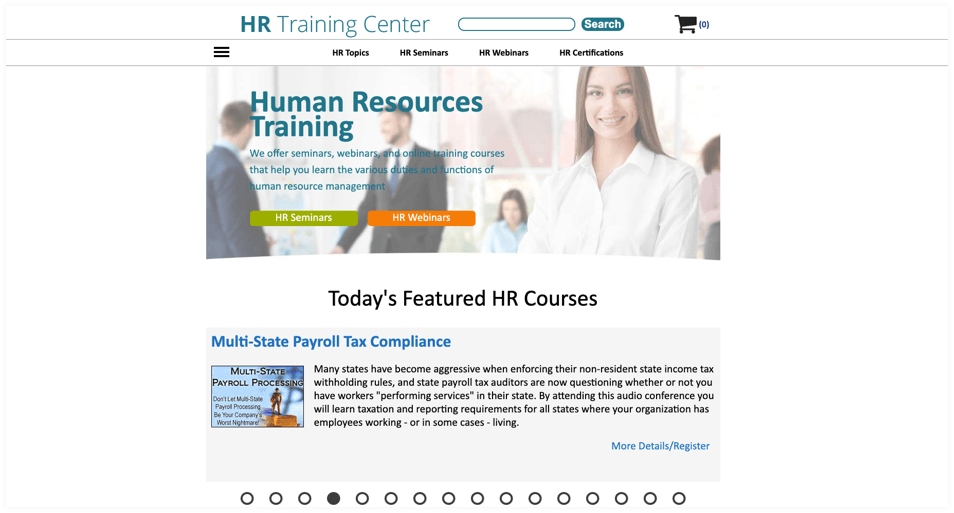 HR Training Center has been in the business of human resources training and development since 1994. Therefore, it knows a thing or two about it. Its professional training courses are designed to increase employees' knowledge and skill level and help them do better at their jobs.
In addition to courses, it offers a number of webinars in live, on-demand, and CD formats. HR Training Center's HR certificate and recertification programs provide HR personnel with opportunities to advance their career.
Features:
✓ RecertificationHR Training Center is an approved provider of recertification credits for top organizations such as SHRM and HRCI.
✓ Consulting ServicesA network of over 100 HR attorneys and subject-matter experts are always available to provide consulting services for all your HR training needs.
✓ WebinarsLet your learners attend online training sessions in the form of interactive webinars. These webinars, lasting 60 to 90 minutes, focus on specific topics of discussion.
✓ Certification ProgramAs an HR generalist or manager, you can acquire essential skills to grow in your career. Increase job mobility and enhance the value you bring to an organization.
Pricing:
Varies from course to course.
Why Choose HR Training Center?
Experience

HR Training Center brings more than 25 years of HR training experience to the table. It offers numerous topics sought by those working in the industry.

Training Resources

In addition to online HR training courses, HR Training Center offers seminars and webinars. The seminars are available in both in-person and video conferencing, while the webinars come in the form of live and on-demand formats.

Training for All

The provider has training programs for everyone – from seasoned HR professionals to beginners.
3.

HR Certification Institute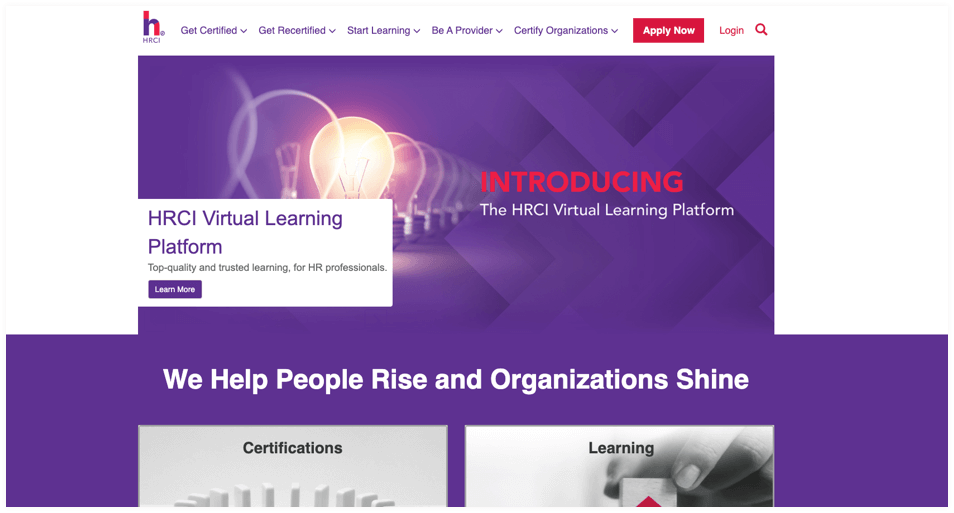 HRCI provides learning and credentialing solutions for human resources. With over four and half decades of experience, the company helps professionals stay relevant in the modern business world by updating their skills.
HRCI offers online human resource training courses, podcasts, news flashes, webinars, and microlearning programs called upSkill, plus accredited certifications. Experts curate the HR courses to meet the professional demands of the real world.
Features:
✓ Multiple FormatsNo two learners learn exactly the same way. That's why HRCI emphasizes differentiated learning. This is reflected in the different eLearning formats it offers to learners.
✓ RecertificationThrough recertification, HR professionals can maintain their continuing competency. This ongoing education program paves the way for HR to become credentialed professionals.
✓ Learning PlatformHRCI supports an intuitive virtual learning platform. Here you'll find a huge course catalog, including courses, podcasts, and YouTube videos. These resources are available 24/7.
✓ Group CertificationPurchase group certification packages for five or more HR professionals at a discounted price. Build a high-powered team of HR certified professionals.
Pricing:
Varies from course to course.
Why Choose HR Certification Institute?
45+ Years of ExperienceHRCI has been operating for over 45 long years in advancing the HR profession through its accredited certification programs. It is, thus, one of the oldest authorities in the field.
CommitmentThe organization is committed to serving the HR community at the global level by delivering exceptional services.
Quality ContentIts eLearning content, including courses, are relevant and regularly updated. They are designed to meet the requirements of professional HR in the modern workplace.
Extensive Course CatalogThe HRCI course catalog consists of 230+ courses with topics ranging from building an inclusive workplace to compliance and corporate social responsibility.
4.

Pryor Learning Solutions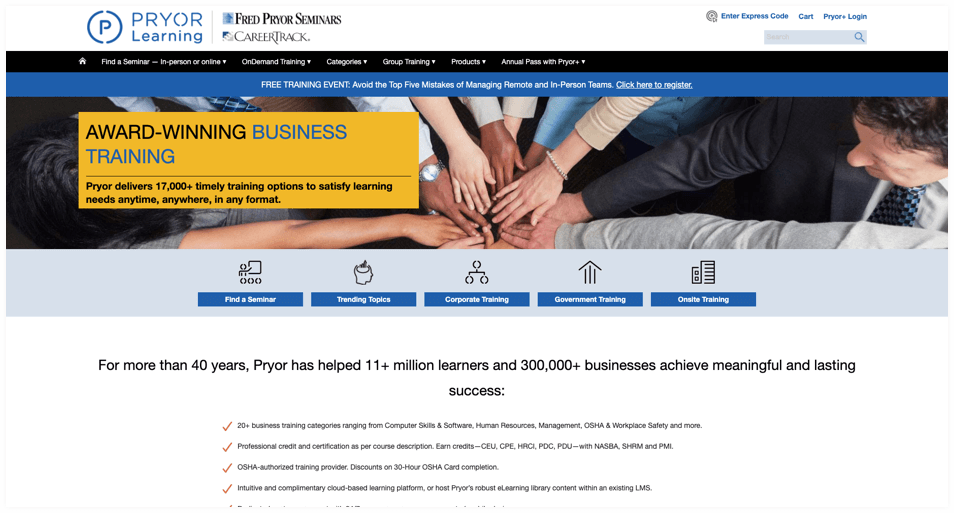 An industry leader in business training, Pryor Learning Solutions delivers award-winning training programs for human resources, from entry-level to senior executives. The training formats include online courses, onsite seminars, and webinars.
Curated and accredited content, group training, on-demand training, and annual individual & enterprise pass are some of the offerings you can expect from Pryor.
Features:
✓ Selection of ResourcesPryor offers 300+ resources for seamless learning and training. They include CDs, DVDs, books, webinars, and digital downloads.
✓ HRCI CertificationPryor is approved by HRCI, a premier credentialing organization, to offer courses for recertification credit hours toward PHR, SPHR, and GPHR.
✓ Annual PassAvail unlimited access to thousands of online courses, microlearning materials, and online seminars for one year at one competitive price.
✓ Digital DownloadsThese downloadable resources make learning far more convenient. You can download them and learn at your own time, place, and pace.
Pricing:
Varies from course to course.
Why Choose Pryor Learning Solutions?
Excellent Track RecordSince 1970, Pryor's comprehensive and convenient training programs have helped over 11 million people achieve their career goals.
Access to 5,000+ CoursesGet access to over 5,000 online courses. Not only this, you get the added benefit of new content at no extra charge.
Advanced AdministrationPryor supports advanced administrative features such as assignable training, real-time tracking, and single-click report generation.
Dedicated SupportPryor provides dedicated client support to all corporate and government accounts in the form of customized curriculum mapping, weekly progress reports, and other services.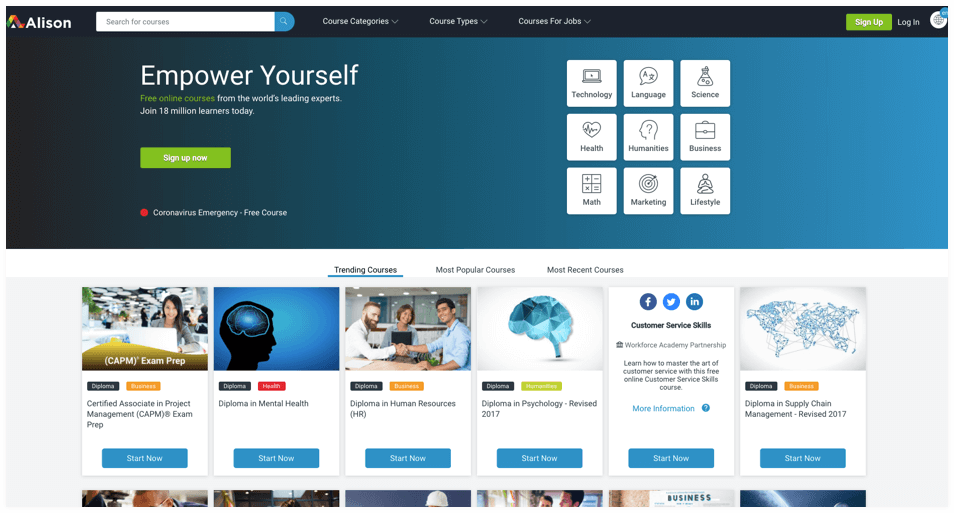 Alison is one of the world's largest free eLearning platforms and makes it possible for anyone to study any subject anytime and anywhere. Its courses are divided into three different categories – Certificate Courses, Diploma Courses, and Learning Paths.
The HR training courses focus on key responsibilities as well as the management practices of human resources. All you need to do to get access to these courses is register, find the right course, get enrolled, and earn a certificate.
Features:
✓ Certificate ProgramsThe online HR certification courses are designed for people of all skill levels. These courses make it easy for learners to master a subject by focusing on a single area of study. They can be completed in less than three hours.
✓ Diploma CoursesEach free diploma course is of 8-10 hours' duration and provides comprehensive and clear-cut training on various topics. They can boost your career prospects with essential industry knowledge and skills.
✓ Learning PathsLearners can progress through these carefully selected courses following a well-designed structure. Generally, the courses are arranged from the basic to the advanced level of study. Each learning path takes 18-20 hours to complete.
✓ Career GuideDiscover the right career through the right courses designed for you to succeed in your chosen field. Choose your industry, career paths, and select the occupations as well as the courses that can help you in those occupations.
Pricing:
Most courses are free of charge, while the premium starts at $9.72/month.
Why Choose Alison?
It's FreeIt is one of the world's largest providers of free online courses by industry-leading experts. This makes training and education accessible to millions of people around the world.
Led by InnovationAlison doesn't believe in settling for the status quo in online learning. It always strives to introduce new ways to empower learners.
PhilanthropyAlison engages in various corporate social responsibility activities. For example, it helps formerly incarcerated persons re-enter their community and gain employment by providing them soft skills training.
Large Course CatalogAlison offers more than 2,000 free online diploma and certificate courses. The courses come in nine distinct categories.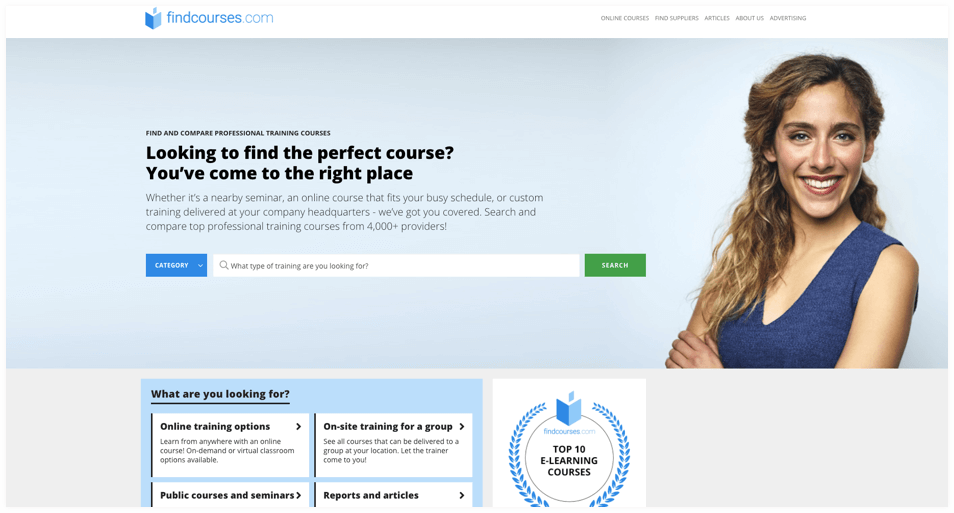 Like many of its competitors, Findcourses.com offers HR training courses in different formats. They are online, live classroom, onsite, self-paced online, and virtual classroom. The online training is subdivided into on-demand courses and live webinars.
As a free search engine, Findcourses.com lets you find and compare quality courses from over 4,000 different suppliers. Learn anytime, anywhere, earn certificates, and become qualified HR professionals.
Features:
✓ Free ConsultancyNot sure whether you're comparing the right courses? Leverage the free consultancy service from Findcourses.com to compare training courses that your learners really need.
✓ WebinarsAttend webinar training from wherever you are. Findcourses.com offers both live and pre-recorded webinars on different topics. You can filter the search by category, date, and price to land the best training.
✓ Live ClassroomGet a feel of a traditional classroom with live classrooms hosted by experienced instructors. Engage in brainstorming sessions with your peers.
✓ Onsite TrainingGet HR training delivered to your doorstep. Make the most of learning opportunities by working in-person and closely with experts.
Pricing:
Varies from course to course.
Why Choose Findcourses.com?
Ease of SearchFinding the right courses for your learning & development needs is easy with Findcourses.com. You can filter your search by category/topic, location, or delivery method.
Valuable ResourcesFindcourses.com provides a number of helpful resources, including learning & development articles, reports, news, and career guides. They can help you stay up-to-date with your industry.
Marketing SolutionsList your courses on Findcourses.com and get higher enrollment rates. Increase traffic and leads by working closely with Findcourses.com team throughout a marketing campaign.
Presence in Multiple LocationsApart from Europe, Findcourses.com offers training solutions in several U.S. states, including New York, San Francisco, Chicago, and Seattle.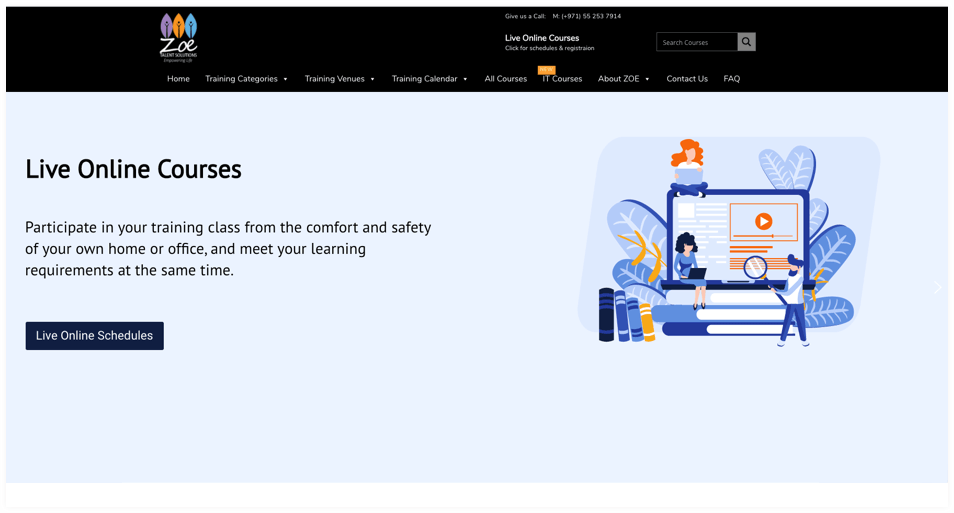 Zoe Talent Solutions offers highly customized online courses and training sessions for various disciplines. This includes hundreds of courses on human resource management. Its eLearning modules are up-to-date and relevant. It employs the multisensory learning method to ensure better experience and retention.
Zoe Talent Solutions is in partnership with many government and non-government organizations that issue certifications from recognized bodies such as Microsoft, Prism Brain Mapping, and ILM.
Features:
✓ Needs AssessmentZoe Talent Solutions puts emphasis on providing need-based solutions to its clients. It follows a needs assessment process-based research & analysis in order to provide tailored solutions.
✓ Training VenuesZoe Talent Solutions has training venues spread over five continents. To register in a training session in any of these venues, you just need to check the course, date, and fee.
✓ Attractive OffersYou can now avail 60% off on all upcoming confirmed live online courses. You can participate in these courses right from your home or office.
✓ Free SeatsRegister three persons to the same courses and dates and pay only for one. This offer provides companies the chance to get more for less.
Pricing:
Varies from course to course.
Why Choose Zoe Talent Solutions?
Team of ProfessionalsThe firm is made up of a team of dynamic professionals from different backgrounds. They come with years of professional training experience and possess great facilitation skills.
Trusted by Leading BrandsZoe Talent Solutions clients include DHL, Red Sea Gateway Terminal, Saudi Railways Organization, and Kenya Power.
Large Training CategoriesApart from human resource management, Zoe Talent Solutions offers 35 different categories of professional training solutions.
In-Depth Understanding of Customers' NeedsZoe Talent Solutions understands each of its clients in-depth and takes a needs-based approach to provide training solutions to them. This understanding and a commitment to innovative solutions make it one of the world's leading training providers.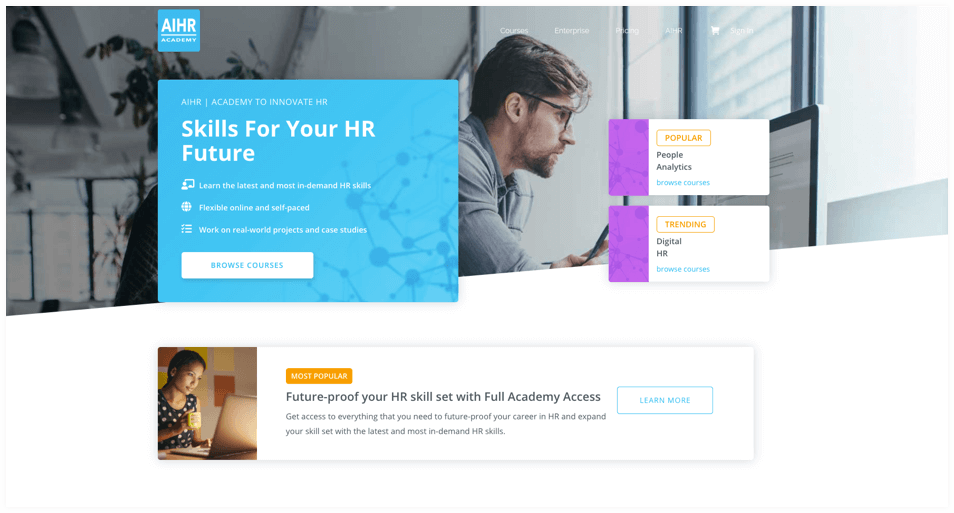 HR training courses by AiHR are one of the most comprehensive. Its HR management training courses are based on in-demand and relevant HR skills and are designed to help HR professionals advance their careers, no matter where they are. It supplies training to 175+ Fortune Global 500 companies. Through its world-class online educational programs, AiHR aims to future-proof the HR profession.
Features:
✓ Enterprise SolutionsThese solutions are designed for maximum business impact. They let you use HR as a key driver and strategic partner for business outcomes.
✓ Competency FrameworkThis free HR Capabilities Framework is designed to help you equip your HR professionals with modern skills that translate into business-centered and data-driven HR practices.
✓ Team LicenseEnroll your HR team in the AiHR team license, which is fit for large teams of learners. The license includes self-paced online learning, case studies, real-world projects, SHRM & HRCI certificates, and more.
✓ Digital HRJoin this online platform, a community made up of over 1,000,000 like-minded HR professionals. Get regular updates on HR news, articles, and trends.
Pricing:
Certificate program starts @ $642.49.
Why Choose AiHR?
World-Class EducationAiHR has made it its mission to make the HR profession future-proof. To make this possible, it offers world-class online training and education programs.
Collaboration with ExpertsAiHR collaborates with leading HR specialists and accreditation partners in its goal to ensure that all of its training programs are practical in nature.
Flexibility in LearningThe training programs at AiHR support anytime and anywhere learning through the self-paced method. With this, you can hand over control to your learners as to how much they learn, when, and where.
Personal CoachThe full academy license comes with a personal coach who serves as your point of contact in case you need any assistance in learning.
9.

Business Training Works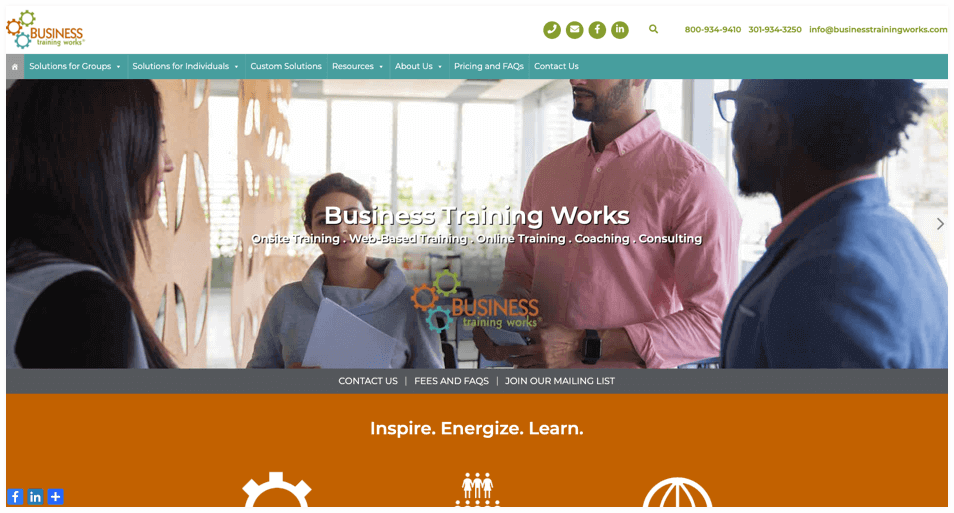 Business Training Works is characterized by a large catalog of HR training and development courses, which includes several HR training courses for employees. The training courses come in two formats – full-day and half-day courses.
A network of qualified trainers and workshop leaders are at the helm of these training programs. The training methods of Business Training Works are interactive, hands-on and tailored to meet your specific business goals.
Features:
✓ Custom SolutionsBusiness Training Works offers customized solutions for clients in situations where its existing solutions don't provide direct answers.
✓ Executive CoachingThese one-on-one coaching sessions are preceded by a thorough assessment of skill development needs and mapping out a training plan. Both weekly and monthly sessions are available.
✓ Leadership Development ProgramIt is a six-month-long training program that discusses a wide range of leadership topics. The course is designed for 12 to 24 participants. You can avail one-on-one coaching and leadership assessment at an additional fee.
✓ Corporate College SolutionsCorporate College Solutions is a talent development program for organizations with no talent development and management systems in place. Needs assessment, custom solutions, and electronic certification are some of the key features of this program.
Pricing:
Varies from course to course.
Why Choose Business Training Works?
100+ Training ProgramsAs a leading professional development provider, Business Training Works offer more than 100 soft skills training programs on numerous topics.
Fresh MaterialsBusiness Training Works doesn't believe in content recycling. It invests in creating new content each week to adapt to ever-changing market trends.
Seasoned FacilitatorsThe provider's training facilitators are made up of industry veterans with years of domain expertise.
TransparencyBusiness Training Works lets people learn about its business without having to disclose their personal information. Site visitors can access its courses, workshop summaries, and pricing without the need to sign up.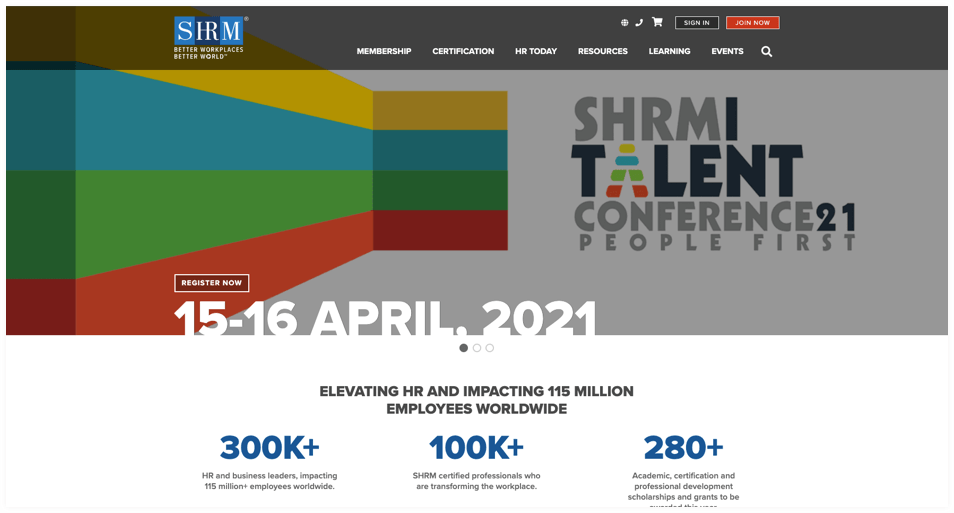 SHRM is a thought leader and expert in matters related to workers and workplaces. It offers one of the best online human resources certificate programs. Its competency-based HR educational programs equip HR professionals for the 21st-century workplace.
The delivery methods it employs include instructor-led, onsite, and virtual. SHRM-Certified Professional (SHRM-CP) and SHRM-Senior Certified Professional (SHRM-SCP) are the two of the certification programs for HR professionals that SHRM offers.
Features:
✓ Business SolutionsSHRM partners with industry leaders and offers business solutions aimed at increasing the efficiency, agility, and productivity of companies. These solutions include courses, tools, and platforms.
✓ Resource CentersThe association has made available several resources for member HR professionals, executives, people managers, and other positions. These resources offer articles, guides, videos, presentations, toolkits, and Q&As.
✓ eLearningThe SHRM eLearning program consists of self-paced and interactive courses. These courses are based on the SHRM Competency Model and are customizable to suit specific learning experiences.
✓ White Paper LibrarySHRM offers a huge library of white papers on critical and complex HR topics. These white papers contain insights ranging from financial wellness and compliance culture to global expansion and legal responsibilities during COVID-19.
Pricing:
Standard exam fee is $375.
Why Choose SHRM?
AccreditationThe SHRM-CP and SHRM-SCP exams use the highest standards for testing and are accredited by the Buros Center for Testing.
RelevanceMore than 70% of examinees say the SHRM-CP SHRM-SCP exams are relevant to the HR jobs they are searching for and reflect the present job scenarios.
CredibilityThe SHRM credentials are backed by business leaders and a global community of employers.
UniversalThe SHRM certification is applicable across industries, job responsibilities, and geographies.
Find the Best HR Training Courses On the Market
Laying your hands on a course that is a perfect fit for your HR teams is easy if you know what you need and what to look for. The course should be relevant, accessible, and authoritative.
ProProfs HR training courses are such courses that you can keep coming back to for your continuing education needs. They are designed to ensure that HR professionals stay abreast of the HR laws and trends.
ProProfs doesn't just offer online HR training courses; it also gives clients a cloud LMS. You can use the tool to administer the courses and extract insightful reports & analytics.
Do you want a free Training Software?
We have the #1 Online Training Software for employee training & assessment