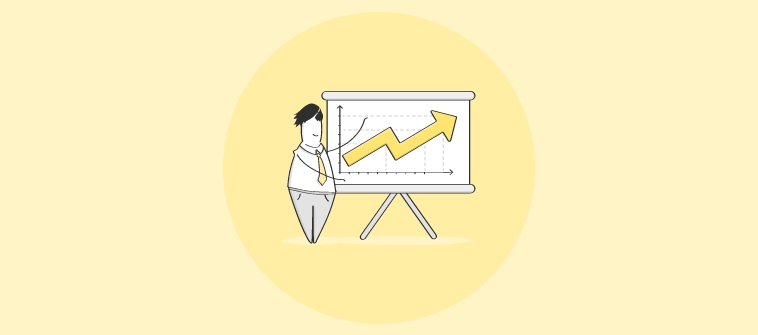 There can be a world of difference between two organizations conducting workforce training. In most cases, the employee training management and tracking software they use makes the real difference.
By systematically managing and tracking online employee training, you can ensure that it proceeds as planned and achieve your learning & development goals. In other words, you can see to it that participants are learning as they should and identify areas of improvement.
If you're yet to adopt one of the software applications, there are many on the market that can help you develop, share, manage, and track training programs.
To make the search easier for you, here's our list of the top picks below. Keep reading to find out.
A Quick Comparison Table of the Best Training Management and Tracking Software
15 Best Training Management and Tracking Software
Why Is It Best?
Pricing
ProProfs Training Maker

Easy to use
Virtual classroom
100+ settings
Admin roles & permissions
Reminders & announcements
Real-time reports

Forever free for up to 10 learners.Paid plan starts at $1.97/active learner/month for large teams. Billed annually.
Trainual

Business playbook
Company policy templates
Software integrations
Certified consultants
Activity feed
Attendance tracking

Starts at $49/month
TalentLMS

User-friendly
Files repository
Communication tools
Mass actions
SSO
Reporting

Starts at $0/month. Up to 5 users.
LearnUpon

User-first tool
Automated workflows
Customer success manager
User management
Software integrations
Out-of-the-box reports

Starts at $1,249/month for 150 active users.
Moodle

Open-source
Multi-tenancy architecture
Task automation
Easy integrations
Security & privacy
Custom reports

Starts at $110/year
Docebo

Ease of use
Learning analytics
Training impact analysis
Employment development & retention
Group management
Modern learning suite

Available on request.
SAP Litmos

Rapid implementation
Easy to use
Task automation
Video assessment
Tracking & feedback
Robust reporting

Available on request.
Tovuti LMS

Next-gen LMS
Admin dashboard
Notifications & reminders
Course management
User permission
Tracking & reporting

Starts at $700/month for 0-50 users.
SkyPrep

Designed for modern workforce
User-friendly
User management
Deadline reminders
Tracking & reporting
Advanced analytics

Available on contact.
PowerDMS

Fits into existing systems
Centralized tracking
Documenting field training
Dashboard reports
Notifications
Policy management

Available on contact.
Arlo

End-to-end solution
Course management
Event management
Webinars
Online registration
Reporting & business intelligence

Starts at $89 per license per month
Raven360

Faster employee onboarding
Ease of content update
Custom learning paths
Fully mobile
Software integrations
Strong security

Not provided by vendor
EdApp

Mobile LMS
Course library
Authoring tool
PowerPoint conversion
Spaced repetition
User-frienly quiz maker

Starts at $0 for unlimited users
GoToTraining

Virtual training
Unified phones, meetings, & chat
Remote support
Registration management
Drawing tools
Reporting & analytics

Starts at $109/month
Absorb LMS

Smart administration
Observation checklist
Learner engagement
Mobile app
Content libraries
Reporting & analytics

Available on request
What is Training Management and Tracking Software?
A training management and tracking system is a software application designed to help users organize training planning, creation, delivery, and tracking. Using these solutions, you can streamline each stage of employee training for simplicity, speed, and control.
Such software solutions are better known by the name learning management system or LMS.
Benefits of Employee Training Management and Tracking Software
Employee training management software with tracking features performs two main functions – learner management and monitoring their activities. When you combine the two in one system, it creates a positive impact on training administration and learning outcomes.
Time & Cost-Saving
Training management tools save a significant amount of training time and cost.
Imagine this situation. In the absence of such tools, you'd be sending email notifications to participants for upcoming training, using spreadsheets to maintain their data, and manually evaluating their assessments. This will take up the lion's share of your time.
Compare it with this. With a training management system, you can bypass all this and leave them to the tool to handle. These automate many of the repetitive admin tasks. You can schedule trigger emails (notifications and reminders) based on learners' activities.
Similarly, tests are auto-graded and reports are auto-generated.
Ready Training Resources
Some of the best learning management systems on the market today provide ready-to-use courses and templates on different training topics. While you can create your own courses from scratch or import existing content, you can leverage these readymade resources if you want to get a program up and running quickly.
These courses and training templates are generally developed by industry experts and fully customizable. They enable you to shift the focus from creating training materials to managing learning engagement, progress, and outcomes.
Employee Engagement
Most of the popular training management and tracking software tools support multimedia files. You can usually use images, videos, infographics, and graphics. Along with this, you can embed interactive tools such as quizzes and surveys.
Instead of following a cookie-cutter approach, this allows you to mold your training so that it caters to all learning styles and enables participants to learn in the best possible way. This way, you can keep them motivated, which is vital for retention.
Ongoing Learning & Compliance
Regardless of the industry, every company requires ongoing learning & development to ensure compliance with rules and regulations. Managing and tracking such compliance training becomes easy with a training management system.
Once a course or test is assigned, you can track who has finished it and who is yet to. Additionally, you can set reminders for the course due date and certification expiry. This helps you ensure that you meet compliance training requirements on time and remove possible legal liabilities.
Consistency in Training
When you use the same system to deliver the same training, it becomes easy to achieve consistency, even when it involves different audiences. This is because all activities from start to finish follow a standardized pattern.
Every training participant has access to the same content and get the same amount of time to complete them, regardless of their location and shift. This ensure consistent eLearning experiences.
On the admin side, you can use the same evaluation method to measure knowledge gaps and retention.
Who Uses Training Management Systems?
The customers of a training management system are found in all industries and sectors. Some of the top ones are:
Training companies
Enterprises of all sizes
Training administrators
Instructors
Professional groups
Colleges & universities
Teachers
Online tutors
Top 15 Employee Training Management and Tracking Software
Let's now zoom in and look at the software applications listed above in detail so that you can form a better idea about them.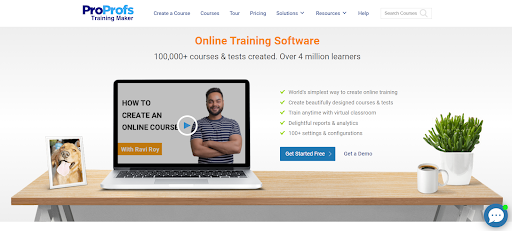 ProProfs Training Maker is by far the easiest training management system. Apart from allowing you to create and assign courses and quizzes with learners, the LMS lets you capture data on learning progress and completion in real-time with a built-in training tracking software.
You can also simplify learner management by creating groups and sub-groups. To ensure ease of administration, you can assign different roles and permissions to group admins and instructors.
With ProProfs, you can upload the details of multiple users to your classroom in bulk. Upload an employee roster or an entire class from an Excel sheet or Gmail. Enabling the self-enrolment of learners is easy with group join codes.
The ProProfs LMS supports Single Sign-On (SSO) to authenticate learners while they log in to a classroom so they don't have to remember multiple credentials.
Features
Course Library
Access a well-stocked library of 100+ professionally designed, customizable, and ready-to-use courses and templates.
Simplify how you manage learners and assignments by setting up centralized and secure online classrooms. Add learner groups, assign courses & tests, make announcements, view reports, and more.
Quizzes & Surveys
Keep your learners engaged and motivated by sharing beautifully designed online quizzes and surveys for assessment and feedback.
Roles & Permissions
Assign roles and give permissions to admins and instructors so that they have access to learners, courses, and user settings.
Course Announcements
Send out announcements to all learners or a select group enrolled in a course and ensure compliance. The announcements are shown in the classroom stream as a notification to learners.
Reports
Get advanced reports on courses pending, courses taken, and grade books. View the total time taken by each learn or group on a course. Identify knowledge gaps, engagement level, and satisfaction ratings.
Pros
+ It's easy to use
+ Ready training resources to get started
+ Excellent support
Pricing
Forever free plan (up to 10 learners). Paid plan starts at $1.97/learner/month (billed annually) for large teams. No hidden charges. 15-day money-back guarantee.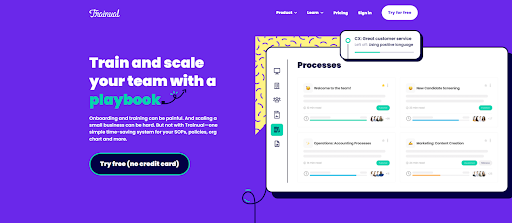 A top-rated platform for training and knowledge management, Trainual lets you manage company knowledge, policies, and SOPs in a single organized system. With it, you can build your playbooks or manuals and update them anytime to keep everyone aligned with the latest way you do things.
Track who's reviewed your internal policies and who hasn't. Test to see whether your employees have actually understood what they need to know.
Employee onboarding and orientation become easy with Trainual. You can document your company policies and processes by using 250+ free templates and train your new hires. This results in faster onboarding, consistent training on processes, and increased accountability.
Features
Process Builder
Simplify employee training with a 3-step business process builder. Begin with a subject, give a name to your topics, and create the steps. After that, share the process with your audience.
Policies Minus Paperwork
Whether it is your work from home policy or diversity & inclusion training, create your own handbook or use a template. Share all your need-to-knows without paperwork.
People & Role Management
Get clarity on who does what in your business with people directory, profiles, and organization chart. Organize which key responsibilities go with which role, or see if you need new hires for responsibilities that do not fit in any current roles.
Company Profile
Clearly communicates your company profile – who you are, how you got there, what you do, your mission and vision, and who you serve. Use videos, GIFs, and recordings.
Pros
+ Simple, clean, & user-friendly
+ Best for staying organized with company policies
+ Regular updates
Pricing
Starts at $49/month for 5 seats.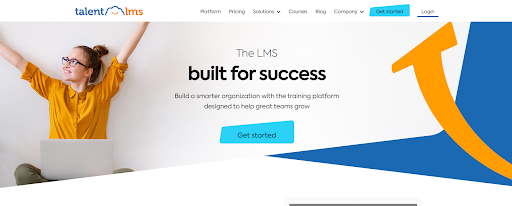 TalentLMS is the perfect fit to manage training for any team, department, or use case, whether it is onboarding, customer training, sales training, or partner training. An easy interface and easy access on any device make learning enjoyable from the first click, and it motivates learners to become willing participants.
You can not only build, customize, and deliver online courses, but also keep your learners on track with learning paths and completion rules. Manage user groups without a mess. Assign different roles and permissions to different users.
TalentLMS democratizes training by delivering a premium learning experience that is accessible, affordable, and enjoyable. So, training management is not a chore anymore but an opportunity for growth.
Features
Extensive Reporting
The employee training tracking software in the LMS provides you access to extensive reporting that shows every activity taking place in your account. Spot learning problems early on and make better Learning & Development (L&D) decisions.
Mass Actions
Make training administration a breeze with numerous mass actions available on the platform. Activate, deactivate, or delete courses in one go, and add or remove selected courses from a group.
Single Sign-On
Simplify user login with LDAP and SAML2. The LMS supports Active Directory, OneLogin, OpenID Connect, and Okta.
Extensible Profiles
Add custom fields for information to your user profiles or courses so that you collect rich details. Make user management more convenient than ever before.
Pros
+ High degree of usability
+ User experience
+ Robust API
Pricing
Starts at $0/month. Up to 5 users & 10 courses.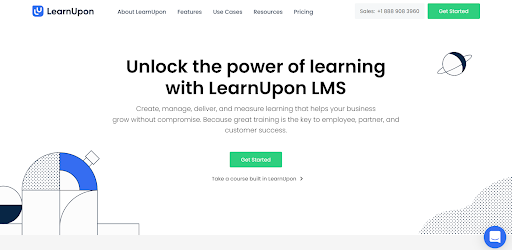 LearnUpon is customer-driven and one of the best training management software. It supports custom content specific to each learner group, and provides reports and analytics showing each learner's performance and skill gaps.
Task automation enables users to spend less time on routine administration and more time on building great eLearning experiences. With learning portals, you can easily configure your training programs to suit different target audiences and learning environments controlled in one place.
LearnUpon helps businesses worldwide unlock learning as their number one competitive advantage. Fortune 100 companies and SMBs deliver impactful training with the solution's user-focused LMS and industry-leading expertise.
Features
User Management
Manage users based on your team structures and organization's needs. Integrate LearnUpon with your CRM and HRIS so that you can add new users to the LMS.
Employee Development
Create a culture of learning that encourages employees to seek and apply new knowledge and skills. Grow your business by continuously expanding the frontiers of your employees' knowledge.
Reports
Track user progression, test results, survey responses, training histories and more with out-of-the-box reports. Access the data you need in the form you need it.
Portals
This feature lets you create and manage multiple training environments for different audiences in one centralized place. Customize each portal to make them unique.
Pros
+ Easy to get started
+ Automation of admin tasks
+ Great customer service
Pricing
Starts at $1,249/month for 150 active users. 2 portals.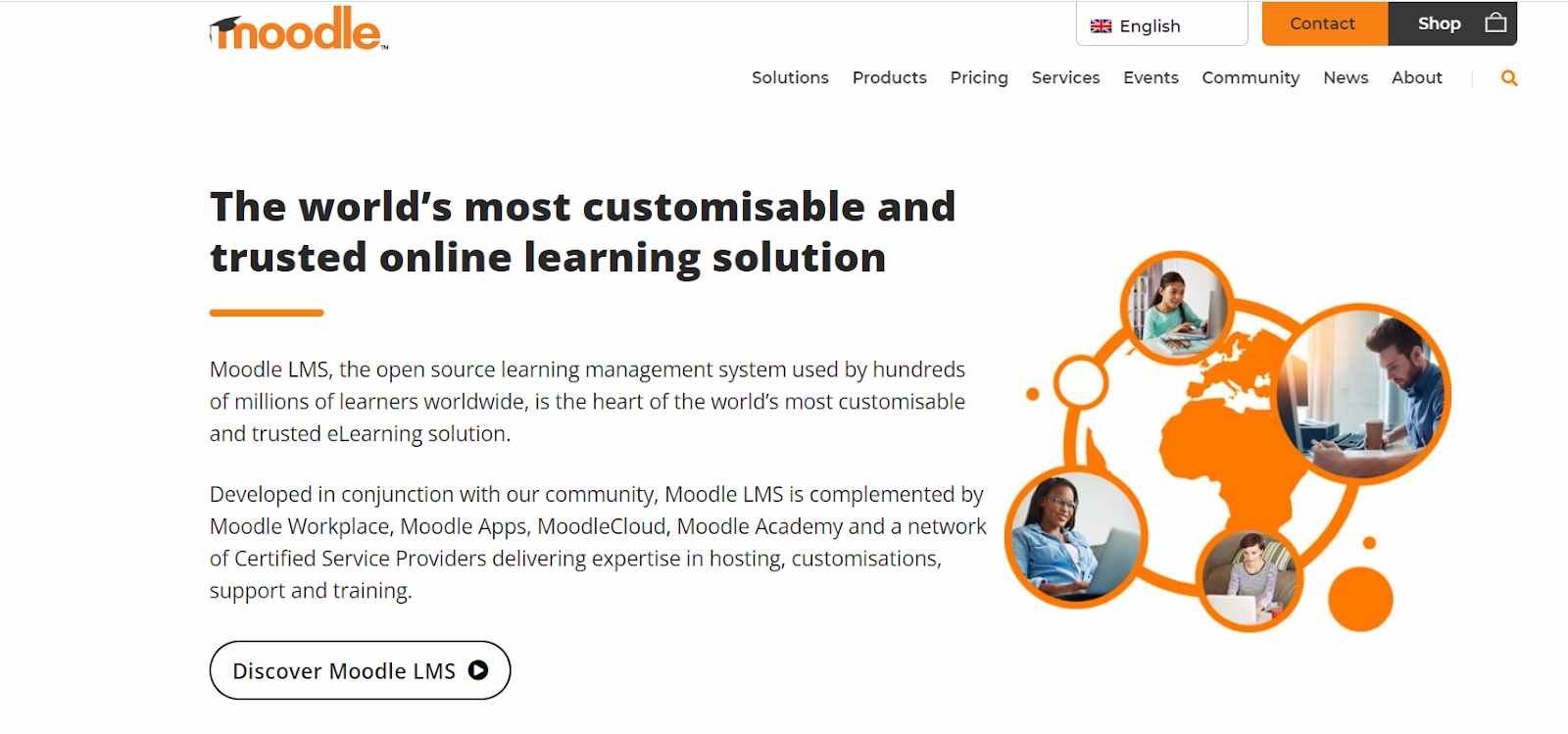 Moodle is an open-source and customizable LMS to create, manage, and track online learning. It is powered by a global community of learners, educators, administrators, and developers.
Its platform Moodle Workplace can help you cultivate a culture of learning and transform your workforce through upskilling. You can use it to streamline onboarding, automate common processes, and manage compliance requirements.
Track learners' progress on a dashboard and make improvements to eLearning programs.
A multi-tenancy architecture allows you to give a branded learning platform to different teams or departments with custom permissions. You can create your online learning site in minutes and get it hosted by Moodle HQ with the help of MoodleCloud.
Features
Open Source
From downloading the LMS to designing its look and feel, data ownership, setting up privacy and security, and adding extra functionality, you're in complete control. You own the site and decide what happens on it.
Learning Analytics
As a Moodle site administrator, you receive insights from the tool's learning analytics models. This helps you easily manage learners' progress and achievements, and evaluate the impact of learning.
Pedagogical Toolbox
Whether it is fully online or blended learning, you can build your own training platform to educate any number of learners the way you want. Moodle's pedagogical approach is guided by social constructivism.
Automation
Streamline your employee training management and tracking by automating repetitive tasks such as enrolments and certifications. Use automated messaging and push notifications to communicate with your learners.
Pros
+ Editable settings parameters
+ Updates & maintenance by community
+ Plugins
Pricing
Starts at $110/year for up to 50 users.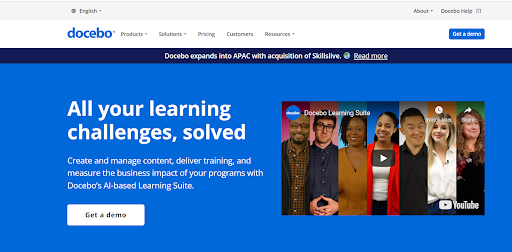 As a trusted learning partner and recognized industry leader, Docebo helps organizations adapt to change and thrive through learning. For this, it enables them to develop employee skills, continuously drive engagement, and measure the business impact of their learning & development initiatives.
In this sense, it provides the sweet spot for a successful enterprise learning lifecycle. No wonder the solution stacks up well against some of the marketing-leading LMSs.
The AI-powered and enterprise-grade LMS comes with a "sharp design, even sharper functionality, and the flexibility to scale for any team or use case." Along with this, you can analyze valuable data to understand the impact of your training on business KPIs.
Features
Audit Trail
The Audit Trails App, which is an advanced monitoring system, can help administrators keep track of actions performed within the LMS. This makes it easy for you to stay compliant with industry regulations.
Automation
This functionality enables super admins to set rules triggered automatically by the LMS when certain conditions are met. This automates common processes such as deactivating a user when they have been inactive for a specific number of days.
Learning Plan
Create learning plans for individuals or groups through a list of courses that learners must complete in a specific order. You can keep certain courses locked until a learner completes other courses.
Notifications
Automatically send notifications to your learners. Each notification is tied to an event that takes place on the platform, and each event is tied to a schedule and an audience.
Pros
+ Easy admin functions
+ The ability to customize the platform
+ User & course management
Pricing
Contact Docebo for price info.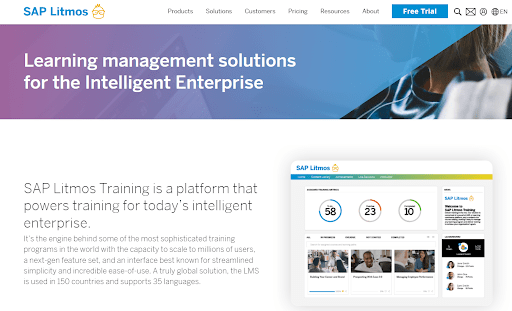 SAP Litmos provides online training management solutions for every segment of a business. The tool deploys quickly and integrates with 30+ out-of-the-box connectors. It is the recipient of over 50 industry awards and the software is used in 150 countries.
SAP Litmos empowers training departments, safety and compliance managers, and HR teams to author, globally distribute, collaborate, and track online training courses. It automates tedious tasks so that you can allocate your time and energy to aligning training with your organization's objectives.
The LMS provides all the essential employee training tools to position employees for optimal performance through leanring & development. Many top companies use the solution to centralize, manage, and deliver transformative training.
Features
Tracking & Reporting

Easily chart your learners' activities, progress, and performance. Gain insight into training impact with custom reports. You can also track course completions and measure the popularity of your content.
Off-the-Shelf Content
Find current and relevant course content off the shelf. They include courses on leadership and management, communication skills, compliance and many more.
Notifications
Get real-time notifications on your learners' activities. Drive higher course completion rates through effective communication. The LMS keeps you updated on your team members.
Video Assessments
Let your learners record and upload assessment videos. You can add a video assessment module to a course and learners will record a video based on the directions you listed.
Pros
+ Automation of complex processes
+ Pre-packaged integrations
+ Easy to use
Pricing

Available on contact.

Like many other training management systems, Tovuti LMS provides all the tools you need to create, deliver, and track eLearning programs effectively. It is an easy and powerful solution that you can use as an alternative to dinosaur tech.
A learner dashboard displays everything training participants need for their eLearning experience – courses, checklists, badges, certificates, etc. You can easily import SCORM files and use them to create web-based training courses and lessons.
Set rules for lesson completion through lesson gating. Milestones allow you to elevate your learners to a new user group after they complete a course and ensure they get materials that are relevant to their skill level.
The LMS works with SAML-based user authentication systems such as Active Directory, OneLogin, and Okta.
Features
User Management
Easily add learners to your LMS through self-registration, batch upload, and SSO. You can build unlimited user groups and create different permission levels for your admins. Let learners keep track of the training they have taken through auto-generated transcripts.
Course Management
Build, deliver, and track online courses easily and quickly. Reuse your content across different courses and lessons. Track all the ways learners interact with your course content.
Administration
Create as many admins and sub-admins as you like. Track learner progress, generate reports, and see your business performance on a KPI dashboard. Keep track of certifications, validity, and renewals.
Notifications
Schedule and send out emails to learner groups. You can automate reminders on course due dates and create pop-ups to share relevant news with your learners. Geofence your notifications based on the locations of your learners.
Pros
+ Out-of-the-box features
+ Control over content creation & curation
+ A complete platform
Pricing

Starts at $700/month for 0-50 users.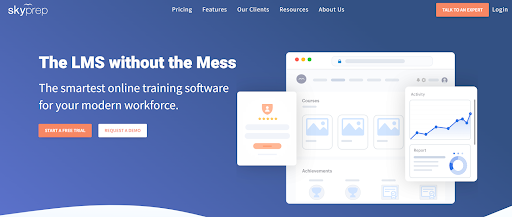 SkyPrep is one of the most intuitive online training platforms to meet enterprise learning needs and tackle learning challenges. Using it, you can automate training, deliver distance learning, and improve workforce productivity. It is an "LMS without the mess."
As a recognized industry leader, SkyPrep provides integrated solutions for corporate eLearning to help enterprises with their online training programs. You can deliver onboarding, customer training, compliance training, and employee development by using this LMS.
SkyPrep is easy to set up, easy to use, and it comes with a support team that provides consistent service.
Features
User Management
A simplified user management process enables you to do more in less time. Automatically send emails, create reports in a few clicks, and generate completion certificates as soon as a learner finishes a course.
Content Management
Create docs and assessments in minutes and upload any file type. Once you've uploaded a file to SkyPrep, you can use it as many times as you need without the need to constantly upload it.
Knowledge Checks
Make the most of your training sessions by checking learners' comprehension. Create your own questions, choose where and when they appear in a course, and offer relevant feedback.
Advanced Reporting & Analytics
Stay on top of everything happening inside the LMS. Monitor how your learners are doing with robust reporting features. Create spreadsheet reports and data visualizations to make ongoing compliance and audits easy.
Pros
+ Simple UI
+ Easy admin-side functionality
+ Excellent customer support
Pricing

Available on contacting vendor.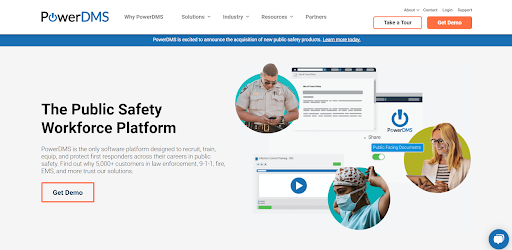 Training on business policies and standard operating procedure (SOP) are common across industries. For example, if you're a law enforcement agency or a healthcare facility, you need to train your first responders such as police officers, industrial firefighters, and paramedics. PowerDMS makes it easy to train employees on safety and compliance standards and policies.
The platform connects your official policies, employee training, and accreditation. It can help you overcome outdated company processes, lack of employee accountability, and poor accreditation management system.
Many public and private sector organizations rely on PowerDMS to manage staff training through a systematic administration of policies, training, and accreditation.
Features
Policy Management
Manage your policies and procedures across their lifecycle with a secure cloud repository. Develop, review, approve, distribute, and track policies. Save costs on paper and printing, and communicate policies and procedures faster.
Accreditation Management
Deploy this employee training software to reduce the time and human effort it takes to maintain accreditation. PowerDMS works with more than 40 accreditation bodies and publishes their standards manuals.
Personnel Scheduling
As a complete personnel scheduling tool, PowerTime improves transparency across an organization through efficient communication and visibility. Automated and real-time updates on schedule changes ensures proper staffing.
Field Training
Onboard and deliver field training to your employees with PowerFTO. It provides a cloud-based and centralized system for tracking and documenting onboarding, field training, and employee performance.
Pros
+ Training and documentation
+ Does an excellent job of tracking docs
+ Accreditation assessment
Pricing

Available on contact.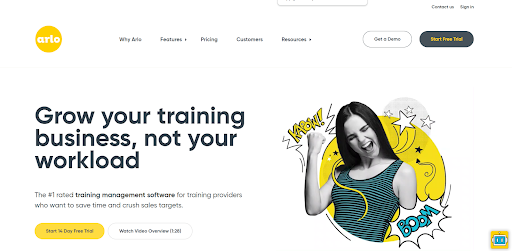 Arlo is a top-rated training management software that provides completion solutions. It automates manual and everyday admin tasks and offers marketing and eCommerce tools to drive increased course registration and sales. Every feature in the platform is designed to make training providers' day easier and their customers happier.
This purpose-built and powerful training management software is designed to help you overcome endless paperwork, streamline processes, and grow your business over time. Its experts ensure that users get the most out of the solution. Those who are new to it can get the support of its customer success and web teams in implementing the system.
As a global leader in training management software, Arlo follows some of the best data protection and privacy policies. It complies with the EU general data protection regulation (GDRP). All its data is stored securely with Amazon Web Services (AWS). Credit card payments are secured under PCI-DSS.
Features
Online Registration
Arlo believes buying training should be easy. Its course registration software is crafted to boost conversions. Use custom registration forms and accept payments in various forms. Stop making calls or sending emails back and forth on payment transfers or refunds.
Course Management
Arlo Training & Event Software makes it easy to manage courses. You can manage your short course sales, attendees, presenters, venues, and reporting in a single place. Organize and automate course logistics, such as room bookings and sending reminders to course attendees.
Webinars
Deliver and manage virtual training easily with multi-session webinars. Leverage a simple registration process and powerful integrations. Arlo integrates with all leading web conferencing tools such GoTo, Microsoft Teams, and Webex.
Reporting & BI
Make informed training decisions. Arlo provides you with the information you need to make sound decisions. Its dashboard shows real-time activities. You can also schedule different reports.
Pros
+ Easy to use
+ Excellent video quality
+ Seamless integration
Pricing

Starts at $89 per license per month.

Raven360 helps users get better at what they do by putting them on a path of personal and professional growth. Many big brands have embraced the solution's training-led growth approach for internal teams, customers, and partners.
Deep Access Control in this enterprise LMS for training admins lets you choose which content your learners can see. Create any number of training modules and domains you want for any audience. Admins and managers can control them from one dashboard.
Raven360 is always-on and secure, and makes knowledge accessible from anywhere in the world. Go beyond presentations and PDFs and deploy video, quizzes, learning paths and coaching for your training participants.
See who's learning what. Measure the impact of your training program on your strategic goals and revenue. Identify poor performers before they become a real problem.
Features
Employee Training
Employee training software by Raven360 is designed to keep employee motivated and keep coming back. Deliver better training programs and yield better results in the form of happier employees.
Customer Training & Certification
Easily retain customers and generate revenues using the customer training platorm. Educate them, keep them happy, and turn them into your brand advocates. Deliver paid training and certifications.
Partner Training & Certification
Create partner programs with a partner training platform. Enable your partners to deliver training programs on your behalf and reach global markets.
Digital Academy
Use the training software to build an employees and customers digital academy. Provide training at scale, turn users into product experts, and earn revenues.
Pros
+ Easily installed
+ Great customer success team
+ Security features
Pricing

Not provided by vendor.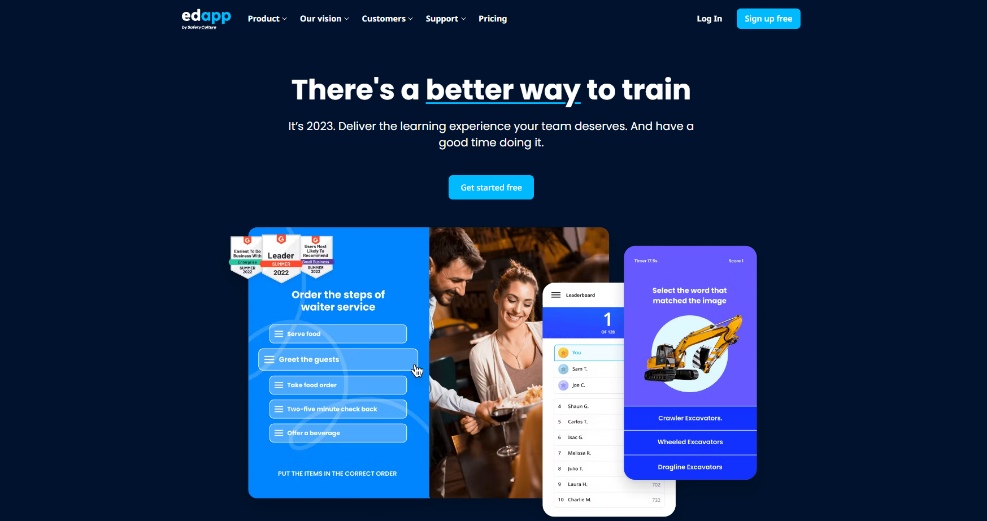 EdApp is a mobile learning management system designed to make learning fun and effective. Using it, you can create, test, and deploy microlessons that your learners can take on various devices. Easy integrations and actionable reports take the pain out of corporate training.
Whether you use the mobile LMS as a standalone tool or to extend the capabilities of other learning systems, it fits in everywhere. It provides one of the most engaging and effective ways to create, distribute and analyze training for corporate, retail, and other business entities.
This mobile-centric platform uses microlearning, gamification, spaced repetition and other features to enable training participants to learn and perform in their maximum capacity.
Features
Build beautiful, engaging, and interactive microlearning SCORM courses easily. Simply choose one of the templates that suit your online learning objective and add your content.
Course Library
Access a free library of expert-designed and fully editable courseware suitable for any team or organization. Tailor the content to your specific needs and add your own images and branding.
Microlearning App
Delight your learners, drive higher lesson completion rates, and improve retention. Turn your training materials into mobile-friendly content. It is easier to develop, update, and share.
Spaced Repetition
Train your employees with spaced repetition technique called Brain Boost. Let your learners retake lessons and improve their retention. Brain Boost works behind the scenes, reiterating content and seeing how learners are doing within their lessons.
Pros
+ Easy to install and use
+ Template-based authoring
+ Support
Pricing
Starts at $0 for unlimited users.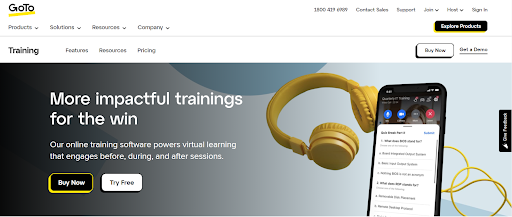 Deliver better online training, ensure higher completion, and better retention through best experiences. Break out your learners into small group sessions and let them take training on any device. Assess your learners and certify them after they complete sessions.
Include interactive coursework and workshops in your staff training programs to deliver rich learning experiences.
GoToTraining is at the forefront of helping organizations tackle the modern workplace challenges through flexible, seamless, and on-demand solutions.
Its portfolio of products makes it a trusted partner for companies of all shapes and sizes to connect, collaborate, secure, and support employees and customers. It believes that it is about how you get work done, not where and when you work.
Features
Virtual Training Software
This online training software powers virtual learning by engaging them before, during, and after training sessions. It offers numerous easy-to-use features designed to improve learning outcomes.
Videoconferencing
Videoconferencing platform GoToMeeting provide quick and secure access to users. It is dependable as it boasts 99.996% service uptime. HD videos, crystal clear audio, and single sign-on are some of the key features.
IT Support
Provide consolidated support in one place using GoTo Resolve, a refreshingly simple IT support system with zero trust security. Simplify how you provide enterprise-grade security. You get all the tools you need to resolve IT issues on a single dashboard.
Remote Work Tools
GoTo Connect comes with fully integrated calls and online meeting tools to ensure business connectivity and continuity no matter where you're. Stay in touch with your remote teams.
Pros
+ Simple & easy
+ Excellent audio/video quality
+ Branding registration page
Pricing

Starts at $109/organizer/month. Billed annually. 25 attendees.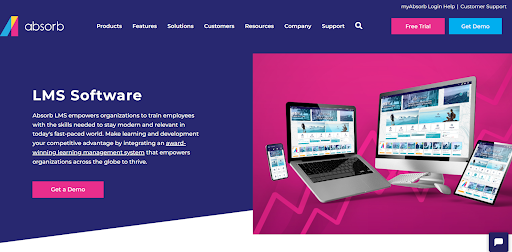 An award-winning cloud based LMS, Absorb LMS is engineered for businesses to fuel learning and productivity. The online learning platform combines forward-thinking technology with excellent customer service. It is driven by the belief that anything worth doing is worth doing well.
Create personalized learning experiences and easily adapt to evolving learning needs with a flexible LMS. Get the necessary support to stay productive. The LMS software aligns learning needs with business demands, regardless of the department you're training and why.
Implementing the LMS is easy with content libraries and out-of-the-box features. Absorb LMS is a SCORM-compliant LMS supporting xAPI and HTML5 content. As such, you can import existing courses and start training right away.
Features
Smart Administration
As an LMS administrator, you can bend this employee training software the way you want so that it runs according to your rules. Easily schedule and automate recurring tasks and achieve maximum efficiency.
Learner Experience
Train your learners using an accessible, intuitive, and custom branded interface. Provide a learner-centric destination determined by location, group, or department. Communicate in 25 different languages.
Observation Checklists
Verify that your training participants have the knowledge, skills, and capabilities to get their job done. Close the gap between online and on-the-job training. Easily meet regulatory compliance.
Reporting & Analytics
Lay your hands on the data you need to make informed L&D decisions. The reporting & analytics dashboard provides key insights to track learner progress and measure business ROI. The reports are easy to configure and share.
Pros
+ Clean layout and design
+ Pre-built templates
+ Best customer service
Pricing
Available on request.
Choose the Best Tool for Employee Training Management
Looking at the enabling features in these 15 best training management and tracking software, you can confidently say that they can make a difference in how you train and measure your L&D programs.
User management, content management, task automation, notifications, and extensive reporting are some of the essential features that these tools support. You can never overlook these enablements if you want to simplify your job as an instructor or administrator.
While they make your functions easy, they can also have a far-reaching effect on how your audiences access training, learn, and remain engaged.
If you're unsure which one you should finally choose, you may go for a free trial or request a demo with as many of these tools as possible. This way, you'll know how they will unfold in your real employee training environment.
Do you want a free Training Software?
We have the #1 Online Training Software for employee training & assessment