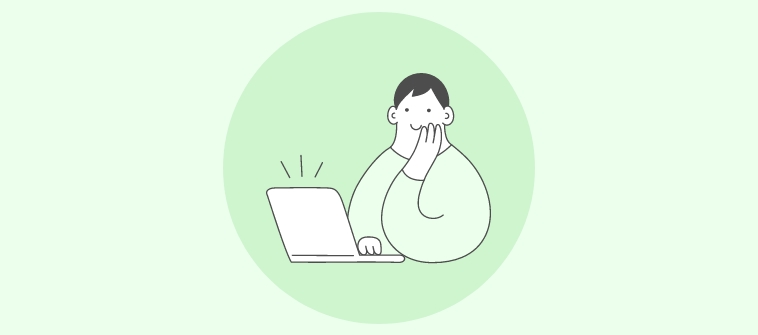 Many people often confuse training management system (TMS) with a learning management system (LMS). This is understandable given the fact that there are countless similar-looking tools on the market. In this post, we'll make the distinction clear and also discuss everything related to TMS.
Employee training management systems are as good as the way you manage them.
Training management is a responsibility that unfolds behind the scenes to plan, organize, execute, and give direction to training operations.
In this effort, training management software system can help you.
From creating training goals to developing online courses and assessments, training administration, tracking progress, and marketing & selling training programs, training management software can bring together the functions of multiple systems in one.
Continue reading to find out more about these amazing solutions.
What is Training Management?
Training management is the back-end process of managing a training program from start to finish. It involves managing the logistics of training, including:
Through a unified solution, you stitch together different functionalities, such as course scheduling, payment tracking, marketing, and monitoring revenue generation.
You can easily choose the best training methods, ensure employee engagement, remove training roadblocks, and provide an effective feedback and support system through training management.
Why is Training Management System Important?
For in-house training departments, learning & development teams, and commercial training companies, training management helps them organize, streamline, and monitor a training process to get optimal results. It involves managing catalogs, people, tools, and resources. So, it takes a comprehensive approach to successfully implement and oversee training programs.
Managed training is important from the point of view of:
As opposed to this, mismanaged training can result in incurring avoidable costs from the misallocation of resources. It may also entail legal implications.
With management, training a workforce becomes easier, more comprehensive, and measurable. It can make the life of training managers, HR professionals, and training companies a lot easier compared to a mismanaged program.
Difference Between a Training Management System and an LMS
Both online training management systems and learning management systems are platforms designed for training and learning purposes. There's, however, a fine line between the two. This will become clear from the following table.
| Training Management System | Learning Management System |
| --- | --- |
| Admin/instructor-centric | Learner-centric |
| Training logistics | Online course creation |
| Resource planning | Content upload |
| Back-office administration | Online course delivery |
| Monitoring training expenses | Learner registration |
| Training website | Communication with training participants |
| Marketing tools | Tracking & reporting on progress and completion |
| Built for training teams | Focuses on learning experiences |
| Primarily used by training companies | Used by enterprises of all sizes |
Key Features of Training Management System
Training management systems offer several important functionalities to mobilize resources, schedule training sessions, administer training, and sell courses. Some of the standard features you'll find in these tools are:
Resource Management
This is a major enablement in TMS where you can manage everything you need for your training programs. These include your training faculty, curriculum, course schedules, lesson plans, and more.
By organizing and managing these resources systematically, you increase the efficiency and effectiveness of your training.
Course Management
A sub-category of resource management, course management is of prime importance in the whole scheme of training management. This is because all online training management programs strictly revolve around courses.
A Training Management System (TMS) lets you create, schedule, deliver, and manage training courses within a centralized platform. Course update also becomes easy with these solutions. All this is especially useful for large training companies that handle a large volume of courses.
Watch: How to Create Employee Training Courses Online
Workflow Automation
With a training management system, you can easily automate email communications through triggers, such as confirmation for registrations and training expiry notifications.
By helping you automate the administrative side of training, Training Management System (TMS) tools free up time that you can dedicate to managing and measuring learning. This function takes care of training management areas that don't need human intervention.
Learner Management
Register learners online, centrally manage their database, guide them through courses, provide access to training resources, and track progress. Using online training software you can also easily identify skill gaps and evaluate learning to improve the way you manage training constantly.

Marketing & Sales
If you're a provider of commercial training programs, this feature will certainly help you. Most TMSs come with a built-in CRM that enables you to run successful training by combining all the tools you need in one powerful software.
You can use these platforms to create marketing campaigns and reach out to more customers. You can manage customers in different segments and communicate with them based on a sales pipeline.
Payment & Invoices
Like a standard eCommerce site, a training management system supports multiple payment gateways. You can charge for your online courses in various currencies. These solutions also generate orders, booking information, and invoices automatically. You can track payments to ensure your customers pay on time.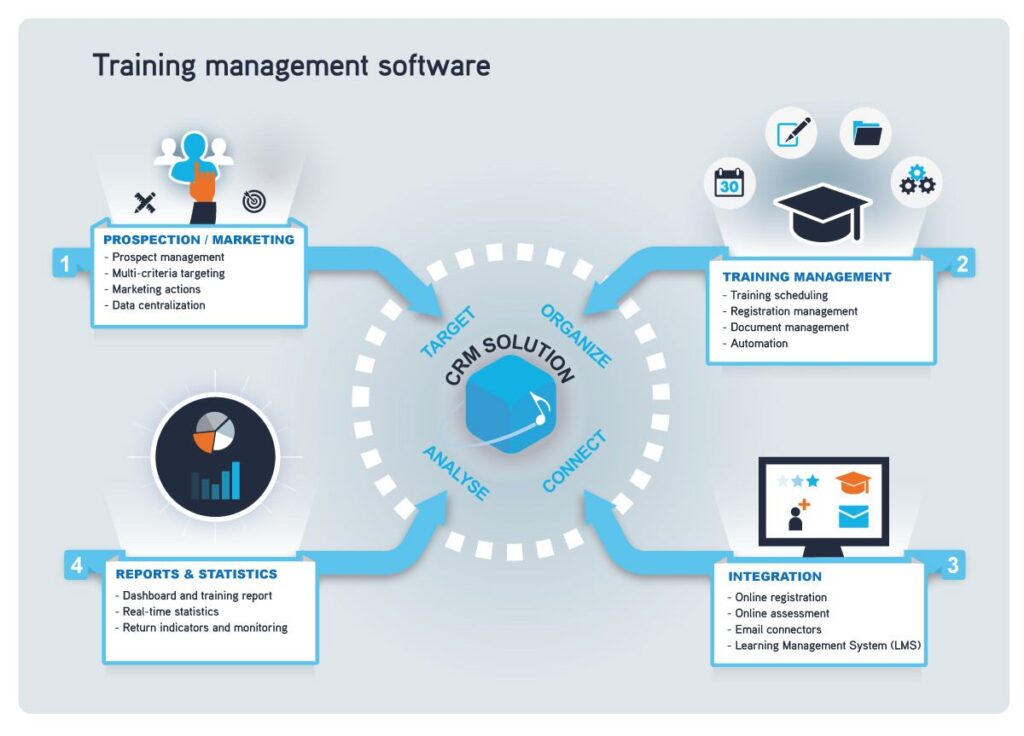 Benefits of Training Management Systems
Online training management software brings numerous benefits to commercial training companies, colleges & universities, non-profit organizations, and internal training teams. Some of the significant ones are:
How to Choose the Best Training Management System
With numerous available options, cherry-picking a training management software system that best meets your specific training requirements can be tricky. If you're still in the consideration phase, you should keep in mind certain characteristics in these training management tools so that you land the right one.
Ease of Use
Make sure the TMS you finally choose is easy to understand and easy to use. In other words, it should be usable by people of all skill levels without requiring coding knowledge. This will translate into faster implementation and a shorter time to value.
Flexibility
This is another key element in employee training management software. Flexibility works on the basis that end-users shouldn't necessarily change the way they work to adopt a new solution.
It should be the other way around – the solution should be easily modified to accommodate all types of training programs.
Customization
No two TMS customers have exactly the same needs. That's why the solution you choose should be easily customizable in terms of email templates, portals, checkout pages, etc. This will give you a personalized feel and help with your branding exercises.
Collaboration
Internal collaboration among team members during training is a must to acquire both professional and social skills. By working together, they can enhance their problem-solving skills.
Here, a Q&A platform in your can enable participants to share ideas, ask and answer important questions, and solve problems collectively. This will accelerate training and provide better results.
Language Support
When you're training different audiences who speak different languages, you'd certainly need a system with multilingual support. It should ideally provide options for multiple interface languages, localization, and translation.
This will make learning more personalized and motivate learners with convenient learning experiences.
Assessment Creation
After courses, training assessment lies at the heart of every professional training program. They help training administrators analyze knowledge gaps, check competency, and identify areas for targeted training.
Many training management systems come integrated with quiz-making tools that make creating quizzes, tests, and other assessment types easy. So, this is another element to consider if you're looking for a training management platform for the first time.
Compliance Tracking
Tracking course compliance is a mandatory responsibility when you're deploying compliance training programs. You should be able to track progress and completion in real-time to ensure that every trainee comprehends all the topics and concepts and turns in on time.
This is intended to ensure nobody falls behind with the training. Most training tools with a reporting feature generally support tracking.
Certification
Equally crucial for learner motivation is a reward in the form of completion certificates. Some of the training platforms support custom certificate creation, which you can then share with your training participants.
Generally, you can create certificates either from scratch or choose from a library of professionally designed templates.
Pricing
No matter which software system you finally select, make sure it offers transparent and fair pricing without any hidden costs. Ideally, the price should be based on the size of an organization, the number of users, and scope of implementation.
Customer Support
A supportive customer service team forms the backbone of your software journey. In fact, the trend is towards finding software with a service instead of merely software as a service.
This will prove handy in the initial stages of implementation (and from time to time after that) as new users have got a lot of queries and issues to troubleshoot.
Many cloud-based learning management systems act as a one-stop solution for in-house training, remote training, and extended enterprise training. You can use them to create, deliver, manage, and track all types of training programs, regardless of the industry.
Some of the leading LMS software systems come packed with all the essential features you need to manage training programs easily and effectively. They include:
ProProfs Training Maker is one such solution that ticks all the boxes. Here are some of its case studies to understand how it can help you in different training and learning situations:
ATI Home Inspector Training
Problem: ATI's plan to launch online training was getting hampered due to the lack of a platform. It had all the plans and ideas ready to take off. All it wanted was a software application to help it in that mission.
Solution: ProProfs turned out to be an excellent solution for ATI. Not only could ATI use it as an authoring tool, but it was also useful as an LMS.
It is user-friendly to build courses, quizzes, certificates, surveys, and more. Whenever there was an issue, the support team resolved it quicker than ATI expected.
Result: With ProProfs, ATI can set up self-enrollment and create custom certification, which increases its productivity. It spends its free time on other things, such as organizing more classes.
Ringling College of Art and Design
Problem: The college was spending several hours a week evaluating quizzes, sharing scores with trainees, and editing the training database. This was an exhausting exercise, so it was looking for a solution.
Solution: Automatic grading in the tool helped overcome these challenges. The college can now also contact its trainees in bulk to inform them about their performance. The database is super-easy to access and get the required information.
Result: ProProfs works behind the scenes and saves the college a lot of time every week.
Streamline Your Training With Training Management Software
For training administrators and training departments handling training programs on a large scale, a training management system can prove to be an indispensable tool. Be it training resource management, automation of repetitive tasks, marketing & sales, and training intelligence, you can get all of them in these online training platforms.
Simplify your training management system projects and set them up for success while staying competitive. Make L&D programs sustainable. The only thing you need to remember is the solution should be intuitive, flexible, and backed up by awesome support. Whatever you need to run successful training programs, you should get it from the platform you adopt.
Do you want a free Training Software?
We have the #1 Online Training Software for employee training & assessment