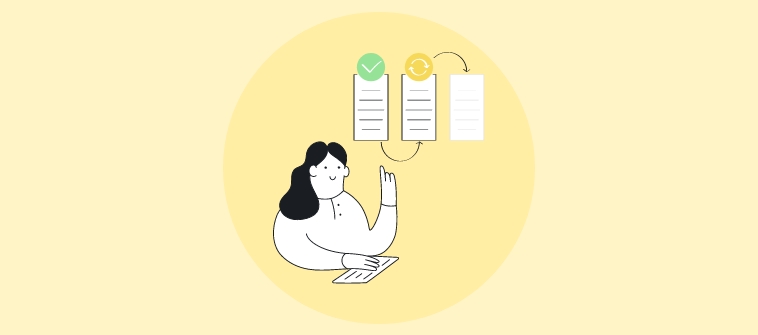 The manufacturing industry's market size in the U.S. in 2022 as measured by revenue is $6.0 trillion.
In such a big industry, many companies work behind the scenes to deliver finished products such as automobiles, electronic goods, clothing, heavy machinery, furniture items, and tools on a large scale.
Besides employing many people and registering a high employee turnover rate, the manufacturing industry faces several professional hazards.
That's why ongoing employee training and meeting compliance requirements are crucial for the industry. This includes safety matters related to daily operations such as standard operating procedures (SOP) and equipment & machinery handling.
Without such a formal manufacturing training program:
the quality of work will suffer
you get sub-optimal performance
chances of mistakes increase
there can be workplace accidents
You certainly don't want to risk them, do you?
The idea is to deliver effective training, simplify record-keeping, and build a culture of compliance. This will ensure a safe environment for employees' health and wellbeing.
Continuing with the discussion, let's find out how to deliver an effective manufacturing training program, the key topics to cover, some of the best courses to use, and how an online employee training system can help you.
Let's begin by watching this short video on OSHA training, which is mandatory in the manufacturing sector.
Watch: What is OSHA Compliance Training?
What Is a Manufacturing Training Program?
A manufacturing training program is training designed for managers and employees in manufacturing companies. Generally, such training programs include onboarding and training on compliance, safety, policies & procedures, and job skills.
OSHA, ladder safety, forklift safety, slips & falls, fire safety, hazard communication, and machine operations are examples of such training.
These programs aim to help participants acquire the necessary industry skills, boost employee efficiency and productivity, stay current with technological advancement, and build a safe and compliant workplace.
Benefits of Manufacturing Training
Historically, the manufacturing industry is conservative and slow to change. But the changing dynamics of industry trends in recent years, particularly the tools and the mode of production, are persuading an increasing number of companies to embrace change to stay relevant in the modern time.
According to a recent report by Deloitte, among the upcoming trends in the manufacturing industry, you can expect to see:
a need for preparedness against rising security threats
growing emphasis on talent retention to prepare for the future of work
an acceleration in the adoption of digital technologies
environmental accountability & sustainability
All these goals and the action items leading to them can only materialize through systematic training.
Professionally developed manufacturing training programs offer the following benefits:
Faster Onboarding
An engaging onboarding training tailored to specific roles and functions can bring your new hires up to speed faster. Also, when you use the best onboarding process by adopting the best practices, it becomes sustainable.
Watch: How to Create an Employee Onboarding Training Program
Adherence to Safety & Compliance Rules
Just like construction and service companies, manufacturing companies are subject to numerous safety and compliance regulations. Regular employee training is the only way to ensure you remain compliant with these rules and guidelines, prevent injuries and fatalities, and avoid penalties.
Quality Control
"The surest foundation of a manufacturing concern is quality. After that, and a long way after, comes cost." – Andrew Carnegie
A well-trained workforce knows how to perform tasks flawlessly and ensure quality control of products by following all the quality standards. Such employees are knowledgeable about the established process of monitoring and maintaining the highest product quality.
Employee Engagement & Retention
Like any other staff training program, manufacturing training empowers employees by giving them regular opportunities to learn, apply, and grow in their profession. This ultimately leads to higher engagement, motivation, and retention.
Excellent Customer Service
In a competitive environment, skilled employees are an asset for manufacturing companies. Training can help them become more efficient and productive by removing waste, improving the workflow, and delivering quality products to customers faster. This drives customer loyalty and attracts new business.
How to Develop An Effective Manufacturing Training Program
To create an impactful manufacturing training program, you need to adopt some best practices. You need to present them step-wise and follow a logical pattern. Check the following example of how you can do this.
Conduct a Training Needs Analysis
Even within the same industry, companies can have different training requirements. They need to deliver site-specific training and consider their company and employee profiles.
A training needs analysis can help you identify your specific training needs. To come up with the data on your training requirements, you can do the following:
Conduct observations in the workplace
Run company-wide surveys
Conduct one-on-one interviews
Questionnaire-based assessments
Product testing for quality management
Analyze your closest competitors
Identify Your Business Goals
No employee training program works in a vacuum. There are always some set goals to measure them against. Also known as SMART goals, these business metrics show you whether your training program worked as it should.
In other words, to accurately measure the success of any training program, there should be some specific training goals. They serve as the target, and your employee training will lead you to that destination.
Watch: How to Set SMART Goals
Set Your Learning Objectives
After you identify your training needs and business goals, the next task is to understand your learning objectives. These outcome-based statements clearly define what each learner is expected to do after completing each lesson and assessment.
For example, after a module on hobbing machine safety practices, participants are expected to know the safe operations of these tools to cut gears, splines, and sprockets. This will keep the operators safe and lead to unhampered productivity.
Choose Your Training Delivery Methods
There are various training methods in the manufacturing industry that you can use to deliver employee training. These include:
Instructor-led training (ILT)
Mentoring
One-on-one & group training
Video-based training
Webinars
Online or web-based training
While each method has its merits, the best approach would be to adopt a mixed training method by combining these different types. This approach will help you cater to different learning styles and preferences and make learning more exciting.
Choose the Best Training Tool
While you can leverage an authoring tool, video editing software, and social media to train your manufacturing employees, online training software such as a learning management system (LMS) is the most commonly used solution you can consider.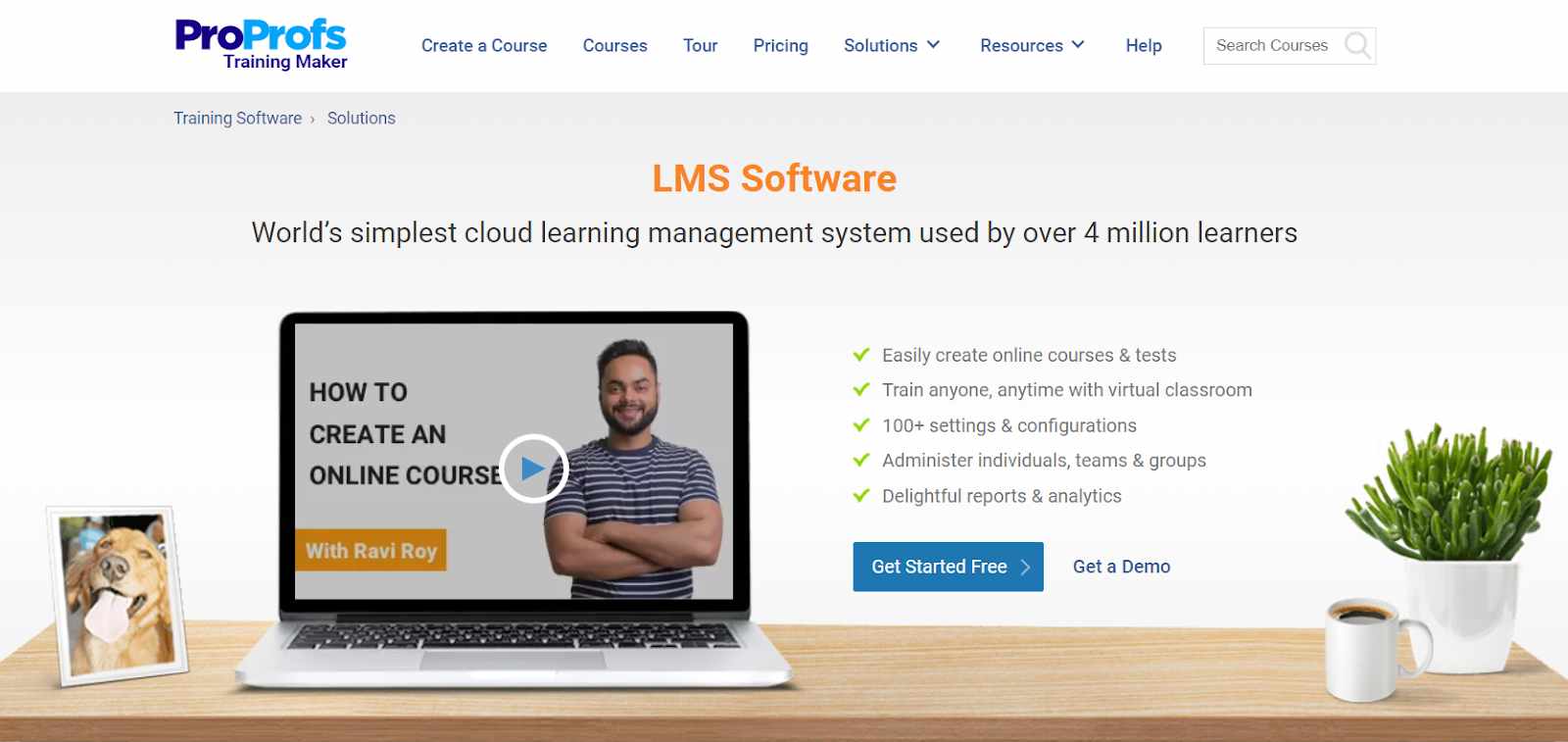 These online platforms let you create custom courses by uploading your existing training materials, such as docs, videos, presentations, and PDF files. Some top providers also offer ready-to-use courses and role-based templates on compliance, safety, employee skills, and HR policies.
Ideally, the LMS you choose as your manufacturing training software should have the following:
Intuitive and learner-centric
Centralized & secure virtual classroom
Multiple admins/instructors
User management based on role, department & location
A library of readymade courses for a quick start
Assessment & testing such as quizzes
SCORM/Tin Can compliance
Multilingual support
Mobile-readiness
Reports & analytics
Watch: How to Choose the Best SaaS LMS Software
Choose the Best Courses
Robust LMS software alone won't cut it. You need equally effective manufacturing training courses to train your staff on relevant topics.
Make sure the courses are professionally designed, up-to-date, and editable. These should be comprehensive, self-paced, and work across different devices. Also, check the level of engagement and interactivity in them.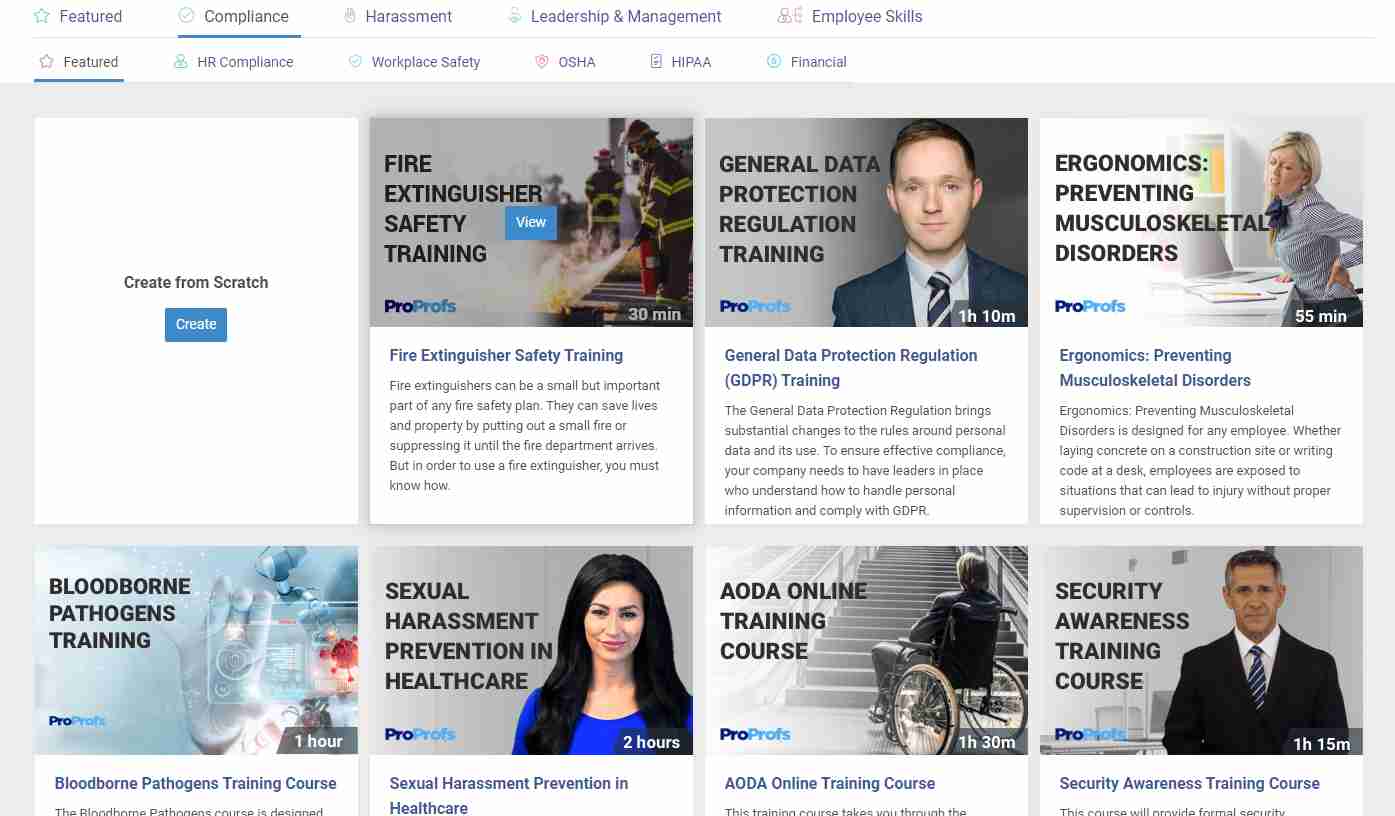 Run a Pilot Test of the Training
Before you roll out the program to a larger audience, first test it with a sample group of participants on a small scale. This way, you can evaluate its feasibility and performance.
After you find a high acceptance level of your program and no feedback for changes, you may sign up the rest of the participants and schedule training sessions. This will save you from program failure and waste of time & labor.
Measure Training Outcome
Just like planning and executing online training, measuring their outcome is crucial. It is a way of calculating your training ROI. Based on the outcome, you can see whether your program has achieved its objectives and reaped the benefits as per the resources invested, including time and costs.
Steps to measure training performance:
Measure training KPIs
Conduct post-training assessments
Collect participants' feedback
Track engagement level
Observe employee behaviors
Watch: How to Analyze Training Course Results
Maintain Training Records
Record-keeping is essential, especially for compliance training. Some governing bodies require companies to maintain training documents for a specified period as evidence of training for each team or department. These documents include a record of completed training, date, place, participants' details, and certifications.
Besides legal requirements, maintaining training records is significant for evaluating training effectiveness by comparing data from different periods.
Now that you know how to develop a training program for manufacturing let's learn what you're required to teach,
Topics to Include in a Standard Manufacturing Training Program
Regardless of your specialty products, you need to train your manufacturing employees on various topics. This can be related to machine operations, safety procedures, site management, quality control, and any other industry-specific topic.
Here are some of the common topics to include in your manufacturing training plan:
Compliance & Safety
This is among the most important training topics for manufacturing companies. Employees trained on regulatory compliance ensure operational efficiency, safety, and productivity. You need to train them on applicable state and federal laws, including:
OSHA
sexual harassment
workplace diversity
preventing slips & falls
ladder safety
hazard communication
rules of behavior
drug-free workplace
Watch: What Is Supervisor Health & Safety Awareness Training? | Course Introduction
Machinery & Equipment Handling
Many of the injuries and fatalities among construction and manufacturing workers are attributed to unsafe work behaviors. A majority of a worker's time in the manufacturing industry is spent working with machines and equipment. This necessitates proper training on handling, operating, and repairing those tools safely.
Lockout, Tagout (LOTO)
LOTO is among the main safety precautions that workers need to take. It basically relates to properly shutting down a machine, equipment, or a system by a professional after use to avoid accidental startup.
Otherwise, it can lead to damages, including electrocution, loss of limbs, and gas leaks. This makes it one of the essential manufacturing training topics.
Lean Six Sigma
Producing quality products, delivering customer satisfaction, and growing business over time are the top goals of any manufacturing company. A topic on lean manufacturing can educate your employees on how to streamline the manufacturing process, eliminate wasteful activities, manage product quality, and deliver a consistent experience to end-users.
Software Training
Today manufacturers rely on numerous software systems to manage their staff and workflow. They include enterprise resource planning (ERP), quality management system (QMS), and computerized maintenance management system (CMMS). So, technology training is a must to keep employees current with workplace trends, automate repeatable processes, and ensure no critical step is missed.
Soft Skills Training
In addition to these hard skills that your employees need to perform their duties well, soft skills are necessary to thrive in the modern workplace. Interpersonal skills like communication, team building, building trust, and creating a positive work environment are vital. They help you build healthy relationships with others and get things done faster.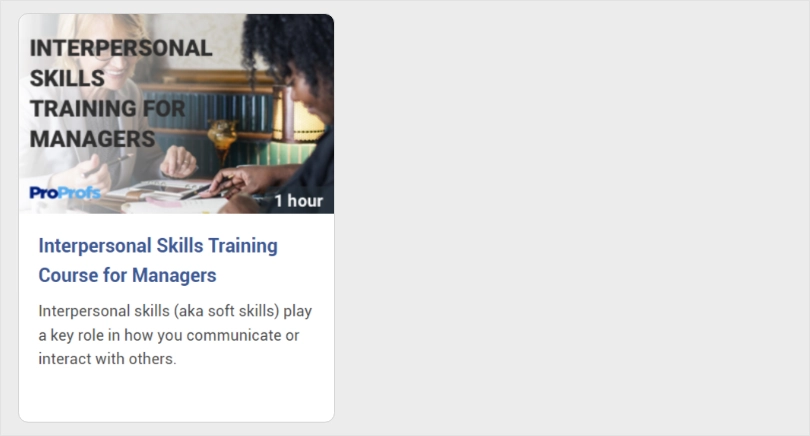 The Best Training Courses for the Manufacturing Industry
Let's now explore some online courses covering the essential training topics. These are ready-to-use courses designed by professionals and include worksheets, real-life scenarios, and final assessments.
Apart from these courses, you also get access to manufacturing program training templates on onboarding, office policy, technology, and more.
You can use them as is or customize them with your company policies, manuals, guidelines, and branding. Add preferred designs using your creativity to give them a modern and professional look.
OSHA Training Course
Train your employees using this course focused on injury & illness record-keeping, reporting, and workers' compensation. The course was developed based on the OSHA guidelines to help you document and track safety and compliance initiatives in your organization.

Watch: What is OSHA Compliance Training?
Fire Extinguisher Safety
Damage to properties and loss of lives due to industrial fires are common, and the manufacturing industry is no exception. The timely and correct use of fire extinguishers can prevent these unwanted incidents. Deploy this training course and keep your workplace safe.
Watch: Fire Extinguisher Safety Training
Fall Protection
Slips, falls, and trips are among the most common causes of workers' injuries. Protect your employees and customers from preventable accidents. This course was developed using OSHA-approved content and provides an overview of fall safety, including ladder safety and scaffolding safety.

Watch: How to Protect Workers From Fall Hazards | Training Course Introduction
Federal Sexual Harassment Training
This training course is designed for supervisors and employees and it meets current federal and state sexual harassment training requirements. With this, you can create awareness about unethical workplace behaviors and build a healthy and respectful environment.
Watch: Federal Sexual Harassment Training Course
Diversity, Equity & Inclusion Training Course
Train your employees to work harmoniously with people from different backgrounds. Don't let cultural differences come in the way of a peaceful atmosphere. Build a tolerant workplace.
Watch: What Is Diversity, Equity & Inclusion? | Training Course Introduction
Communication Skills
Employees with excellent communication skills are always in demand. Empower your staff with the skills to build strong interpersonal relationships and get things done better and faster. This course discusses the common obstacles to good communication and methods and strategies to overcome them.
Watch: Communication Skills for Managers
Hazardous Materials Training Course
Exposure to hazardous materials through accidental contact or careless handling can lead to serious consequences. This online course walks you through the types of industrial hazards and ways to control their health risks.

Watch: How to Prevent Health Hazards in the Workplace | Training Course Introduction
Drug-Free Workplace Training
Drugs and workplaces don't (and shouldn't) go together. Spread awareness about the ill effects of drugs on employees, their health, and productivity through this course on drug and alcohol abuse.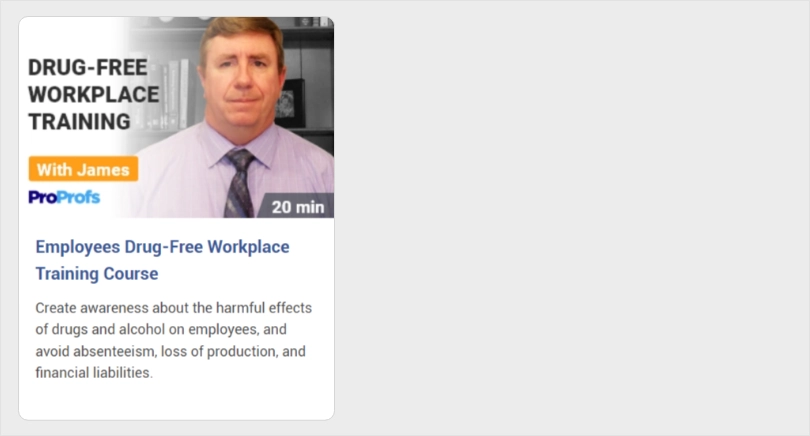 ---
To explore more courses, click here.
---
Deliver the Best Training Programs for Manufacturing Employees
Most manufacturing companies know what a manufacturing training program is and why it is important.
But they often face a real challenge in developing and implementing an impactful program. This can be due to:
a lack of training needs analysis
not knowing what and how employees want to learn
absence of a standard training tool
not having access to the right courses.
But with this short guide, you can now hopefully take the right steps to develop training in your industry, train your workers, and build a skillful, safe, and compliant team.
To recap the points on how to develop manufacturing training programs:
Conduct a training needs analysis
Identify your business goals
Set your learning objectives
Choose a training delivery method
Choose the best tool
Choose the best courses
Test your program
Measure training results
Maintain training records
With this checklist, there's no chance of your program going wrong. Instead, you'll be delivering a learner-centric, engaging, measurable, and effective manufacturing training program. All you need is a solid training tool to take the first steps after planning.
Do you want a free Training Software?
We have the #1 Online Training Software for employee training & assessment