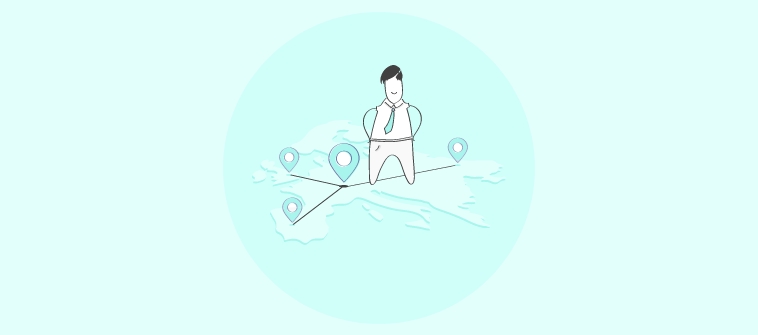 Bruce, a retail store manager in California, was in charge of the business' expansion plans in additional locations in the state. He knew that he couldn't execute this plan without getting his employees on board.
For this, he needed to train some of his existing employees, both long-term and seasonal staff, as well as new hires. From sales training to customer handling, inventory management and more, he wanted to make retail employee training resources efficient enough for them to be an integral part of the business growth story.
But from the beginning, training didn't come easy to Bruce and his teams.
Traveling to different locations for training proved costly
Getting employees together at one time & place for training was impossible
Preparing training materials took too much time and labor
Monitoring the implementation of best practices was difficult
After considering the pros of various training methods, they decided to give online training a try. The results were incredible.
Course & test creation became effortless
Onboarding new hires was accelerated
Ongoing training on products and customer service standards became easy
Participants could self-pace the training and learn from wherever they were
Tracking and record-keeping became effortless
Even though Bruce and other trainers still rely on lectures and in-person training, web-based training has become the mainstay of the company.
Today, the company boasts 48 store locations in California alone, and the plans to replicate the business in other states are afoot.
This is the story of a well-crafted retail employee training program based on the right training methods and strategies. It brings measurable results.
If you, too, are looking to build a retail sales training program or just revamp an existing one, this post is for you.
Continue reading to find out more.
Before we drill further into the topic, watch this video to understand what formal employee training looks like:
Watch:- What Is Employee Training?
What is Retail Employee Training?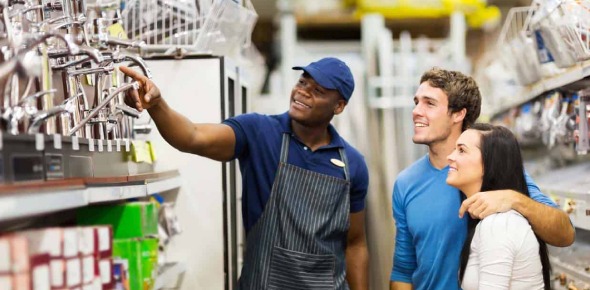 Retail employee training is a training program for retail employees at all levels – from managers at all levels to sales associates, cashiers, and customer service representatives.
The retail sector employs many people, including seasonal employees, who need regular training on merchandise, business-specific procedures, customer service standards, and safety & compliance rules.
A professional retail training program educates retail employees on these topics.
As the industry faces the challenge of high employee turnover, keeping the employees engaged and motivated is an integral part of such training plans to ensure retention.
To understand the concept better, let's look at the following examples.
Examples of Retail Training
When it comes to the types of training delivered in the retail industry, they are not much different from other industries. Here are the standard categories of retail training.
Watch: How to Create an Employee Onboarding Training Program
Retail employee onboarding acclimatizes new hires to brand standards and store-specific policies and processes. It familiarizes them with the company culture, team members, and job roles so that you can bring them up to speed before they hit the floor.
Generally, you provide role-based training to incoming employees and walk them through custom software and operational procedures they will use in at the workplace.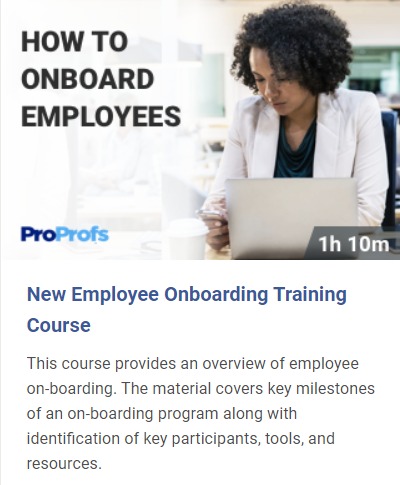 In this training, retail employees undergo training on the range of products or merchandise that their retail outlets deal in. Ensuring employees have excellent product knowledge is key to selling, cross-selling, and upselling. Only well-trained retail staff can become product experts who know customers' needs and can recommend the relevant products.
Retail stores and sales go hand-in-hand. It is the lifeblood of every retail business. Sales training educates employees on sales strategies, including making a sales pitch, handling sales objections, getting sales leads, and negotiation skills.
In other words, the training focuses on the entire customer journey in a typical sales funnel to turn leads into prospects and prospects into repeat customers through more sales.
It also requires report making and presentation skills because at the end of the day the numbers should speak louder than words.

Customer Service Training
Sales go up and down. Service stays forever.

Customer service training teaches employees and managers how to deliver customer service, build rapport with them, meet their expectations, and turn them into long-term customers.
A key part of this training is interpersonal skills or soft skills. So, topics such as communication skills, active listening, and how to be likable come under this umbrella.

Safety & Compliance Training
Watch: What is OSHA Compliance Training
Whether you run a brick-and-mortar department store or an online retail store, there's an ever-present need to train your employees on safety and compliance matters.
This is because, like employees in other industries, retail employees are at risk of workplace injuries, sexual harassment, data security, and emergencies such as active shooter, fire hazards, and natural disasters.
This program provides employees with compliance and safety training to build a safe environment, ensure well-being, and create a compliance culture.

Importance of Training Retail Employees
Training for retail employees is important because it benefits employees and businesses in the long run. Still wondering why you should deliver retail training for employees? Here are some compelling reasons.
Formal training programs develop your employees essential product and service knowledge. It helps them become knowledgeable about your product line as well as your target customers. This training is necessary before they attract customers so they offer the right products to meet customer needs instead of pushing every product to every person.
Increased Efficiency & Productivity
Training helps bridge performance gaps in employees and sets them up for success. A trained retail staff is better at managing time, teamwork, setting and meeting SMART goals, and delegating tasks. This ultimately boosts their efficiency, productivity, and performance.
Watch: Time Management Training
One of the main benefits of training retail employees is it makes them self-reliant. Trained employees can come up with innovative solutions to everyday business challenges, and they can function with complete autonomy without the need for constant supervision.
Improved Morale & Retention
Employees in the retail sector often work under hectic conditions, especially in stores where there's heavy footfall throughout the year. Also, the industry is plagued by high turnover rates. These factors affect employee morale and retention.
Only well-crafted training programs focused on their growth and development can reverse this situation and give a positive reason to continue to work happily.
Better Sales & Customer Service
All the above benefits of retail training lead to this last outcome. A properly trained retail staff knows their trade inside out. They know what's expected of them and how to deliver on those expectations. They can do the right things, the right way, at the right time. This translates into better sales and customer service.
Watch: How to Automate Your Customer Service
How to Create an Effective Retail Employee Training Program
Like any other training program, retail training needs to follow specific steps in the development stage to succeed. These best practices are proven effective in formulating a formal program and are highly recommended.
Identify Your Training Goals
Training goals give you a sense of direction and purpose. To arrive at the goals, you should know what you want to achieve and why. Is it more sales, better customer service, or better store management & operations? Once you're clear about your goals, you know what you need to do to take your teams there.
Watch: How to Set SMART Goals
Align Training With Business Objectives
At the end of the day, your training initiatives should get you closer to your long-term business goals. That's why it is necessary to align them with the business results you want to see.
For example, if your goal is to enhance the in-store experience, training on creativity & innovative skills will certainly help.
According to the CEO & co-founder of Pixlee, Kyle Wong, in-store experiences start with the staff. In addition to the appearance of a store and technologies like screen displays, investing in employee training is a must for brand success.
Choose the Best Training Tool
Choosing the right tool to support your employees' learning is incredibly important. The tool should be user-friendly and learner-centric. You should be able to tie the technology with your overall learning strategies.
Similarly, the training tool should simplify the tasks of training managers like course authoring, assignments, tracking, and assessments.

There are several online training tools on the market that you can choose based on your unique instructional and learning needs.
The courses you pick for retail training should develop the specific skills you are targeting. They should be designed by professionals and customizable with your internal policies, training materials, and branding.
Also, make sure they are engaging, interactive, and support a seamless learning experience.

To make things easier, some of the leading providers of learning management systems (LMSs) offer ready content solutions. You can use these resources right out of the box with or without modification.
Similarly, built-in authoring tools in these platforms allow you to author custom courses online, either from scratch or by importing existing content.
Watch: Closing Sales
Review Your Policies & Procedures
Before implementing your retail training program, conduct a quick review of your existing company policies to see if they are still relevant.
You need to update outdated policies and processes. Failure to do so means non-compliance with industry standards and puts you at risk. Updated and relevant rules will help you build a strong workplace culture.
Watch: How to Create an Employee Handbook
A training pilot test checks your program's feasibility and the participants' acceptance level. Before you roll it out to a larger audience, test the training with a selected group of employees.
This will give you an idea of its impact on them, what works and what doesn't, and the chances of program success.
Take Feedback From Employees & Stakeholders
Based on the outcome of the test run, you can seek feedback from your learners and others who have a stake in the training program, such as upper management, HR, eLearning project managers, instructors, admins, and investors.
Depending on their feedback, you can decide to proceed with full-fledged training or revise your training plan.
Evaluate Training Results
Once you're through with your retail employee training, it is time to evaluate the results.
Check whether you've achieved the learning objectives. Identify the course completion rate, milestones, and challenges. More importantly, see if your employees are implementing in the workplace what they've learned during the training.
Such evaluations are key to improving the training by maximizing the results.
Watch: How to Analyze Training Course & Quiz Results
Why Use an LMS for Retail Training?
Along with an engaging course, an online training tool is instrumental in successful training administration. In this context, an LMS can prove valuable.
These software applications help users
streamline and standardize web-based training programs,
give more control over what, how, and when people learn, and
provide a consistent experience.
With these solutions, you can create and update training materials in minutes and automate repetitive admin tasks such as announcements and reminders.
Here are some of the amazing reasons to deploy an LMS for retail training:
Many of these are easy to use and designed with learners in mind
You get a library of ready-to-use courses & templates
You can upload and reuse existing docs, videos, PDF files & presentations
Multimedia, gamification & social learning make learning more engaging
These support progress & completion tracking in real-time
Automatic reminders ensure compliance with course due-dates
Since most of these are cloud-based, they are accessible 24/7 from anywhere & across all devices
Insightful reports on courses and quiz results help you measure training ROI
You can achieve consistency in training across an organization through standardized & uniform training creation, delivery, learning & evaluation
Watch: How to Choose the Best SaaS LMS Software
Best Retail Training Courses
Now that you've learned a few things about training tools let's turn our attention to some of the best retail training courses. These resources are crafted by industry experts and designed to keep the customer-centric retail industry in mind. You can use them as-is or modify them to suit your specific requirements.
Introducing Yourself to Customers
In order for customers to make a positive first impression and build trust, a proper introduction is key. By clearly explaining who you are and what you can bring to the table to meet the customer's needs, you can reassure them and build a lasting relationship.. This course discusses ways to introduce oneself to customers via face-to-face and written communications.
Professional Sales Skills Training
Find out how to become a pro at sales by understanding the market dynamics, establishing sales goals, building rapport with customers, and handling rejections. This course walks you through all the key skills a professional salesperson needs.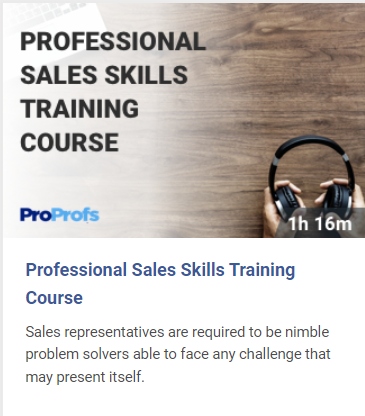 Customer-facing staff like those in the retail sector should be easy to like. Agreeableness is a huge factor for business success in this industry. This course can help retail employees develop a friendly and pleasant disposition to build strong and lasting bonds with customers.
Negotiation Skills Training Course
The art of negotiations is essential in retail to create a win-win situation for the business and customers. For this, retail workers need to improve their negotiation skills and learn how to persuade and positively influence customers. This course discusses different negotiation styles and things to avoid.
Managing Customer Expectations
The success of a retail business hangs heavily on identifying and meeting customers' expectations. Employees need to understand and fulfill at least the baseline expectations. This will keep customers delighted. The course discusses these topics to help you live up to your customers' expectations.
Take the Next Step For Retail Employee Training Success
That's pretty much what you need to do to build standard training for retail employees. A systematically developed program can help you train your employees effectively on essential industry skills and keep them current with business-specific policies and processes.
A trained retail staff is more efficient, professional, and productive. They are instrumental in brand success and customer satisfaction.
To develop a retail training program that brings you closer to your business goals, consider doing the following:
Identify Your Training Goals
Align Training With Business Objectives
Choose the Best Training Tool
Choose the Best Courses
Review Your Policies & Procedures
Run a Pilot Test
Take Feedback From Employees & Stakeholders
Evaluate Training Results
With these tips and best practices, you can build a professional-looking retail management training program, ensure consistency in teaching and learning, and achieve optimized results.
Do you want a free Training Software?
We have the #1 Online Training Software for employee training & assessment