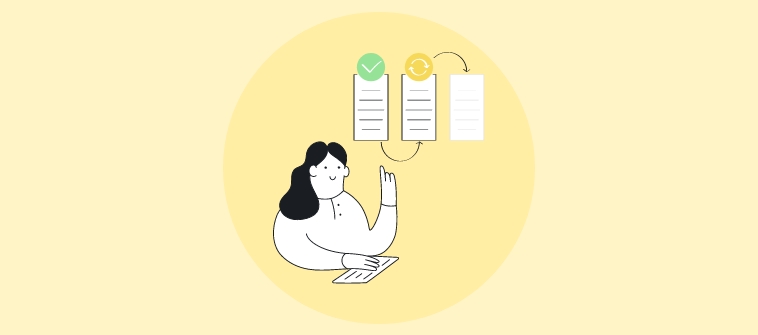 Amanda is a productivity system manager with a leading manufacturing company. Her responsibilities include conducting ongoing safety and compliance training for the employees to remain compliant with the regulations of governing bodies. For this, she was primarily using the traditional classroom training method.
But it presented several problems.
The employees were spread across different units in different towns. Getting them in the same room for the training was next to impossible. Conflicting work schedules, difficulty with coordination, and the constant need to minimize workers' time away from the production line made everything so chaotic.
Amanda realized this had to change. The training practices in her organization were costly, time consuming and it was downright painful to organize everything the same way repeatedly.
Sounds familiar?
Well, after rounds of meeting with her senior management, she submitted a proposal for online training software. Considering the game-changing enablements that these solutions provide, the management approved the proposal instantly.
Today, Amanda and her teams are leveraging a much easier training system. Her workers no longer need to converge at a common location or sacrifice their productive time to attend training. They can now learn from where they are using their devices.
Apart from this, the rest of the processes, such as course creation, group management, tracking, and reporting become streamlined.
This is a real example of how the right training tools, methods, and strategies can reverse a situation for better results.
There are many other challenges the manufacturing industry wrestles with today. Reading tjis, post, you'll discover some of the top ones and see how a non-traditional training solution like a learning management system (LMS) can help easily overcome them.
8 Training Challenges and How You Can Use an LMS to Overcome Them
According to insights from Google, many people worldwide invested in growing their skills in 2021. It is evident from their searches, such as "online learning," "ideas for beginners," and "how to invest."
As you can see, online learning is one of the areas of interest for these people, and there are many amazing reasons behind it. All those reasons boil down to one thing – the ability to overcome the myriad challenges of an offline training system.
Let's now examine them in the context of manufacturing skills training programs.
Challenge #1
Vast Skill Gaps
The type of workforce in the manufacturing industry and the skills they need today are undergoing remarkable changes. The introduction of modern workplace technologies and rapid mechanization has led to an unprecedented demand for a tech-savvy workforce.
There's also a growing need for a multi-skilled workforce, not just those trained in one job area.
The industry faces an acute shortage of employees with these necessary skills, and job vacancies remain unfilled. The skill gap is huge and ever-widening. This is not a happy state of affairs from the perspective of productivity and competition.
How an LMS Can Help You
An LMS with purpose-built online courses for manufacturing on different skills and related assessments can be one of the best solutions here. You can train your employees faster and more effectively.
These resources are generally designed by industry experts, customizable, up-to-date, and ready to use. They utilize the multimodal learning method, including videos, presentations, docs, PDF files, and visuals for better engagement and retention.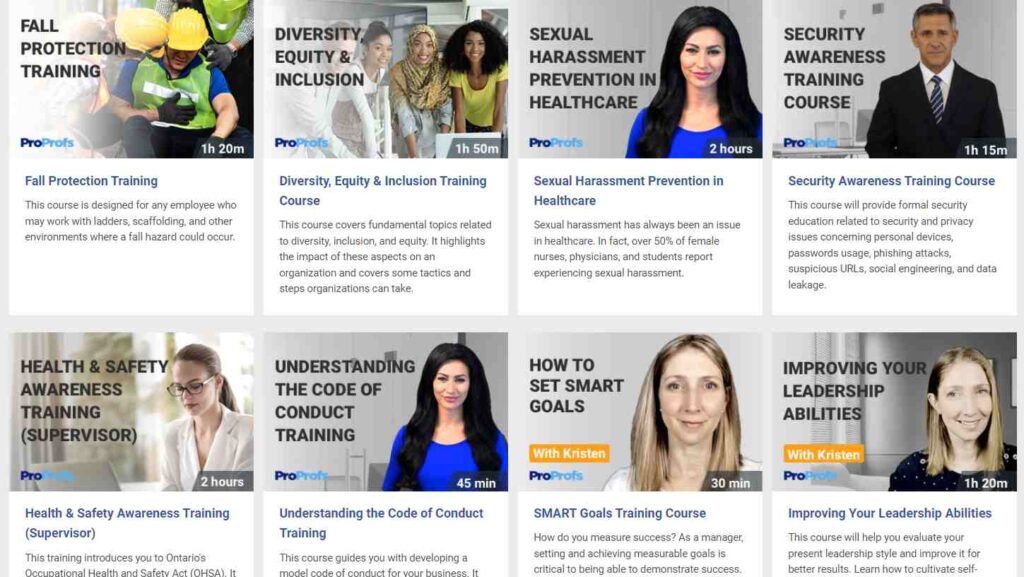 A workforce trained in essential skills is more motivated and seldom has any reason to leave their positions too soon. Instead, they can become a part of your success story.
Challenge #2
Ongoing Compliance With Ever-changing Industry Regulations
The average cost of non-compliance that businesses often bear ranges from $14 million to nearly $40 million. It includes:
Fines & penalties
Business disruption
Loss of productivity
Revenue loss
Reputation damage
Despite knowing how important compliance is and what consequences non-compliance brings, the manufacturing industry still finds it difficult to manage compliance. The applicable laws are complicated at times, stringent, and regularly updated.
The industry finds it daunting to use traditional methods to ensure that it trains all of its staff (which sometimes runs into hundreds or thousands) and the information is well received.
How an LMS Can Help You
These tools make it easy to provide role-based training to employees.
Depending on the solution you choose, you can access ready-to-use courses on different compliance and safety topics. Some of these resources are editable, so you can easily add your internal policies & procedures, such as standard operating procedures (SOPs) for machine operations, business processes, and record-keeping.
The fact that many of these courses are designed for maximum engagement and retention makes it easy for you to achieve a higher course completion rate.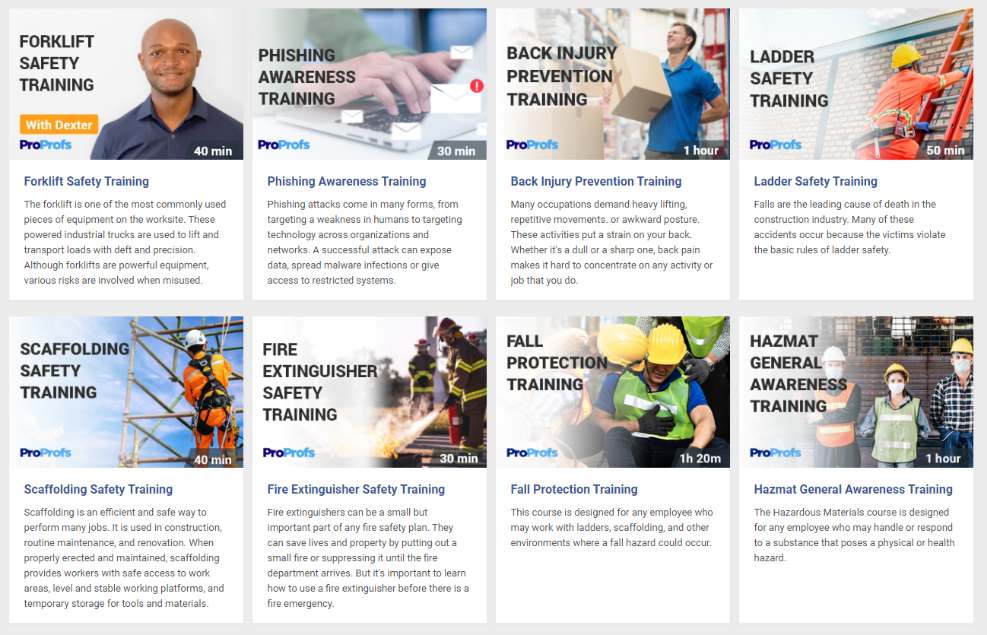 Challenge #3
Minimizing Loss of Productivity
On average, employees go through as many as 56 disruptions a day, and they take around two hours to refocus their attention on the work they do.
Work interruption or disruption due to training is an example of this. It is another real challenge in the manufacturing industry.
Often, workers need to disengage themselves from their jobs on the production floor and spare time to attend training sessions. This can lead to downtime, upset their workflow, and cause underperformance and loss of productivity, which ultimately affects the output.
How an LMS Can Help You
LMS software erases the need to stick to a fixed time and place for training. Your manufacturing staff doesn't necessarily have to pause their work to attend training. They can learn during their free time at home, office, or while commuting.
They can take micro-lessons, watch short videos, learn based on a learning path, and engage in social learning. Almost all LMS tools are cloud-hosted and support anytime, anywhere learning, so participants can learn according to convenient personal schedules.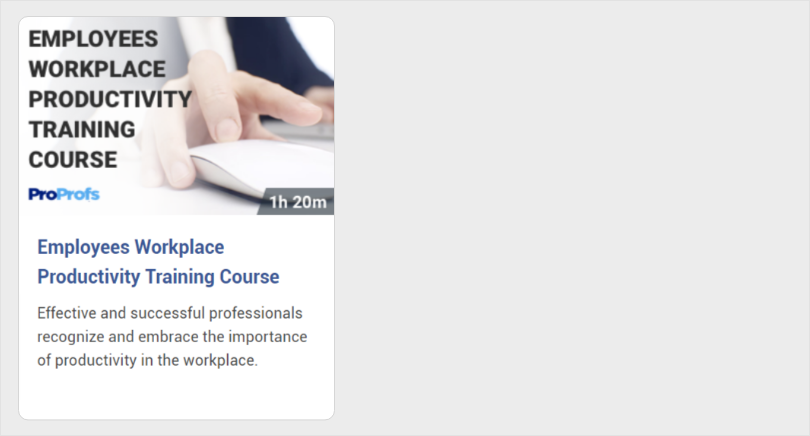 Challenge #4
High Cost of Training
According to recent data, manufacturing companies in the U.S spent $1,781 on training each worker, making it the industry with the second highest training costs.
Like the construction industry, manufacturing is a highly specialized field with numerous guidelines on manufacturing processes, equipment, and safety & compliance matters. So, the training requires highly skilled trainers, demos, and props for hands-on training.
Add to this trainers' fee and the cost of bringing employees from different units to a central training venue.
How an LMS Can Help You
With an LMS, you can move at least a few of your face-to-face instructor-led training (ILT) sessions to online and deliver blended learning. A web-based training system is more cost-effective in the long run due to the reduced need for traveling or hiring external trainers.
You can also repurpose and reuse training materials in a short time. Training becomes more consistent when you use the same courses to train different batches of employees.
Watch: What is a Cloud-Based Learning Management System
Challenge #5
Training and Retaining New Hires
As mentioned in the previous section, the manufacturing industry is passing through a phase of skill shortage. Many positions remain open for new hires to fill in. So, training and retaining recruits is a priority.
Being a specialized field, the industry sees a high demand for experienced employees, leading to more attrition rates. New hires keep joining for different roles in different locations. Training them at a breakneck speed is a huge challenge.
How an LMS Can Help You
Using an online training platform, such as an LMS, you can conduct online onboarding and subsequent training and development in the manufacturing industry.
Whenever new hires join your organization, you can roll out the training company-wide across departments, levels, and locations. It is more time-saving, cost-effective, easier for instructors and learners, and registers high success rates.
Train them on your company culture, policies, code of conduct, mission, and vision. Break down the process into weeks.
When you properly train and retain skilled workers, you can avoid repeated new hire training, which unnecessarily impedes productivity.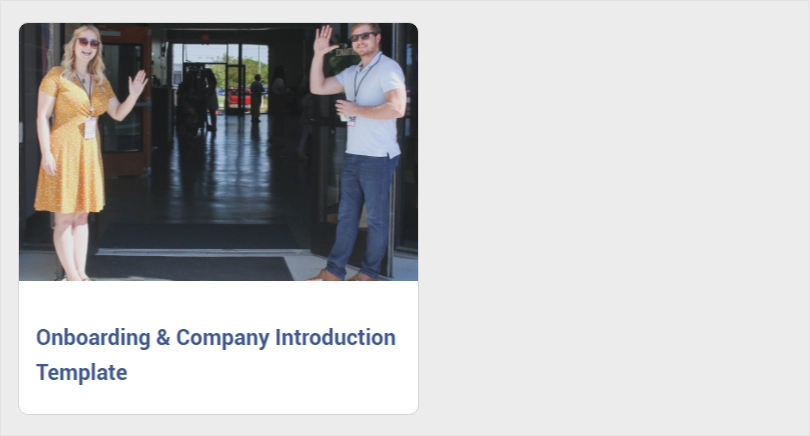 Watch: How to Create an Employee Onboarding Training Program
Challenge #6
Extensive and Frequent Product Training
Generally, many manufacturers have an extensive product portfolio. In addition, there are new product releases or diversifications, product updates, and research & development all the time.
So, whether they are an automobile, consumer electronics, or health & wellness company, they always need regular product training for their workers.
With each product release or update, they need to train the workforce on what they sell, whom they sell it to, and why. More importantly, they should be a part of the product innovation and decision-making process.
Watch: How to Build a Culture of Innovation
How an LMS Can Help You
An LMS can be useful for providing product knowledge training to your customer-facing employees and customers. You can easily deliver the training using different mediums, including online manuals, knowledge bases, and demo videos.
During the training, you can discuss product features, how to use a product, real-life use cases, and upcoming updates. The best thing is that an LMS lets you train your audience in their preferred languages and schedules so that they get the most out of such programs.
Before we move to the next challenge, let's quickly see an LMS case study for product training.
Case Study: Acer
One of the world's top ICT companies, Acer was looking for a solution to train and certify its employees on new product releases. It wanted an online training software that supported quizzes and allowed users to request additional training and information whenever necessary.
Acer chose a cloud-based LMS, which provided it with a powerful product, customization options, and support. The tool was easy to set up, and the multinational electronics company could create a comprehensive training system consisting of online training, assessment, and certification for its new product releases.
Also, the participants could request such training as and when required.
With the LMS, training employees on new product releases, assessing them, and issuing certificates are no longer challenging for the company.
Challenge #7
Keep Training Content Up-to-Date
"It's not enough to be up to date, you have to be up to tomorrow." – David Ben-Gurion
In the second challenge above, we've discussed the need for the manufacturing industry to manage ongoing compliance with rules and regulations.
Along with these legal requirements, manufacturing companies have their own internal company policies, guidelines, and SOPs.
So, whenever there's an update in compliance rules at the federal or state level, companies need to update their policies too, to reflect those changes.
This is tied to ensuring employee safety and well-being, staying clear of legal penalties, and protecting the business' reputation.
Revising the applicable rules and educating employees on them frequently seem easier said than done, more so when it involves a large number of employees and complicated compliance rules.
How an LMS Can Help You
Most LMS software solutions allow users to update course content in a few clicks. It can be a simple drag-and-drop or an import/upload function. Once you add the new content, whether it is a file, audio, or video in your system, all you have to do is save it.
Now, all your training participants will have access to the latest training content and never miss any vital industry-related information.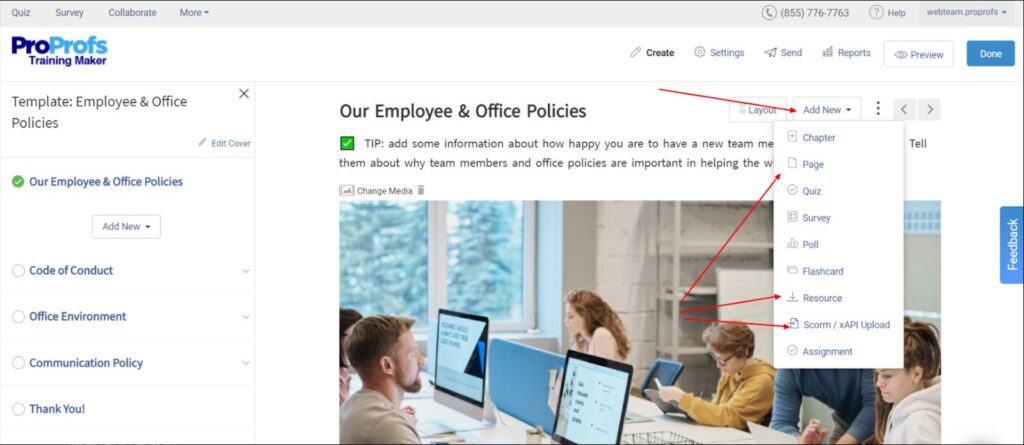 Challenge #8
Keeping Training Safe
The question of safety for manufacturing employees isn't limited to their daily work. It also covers safety during training.
This is because, most of the time, the training involves operating a machine or equipment. If done incorrectly, like without protective gear, it can become dangerous, even leading to injuries and fatalities.
In fact, contact with objects and equipment accounts for 34% of the injuries in manufacturing facilities. Incorrect operation may lead to machine failure, which can be repaired, but the harm it brings to humans may not be reversible.
How an LMS Can Help You
By using an LMS or any online learning system, you can conduct a part of machine operator training in a virtual environment.
Scenario-based videos, simulations, virtual reality (VR), and augmented reality (AR) are completely safe for your employees, and you can use them instead of training employees in a potentially hazardous environment.
All of this makes online training a must for the industry. It can simplify concepts on even the most complex machinery and make the job easier for supervisors and employees.
Watch: What Is Supervisor Health & Safety Awareness Training? | Course Introduction
Conquer the Challenges in Training and Development
These are the top challenges that the manufacturing industry encounters when it comes to employee training. But an LMS turns out to be one of the most reliable solutions to the problems of manufacturing industries. They make learning more engaging, flexible, and consistent.
So, whether you're worried about onboarding new hires, meeting compliance requirements on an ongoing basis, or rising training costs and logistics, an LMS can be the best remedy.
With these platforms, you can easily do the following:
Bridge skill gaps
Onboard and train new hires in an engaging way
Update training content quickly
Deliver compliance training on time and meet deadlines
Easily train workers on product releases and updates
Minimize loss of productivity
Significantly reduce training costs and human labor
Ensure safety during training
So, there is virtually no reason not to adopt one of these tools.
Get the right LMS for yourself today to deliver the best version of online employee training. See how easily you can then improve how you train and how your employees learn by beating all these training challenges in the manufacturing industry.
Do you want a free Training Software?
We have the #1 Online Training Software for employee training & assessment