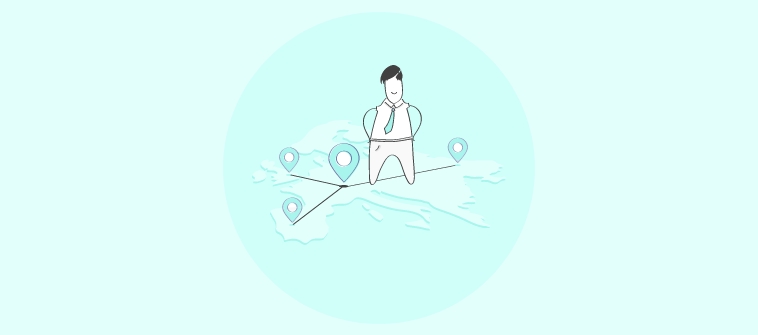 Are you struggling to keep your employees engaged in the workplace? If yes, chances are you're not leveraging modern technologies such as employee engagement software for the best results.
Employee engagement tools provide high-end features, such as gamification, surveys, collaboration, mobile learning, and interactive quizzes to create a culture of engagement. But, the outcome will depend on the kind of software you've chosen.
Therefore, choosing the right tool is important.
So, how can you do that?
We will tell you.
Read this article to find out the top 21 employee engagement tools, along with their features, pricing, and pros and cons. Pick the best tool for your business to uncover the best employee experiences, have meaningful conversations, track goals, give and receive feedback, and provide rewards for their achievements.
A Quick Feature & Price Comparison Table of the Top 21 Employee Engagement Software
Best Employee Engagement Software for Training
Why Is It Best?
Pricing
ProProfs Training Maker
Editable & Ready-to-Use Courses

Quizzes

Gamification

Mobile Learning

Personalized Learning Paths

Certification

Forever free for up to 10 learners.Paid plan starts at $1.97/active learner/month for large teams. Billed annually.
EdApp
Course Library

Microlearning

Gamification

Social Learning

Starts from $0 / user/ month, billed annually
Learn Amp
Build Courses

Learning Paths

Personalized Recommendations

Q&A Discussion

Get in touch with the company for a quote
Trackstar Learn
Online Course Creation

Anytime, Anywhere

Quizzes and Assessments

White-Labeling

Get in touch with the company for a quote
Best Engagement Software for Recognition
Why Is It Best?
Pricing
Reward Gateway
Rewards and recognition

Reward redemptions

Custom rewards

Build connections with mobile app

Get in touch with the company for a quote
Kazoo
Conversations

Incentives

Feedback

Recognition

Get in touch with the company for a quote
Kudos
Peer to peer Recognition

Analytics

Powerful Integration

Executive Reports

Get in touch with the company for a quote
Nectar
Recognition

Rewards

Challenges

Analytics

Starts from $2.75/user/ month, billed annually
Employee Engagement Software for Team Building
Why Is It Best?
Pricing
ProProfs Quiz Maker
Fun Quizzes

Teach Team Building Skills

Learner Collaboration

Zoom Quizzes

Starts from $0,
Forever free plan
QuizBreaker
Icebreaker Quizzes

Gamified Quizzes

Comment Threads and Emojis

Auto-Scheduling

Starts from $2/user/month, billed annually
The Go Game
Remote Team-Building Games

Hybrid Events

Scavenger Hunt Games

Holiday Party Games

Get in touch with the company for a quote
Employee Engagement Software for Collaboration
Why Is It Best?
Pricing
ProProfs Collaborate
Initiate Discussions

Group Creation

Facilitate Knowledge Exchange

Collaborate Anytime Anywhere

Starts from $1.97/learner/month, billed annually
Zoom
Virtual Meetings

Team Chat

Digital Whiteboard

Phone System

Starts from $0
Slack
Channels

Huddles and Clips

Connect

Messaging

Starts from $0/month
Employee Engagement Software for Feedback
Why Is It Best?
Pricing
ProProfs Survey Maker
Professionally Designed Templates

Reporting Dashboard

20+ Question Types

Solid Integrations

Starts from $0.05/month, billed annually
TinyPulse
Pre-Built Surveys

Pulse Surveys

Actionable Recommendations

Anonymous Responses

Get in touch with the company for a quote
Officevibe
Automated Pulse Surveys

Custom Employee Surveys

Anonymous Feedback

eNPS

Get in touch with the company for a quote
Best Project Management Software
Why Is It Best?
Pricing
ProProfs Project
Shared Calendar

Gantt Chart Makers

Delightful Reports

Effective Collaboration

Starts from $2/user/month, billed annually
Asana
Project Views

Kanban Board View

Set Due Date and Reminders

Share Project Briefs

Starts from $0
Trello
Preset Templates

Trello Views

Multiple Boards

Butler Feature

Starts from $0
Monday.com
Gantt Charts

Project Dashboards

Workload Views

Customized Project Templates

Starts from $8 /user /month, billed annually
Let's now discuss each tool in detail by exploring their features, pricing, and pros and cons. Go through them carefully before you make a choice.
21 Best Software for Employee Engagement
In this section, we will give detailed information about the best software to help you keep up with the engagement quotient in your organization.
Engagement Software for Training
Employee engagement software for training is an application program that organizations use to train employees in an engaging manner and create a workplace culture that boosts employee performance and business growth.
We have handpicked the top 4 employee engagement software platforms for training purposes.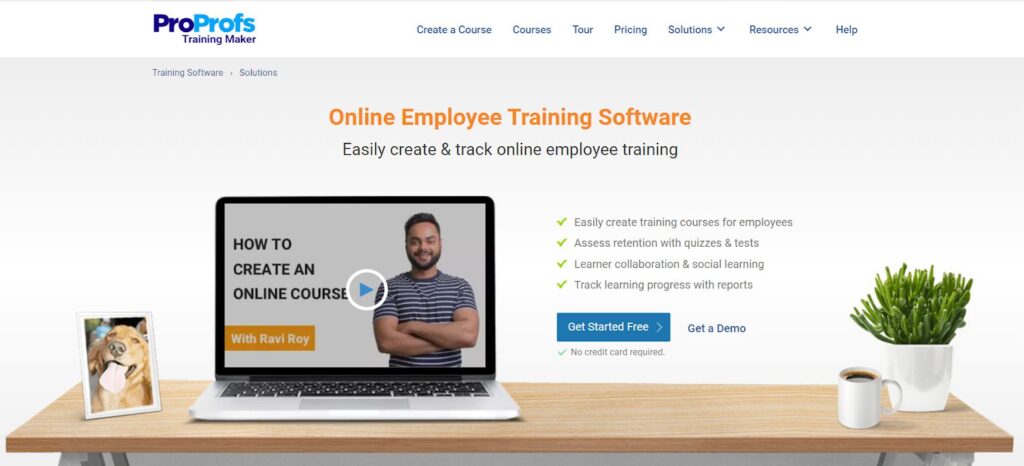 ProProfs Training Maker is a versatile software solution for training employees across various industries, such as construction, manufacturing, healthcare, retail, and government & non-profit organizations. This globally trusted employee engagement software comes with excellent features, such as authoring tools, quizzes and assessments, surveys, brain games, collaboration tools, and more to help employees learn and stay engaged!
It supports English, Spanish, and 70+ other interface languages, making it easy for learners to learn in their native language. It offers a host of readymade resources, including media, templates, questions and more that make course creation a breeze. Undoubtedly, these specialities make it one of the best employee engagement software available in the market.
Features:
Editable & ready-to-use courses & templates

that make course creation a breeze and let you devote more time to achieving learning objectives.

Professionally designed quizzes

to assess knowledge retention, prevent skipping questions, and get video responses.

Gamification

to

foster healthy competition and encourage social interaction and teamwork.

Mobile learning

to provide course accessibility on the go 24/7 and enable learning anytime, anywhere.

Personalized learning paths

cater to individual learning needs based on their knowledge gaps and skill levels.

Provide certificates to learners

on completion of courses or assessments to keep them motivated and remain audit-ready.
Pros
Course library

User-centric

Intuitive interface
Pricing
Forever free plan (up to 10 learners). Paid plan starts at $1.97/learner/month (billed annually) for large teams. No hidden charges. 15-day money-back guarantee.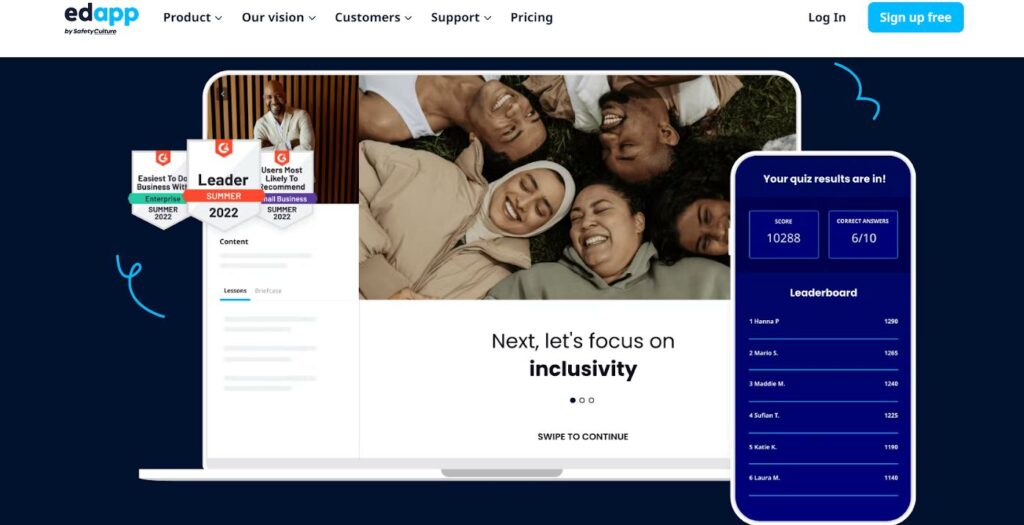 EdApp is an award-winning mobile Learning Management System (LMS) used for training small and large teams across every industry. The course authoring tool helps create engaging microlearning courses and enables learners to take courses on any device. This makes training fun and engaging.
The gamification features encourage healthy competition among learners and motivate them to complete their training. With its powerful built-in AI translation, you can also translate your content into 100+ languages.
Features:
Ready-to-use courses to create training courses in a few minutes. Choose from various templates and add engaging elements, such as images, videos, and quizzes to deliver high-quality training.
Microlearning

enables learners to retain knowledge in bite-size chunks, making learning easy and digestible.

Gamify your training

to keep your learners engaged. Provide real rewards and certificates to those who complete your training program.

Encourage social learning

through group assignments and discussions for best learning outcomes.
Pros
Blended learning

Powerful integrations

Mobile friendly
Pricing
Starts from $0 / user/ month, billed annually

LearnAmp is one of the best employee engagement software for knowledge-intensive and forward-thinking businesses. The software combines the best Learning Experience Platform (LXP), LMS, and engagement tools to increase productivity and retention and drive engagement.
LearnAmp ensures a great onboarding experience for new hires and provides features, such as a course library and assessments to upskill learners and drive their career development. It supports collaborative learning and promotes employee engagement.
Features:
Build courses

using professionally designed templates. Drag and drop files and upload your content in seconds.

Create learning paths

and let your learners proceed according to a need-based and well-defined route. Combine your courses for a greater impact.

Personalized recommendations

to learners based on their previous learning preferences.

Facilitate collaboration

between learners through private messaging and Q&A and build an online learning community.
Pros
Intuitive platform

Ease of use

Great for maintaining training records
Pricing
Get in touch with the company for a quote.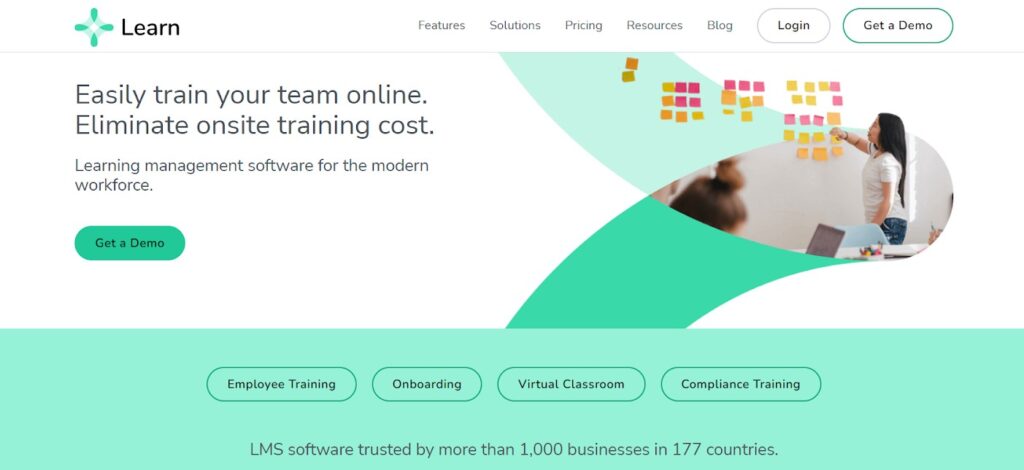 Trackstar Learn is a modern LMS you can use to upskill and train employees through online courses and digital learning. An intuitive interface, engaging quizzes, and reliable reporting systems make it one of the most robust employee engagement platforms.
Auto-enroll your learners in courses and say goodbye to the hassles of manually enrolling them. The LMS supports training in hybrid environments and online and offline modes so that learners get the most out of their training sessions.
Features:
Create and upload engaging multimedia courses

and deliver a high-quality training experience to your learners.

Anytime, anywhere learning – thanks to Trakstar's mobile LMS for enabling a streamlined learning experience across mobile devices.
Quickly create and share engaging quizzes and assessments

before, during, and after training to assess learning outcomes.

Use the powerful white-labeling features

to ensure your content aligns with your brand values. Choose a custom domain and use preset color templates!
Pros
Easy course creation

Variety of quiz formats

Real-time reporting
Pricing
Get in touch with the company for a quote.
Best Engagement Software for Recognition
Employee engagement recognition software is a browser-based application that enables organizations to recognize and reward employees for their outstanding contributions and exemplary performance. Some of the best tools in this category are:

Reward Gateway is reliable employee recognition software that combines recognition and rewards in one unified platform. The software lets you create a comprehensive range of reward programs to celebrate all achievements and excellent performances.
As far as rewards are concerned, this software has various redemption options through Amazon partnerships. Social recognition, manager-to-peer recognition, discount vouchers, and cashback offers are some exciting features in this platform that let you create a culture of recognition.
Features:
Rewards and recognition

to appreciate your employee's efforts and performance. Design personalized e-cards, awards, special greetings, and more.

Deliver an exciting redemption experience

through e-gift cards, reward passes, charitable giving, etc., to create impactful reward moments.

Create custom rewards

for an engaging experience. Offer rewards like a lunch with the CEO or the best parking lot.

Build strong connections with the mobile engagement app

and make your workforce feel connected. The mobile app helps deliver real-time news and send instant rewards online.
Pros
Engaging and easy-to-use platform

Employee wellbeing programs

Unbeatable discount programs
Pricing
Get in touch with the company for a quote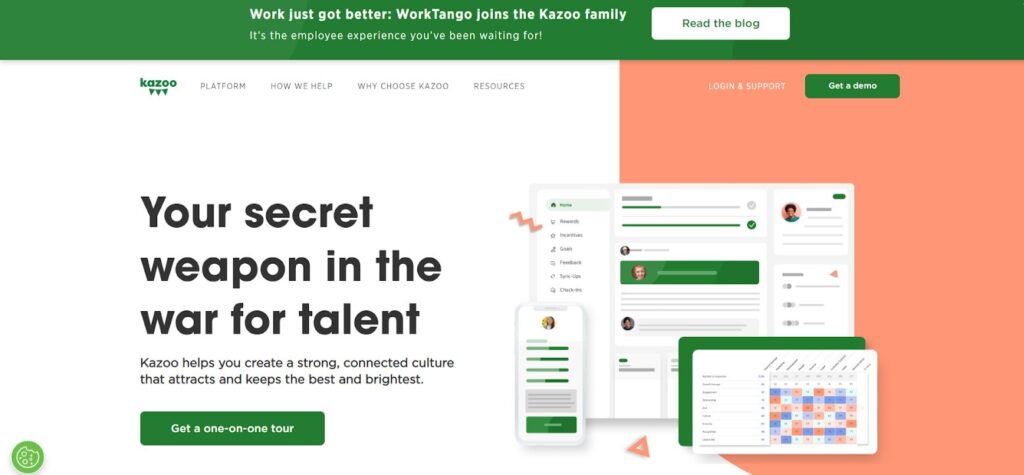 Kazoo employee engagement software offers a powerful solution to create a continuous recognition culture and everything else you need to keep your workforce connected. This software combines Goals and Objectives and Key Results (OKRs), Conversations, Recognitions, Surveys, and Incentives within a single platform to create a high-performing culture.
Kazoo's reward module, i.e., the global rewards engine, is one of the main USPs of this platform. Employees can redeem their points for gift cards, experiences, and products. Managers can create personalized rewards for employees. In fact, Kazoo's reward catalog has an exciting range of options, including donations, merchandise, charities, and more!
Features:
One-to-one performance conversations

with standard templates and question banks to bring out the best in employees.

Incentives

to reward your employees and build a strong company culture. Organize programs on health and wellness, cybersecurity training, and more.

Collect actionable feedback

from employees to drive innovation and collaboration.

Use employee rewards

to share meaningful recognition. Use hi-fives and comments, add personalized messages and tokens, and assign rewards.
Pros
Excellent rewards selection

Mobile app experience is good

Great interface
Pricing
Get in touch with the company for a quote.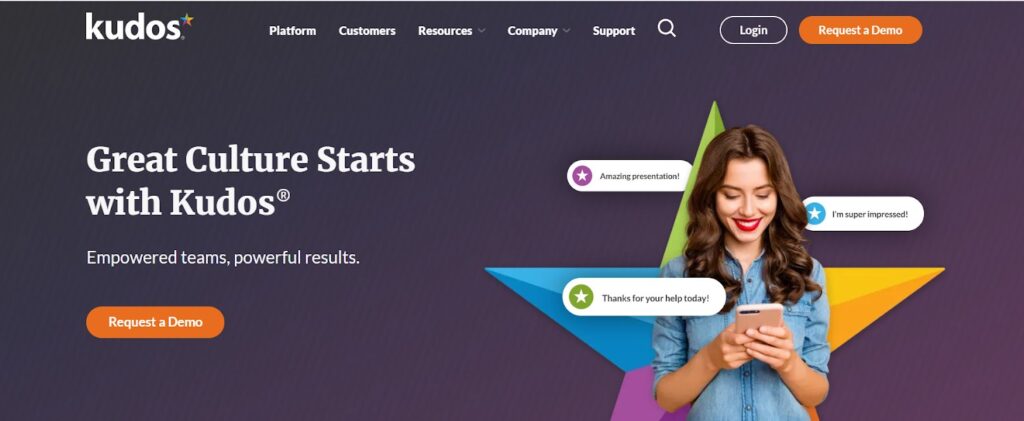 Kudos is a cloud-based employee engagement tool that combines the power of open communication, peer-to-peer recognition, and value reinforcement to drive performance and productivity and increase retention rates.
80+ countries use this SaaS solution because of its unique methodology for delivering real-time analytics on equity, performance, culture, and inclusion. This helps organizations get an in-depth understanding of their workforce. Celebrate wins, discuss challenges, and give your employees the best experience.
Features:
Customized recognition

for local and global teams. Select from third-party rewards or link it with a pre-existing loyalty system.

Gain actionable data and analytics

on individual performances.

Leverage the communication platform

to publish status updates, announcements, newsletters, and more.

Executive reports

to check performance, user status, and engagement levels.
Pros
Multimedia recognition programs

Powerful integrations

Secured infrastructure
Pricing
Get in touch with the company for a quote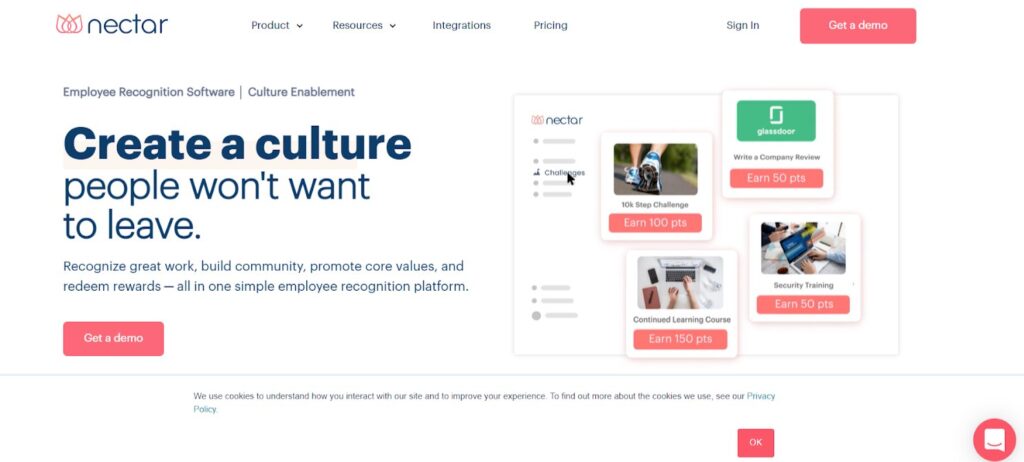 Nectar is 360-degree employee engagement software that helps create a culture of encouragement and motivation for employees. It is like a peer-to-peer recognition feed, which mostly works as a social media platform. The best part is that you can openly recognize and praise your employees on this public feed for their contributions.
The reward system is also incredible. They have an extensive range of reward collections, including gift cards, Amazon products, charities, etc. Nectar has partnered with Costco, Walt Disney, Airbnb, and many more to provide exclusive employee discounts.
Features:
Encourage shoutouts and provide Nectar points

to encourage employees and reduce turnovers.

Exciting reward choices

include gift cards, Amazon catalogs, donations, and custom rewards to build a unique culture.

Create challenges and incentivize them

to enable employees to earn points and redeem them from Nectar's catalog.

Automate your employee rewards

to celebrate their special moments, such as birthdays and anniversaries.
Pros
Great analytic features

Company-specific rewards

Monthly point allowance
Pricing
Starts from $2.75/user/ month, billed annually
Employee Engagement Software for Team Building
Team building software is an application that enables effective collaboration among employees and streamlines the team building process. It offers a range of exciting group activities and valuable tools to build a stronger, happier, and healthier workforce.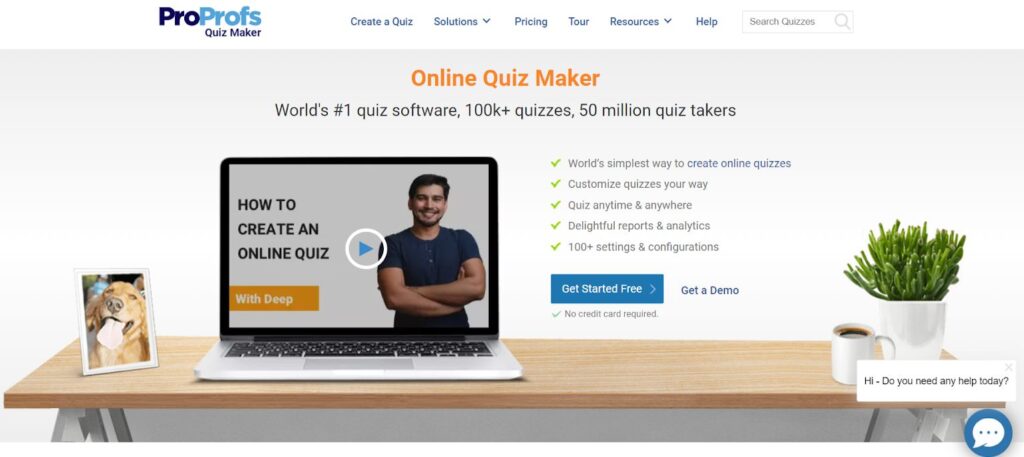 ProProfs Quiz Maker is a comprehensive tool for employee engagement that lets you create engaging quizzes on any topic. It provides 100+ professionally designed templates to use as-is or modify according to your needs.
The software provides 15+ question types, including checkboxes, multiple choice questions, and comprehension. Video responses, cheating prevention, auto-grading, and quiz library are some of the top features in this employee engagement software.
Features:
Bring people together with trivia quizzes.

It's an icebreaker for new remote workers. These quizzes encourage healthy competition and make learning fun.

Use quizzes to teach team-building skills,

such as conflict management, leadership, and communication skills.

Facilitate learner collaboration

through meaningful Q&A-based discussions. Set reminders for quiz completion and ensure ongoing compliance.

Leverage Zoom quizzes

where all the participants can attend and answer the questions remotely. The one who answers first wins the game!
Pros
Professionally designed quiz templates

Clean and intuitive interface

Excellent anti-cheating features
Pricing
Starts from $0/month

QuizBreaker is a platform designed to engage remote teams through exciting icebreakers and trivia questions. This team-building software creates a strong bond among team members. Admins can invite remote team members to engage in fun activities to foster healthy competition and collaboration.
It's a flexible platform that enables teams to play anytime, anywhere. The idea is to make teams familiar with one another through fun sessions. You can use the icebreaker quiz library or simply add your own questions.
QuizBreaker provides high data protection and eliminates all kinds of unauthorized access.
Features:
Icebreaker quizzes

to foster a positive work culture and make conversations fun. Know more about each other and establish a strong bond.

Gamified quiz rounds

to keep your employees engaged. Unlock badges and new levels as you learn new things about your team members.

Comment threads and emojis

to show your emotions and build deeper connections with your team members.

The

auto-scheduling

feature brings all your team members into a rhythm.
Pros
Lots of gamification features

Easy to use

Quiz rounds are interesting
Pricing
Starts from $2/user/month, billed annually

The Go Game is one of the best online employee engagement tools designed especially for remote workers. It is suitable for a team of 50 to 500+ members. The software has a suite of games and exciting team-building activities.
Powered by robust mobile technology, the Go Game software combines state-of-the-art innovations and games to boost engagement. Most games last up to 4 hours, but you can adjust the time based on your needs.
Features:
Remote team-building games

that combine fun and a video conferencing interface with an engaging host.

Hybrid events,

such as multi-city adventures and hybrid game shows bring in-person and remote teams together.

Scavenger hunt games

where teams explore their environment through engaging location-based riddles.

Holiday party games

to make the holiday months memorable and enjoyable for your teams.
Pros
Video and chat options

Technology-fueled games

Engaging team-building activities
Pricing
Get in touch with the company for a quote
Best Engagement Software for Collaboration
Employee collaboration software, also known as collaboration tools, are solutions that improve teamwork and communication between teams. It provides a single platform where instructors and learners can share knowledge and ideas and discuss any topics in an informal space.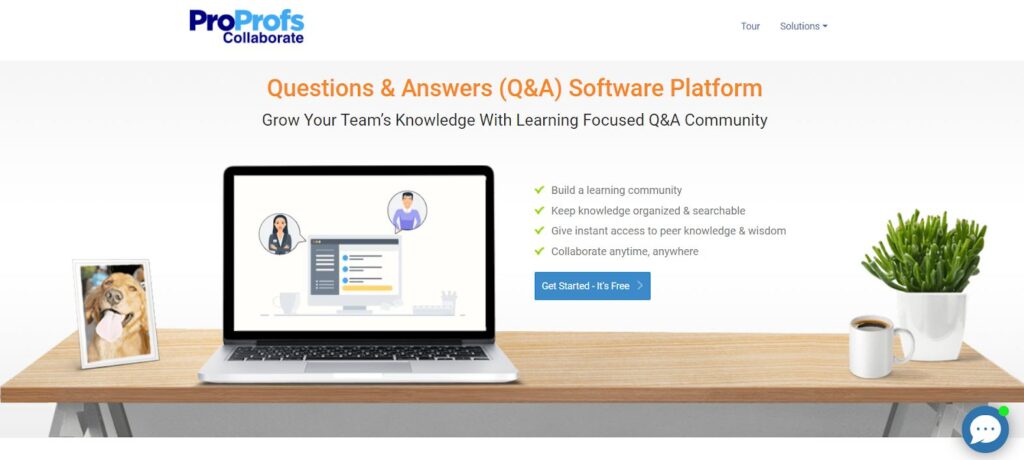 ProProfs Collaborate is an effective tool for real-time collaboration that facilitates meaningful discussions and knowledge exchange. This Q&A software helps cultivate a learning community that aids in growing your team's knowledge.
This tool keeps all the knowledge organized and searchable, making it easy to find answers or previous discussions easily without digging through old chat threads, emails, or documents. Create as many groups as you want, ask questions, and share information to create a continuous learning culture.
Features:
Initiate discussions

and share information among team members. Learners can post queries, add comments, and interact with instructors and other peers in an informal space.

The group creation

feature enables instructors and learners to create groups, send messages, brainstorm ideas on various topics, and resolve queries.

Facilitate knowledge exchange

and improve your team's learning. Organize knowledge via threads and topics.

Collaborate anytime, anywhere

. Access information on any device – be it desktop or mobile. Get instant notifications and chat conversations on the go!
Pros
Dedicated space for Q&A

Easy to use

Peer-to-peer learning
Pricing
ProProfs Collaborate is available bundled with its sister tool Training Maker.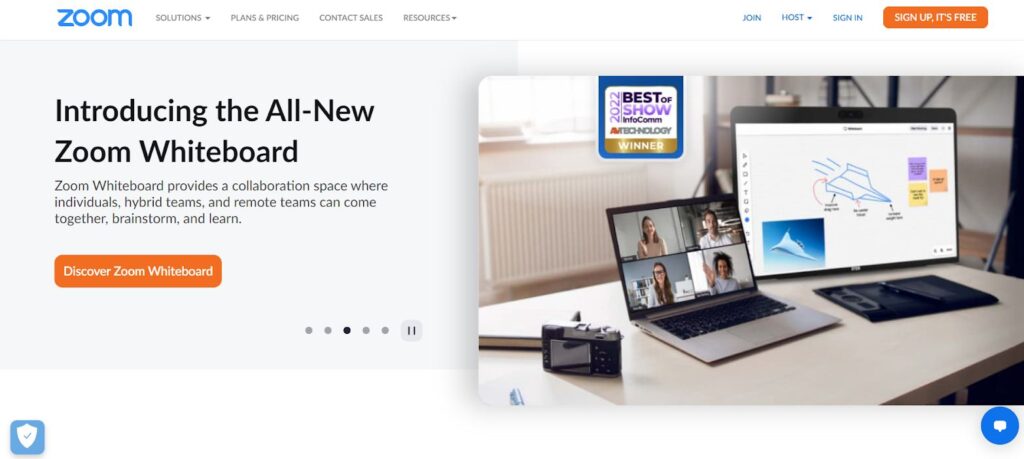 Zoom is employee engagement software for corporates designed to build meaningful connections through virtual meetings, whiteboards, team chats, and more. The online webinar feature lets you connect with your team in a personalized manner. Features such as videos, polling, and reactions foster creativity and collaboration in your meetings.
The Zoom App has introduced a new feature called 'collaborate mode' in which the screen sharing experience has been improved. It works seamlessly across all browsers so everyone can join the session.
Features:
Virtual meetings

through Zoom bring teams together with chats, screen sharing, and high-quality video conferencing features.

Team chats

to streamline communication among team members. Send private or group messages, send emojis and reactions, and keep your team informed of all the project updates.

Digital whiteboards

for effective collaboration through brainstorming and discussion sessions. Drawing tools and sticky notes are some exciting features.

Cloud phone system

packed with Private Branch Exchange (PBX) features, such as call recording, intelligent call routing, and more!
Pros
Google Calendar support

Streamlines meetings and webinars

Easy to use
Pricing
Starts from $0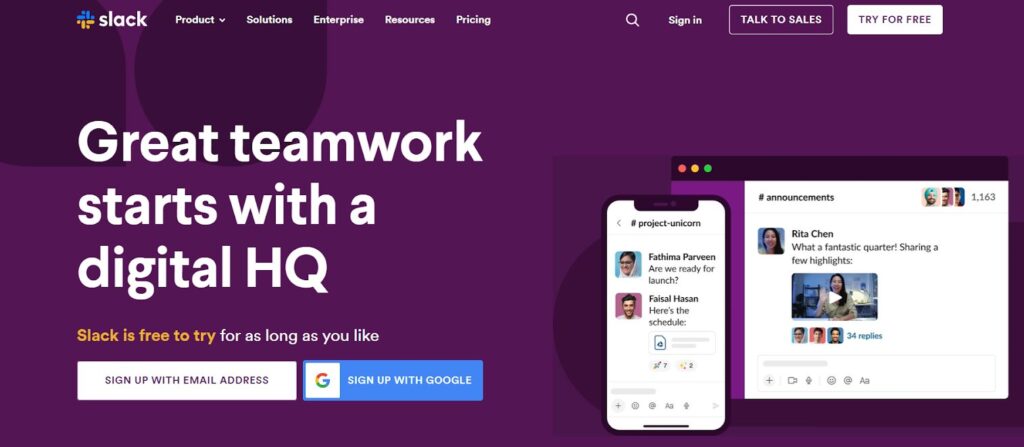 Slack is one of the top employee engagement tools known for effective team collaboration. This software is used across industries and provides public channels to facilitate meaningful conversations. It has collaboration features that provide more than just messaging.
You can seamlessly integrate Slack with third-party tools and communicate with your team quickly and securely. The Slack organized spaces, also known as the channels, provide for collaboration across offices, departments, and time zones.
Features:
Channels

are flexible workspaces to get a shared view of how work is done among team members. Add more clarity to work, align different tasks, and maximize productivity.

Huddles and clips

enable teams to collaborate in real time and solve problems without disrupting other work schedules. Connect via audio/video for deep conversations.

Connect

faster and in a secure way with outside organizations. Connect new workflows and achieve speed through collaboration.

Send messages directly or schedule them for later.

Connect with your remote teams through group chats.
Pros
Screen sharing

Great video quality

Powerful integrations
Pricing
Starts from $0/month
Employee Engagement Software for Feedback
Feedback software is an online tool that helps organizations capture actionable feedback and use the responses to drive improvements. These tools are engineered to evaluate employee engagement and satisfaction.
The top employee engagement software for feedback are as follows:

ProProfs Survey Maker is employee engagement survey software that enables businesses to collect feedback through personalized feedback surveys. You can pick from 100+ ready-to-use templates to design visually appealing surveys, or you may create your own surveys to gather actionable data.
This survey maker also provides excellent white-labeling features. You can customize the surveys with your brand colors, logo, and themes. Share surveys via emails with your employees anytime, anywhere, to gather feedback 24/7.
Features:
Leverage

professionally designed employee training survey templates
Reporting dashboard

to get a holistic view of who took your surveys

20+ question types

for collecting actionable feedback on training

Solid Integrations

with Mailchimp, Salesforce, and Zendesk
Pros
Intuitive UI

Robust reporting system

Drag and drop feature

Need more survey templates on employee training

The trial period is short
Pricing
Starts from $0.05/month, billed annually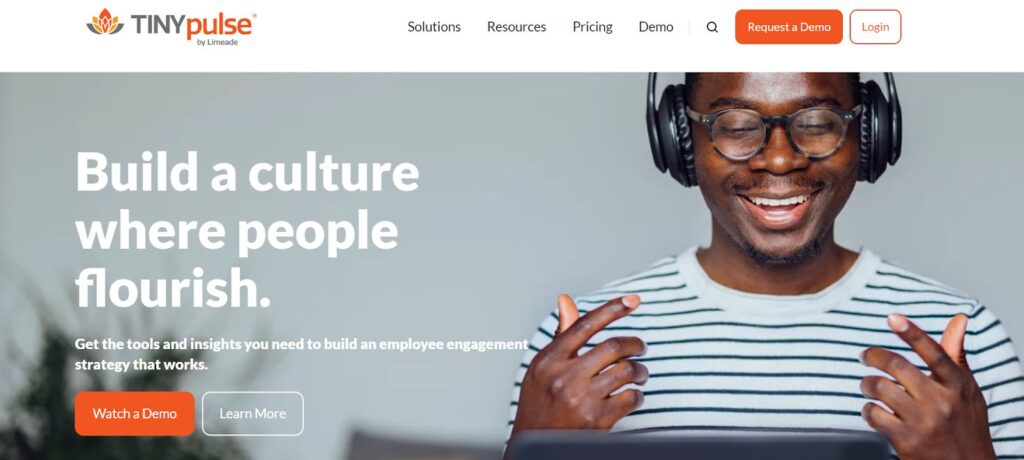 TINYpulse is one of the best employee engagement survey tools that provide real-time feedback on staff engagement. The solution helps gauge how your employees are feeling through anonymous surveys. This lets employees provide candid responses and suggestions without any fear of retaliation.
Surveys help in gathering analytical information, which helps employers incorporate new changes or transform organizational culture. It's a mobile-friendly platform, so that respondents can take surveys anytime, anywhere.
Features:
Pre-built surveys

designed by experts to entice employees to respond to your surveys

Pulsing surveys

that you can send to your employees weekly. Send reminders to those who forget to respond.

Actionable recommendations

based on survey responses for continuous improvement.

All

survey responses are 100% anonymous

. Employees can share their feedback without disclosing their identity.
Pros
Survey library

Best for continuous feedback collection

Advanced visualizations for better decision-making
Pricing
Get in touch with the company for a quote.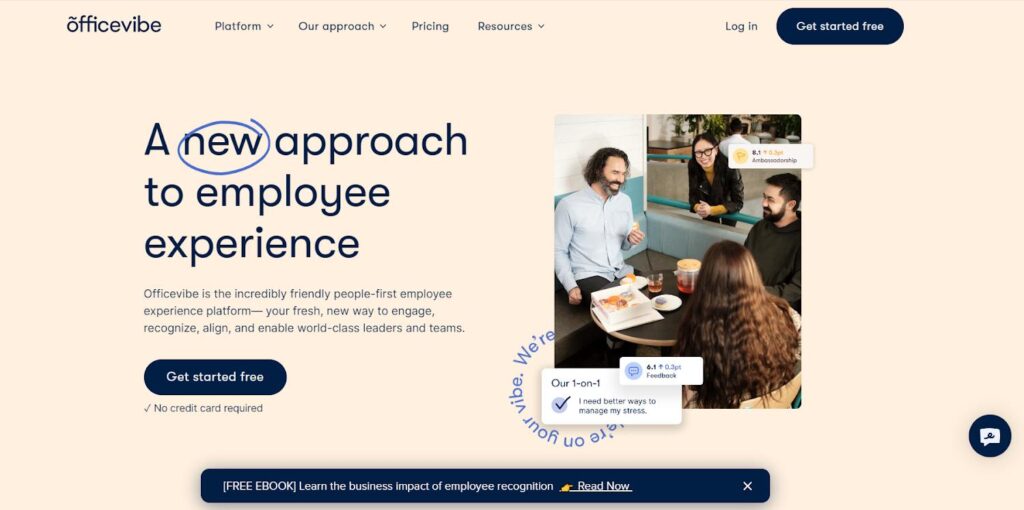 Officevibe is user-friendly employee engagement software that offers a secure platform to provide honest feedback through surveys. The pulse survey tool lets employers collect continuous feedback on employee engagement. The surveys are designed by experts and create a safe space for real talk.
The pulse surveys deliver a combination of sliders, ratings, and MCQs to deliver engaging reviews on a weekly, bi-weekly, and monthly basis. You can check which questions fetch the most response.
Features:
Automated pulse surveys

with 122+ science-backed questions. It has an algorithm that pinpoints your present team climate.

Custom employee surveys to get responses to topics specific to your team.

Anonymous feedback to offer a safe space for sharing honest feedback.

Comparison survey reports across teams to ensure no teams are left behind, and all challenges are addressed.
Pros
Automatic feedback

User-friendly interface

Surveys on different topics
Pricing
Starts from $0
Best Software for Project Management
Project management software is an online tool for successfully planning, managing, and executing projects. The software is used for collaboration among team members and stakeholders.
The best project management tools are as follows: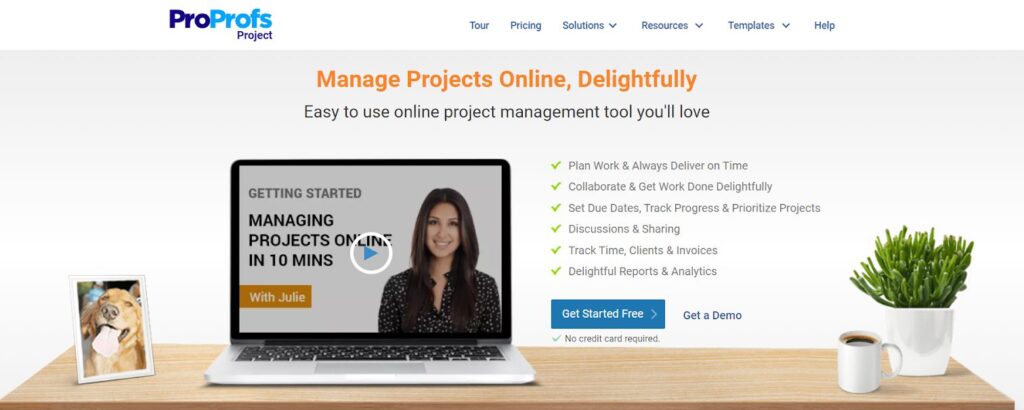 ProProfs Project is a cloud-based project management tool – from planning to execution and completion. This all-in-one solution gives a 360-degree view of your projects so that your teams achieve their goals and meet deadlines, irrespective of location and time zones.
This online software lets you prioritize projects, track progress, and join discussions anytime, anywhere. You can make time sheets to record how much time is devoted to each project. Automated invoicing eliminates the manual tasks of calculating billable and non-billable hours.
Features:
Use a shared

calendar

to plan your tasks and never miss a deadline.

Gantt chart makers

to view milestones and deadlines, track work progress, and reassign or reschedule tasks.

Delightful reports

to track time spent on projects and make data-backed decisions.

Effective collaboration

through comments and feedback.
Pros
File sharing

Milestone tracking

Easy resource management
Pricing
Starts from $2/user/month, billed annually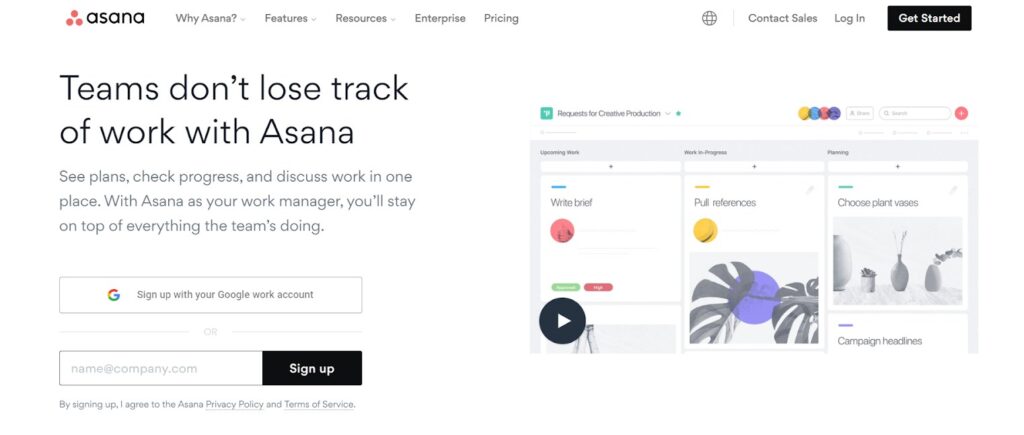 AsanaAsana is a user-friendly and robust project management tool that helps teams keep track of their tasks, workflows, and deadlines. It acts as a collaboration tool that enables team members to work in cohesion and let everyone know who's doing what. You can share project briefs, files, documents, and work updates.
Asana lets you track your team's progress, enhance collaboration, prioritize tasks, and streamline communication. The work graph data model lets you hit deadlines, meet work goals, and automates workflows.
Features:
View projects

as you like and structure your work accordingly. Create a to-do list to capture and manage every step of your projects.

Kanban board view

enables team members to view tasks the way they want.

Set due dates and reminders,

so every team knows the delivery date, no matter their time zone and schedules.

Share project briefs,

including scope, backstory, and other key details.
Pros
Easy to use

Collaboration focused

Powerful integrations
Pricing
Starts from $0

Trello is Kanban-based project management and employee engagement software that functions like yellow stickies on whiteboards. This software can manage projects, workflows, tasks, and more. Trello's popularity comes from its simple user interface. Unlike other software, this tool is easy to grasp within a few minutes.
The best thing about Trello is that you can easily create boards for multiple projects. The board contains lists that could include persons, teams, or workflows. It also has cards that contain notes, attachments, checklists, and more.
Features:
Preset templates

for all kinds of workflows, procedures, and processes. Find pre-designed templates on team management, productivity, and more.

Trello views

enable you to view your projects from every angle to make better decisions.

Create

dashboards

for every project and track all your project progress 24/7.

Butler feature

to create commands on your Trello board. Set due date commands, calendar commands, and set up card buttons.
Pros
Excellent task overview

Great collaboration tool

Ability to create multiple cards on each board

Hard to integrate Trello workspace with Google sheets

Limited free features
Pricing
Starts from $0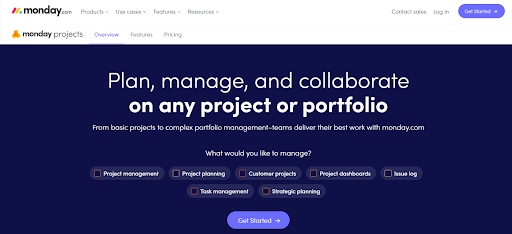 Monday.com is versatile employee engagement software that facilitates project planning and management from one place. You can streamline your project by automating all tasks from start to finish. The best thing is that you can collaborate easily with your team members over one shared platform.
This online tool lets you monitor performance and get a 360-degree project view on intuitive project dashboards. This ensures that all your team members are on track and they work effectively to meet project goals.
Features:
Gantt charts

let you view your project scope, status, milestones, and metrics.

Project dashboards

give you real-time data on project goals, budgets, schedules, and resources.

Workload views

can show you the amount of work each employee is assigned. This feature prevents burnouts and helps manage team activities well.

Customizable project templates

to accelerate project execution and saves time for project managers.
Pros
Unlimited personalization options

Excellent integrations

Cross collaborations
Pricing
Starts from $8 /user /month
Frequently Asked Questions (FAQs)
What is employee engagement software?
Employee engagement software is an online tool that organizations use to deliver better learning experiences, increase job satisfaction, and drive growth. It is most commonly used for sentiment analysis, recognizing and rewarding employees for their performance, and collecting feedback through surveys that are sent at regular intervals to evaluate employee experience and engagement.
What are the benefits of employee engagement software?
Employee engagement software increases employee engagement, improves the way they learn, lets employees share their valuable feedback and suggestions, improves the onboarding process, increases employee retention rates, and employees feel more invested in their responsibilities which drives more productivity.
Who can use employee engagement software?
HR departments, managers, instructors, and training departments can use employee engagement software. Mainly, it is used to gather qualitative and quantitative feedback to improve company culture and training programs.
How to choose the best employee engagement software
There are plenty of things to consider when choosing employee engagement software. That's because every platform provides a different set of features, so you need to ensure what you exactly need from your such solutions. Ideally, your tool should be easy to use and must have performance evaluation capabilities, automatic notification systems, surveys, powerful integrations, and employee recognition functionalities.
Ready to Deploy Employee Engagement Software for Your Business?
The tools we went through are the best employee engagement software to drastically increase your engagement quotient. The importance of these tools cannot be ignored because these tools have proven benefits of reducing turnovers and increasing productivity and retention rates.
They can bring a big difference to your learning and work culture. The only thing is that you need to determine which tool will work best for your business. Make sure the one you choose aligns with your business needs and interests with the right set of features.
Do you want a free Training Software?
We have the #1 Online Training Software for employee training & assessment