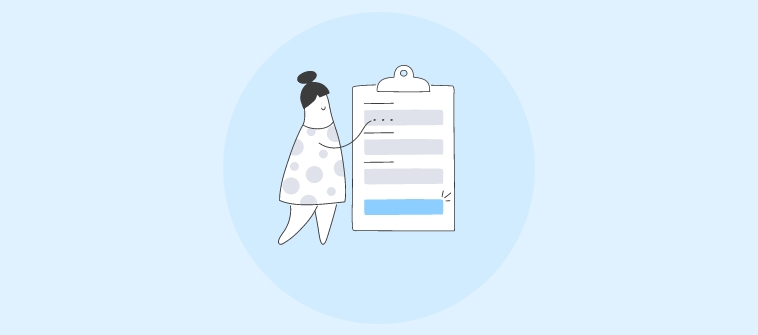 Among the 2022 predictions for the healthcare industry, increased focus on healthcare equity, virtual care, social determinants of health, data management, patient empowerment, and payment integrity are key.
To realize these forecasts by healthcare executives, healthcare companies and professionals will need to undergo intensive training programs, including compliance. In addition to information safety, there will be a renewed emphasis on: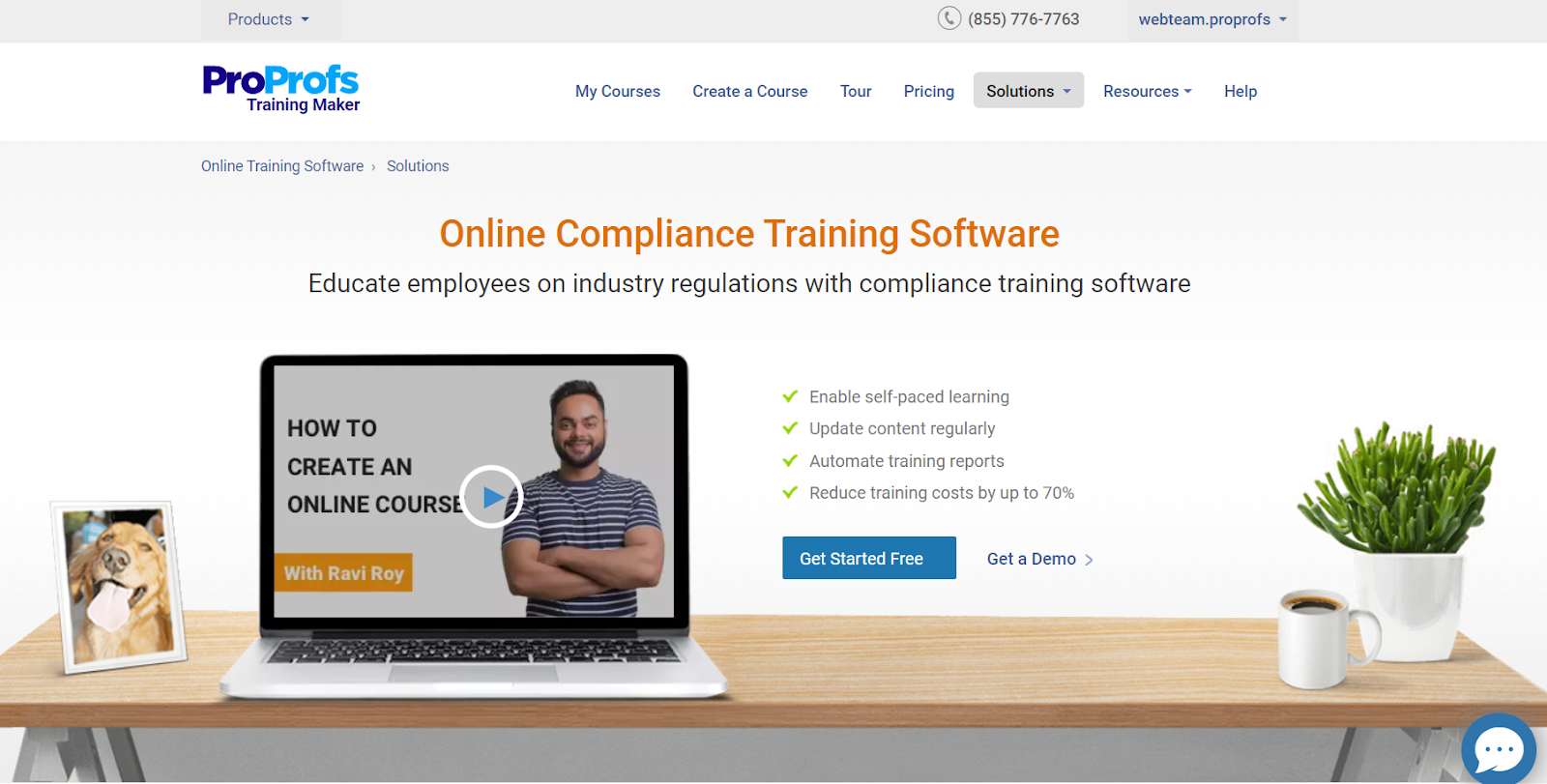 Now the question is: where does your healthcare company stand today with regard to these compliance areas? An audit will reveal the extent of your conformity with these standards.
Maybe the process has already started for you. Or perhaps you are still getting ready to start. Whatever your current situation, healthcare compliance programs are never an option; they are mandatory. Adherence to these rules and regulations is the only way to navigate a highly-regulated industry.
To help you fulfill this obligation easily, this post discusses the key elements of healthcare compliance training and how to develop a successful program. This will make it quick to get started and make the process sustainable.
Continue reading to find out more.
Watch: What is HIPAA Compliance Training
What Is Healthcare Compliance?

Healthcare compliance is the process of strictly adhering to healthcare industry laws, regulations, and policies as mandated by various legislations. It is intended to protect the safety and privacy of companies, employees, and patients.
Compliance rules provide certain guidelines on procedures and processes. Everyone covered by these should follow them in letter and spirit to maintain healthcare standards and remove any potential legal liabilities.
Healthcare Compliance Examples

There are many examples of compliance in the healthcare industry. They are based on specific laws issued by a governing body. Some of the top ones are:
HIPAA Compliance & Security
The Health Insurance Portability and Accountability Act or HIPAA is a United States legislation signed into law on August 21, 1996. It aims at safeguarding the privacy and security of healthcare information.
The law protects sensitive medical data from loss or theft. Under the law, no individual or organization should disclose confidential information without a patient's knowledge or consent.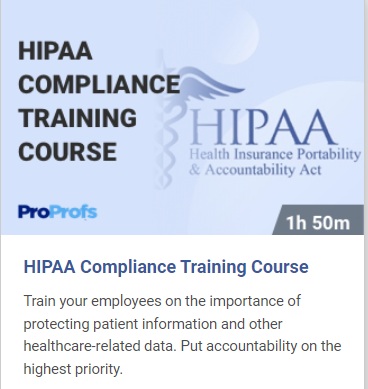 Drug Enforcement Administration (DEA)

DEA is a federal law enforcement agency under the U.S. Department of Justice. It is tasked with combating drug trafficking within the country. The agency's mission is to enforce the laws and regulations related to controlled substances, including their collections and disposals in hospital and clinic premises. This makes the DEA standards a significant aspect of a corporate compliance program in healthcare.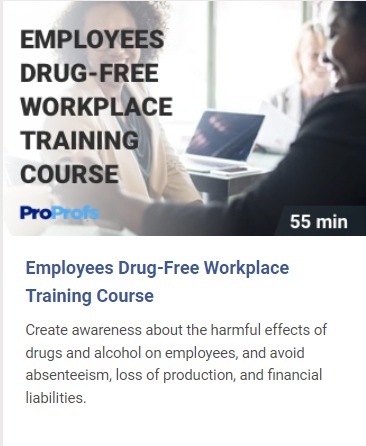 Food and Drug Administration (FDA)

Healthcare compliance rules under the FDA protect public health by ensuring the safety and efficacy of prescription drugs, vaccines, dietary supplements, and medical devices. This makes it one of the most important compliance standards for the healthcare industry to follow.
Watch: What is OSHA Compliance Training
OSHA compliance is not exclusive to the construction and manufacturing industries. It also covers healthcare systems as it relates to the hazards of bloodborne pathogens, potential drug exposures, ergonomics hazards, lab hazards, x-ray hazards, and more.
This is intended to promote workplace safety practices in hospitals, clinics, nursing homes, and other healthcare facilities.
Watch: What Is a Bloodborne Pathogen Training? | Course Introduction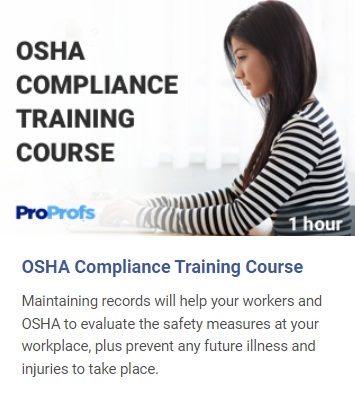 Also known as the "Lincoln Law", the False Claims Act is a federal law for combating fraud. According to this act, any person who deliberately submits false claims to the government is liable for damages and a penalty for defrauding government programs. It is a powerful weapon for containing healthcare fraud, so all healthcare providers should be aware of it.
Anti-Kickback Statute (AKS)

AKS is a criminal statute aimed at preventing bribery in the healthcare industry. The law makes it a criminal offense to knowingly offer or receive anything of value to induce or reward referrals of goods or services reimbursable by a federal healthcare program.
The idea is to build a corruption-free system, so compliance with this law through hospital compliance training is mandatory.
Case Study: Access to Counseling
Here's a case study of a mental health services provider Access to Counseling that showcases how it easily administers compliance training programs using the ProProfs Training Maker learning management system (LMS).
As a growing company, Access to Counseling has a significant need for training its employees and contractors. Keeping up with the training records was a daunting task. It wanted to simplify and organize a large amount of training required by different accrediting bodies.
With ProProfs, the healthcare provider found it much easier to organize information in one place and maintain records of training participants. It slowly moved towards being a paperless office by maintaining electronic records.
The LMS made the enormous task of maintaining training records simpler and more efficient. This way it made ongoing compliance easier.
Why You Need Healthcare Compliance Training

Like compliance norms in other industries, the rules for healthcare compliance are essential across all hospitals and clinics to maintain certain established standards.
When healthcare professionals are aware of industry regulations and guidelines, they know what they need to do in a given situation. This improves decision-making, and ultimately it reflects in better patient care and patient outcomes.
Patients feel safer and more satisfied when their care is based on appropriate and the latest medical standards.
Ongoing compliance:
enables healthcare providers to adhere to federal & state laws

eliminates legal liabilities

helps build a good reputation in the community

increases the trust quotient among patients and their family members

protects you against frauds, scams, and other illegal activities

enables companies to detect, resolve & prevent malpractices
Elements of an Effective Healthcare Compliance Program

Similar to other corporate training programs, a healthcare compliance training program is made up of several vital components. You can be confident of success in your compliance initiatives when you get all these elements right. Let's find out what they are:
Written Policies & Procedures

A written rulebook is a must, whether it is the code of conduct, communication protocols, patient record handling, or any other internal policy. When implemented properly, it can promote compliance behaviors, remove vulnerabilities, and improve the quality of care. These standards of conduct eventually bring you closer to your mission and objectives.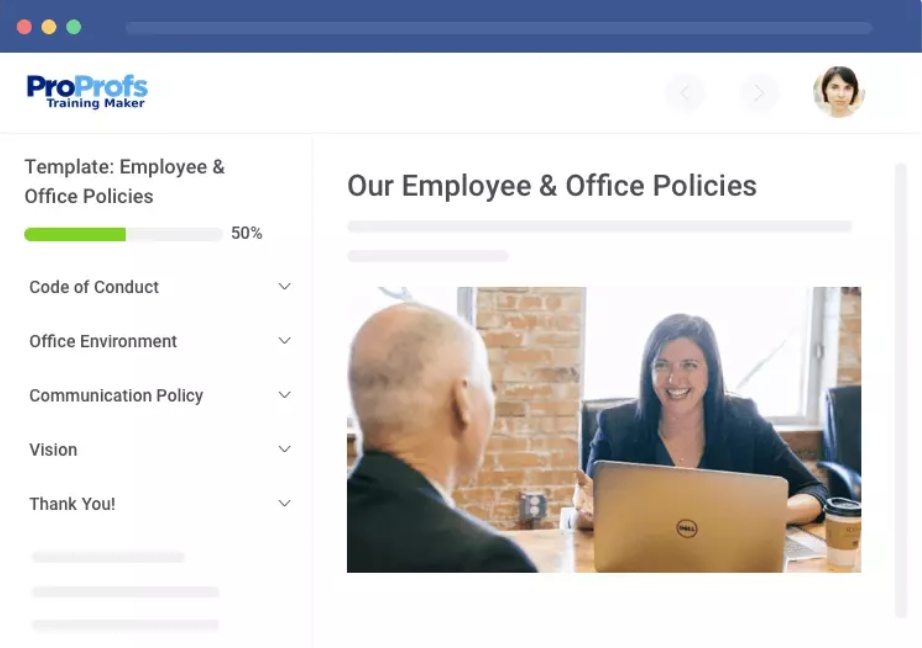 Ongoing education and training lie at the heart of every compliance program, and the healthcare industry is no exception. All members of your organization should undergo at least annual training on compliance matters, such as HIPAA. Make it a part of their job requirements to stay updated on compliance issues and trends.

The right training platform and courses can make a difference in this effort. Ideally, the tool should be user-friendly, scalable, and backed up by excellent support.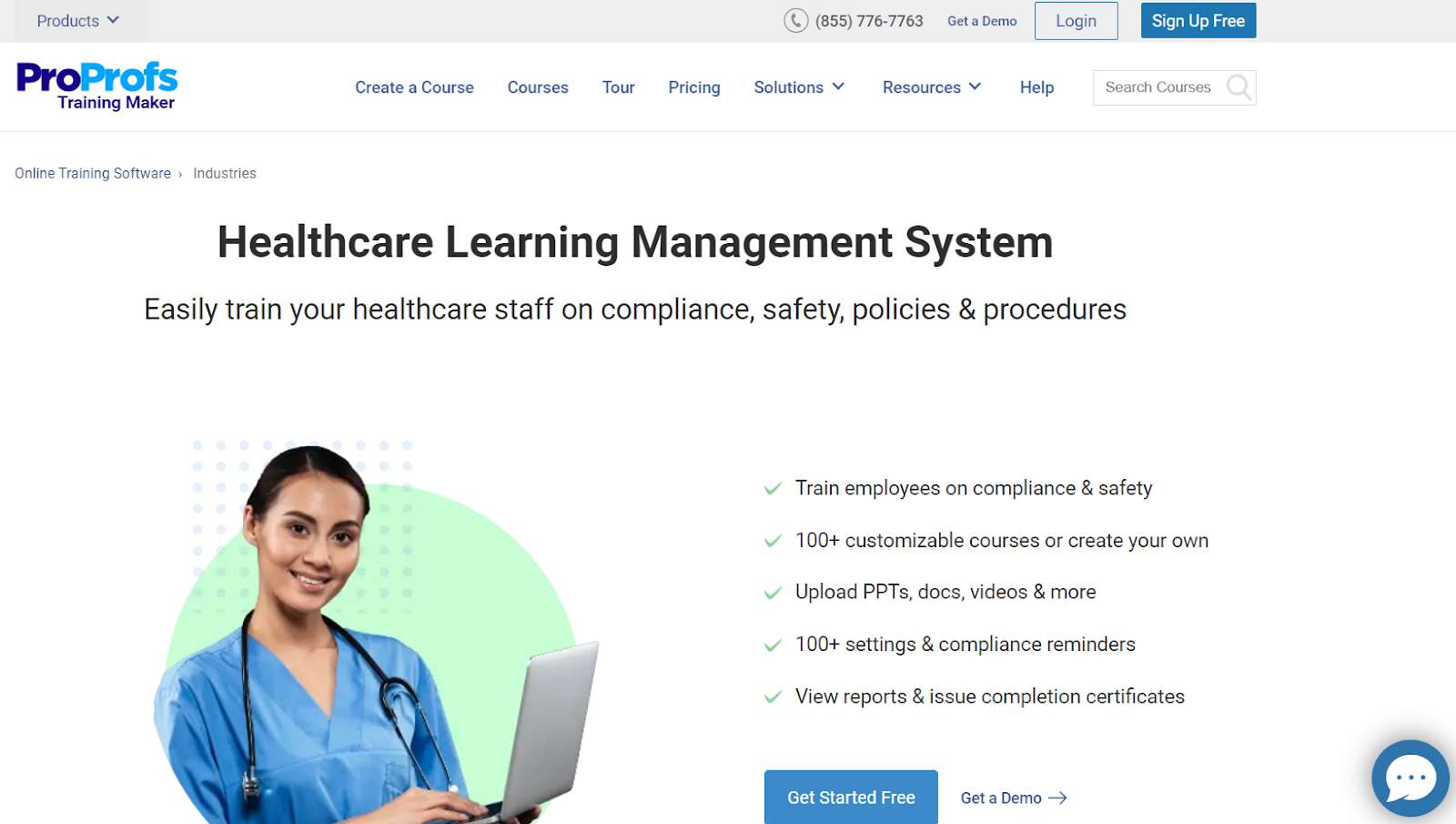 Similarly, the courses you use should be professionally designed, up-to-date, engaging, mobile-optimized, and customizable.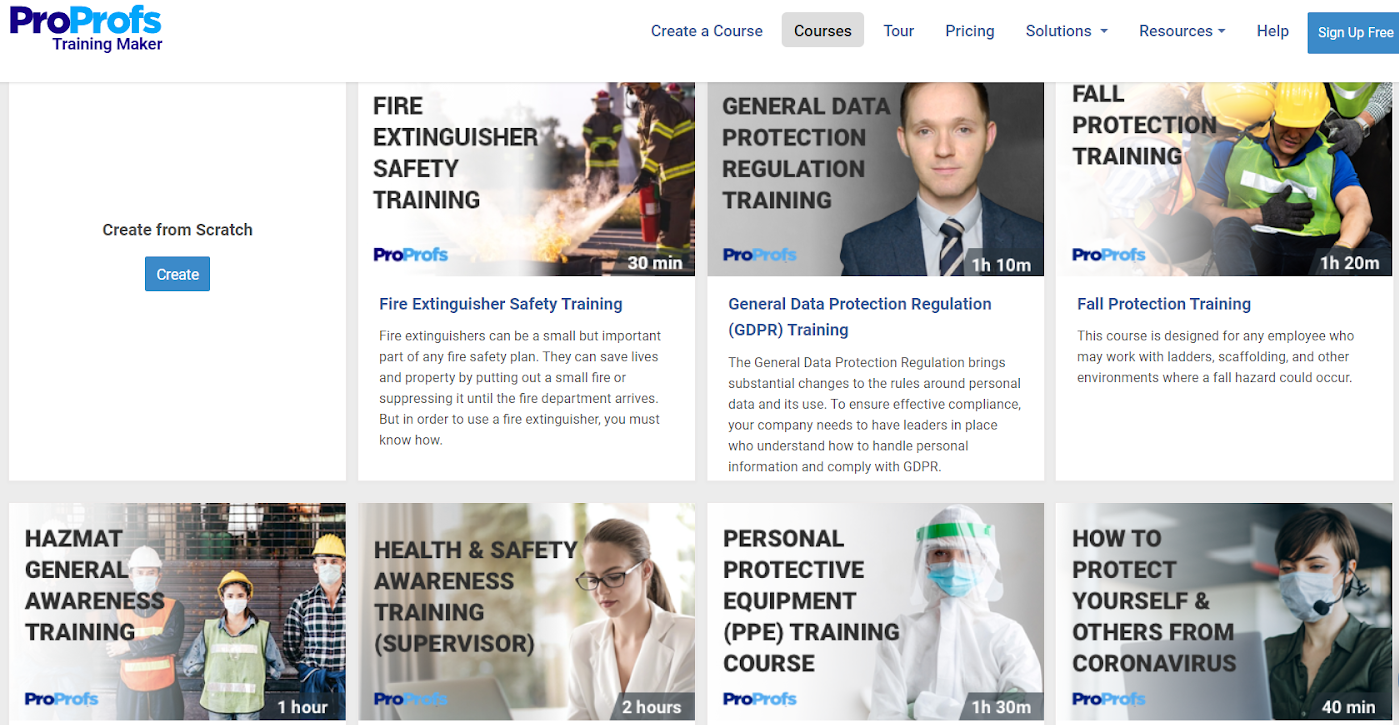 Monitoring, Evaluations & Risk Assessment

After your employees complete a compliance training program, the next step is to follow up on it and closely monitor improvements in the workplace. Evaluations or audits from time to time will help you assess the effectiveness of your program and identify any potential risks still in existence so that you can take measures to minimize them.
Another essential element in healthcare compliance is keeping the lines of communication open. This will encourage employees and patients to report instances of non-compliance freely.

Just like cases of sexual harassment in the workplace, you can only act on non-compliance with detailed reports. Allow anonymous reporting to protect privacy and confidentiality.
Prompt Responses & Remedial Actions

Based on specific reports and your official investigations, you can take corrective measures to understand what went wrong and put in a mechanism to prevent compliance cases from recurring.

Timely remedial actions and their documentation for an audit trail are necessary for maintaining a clean compliance track record. This is because governing bodies always see if there were sufficient actions from a company's side to prevent non-compliance cases from occurring in the first place.
Compliance Officer & Compliance Committee

If you want to see progress or milestones in your compliance initiatives, you need to put someone in charge of them. They will oversee all activities related to your efforts, including compliance with training programs, to build a compliant company.
Watch: How to Set up Reminders and Ensure Course Compliance
A compliance officer and a compliance committee monitor such programs and offer support and advice to an organization. They are at the helm of these initiatives and use the authority bestowed upon them to make them a success. This will be based on your company structure, the type of services you provide, and customer profiles.
How to Develop an Effective Healthcare Compliance Program
Now that you know the key components of an effective healthcare compliance program, next, let's understand how to develop such a program. If you're a first-timer, this guide will certainly help you, and if you've already delivered such programs in the past, you can still take a cue or two from this guide to further improve your programs.
Here's what the process of developing an ideal compliance program for healthcare looks like:
Evaluate Your Existing Policies & Procedures

To begin with, take stock of your existing policies and procedures. During such an analysis, you can identify gaps in your healthcare policies and bridge them.

Also, if you find some policies and procedures are outdated, you can update them and make them more relevant to the present time. This will make them more relatable to your employees and patients.
Along with this, keep all your policies and procedures centralized in one place so that you can easily find, update, delete, or share them.
According to the compliance guidelines by the Office of Inspector General, healthcare organizations should authorize a person to oversee, manage, and report on compliance initiatives. These persons will be in charge of implementing compliance policies, tracking progress, and enforcing accountability.
A corporate compliance officer and a compliance committee can help steer your organization towards a culture of compliance.
Communicate With Your Employees
At the outset, there should be clear and consistent communication with your employees on what compliance rules they need to follow and why. They should understand the real value such programs bring to themselves and the organization.

This will prevent them from regarding these rules as another corporate policy that they just need to tick off a list. Make sure you communicate any changes and updates to your compliance policies at the right time so that nothing is missed out.

Watch: Communication Skills for Managers
Conduct Ongoing Compliance Training

Now we've come to the main part of a healthcare compliance program. Training is a way to reinforce the importance of compliance policies and procedures. Through real-life examples and scenarios it also demonstrates how employees can deal with different compliance situations in the workplace.

As mentioned above in the section about elements of healthcare compliance training, a robust LMS and purpose-built courses are the two most essential ingredients for conducting compliance training. These resources enable you to simplify, standardize, and accelerate training through better accessibility, engagement, control, and retention.
Watch: How to Choose the Best SaaS LMS Software
Keeping track of employee compliance with your policies and progress is particularly important in compliance programs. Most of these training sessions are supposed to be held at a stipulated time, like once a year, and no company wants to miss the deadline and attract legal action.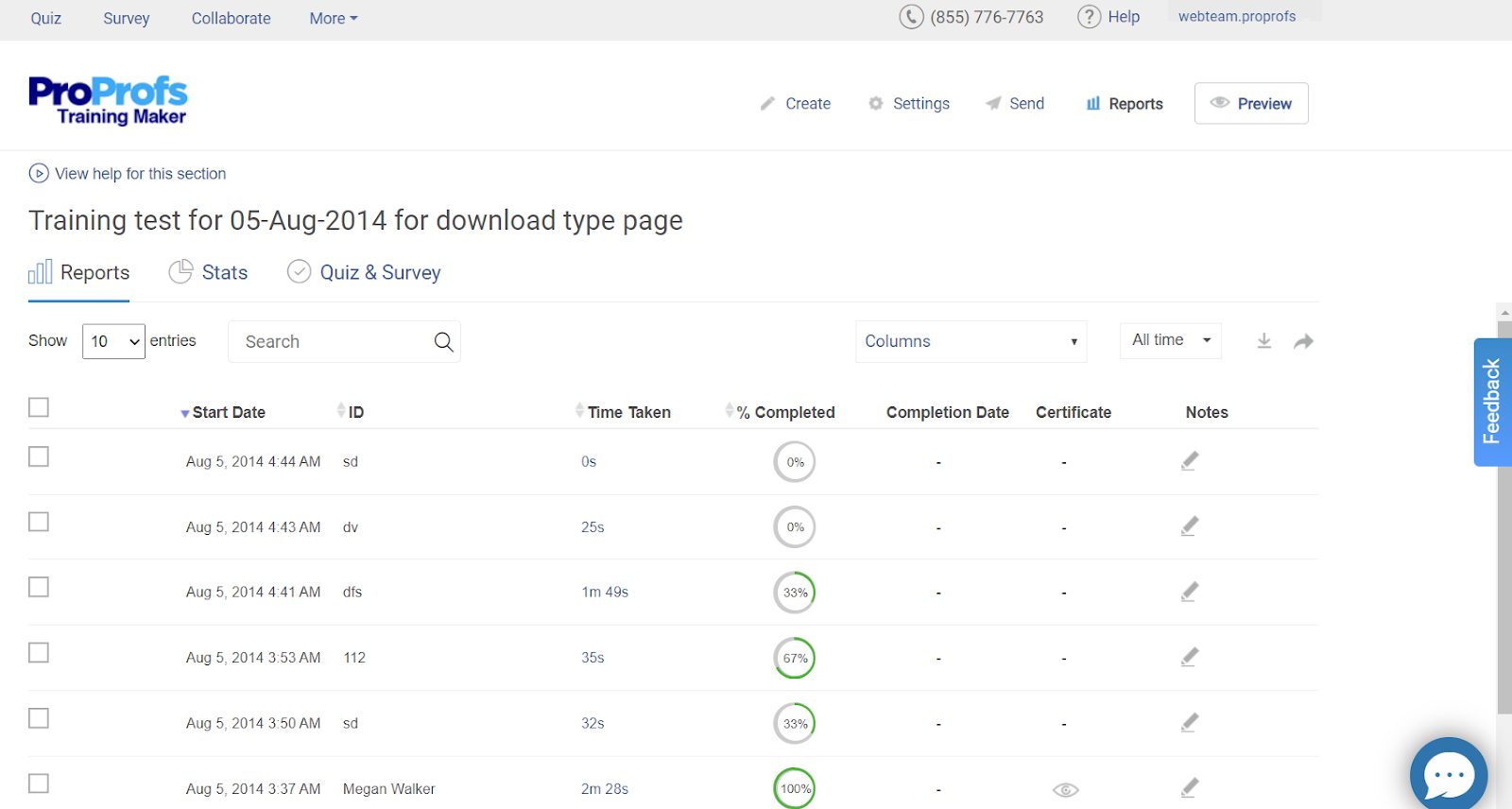 Along with this, regular reviews of your training programs will show you whether they are working as they should and whether participants are absorbing information the right way.

Here, a feedback system such as online surveys can provide insights into what the participants think about the program, like the difficulty level, suggestions for improvement, and more.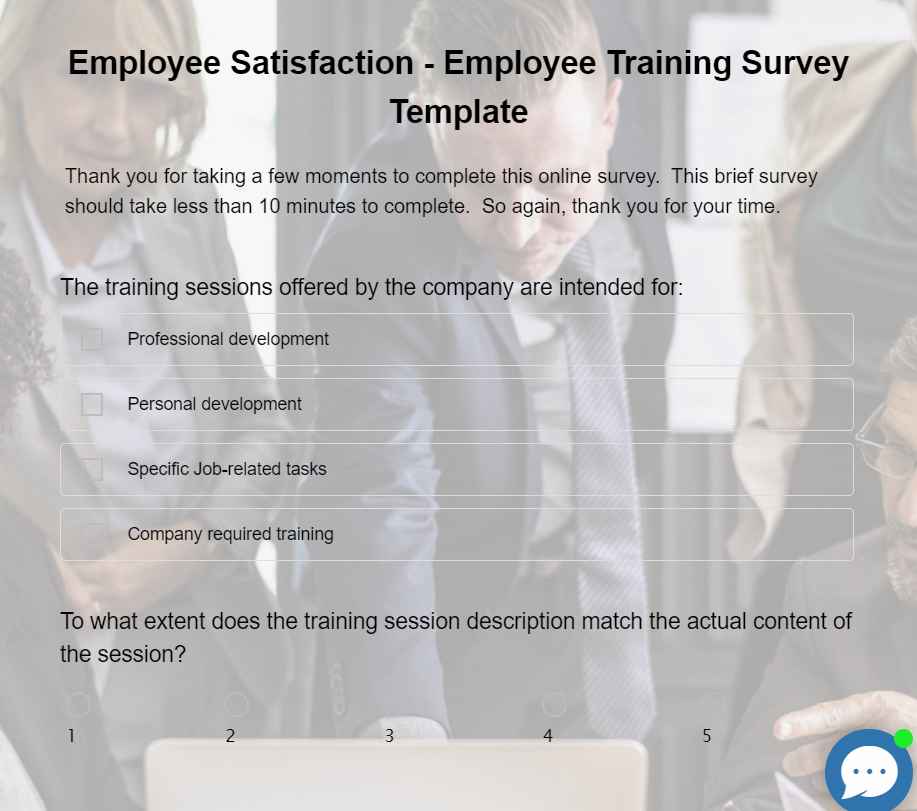 In addition to a program on healthcare compliance, you need to communicate to your employees the disciplinary actions available in case of non-compliance. This is to enforce accountability on their part. Otherwise, a lack of corrective measures will render your program ineffective.

If there is no compliance even after you've provided all the necessary resources for the training and your employees have acknowledged it, this calls for some action like discipline training.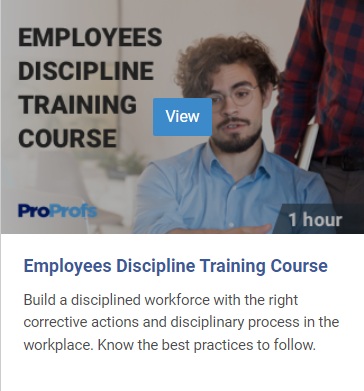 Build a Compliance Culture in Healthcare
The healthcare industry needs to operate through numerous compliance regulations. The question is how healthcare companies can continue to abide by these laws easily and sustainably. The answer lies in an effective healthcare compliance plan.
To recap the points we discussed:
Keep all the essential elements of the program in mind

Evaluate your existing company policies

Make necessary changes to them

Communicate the importance of compliance to your employees

Administer compliance training

Use the right tool and courses

Track, review & improve the process
When you fully implement these steps, your healthcare compliance program can never go wrong. Instead, you will be building a compliance culture where everyone feels safe and secure, apart from keeping your relationships with law enforcement agencies positive.
Do you want a free Training Software?
We have the #1 Online Training Software for employee training & assessment