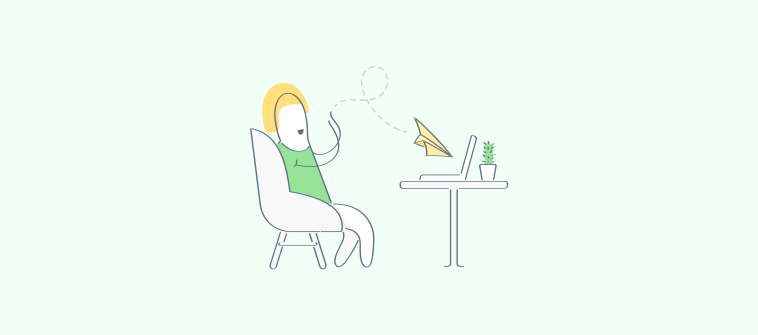 Gone are the days when people used to learn everything in tuition classes or coaching classes. Nowadays, everything takes place in an online environment. There are not just one but many learning management systems that make it possible. You can use one of them to create your own online courses.
You might have surely formed a rough idea of the entire feature you'd want to see in a learning management system software. You also would have implemented the same thing.
Now, certain elements are significant and highly useful, but many of the systems do not have it for some reason.
That's why we have gathered all those features and put them together so that you can implement all of them in your online employee training software.
Watch This Video:

#1. Live Chat
The most important feature that a web-based training software is missing nowadays is the live chat feature. Learners who enrolled in your course should be able to clear all the doubts. Also, if the visitor has some problem in navigating your website or wants to ask something about the course, there should be a support system ready to help them through chat.
You can also set up a chatbot, which answers all the common questions visitors ask. So, make sure your learning management system has a live chat option.
---
Read More:- Live Chat vs Chatbots: What You Need to Know
---
#2. Scoreboard
You will need to encourage your students or employees throughout a learning and development (L&D) process. The best way to do it is by adding the scoreboard. If you have a lot of participants enrolled and using your system, you can choose a certain number of students in the scoreboard. You can set the score of the top 10 course takers and encourage other learners to do better.
Moreover, you can also update it every week. In this way, each of your learners will get a chance to appear on the scoreboard. Instructors often witness an increase in the engagement level of learners, thanks to such features.
#3. Feeds
Just like social media has a newsfeed, it has become crucial to have a feed in your learning management system. Learners can easily update any of the news they have, especially if there is something valuable that they need to share.
In this way, having social sharing features such as feed as well as the comment box is necessary in today's interconnected world.
So, if you do not have a feed option, make sure it has one.
Moreover, make sure that the picture and documents sharing option are enabled in private messaging as well as in the feed. Your users should be able to share photos or documents.
#4. Groups
Groups do not necessarily mean a group chat. Admins must be able to create a group where they can add a team and enable meaningful communications among themselves.
If you need to train learners in different teams and groups, a learning management system with this feature would be very helpful. For instance, you will surely need this feature in the LMS if there is a project assignment.
Even if you don't have, it is better to have groups feature in your learning management system. That way, users can message and interact with each other using these groups.
#5. Webinars
In the last decade, webinars have played a vital role in terms of adding value to online learning. You can periodically organize webinars and let your audience learn a specific topic such as compliance training in an interactive, two-way manner.
Your learning management system should have a feature that enables you to host webinars and where all your audience can discuss different topics during the seminar.
Just like workshops allow groups of people to engage in intensive discussions, webinars also make a useful medium in any modern employee training or eLearning program.
Read More: 10 Best eLearning Authoring Tools
#6. Q&A
No matter how well you teach or how many courses you use, there are always going to be some doubts and queries, which you need to solve.
To solve all the doubts satisfactorily, you should be able to create a Q&A section or FAQs where you can answer all of the questions.
If you already have feed enabled, you can add the Question feature over there.
Moreover, you can add points or rewards by which you can encourage the learners if they answer questions or solve any particular problem.
In this way, you'll be making training and learning more engaging for your learners.
Watch: How to Enable Collaboration & Discussions in Your Course
#7. Experts Area
You can simply find the best experts in the related field of your training or eLearning and let them provide a session using your learning management system.
It is always better to add a new perspective to the subject under discussion. Your learners will get more value from the expert inputs and really appreciate your efforts.
Moreover, you can add interviews and short video clips related to the topic so that learners learn exactly what they should do to achieve success.
Read More: 20 Best Learning Management System (LMS) Software
#8. Surveys
Tired of checking out what your learners like and what they don't?
Now, don't worry about it and leave it to learners themselves.
Create a survey where they will answer simple questions on how they feel about a particular course that your learning management system delivers.
You can take into consideration all of it and take the necessary steps accordingly.
Moreover, adding a survey is also one way to welcome new ideas that are suggested by the end users. You can eventually save some money by not hiring a tester as your learners will tell you what they feel about course content or other any other topic.
Don't forget to add a comment or suggestions section in your survey where users can freely share their suggestions.
#9. Teamwork
In any (L&D) environment, teamwork is necessary to achieve a positive learning outcome.
Your learning management system should have features that allow collaboration among learners, for instance, to carry out assignments.
This will help your learners bond with each other and increase knowledge sharing.
---
Read More:- 5 Effective Strategies to Improve Team Collaboration
---
You should periodically add some event or task where teamwork is needed rather than a single person work. If you don't think the learners are going to like it, you can add it as an extra assessment and not as the mandatory one.
See the results and act accordingly.
#10. Rewards
Rewards are amazing, as everybody likes it when they get it. You can add rewards or point system on your learning management system.
Learners will get the point for doing several tasks or completing a course. This can be anything such as a shopping discount or even a completion certification will work.
You can also add free gifts, which can be redeemed using the points a learner has earned.
Try adding some quiz as well. It helps you check how much your learners are retaining knowledge.
Do you want a free Training Software?
We have the #1 Online Training Software for employee training & assessment