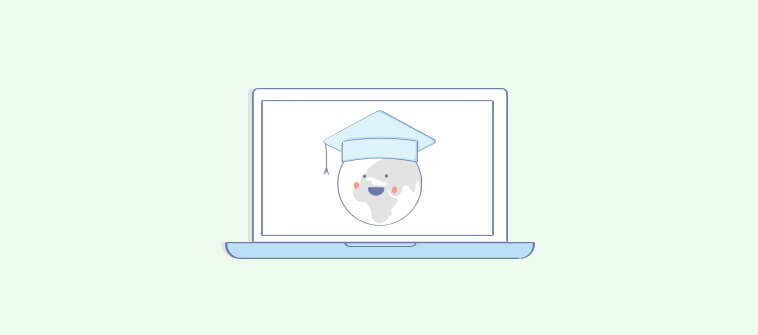 eLearning platforms
may not be a new concept among students and tutors worldwide. Millions of learners and instructors have been using them as an additional learning system apart from their main education delivery systems.
But 2020 has totally changed the scenario. The legacy education system of brick and mortar has gradually transformed into live streaming platforms within a short time.
Yes! We are talking about the recent COVID-19 pandemic.
By adhering to the safety precautions recommended by WHO and local government policies, social distancing is the only way to overcome this challenge.
As a part of this, education systems are quickly moving towards the live streaming platforms and utilizing their full potential.
Virtual School Model – Are We There Yet?
Education streaming platforms bring several benefits to both students and teachers. Before we get to those benefits, let us look at the quick transformation of a U.S. teacher with little knowledge of modern technology.
Living in the small county Nashua in New Hampshire, Ms. Sarah is a regular English tutor. She belongs to old school and is not aware of the latest technologies except sending emails.
When the Nashua District of Educational Division ordered all the school districts to move completely to a virtual classroom model, like her, hundreds of tutors were startled because they didn't know where and how to get started.
But fortunately, within a week, they learned the nuances of live streaming platforms. It was all because of the easy user interface and brilliant features, which made the life of numerous tutors and students much easier.
Watch the World's Easiest Way to Create Online Tests and Assessments
How Education Streaming Benefits Students
Dynamic Educational Content
Gone are the days where the education system stuck to one printed syllabus model and followed them religiously for the whole academic year.
Education should be a continuously evolving process and adapt to the newer technology as and when required.
A live streaming platform enables an educational system to easily provide on-demand content to students as per the current niche technology. Examples include robotics, AI, or the latest research in microorganisms.
Multimodal Learning
Multimodal learning resonates well with a famous saying, "A picture is worth a thousand words."
Several studies prove that at an early age, children's sensory organs are at a more receptor stage. So, educating them with a multimodal learning system at this time helps them learn better without lagging.
Live streaming platforms come with many excellent features, which stimulate the visual and auditory senses of learners with rich multimedia images, tutorial videos, graphs and so on. This, in turn, increases their attention span and memory retention.
Cultural Diversity
Online education system provides an opportunity to different sets of students worldwide. It provides a platform for diversified cross-cultural students who come from different walks of life. Students can learn a lot more from each other's culture and learn to respect and embrace other customs at an early age.
Effective Interactivity
Peer-to-peer learning between students through one-on-one or group chat is a key feature in the online education system. Some online learning management systems provide tools for online discussion & collaboration, including online community and Q&A-based forums.
Since the millennials are quite active on social media, they can also learn through social sharing in these platforms.
Interactions in real-time are always fun where students can learn and share knowledge in a seamless fashion.
Also, knowledge sharing sessions and webinars can be conducted and recorded for future reference. Chat, digital whiteboards and file sharing features help increase the productivity of the student tremendously.
Why Do Teachers Need to Shift to an Education Streaming Platform?
Accessibility & Hireability
Breaking down the criteria of hiring a potential candidate, one needs to pass through different levels of education system like high school grad, college level and then landing a decent job.
But online streaming platforms provide several hackathon challenges or online coding contests where students, no matter what their age is, can apply and get hired instantly by companies.
Teachers, on the other hand, too get benefit through on-spot hiring, thanks to the online education platform with their global reach. Now, teachers need not work on a single education model system but explore various opportunities in the teaching sector. It can be a mentor to a company, personal advisory to financial firms or communication ambassador for their country according to their specialization.
Evaluation/Analytics
Tracking the performance of each student based on various metrics and drilling down to granular reports & analytics is key to getting insights into their learning & development.
Top e-Learning platforms provide effective assessment tools such as quizzes and tests. They show the learning curve based on historical as well as current performance of the students.
Based on these evaluation reports, teachers can tweak the study plan to facilitate a better learning outcome.
Gamification
Teachers usually find it challenging to keep students motivated to perform outstandingly, for example, by scoring higher grades.
In this context, eLearning platforms can be a savior. They allow you to include gamification techniques in online learning. It can learning paths, course bundles, scoreboards, and certification, which reflect the challenges and rewards associated with typical games.
Gamification increases students' interest in learning through better engagement. This, in turn, makes the teachers' job much easier. It's a win-win situation for both parties.
Virtual Conferencing
Live streams leverage virtual conferencing tools with zero buffering issues. Teachers can now deliver live demos, virtual one-on-one or group meetings, webinars, and conferences.
Instant messaging and live chat options enable participants to raise any questions during the sessions and also record them for future reference.
It helps tutors to effectively collaborate across with their students and give them a near in-person classroom experience at a fraction of the cost.
Key Benefits of Education Streaming for Schools & Universities
Educational live streaming platforms that offer highly scalable streaming services and provide cross-platform support are essential for setting up a remote learning system.
Check out the following significant benefits that these platforms bring to educational institutions.
Wider Reach
eLearning systems have no geographical limit. They can help you reach out to millions of students across the globe simultaneously.
Tutors can forward learning materials to students before the class starts. Learners utilize this time for research and self-study as homework.
Flexibility
Live streaming platforms allow flexible scheduling of online classes to suit students' timing. Also with the help of recorded sessions and video playback, students can view the content anytime with downloadable options.
Video Library
Archiving the previous course modules and saving them in a library is a useful feature in live streaming platforms. Students can easily search the required topic from the well-organized video library.
Cost-Saving
Education is super expensive today. To get into a decent school, we need to spend, on average, $2,000 per semester. Live streaming platforms cut that massive expense with no hidden fees or infrastructure maintenance costs.
Varied Subscription Models
In the eLearning system, universities or schools can choose from various subscription models, either monthly or yearly. It depends on their convenience.
Over To You
Education is the only way to enlighten and uplift a community. It is the only everlasting treasure that we give to our younger generations.
Considering this, we should make sure that a continued and reliable education system is given to students. Such a system should be accessible anytime and anywhere without any hindrance.
Adopt an education streaming platform such as Vplayed. Set up an online education classroom and choose from their several subscription models.
Do you want a free Training Software?
We have the #1 Online Training Software for employee training & assessment