Blockchain is still in its infancy, but this innovative technology is bound to bring a major shift in the eLearning industry.
The technology finds usage in several industries, including retail, banking, healthcare, and government projects. Digital badges, certificates, cryptocurrencies, and checking credential counterfeiting are examples of how blockchain benefits businesses and organizations in these industries.
eLearning experts can unravel the potential in blockchain and bring more transparency and credibility to how knowledge transfer takes place, how people learn, and how learners are awarded.
With that in mind, in this post, we look at what blockchain is, its roles in eLearning, and how it solves the issue of trust among learners.
What Is Blockchain?
Blockchain is a decentralized digital public ledger. It works through a network of computers that are capable of securely logging multiple transactions while preventing the tampering of records. It enables enterprises and individuals to verify every transaction that takes place.
Blockchain technology got worldwide popularity through cryptocurrencies including Bitcoin and Ethereum. However, blockchain technology can be applied to several other domains to enhance business efficiency and potential.
How Can Blockchain Work For eLearning?
eLearning's sole purpose is to disseminate educational material and teach or train learners for successful knowledge transfer. For this purpose, it relies on digital platforms such as a learning management system or an LMS.
Here, it is crucial to verify the source from where information is coming to ensure that the knowledge transfer is credible.
In fact, the entire ecosystem of eLearning depends on trust and verifiability. For instance, if an organization doesn't believe that the earned credential of the educator is credible or the organization that has issued the credential is fake, then the exchange of knowledge is also not credible.
The entire system hinges on three major stakeholders including eLearning Providers, eLearning Students, and eLearning Verifiers. Let us now discuss each of the stakeholders in detail to give the right context.
eLearning Providers are responsible for designing and creating a curriculum for individuals who are interested in eLearning.
Watch This Video to Know How to Design Online Training Courses Effortlessly

And after the successful completion of the course, the individual is offered a credential that validates the qualification in the form of a digital badge, paper certificate or a digital certificate.
---
Read More:- Accelerate Your Online Course Success Rate With Gamification
---
These are individuals who have completed the course successfully and have got the credentials. While educational courses are taken for multiple reasons, the most common reason is to earn a qualification that the students can use to secure a job or career growth.
This is the reason why students share newly acquired credentials with their professional and personal social networks including LinkedIn, Facebook, and Twitter.
Verifiers and employers are the parties that validate the declared qualifications and capabilities of an individual. In some cases, the verifier could be the current employer who checks the progress of existing employees. A potential employer leverages the verification process to make more informed hiring decisions.
Employers often hire third-party services for this purpose to ensure efficient recruitment.
---
Read More:- Induction Training Software: Helping Integrate New Employees into Your Company Faster
---
Hence, verification parties need to have a secure and reliable framework that can easily validate credentials by verifying the issuing authority, the person who earned them, and the current validity.
The biggest problem in the entire process is trust. All the parties need to believe that all the stakeholders are presenting real facts. Having said that, gaps and issues do happen. This is where credential verification becomes crucial.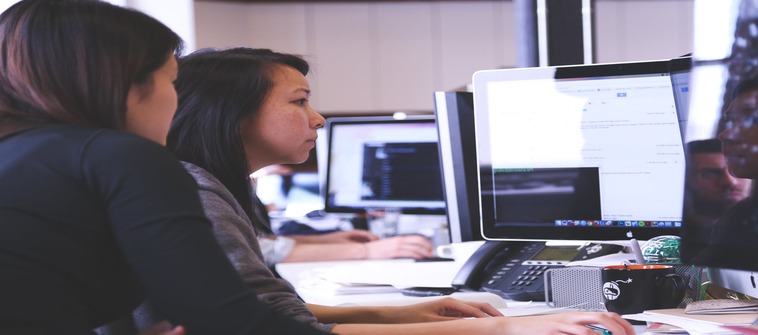 The only solution to eliminate the possibility of forged documents, fake degrees, and enable secured background verification is blockchain technology development.
Blockchain has made the procurement of official transcripts of a candidate's educational qualifications. It has also enabled the preservation of credentials for a foreseeable period of time in a safe and secure manner.
For example, in the event of a fire destroying an entire university and the documents present in it or people feeling a country, there is a high possibility of losing one's original documents.
It can be saved only if the documents are stored in a decentralized network of computers where both learners and issuers of the credentials can access them.
Blockchain provides bulletproof security to credentials. The employers and verifying agencies can also easily leverage blockchain technology for background verification to ensure that the learner has completed the coursework as declared. Verifiers can also verify the issuing authority of the credentials efficiently.
Blockchain technology can also be leveraged to issue online certification. The technology works on the framework where any new block added to the chain needs to be approved by another participant. This way, the record can never be forged or falsified in any way.
It also stops rogues from creating fake certificates of any institute or university. You can easily verify the existing record of the certificate.
Even MIT Media lab is testing the blockchain technology to issue digital certificates. It offers an impenetrable trust for digital certifications and degrees that wasn't present before.
Blockchain Motivated Learning
.
Blockchain can easily solve the issue of trust by implementing tokens. In a normal system where students are enrolled in a certificate course, the only reward they are entitled to is a grade depending upon the academic performance. But the motivation for getting good grades isn't enough for the majority of students.
eLearning organizations can work around these issues by rolling out a blockchain token reward system. In exchange for good performance, students can be rewarded with blockchain token that they can exchange for other cryptocurrencies or cash. The best motivation that could work for students!
Blockchain token can also be leveraged to enhance the quality of educators and educational material and encourage self-paced learning. Blockchain tokens can be given as a reward to educators who devote time to creating high-quality content and educating students.
---
Read More: 15 Best eLearning Authoring Tools
---
Wrap Up
The capabilities of blockchain technology are not just limited to payments and cryptocurrency. The beauty of this technology is that it can be implemented in any domain efficiently and reliably.
With the eLearning industry unraveling significant potential in the coming years, it can easily leverage blockchain technology to make the process of certification more transparent and reliable.
Organizations can also leverage the technology to incentivize educators and learners, promote better learning methods, and encourage students to study better.
Do you want a free Training Software?
We have the #1 Online Training Software for employee training & assessment