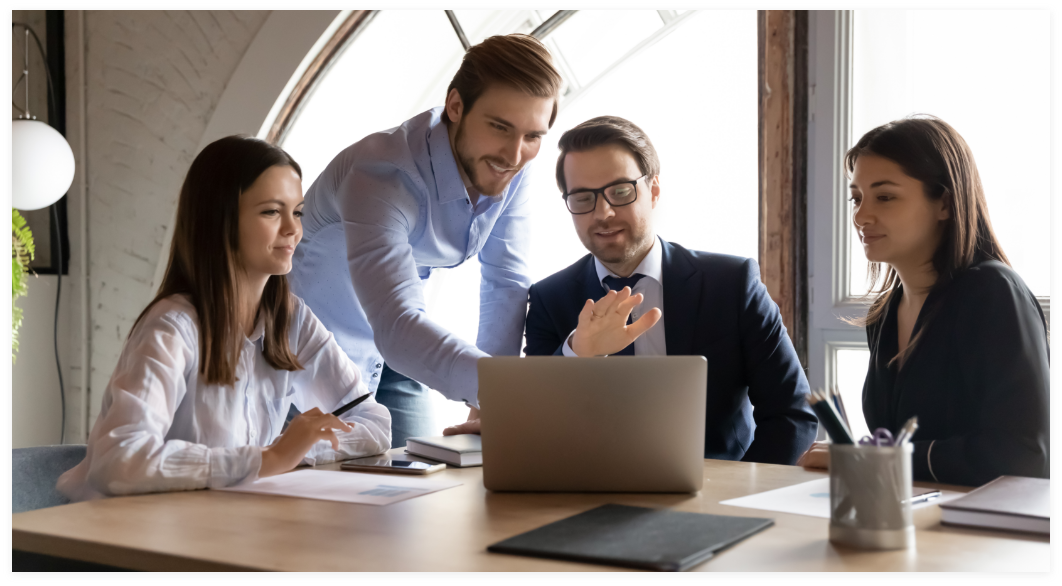 There are several tools that you can use to teach individuals or small groups of learners. The best of them are easy to use, customizable, and come with eLearning authoring, videoconferencing, and reporting tools. In such solutions you will also find a virtual classroom to centrally manage learners, assignments, announcements, and progress tracking. Preferably, a cloud-based tutoring software can be the best option.
The online tutoring market is poised to grow by $153.07 billion between 2021-2025 at a CAGR of around 16%.
Tutoring has been used around the world to supplement regular teaching. With the advancement in educational technology in recent years, we witness tutoring being played out in the online environment.
If you want to partake in this trend successfully, you should embrace all the industry best practices. One of them is adopting the right online tutoring software.
Such eLearning solutions are essential to stay connected with learners in real-time, deliver information effectively, and assess comprehension easily. Also, the current pandemic has necessitated tutors and students to switch to distance learning.
To make the selection process easier for you, we bring a list of the 11 best online tutoring software for 2023. Find out about them below.
11 Best Online Tutoring Software
Why Is It the Best?
ProProfs LMS Software

Award-Winning
Easy to Use
Easily Customizable
Large Content Library
Engaging Quizzes
70+ Languages
Auto-Generated Reports

WizIQ

Built for Education
It's Easy
Beautiful Learning Portals
Test Prep & Tutoring
Over 20 Interface Languages
Live Interactive Classrooms

TutorCruncher

Designed & Built By Industry Experts
Highly Customizable
Integrated Payment Systems
Online Whiteboard
Web Integrations
Business Analytics

Teachworks

Simple & Easy to Use
Highly Adaptable
Designed for Any Device
Seamless Communication
Automated Billing
50+ Free Integrations

Newrow

Easy Platform
Personal & Engaging
Virtual Classrooms
100% Browser-Based
Content Management System
Cloud Recording

Yo!Coach

Fully Customizable
Live Video Interaction
GDPR Compliant
Whiteboard
Flashcards
Review & Rating Feature

myTutoring

Unified Platform
Mobile Ready
Customizable
Integrated Classroom
Data Protection
Transparent Pricing

Tutor.com

Fully Online
Qualified Tutors
200+ Subjects
Personalized Learning
Test Prep
Extensive Reporting

Skooli

Instant Tutoring
Safe Learning
Flexible Scheduling
Interactive Classroom
Replay Sessions Option
Multiple Payment Systems

TutorEye

Tutors Available 24/7
Subject Matter Experts
Live Study Sessions
Written Help
Self-Paced Learning
Convenient Scheduling

Brighterly.com

Easy & efficient to use
Qualified tutors
Qualified tutors
Range of subjects
Interactive tools
Flexible scheduling
Learning on a global scale
Before we proceed further with analyzing these 11 tutoring tools, let's answer some important questions:
What Is Online Tutoring Software?
It is a software platform where teachers and students can connect in real-time for tutoring purposes. Like in a conventional classroom, the best online tutoring tools let you teach and learn different subjects but over the web.
Despite differences in physical locations and time zones, teachers and students can come together on these platforms based on a common schedule. Such software solutions are attended by various tools such as whiteboard, chat, video conferencing, and course creator to facilitate a smooth online learning experience.
What Makes Online Tutoring Software the Best?
It depends on what you're looking for in such systems. That said, like any other software solution, tutoring software online should be easy and simple to use. Also, it should offer all the features any tutor would need.
Customization, support for mobile learning, and security make a tutoring tool worth seeking. Add to usability, reliability, and robustness.
Key Features of Best Tutoring Software
Most of the leading tutoring software systems are characterized by the following features:
Course Builder
Easy Scheduling
Anytime, Anywhere Learning
Automatic Notifications
Videoconferencing
Collaboration Platform
Session Recording
Reporting Tool
Secure Payment System
Let's now come back to our main topic for this post.
11 Best Online Tutoring Software For 2023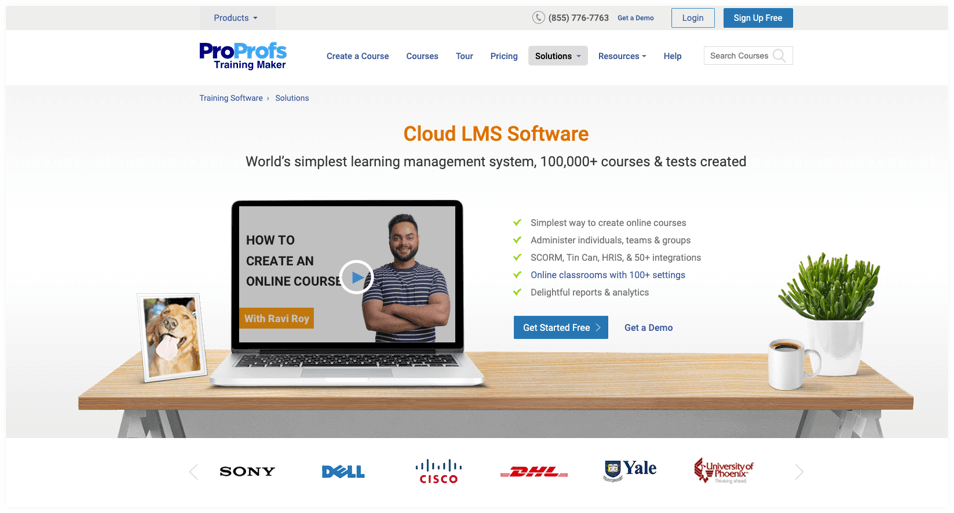 ProProfs LMS is an easy and simple cloud learning management system. Teachers and instructors can use it to create, manage, share, and track online tutoring courses, lessons, and tests. A centralized and secure virtual classroom provides 24/7 access to eLearning resources online so that students can anytime, anywhere.
The tool is compatible with all modern devices, browsers, and operating systems. Plus, it offers various settings to prevent cheating as well.
Features
✓ Premium Library
Access a fast-growing premium library of 100+ professionally designed and ready-to-use courses. The
LMS
also offers numerous customizable templates.
✓ Multimedia SupportMake online tutoring engaging for learners by adding images, audio files, visuals, and infographics, and other media. Cater to different learning styles.
✓ Quizzes
Explore over 100+ professionally created online quiz templates and 10+ question types.
ProProfs quizzes
can be used to identify knowledge gaps while keeping learning engaging.
✓ AI-Powered Reporting
Extract insightful reports and analytics on learning progress, both individuals and groups. View course participation, engagement level, completion rate, total time taken, and score.
Pricing:
Forever free plan (up to 10 learners). Paid plan starts at $1.97/learner/month (billed annually) for large teams. No hidden charges. 15-day money-back guarantee.
Why Choose ProProfs LMS?
Easy to Use ProProfs LMS is the world's easiest online tutoring software designed for users of all skill levels. No technical know-how necessary. No software download and installation required. Quick setup for any tutoring business.
Trusted By Many The tool is used by over 15 million users in 150+ countries. It includes many big brands, educational institutions, teachers, and tutors.
Anytime, Anywhere Learning Being fully cloud-hosted, ProProfs is accessible from anywhere and at any time. All you need is an electronic device and an internet connection.
Reliable Uptime ProProfs strives for near 100% uptime. You can check its system performance in real-time and view the historic information consisting of full monthly performance reports.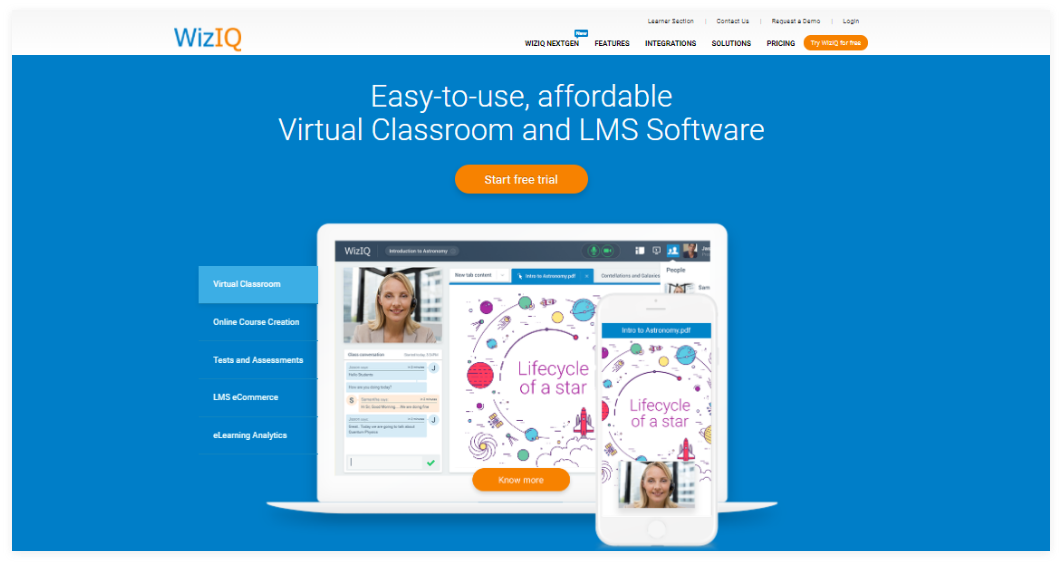 WizIQ is one of the most well-known educational platforms out there. It offers you everything you need to make online tutoring fully operational. All you have to do to get started is simply register with WizIQ. You don't need any IT infrastructure other than an electronic device and internet connectivity.
As one of the best software for online tutoring, WizIQ offers an online test creator, whiteboard, live video conferencing, public & private chat, and breakout room.
Features
✓ Course Builder
Create engaging eLearning courses
in minutes and run or sell them easily. Upload content in any format. For this, you can create your own portal or website.
✓ Virtual ClassroomDeliver live virtual classroom learning with an online whiteboard, real-time messaging, and HD-quality video conferencing with unlimited participants. The platform supports attendance tracking, document management, file sharing, and session recording.
✓ Mobile LearningWith mobile apps for Android and iOS, learning on the go is easy with WizIQ. Access online content on smartphones and tablets. Check eLearning messages and notifications easily.
✓ Online Tests Create online assessment tests using an online test generator. Use different question types and make them cheat-proof. Get instant results of test evaluations.
Pricing:
Available On Contact.
Why Choose WizIQ?
Industry Leader WizIQ is an educational technology leader and the recipient of several awards and recognitions.
Simple UI A simple user interface enables you to focus on tutoring, not the technology.
No Language Barrier WizIQ virtual classroom supports 12 interface languages, allowing tutors and students to view the interface in a preferred language.
Serves MillionsThe platform is built for education and it has been empowering millions of educators, schools, and students around the world since 2007.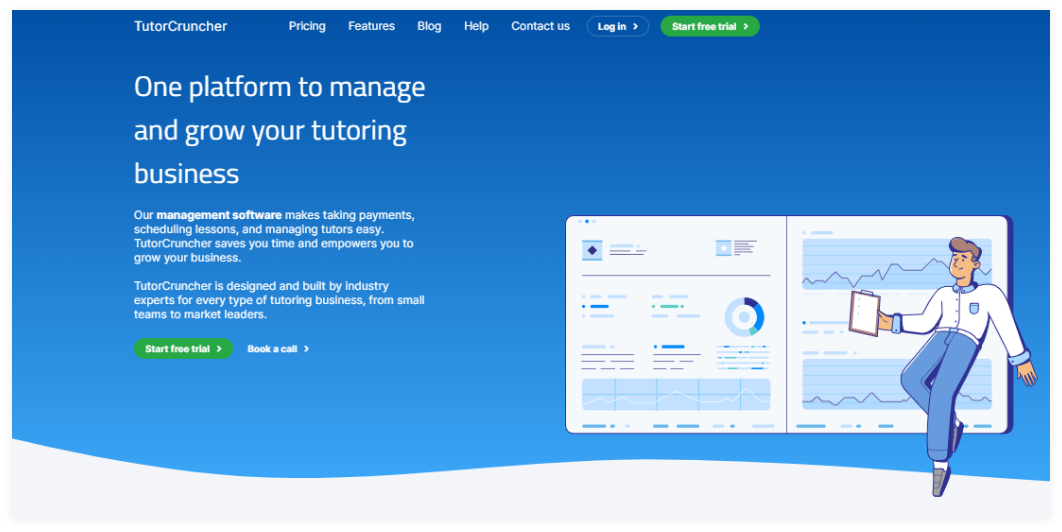 Built by experts, TutorCruncher commands expertise in tools used in the tutoring industry. The platform makes it easy to grow a tutoring business nationally and internationally by managing multiple franchises under a single account. Tutors can manage their own schedules and maximize online tutoring with the help of an integrated whiteboard.
Its tutor management software enables you to find the best tutors for your learners and cut down administrative tasks.
Features
✓ WhiteboardThe TutorCruncher account of tutors and students is linked with a whiteboard. A free whiteboard called Bramble is its new tool designed to facilitate online tutoring during the COVID-19 pandemic.
✓ Business Analytics Analyze the performance of your online tutoring business with business analytics. Study different graphs showing revenue breakdown.
✓ Smart SchedulingWith TutorCruncher's advanced scheduling system, you no longer need to schedule lessons every day or week. You can set a lesson in a repeat mode until you want to change it with another lesson.
✓ Public Listing Promote your tutors online so that prospective clients can choose which ones they would like to work with.
Pricing:
$30/month. Unlimited users & lessons.
Why Choose TutorCrunch?
First-Class Service TutorCrunch is committed to providing a first-class service by streamlining and improving its clients' tutoring administration business.
Designed for Growth The tool is designed not just to help run online tutoring services more efficiently but to grow the business over time.
Easy Customer Relationship Management The CRM tools by TutorCrunch make the organization and management of clients easy and effective for tutoring agencies.
Simple & Secure Payment The tutoring management solution uses a simple, flexible, and secure payment system for all users. Pay via debit or credit card and access automated invoices.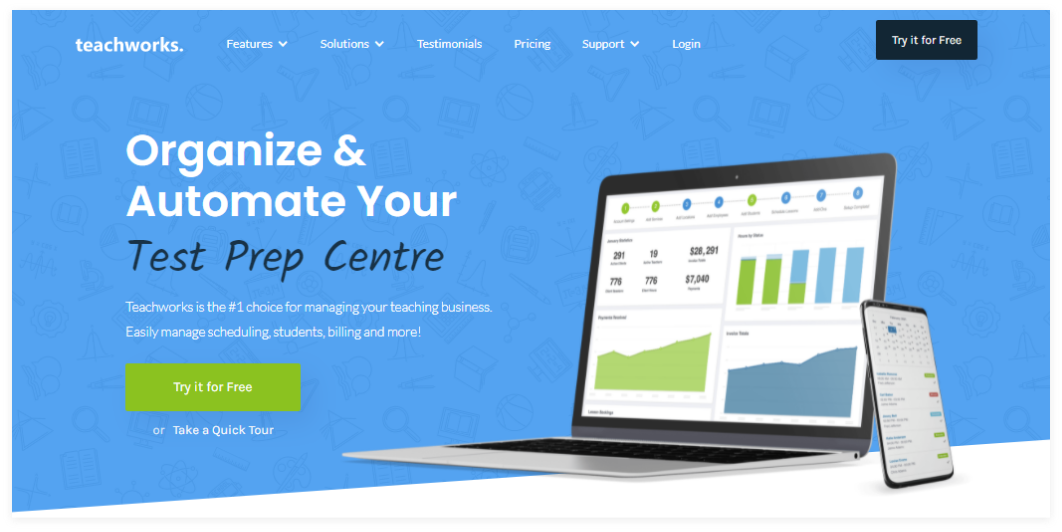 Teachworks helps growing tutoring companies manage students and tutors efficiently while also taking care of scheduling, billing, and other tasks. Access your account from anywhere, remove scheduling conflicts, and send automatic lesson reminders easily.
Teachworks continuously improves its software with new features that further streamline its clients' business. This makes it one of the best online tutoring platforms out there.
Features
✓ Calendar & Scheduling Ensure that everyone's on the same page with easy scheduling. Use calendars with over six different view types. Find out teacher availability and scheduling conflicts on the calendars.
✓ Communication Easily provide the information that tutors, students, and parents need through seamless communication. Send automatic email reminders and provide feedback through lesson notes.
✓ Invoice & PayrollMake more time to focus on your business by automating invoicing and payroll. Customize the layout and appearance of invoices. Accept credit card payments.
✓ Records & AnalyticsMaintain detailed and up-to-date records of students, tutors, lessons, and transactions. Generate reports and analyze different data to gain insights into your tutoring business.
Pricing:
Starts at $15/month. Unlimited tutors & students.
Why Choose Teachworks?
Modular Design Teachworks' modular design lets users choose only the features they actually need. This helps reduce clutter and ensuing complexity while increasing efficiency.
Ease of Branch Management Add multiple locations for branches or franchises and manage them easily from one master account using the best platform for online tutoring.
50+ Free IntegrationsThis software for online tutoring offers more than 50 free integrations and add-ons. Expand the tool's core features by integrating it with different software and services.
Customer-CenteredTeachworks is driven by customers' feedback and it is always open to suggestions. It strives for product improvement and customer success.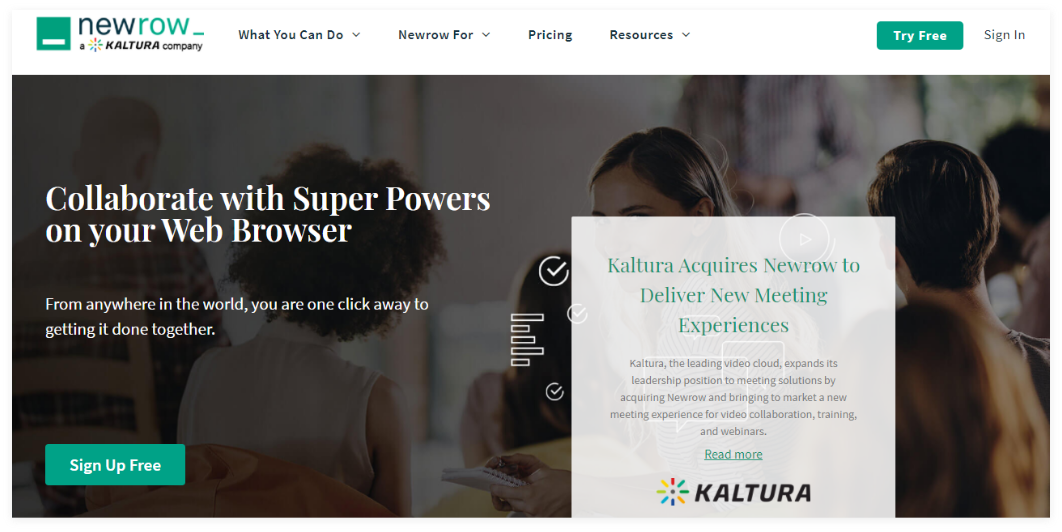 Newrow is the next-generation virtual classroom, webinar, and campus management platform used by tutors and other customers worldwide. It is "built for learning" with a rich set of features designed for maximum engagement and collaboration.
Both tutors and students find Newrow easy to access and use as it is 100% browser-based. Among the features you'll find are — interactive whiteboard, quizzes, content management system, and cloud recording.
Features
✓ Digital Whiteboard This interactive digital whiteboard in the virtual classroom lets you work on the same board as your students at the same time.
✓ Online Quizzes Easily create quizzes to assess your students' comprehension and course effectiveness. Publish the quizzes in live sessions to get real-time results.
✓ Screen Sharing ProProfs quizzes can be used to identify knowledge gaps while keeping learning engaging.
✓ Cloud Storage Upload, organize, access, and share your files with anyone, anywhere. Cloud storage by Newrow is secure and supports all file formats.
Pricing:
Starts at $14/month. Up to 100 participants.
Why Choose Newrow?
Easy to UseThe platform is easy to use, allowing tutors to focus solely on teaching and students on learning. Nothing else.
Innovative Newrow is made up of a highly creative team consisting of educators, industrial designers, software engineers, and filmmakers. Innovation is a part of its DNA.
Trusted By Top Names Newrow's long-standing customers include HP, J.P. Morgan, Yale University, Education USA, and Microsoft.
Value to StudentsDeliver value to your students by providing more opportunities for them to study at their own time and convenience.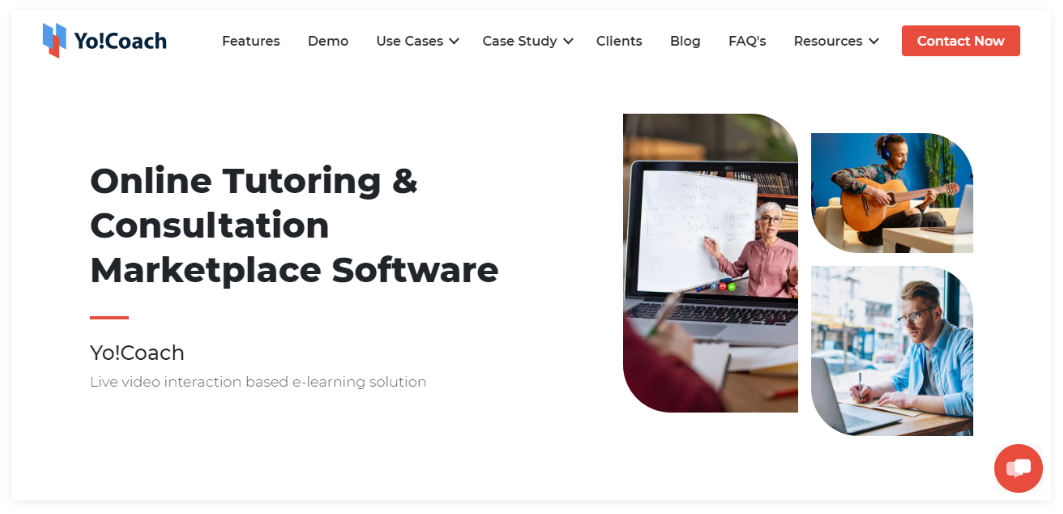 Yo!Coach is a fully customizable solution that you can use to launch online tutoring platforms. It comes integrated with a virtual classroom and tools for communication, marketing, reporting, and payment. With technology centered around users, the tool makes it easy to deliver impactful tutoring experiences and grow businesses.
Features
✓ Schedule ManagementYo!Coach makes scheduling online tutoring sessions or consultations easy. Overcome the challenges of time zone differences with time zone-specific reminders of upcoming sessions.
✓ FlashcardsYo!Coach offers flashcards to help enhance the online learning experience. They act as an aid to learning vocabulary, formulas, and important dates.
✓ WhiteboardUse the whiteboard as a tool for discussing various concepts. The Yo!Coach whiteboard includes a pen, highlighter, and other capabilities.
✓ Review & Ratings This feature enables learners to share their feedback after completing a lesson. It also helps new users make informed decisions.
Pricing:
Available On Contact.
Why Choose Yo!Coach?
Fully Customizable Yo!Coach offers a fully customizable and scalable architecture designed to cater to the growing market demand for online platforms.
Lifetime OwnershipYo!Coach offers an affordable lifetime ownership license instead of a recurring fee.
100% White-Label Build a custom online tutoring and consultation solution using its white-label feature. Tailor it easily as per your business requirements.
GDPR CompliantYo!Coach is now GDPR-compliant, which means you've full control over your personal data and you can promise privacy and security to your customers.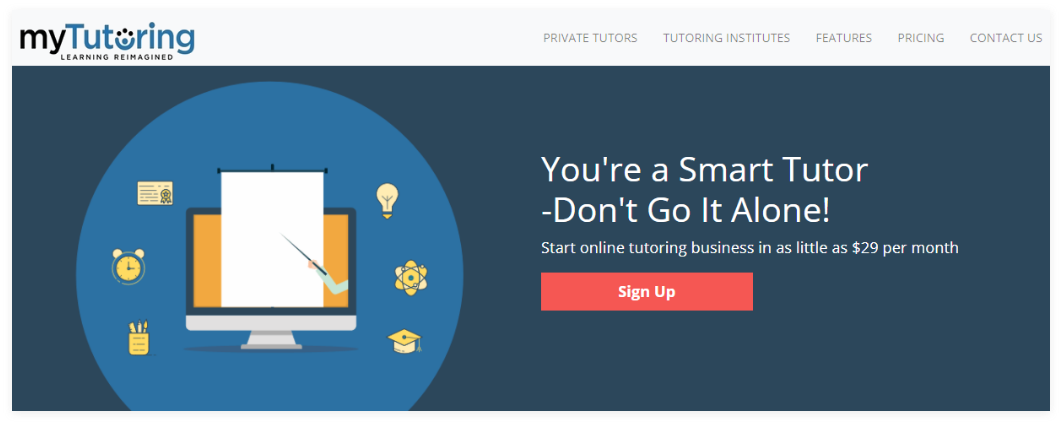 myTutoring is an online tutoring marketplace and a complete platform for online live learning. It offers integrated solutions for a successful online tutoring business. Since its inception five years back, cloud-based myTutoring has been used by over 100,000 tutors and students.
So far, more than 25,000 live learning sessions have been conducted through the platform. myTutoring constantly innovates and improves its features to cater to its customers in a better way.
Features
✓ SchedulerA simple scheduler lets tutors and students organize their schedules easily. Personalized online session management and automatic notifications ensure smart time management.
✓ Session Recording Create and record content on the whiteboard. You can download these recorded sessions in PDF format for ease of access and modification.
✓ Automatic NotificationsUse emails and instant messaging to send notifications to students for important events such as course enrollment, session booking, and payment confirmation.
✓ Easy Payment MethodmyTutoring uses Stripe payment and accepts all credit and debit cards to make payment easy and fast.
Pricing:
Starts at $29/month. 1 tutor, unlimited students.
Why Choose myTutoring?
All Tutoring Materials Allowed Tutors are at liberty to use any materials they create for online tutoring programs, including those they source from online.
Sizable Take-Home Fee The list rate at myTutoring is high. Tutors get to take home 85% of their tutoring fees, which is one of the highest percentages of revenue share in the industry.
Marketing Support myTutoring provides exceptional marketing support adapted to the premium tutoring market. It utilizes social media and print and digital channels to get customer traffic to its site.
Profile VisibilityTutors can easily market their profile using a custom URL. They can post it to social media to ensure high visibility.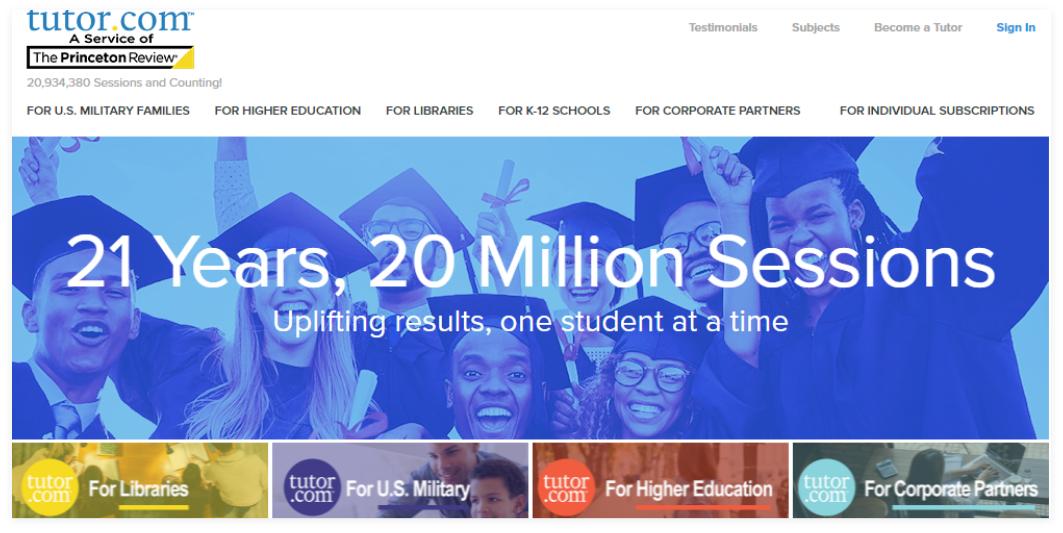 Tutor.com specializes in one-to-one learning solutions for students through educational institutions, public libraries, and corporations. It connects learners with on-demand qualified tutors online. Its tutoring services cover over 200 subjects and test prep areas.
So far, Tutor.com has conducted more than 18 million one-to-one sessions. 97% of the students and teachers who used its services say they would recommend it to a friend.
Features
✓ Large Number of Subjects Tutor.com offers hundreds of subjects to students who want to enroll in online tutoring. They include Math, Science, English, Technology, World Languages, Student Success Skills, and ACT® Test Prep.
✓ Qualified TutorsThe online tutoring company brings some of the most qualified tutors from diverse professions such as Ph.D.s, doctors, teachers, professors, Ivy Leagues, and pilots.
✓ 24/7 Availability As a fully online tutoring service, students get a tutor 24/7 in over 40 subjects. Tutoring sessions take place in a web-based online classroom.
✓ Ease of SchedulingStudents can request a session on-demand with any available tutor, or schedule an appointment with a tutor of their choice at least 48 hours in advance.
Pricing:
Starts at $39.99/month.
Why Choose Tutor.com?
Careful Selection of Tutors Every tutor who applies to Tutor.com is rigorously vetted. Only 1.5% of thousands of applicants are selected as Tutor.com tutors.
Always Available Except for four major national holidays, Tutor.com is available 24 hours a day, 7 days a week, and 361 days a year.
Free Service for Military Families Tutor.com provides on-demand online tutoring and homework help free of cost to eligible service members, civilian personnel, and their dependents.
Anytime Plan Cancellation You can cancel your plan at any time. In case of cancellation, you'll be able to finish your current month, and Tutor.com will not charge your card again.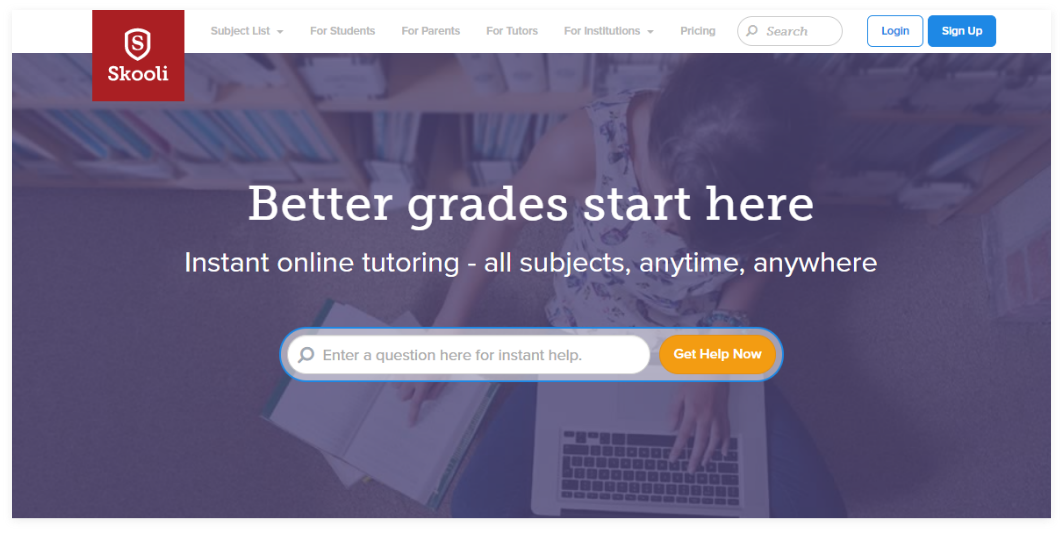 Created by the team behind Teach Away, Skooli is a student-focused and personalized tutoring platform designed to meet the needs of students in the digital age. Using a digital classroom, students can learn difficult concepts with the help of professional teachers and secure better grades. Skooli offers six subject categories and around 30 subjects under them.
Features
✓ Instant Connection From AnywhereStudents can connect with their tutors whenever and from wherever they need to while using their PCs or laptops.
✓ Qualified Tutors Skooli's tutors are handpicked from among thousands of qualified educators so that students get the best possible help for their learning needs.
✓ Multiple Communication Channels Interact with tutors face-to-face via videoconferencing, chat with instant messaging, speak with each other using high-quality audio, and share files seamlessly.
✓ Personalized Learning Skooli tutors deliver personalized learning experiences to students with all kinds of learning needs, helping them achieve better grades.
Pricing:
Starts at $0.82/minute. Pay As You Go Basis.
Why Choose Skooli?
It Is EasyWith Skooli, tutoring comes easy. Students can schedule learning sessions in advance or request help instantly. Tutor students from anywhere in the world. All you need is expertise, an internet connection, and an electronic device.
Safe & Secure Parents can rest assured that their children learn in a safe environment. Every Skooli tutor undergoes a criminal background check before they can become its tutors.
Last-Minute Assistance Students who need to sit for a test but don't have much time to prepare can receive last-minute test prep from Skooli tutors who are available 24/7.
Solution for Every StudentRegardless of their educational level – elementary, middle, or high school, students can find an online tutor to fulfill their tutoring needs at Skooli.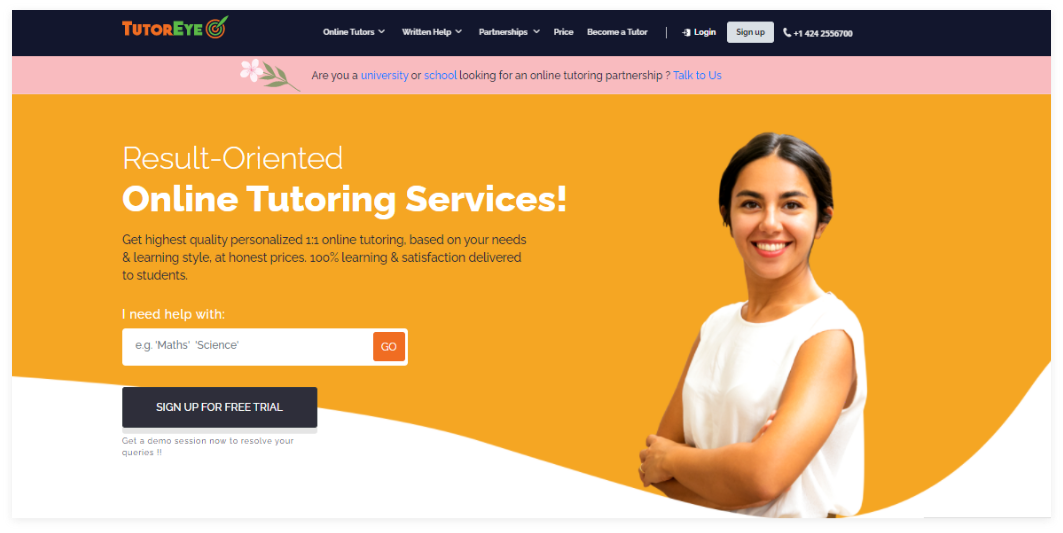 TutorEye is one of the best places to get online tutoring services for K-12 and college-goers from highly qualified tutors. It specializes in online tutoring, online homework help, online tutoring jobs, assignment help, and online tutors.
The subjects it offers for tutoring classes are Mathematics, Physics, Chemistry, Biology, and English. Tutoreye offers different flexible plans to fit every student's study style and preference.
Features
✓ Subject Matter Experts Attend one-on-one tutoring sessions with subject specialists. Students from K-12 to the college level can leverage the help of these experts.
✓ Available 24/7These professional tutors are available 24 hours a day, 7 days a week to help students on any topic on a range of subjects.
✓ Live SessionsTutorEye offers live study sessions using interactive whiteboards fitted out with screen-sharing, file uploading, and audiovisual systems.
✓ Written HelpGet written help from some of the best tutors in the world. Get step-by-step study assistance on any subject.
Pricing:
Starts at $15/30 minutes. No monthly charges.
Why Choose TutorEye?
Trusted By Millions TutorEye is trusted by millions of families in the U.S. and Canada as a provider of premium online tutoring services.
Numbers Speak for Themselves The tutoring platform has 25k happy students. It has provided 750k+ minutes of live study help so far, and scored 700+ 5-star ratings for its tutors on average.
Quality Tutoring TutorEye provides quality online tutoring services using the best tools and practices in the industry. This ensures that students get better grades all the time.
Ease of Scheduling Students can schedule sessions at their convenience and engage in self-paced learning. The tutors happily fit into students' schedules any time of the day.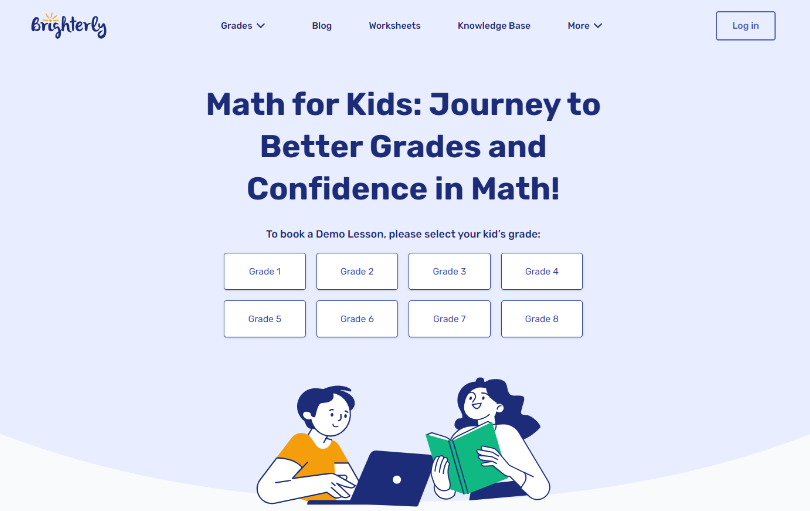 Brighterly.com is an innovative tutoring platform designed to connect students with highly qualified tutors from around the globe. As an online tutoring marketplace, it offers a wide range of subjects and courses, catering to learners of all ages and academic levels.
Whether it's academic support, test preparation, math learning, or skill development, Brighterly.com has a vast network of experienced tutors to assist students in achieving their educational goals.
Features
✔ Comprehensive Subject Coverage
Brighterly.com boasts an extensive catalog of subjects, from STEM fields to humanities, arts, and beyond, ensuring students can find help in any subject they require.
✔ Diverse Tutor Pool
The platform carefully selects its tutors, offering a diverse pool of experts with various teaching styles and cultural backgrounds, enabling students to choose tutors that suit their learning preferences.
✔ Interactive Virtual Classrooms
Brighterly.com's virtual classrooms provide a dynamic learning environment with interactive tools, live video sessions, and chat functionality, fostering engaging and real-time interactions between tutors and students.
✔ Personalized Learning
With personalized lesson plans and one-on-one attention, Brighterly.com tailors the learning experience to meet the individual needs of each student, ensuring effective knowledge retention and progress tracking.
✔ Flexibility and Convenience
Brighterly.com offers flexible scheduling options, allowing students to book tutoring sessions at their preferred time and adapt to their busy schedules.
Pricing: Starts at $20/lesson
Why Choose Brighterly?
Simple & Easy to Use
The platform is easy and efficient to use. Select a session time and get a reminder and a link via email. Clicking the link will take the participants to the online session, which works with any modern web browser.
Access to Qualified Tutors
Brighterly.com ensures that all tutors are highly qualified and undergo a rigorous selection process, guaranteeing the delivery of quality education to students.

Enhanced Learning Experience
The platform's interactive features and personalized approach create a conducive environment for effective learning, making the educational journey enjoyable and rewarding for students.

Global Reach
Brighterly.com's virtual nature enables students to connect with tutors worldwide, transcending geographical barriers and offering a truly global learning experience.
Choose the Best Online Tutoring Software
As you can see, all of these solutions are designed to make online tutoring a breeze and they are equally effective. They all provide qualified tutors, cover a range of subjects, and use a collection of tools to make tutoring engaging and impactful.
In case you are undecided as to which one of them you should adopt, don't worry. These tools offer a free trial, which you can use to get a feel of how they actually work and make up your mind.
ProProfs is one of the best tools for online tutoring. It doesn't just offer a cloud LMS; it also provides ready-to-use courses and templates. You can use the tool to meet all your online tutoring needs easily.
Do you want a free Training Software?
We have the #1 Online Training Software for employee training & assessment