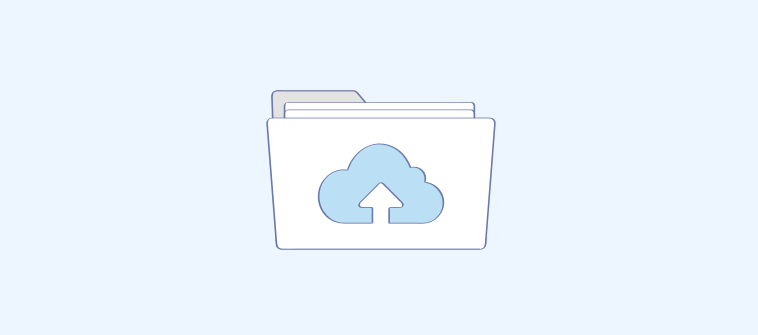 Want to know what a Learning Record Store (LRS) is?
You're at the right place.
In the early days of computing, storage of learning data (or any other data) was not that organized and systematic. There was no centralized location to store that data, and it was scattered across different systems across multiple locations.
Fortunately, this is no longer the case now.
The arrival of advanced computers and cloud technologies changed this situation.
With online training and learning becoming a norm, the need for capturing and storing learners' experiences or other learning-related activities is paramount. It leads to a better understanding of learners and supports further decision-making.
This is where a learning record store (LRS) comes into the picture with a wealth of features as the new learning architecture. It opens up a reliable way to give learners an engaging experience by tapping into advanced technologies.
This blog post serves as the ultimate guide to LRS for you, which can take learning & development to the next level.
Continue reading to find out.
What Is a Learning Record Store?
If you're new to it, you must be wondering: what is a Learning Record Store (LRS)?
LRS systems are a storehouse or repository of learning data. It's a record of information collected from a learning management system (LMS) or another LRS where learning activities are recorded. An LRS uses a 'noun, verb, object' approach to capture learning events, such as:
'Peter completed an onboarding course.'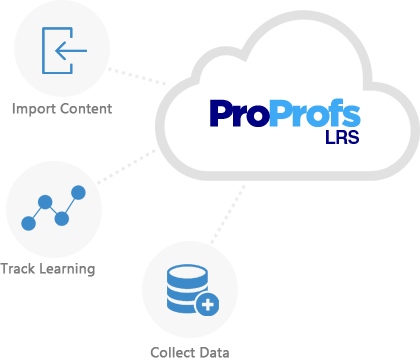 According to Experience API or xAPI specification, LRS is a server responsible for receiving, storing, and providing access to learning records. It's an extension of LMS without having to replace it necessarily.
In short, an LRS system is at the heart of any xAPI ecosystem, and tracks all the learning activities on and off an LMS. Information such as whether learners complete a course and how they interact with a system can all be recorded as statements.
Watch: What Is xAPI (Experience API) aka Tin Can API – Features and Benefits Explained
Benefits of an LRS
Numerous organizations rely on LRS to improve their training programs. It has become the mainstay of effective training, better employee performance, and business growth based on learning data. LRS brings the following benefits to the table:
✓ Better Data Collection
An LRS can help you capture different kinds of data comprising both formal and informal learning experiences from inside and outside a learning environment.
✓ Flexibility
It's intuitive and flexible enough to function as a standalone system or within an LMS platform.
✓ Wide Applications
You can use learning record store software across different industries, including education and businesses, via various platforms that speak the same language.
✓ Real-Time Assistance
Learners, instructors, admins, and teachers can access learning data in real-time, regardless of time and place.
✓ Improved Learning
Learning based on data interoperability adds more value through a deeper understanding of learners' experiences and needs. You can access, view, and act on the aggregate data collected from different systems.
Watch: What is a Learning Management System | LMS Features & Benefits
How Does an LRS Work?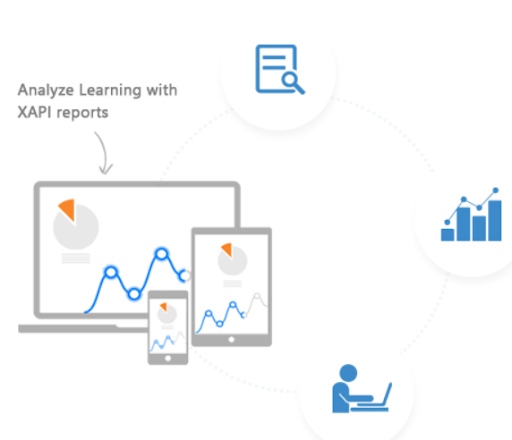 A common question in the minds of people who are new to an LRS is how it works and how it fits into a data ecosystem.
An LRS lies at the center of a learning ecosystem and gathers data from all the learning systems, apps, and content.
Here's how it works in an employee training system:
As soon as an xAPI-enabled software experiences learning activities, it sends activity streams to an LRS, recorded as xAPI statements.
Using an

xAPI-compliant LMS

, another LRS, or a reporting tool, you can easily access the data stored in the LRS.
You can store data in an xAPI learning record store as discrete learning records or bulks of transcripts.
You can configure the LRS to provide users access to the data stored there.

Learning Record Store vs. LMS: How Are They Different?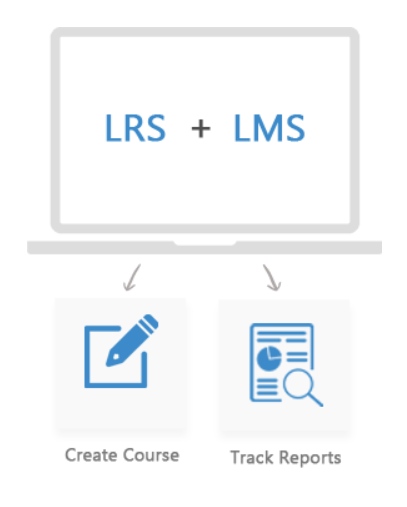 At first glance, LMS and LRS may look somewhat similar, but there are a few apparent differences between the two. They are two different products with different purposes.
A learning record store is primarily used to store learning records, issue reporting against the records, and import or export raw data related to learning.
On the other hand, LMS software is a platform for creating, managing, sharing, and tracking online courses and assessments.
With a range of features and functionalities, you can use an LMS to create learning paths, measure knowledge retention, track compliance, issue certificates, and do many other things.
That said, LRSs usually form a part of LMSs and work alongside an LMS' capabilities. LRSs are also available as independent or standalone solutions for enterprises and educational institutions.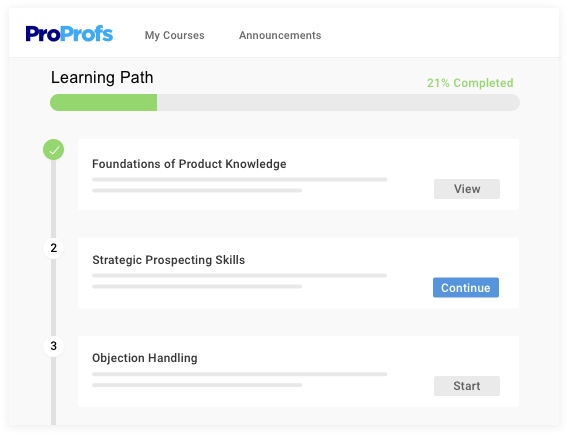 How to Know If You Need an LRS
Before upgrading the learning technologies in your organization, it's important to know what your organization is seeking to achieve. This is fundamental to the process. You need to understand your organizational requirements when considering an LRS.
That way, you'll be able to go for the right software that serves your needs best. Start by asking the following questions:
Do you need actionable insights into your learners?

Do you want analytics on the effectiveness of your training programs?

Are you in need of a data dashboard for regular learning reports?
Answering these questions is key to identifying whether you need an LRS.
If you answer YES to these questions, you should adopt an LRS right away. It can provide solutions to all the above requirements.
10 Best Learning Record Store (LRS) Software
Since there are plenty of LRSs available on the market, it may be difficult to make the right choice. If you want to implement an LRS, you may refer to this list of the top 10 LRS software.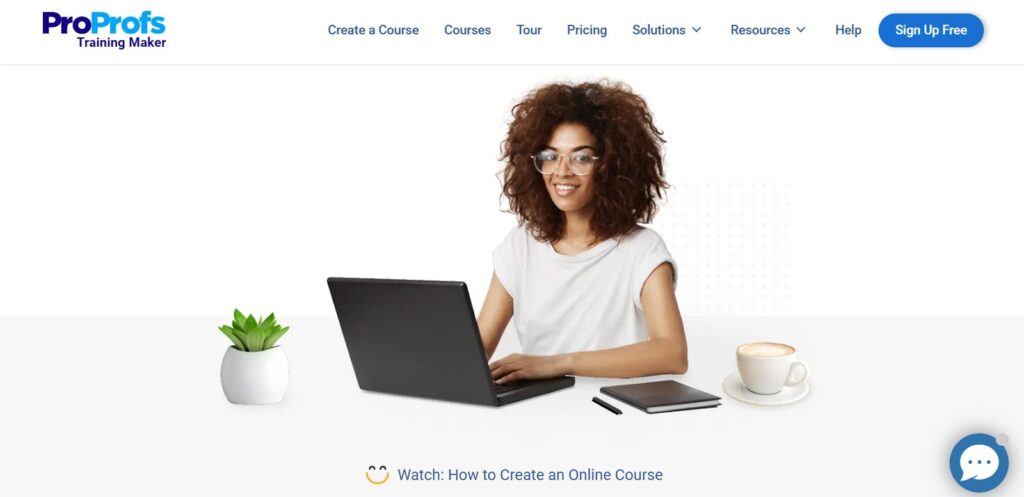 ProProfs LMS is a training-making tool with a built-in cloud LRS. Whatever training you deploy, you can bring in all your data under a single roof from other e-learning platforms and store it in ProProfs LRS. It combines tools for creating, delivering, and tracking all learning activities.
The learning store tracks and reports all your learners' activities throughout your training programs. You can also import data as zip files from other LMSs, portals, and mobile devices. You can record interactions and view reports as Tin Can statements.
You can check the test scores and whether your learners have read a PDF, watched a video, or clicked on an image. As an LRS plus LMS, ProProfs enables you to create courses and assessments, and once your learners take them, you can view the reports in the LRS. So, it's an all-in-one solution that will help you fulfill all your e-learning needs.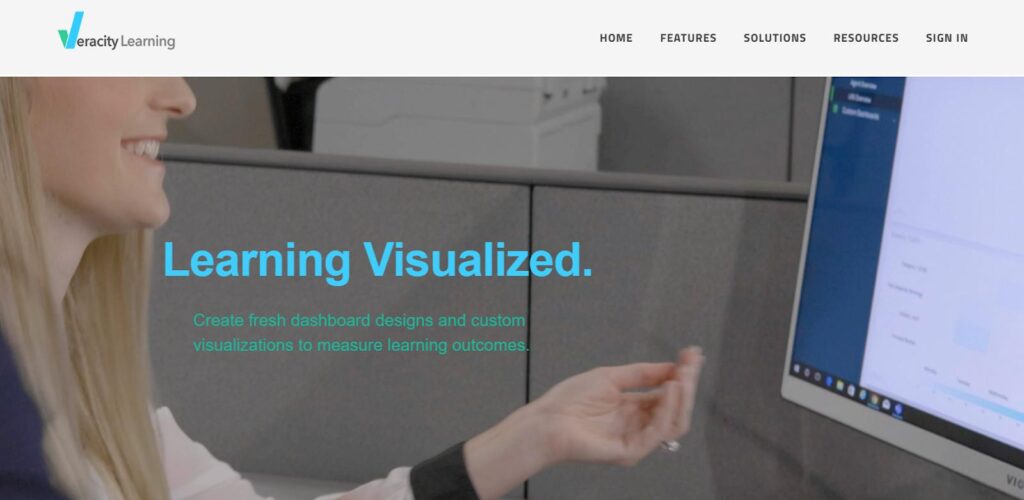 Veracity Learning is a robust and versatile cross-platform learning record store for retrieving xAPI statements. It supports a range of xAPI data, such as binary attachments, statement signatures, and document stores. You can import data from other LRSs and export data from this software.
Veracity Learning LRS is available in multiple forms, such as on-premises LRS, cloud-hosted LRS, white-label LRS, and LRS lite. The platform gels well with other LRSs so that you can exchange data between Veracity Learning and other third-party LRSs.
Besides being a powerful LRS, it supports some basic LMS use cases. For instance, you can manage courses, classes, and users. It lets instructors organize content and provide learners with a front-end interface to access it.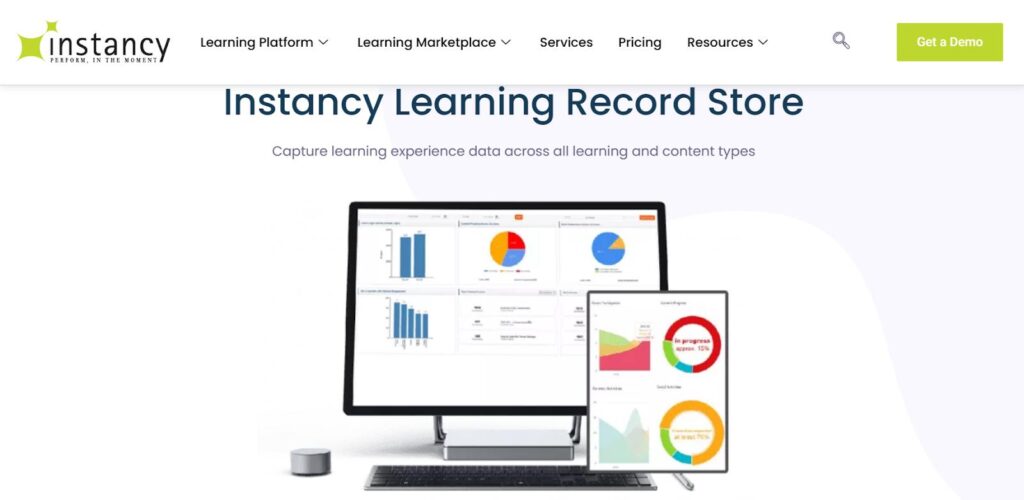 Instancy is a comprehensive learning ecosystem that lets you track and store all learner experiences, both within and outside your LMS. It lets you store learners' activities and progress in one central location. You can easily enhance learning quality, whether your learning happens on mobile, web apps, or any other external system.
This LRS automates learning workflow – from assigning the next course modules to recommending the best learning paths. Gamification and multimedia-rich content are the other USPs of this platform.
The integration between Instancy LRS and xAPI enables seamless interoperability of content and learners' progress reports. This helps you have instant access to information anytime, anywhere.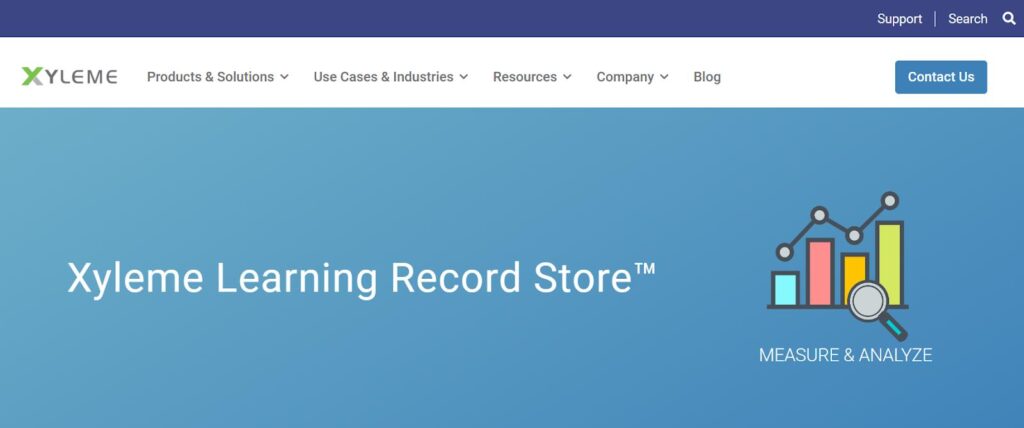 Xyleme is an xAPI LRS that collects all the data on content engagement and learner performance. These intricate details enable organizations to assess their training programs and identify knowledge gaps. Based on the data analysis, organizations can make necessary improvements in their training programs to boost learning and engagement.
This LRS software has a robust dashboard that provides more than just pass-and-fail metrics. The dynamic dashboards let you analyze content and check user trends. The xAPI integration facilitates the smooth transfer of data and gives a bird's eye view of how learners have interacted with your content.
The enterprise-level security, such as Single Sign-On (SSO) and regulatory compliance support, makes it one of the best LRS systems on the market.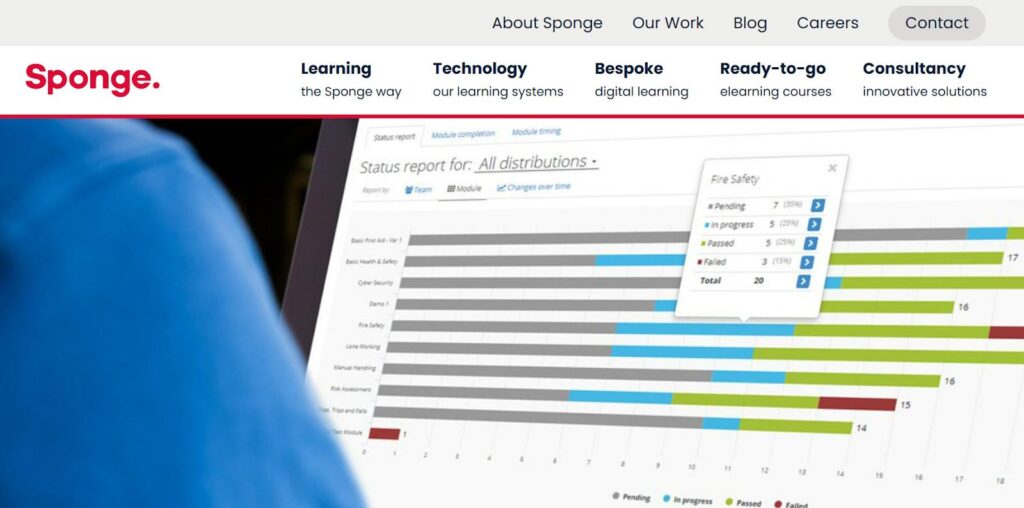 Sponge LRS system is built into the Spark LMS to track and store all the learning and business data. It's a popular software system used by leading companies like PayPal and IKEA. It helps in creating training programs for a large number of employees and high-impact teams.
This LRS lets you retrieve data effortlessly and monitor a range of learning experiences, such as engagement with content and assessment scores. Whether you're training your employees with desktop content, mobile courses, games, or simulations, you can easily track your learners' progress with this software.
You can also control how you deliver content and track complex learning activities. For individual learners, it can act as a central repository for everything they have learned and show where they stand in terms of their performance.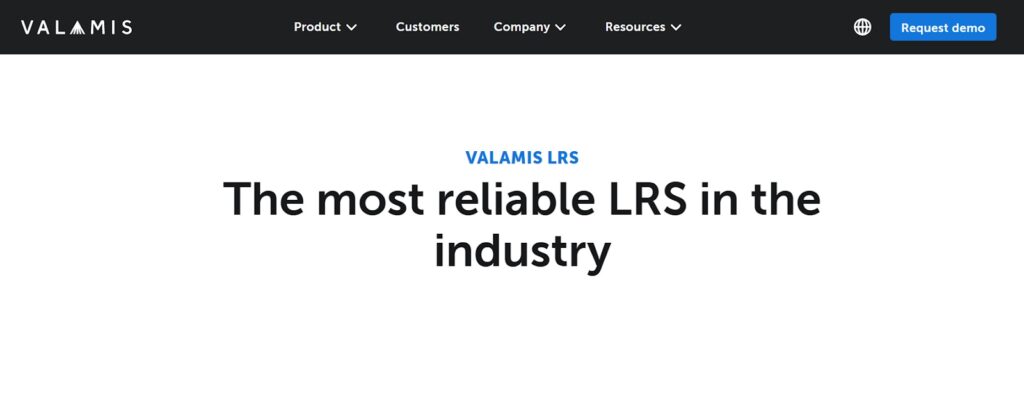 Valamis is a user-friendly LRS that conforms to the latest xAPI version. This ensures you can collect and store data from inside and outside this platform. It's one of the top LRS systems for large enterprises.
This highly flexible software lets you integrate mobile learning, other LMSs, and VR/AR training solutions. The USP of Valamis LRS is that it's capable of streaming and handling a large amount of data without losing any of it. To do this, Valamis uses the Kafka stream processing software to prevent zero statement loss.
Valamis LRS is SCORM compliant and lets you convert SCORM packages into xAPI statements. This enables you to track and aggregate learning data easily. The insightful metrics help identify the gaps between learning, performance, and business metrics.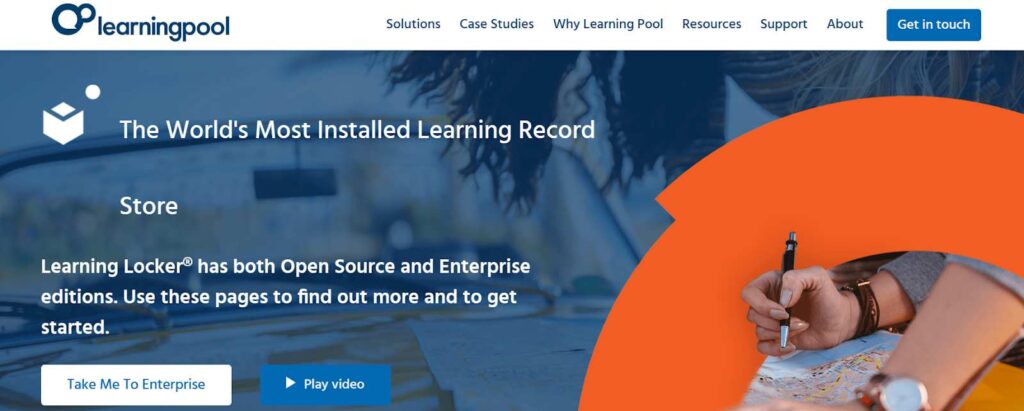 Learning Locker by Learning Pool is a popular LRS system that records and collects vast learning data. The platform offers great visual insights in the form of graphics, diagrams, and charts to better understand aggregated data.
It's 100% compliant with xAPI and ready to deliver the results that today's organizations need. The modern UI and backend ensure that all data is more tactile, accessible, and useful than before. You can use XAPI as the central storage point and gather learning data from internal and external sources.
Leverage the best-in-class integration features, automate workflow, and view multimedia-rich analytics to improve your learning experience. Learning Locker supports flexible deployment as it supports enterprise and open-source options.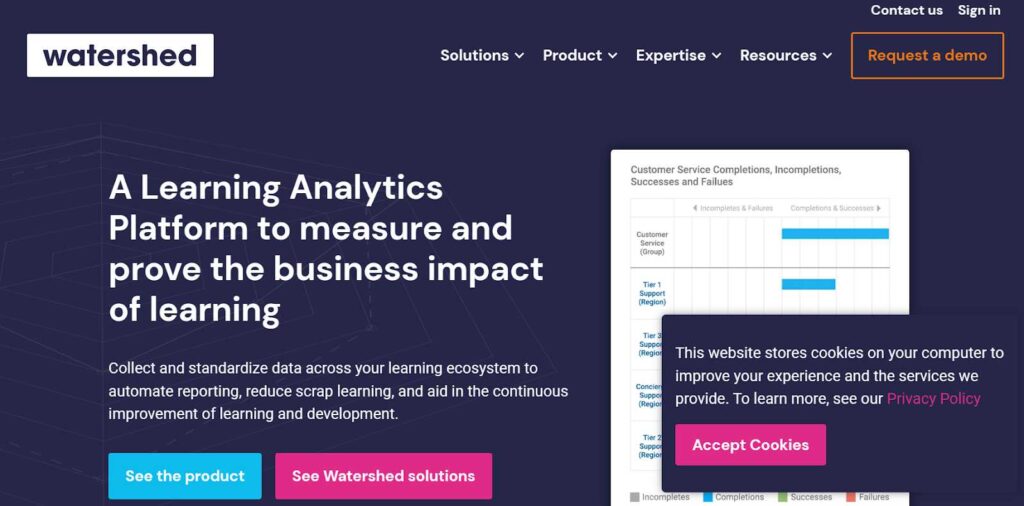 Watershed is more than just a learning records store. It helps you track and explore learning outside of an LMS. It's a great choice for xAPI enthusiasts and L&D practitioners. This LRS xAPI conformant software enables developers to perform data search, data stats and debugging.
For L&D practitioners, this tool can help track learning activities through robust reports, which lay the foundation for effective learning and training analysis. This LRS system serves as a record system where you can accumulate all the data for your learning programs.
Using it you can measure the impact of your programs and maintain all learning records as xAPI statements. The best part about this software is that you can store all the data as xAPI statements, even if it was delivered through a non-xAPI source.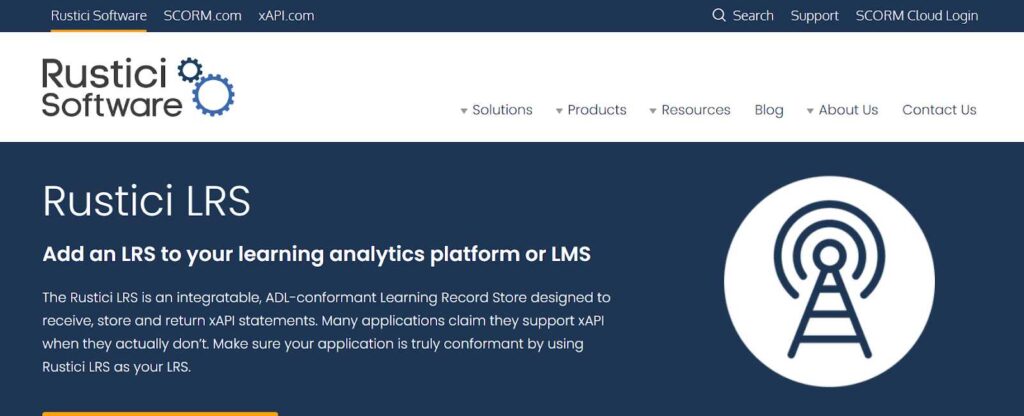 Rustici is an ADL-conformant and integrable LRS designed to receive and store information as xAPI statements. You can set up multi-tenants within a single database. Decide which statements you want to store in your LRS and which you don't want to.
Collect reports from other LMSs in your learning analytics platform and forward statements from your LMS to other LRSs. Assess xAPI statements and programmatically trigger events based on them.
This learning platform enables organizations to create, distribute, and monitor training programs with any of the e-learning standards. If you're looking for an LMS+LRS combo, then this might not be the right choice for you. But if you already have an LMS and want to extract learning activities as xAPI statements, then Rustici is the right option.

OnPoint Digital is the first mobile-friendly software that offers LRS and xAPI, among other technologies. OnPoint's LRS is a fully-integrated LRS solution that combines traditional LMS with next-gen LRS into robust reports and analytics.
The xAPI services have been integrated into the platform that goes far beyond tracking content progress and delivering assessment results. The xAPI feature supports social collaboration, informal learning, UX navigation patterns, and more.
This LRS software also has a range of dashboards and analytics tools to help L&D teams analyze their training programs and track performance.
You can consider these top ten LRS systems for your learning needs. Being a new technology, an LRS has one major USP over traditional systems – it supports tracking across multiple apps and devices. By centralizing all the learning records under one roof, an LRS enhances your e-learning ROI and boosts engagement.
For instance, Access to Counseling Services, an Oklahoma-based mental health care service provider, uses an LMS plus LRS to maintain their training records. After adopting this tool, they were able to organize all the information and could easily do away with the paper works. According to them, they particularly liked the automated scoring and the customized certificates.
Frequently Asked Questions (FAQ)
How to choose the right LRS for my organization?
While choosing an LRS, make sure you consider key factors, such as functionality, scalability, security, reliability, and system integrations. If you want to choose the best LRS, then look for a vendor that provides a conformant LRS since they are put through rigorous testing. This way you can rest assured that your LRS follows the xAPI specification.
What is the cost of an LRS?
Different vendors charge you different prices depending on the model. For instance, the seat-based model takes into account the maximum number of users. The analyst-based model is priced according to the number of users who maintain the system's data, and the usage-based model is priced as per the total number of xAPI statements sent to an LRS.
Why do I need an LRS for my organization?
If you want to collect a range of learning data across multiple platforms, then you need an LRS. It enables tracking a large amount of data, including actions completed on a mobile/desktop, learner progress, and more.
Transform Your eLearning Experiences With an LRS
What started as a part of a research project by the U.S. Department of Defense has become the focal point of online learning today. Learning record stores are making online employee training and eLearning an enriching experience by providing useful data points.
Use it in conjunction with an LMS or separately. Either way, an xAPI LRS empowers users to store learning experiences, communicate with other compatible systems, and get analytics to measure the impact of learning programs.
Streamline and standardize how you capture, store, and share learning data using an LRS. Thse days there are many cost-effective cloud-based LMSs integrated with an LRS. Online training software ProProfs LMS is a leading example.
Embrace LRS to improve the way you manage learning and make business decisions. You'll be glad to learn that it does make a big difference.
Do you want a free Training Software?
We have the #1 Online Training Software for employee training & assessment