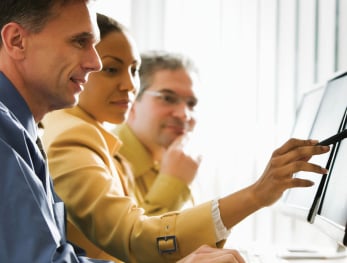 If you are in the business of learning, training or course development, more than likely, you use or have been exposed to different e-learning programs. Taking e-learning courses only requires a small learning curve if the programs are user-friendly. However, choosing the right e-learning programs for your organization, if that is your responsibility, can be a daunting task in light of the fast and constantly changing world of learning and learning technology.
The availability of numerous eLearning software, from the most basic to something with bells and whistles, can be confusing for a first time buyer.
So to help you select the best programs for your organization, let's look at a few tips:
Always go for an e-learning program suitable for the industry you belong to. Courses and content should be appropriate for the type of industry.
Purchase e-learning programs that are user-friendly, so that even a learner with limited or no computer skills can easily use it.
Take full advantage of the practice demos that most e-learning companies offer, prior to purchasing the program.
How to choose industry-specific e-learning programs
The type of industry you are in determines how lengthy the eLearning programs should be because learners may not have a lot of time to dedicate to online learning. This lack of time is exactly why your company would need to train employees via eLearning programs because they can learn on their own time and work at their own pace.
Watch this video to know How to Create and Design Training Program Using Professionally Designed Themes

For manufacturing industries, one to two-hour programs is particularly beneficial, as usually, their number one priority is meeting production and shipping goals, and not providing a lot of classroom training because of tight production schedules. For these types of work environments, choose short eLearning courses.
If you are in a work environment where many of the workers are tech-savvy or mobile, select eLearning courses that learners can access from their mobile devices, such as smartphones, iPads, tablets, laptops, etc. But, make sure no additional software is needed. Also, make sure that you can track the course data, user data, and test scores and that your IT Department can support the programs platforms.
Important questions to consider when selecting eLearning programs:
What is the cost and does the cost fit into the organization's training budget?
What are the terms of the license agreement?
Is there a possibility that the content may change, and if so, can it be edited or customized?
Are the courses interactive and do they have a multitude of features such as videos, images, music and web content?
Are learner assessments given throughout the modules to check for understanding before a learner gets to the end of a module?
Lastly, what may seem trivial, but is very meaningful to learners are course completion certificates that are branded with the organization's logo and colors. So, make sure learners can receive certificates upon completion of each eLearning course.
Do you want a free Training Software?
We have the #1 Online Training Software for employee training & assessment