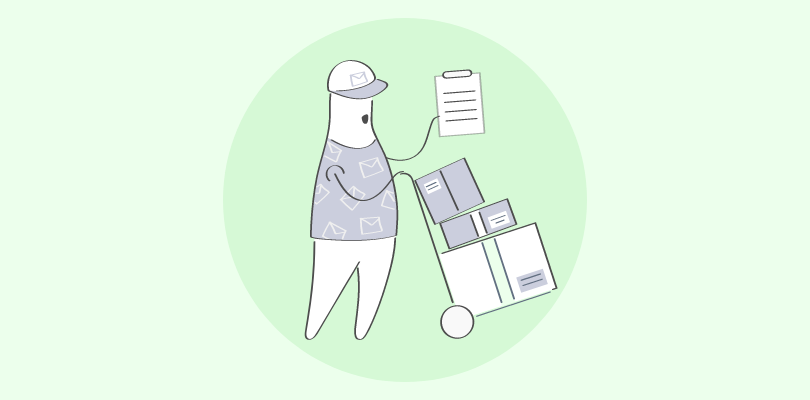 Are you a warehouse manager who is looking for the best way to train your employees? Logistics learning management systems can be the ultimate answer.
I understand that you have a vast area of activities to oversee – from logistics management to handling inventory, damage inspection, labeling, loading & unloading stocks, storage, and safety procedures.
On one side, there are tools that highlight impressive course creation abilities, while on the other, some excel at engaging learners. And even though some tools might seem perfect for your needs, they could exceed your budget.
But don't worry. I've compiled the top 7 LMS for the logistics and supply chain sector.
Before we start comparing these tools – looking at what they offer, the good and not-so-good points, and how much they cost – let's quickly check out the LMS choices we'll be discussing.
| Software | Best For | Pricing |
| --- | --- | --- |
| ProProfs Training Maker | Skills and procedure training | Forever free for up to 10 learners. Paid plan starts at $1.97/learner/month for large teams. Billed annually. |
| EdApp | Engaging lessons | Free plan available (Limited customization and integrations). Paid plan starts at $2.95/active user/month. |
| TalentLMS | Supply chain e-learning | Starts at $69/month |
| Disprz | Upskilling supply chain employees | Starts at $3/user/month |
| The Green LMS | Course creation | Starts at $62/month |
| Tenneo | Blended learning | Starts at $25/user/annum |
| ZapBuild | Logistics learning management solution | Custom pricing |
List of the Best LMS for the Logistics and Supply Chain Industry
I've put together this list of the top LMS options by drawing on my own experiences, conducting thorough research, and getting input from colleagues. Additionally, I considered impartial evaluations in independent sites and collected input from happy customers.
Take a look!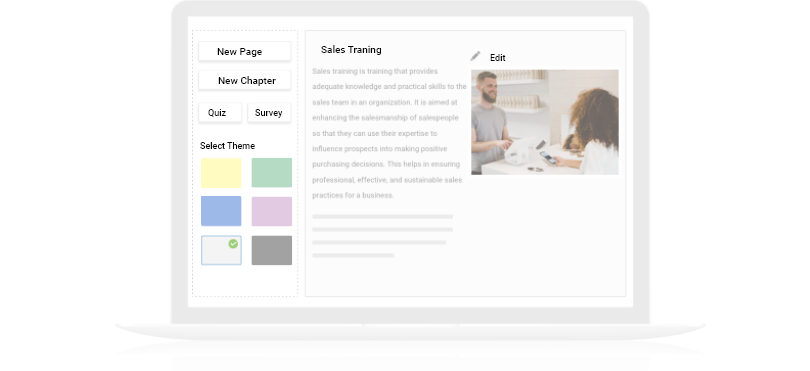 ProProfs Training Maker is a robust learning management system for the logistics and supply chain industry.
I stumbled upon this outstanding platform last year. Through this tool, operations managers can efficiently deliver essential training to cargo agents, freight forwarders, and all individuals engaged in the cargo transport chain.
Creating warehouse training courses and tests became effortless. I gained access to a premium library housing over 100 ready-to-use courses and default templates. These covered diverse areas, including workplace safety, compliance training, leadership and management training.
The platform also offered quiz templates to assess learners' understanding and retention of various subjects by incorporating interactive quizzes into the courses.
Plus, ProProfs Training Maker provided intelligent reports and analytics. These reports offered a comprehensive view of learning activities, highlighting course participation, progress, completion rates, milestones, challenges, total time invested, and scores. This feature proves invaluable in identifying problem areas for learners.
What you'll like:
User-friendly authoring tool to quickie put together existing materials into a course
Easy customization options for security, notification, integrations, branding and more
Access to training courses anytime, anywhere, and from any device
Ability to provide training to a worldwide audience in English, Spanish, and over 70 additional languages
Seamlessly integrates with well-known tools like Zoom, Salesforce, Mailchimp, BambooHR, and others
What you won't like:
Lack of ability to choose between light and dark mode options in the interface
The free plan only includes 10 learners
Pricing:
Forever FREE plan for small teams (up to 10 learners). Paid plan starts at $1.97/learner/month for large teams with a 15-day money-back guarantee. No hidden charges.
Watch: How to Ensure Forklift Safety Training Program | Course Introduction
2. EdApp – Best for Engaging Lessons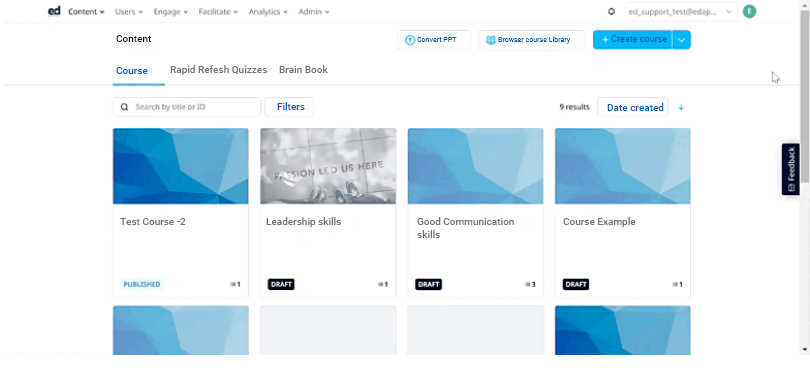 I had the chance to use EdApp, a great LMS for the logistics industry, during my time at an organization.
The platform brings learning to life with engaging lessons. It helped me explore topics like inventory management, transportation, and demand forecasting through interactive modules that kept my team involved every step of the way.
Using EdApp, you can break down complex concepts into bite-sized lessons. And your team can learn on the go, during coffee breaks, or while commuting!
Also, with gamification capabilities, your team can take fun quizzes, challenge themselves, and earn badges as they progress, boosting their confidence and motivation.
What you'll like:
The tool's collaborative community lets you connect with fellow learners and share valuable insights
Clear overview of learners' accomplishments by effortlessly monitoring completed modules and learning milestones
Personalize the learning journey with easy customization, adapting content to match your company's specific needs
Ability to seamlessly access courses even without an internet connection
What you won't like:
Not an easily scalable tool
Lacks in-depth data analysis features for comprehensive supply chain performance insights
Pricing:
Free plan available (Limited customization and integrations). Paid plan starts at $2.95/active user/month.
3. TalentLMS – Best for Comprehensive Learning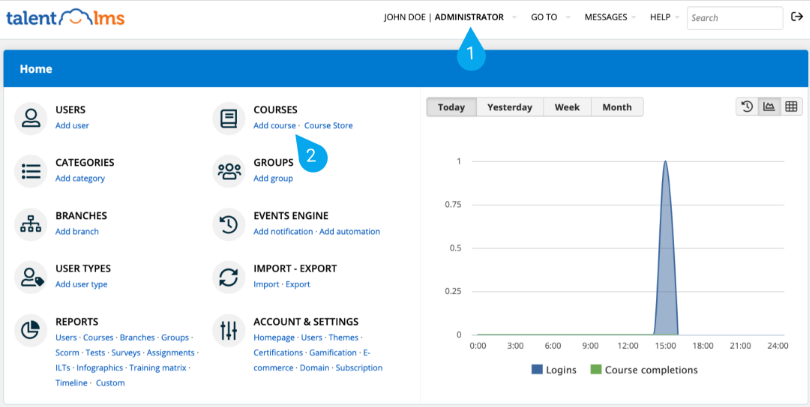 As someone associated with the e-learning industry for decades, I found TalentLMS to be a comprehensive LMS for the supply chain industry. Using it, you can create courses, manage content, conduct assessments, and track progress.
Whether I needed to train my workforce, partners, or clients, TalentLMS helped me delve into diverse supply chain domains.
From logistics to demand forecasting, this platform enables you to design captivating courses enriched with text, videos, presentations, and quizzes.
You can evaluate comprehension through thoughtfully designed quizzes, assignments, and exams, and celebrate success with customized certificates. Overall, you can elevate your supply chain education game with TalentLMS for better learning experiences.
What you'll like:
You can monitor learners' progress and performance with tracking and reporting features
Discussion boards, forums, and interactive activities related to supply chain topics
Mobile apps that allow learners to access supply chain e-learning materials from their smartphones or tablets
Ability to customize the platform's appearance to match your organization's branding and theme
What you won't like:
Lacks integration with popular third-party tools
While suitable for many scenarios, TalentLMS could face limitations when it comes to handling a massive number of learners or very large organizations.
Pricing:
Starts at $69/month.
4. Disprz – Best for Upskilling Employees
Another incredible LMS for the supply chain industry, Disprz offers upskilling and reskilling opportunities to equip employees with the essential knowledge to thrive in their roles.
WIth AI-driven personalized learning solutions, Disprz allowed me to create customized learning paths that are tailored to the specific needs of my supply chain employees. This ensured that the training content was relevant and aligned with the skills required in the supply chain domain.
The platform uses microlearning techniques, breaking down learning content into small, easily digestible modules. This approach proved incredibly effective for our busy employees, as they could easily engage with the content in short, manageable sessions whenever they found the time.
What you'll like:
Gamification elements to make the learning experience more engaging and interactive
Analytics and tracking features to monitor the progress of employees and identify areas for improvement
Employees can take assessments to measure their learning progress and gain certifications that validate the acquired skills and knowledge
Social and collaborative features that enable employees to interact with peers, ask questions, and share insights for a sense of community and collective learning
What you won't like:
Incorporating the LMS with current systems, such as HR software or other tools, might present difficulties without adequate support in place
Not all features are accessible in the mobile version
Pricing:
Starts at $3/user/month.
5. The Green LMS – Best for Course Creation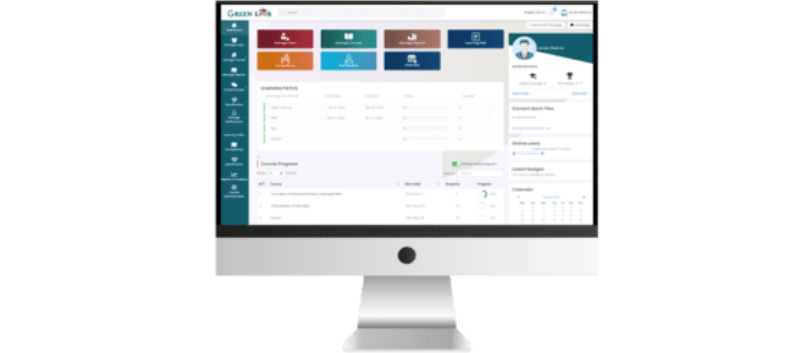 While experimenting with this logistics learning management system, I was able to set up courses quickly by reusing learning objects and defining completion policies for each one.
By reusing learning components and setting completion guidelines, I could efficiently tailor the content to match our organization's requirements, delivering personalized e-learning approaches.
The exciting aspect was the integration of gamification, microlearning, and scenario-based techniques, boosting both the learner's engagement and information retention. Also, tracking learner advancement, productivity, and ROI was seamless through personalized reports and analytics.
Additionally, the tool offers integration with various platforms and grants the flexibility to access courses from any location, at any time.
What you'll like:
Interactive assignments to streamline learning progress
Live classrooms for real-time engagement and interactive learning, anywhere
Access to the course library for a comprehensive course library
Attendance management that lets you effortlessly track and enhance learner participation
What you won't like:
The user experience can be improved
Poor customer service
Pricing:
Starts at $62/month.
6. Tenneo (Formerly G-Cube LMS) – Best for Blended Learning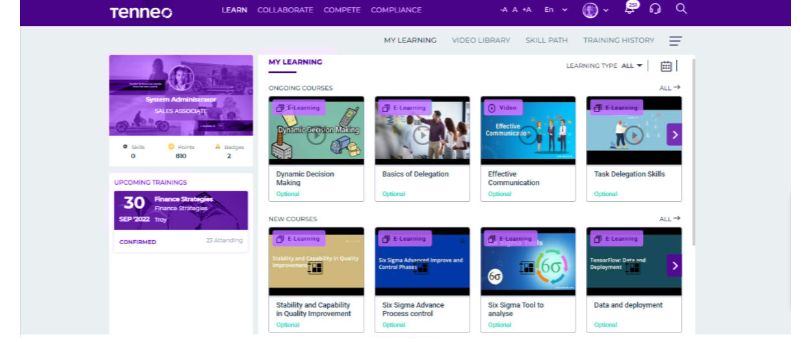 This logistics learning management system excels in blended learning. This means you can use both online and offline methods to improve training's effectiveness and efficiency.
The tool uses AI and ML to offer personalized learning paths, video assessments, NLP, and ML recommendations.
A notable feature of Tenneo LMS for the supply chain industry is its KPI-based learning. This links learning goals with business objectives, boosting workforce performance.
It supports social learning through Active Wall, gamification, and interactive dashboards. Plus, it seamlessly integrates with your current tech tools via 100+ connectors, including content repositories, CRM, HRIS, and HCM systems.
What you'll like:
Robust and innovative platform
Completely customizable as per your needs
Multiple grading scales that enable a more accurate evaluation
What you won't like:
UI can be improved
Poor customer service
Pricing:
Starts at $25/user/annum.
7. ZapBuild – Best for Specialized Training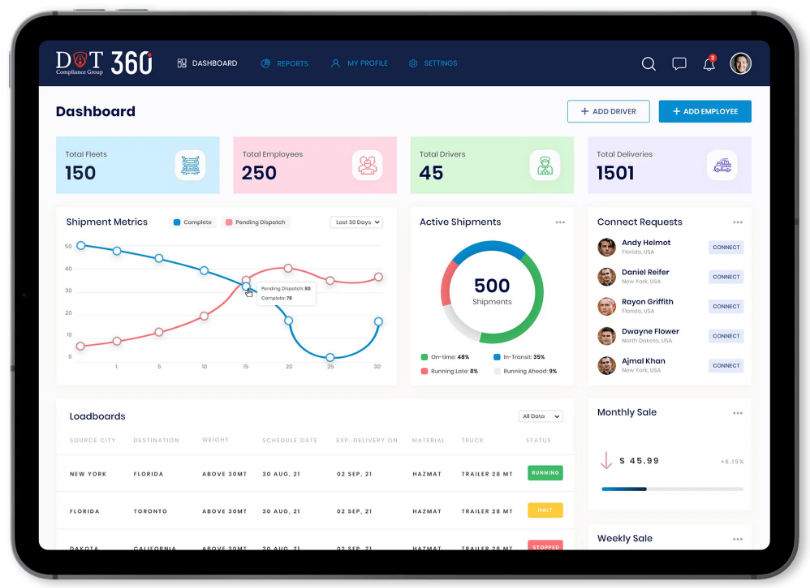 I understand the significance of offering specialized training within the logistics industry, and this logistics LMS is designed precisely for that purpose.
ZapBuild presents captivating and interactive training programs that empower your staff to safely and effectively perform their daily tasks while achieving desired outcomes.
With features like course creation, multimedia content, interactive simulations, and assessments for tracking progress, managing training becomes effortless.
The LMS solution provided by the platform enhances compliance, trims operational expenses, and elevates the overall quality of your training initiatives. Their team of experts is reachable round the clock, ensuring continuous support and guidance for optimal platform utilization.
What you'll like:
Tailored content that aligns with your business processes and operations.
This centralized hub enables easy organization, storage, updates, distribution, and localization of training materials
Your staff can access the same learning resources effortlessly, irrespective of their geographical location
What you won't like:
Lacks in-depth analytics for detailed analysis
Its user interface may be overwhelming for beginners
Pricing:
Custom pricing.
Which is the Best LMS for Logistics and Supply Chain Training?
Picking the right LMS for your logistics and supply chain business depends on your specific requirements, audience type, their skill level, learning styles and preferences, training budget, and other factors.
To make your search easier and help you decide wisely, here are three suggestions I have:
Option A: ProProfs Training Maker
ProProfs Training Maker offers end-to-end solutions for training employees in the logistics and supply chain industry, including cargo agents and freight forwarders. Creating courses is a breeze, taking only minutes. With a vast library of over 100 pre-made courses, I can dive straight into workforce training. What's more, ProProfs Training Maker provides engaging quiz templates, enabling me to assess learners' comprehension and knowledge retention effectively.
Option B: Disprz
This learning management system for logistics and supply chain is excellent for upskilling supply chain employees. With its AI-powered personalized learning solutions, you can create custom learning paths that precisely fit your supply chain team's distinct needs. Additionally, the tool employs microlearning techniques, breaking down content into small, manageable pieces, greatly aiding learners' comprehension.
Option C: The Green LMS
The Green LMS is a reliable logistics learning management system for designing courses. It lets you recycle learning materials and set completion rules for each. This guarantees personalized courses aligning with your organization's needs and e-learning methods. The gamification also enhances employee engagement. Plus, you can access the LMS conveniently from anywhere.
Based on my personal experience, I can confidently say that the ProProfs Training Maker is the clear frontrunner. It is intuitive and user-centric and the ready resources make it an invaluable asset for different learning scenarios in the logistics and supply chain industry.
Learn More about Logistics and Supply Chain LMS
What is a logistics and supply chain LMS?
A logistics and supply chain learning management system (LMS) is an online platform designed to streamline how you create, manage, share, track, and analyze online courses and assessments for professionals in the field of logistics and supply chain management. Generally, these applications offer courses, a knowledge base, and assessments to enhance skills and knowledge in areas such as inventory management, transportation, and warehousing.
Watch: What is a Cloud-Based Learning Management System?
What are the key features to consider in a logistics and supply chain LMS?
The key features to look for in a logistics and supply chain LMS include a course builder, quizzes, surveys, and automated reminders. Opt for an LMS that offers notification options via both email and text. Lastly, look for an LMS that supports customization, such as utilizing a custom domain and tailoring learner paths according to your preferences.
How do I choose the right LMS for my logistics and supply chain business?
When choosing a logistics and supply chain LMS, look for a user-friendly interface, ready-made resources, and seamless integrations. Also, look for mobile compatibility and the ability to showcase your brand with customization options. To know more,
Watch: How to Choose the Best SaaS LMS Software
Who can benefit from the logistics and supply chain LMS?
The logistics and supply chain LMS is beneficial for professionals in the field, including supply chain managers, warehouse supervisors, transportation planners, and aspiring supply chain experts. It offers comprehensive training, insights into industry trends, and tools to optimize operations, making it invaluable for anyone seeking to excel in this sector.
What types of courses are available in the logistics and supply chain LMS?
The logistics and supply chain LMS offers diverse courses, including workplace safety training, compliance courses, skills training, and leadership and management training. These courses equip learners with essential skills to ensure safety, meet regulatory requirements, and effectively lead and manage teams within the logistics and supply chain industry.
Can the logistics and supply chain LMS be integrated into training programs offered by organizations?
Absolutely, the logistics and supply chain LMS is designed for seamless integration into organizational training programs. Its flexible structure allows companies to incorporate industry-specific modules, track employee progress, and tailor content to their needs. This integration enhances workforce skills, efficiency, and overall performance in logistics and supply chain operations.
Do you want a free Training Software?
We have the #1 Online Training Software for employee training & assessment