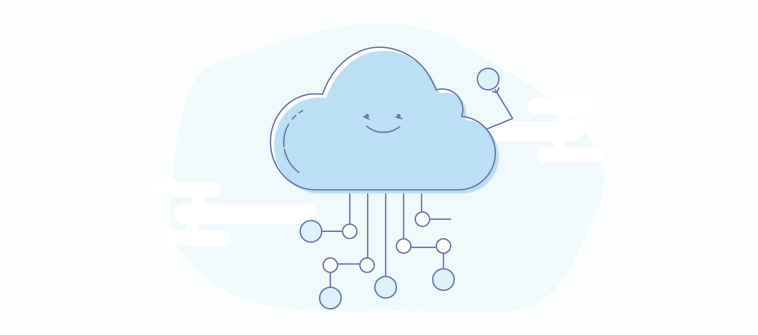 The switch to cloud-based learning solutions is fueling the growth of eLearning worldwide.
In this development, learning technologies, such as Tin Can compliant LMS, play a crucial role by ensuring transparency in learning and giving people more control over how and where they learn.
Due to the incredible benefits of Tin Can API, more and more organizations are turning to this new technology. The demand for online learning in corporate sectors and educational institutions, coupled with the rising use of mobile devices, has made this technology a preferred choice over SCORM, short for Sharable Content Object Reference Model.
Tin Can is an advancement over the SCORM and addresses all the limitations of SCORM. This is one of the reasons why most organizations are investing in a Tin Can compliant LMS for fulfilling learning needs and enhancing learners' experience.
To make sure you can do the same, let's understand what Tin Can API is, its features, and the corresponding benefits.
So, let's start.
What Is a Tin Can API LMS?
A Tin Can API LMS is a learning management system that complies with the standards of Tin Can. These LMS software tools are beneficial when you need to track and record data as a part of your web-based learning programs.
This innovative system has set a new standard for tracking learning activities. The best part is that you can track not just course performance but also other activities such as team exercises, group discussions, offline learning, and games and simulations.
Tin Can Experience API (xAPI) is the improved version of SCORM, and it emerged as the ideal solution for assessing the effectiveness of corporate training programs.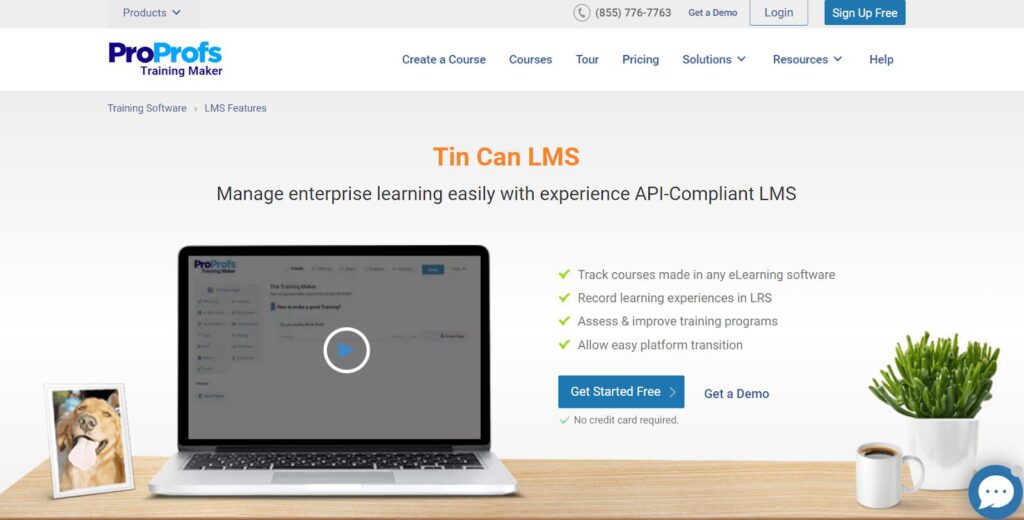 However, in the e-learning industry, both SCORM and Tin Can are used in measuring online courses' impact.
But the question remains:
Can Tin Can API bring a strategic shift to the eLearning industry?
Before SCORM came into existence, content developers and e-learning managers faced difficulties with data interoperability. SCORM addressed this issue immediately. E-Learning courses were developed using a single authoring tool and were easily shared with any number of learners on different platforms as long as the courses were SCORM-compliant.
Despite this, SCORM API lacked advanced reporting features and the ability to track learning outside the LMS environment. In the exact area where SCORM lacks, Tin Can or Experience API excels.
What Is xAPI (Experience API) aka Tin Can API – Features and Benefits Explained
A lot of research was carried out to find the effectiveness of Tin Can API. A study was conducted to identify if xAPI supported tracking of all learning activities – both formal and informal. To do this, a web-based learning record store (LRS) was created to track informal activities.
Learners were also given access to this LRS to evaluate their perceptions before and after using the system.
The findings of this study suggested that:
Learners were keen to take charge of their training records
It's only xAPI that can support tracking every activity of learners
xAPI interface is the best solution to maintain a central record of all learning activities
It's easy to see that this technology is likely to flourish more in the future and will have a great impact on the L&D programs. Before you explore the features that make this possible, let's have a quick look at how Tin Can API differs from SCORM.
SCORM vs Tin Can API
The quickest and easiest way to understand the basic differences between SCORM and Tin Can API is to use the metaphor of a landline phone and a smartphone.
SCORM is similar to a landline that helps you make phone calls only. In contrast, Tin Can API resembles a smartphone that goes beyond just making calls. You can use it to send messages, take pictures, record video clips, share files, and so on.
So, SCORM enables just the basic functions of eLearning, while xAPI takes care of many more things.
To help you understand the concept better, the following table shows the major differences between the two specifications:
| | SCORM | xAPI |
| --- | --- | --- |
| Track completion | ✔ | ✔ |
| Track time | ✔ | ✔ |
| Track pass/fail | ✔ | ✔ |
| Report a single score | ✔ | ✔ |
| Report multiple scores | X | ✔ |
| Detailed test results | X | ✔ |
| Solid security | X | ✔ |
| No LMS required | X | ✔ |
| No internet browser required | X | ✔ |
| Keep complete control over your content | X | ✔ |
| No cross-domain limitation | X | ✔ |
| Use mobile apps for learning | X | ✔ |
| Platform transition (i.e. computer to mobile) | X | ✔ |
| Track serious games | X | ✔ |
| Track simulations | X | ✔ |
| Track informal learning | X | ✔ |
| Track real-world performance | X | ✔ |
| Track offline learning | X | ✔ |
| Track interactive learning | X | ✔ |
| Track adaptive learning | X | ✔ |
| Track blended learning | X | ✔ |
| Track long-term learning | X | ✔ |
| Track team-based learning | X | ✔ |
(source: xapi.com)
Features of Tin Can API LMS
Tin Can API has introduced new changes in the e-learning world. It captures user activities at all levels, which was previously not possible with traditional LMS solutions.
In this context, let's take a look at some of the features of a Tin Can LMS.
Tracking Courses from Different LMSs
With a Tin Can LMS, it's easy to create and track courses made in different LMSs. There's no chance of data loss because you can track every action your participant takes.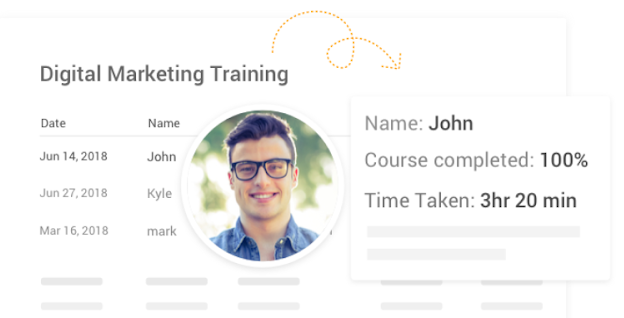 Track any activity that happens on mobile devices such as smartphones and tablets. LMS solutions compliant with Tin Can enable you to easily start courses on one device and complete them on another.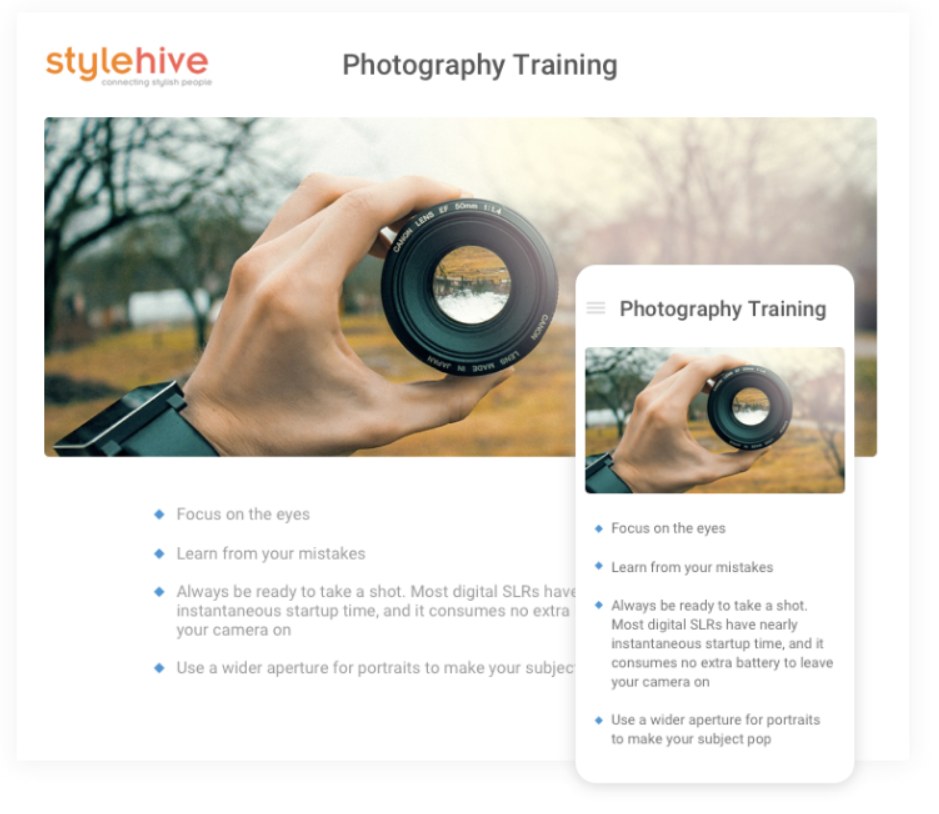 A tin can API compliant LMS lets you integrate with third-party tools such as Mailchimp, SugarCRM, WordPress, Campaign Monitor, Highrise, and more. It allows for smooth flow of information between applications to automate business processes.
Video conferencing tools like Zoom to make learning even more engaging

HR software like BambooHR, TribeHR to manage learner data of employees

Contact listing and mailing software, such as Mailchimp, SugarCRM, Constant Contact

Marketing automation software like Salesforce to educate your reps, partners and resellers easily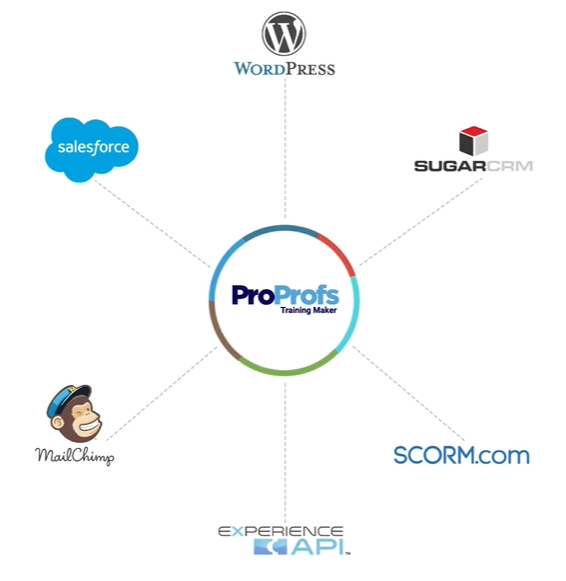 Customize your course with your brand logo and themes. White labeling boosts your brand, delivers a better user experience, and promotes engagement. A tin can API also provides a range of other options to customize course settings, such as:
Send reminder for course due dates
Add a time zone for a course
Set course and chapter availability
Use custom questions to capture information from learners
Number of attempts allowed
Addition of text, images video, audio in different formats
Addition of quizzes, flashcards and surveys for assessment, gamification and feedback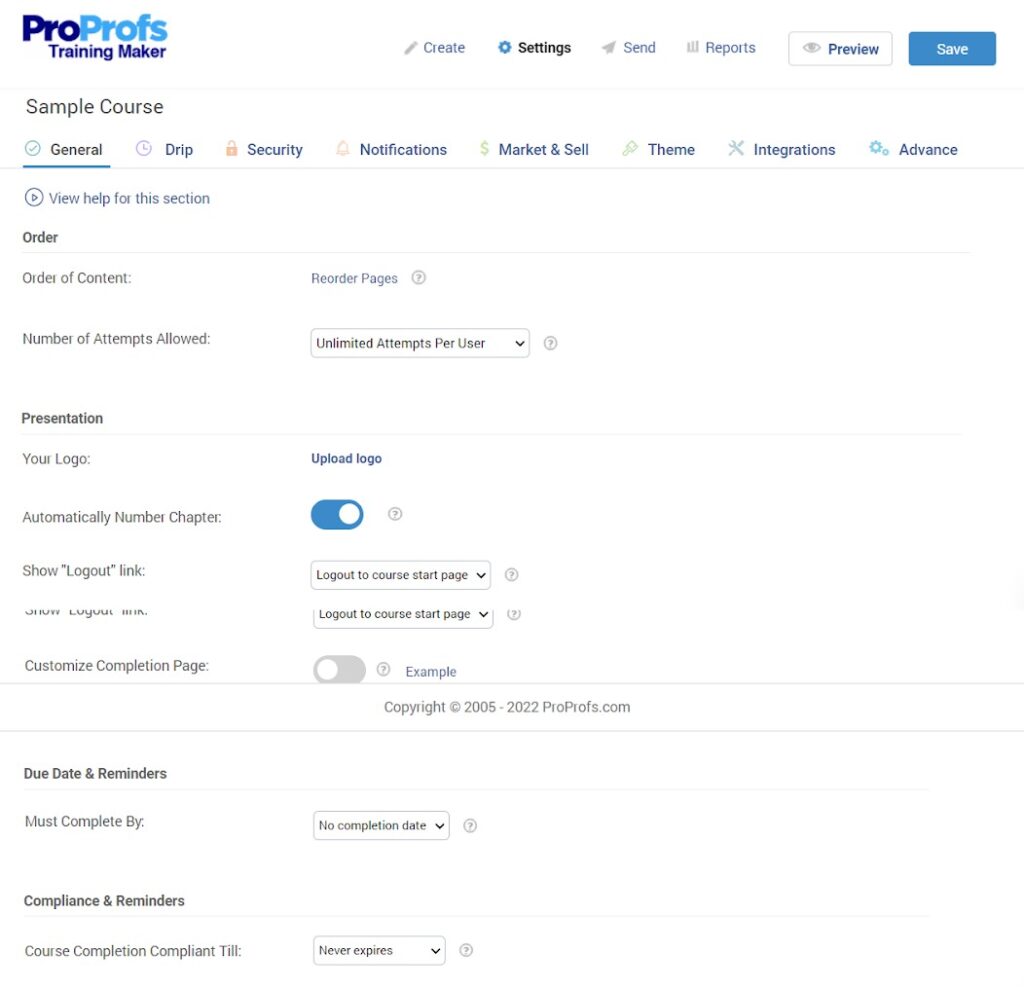 Feature your courses under your own brand. Use custom designs, choose fonts and layouts, embed courses on your website, and create personalized certificates.
Multiple Learning Formats
The best thing about Tin Can API LMS is that it supports multiple learning formats. Distribute your learning materials in PowerPoint files, PDFs, audio, images, videos, and more.
How to Add Media to Your Online Courses


Multimedia-based learning provides various perspectives on a subject matter, increases learning effectiveness, and leads to better knowledge retention. It also caters to different learning styles and preferences.
Offline Learning Tracking
Courses in a Tin Can compliant LMS can be downloaded or viewed even if learners don't have access to the internet which offers an uninterrupted learning experience.
Adding quizzes at any point in your course makes learning fun. It lets learners know their progress while letting you assess knowledge retention. Learners can retake courses in which they haven't performed well. You can add an interactive mix of questions for more engagement.

With most Tin Can API-compliant LMS solutions, you can even let learners record video responses and prevent skipping questions.
Do you want a free Training Software?
We have the #1 Online Training Software for employee training & assessment